On Thursday, November 3 the Formula 1 Commission will meet in Geneva after Bernie Ecclestone called for a special sitting of the 26-strong body. The meeting was called in writing by Ecclestone during the Japanese Grand Prix weekend - giving the 14 days' notice demanded by Schedule 9 of the Concorde Agreement - with the primary reason given as being the name changes requested by Team Lotus and Lotus Renault GP.
However, according to sources, Ecclestone requested that additional items be added to the agenda, and it seems that F1 has heeded his call, for the final agenda includes no fewer than nine items, ranging from the approval of the 2012/13 regulations, through to said team name changes (with Virgin now wishing to eradicate all references to Richard Branson's group and become Marussia) and calendar matters.

The Renault and Lotus name changes were supposed to be behind the meeting © LAT
So, what does the Swiss Roll contain? For starters the agenda is hardly public, so it has been pieced together. However, in such meetings 26 totally different individuals - each with their own agenda - have different takes on matters, so an element of posturing invariably accompanies requests for information. There were a number of interpretations of agenda items, so the meeting is sure to be lively, extended and ultimately fruitful.
The name change issue should be the least contentious, for the entire paddock wishes that two Lotus-named teams would get on with it and relieve F1 of this unnecessary confusion. However, Ferrari and Sauber, among others, have requested clarification on (future) name changes as there is little doubt that willy-nilly title adjustments ultimately affect the quality of 'the show' by confusing sponsors and fans (F1's primary customers).
However, where the Lotus requests have been a long time coming, it seems that Virgin has jumped on the bandwagon, and not a week too soon either, for one always felt that Branson's involvement was nothing other than sheer opportunism and not a serious association with F1. It could be said that he lucked into the 2009 world title with Brawn at a bargain basement price - and Virgin's current partnership with the Manor Racing-run team proves that fortune is not a long-term commodity in F1 unless one wishes to lose it.
This name change, too, should be granted, if for no other reason than Marussia has made a significant investment, whereas Branson clearly did not, and this leads one to wonder why Force India has not applied for a name change now that Sahara Group has acquired a 42.5 per cent share in the team previously majority-owned by Vijay Mallya. Will a last-minute application be submitted in this instance despite Mallya's statements to the contrary last Friday?
The Commission is also required to approve all sporting and technical rule changes before passing them on to the FIA's World Motor Sport Council for ratification, but here there is little to discuss, for major rule issues were resolved in previous sittings. According to sources, the teams reached consensus on Q3 tyre usage last Friday. However, the item will still be discussed to establish whether changes to tyre allocations can 'spice up' the show further.
Wheel guns won't use helium next year if a teams' code becomes a rule © LAT
Then, allegedly, the use of helium in air guns will be banned from next season onwards for the simple reason that all teams are now using the gas, which increases gun speeds by 30 per cent.
"When we were the only team using it we enjoyed a considerable advantage, but now everybody uses it, so we fly helium around the world for no performance advantage, so we agreed to ban its use," said a McLaren source.
The other regulation changes consist mainly of, to quote a source, 'tidying up' through rephrasing to clarify intent and renumbering others to slot them into logical paragraphs.
Also on the agenda are calendar matters, with no fewer than three grands prix being under threat for 2012 and beyond. Bahrain's problems are well-documented, although sources are adamant that Ecclestone and, it seems, the FIA, intend on giving the desert island every opportunity of hosting a race next year, with a date change to November 25 being suggested to provide maximum time for peace to be restored in the kingdom.
Then there is the issue of Korea, with which F1 has long had an edgy relationship, commencing in 1998, when Ecclestone (successfully) sued a would-be promoter for breach of contract partnership through Hyundai's unhappy WRC campaign (it ended with a US$1million fine for early withdrawal from the championship) to the current event at Yeongam, which attracted little domestic interest and has now posted a total of $100m in losses even before the cost of the (still unfinished) circuit is factored into the equation.
Then, as long predicted here Valencia and Barcelona wish to enter into a timeshare deal, possibly as soon as 2012, so there sits another potential drop-out. But the biggest problem child appears to be Austin, which in addition to having fallen in arrears on its construction programme, appears to be facing a legal battle over its $25m annual state subsidy, with counsel for an anti-group alleging that the funds were granted on condition that the event be the only F1 race in the USA. With New Jersey having been announced for 2013 that is not the case.
Thus Ecclestone faces numerous potential drop-outs, with only Turkey able to slot into any breach at short notice, and with around $25m riding on each event he has up to 100 million good reasons to reshuffle the calendar. However, that is not as easy as it seems, for the Concorde Agreement, the covenant that binds the three parties (commercial rights holder, governing body and teams) together, places restrictions on the number of events, their locations and timing.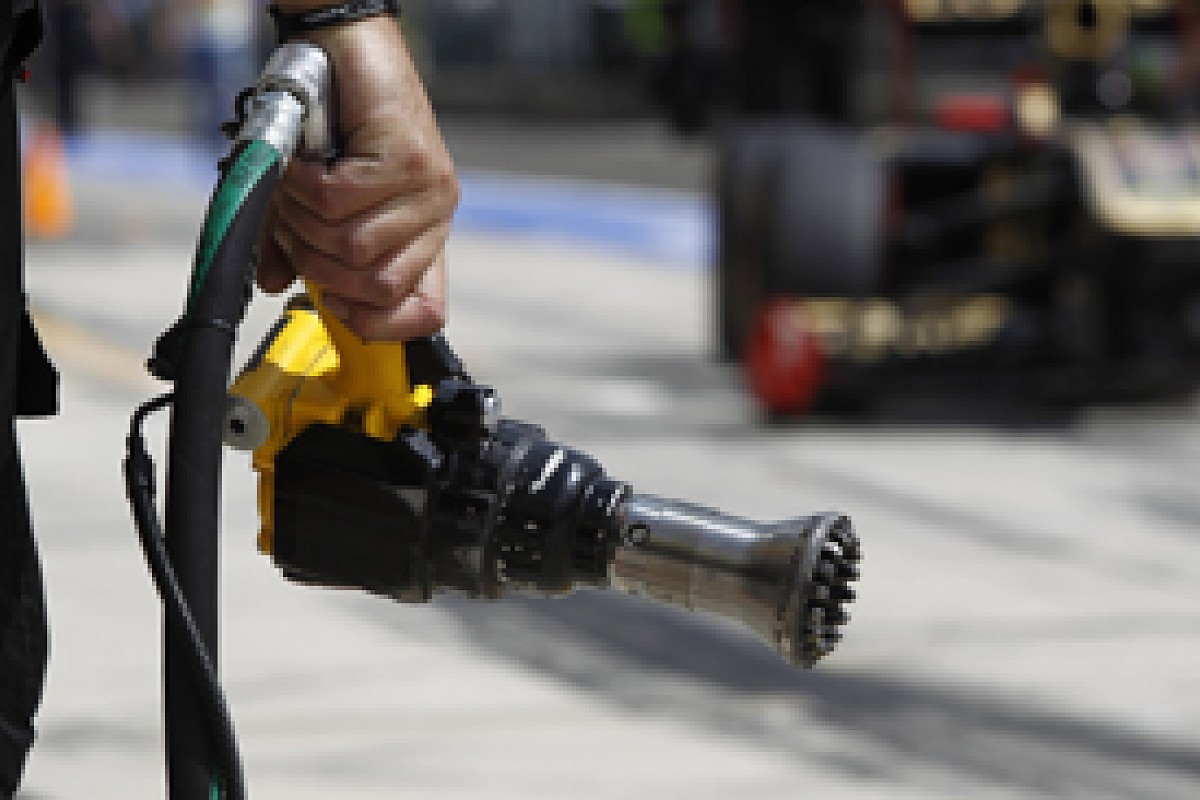 Team members will be among © sutton-images.com
Team consent is required for more than 17 races and where more than 50 per cent of events fall outside Europe or the US (with a solution being the canning of either Austin or one of the Iberian rounds). The procedure for this consent is, in the best traditions of the hurriedly-agreed Concorde Agreement, not as clear-cut as the sport would have liked. Thus another procedure needs to be clarified first.
For a while now the circuit promoters and Formula One Teams Association have been formulating plans for joint promotions ahead of and during grand prix weekends, with Ron Walker of the Australian Grand Prix Corporation (on the Commission as a non-European promoter) being adamant that closer co-operation is required.
Although such matters strictly fall outside the jurisdiction of the Commission, having teams, engine and technical partners, the sport's tyre supplier, sponsors and the commercial rights holder in the same room provides for a high-powered forum, so a lively discussion is sure to follow.
The remaining points are, according to various folk, stickier by far, and revolve around third cars, a la Ferrari's long-stated ideal, with the question of intellectual property also set to be clarified. Make no mistake these are political issues, and it is abundantly clear that both matters will play major roles in Concorde-renewal discussions when they commence officially after the embargo date of January 1 2012.
As outlined last week, Ferrari has already questioned the reason behind continuing with FOTA - originally formed to provide a common platform for teams to negotiate the 2010-2012 Concorde Agreement - and third cars could provide Ecclestone with the means of dividing the teams ahead of negotiations.
Consider this: on the one hand we have Ferrari pushing for third cars, and suddenly Ecclestone is all in favour; on the other we have McLaren's team principal Martin Whitmarsh, coincidentally also FOTA chairman, who is anti third cars, for his organisation is picking up pretty pennies selling technology to Force India and Virgin.
One can almost visualise the discussion: "Bernie, allow third cars and Ferrari will sign the Concorde Agreement. With this pesky Concorde I helped negotiate we can't do financial side deals the way we used to, but this could be a good sweetner."
"Of course, Luca, we'll table it at the next Commission meeting. I know all promoters will back it as they would rather have three Ferraris than two HRTs, plus sponsors are sure to as well. I don't think the FIA will object and why would Pirelli, so that is 13 of the 26 votes in the can. You get four teams on your side and you have the 18 votes needed. But we need to have that agreement signed sometime soon."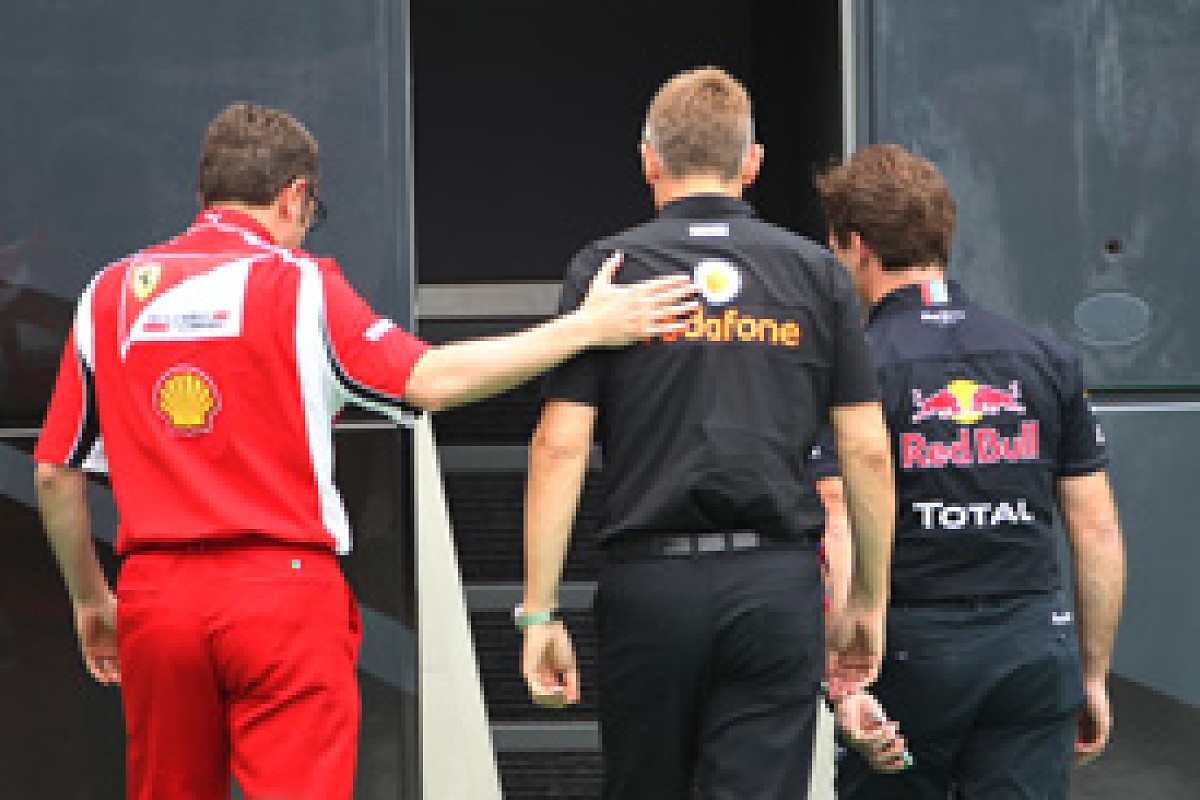 Sauber could potentially help Ferrari bypass the RRA under current F1 rules © LAT
"Sure, Bernie, where are you on New Year's Day? Klosters? Well, I could do with a good downhill skiing session to blow 2011 out of my system..."
Once Ferrari's pen is on paper the rest will surely follow in the best traditions of F1.
Finally, during the meeting the question of intellectual property is sure to be discussed, not least because teams are fearful that enormous amounts of information are flowing between teams. Apart from the co-operations outlined above, Red Bull and Toro Rosso are sister companies, Sauber and Toro Rosso lease powertrains from Ferrari, Team Lotus obtains transmissions from Renault, and HRT has deals with both Williams and Mercedes.
With the Resource Restriction Agreement now a hot potato and due to be discussed (again) at Yas Marina, teams are fearful that its terms could be being breached by customer outfits. After all, with Team A renting wind tunnel/CFD/simulator/rig time (delete as applicable) to Team B, C and D, what is to stop Team A - already pushing its RRA to the limit - to request its customers (all well under the provisions of their RRAs) to slip one or two of its components into the test programme? Ditto joint developments.
Also up for discussion under this agenda item is an increase of operational staff from the present 45 heads (plus two for KERS where applicable) to a blanket 55 - which seems rather strange in these days of renewed financial crisis - but the motion allegedly has the support of all but two teams, so could well be carried. That said, sources suggest that the definition of 'operational' will be questioned.
In addition, teams (and others) are concerned that the situation has resulted in a testing imbalance in that, for example, McLaren has six cars running many of its components, plus staff members embedded in its co-operative teams. Spot the potential for conflict/leaks? It is these issues that require clarification (that word again).
So, what was called as a special meeting to approve changes of name for two feuding teams has mutated into a full blown Commission session with serious political overtones that will set the tone of Concorde negotiations that must surely commence soon.