PRACTICE
Practice one
Hamilton had the honour of leading the way in India's first ever F1 session © LAT
Lewis Hamilton's season has been one of occasional highs tempered with plenty of lows. So perhaps it wasn't a great surprise when the boost of topping the first ever practice session at India's Buddh International Circuit was quickly followed by the frustration of being given a three-place grid penalty for disregarding yellow flags - a transgression Hamilton held his hands up to. Sauber's Sergio Perez was guilty of the same offence.
The Red Bulls were next up behind Hamilton, followed by Jenson Button's McLaren, the two Mercedes and Felipe Massa's Ferrari.
The other Ferrari was right at the back - Fernando Alonso's circuit-learning efforts hampered by an engine failure just four laps in. Pastor Maldonado's Williams had a similar problem, while Jaime Alguersuari lost mileage to a crash and everyone had a few minutes of sitting around early on while marshals battled to remove a stray dog that had made its way onto the circuit.
The home drivers were in 19th (Karun Chandhok) and 21st (Narain Karthikeyan), but 'local' team Force India was firmly in the top 10 with Adrian Sutil eighth fastest.
Practice two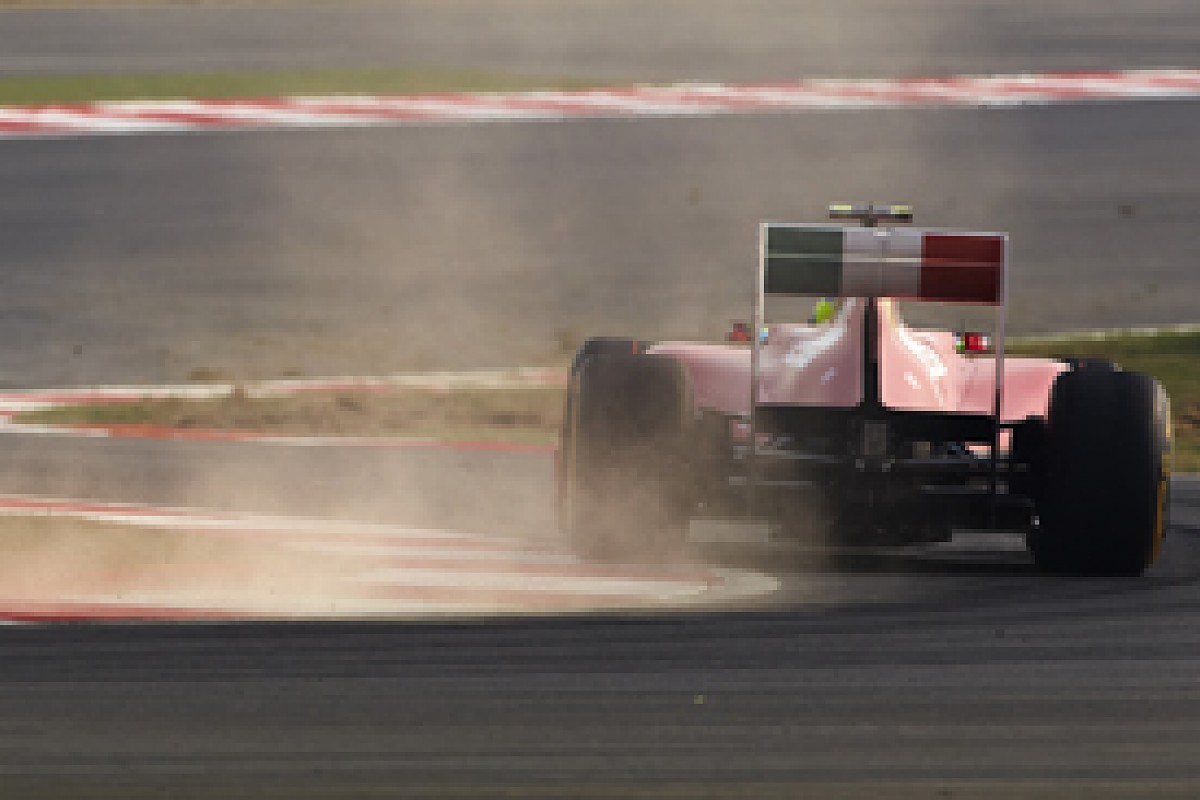 It was a strong afternoon for Massa and Ferrari © LAT
Ferrari hit the front in the second session on what was still a very dusty track, as Massa went quickest and Alonso returned to take third.
Vettel split them, while his team-mate Webber was between the McLarens in fifth.
Force India took seventh and ninth this time, sandwiching Bruno Senna's Renault.
The Mercedes focused on race runs and tumbled to 19th and 21st.
There was another red flag, this time due to Jerome D'Ambrosio doing substantial damage to his Virgin when he spun into the barriers. Vitaly Petrov (Renault) had a less destructive rotation, while Maldonado was stranded in the gravel for a while due to a spin but managed to rejoin the session later.
Practice three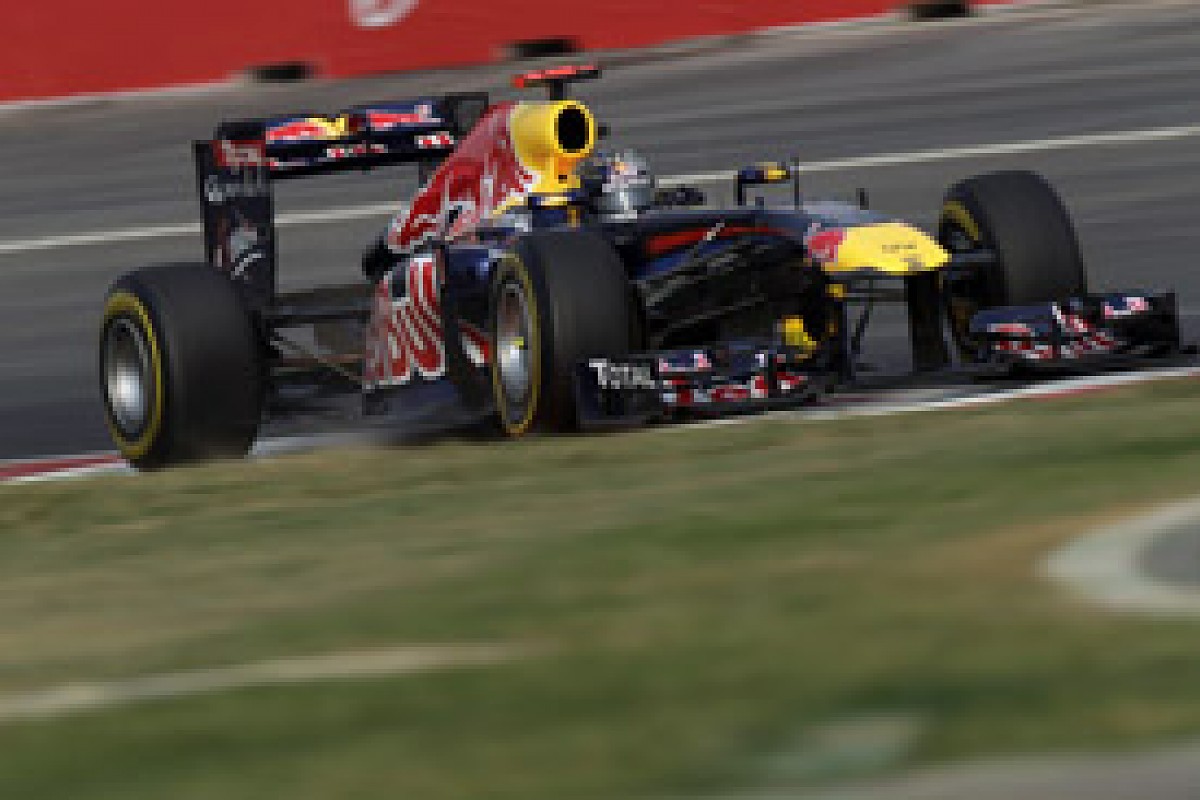 Final practice was champion Vettel's chance to shine © LAT
Vettel came out on top after a flurry of late order changes as teams' preparations for qualifying really ramped up in the closing minutes of final practice.
The world champion's 1m24.824s deposed Jenson Button, who had been looking unbeatable by three tenths of a second. Webber, Hamilton and the Ferraris followed on.
Force India remained at the head of the 'best of the rest' pack as this time di Resta took seventh place, while Sutil was ninth behind Rosberg.
QUALIFYING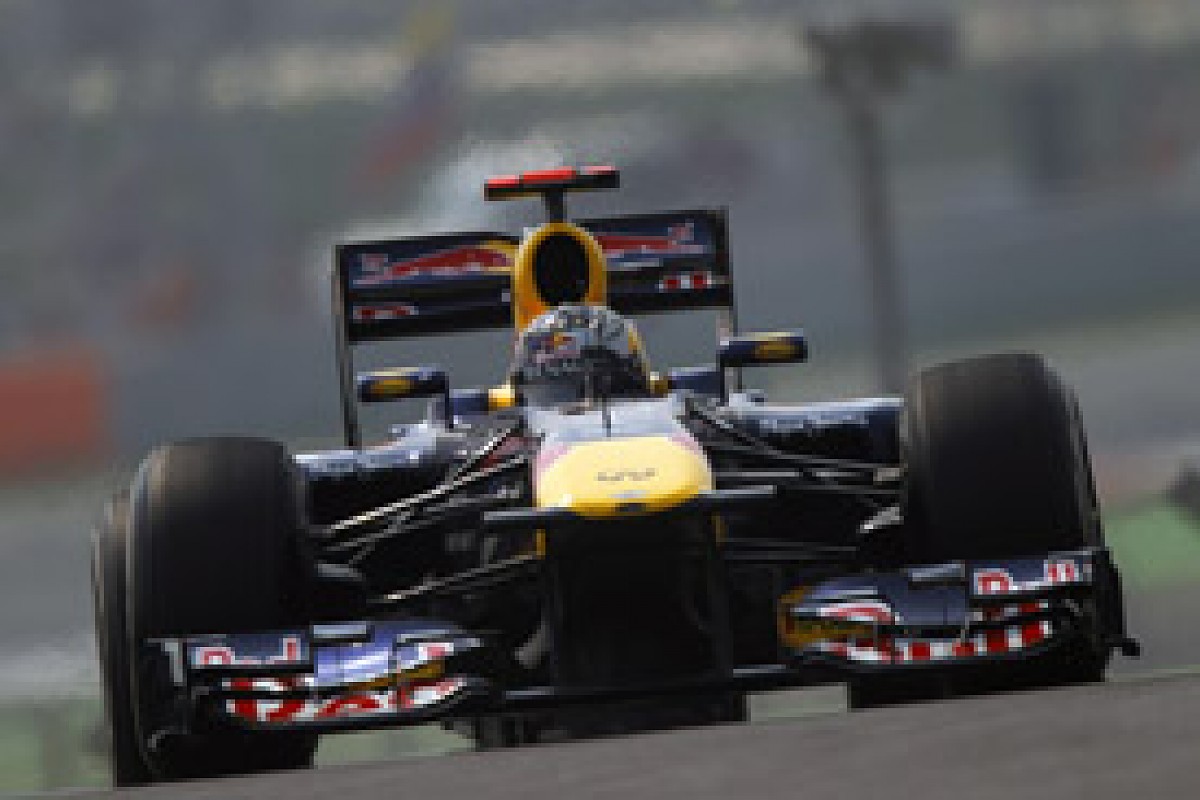 Vettel flew to yet another pole © LAT
1st SEBASTIAN VETTEL
"It was a good session for us. It was tricky for all of us the first time round in qualifying with the dust on the track. The car was fantastic throughout but in the end there was a little bit left in the first sector."
2nd MARK WEBBER
"I could have done better in the first sector on my only run and then I got yellow flags with Felipe Massa, so I couldn't do my second lap. But overall it was good job from the team. We have laid a good foundation for a good race tomorrow.
3rd FERNANDO ALONSO
"I came very close to the front row, which is a bit of a surprise. In recent qualifying sessions, we have not managed to get as close as this to our main rivals and already yesterday we looked reasonably competitive."
4th JENSON BUTTON
"I had traffic [in Q1] and I couldn't get a lap out of the tyre. So we stuck the softs on to do a time. On my final run, I saw Felipe [Massa] heading into the gravel as I came up to him. I definitely would have been quicker on that run, but I got into the yellow flag zone."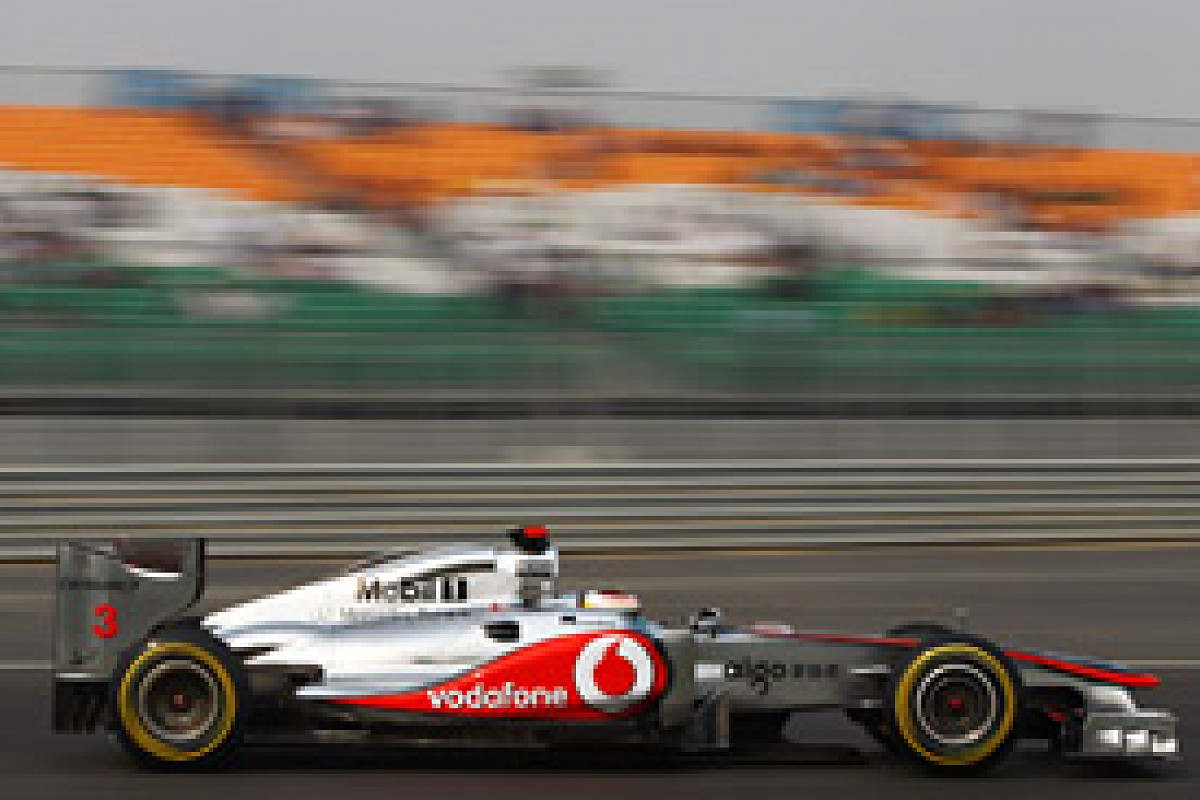 Hamilton was second fastest but only fifth on the grid © LAT
5th LEWIS HAMILTON
"It has been a good day for me. I'm quite surprised that we are able to split the Red Bulls. Of course, we've got the penalty, which was a silly mistake from myself, but we have good race pace. My lap was very, very good, probably as much as I could have got out of the car."
6th FELIPE MASSA
"What happened on my last timed lap [a crash after a suspension breakage] was a real shame. I came into Turn 8 and went over the kerb and the front right suspension gave way in the impact with the raised orange part, which in my opinion is too high at this point."
7th NICO ROSBERG
"We could perhaps have finished higher. In Q1, I hit a kerb quite heavily and damaged the floor which lost some of the car's downforce for the rest of qualifying. I was on my quickest lap at the end of Q3 but unfortunately I had to slow down for the yellow flag after Felipe's incident."
8th ADRIAN SUTIL
"It's good to be in Q3. It is always a good feeling, but it's not the most important thing - tomorrow is. It was a successful day, the car felt very good and it was a good lap."
9th SEBASTIEN BUEMI
"Having both cars in Q3 is amazing. Now, I hope we can have a good race tomorrow, because there are no points for what we did today."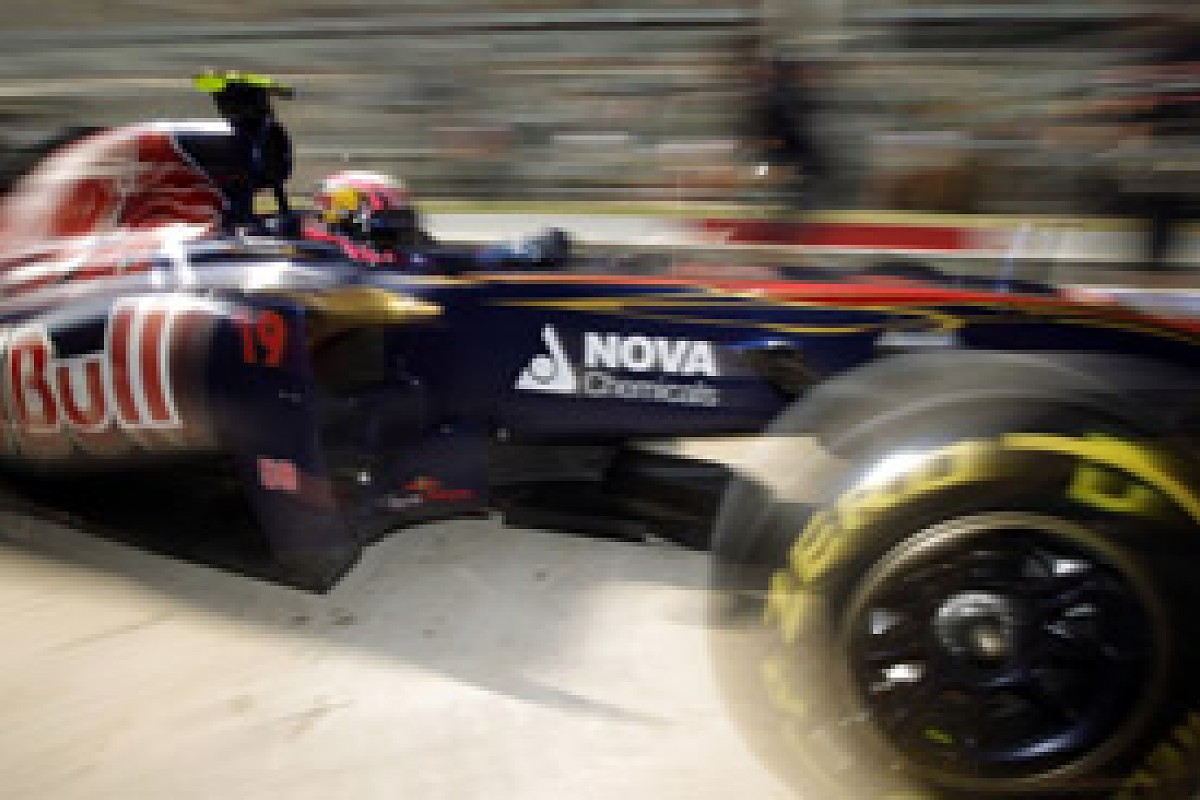 Both Toro Rossos made it into the top 10 © LAT
10th JAIME ALGUERSUARI
"I am very happy, especially for the team as we are both in good positions and Sebastien was really fast, right from yesterday, when I had some problems. Today he drove a brilliant lap. We solved my problems overnight so that I could also be competitive today."
11th MICHAEL SCHUMACHER
"Qualifying today was not really very good for us. At first I hit some traffic, and then on my final run in Q2, there was again a vibration on the set of tyres which I used which was not helpful. Saying that, this certainly does not explain the time gap to Nico."
12th PAUL DI RESTA
"There was more to come out of the car, and I can honestly say that there wasn't much more I could have done given the problems that I had. There wasn't much more left."
13th PASTOR MALDONADO
"The track was getting better and better every lap today so you really needed to be on track at the right time. My engineers achieved that with our qualifying strategy and the set-up we had worked."
14th BRUNO SENNA
"The circuit evolved from this morning and the changes made to the car took me, I believe, in the wrong direction. We have a better race car than the ones around us and if we can be five places further forward at the end of the race tomorrow, it will be a victory."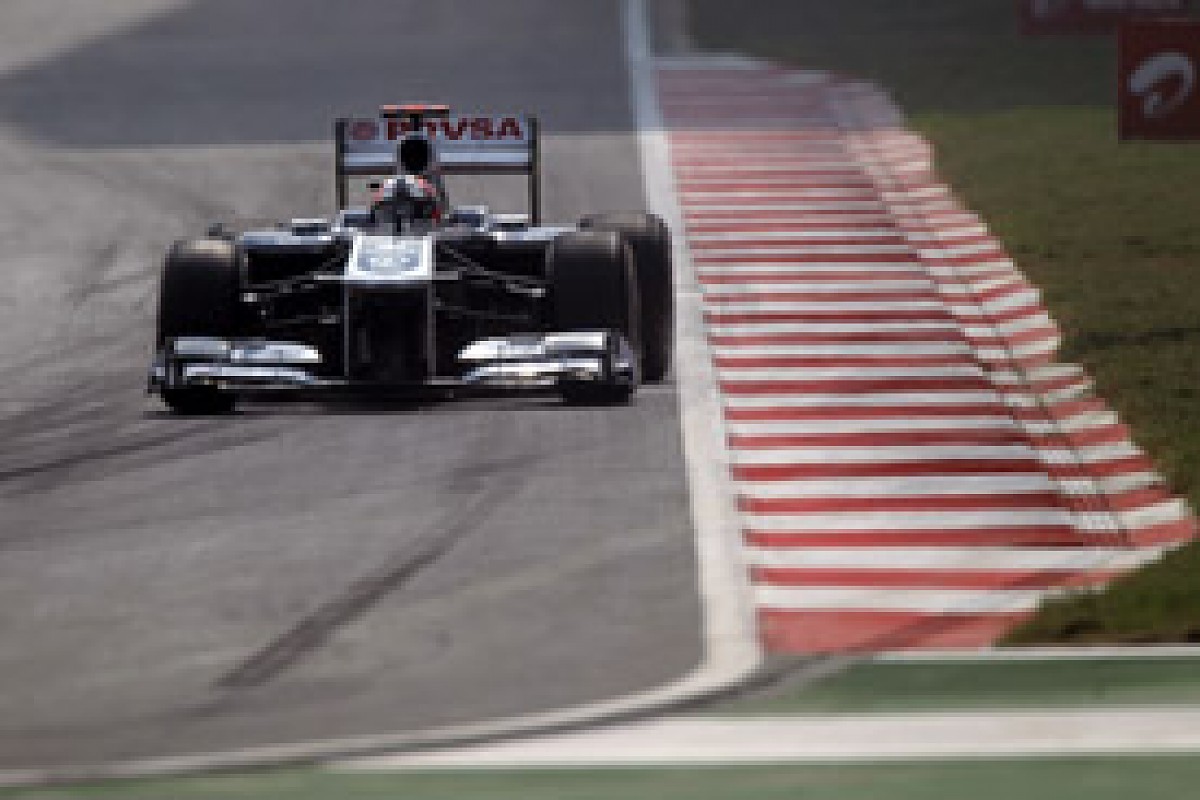 It was another low key session for Williams © LAT
15th RUBENS BARRICHELLO
"I was happy with the balance of the car on the first set of tyres and set my best time with those. When I changed to the new set, the car didn't feel as hooked up and the grip wasn't really there which was strange."
16th VITALY PETROV
"I was a little bit off my times in Q2, and I wasn't able to better my Q1 time because I made a couple of minor errors on the last couple of corners. Combine that with the fact that the other teams' times improved and you have the reason for why I did not make Q3."
17th KAMUI KOBAYASHI
"I had just started my final flying lap when Felipe [Massa] came out of the pit lane in front of me. Although there wasn't enough time left in the session for him to do another run he didn't give room."
18th HEIKKI KOVALAINEN
"I think I got as much out of the car as I could in quali and it's good to put in a lap like that right towards the end of the run. Honestly, I've been struggling all weekend to find a balance and put heat into the tyres, so to come out on Saturday and hook up a lap within 0.7s of Kamui feels pretty good."
19th JARNO TRULLI
"I was a bit unlucky with traffic on my quick laps and I think there were a couple of tenths to find but we were pretty close to pushing as hard as we could today in quali. We've taken a step forward since yesterday as the times show."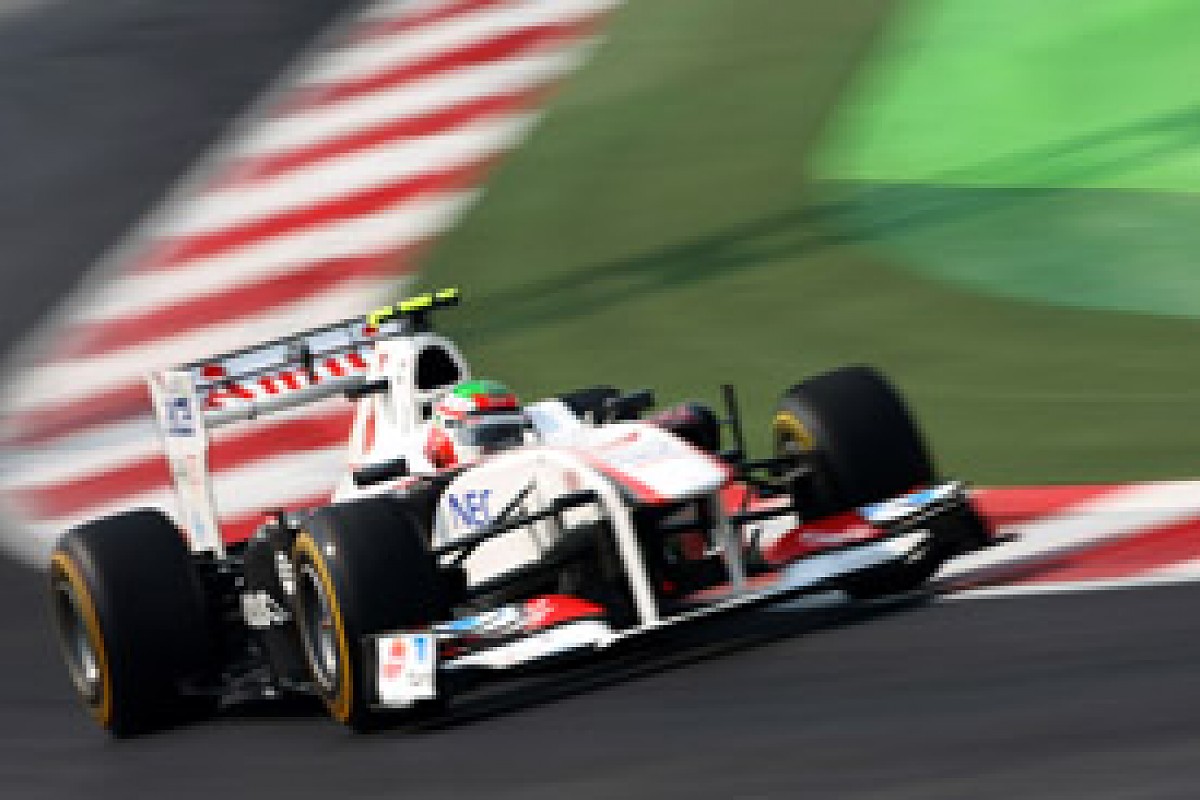 Perez went into qualifying with a penalty lingering from practice © LAT
20th SERGIO PEREZ
"This was obviously a very bad qualifying for me. After our performance in the third free practice this morning we were clearly expecting to do better in qualifying. The key problem was that we couldn't switch on the tyres to get them really to work."
21st JEROME D'AMBROSIO
"It wasn't a great qualifying for me and it has been a difficult weekend to be honest. It feels like the car has been changing from one session to the next, which makes life pretty difficult because it's still a new track and there is the track evolution to manage as well."
22ndTIMO GLOCK
"A very disappointing qualifying for the team. We had a very good Friday yesterday, but today we have been very unlucky as fifth gear broke in qualifying and I could only do one flying lap."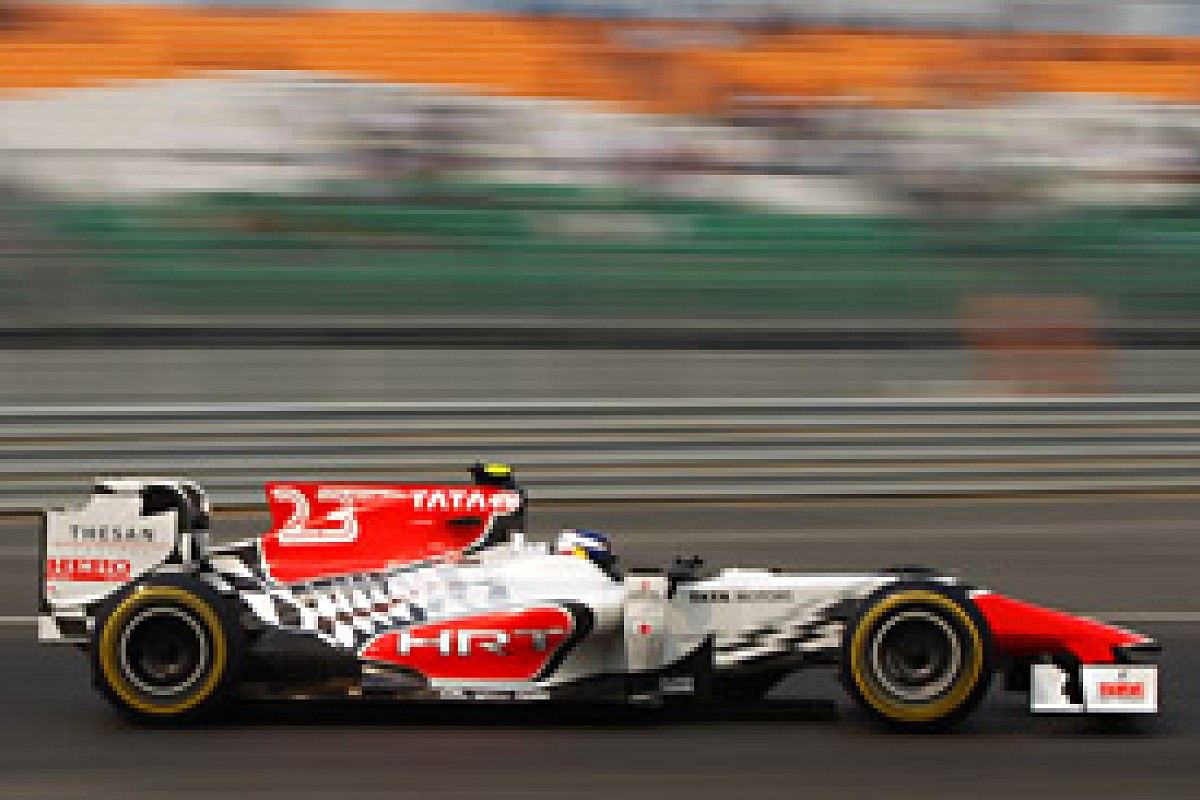 Ricciardo was HRT's top dog despite the presence of local legend Karthikeyan as his team-mate. © LAT
23rd DANIEL RICCIARDO
"It has been an up and down weekend. We got a decent result in qualifying after a few issues this morning, changing a gearbox between P3 and qualifying. During the lap, I didn't put it all together, which frustrates me a bit, but it didn't change the outcome of my position."
24th NARAIN KARTHIKEYAN
"Qualifying was quite good. I think we got the best out of the car. I'm very happy with the way I drove. I think it's a good feeling. On heavy fuel the car, compared to the Virgin, is not so bad, so I think we can fight them."

THE GRID

Pos  Driver                Team
 1.  Sebastian Vettel      Red Bull-Renault
 2.  Mark Webber           Red Bull-Renault
 3.  Fernando Alonso       Ferrari
 4.  Jenson Button         McLaren-Mercedes
 5.  Lewis Hamilton        McLaren-Mercedes
 6.  Felipe Massa          Ferrari
 7.  Nico Rosberg          Mercedes
 8.  Adrian Sutil          Force India-Mercedes
 9.  Sebastien Buemi       Toro Rosso-Ferrari
10.  Jaime Alguersuari     Toro Rosso-Ferrari
11.  Michael Schumacher    Mercedes
12.  Paul di Resta         Force India-Mercedes
13.  Pastor Maldonado      Williams-Cosworth
14.  Bruno Senna           Renault
15.  Rubens Barrichello    Williams-Cosworth
16.  Vitaly Petrov         Renault
17.  Kamui Kobayashi       Sauber-Ferrari
18.  Heikki Kovalainen     Lotus-Renault
19.  Jarno Trulli          Lotus-Renault
20.  Sergio Perez          Sauber-Ferrari
21.  Jerome D'Ambrosio     Virgin-Cosworth
22.  Timo Glock            Virgin-Cosworth
23.  Daniel Ricciardo      HRT-Cosworth
24.  Narain Karthikeyan    HRT-Cosworth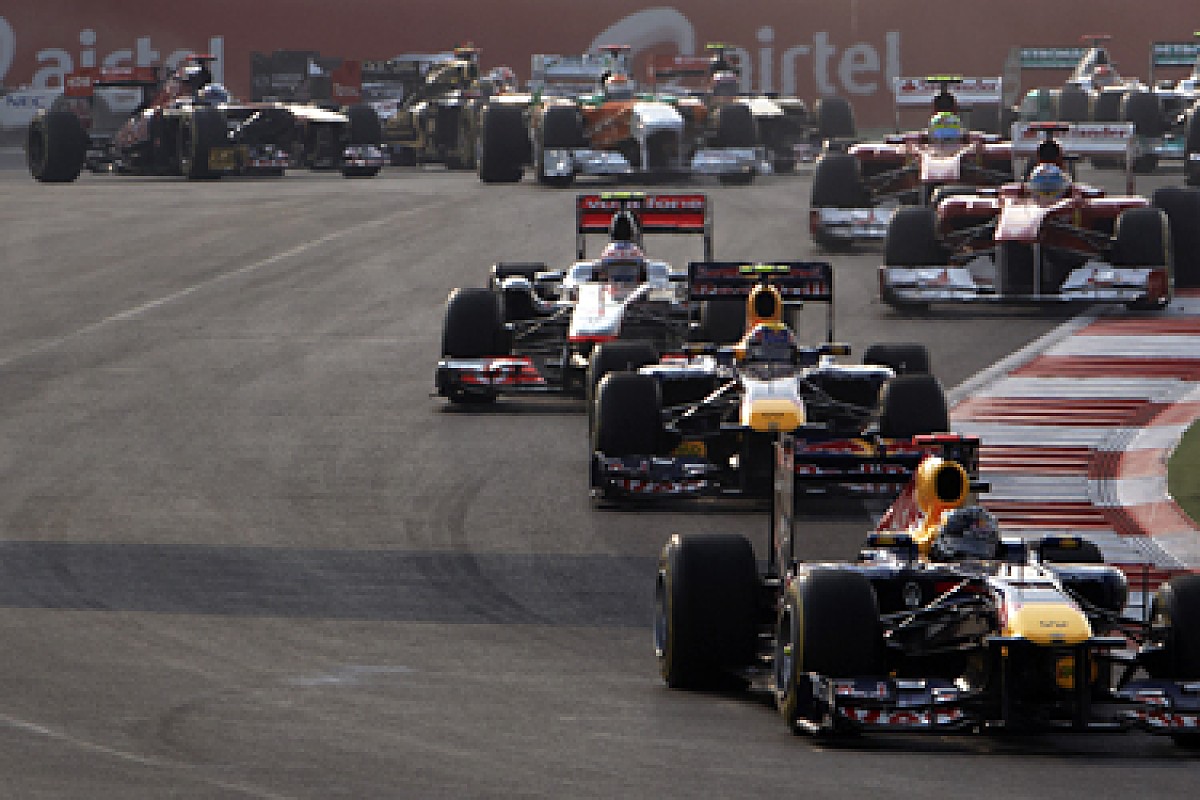 RACE
The first ever Indian Grand Prix delivered pretty much everything. It may have been extremely dusty, but the Buddh International Circuit's layout was universally praised by drivers and hailed as one of the best new additions to the Formula 1 calendar in years.
India also delivered great enthusiasm, and a healthy-sized and passionate crowd. Those factors made the event a superb addition to the schedule.
The only sadness was that this time F1 didn't quite manage to deliver the great race the organisers, crowd and atmosphere deserved.
But the only person you could really blame for that was world champion Sebastian Vettel whose relentless thirst for perfection pushed him toward another clean sweep of victory, pole positon and fastest lap.
This was as commanding a performance as the Red Bull driver had ever delivered. He broke away from his rivals as they squabbled in his wake during the first half-lap, sat on a just-enough-to-be-comfortable lead of between two and five seconds all afternoon, led every single lap, and blasted in fastest lap after fastest lap - finally setting the definitive benchmark on the very last tour.
With both titles settled, there was absolutely no need for him to go to any of that effort - except that he absolutely relishes the position he is currently in and wants to milk every last drop of success from it.
"We enjoy every race," said Vettel. "The great thing is you walk into the garage every morning and you see the guys and they are flat out. They are pushing very hard and there is no sign of getting lazy and not paying attention to detail.
"It is really enjoyable to see that knowing that we have already achieved a lot this year, but we are still hungry so we are not lacking motivation at any stage. All the people come back with their questions but we seem to give them the right answers. I love what I do. I think we all do so it is great and in a way we don't want this to end."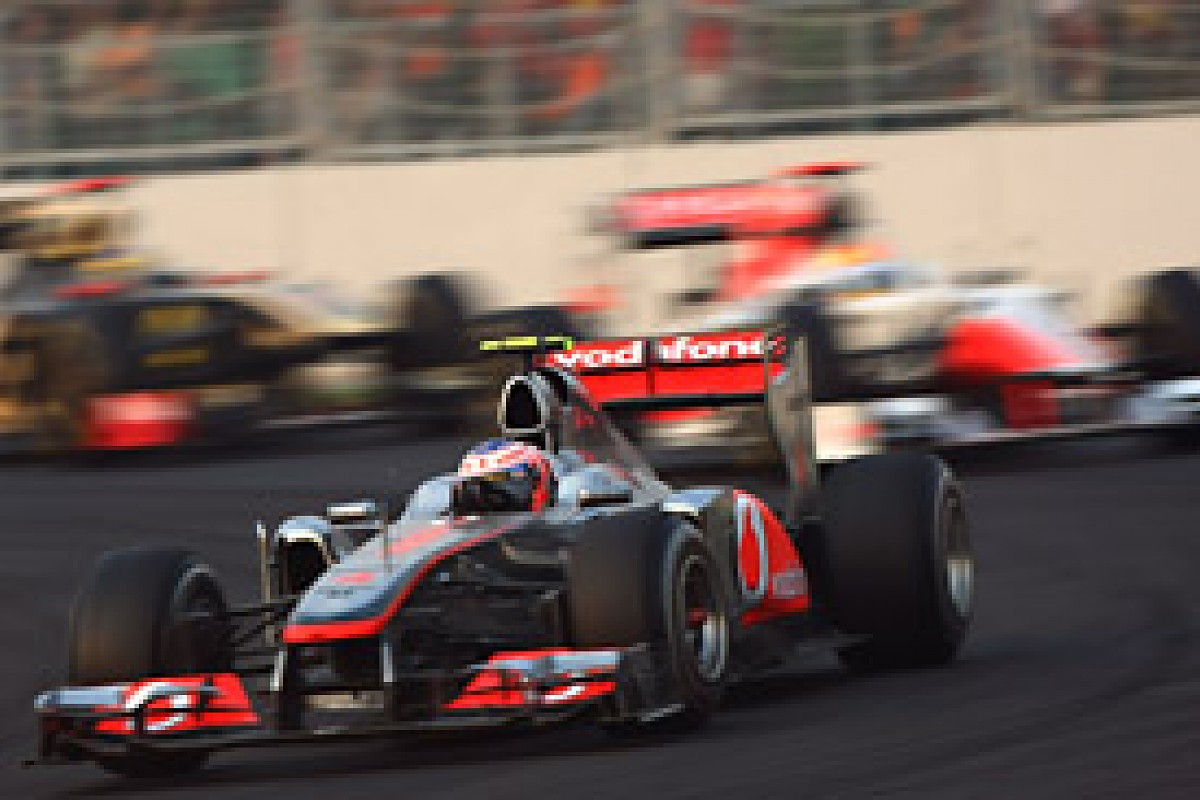 Jenson Button, action © LAT
He was joined on the podium by two men who really would like that run to end. Jenson Button and Fernando Alonso are generally regarded as having driven brilliantly this year, but still Vettel is out of their reach.
This time both attacked Mark Webber for second into the first corner, with Alonso's Ferrari snapping into a slide and slotting back into fourth, while Button managed to muscle ahead of Webber on the long run down to Turn 4. The Red Bull mounted retaliatory move after retaliatory move over the opening laps and looked certain to eventually get second, but in the end Button edged clear and Webber lost touch.
The Australian would ultimately fall behind Alonso too when he was jumped in the pits as the Ferrari went two laps longer during their second and final stops.
"It's pretty much the general story of this year - I just don't have the pace at the end of the stints," Webber mused. "I run out of tyres and lose the strategy, so you've got to pit earlier and it makes life a lot harder for you.
"I was quick against them in the first few laps, but as soon as you fight, you chew the tyres up."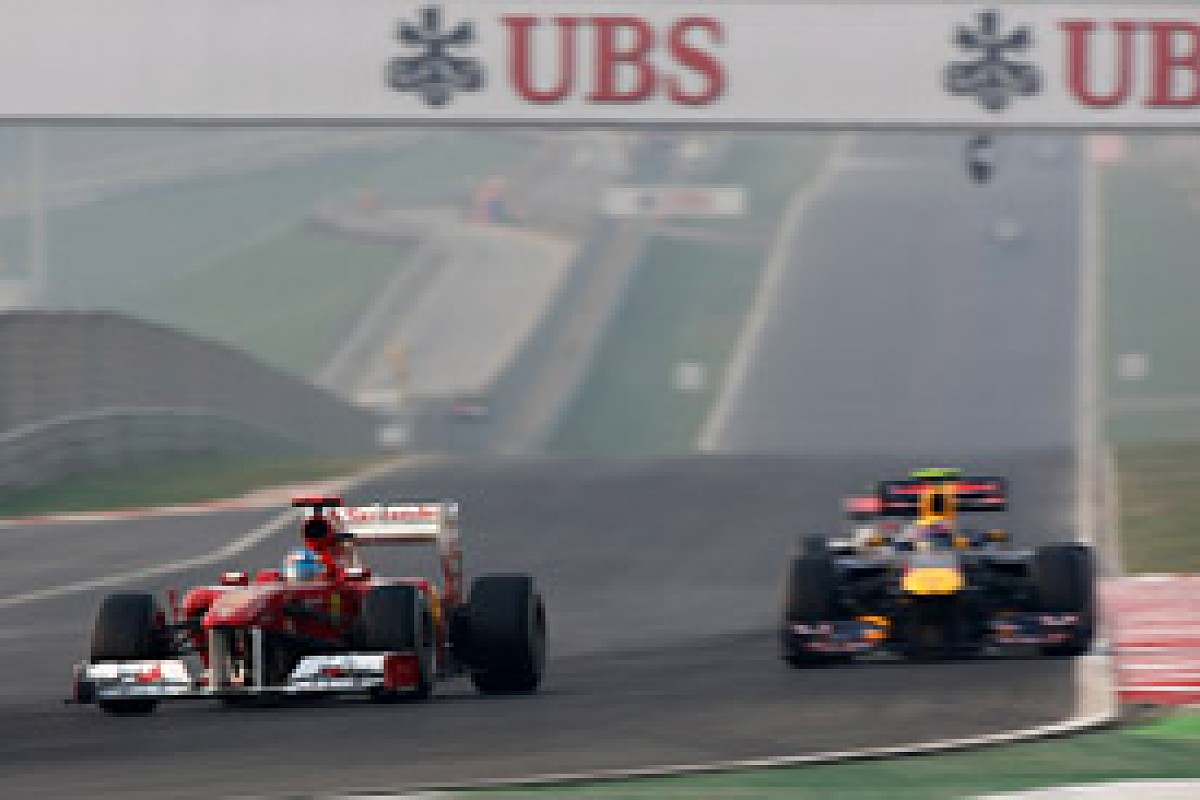 Alonso and Webber battle © LAT
Webber still managed to come back at Alonso over the final stint, and though he never got close enough to try and pass, the Ferrari driver said it had been a nerve-wracking run to the flag.
"It was a question mark as the last couple of races when we put the hard tyre on we struggled a lot and we have been overtaken by them quite easily," said Alonso. "So even if we were third at that point of the race we were not sure and we had to push for 20 laps at the maximum.
"I think the podium was getting more and more difficult [to keep] so the finish arrived at the right moment."
Once free of Red Bull pressure from behind, Button did his best to chase down the other Red Bull in front of him, but although he sometimes trimmed Vettel's lead, he always knew it was likely to be a forlorn pursuit.
"Every time through the pitstops we gained a little bit. I don't know if it was the stop itself or if it was after the stop, but on tyres when I came out of the box I felt very good. I felt very competitive and that was when I could really close the gap down," said Button. "But as soon as Seb got into a rhythm I couldn't do anything about it really."
Not for the first time this year, while Button delivered results for McLaren, his team-mate Lewis Hamilton delivered the louder headlines. And once again a collision with Felipe Massa was at the centre of the story.
Massa had passed Hamilton on the first lap and kept a comfortable cushion until a small error on lap 23 let the McLaren close right in and try some passing moves. Next time around, Hamilton went down the inside at Turn 5, and contact was made, breaking the McLaren's front wing and sending the battered Ferrari spinning down the run-off. But contrary to previous form, this time Massa was judged to be the man in the wrong and given a drive-through penalty - to his shock and chagrin.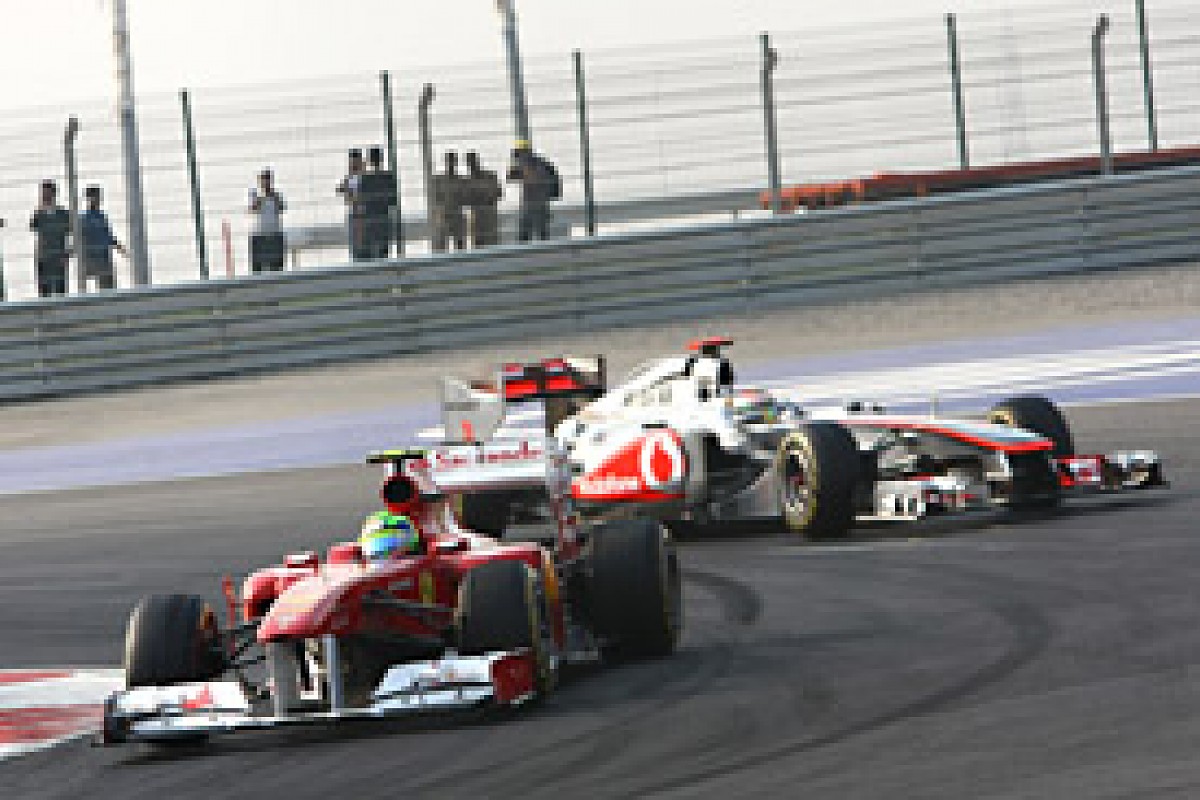 Massa and Hamilton, General action © LAT
"I braked later than him and I was in front, I was on the grippy area as well and then I started to turn and I didn't see him on the left as he was behind," said Massa. "He touched my rear wheel. So, to be honest I don't understand why I have the penalty. It is not really understandable."
Hamilton's view was that the move was entirely reasonable but that Massa should have left more room: "I tried to overtake and I tried to come out of it because it didn't look like he was going to give me any space, and we collided."
Massa's day then got more miserable still as he smashed his suspension on a kerb for the second time in 24 hours and had to retire.
Hamilton would recover to seventh, behind the two Mercedes, which finished with Michael Schumacher just in front of Nico Rosberg in fifth. That was a turnaround after their qualifying form, with a bold start and wise lap-one KERS use having got Schumacher onto Rosberg's tail, where he stayed until running five laps further at the final stops and jumping ahead.
After the top four teams, best of the rest on pace this weekend turned out to be Toro Rosso.
Jaime Alguersuari battled past Adrian Sutil's Force India early on, couldn't fend off the recovering Hamilton, and finished eighth. His team-mate Sebastien Buemi wouldn't have been far behind had his car not expired in a cloud of smoke on lap 24.
Sutil's ninth place was the best Force India could do in its home race, though compared to its form when Vijay Mallya took charge, the fact that this result was a slight disappointment spoke volumes for the progress the team has made.
Paul di Resta was only 13th in the sister car, unable to match Sergio Perez and Vitaly Petrov as all three followed the same strategy of a tiny first stint on hard tyres before very early first pitstops to switch to the much faster softs. That plan helped Perez bring his Sauber through from 21st on the grid to 10th, fending off Petrov, but di Resta had greater tyre wear and was back in 13th behind a KERS-less Bruno Senna.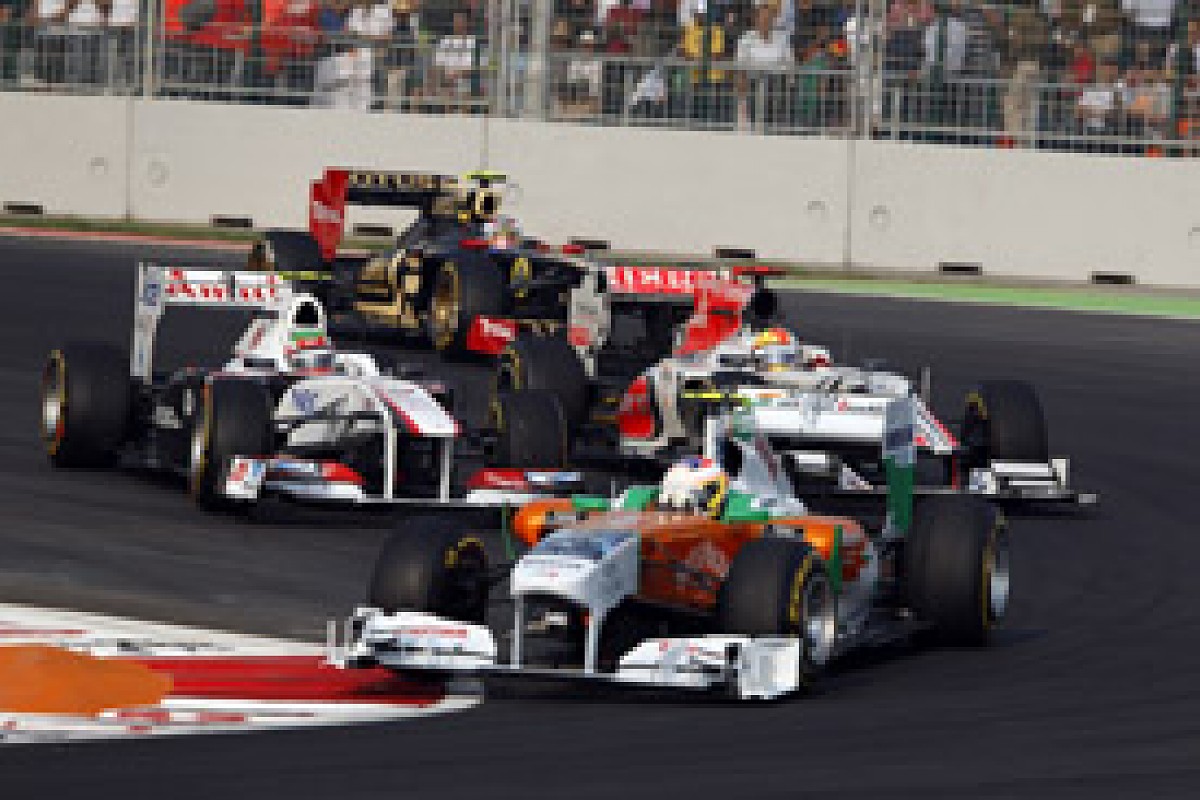 Paul di Resta, pack action © LAT
For some of the race it looked like Heikki Kovalainen might manage to get his Lotus onto Senna's tail. In the end, the Finn slipped back in 14th, but his race pace had been eye-opening and underlined that Lotus is quietly making some significant strides.
It's Kovalainen who is showing that progress at present, as Jarno Trulli's luck remains dismal. His Indian GP ruined by a shove from an HRT on lap one that sent him spinning and caused a puncture, leaving him 19th and last at the flag.
That was the last of several first-lap clashes, the main one coming when Rubens Barrichello bumped into Williams team-mate Pastor Maldonado, then slewed across towards Kamui Kobayashi, who was then collected by Timo Glock as he tried to rejoin from the run-off. Kobayashi and Glock both had to park with damage, Maldonado would later retire with gearbox failure, and the best Barrichello could salvage after repairs was 15th.
It turned out the Indian crowd didn't need a home success to cheer for F1, but they could be quietly proud with how Narain Kartikeyan performed on his return to the HRT cockpit for his home. Karthikeyan came within 0.6s of beating Jerome D'Ambrosio's Virgin to 16th, and finished ahead of team-mate Daniel Ricciardo, who had to make an extra pitstop with a suspected puncture.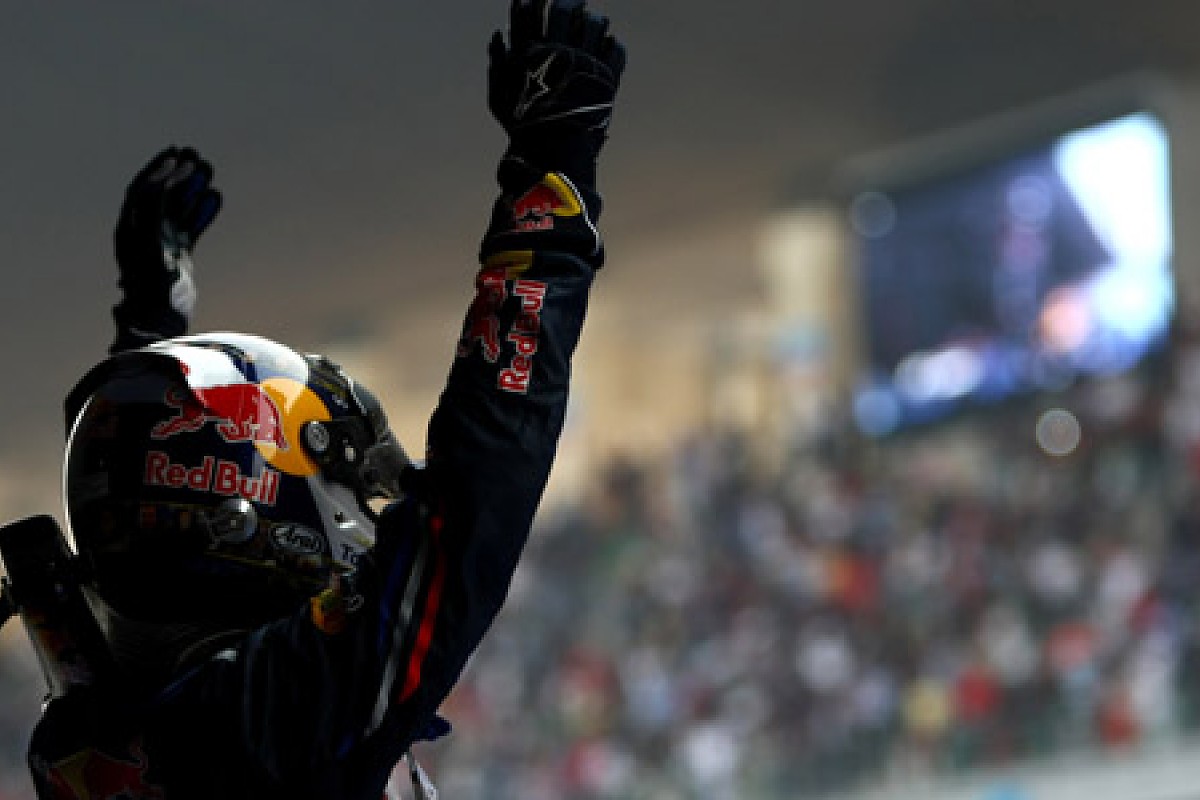 Lap-by-lap as it happened on AUTOSPORT Live
RACE RESULTS

The Indian Grand Prix
Buddh International, New Delhi, India;
60 laps; 307.249km;
Weather: Dusty.

Classified:

Pos  Driver        Team                       Time
 1.  Vettel        Red Bull-Renault           1h30:35.002
 2.  Button        McLaren-Mercedes           +     8.433
 3.  Alonso        Ferrari                    +    24.301
 4.  Webber        Red Bull-Renault           +    25.529
 5.  Schumacher    Mercedes                   +  1:05.421
 6.  Rosberg       Mercedes                   +  1:06.851
 7.  Hamilton      McLaren-Mercedes           +  1:24.183
 8.  Alguersuari   Toro Rosso-Ferrari         +     1 lap
 9.  Sutil         Force India-Mercedes       +     1 lap
10.  Perez         Sauber-Ferrari             +     1 lap
11.  Petrov        Renault                    +     1 lap
12.  Senna         Renault                    +     1 lap
13.  Di Resta      Force India-Mercedes       +     1 lap
14.  Kovalainen    Lotus-Renault              +    2 laps
15.  Barrichello   Williams-Cosworth          +    2 laps
16.  D'Ambrosio    Virgin-Cosworth            +    2 laps
17.  Karthikeyan   HRT-Cosworth               +    3 laps
18.  Ricciardo     HRT-Cosworth               +    3 laps
19.  Trulli        Lotus-Renault              +    4 laps

Fastest lap: Vettel, 1:27.457

Not classified/retirements:

Driver        Team                         On lap
Massa         Ferrari                      33
Buemi         Toro Rosso-Ferrari           25
Maldonado     Williams-Cosworth            13
Glock         Virgin-Cosworth              3
Kobayashi     Sauber-Ferrari               1


World Championship standings, round 17:                

Drivers:                    Constructors:             
 1.  Vettel       374        1.  Red Bull-Renault          595
 2.  Button       240        2.  McLaren-Mercedes          442
 3.  Alonso       227        3.  Ferrari                   325
 4.  Webber       221        4.  Mercedes                  145
 5.  Hamilton     202        5.  Renault                    72
 6.  Massa         98        6.  Force India-Mercedes       51
 7.  Rosberg       75        7.  Sauber-Ferrari             41
 8.  Schumacher    70        8.  Toro Rosso-Ferrari         41
 9.  Petrov        36        9.  Williams-Cosworth           5
10.  Heidfeld      34       
11.  Sutil         30       
12.  Kobayashi     27       
13.  Alguersuari   26       
14.  Di Resta      21       
15.  Buemi         15       
16.  Perez         14       
17.  Barrichello    4       
18.  Senna          2       
19.  Maldonado      1       
   

TEAM-BY-TEAM
Red Bull
It seemed like a very straightforward weekend for Vettel, even more than in Korea, where at least the German failed to start from pole. In India, however, Vettel was in a league of his own again on Saturday, securing the 13th pole of the season, just one away from Nigel Mansell's record set in 1992.
In the race, Vettel had no opposition, even if at times it looked as if Button could give him a run for his money. In the end it was not to be and, as it has been the case very often this year, Vettel was in total control despite a relatively small gap. Having led every lap from pole, with the fastest lap of the race included, was proof that Vettel was simply alone on top.
Webber, on the other hand, was never a match for his team-mate, even if he started from the first row because of Hamilton's penalty. In the race, the Australian was a distant fourth, 25 seconds behind Vettel and even behind the slower McLaren and Ferrari of Button and Alonso.
McLaren
Judging by its Friday form, it looked as though McLaren could be a real threat for Red Bull over the weekend, but a penalty for Hamilton for ignoring yellow flags in practice and a poor qualifying for Button left the team on the back foot for the race.
Hamilton's race was marked - again - by a clash with Massa that relegated him down the order, although he never looking in contention for the top places anyway. Button on the other hand, recovered strongly from a disappointing qualifying and was the only man capable of chasing Vettel, securing another superb second place that consolidates his position as runner-up in the championship.
Ferrari
With Massa topping the times in Friday's practice, things started positively for the Italian squad, which has already shifted its focus completely to 2012. The Brazilian was upbeat about his team's form for the weekend, although his qualifying was far from smooth as he damaged his car by hitting a kerb too hard in Q3.
In the race, the Brazilian had it even worse, hitting Hamilton, getting a drive-through penalty for it, and then running over another kerb to damage the left suspension which forced him to retire.
Alonso had a much more trouble-free weekend and although he was unable to fight for victory, it was a case of goals reached for the Spaniard after securing third place, which tasted even sweeter as he managed to beat Webber in the Red Bull to it.
Mercedes
The team was expecting a stronger-than-usual weekend thanks to the fast nature of the circuit and in the end it sort of turned out to be that way, even if the result was rather unspectacular. Rosberg had a solid qualifying to finish in seventh position, but Schumacher wound up 12th, admitting he was baffled by the big gap to his team-mate.
Schumacher would turn things around with a strong drive in the race, however, maximising his car's potential to secure fifth position ahead of Rosberg, who was left lamenting his strategy after dropping behind the seven-time champion despite having run in front of him for most of the event.
Renault
A difficult weekend for the team, which left India with nothing to show for after finishing a lap down as it continued with its tough end to the season. Petrov managed to qualify in the top ten, but dropped five places to serve his penalty from the previous race, leaving him behind Senna, who struggled with his car during qualifying to 14th place.
The race was somewhat better, with Petrov climbing up to 11th and Senna up to 12th. The Brazilian made a great start that put him into 10th, but his KERS stopped working shortly after that and he dropped down the order. Petrov had a few offs and a slow pitstop that meant he finished outside of the points.
Williams
Another weekend to forget for Williams, which left without a point for the fifth consecutive race. Maldonado had put on a solid qualifying performance to finish in 14th position, two places ahead of team-mate Barrichello, who struggled with his second set of tyres in Q2.
The Venezuelan's race lasted just 13 laps however, as he suffered a gearbox problem after driving a good first part of the event. Barrichello's race was compromised right at the start when he made contact with his team-mate, damaged his front wing and was forced to pit to replace it. The Brazilian recovered to finish in 15th.
Force India
An important weekend for the team, not only because it was in India, but also in its fight to keep sixth place in the standings from a charging Toro Rosso. Things started well for Sutil in qualifying, the German finishing in eighth position - five places ahead of team-mate di Resta, who complained of understeer after failing to match the pace of Sutil.
The race was fairly straightforward for both drivers, with Sutil unable to keep the Toro Rossos behind as his car's balance was not perfect. Things improved in the second part of the race and the German finished in ninth position.
Di Resta did not manage to make any progress in the race as an aggressive strategy - starting the race with the hard tyre - did not pay off with the team hoping for a safety car that never arrived. He finished in 13th.
Sauber
Things looked rather grim for the Swiss squad after qualifying: Kobayashi had been knocked out in Q1 after suffering from tyre warm-up issues, while Perez qualified in 17th but had to drop down three places for having ignored the yellow flags during practice.
On race day, things did not get any better for the Japanese driver, who retired after just a few corners when he was hit from behind. Perez had a much better day however. The Mexican opted for the unusual strategy of pitting on the opening lap to replace his hard tyres. From the back, he charged to tenth place and rewarded his team with a point.
Toro Rosso
The Faenza-based squad continued with its upward trend in India, showing very strong form both in qualifying and in the race. Both Buemi and Alguersuari made it into the top ten in qualifying, leaving them with a great chance to close the gap on Sauber and Force India.
Unfortunately for Buemi, his race ended on lap 25 after he suffered a technical problem when he had looked set to finish in eighth position. His frustration marked by him thumping the steering wheel several times as he sat in his smokey car. Alguersuari saved the day, however, following a strong performance which included some bold passing on his way to eighth position. That allowed Toro Rosso to leave India level on points with Sauber.
Lotus
Kovalainen was pleased with his qualifying effort after finishing less than a second behind Kobayashi, especially as he had struggled with the balance of his car all weekend. Trulli blamed traffic for not managing a better time, the Italian finishing down in 20th.
In the race, Kovalainen used his one stop strategy to climb up to tenth place at one point, then dropped to 14th two laps down by the end. Trulli's race was compromised right at the start when he was hit from behind by Karthikeyan after just a few corners. The Italian was forced to pit to replace a punctured tyre, also suffering damaged to the car's floor which meant he struggled to finish in 19th four laps down.
Hispania
Local hero Karthikeyan handled the pressure of racing at home well during the weekend, the Indian qualifying right behind team-mate Ricciardo despite his lack of track time. Both him and the Australian had a good day, outqualifying the Virgins by quite some margin.
Despite serving a drive-through penalty for hitting Trulli at the start, Karthikeyan drove a solid race and finished ahead of his team-mate, justifying his presence in the HRT line-up over the weekend. Ricciardo had a good first half of the race, but then had problems with the balance of his car and dropped down to finish in 18th.
Virgin
There was nothing to write home about for Virgin, which had a weekend to forget starting with a disastrous qualifying which saw both Glock and D'Ambrosio finishing behind the HRTs. Glock could not even complete a proper time as he had a broken gearbox in Q1.
The German's race lasted just three laps after being hit at the start by Kobayashi. Although he pitted for repairs, the team decided to stop him because there were other parts of the car damaged. D'Ambrosio had a better day and managed to finish ahead of the HRTs in 16th.
RACE DATA