For a large part of its history - 18 times out of 61 in fact - the Formula 1 World Championship featured 16 races. With this in mind, and with 16 races already run in 2011, now is the perfect time to compare Sebastian Vettel's title-winning performance against the most dominant from history.
With Vettel's year being constantly compared to the crushing successes of Nigel Mansell in 1992 and Michael Schumacher in 2002 and 2004, it's time to analyse the data and see who comes out on top.
*According to the current points system. (Title) denotes race in which the title was mathematically sealed.
From the data above, it is Schumacher who emerges as the champion of champions, thanks to his 2002 season, albeit by a slim six points over Vettel based on the 2011 points system. Mansell's 1992 campaign, by contrast, faded into oblivion as soon as he clinched the title in Hungary.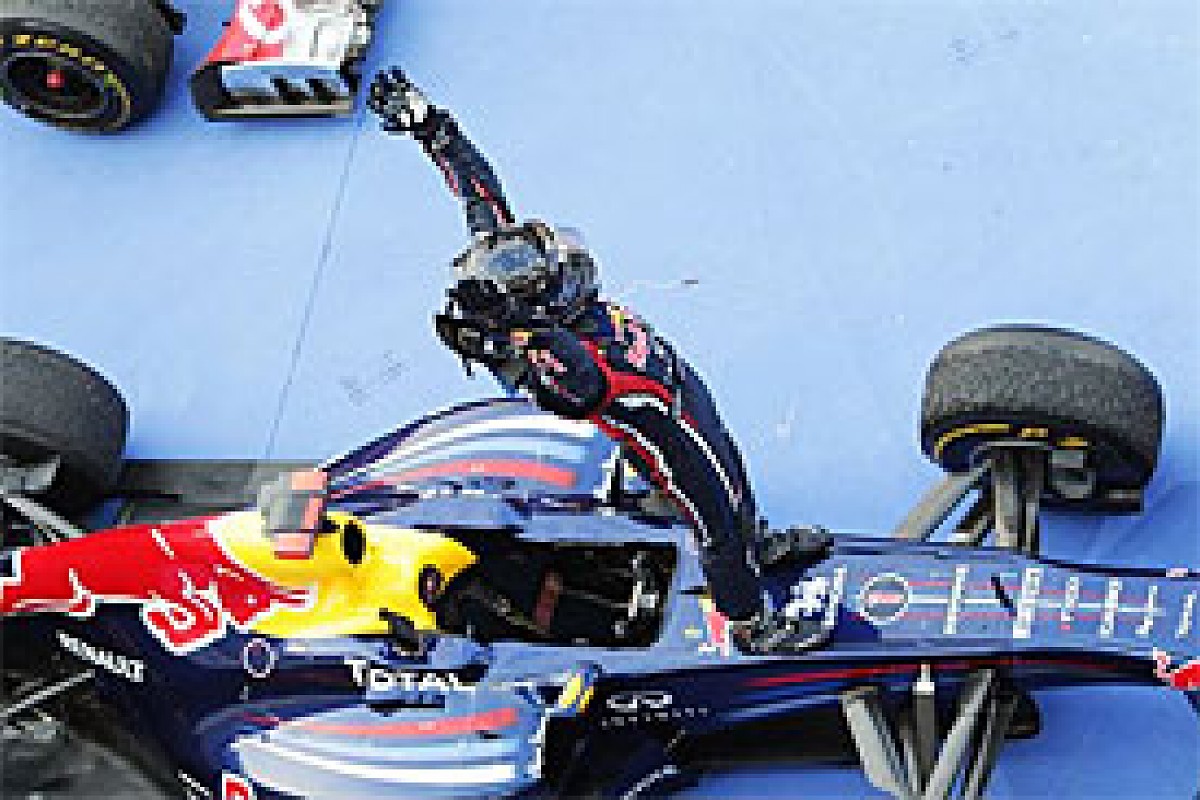 Sebastian Vettel, Red Bull © sutton-images.com
Mansell comes out as the fastest qualifier with 14 pole positions compared to Vettel's 12, but the German has at least equalled the number of front-row starts managed by the Brit. Schumacher is nowhere near either's figure, but it is worth bearing in mind that with mid-race refuelling a part of F1 in both seasons in question, Ferrari often gave away something in qualifying in order to focus on race set-up.
Incidentally, Schumacher finished on the podium in every race of the 2002 season, winning the 17th event in Japan.
One final consideration needs to be given to the points situation at the 11th race of the year, the event at which Mansell and Schumacher (in 2002) claimed their titles. Based on F1's current points system the order comes out as Schumacher, 251 points (2002); Schumacher, 250 points (2004); Mansell, 236; and Vettel, 234. That's just how dominant Schumacher and Ferrari were in those two seasons. Additionally, Schumacher often 'gave' wins to his team-mate Rubens Barrichello once the title had been decided.
Reflections on 2010
The 15th race of the 2010 F1 season was the Japanese Grand Prix; with many in the paddock wondering whether Vettel should have played the team game to help Mark Webber win the race, such was the championship position between Webber and Ferrari's Fernando Alonso. As it turned out, Vettel's win brought him level with Alonso in second place in the standings, 14 points behind Webber.
McLaren drivers Lewis Hamilton and Jenson Button finished fourth and fifth at that race, but with only 31 points between leader Webber and fifth-placed Button, the title could still have been won by any one of five men.
A year on and the title has already been won. This is reflected in the points earned in each of the past two years by each driver, with Vettel having addressed his misfortunes of 2010 and scored 143 more points than at the same point a year ago.
At the extreme other end of the scale is Mercedes driver Nico Rosberg, who has scored 55 points less than at the same point a year ago. However, with more of the big points scores having gone the way of one man, he actually holds the same position in the championship.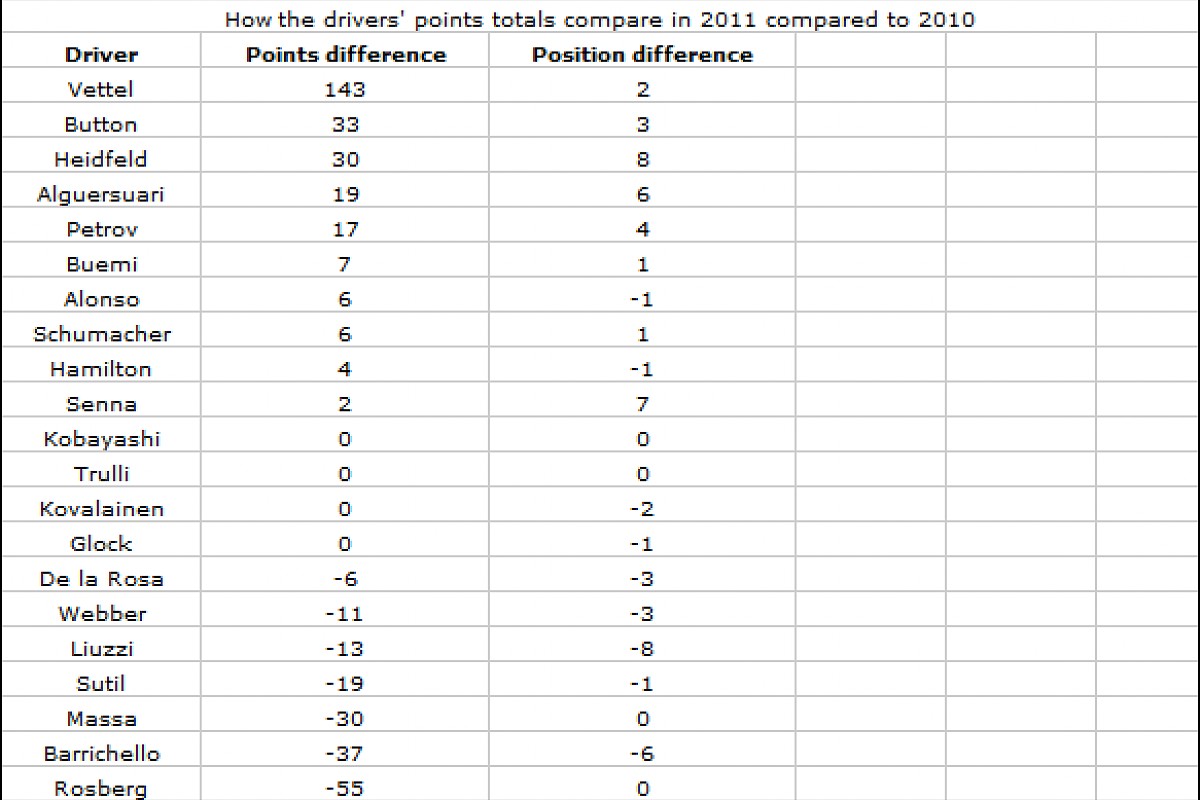 One more thing to consider is that had team orders been applied in Webber's favour in Japan and Brazil last year, with the Australian winning, then Webber would have been world champion with 256 points, ahead of Alonso (252) and Vettel (242).
Record year for overtaking
First of all, let's define what is meant by an overtaking move in the context of the statistics.
An overtaking move is a pass completed from lap two of a grand prix onwards, and kept until the finish line (a position gained and then lost again before the end of the lap is not counted). Positions gained by passing cars that are off-track, in mechanical trouble, or in the pits, are not counted either.
Formalities done, it's been an amazing year for overtaking, with Pirelli tyres, KERS and DRS making 2011 the year with the most number of overtaking moves since such statistics were made available in 1983.
The 1984 season had held the previous record with 666 passing moves across the 16 grands prix. However, across the same number of races this year, there have been 729 moves - an average of 45 per race.
The season's high point came in Canada with 89 passes, while the British Grand Prix produced only 20. The lowest figures, predictably, came at Monaco with 16 moves made.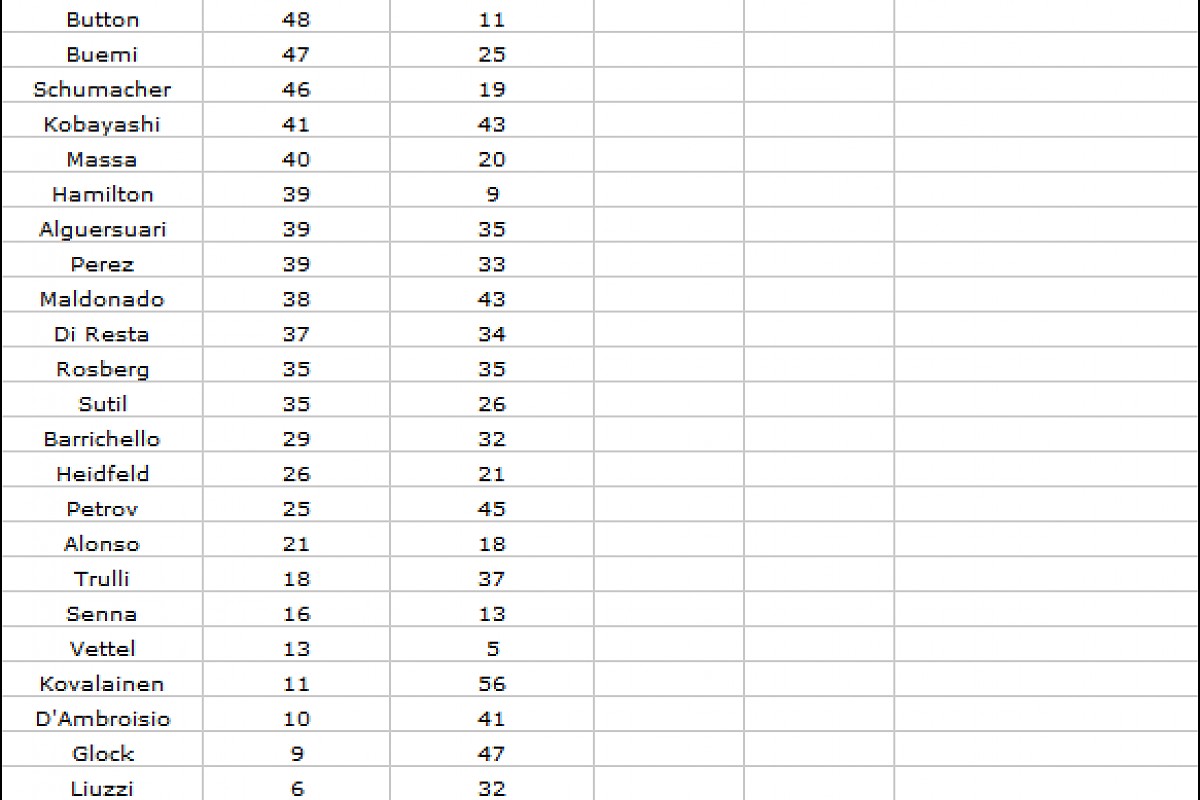 Curiously, Vettel has only been overtaken five times this year. But in each of these cases he has never recovered the lost place, and in three races; China, Canada and Hungary, that pass cost him victory.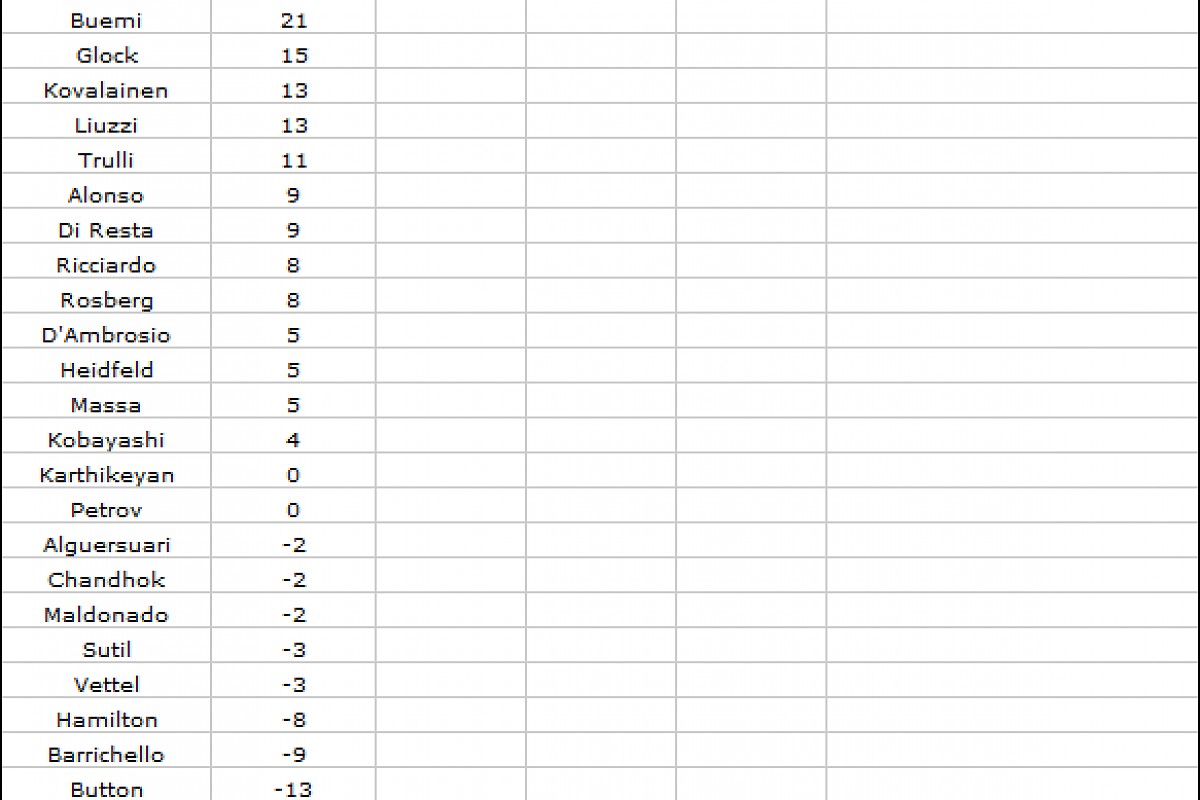 Mark Webber has often had to make up for poor starts in 2011, and is unsurprisingly the driver who has completed the most passing moves; 51. Button is next up on 48.
Bringing up the rear is Heikki Kovalainen, who has been overtaken 56 times this year. He was also the most overtaken driver last year, but this was largely due to making rocket starts in his Lotus, and therefore having the inevitability of faster cars behind him making moves at various points during races.