PRACTICE
Practice one
It's Friday morning, Suzuka and the serpentine asphalt is dusty, ready to bite at the unwitting and the unwary. Such conditions are not conducive to accurate predictions for the weekend ahead.
Jenson Button set the early pace © LAT
Two things are clear by the end of this first 90 minutes of a potentially historic Japanese Grand Prix weekend, though: Sebastian Vettel looks likely to be a double world champion in less than 72 hours and McLaren possesses good one-lap pace around every Formula 1 driver's favourite layout.
Jenson Button is fastest, but only fractionally from his beleaguered and press-hounded team-mate Lewis Hamilton. No one though is demonstrating reliable long-run information, so for now all we know is that McLaren is posting quick times.
Button though does go even faster at the end of the session on some used prime tyres, indicating that once again, there is race pace in that MP4-26. About the same time Vettel puts the Red Bull car he hopes would take him to glory later in the weekend in the Degner Two barriers, with her nose ignominiously bent out of shape.
Practice two
Things became clearer in the second session as Red Bull demonstrated remarkable long run pace on the option Pirellis. Again Button's McLaren was quickest of all, but he couldn't, or didn't, match Vettel and Mark Webber's 1m37s during the all-important degradation phase. Fernando Alonso's Ferrari, as it had been in FP1, was also in the hunt and was second quickest of all.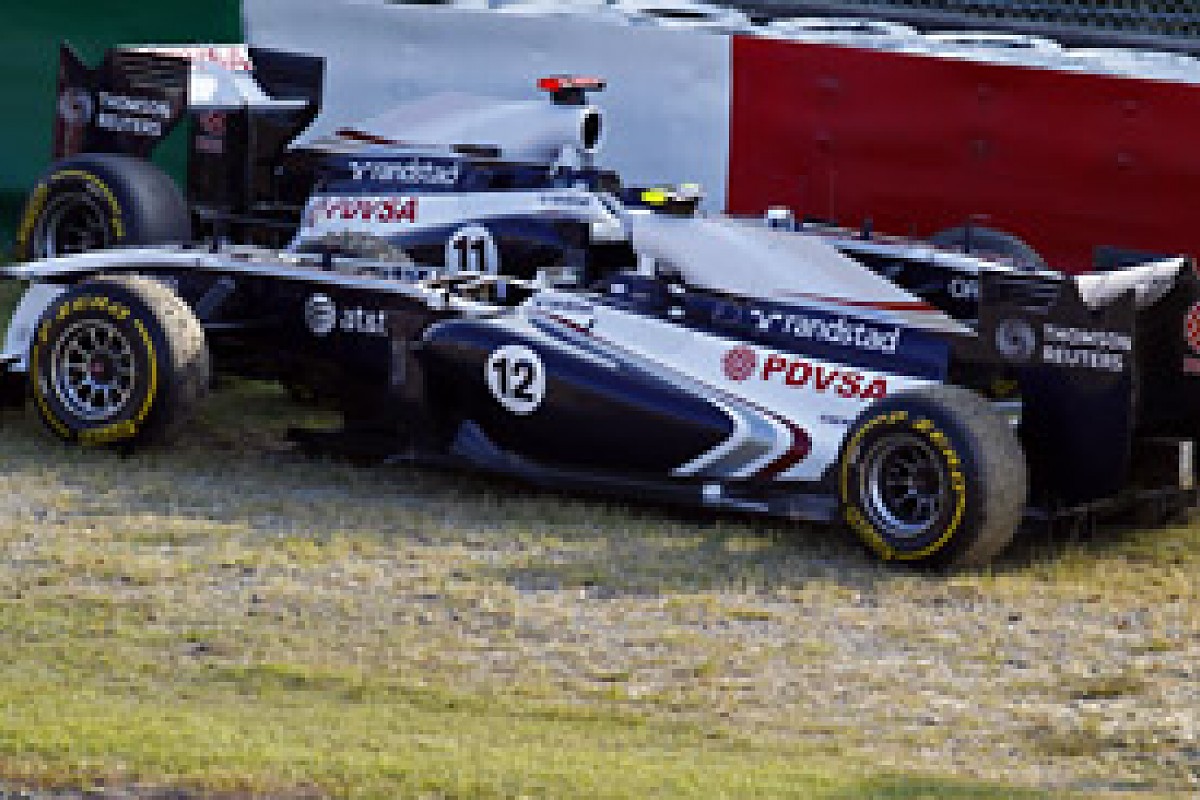 Rubens Barrichello ended the day with a very broken Williams - as team-mate Pastor Maldonado's car also stopped with an engine failure at the same spot © LAT
Elsewhere there were incidents galore. Rubens Barrichello's was the biggest as the veteran comprehensively wiped out his Williams at Degner One. Kamui Kobayashi could have been in an even bigger shunt - but instead fortune smiled on the home hero and he got away with a distinctly sideways moment at 130R. Bruno Senna also had a spin at Turn 1.
Practice three
The final session provided a few hints that maybe Vettel would have a serious fight on his hands. Rather than his habitual surge to the top by the end of the morning, Vettel remained out of sorts, unhappy with his set-up and a relatively low-key third fastest.
It was McLaren that led the way again, with Button completing a clean sweep of practice sessions and going quickest once more. He was in charge whatever the situation - fastest on the harder tyres in the opening half of the hour then returning to the top during the soft-tyre qualifying simulations, after a brief cameo by the Mercedes, which switched to softs earlier than most.
The session was interrupted for eight minutes when Bruno Senna stuffed his Renault into the barriers on the exit of Spoon. The Brazilian was unhurt, and his car was able to be repaired for qualifying, the incident only looking so dramatic because the car hopped over its own front wheel as the tethers stopped it completely detaching when the suspension smashed in the impact.
QUALIFYING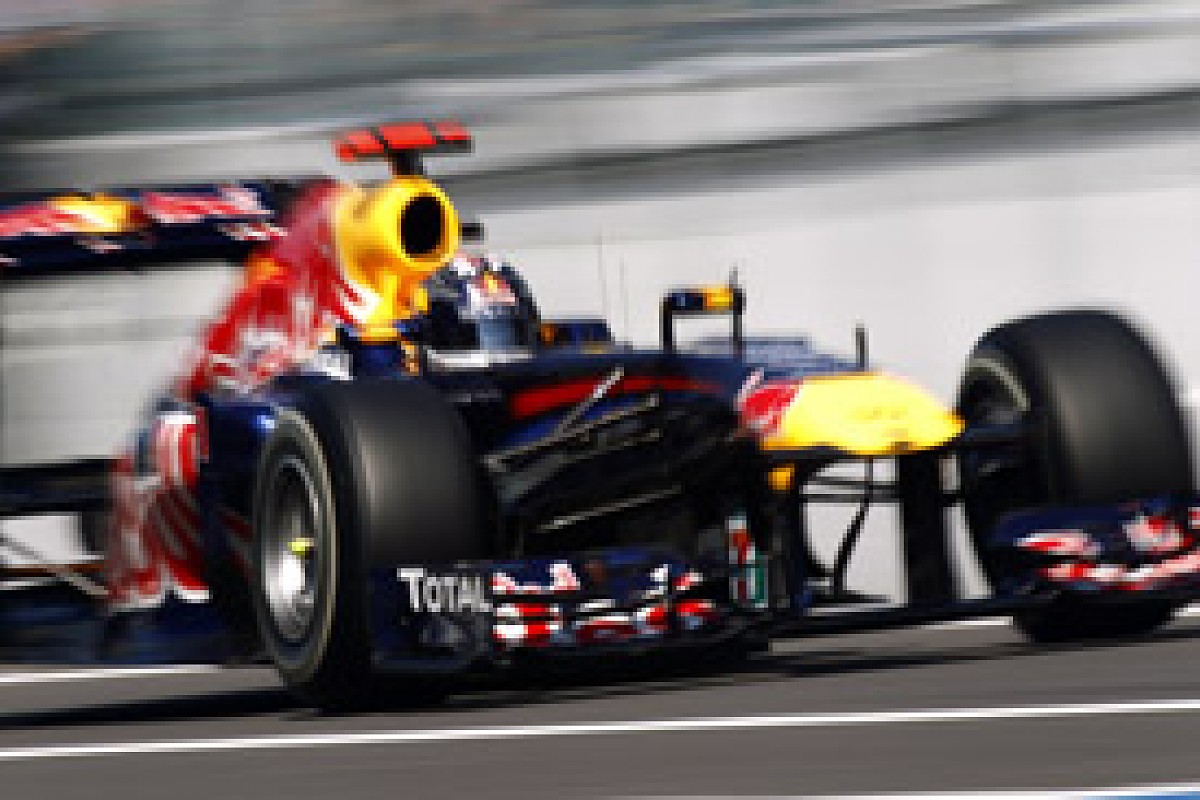 Yet another pole for Vettel © LAT
1st Sebastian Vettel
"What a qualifying! Yesterday I went off in free practice and damaged the wing, so it wasn't ideal in the afternoon to prepare the car. We were able to get every single bit out of the car, which was crucial. I had a bit of a wobble in sector one, but I made up for it in the second sector and we were strong in the third sector."
2nd Jenson Button
"When you have got a car working around here, it's a great feeling. I was just building up until Q3 and thought the last lap would have been enough, but nine thousandths off is not good enough. I got a little bit of oversteer on that last run but it was just because I was pushing that little bit more."
3rd Lewis Hamilton
"The car was feeling great. I felt I had a couple of tenths left as there were a couple of corners where I lost a bit of time on my first runs. I felt I was in a position to at least fight these guys, but it was a bit dangerous at the last corner where I had Mark [Webber] attack me and Michael [Schumacher] going down the outside. That's where we lost the lap."
4th Felipe Massa
"It was a difficult qualifying session but at least we managed to keep one of the four best cars behind us. It's never easy here to put together the perfect lap and my last run was very good, even if I lost a little bit in the final sector.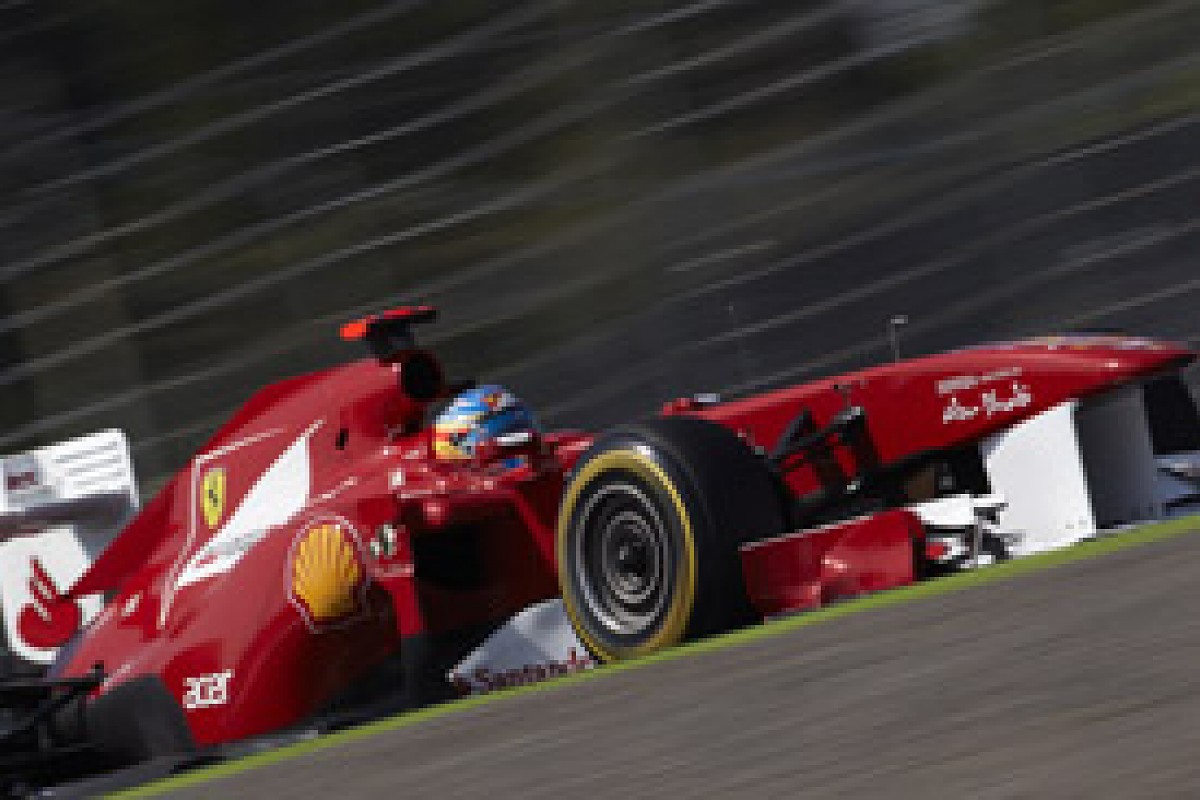 Alonso was outqualified by team-mate Massa © LAT
5th Fernando Alonso
"I am not very surprised by this result: at the end of the day, McLaren and Red Bull have been quicker than us all weekend long and at least we have managed to get ahead of Webber."
6th Mark Webber
"I'd started the lap with quite a bit of dirt on the tyres and we saw the reflection of that in sector one. I made a little mistake in the hairpin and didn't open the DRS from the hairpin to Spoon. I don't know how much time I lost with that. It didn't help."
7th Kamui Kobayashi
"In free practice we struggled quite a lot with the balance of the car, but the set-up changes we made for qualifying worked out well. I think from the pace of the car you can see now that the new aero package is starting to work. My laps in Q1 and Q2 were good, and I can't complain."
8th Michael Schumacher
"It was a tricky ending to my qualifying session today, but at least we have saved a set of tyres for the race tomorrow. We are still in a good position for gathering some important points, and obviously that is what I am geared to do."
9th Bruno Senna
"It was a bit of a squeeze getting my car together in time for qualifying, but the team did a fantastic job to mend it after my mishap in practice this morning. The car performed flawlessly throughout qualifying and the strategy we deployed helped put us in a strong position for the race."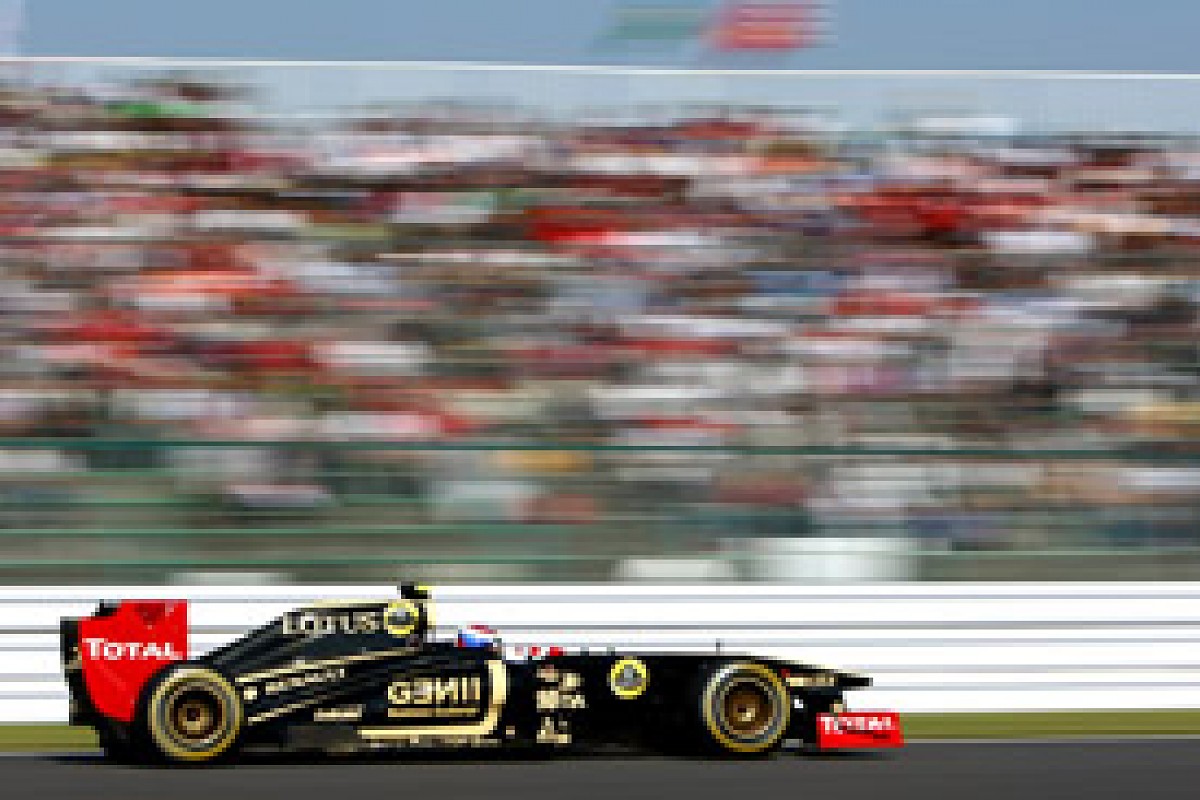 Both Renaults were back in the top 10 in Japan © LAT
10th Vitaly Petrov
"The car has felt progressively better every time I've taken to the wheel this weekend. The stability of the car improved around the high speed corners and the traction was better too, so I'm feeling confident going into tomorrow."
11th Adrian Sutil
"It was a good day with no real problems. We just couldn't go any faster because it was a clean lap. Maybe I lost one tenth at Spoon corner when I was quite close to Pastor Maldonado when he was on an in-lap, but it was just a little bit. It was close, so it probably would have been enough for Q3."
12th Paul di Resta
"I'm quite happy given that it has been a tough weekend in terms of performance. We struggled to dial the car into how I wanted it so we went for more of a race set-up. Hopefully that will pay off tomorrow."
13th Rubens Barrichello
"After yesterday's crash, we had to change things. We changed the floor, rear wing, dampers, the whole lot. The car is not competitive in Suzuka, but it was back to acting normally and I was able to put in a good performance in qualifying."
14th Pastor Maldonado
"Quite a difficult qualifying for me, primarily because we lost a lot of track time during yesterday's practice. We made a few changes after this morning's session and we managed to get a good lap out of the car in qualifying. I don't have the balance I'd like."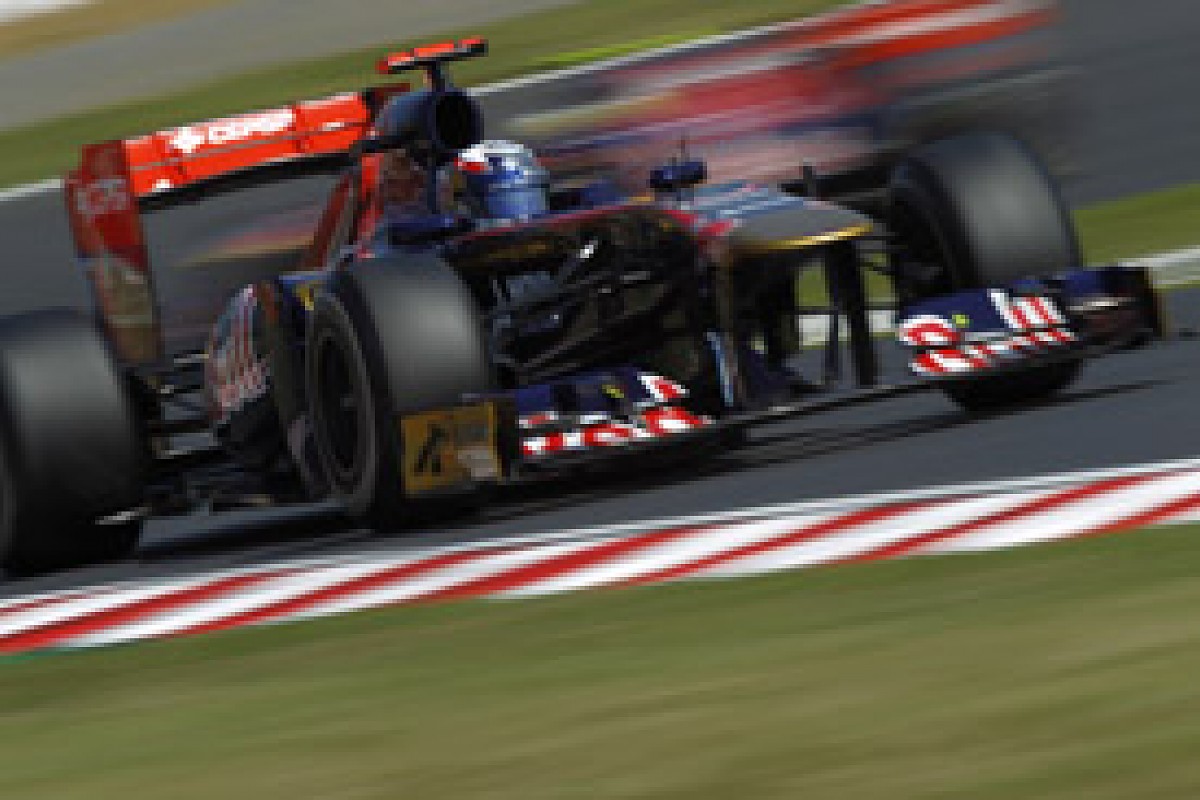 Qualifying was a missed opportunity for Toro Rosso © LAT
15th Sebastien Buemi
"I got a super lap in Q1, but I cannot be happy with Q2, because I made a mistake on the exit of Turn 9, hitting the kerb a bit too hard which sent me off into the grass, costing me around half a second. I am disappointed about that because I've ended up behind the Williams, when we could easily have been ahead of them."
16th Jaime Alguersuari
"We could have had a much better qualifying in performance terms, but we had concentrated on the race in terms of our set-up and aero balance. Therefore, even if the grid position is not so good, I am quite happy because I feel that tomorrow I will have a car strong enough to score some points."
17th Sergio Perez
"I was optimistic that I would also make it to Q3. But then on my last lap in Q1 in sector two I suddenly had a hydraulic problem, I lost everything, starting with the power steering. Therefore I could not go out in Q2, which is obviously disappointing."
18th Heikki Kovalainen
"I'm pretty happy with that, particularly as it was one run, one lap to get it right, and I nailed it straight out of the box. We took the riskier strategy with the tyres, went out late in the session and I think I may have even been able to find a bit more in the first sector, but overall I'm pleased."
19th Jarno Trulli
"The car felt much better this afternoon as we made the right changes to the set-up and even though I made a couple of mistakes on my quickest lap I still don't think I could have got much more out of it.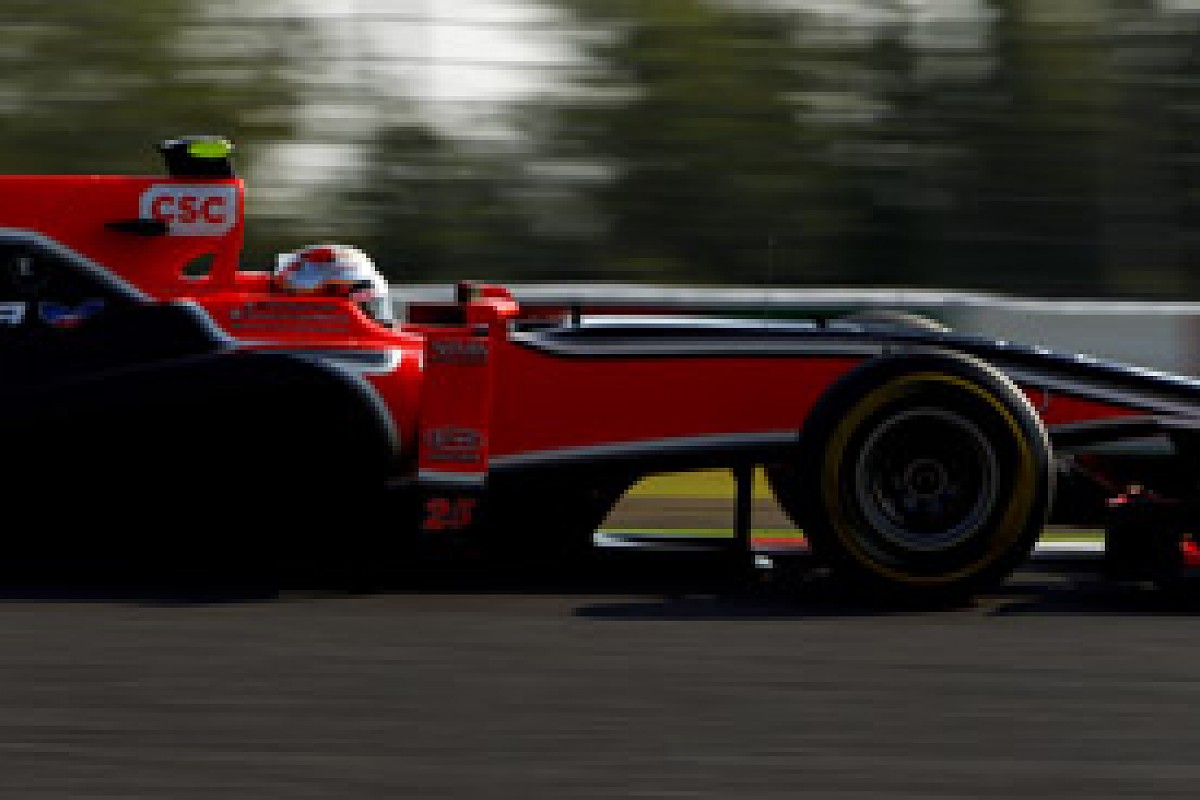 D'Ambrosio beat team-mate Glock © LAT
20th Jerome d'Ambrosio
"We didn't have a great day on Friday and to turn around the situation was not easy. But we improved the package and had a good qualifying - one of our best because we're definitely a bit closer to Lotus and have a bigger gap to HRT."
21st Timo Glock
"I was quite happy after Friday. We made a mistake overnight trying something that we knew normally didn't work on our car, but all the signs with a lot of understeer sent us in that direction. It didn't work, so we went back. The car was well-balanced in qualifying and I had a good lap, but in general the gap to Lotus was bigger than expected."
22nd Daniel Ricciardo
"It was not a bad session. I approached it well and did what I had to do. In qualifying you have to push 100 per cent and I definitely did that. I went a little bit wide in some areas from pushing too much but I'd say I only lost about a tenth which isn't enough to get in front of our rivals. I am satisfied because the balance of the car was the best it's been all weekend."
23rd Nico Rosberg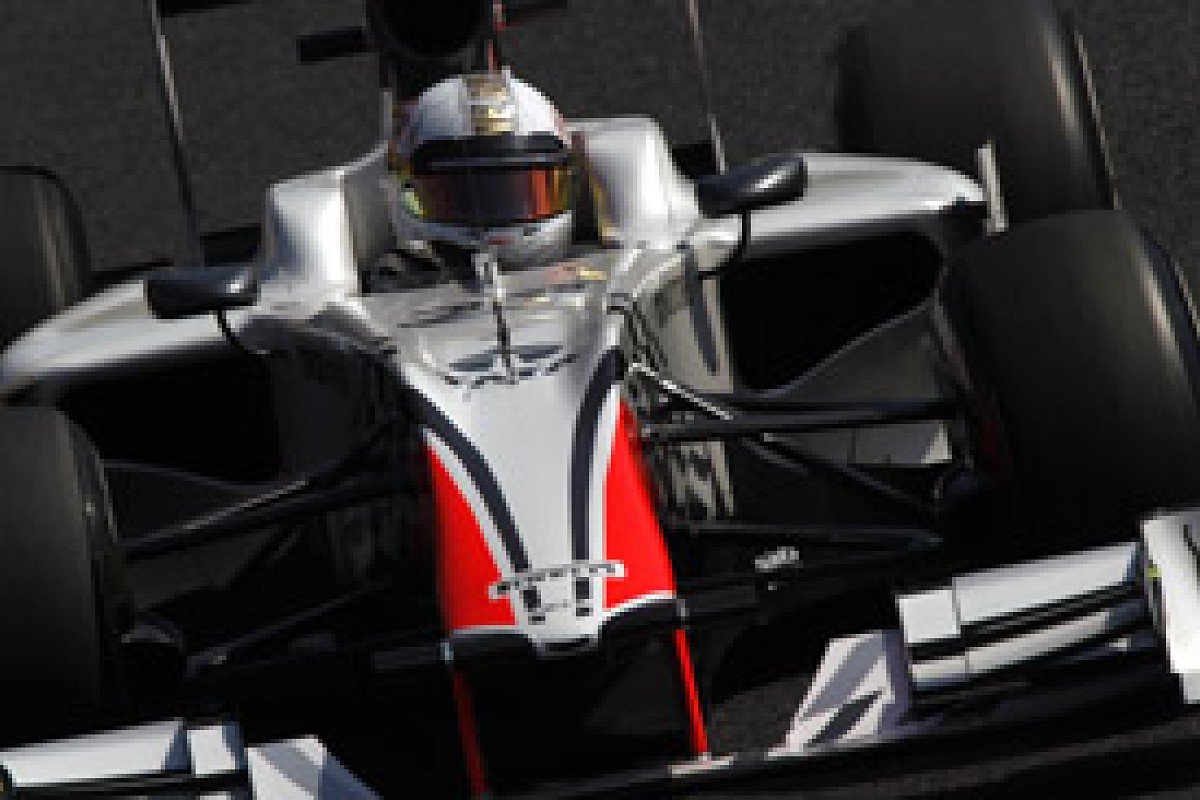 Liuzzi had barely any mileage leading up to qualifying, then suffered yet more problems © LAT
"We've done a great strategy - I've managed to keep all of my tyres new for the race! So that will help. Unfortunately, it's not one of the best tracks to come through the field, but I'll try for sure and I'll definitely be able to get into the top 10."
24th Vitantonio Liuzzi
"It's been a terrible start to the weekend. Yesterday I could only do four laps, eight this morning after an engine issue and this afternoon again problems so in the end I've hardly done any laps in two days. We'll start from last position, which isn't very positive."

THE GRID

Pos  Driver                Team
 1.  Sebastian Vettel      Red Bull-Renault
 2.  Jenson Button         McLaren-Mercedes
 3.  Lewis Hamilton        McLaren-Mercedes
 4.  Felipe Massa          Ferrari
 5.  Fernando Alonso       Ferrari
 6.  Mark Webber           Red Bull-Renault
 7.  Kamui Kobayashi       Sauber-Ferrari 
 8.  Michael Schumacher    Mercedes               
 9.  Vitaly Petrov         Renault             
10.  Bruno Senna           Renault                         
11.  Adrian Sutil          Force India-Mercedes
12.  Paul di Resta         Force India-Mercedes
13.  Rubens Barrichello    Williams-Cosworth
14.  Pastor Maldonado      Williams-Cosworth
15.  Sebastien Buemi       Toro Rosso-Ferrari
16.  Jaime Alguersuari     Toro Rosso-Ferrari
17.  Sergio Perez          Sauber-Ferrari        
18.  Heikki Kovalainen     Lotus-Renault    
19.  Jarno Trulli          Lotus-Renault    
20.  Jerome D'Ambrosio     Virgin-Cosworth    
21.  Timo Glock            Virgin-Cosworth    
22.  Daniel Ricciardo      HRT-Cosworth  
23.  Nico Rosberg          Mercedes               
24.  Tonio Liuzzi          HRT-Cosworth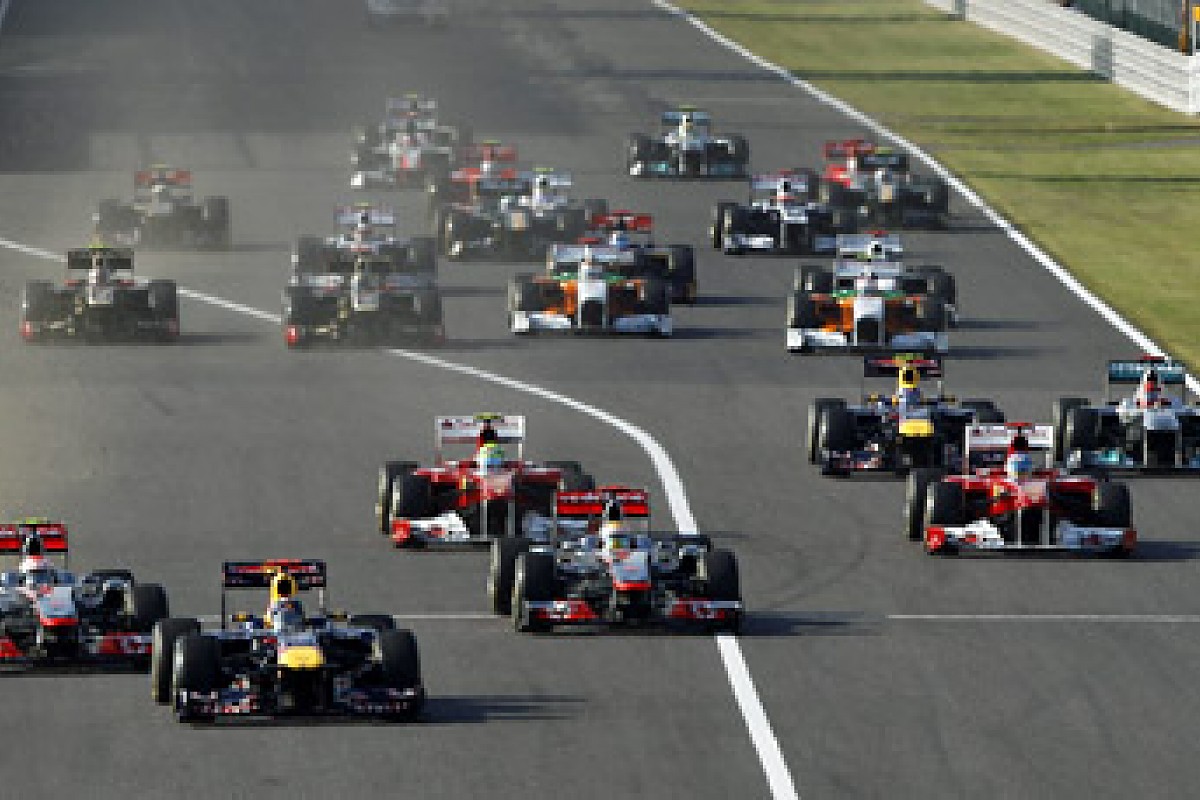 RACE
No-one ever really thought Sebastian Vettel would take the 'just-one-point-required' element of his title-clinching race too literally, and he immediately underlined that he wouldn't be trundling to the title by aggressively defending the inside from the start.
Jenson Button had made the better getaway, but found himself on the grass as Vettel moved to the right. It would have been a shock if this particular title battle - between two protagonists noted for fair play - had ended in a Suzuka collision, and both continued unscathed after what Button felt had been a very uncomfortable moment.
"I think he realised immediately that he didn't get a good start and he started coming across," said Button, who dropped to third behind McLaren team-mate Lewis Hamilton as he lost momentum.
"I was using as much KERS as I could to get up the inside and he kept coming, he kept coming and he kept coming. I thought in the end he was going to stop, because I was halfway alongside him. But he didn't stop, so I got onto the grass and then ended up backing out - I had to, because it would've been an almighty shunt into Turn 1.
"I was a bit surprised. He said that he didn't see me coming until he saw me backing out. And if that's the truth, then it's one of those things."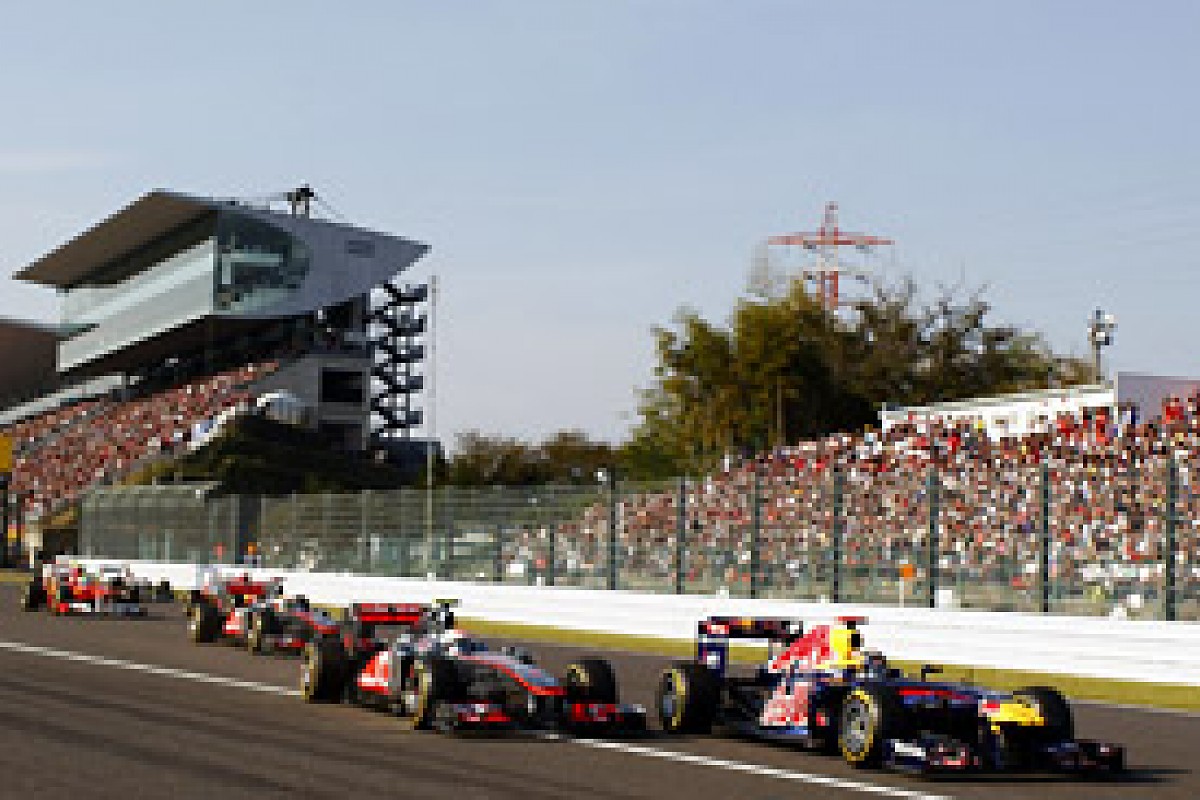 Vettel robustly dealt with Button's advances at the start © LAT
Vettel said: "I didn't really see him. I thought he was either on the right or he was far away on the left. By the time I saw him, I realised that maybe I was a little bit too far to the right."
Button initially felt the move was worthy of a penalty, but the stewards decided to take no action.
Hamilton stayed with Vettel for a spell while Button dropped away a little, a situation that lasted only a handful of laps...
Signs of a puncture saw Hamilton slow suddenly at Spoon and then dive for the pits on lap eight, releasing Button to chase after Vettel, who was not able to encourage the same longevity from the soft Pirellis as the Briton.
"I think we were a little bit too weak today on the option tyre at the end of the stints," Vettel mused. "Jenson was seven, eight tenths quicker at that stage, which clearly is not because he found a short-cut all of a sudden but he took care of his tyres better than the rest."
Vettel and Button made their first stops on laps nine and 10, and during the pit sequence the gap between them came down from 5.2 to 2.9s - which became just 1.6s by the end of that stint.
Then at the second stops, Button delivered in and out-laps respectively 1.4s and 1.9s quicker than Vettel's. And, with McLaren turning its man around 0.8s faster than Red Bull completed Vettel's tyre change, it was Button who led into the third stint, albeit with the champion still on his tail.
The race was then interrupted by a four-lap safety-car period to clear up debris, including a chunk of Ferrari bodywork left in the chicane braking area after Hamilton and Felipe Massa's latest meeting.
Hamilton had fallen behind Button and Fernando Alonso due to his puncture, while Massa had also been overtaken by Alonso during the first stint. Massa then challenged Hamilton for fourth as the second stops approached, and they ended up banging wheels when the Brazilian tried to go down the outside into the chicane under braking.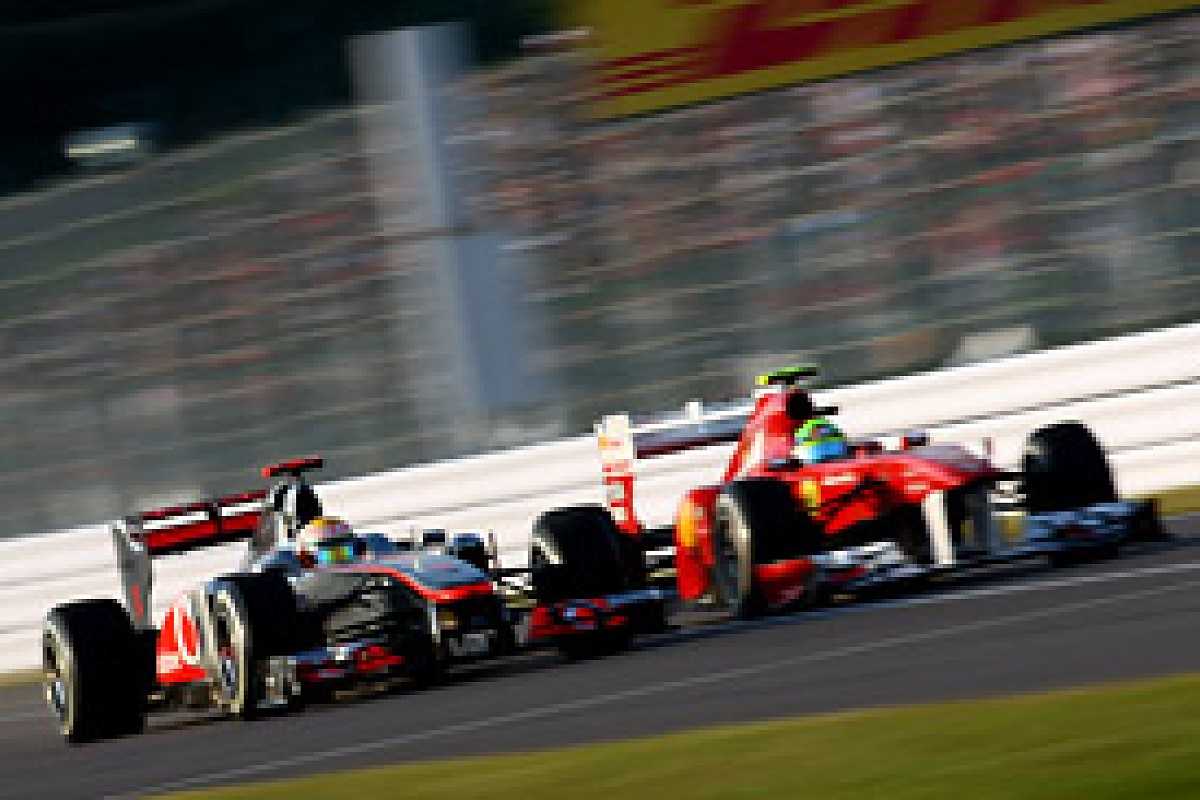 Hamilton and Massa battled again and clashed at the chicane © LAT
"I can't see anything out of my mirrors," said Hamilton, in his defence. "They vibrate so much down the straight. I had no idea he was there."
Massa was not impressed: "I don't care, to be honest, about what he said. The only thing I care about is what he did. He was so slow in 130R and he stayed on the right-hand side. I was much quicker, so I went to the left-hand side and I braked there. I stayed on my line; he moved his car and touched my car. There's nothing more to say."
While Hamilton and Massa were bouncing off each other, Mark Webber was improving his hitherto quiet race by pitting early and leapfrogging both of them to go from sixth to fourth - despite losing a piece of front wing in a touch with Michael Schumacher while in traffic after his stop.
The safety car did Vettel no favours, bringing Alonso right back into contention, and the Ferrari stayed just about on terms with the leading McLaren and Red Bull after the restart. The closer packing of the field also meant that when Vettel had to make a relatively early switch to medium tyres with 20 laps still remaining, he emerged in thick traffic back in 10th place.
That ruled out any hope of an 'undercut' effect and Vettel not only failed to reclaim the lead from Button - who pitted three laps later - but lost second to Alonso when the Ferrari pitstops shook out.
"I didn't enjoy it," said Vettel, who is not used to losing ground in a race. He was soon making huge efforts to repass Alonso for second, until some delays among backmarkers and some gentle words from the Red Bull pit wall convinced him to call off his chase.
"We were trying to contain his enthusiasm - reminding him that he'd already got 14 points more than he needed," said Red Bull team boss Christian Horner, who also requested that fourth-placed Webber didn't give Vettel any hassle on this occasion.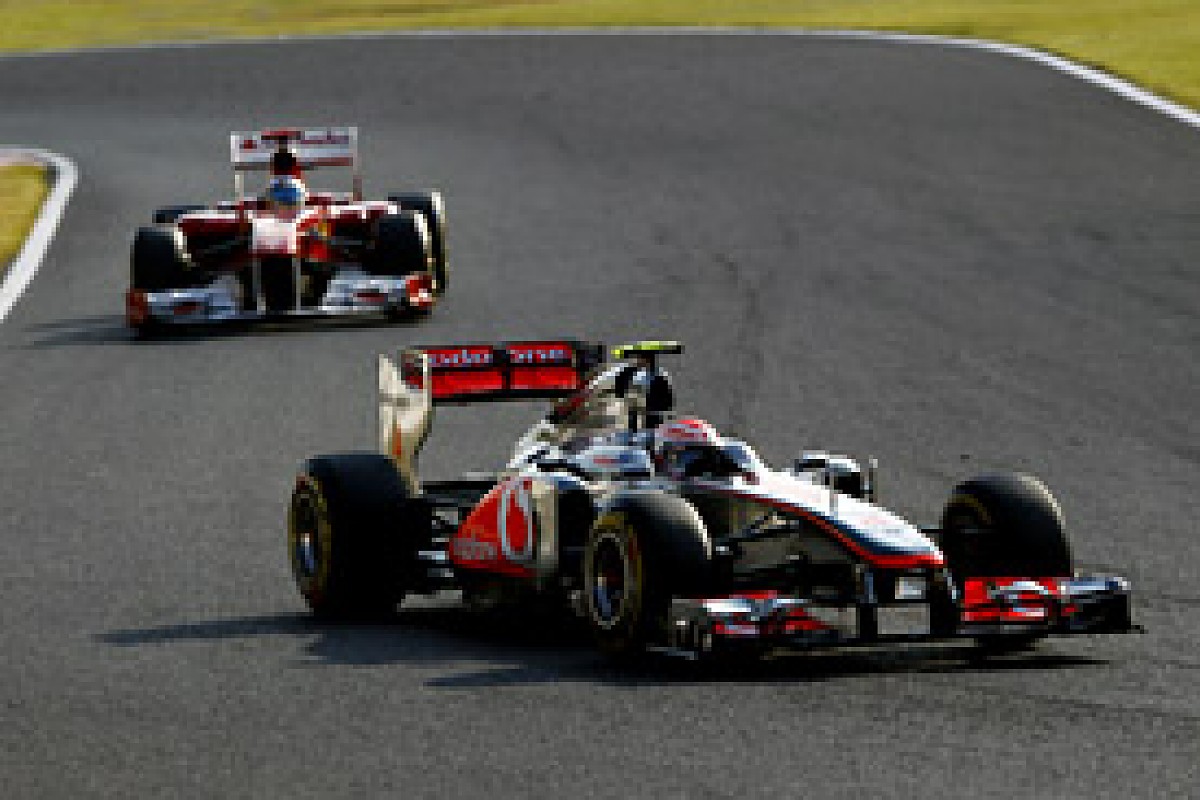 Alonso chased down Button in the closing stages of the race © LAT
With Vettel no longer bothering him, Alonso started hounding Button instead, quickly reducing the McLaren's lead to just a second.
Button was cruising and able to up his pace once things got too close for comfort, but admitted the looming Ferrari had come as a surprise.
"The team said to me, 'Back it off, take it easy on the car', and I had a six-second lead," said Button. "I missed the pit board once and next time round [the gap] was 2.6s... I was like, 'You could've told me they were closing on me at 1-2s per lap!'"
He kept the Ferrari at arm's length, and Alonso said he always knew catching Button would be a long shot.
"I never thought about victory, if I'm completely honest with you," he said. "I only had a small possibility, maybe five or six laps from the end, when Jenson was dropping back a little bit and we closed the gap.
"Then I thought maybe if we were close enough maybe two laps or one lap from the end I could use the DRS and have a chance, but I knew that it was difficult."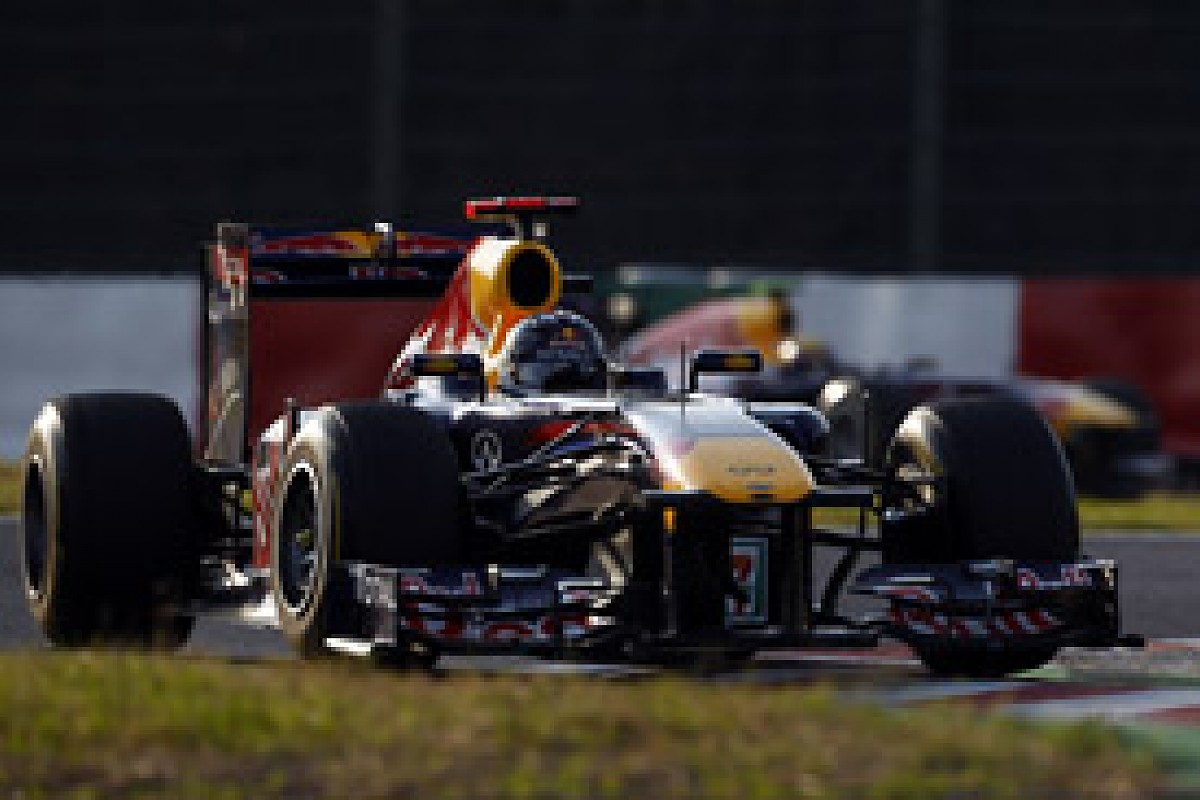 Vettel settled for third in the end, clinching his second consecutive title © LAT
Vettel's aggressive driving at times during the race had suggested he desperately wanted to put the seal on his title with a win. But, having crossed the line to take third, his joy at becoming the sport's youngest-ever double world champion was clearly not subdued at all. He did admit, however, that a third-straight Suzuka win had been his priority when the day began.
"If we targeted one point, I think the race would have been a bit different," he said, "but we targeted to do our optimum, which in a way today was third place, and that's what we got."
The champion added that his celebrations would feel a bit strange as he has to be at another grand prix in just a week's time.
"Last year [after winning the title at the Abu Dhabi finale], after the chequered flag it was all over, there was a long period of time when you weren't in the car again etc, so it's a bit different this year, and it makes it even more special in a way," he pondered.
"So I'm very much looking forward to the rest of the season. We have a great car, a great team, and obviously we use everything we have to make the next step and do well or perform well at the next race.
"It does take some time to understand and I think I'll have those quiet moments at some point, either tonight, tomorrow or in the coming weeks, to take time and let things sink in a little bit."
Behind fourth-placed Webber, Hamilton managed to repass Massa just after the third stops, with the Ferrari ending up only seventh behind Schumacher.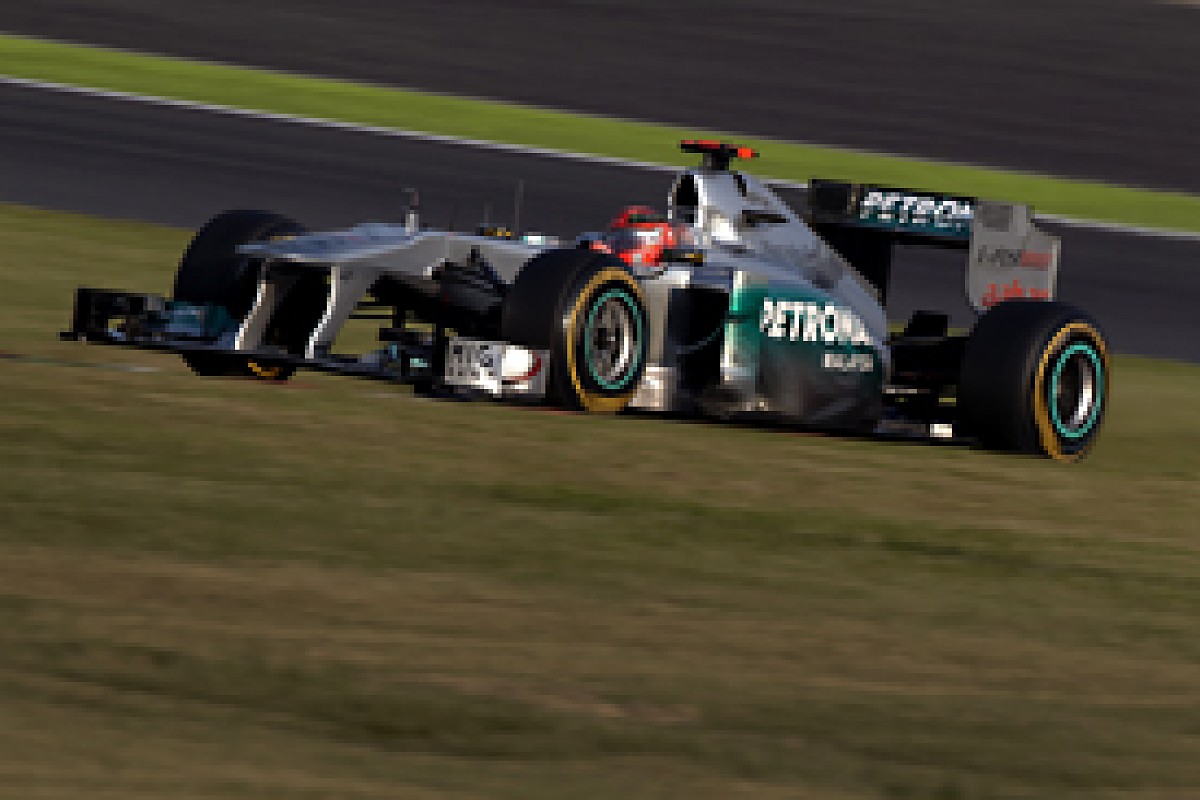 Schumacher was between the top three teams and the rest for most of the afternoon © LAT
The German veteran was in a class of his own between the top three teams and the rest for most of the afternoon. Then the safety car brought him back up behind the leaders, allowing him to lead for three laps before making his final stop for medium tyres, after which he rejoined between Hamilton and Massa. Schumacher's Mercedes team-mate Nico Rosberg was pleased to come through from 23rd on the grid to 10th, though he conceded he had hoped he might have got a little higher.
On Saturday, Sauber had seen its local hero Kamui Kobayashi take a career-best seventh on the grid, while Sergio Perez was left in 17th by a hydraulic problem. Both their weekends turned around on race day, as a well-executed two-stop allowed Perez to come through to eighth, while Kobayashi finished only 13th.
Perez was able to spend over half the race on fresh sets of soft tyres - and the Mexican even came within 0.001s of setting the fastest lap of the day, beaten only by Button's lap-52 effort when he realised Alonso was on his tail.
For Kobayashi, the race began badly when his anti-stall system kicked in at the start and he fell to 12th. He couldn't quite repeat last year's heroics, and his attempts to complete the last 29 laps on one set of medium tyres left him off the pace in the closing stages.
A poor start delayed home hero Kobayashi © LAT
The safety car did give a helping hand to those on two-stop strategies and annoy those pitting three times, such as the Force Indias and Williams, who ended up 11th, 12th, 14th and 17th, while two-stopper Vitaly Petrov popped back up from the midfield to take ninth for Renault. It wasn't such a good day for his team-mate Bruno Senna - the Brazilian went wide at the first corner (blaming Petrov for squeezing him), had a slow first pitstop and suffered huge tyre wear on the way to an unhappy 16th.
Toro Rosso had expected to deliver another forward march towards the points on race day, and sure enough Sebastien Buemi gained several places at the start. But that was as good as it got: Buemi became the race's only retirement when his right-front wheel dropped off just after his first pitstop, and Jaime Alguersuari didn't have the pace to get above 15th.
Among the 'new-ish' teams, Heikki Kovalainen got his Lotus in front of several quicker cars off the line and was pleased to be within 15s of a Renault and a Williams as he finished 18th, a place ahead of team-mate Jarno Trulli, who had a slight gearbox issue. The Virgins and HRT's Daniel Ricciardo had a tight dice for 20th, won by Timo Glock, while Tonio Liuzzi's weekend of misery ended with 23rd and last after high tyre wear and a trip off the road.
Lap-by-lap as it happened on AUTOSPORT Live
RACE RESULTS

The Japanese Grand Prix
Suzuka, Japan;
53 laps; 307.573km;
Weather: Sunny.

Classified:

Pos  Driver        Team                       Time

 1.  Button        McLaren-Mercedes           1h30:53.427
 2.  Alonso        Ferrari                    +     1.160
 3.  Vettel        Red Bull-Renault           +     2.006
 4.  Webber        Red Bull-Renault           +     8.071
 5.  Hamilton      McLaren-Mercedes           +    24.268
 6.  Schumacher    Mercedes                   +    27.120
 7.  Massa         Ferrari                    +    28.240
 8.  Perez         Sauber-Ferrari             +    39.377
 9.  Petrov        Renault                    +    42.607
10.  Rosberg       Mercedes                   +    44.322
11.  Sutil         Force India-Mercedes       +    54.447
12.  Di Resta      Force India-Mercedes       +  1:02.326
13.  Kobayashi     Sauber-Ferrari             +  1:03.705
14.  Alguersuari   Toro Rosso-Ferrari         +  1:04.194
15.  Maldonado     Williams-Cosworth          +  1:06.623
16.  Senna         Renault                    +  1:12.628
17.  Barrichello   Williams-Cosworth          +  1:14.191
18.  Kovalainen    Lotus-Renault              +  1:27.824
19.  Trulli        Lotus-Renault              +  1:36.140
20.  Glock         Virgin-Cosworth            +    2 laps
21.  D'Ambrosio    Virgin-Cosworth            +    2 laps
22.  Ricciardo     HRT-Cosworth               +    2 laps
23.  Liuzzi        HRT-Cosworth               +    2 laps

Fastest lap: Button, 1:36.568

Not classified/retirements:

Driver        Team                         On lap
Buemi         Toro Rosso-Ferrari           35


World Championship standings, round 15:                

Drivers:                    Constructors:             
 1.  Vettel       324        1.  Red Bull-Renault          518
 2.  Button       210        2.  McLaren-Mercedes          388
 3.  Alonso       202        3.  Ferrari                   292
 4.  Webber       194        4.  Mercedes                  123
 5.  Hamilton     178        5.  Renault                    72
 6.  Massa         90        6.  Force India-Mercedes       48
 7.  Rosberg       63        7.  Sauber-Ferrari             40
 8.  Schumacher    60        8.  Toro Rosso-Ferrari         29
 9.  Petrov        36        9.  Williams-Cosworth           5
10.  Heidfeld      34       
11.  Sutil         28       
12.  Kobayashi     27       
13.  Di Resta      20       
14.  Alguersuari   16       
15.  Buemi         13       
16.  Perez         13       
17.  Barrichello    4       
18.  Senna          2       
19.  Maldonado      1       
       

TEAM-BY-TEAM
Red Bull
Vettel admitted he didn't entirely have his mind on the job when he crashed on Friday morning. It wasn't a big incident, but it did break the latest front wing, and a huge effort was required to get a new one to Suzuka in time for qualifying, where Vettel stormed to another pole. Webber got caught in a Q3 traffic mess with Schumacher and Hamilton, leaving him sixth.
Vettel battled hard with Button off the line, but lost out to the McLaren at the second stops, then to Alonso at the third. He finished third - more than enough to claim another title. Webber jumped Massa and Hamilton at the second stops, escaped a clash with Schumacher, and finished fourth.
McLaren
Button was quickest in all three practice sessions, but ended up being pipped to pole by Vettel. Hamilton looked like he had a pole shot too, until he got entangled with Schumacher and Webber at the end of Q3 as they all tried to make it to the line in time for another flying lap. By the time they had sorted themselves out, the flag was waving, so Hamilton had to settle for third.
Hamilton jumped to second at the start as Button was put on the grass by a defensive Vettel. But they swapped places back when Hamilton got a puncture just before his first pitstop, dropping him to fourth.
Button then caught Vettel and took the lead at the second pitstops, going on to take his first dry-race win for McLaren after late pressure from Alonso.
Hamilton escaped another clash with Massa, later repassed the Ferrari, and finished fifth.
Ferrari
Ferrari wasn't expecting a huge battle after Massa and Alonso qualified fourth and fifth. But Alonso's race pace was much stronger. He passed Massa early on, jumped Hamilton at the first stops, then Vettel at the third stops, before closing right in on leader Button and finishing second.
Massa lost some bodywork in a clash with Hamilton as they fought for fourth. The McLaren later overtook him, and Schumacher's late final stop got the Mercedes ahead as well, leaving the Brazilian seventh.
Mercedes
Schumacher ended up eighth on the grid after not setting a Q3 time due to the traffic incident with Hamilton. He rose to seventh immediately and, thanks to the safety car, strong pace and a late final stop, he managed to lead for a spell before finishing sixth, ahead of Massa.
Rosberg was left in 23rd on the grid by a hydraulic issue. He charged hard on a three-stop strategy to finish 10th.
Renault
Senna and Petrov made it to Q3, despite the former crashing heavily in final practice, and were classified ninth and 10th after choosing to save tyres and not run.
A bad race for Senna started when he ran wide at the first corner in a close call with Petrov. He also had a slow pitstop and high tyre wear, and could only finish 16th. Petrov had a quiet race to ninth on a two-stop strategy.
Williams
A nightmare Friday saw Barrichello have a puncture in the morning and a crash in the afternoon, while Maldonado went off in first practice and had an engine failure in the second session.
Given that, 13th and 14th on the grid was a reasonable result, but their three-stop strategies did not work too well in the race, so they finished 15th and 17th, Maldonado ahead.
Force India
A low-key weekend for Force India, as Sutil and di Resta started 11th and 12th on the grid. The race result was the same, as their three-stop strategies were slightly hampered by the timing of the safety car.
Sauber
Kobayashi charged into Q3 on home ground, and was given a career-best seventh when the shuffling of those yet to set a time was complete. A hydraulic failure left Perez back in 17th.
But it was Perez who flew to eighth in the race as a two-stop strategy worked well. Kobayashi fell to 12th when his anti-stall triggered at the start, then ended up only 13th due to an over-ambitious attempt to run from the safety car to the finish on one set of tyres.
Toro Rosso
The team looked promising in practice, but ended up down on row eight of the grid. Buemi made a mistake on his first Q2 run and didn't go out again, while Alguersuari just played it conservative in the expectation of strong race pace.
It didn't materialise. Buemi retired when a wheel fell off after a pitstop, and Alguersuari finished a frustrated 15th.
Lotus
Lotus's form was much the same as usual. With Rosberg sidelined for Q1, the team qualified 18th and 19th and finished there in the race. The only out-of-the-ordinary aspect was that Kovalainen got up to 14th with a great start before dropping back to his usual spot. Trulli coped with some gearbox issues to take 19th.
Hispania
Ricciardo qualified 23rd, as Liuzzi had a litany of mechanical problems that left him with just 14 flying laps under his belt going into the race.
He struggled to 23rd and last, with high tyre wear and a trip off the road along the way, while Ricciardo took the fight to the Virgins, finishing just behind them in 22nd.
Virgin
D'Ambrosio impressively outqualified Glock in 20th on the grid, but came off second best in a close fight with his team-mate and Ricciardo in the race, as Glock finished at the head of the Virgin train in 20th.
RACE DATA