Alain Prost, Nigel Mansell, Mario Andretti, Ayrton Senna, Bobby Rahal, Mika Hakkinen, Damon Hill, Jacques Villeneuve, Kimi Raikkonen.
The list of great champions with whom Adrian Newey has collaborated is almost as astonishing as the catalogue of great racing cars he's produced. The Red Bull chief technical officer's reputation looms large as a man of design, of packaging, of aerodynamics, but he recognises the driver's part in the equation. In his time, he has been a race engineer, so when it comes to judging the men behind the wheel, he knows what he is talking about.
Ask Newey if Sebastian Vettel, winner of all of his grands prix in cars designed by the Briton, is in the same bracket as those greats now that he is a double world champion and the answer is an unhesitating and emphatic "yes". That's some accolade. And don't dismiss it as a mindless platitude on the basis that Newey has to say it, because he doesn't. He means it. To listen to him talk about the 24-year-old German's qualities is proof of that.
Vettel has been integral to Newey's success over the past two years, just as Newey has been integral to Vettel's success. Already, they have collaborated to win back-to-back drivers' championships and a constructors' crown, with another team title now only a formality. But tempting as it is to search for some magic moment that triggered a Newey epiphany in which he realised that Vettel was a driver capable of doing justice to his cars, the reality is that it was a longer-term, more organic process.
"It built more slowly, in truth," says Newey. "Of course, I watched him and took an interest as he was an up-and-coming Red Bull driver, but I didn't really get to know him other than saying hello. We wanted to make sure that he ended up at Scuderia Toro Rosso and didn't get stolen by another team and his time at the team was clearly very impressive.
"Through that time, there were some teams who were, as you can imagine, trying to pick him up saying, 'come with us, Red Bull Racing aren't going to do anything for you'. But he is a loyal character and said that he would stay with the team that had developed him and who had a contract with him. He never wavered.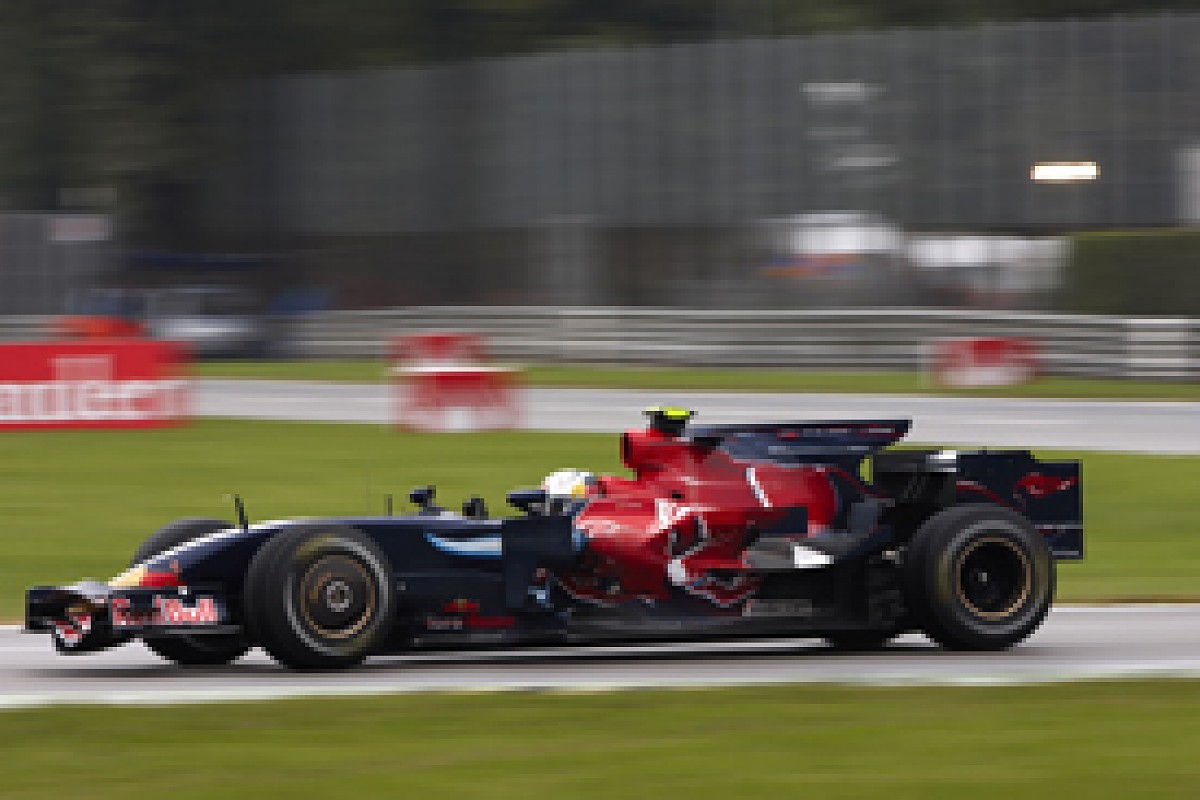 All Vettel's F1 wins have come in Newey cars, including the Toro Rosso STR3 in '08 © LAT
"He started with us [Red Bull's F1 team] in 2009 and that's when the relationship really blossomed. Until you actually work with a driver, you don't really know what they are like. You can observe and you can socialise with them in the paddock to get some idea of their personality, but you don't really know."
It didn't take Vettel long to impress Newey. The new aerodynamic regulations allowed Red Bull to create the gold-standard car of the 2009 season, the RB5, although the unique gestation of the Brawn (nee Honda) meant that the Brackley team had the jump on everyone early in the season and won both world championships with a car that ultimately proved inferior to the Red Bull. Nonetheless, Vettel claimed his first win for Red Bull's A-team in a wet race in China and went on to finish second in the championship.
Ask Newey if there is one particular moment, a revelatory glimpse of something extraordinary in Vettel's character that shone through during that first season working together and he is cautious. Instead, he paints a picture of a growing respect, a longer-term process of realising the qualities of this future double champion.
"There was no single thing," says Newey. "It was much more an impression of how he conducted himself; I don't look back on individual events on track. It's about how he approached things.
"Sebastian is naturally very talented, but he is also very determined, very hard working and a very bright young man. You get the impression that he learns something every time he gets in a race and he very rarely makes the same mistake twice. He is tremendously competitive, but in a pleasant way. He is not arrogant - if he performs below the level that he feels he is capable of, then he is really pissed off about it."
Vettel isn't the only driver on the grid who demands a lot of himself (although there are also plenty who let themselves get away with too many errors). There is far more to his skill set than just that. One aspect that is often overlooked is his technical expertise. He is determined to understand as much of the car as possible and leaves no stone unturned. This, perhaps, is at the heart of his incredible consistency. He understands the car and his relationship with it deeply - and at a far deeper level than merely naming his car 'Kinky Kylie'.
"Seb has a great curiosity about things," explains Newey. "He wants to understand everything. He is interested in things that are technical but that don't directly affect his driving - that's his curious nature."
This is reflected in how quickly he got on top of the new Pirelli tyres. Arguably, he achieved this more rapidly than any of his rivals, as during the early races he was careful to extend tyre life and tweak his driving style to mitigate the kind of heavier lateral loading that caused problems for his team-mate Mark Webber. Granted, the characteristics of the car perhaps made this task a little more straightforward than if he was in inferior machinery. The team's part of the bargain is to create a great car, and the driver's role is to exploit it to the maximum. That is what Vettel does.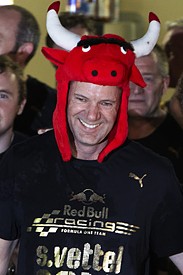 Newey celebrated Vettel's 2010 title in style © LAT
That determination to explore every possible avenue of performance reflects a drive to succeed that has not been dimmed by his success. According to Newey, this is a characteristic of Vettel that's key to his back-to-back championships. Ask Newey if Vettel shows the same qualities as the other great champions and it's this that comes to mind.
"People often ask me that and I don't really know what it means," says Newey. "All I can do is take people as I find them. The fact is that Sebastian hasn't let his stardom distract him. It has in no way gone to his head. He doesn't do the showbiz bit and you could still very happily go down to the local pub with him for a quick drink. He has kept his focus.
"It's the footballer syndrome, isn't it? You have a young lad who is suddenly thrust into the limelight and some people go off the rails a bit in that situation. Sebastian doesn't. He is completely cool and keeps his head on his shoulders."
The most frightening thing for Vettel's rivals is that, at 24 years of age, there is still plenty of time for him to improve. Already he is a driver with no fatal weakness ("I haven't seen one", says Newey), and he's going to take some beating over the coming years. Newey himself has never seen someone make so much progress while so young.
"Probably not," he says when asked if he has ever seen anyone like this at this age. "But then again Sebastian is probably the youngest driver I've worked with in F1. So it's not surprising from that point of view. But it comes down to the way he learns from what he does. That ability gives him a very rapid learning curve that allows him to belie his years."
But perhaps the aspect of Vettel's makeup that becomes most clear from speaking to Newey is that all-consuming desire to win. This is reflected in everything that Vettel does, be it the drive to understand every aspect of the car technically, the willingness to participate in a Pirelli tyre test only a few days after clinching last year's world championship, a desire not to cruise and collect and to stamp his authority on the sport.
For so uncompromising a figure as Newey, who works tirelessly to exploit every possible advantage when it comes to car design, perhaps he has met his doppelganger as a driver: a brilliant exponent of his art who, like Newey, might go on to redefine F1 with his achievements. And worst of all, Newey believes that Vettel can still be winning 10 years from now.
"He is a driver who, as long as he is enjoying it and finding fresh challenges, will be around in 10 years," says Newey. "If he wakes up one day and says that there's something else he'd rather do with his life, then no.
"He has been very determined internally that he didn't want to cruise to the championship by finishing third, fourth, fifth or whatever. He wanted to go out and do his best to win it from the front, which is high risk. That's his make-up."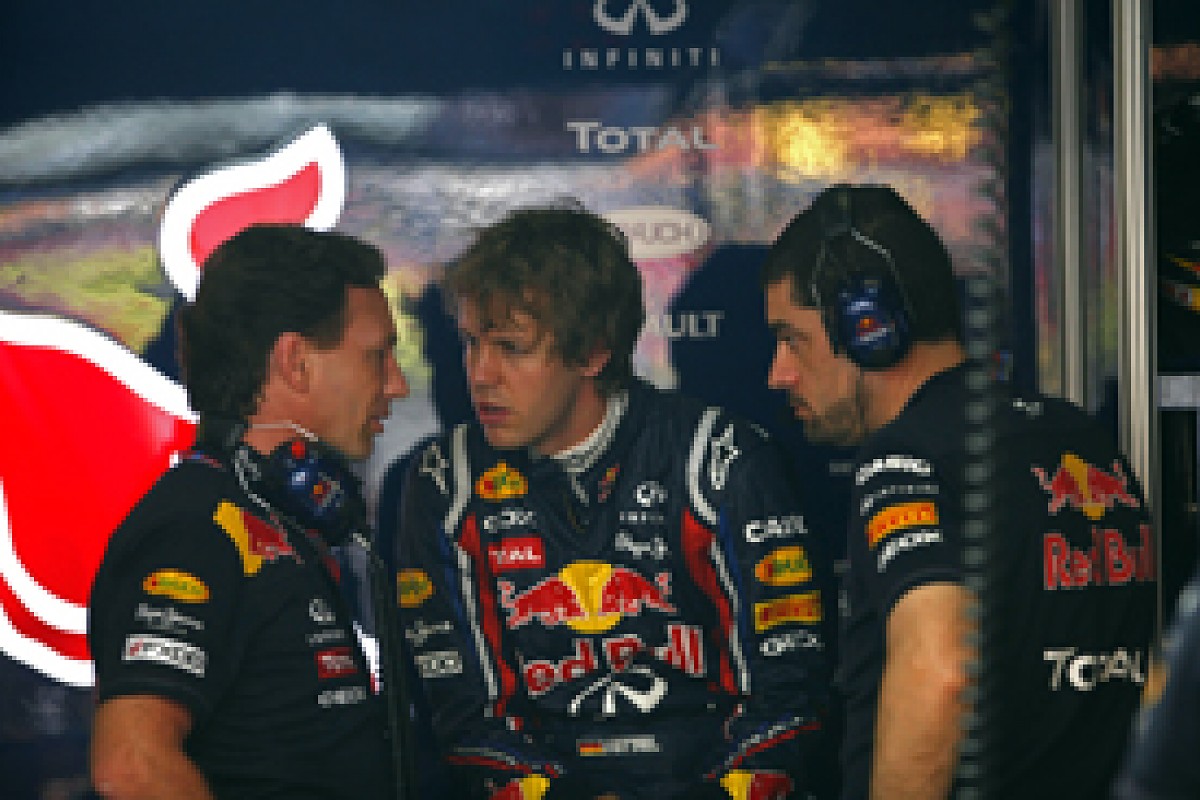 Vettel is "curious to learn everything," according to Newey © LAT
Those last two sentences could apply to any of the truly great champions. It reveals a uncompromising winning machine that don't just defeat the opposition, but crushes it. Now with another championship to his name, the German can stand shoulder-to-shoulder with the Prosts, Sennas, Hakkinens and Andrettis of this world. And for those who claim that he has had it easy, you can argue that the ever-tightening net of regulations in F1 means that the car advantage Vettel has had over the past two years is smaller than any of those four legendary names had at times during their career.
But to Newey, this talk of greatness is meaningless. What really matters is that in Vettel he has a driver who can do justice to the works of art that he and his technical team produce. Red Bull is the best team in F1, and has been for a few years, even in the face of sniping from rivals and criticism from some fans.
In Vettel, it arguably now has its best driver. If things go as they should do over the next couple of years, history might come to look on Vettel and Newey as a great partnership to rival Colin Chapman and Jim Clark, or Ken Tyrrell and Jackie Stewart.
It sounds sacrilegious, but it might just prove to be true. Vettel is that good.