So could McLaren have won the Italian Grand Prix? On balance the answer has to be yes.
But for the second race in a row the team didn't quite get everything right, while Sebastian Vettel and Red Bull did, and in so doing put an end to the cliche of Monza as a circuit that doesn't suit the dark blue cars.
At Spa Jenson Button's poor qualifying position - the result of a miscommunication - left him with an impossible job.
Then first-lap damage and an early stop further hampered him, and yet he still finished third.

Certainly some in the team were convinced that without that stop he would still have had the pace and the strategy with which to beat Vettel - from 13th on the grid.
In Italy McLaren again had the outright speed. But having done half the job by qualifying second and third - putting themselves in the perfect position from which to usurp the world champion - Button and Lewis Hamilton made bad starts.
As we all know, Hamilton's race was ruined by getting caught behind Michael Schumacher, and yet despite being as low as seventh at one point, Button recovered to finish second.
He was just 9.5s behind at the end, and while Seb was obviously pacing himself, had the two silver cars both got off the line properly, they clearly had the performance with which to deal with Vettel.
It didn't happen, of course, and hats off to both Vettel and his team for running a perfect weekend.
The gamble on a shorter seventh gear played out even better than expected, and the car with the lowest top speed on the grid proved the winner.
And that indicates just how much of a conundrum Monza presents to the engineers.
Last year we saw McLaren experiment with low- and high-downforce configurations on the two cars, and this year DRS - used all round the lap in qualifying, but only in two places in the race - added a further dimension.
The whole weekend was about striking the right balance between aero performance and seventh gear.
Of course it wasn't just about lap time, but how you would perform in the race.
And that involved careful consideration of where, and who, you were likely to be racing.
For Red Bull it was largely a question of starting at the front and clearing off, and staying clear of any DRS-induced threat from behind.
McLaren's choice wasn't quite as extreme, but the cars were certainly towards the bottom of the speed trap table.
Having studied the opposition through Friday and Saturday morning, the team was convinced that it had the right solution and that it could deal with Red Bull and Ferrari come Sunday.
"There were lots of trades to be made, and the DRS was an extra dimension here," says principal race engineer Phil Prew.
"Even when we had the two cars on different strategies last year it wasn't clear which was the best.
"The package that we had gave a very good lap time, and performed well in qualifying.
"It had some limitations in the race which we were well aware of going in, based on the top speed of some of the other cars.
"But we were still confident that the package that we had gave us the quickest race time."
The problem was the team had not figured on Mercedes being an issue.
"We knew that if we had to overtake a car that was that quick in a straightline it would be difficult, but we could well have been in a position where we dropped into traffic," adds Prew.
"We were well aware that fast cars would be a challenge, and as it turned out on Sunday afternoon it was Michael that we were racing against..."
"I think we were comparable to Red Bull," says Martin Whitmarsh of the straightline performance.
Whitmarsh was confident that McLaren had the pace to win at Monza © LAT
"We were slightly slower than a Ferrari, but we could get by a Ferrari.
"But the fact is that Mercedes had good straightline speed, and that with a combination of Michael at the wheel was going to be a recipe for difficulty.
"We didn't expect to have that difficulty in the race.
"It's a combination of how we set our gearing and also the aero package that we brought here.
"You can have all sorts of regrets, but we were competitive in qualifying. In regard to our known competitors, it was absolutely right.
"But we just weren't expecting Michael to be there..."
One could debate all day about the finer points of gearing and so on, but the fact is both drivers found themselves in trouble because of poor starts.
In jumping from fourth to the lead Fernando Alonso showed that with a better getaway one or both McLarens could have got Vettel, but instead they blew it, Hamilton losing out to the Ferrari, and Jenson dropping initially to sixth.
"In the case of Jenson I think the clutch didn't deliver enough torque," explains Whitmarsh. "And I think he instinctively dropped the paddle and had a bit of wheelspin.
"And on Lewis's I think we probably had the opposite, and he had too much wheelspin. So two different things.
"In truth Lewis's was not a bad start, but there were some better ones.
"It's all about position and you've got to make a decision when you get down to the first chicane whether you come out with wings intact or not, and I think they both did a sensible job."
In the end Red Bull's set-up proved ideal, give or take a cheeky interruption from Alonso, who made Vettel work a little harder than he might otherwise have had to.
The determination with which Vettel speared his way past the Ferrari showed how aware he was of the need to be in front asap, and also showed that when he needs to, he can get down and dirty with the best racers in the field.
We've seen many times this year Vettel win from the front by running his own race and stopping only when his challengers have pitted.
On more than one occasion he's had someone riding shotgun who has held up his more likely challengers, and helped him make an escape.
It was a little different this time in that Schumacher was third rather than second, but the end result was similar to what we've seen before, in that his biggest threat was in effect neutralised in the first stint.
The irony is that Hamilton did stay safely ahead of Schumacher at the start, and Lewis admitted that he'd allowed the German to get the jump on him after the safety car period as Vettel and Alonso raced away in front.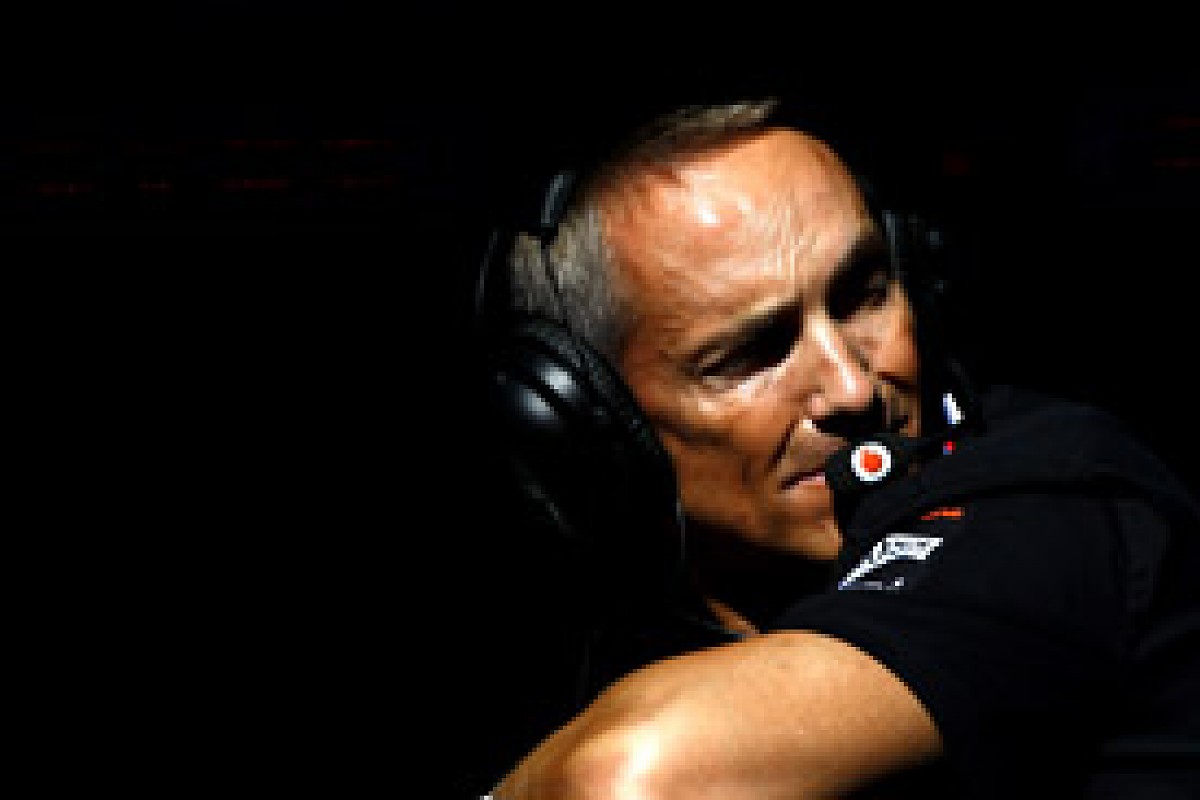 Schumacher squeezed Hamilton at Curva Grande © LAT
"Michael was on the outside of me, so I was looking at him in my mirrors, and then before I knew it, the guys had gone," says Lewis.
"I missed an opportunity to slipstream Sebastian; they caught me napping."
That ultimately is what left him stuck behind Michael, and ruined any chance he had of challenging for victory.
Whether the German overstepped the mark in his defensive tactics is a whole other story, but at least Lewis avoided contact and kept his car in one piece, as did Jenson when he caught them both up - and quickly hustled his way past after Lewis was wrong-footed and Schumacher reached the limit of the life of his tyres.
"Our straightline speed was not as strong as Mercedes and that held us up," says Prew.
"And it cost us the 10-15s at the start that made it difficult to then challenge further.
"I think as soon as you have multiple cars fighting for the same piece of Tarmac it gets difficult. They were both fighting with each other, fighting with Michael.
"Michael had very good straightline speed and was able to defend and even retake that position at Curva Grande when Lewis wasn't with the DRS."
"The guys dealt with the frustration and difficulty of Schumacher incredibly well," says Whitmarsh.
"It was frustrating enough to watch it from the pits, to be watching it close quarters must have incredibly frustrating.
"In those situations it's very easy to lose a front wing.
"Not only did he make it difficult to get by, but you know lap by lap that the competition is getting away from you, so that's massively frustrating.
"All in all, both guys did a great job to keep their composure.
"A lot of people think that Lewis can be impetuous, but from being on the front row, and the frustration at the start, it was easy to make a mistake at that first corner and not yield."
Crucially Button got through just before the pitstops, so he had first call on coming in, and that ultimately benefited him and left Lewis stuck behind Schumacher again in the second stint.
"Jenson was in front and made his pitstop," says Prew. "And Lewis followed from there.
"It was a trade between when to stop to get the performance of the new tyres, and then getting the prime tyre to go to the end, so we were all in a little bit of a box, and just didn't quite get it right for both drivers."
For the second race in a row Button found the pace with which to catch and pass Alonso in the final stint, as once again the Ferrari underperformed on the medium tyre.
Lewis finally got clear of Michael and himself came very close to getting the Ferrari, but he didn't quite make it.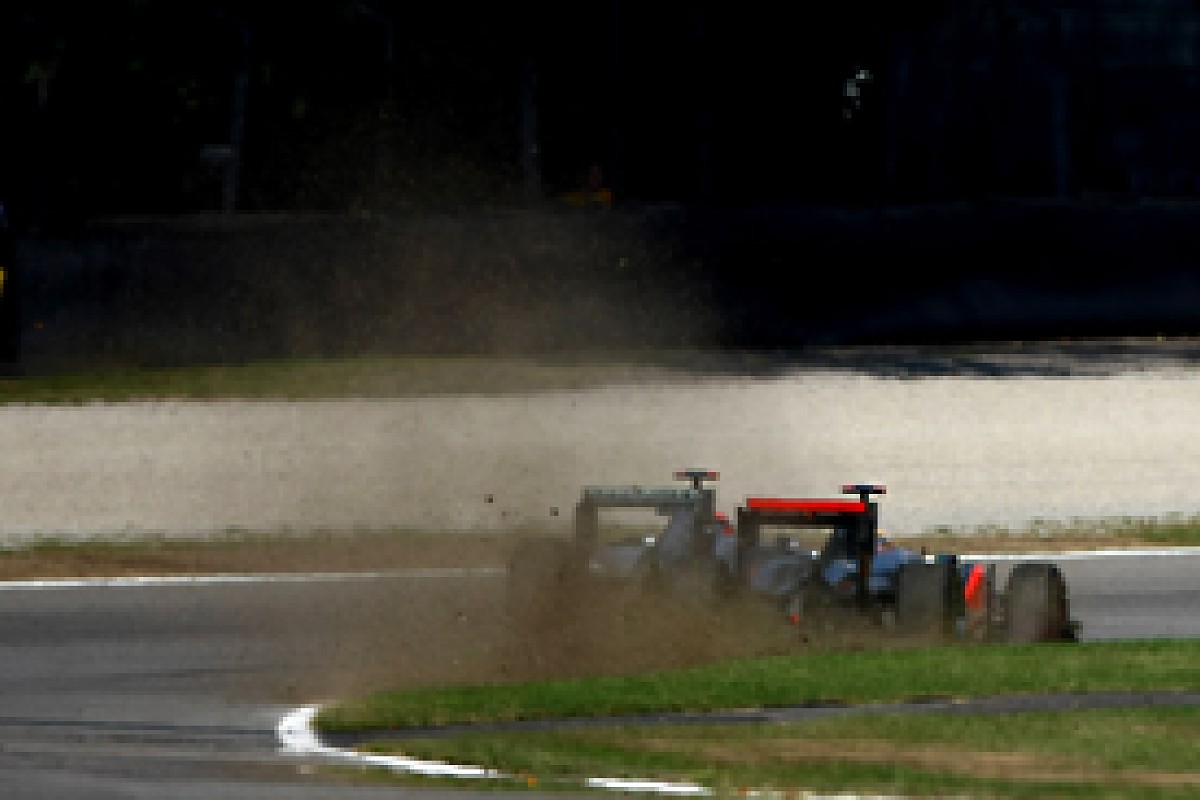 Button overtook Hamilton and Schumacher to finish third © LAT
Button's recovery was awesome, and while it would have been a lot harder without the Mark Webber/Felipe Massa collision clearing a path in front of him, it was another great drive by a guy whose reputation and standing within his team and in the paddock is as high as it's ever been.
"He had the worst start, but he kept his head down and kept pushing," says Prew. "We've seen that time and again from Jenson - he doesn't allow setbacks to put him back.
"He had a good grid position and a bad start, but he still got his ahead down, and got on with the job.
"It was a fair race, they raced each other as we've seen them do.
"Jenson getting ahead just before the first pitstop obviously gave him a bit of an edge, and he took full advantage of it and pulled away and was able to have a reasonably good race."
But the fact is that a shot at a win had slipped through McLaren's fingers once again.
"Taking the positives out of this, we had the first and second fastest laps, so we had pace," says Whitmarsh.
"We came away with more points than any other team, so those are positives.
"But inevitably those lead to the frustration, which is that we had one on the podium, and one lap longer we could have had two on the podium, but we weren't on the top step.
"Michael helped them [Red Bull] quite a bit today, not intentionally I'm sure, but it worked out..."
Whitmarsh is full of praise for Button: "I'm not a statistician but Jenson must have made 35-40 competitive overtakes in the last three races!
"The way in which he dealt with Schumacher and Fernando was fantastic. It's a very high-speed circuit and it's very difficult to get up there and get past.
"Neither of those characters are renowned for giving way and making it easy! I think that was great.
"So a lot of positives: second place and fourth place, and taking more points than any other team is OK.
"But we'd rather be winning these things, and we'll give it another go in two weeks' time..."