As controversy continues to surround the cosy BBC/Sky contract - with Liberal Democrat spokesman for Culture, Media and Sport Don Foster demanding answers from the national broadcaster and commercial rights holder Bernie Ecclestone - there are many in the paddock who, while not condoning the deal in any way, believe it inevitable that the sport's media landscape would receive a massive shake-up sooner rather than later.
Every single media-driven business, be it broadcasting or publishing, music or sport, has been forced into change by the digital revolution which has decimated unwary industries and companies across the globe. Never before has complacency been a bigger corporate sin.

Formula 1 is no different - particularly as this multi-billion dollar sport's primary revenue stream, namely sponsorship, depends largely upon free-to-air television to convey its partners' commercial messages. F1's secondary stream - broadcast partnerships - too, is media-driven and based on a model rooted in the 80s. It has hardly evolved since Ecclestone grasped the fact that broadcasters were willing to throw good money at images of cars moving at high speed on otherwise dead Sunday afternoons.
However, disaster struck the F1 tsar at the turn of the century when he attempted to move Formula 1's TV offering up a gear by introducing a premium six-channel subscription service: within 18 months of introduction, Ecclestone's companies had lost an estimated £100m, with no chance of long-term recovery.
Simply put, 10 quid a race was too much for "Bernievision" when perfectly good alternatives were available free across the globe. That only a distinct minority of fans were willing/able to justify paying for the privilege of effectively being their own programme producers, was a bitter lesson for a man who had then recently persuaded the FIA to sell the rights to exploit the sport for a relative pittance. Understandably he has been jittery about new media - specifically YouTube - since...
Thus is it any wonder that F1 introduced high definition broadcasts only this year - fully six years after the now-defunct A1GP blazed the HD trail, and months after MotoGP - only after certain broadcasters refused to extend TV contracts unless HD formed part of the product?
3D transmissions, to be offered live by the 2012 Olympics, are further off than ever despite Formula One Management having LG Electronics, one of the world's largest HD/3D TV manufacturers, as broadcast partner.
Jim Wright © sutton-images.com
But, believes Jim Wright, Virgin Racing's Marketing Director and a man with a long commercial history in Formula 1, Bernievision TV was simply ahead of its time, as is often the case with Ecclestone innovations.
"What we're seeing was he [Ecclestone] was ahead of his time, and I think at that time it was a little too early to go that [digital] way, but I think the time is ripe now. I think, you know, Apple's inventiveness in creating iPhones and iPads have given consumers far greater ability to consume content across digital platforms."
Wright was head of marketing for Williams during the team's halcyon days, a period when F1's viewerships simply rocketed, and readily recalls the digital experiment which rode on the back of that phenomenon. He believes the time is now right for its reintroduction. Why so?
"It's an immensely complex sport," he says without hesitation. "To understand it and get the most out of it you've got to have a lot of information. If you take a normal race now, you've got a lot of graphics on screen, rolling graphics all the time, showing updates, showing positional changes, showing gaps between cars, whatever.
"I think real Formula 1 fan want that, need that to understand what's happening. They want to know perhaps sector times; they perhaps want the choice of being onboard camera with their favourite driver, following him lap after lap."
By implication he believes there are two distinctly different categories of fans: Sunday fans, out to relieve boredom after a heavy lunch or whatever; and octane junkies, who devour every snippet which comes their way and are willing to ferret out data.
"I think what we're beginning to see in Formula 1 is a move which is going to replicate what's happening in other sports - other motor sports and also non-motor sports. I think we're going to see greater fragmentation of media platforms, and I think what we've seen recently in the UK with the Formula 1 rights deal where the coverage will be shared between two media broadcasters, I think is no surprise.
"I think the trend, at the moment, is for major media broadcasters to have TV broadcasts coupled with digital media platform broadcasts," says the man who has formed Marussia Virgin Racing into a commercial force, one which last year introduced more new sponsors to Formula 1 than both other two 'newbies' combined.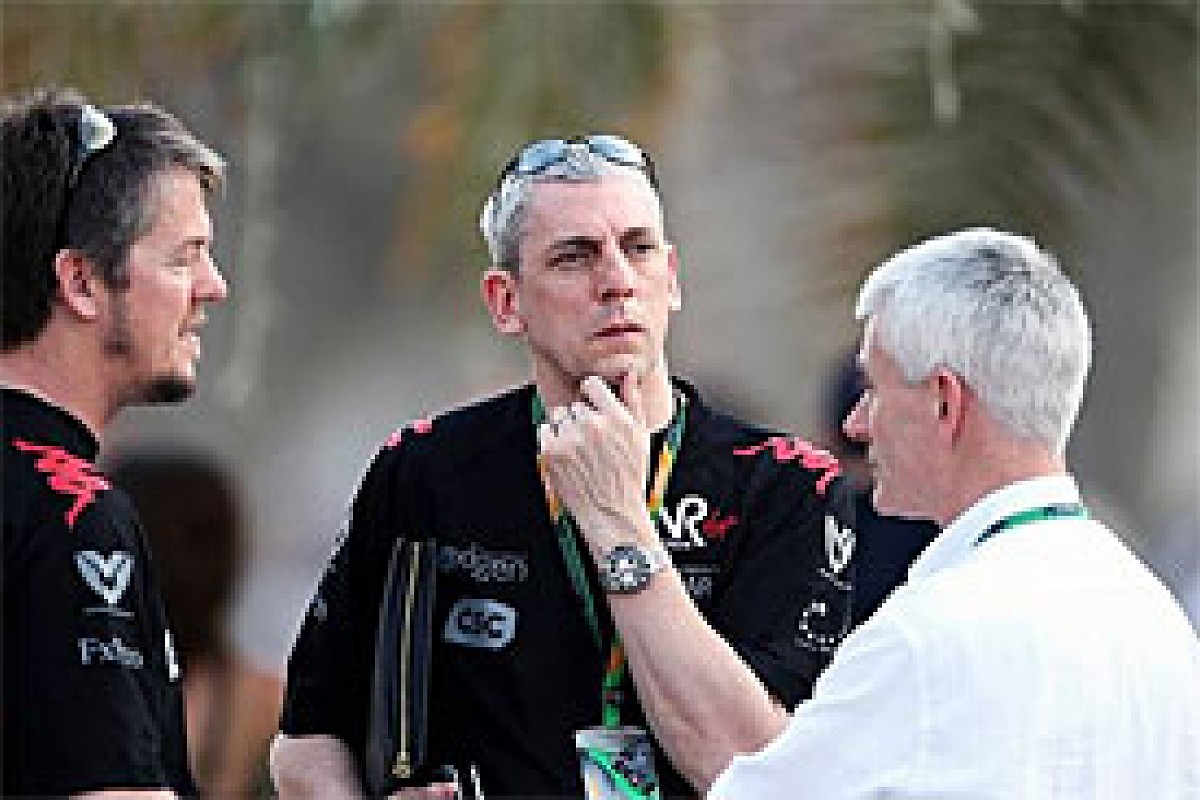 Bernie Ecclestone © sutton-images.com
Although this dual approach was introduced into South Africa a decade ago with mixed success (followed by Finland), he is watching UK developments with interest, and not only through patriotism.
"It will be interesting to see is whether this is a model which the consumer accepts, because clearly, again using the UK market as an example, if it proves UK consumers of Formula 1 are happy to pay a subscription to watch Formula 1 live and to be able to access Formula 1 through iPads or iPhones, etc, and those that aren't happy are content to watch Formula 1 in the traditional way on free-to-air TV, but perhaps as delayed broadcasts, highlights or whatever, then it could prove to be a model that works."
He does, though, have reservations: "I think the best guess is that people like Sky, who are obviously at the forefront of broadcasting technology, must think it's a likely model to succeed, otherwise they wouldn't have ploughed millions into it. So let's say for the next five to ten years it's going to be a model which is going to be rolled out across many, many territories.
"So a major media broadcaster buying the rights will have the ability to roll that out across different digital platforms. If that's the case, I think it's very exciting for Formula 1, because Formula 1 - more than any other sport - lends itself to the digital domain," he summarizes, pointing to the success of FanVision (Kangaroo TV) with its various streaming options as proof that hardcore factions will pay for additional content, even at races.
F1's demographic means the sport is better placed than most others to exploit the digital revolution.
"We're ABC1, so I would say yes," he says in response to the obvious leading question. "There is evidence to show Formula 1 fans have more disposable income and greater tech-savvy. I think ours, more than any, lends itself to the digital domain and multi-platform transmission of Formula 1. I think it's good, I think it's a natural resistance at the moment, but I think our long-term is very, very, bright. I really do."
Said resistance possibly comes, he says, from lower-income fans "who don't perhaps have the money to pay out to watch Formula 1 on Sky. Let's not forget, if you go around here, we in the Formula 1 paddock think Formula 1 is pretty elitist, and tend to think in terms of highbrow sponsors and Formula 1 Paddock Club guests.
"But ordinary fans out on the terraces here, camping overnight, these are ordinary working people with perhaps not great disposable income - especially in this day and age, the family's under the squeeze - and to fork out money to go to a race a year, you know, at Silverstone, perhaps come to Spa (where this interview was conducted) or whatever, it's lots of money, that's real, that's all they can do.
"You're then asking them to follow their sport by forking out a subscription. They will do it, but it's not easy. Then, if they want to augment that by wearing a Jenson cap or a Lewis T-shirt or a Fernando jacket or something, it's a lot of money to these people."
He has a point: fans wishing to attend just one race a year from a reasonable vantage point, buy a cap and shirt to advertise allegiance to (insert driver/team), and follow the sport live every fortnight will next year be in for upwards of £1,400 and £2,000 if accompanied by partner or single offspring. The numbers spiral from there...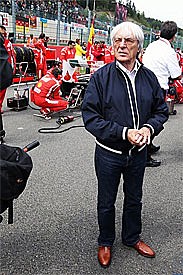 Can Formula 1 embrace the digital revolution? © sutton-images.com
"There again," he counters thoughtfully, "let's make comparisons with other sports: if you did the same with Champions' League football ties, it wouldn't be dissimilar."
True, but, as Foster points out in his BBC missive, football fans are regularly spoiled for choice - certainly in season - with many matches being played almost in their own backyards, to wit home stadiums. F1 fans travel to catch their action.
The likes of Twitter and Facebook are increasingly impacting on the public face of Formula 1, yet these activities are not and cannot be (legally) controlled by the commercial rights holder. (Many would say 'Amen'...) Does Wright see such social media networks as positive for Formula 1?
"I think they're important, and I think teams are beginning to roll out their plans. I think we've possibly been a little bit slow to react, and I think there's the inevitable learning process, then there's a balance between not giving away information which could be of use to competitors and simultaneously producing interesting, spontaneous content.
"I think they [social networks] have a great future in Formula 1," he continues. "They're of benefit to race fans, which is important. But I think we haven't even begun to scratch the surface - if you look at the numbers even top teams are generating in terms of social media following, they're tiny.
"But I think where it's very interesting for Formula 1 is, unlike football teams, we don't have stadiums, [so] it's very difficult for us to generate a data base. Where you have football stadiums you have regular purchasers of tickets, so they are at a huge advantage in creating a data base from which to market. In Formula 1 this has enabled us to start to grow and identify with teams of fans."
In fact, Wright likens the networks to virtual stadiums.
"There's some caveats to this," he cautions, "because obviously there are rules and regulations in most countries, most territories, as to how you can communicate with those people, what [personal] data you're allowed to hold onto for third parties.
"I'm talking about if we gather ten thousand email addresses or whatever, there are rules and regulations about how we may communicate with those, how long we may keep them or pass them on to third parties, etc. But, you can see a situation where commercially in the foreseeable future you could build a very useful data base of followers and know quite a bit about them."
This will be of enormous benefit to teams when targeting prospective sponsors, explains Wright: "When you're knocking on the door of insurance companies, saying 'what about sponsoring our Formula 1 team?' you've got not only the Formula 1 offering but you're able to say 'here's our data base of fans; interestingly enough we can tell you 92% of them are car owners who need car insurance; 64% own pet owners, so probably need pet insurance,' etc. I think the networks add incremental benefits to Formula 1 commercially. But I think we're right at the beginning stages, and I think we've a long way to go yet before we get to where it would be useful commercially."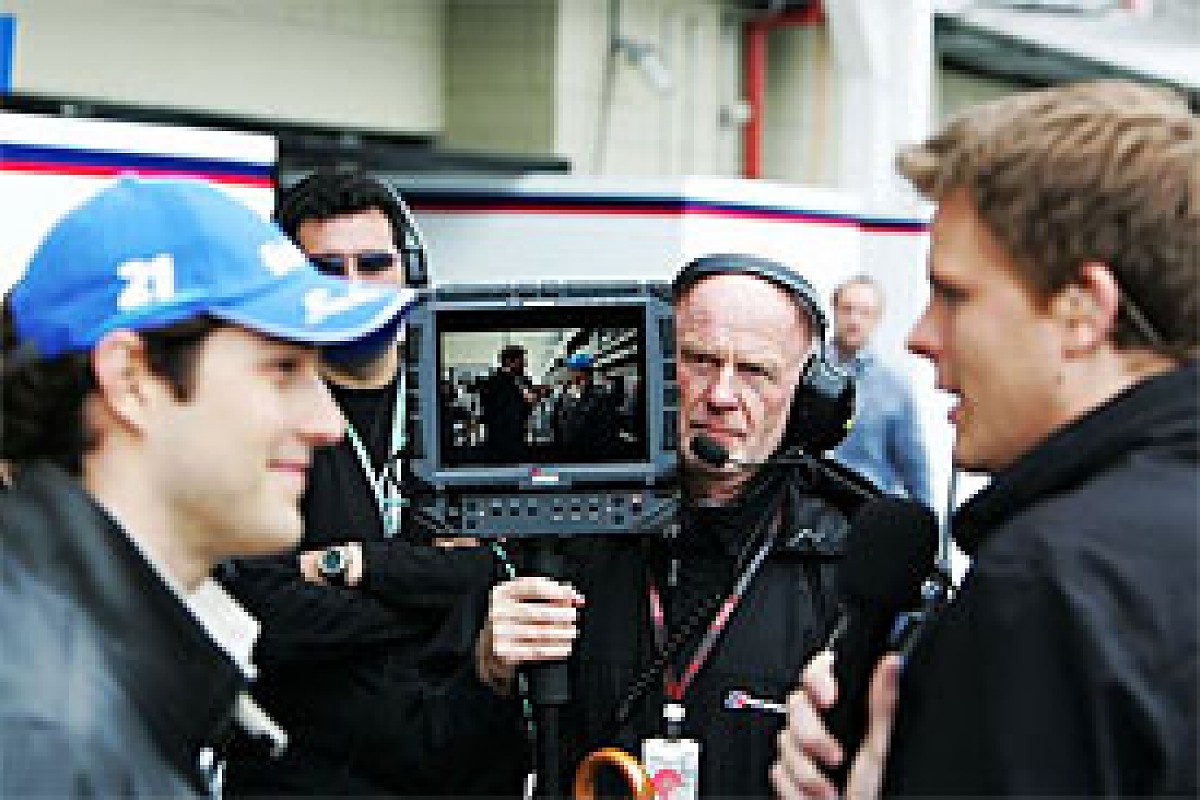 F1 fans © sutton-images.com
Does he believe that as Formula 1 increasingly prices itself out of fans' pockets, they will turn to new media for fixes rather than attend races?
"Obviously I hope not, but that's up to us collectively in Formula 1 to manage. We sometimes wonder - Turkey is a good example - why there's no-one in the stands; yet if you look at prices which are three times those of Champions' League matches in the same city, it's clearly the wrong approach.
"In my opinion we need to look at dropping prices to create wider audiences so we can attract more people - not upping prices and restricting audiences. That's down to us. When I say 'us' it's not the teams, it's the sport: the commercial rights holder and individual race promoters. I would like to see much more alignment, and I would like to see much more strategic thinking in this regard."
Finally, who in Wright's opinion should drive Formula 1's social media revolution? The commercial rights holder, teams individually, outside agency, FOTA; collectively?
"I wouldn't pretend to be an expert on it at all," he says, "but social media is all about individualism, and it's also about spontaneity. If you try and control that and regulate it, you take away those principles. I think that then negates the purpose."
Looking to the future he says major changes are looming.
"I think we will see more fragmentation, with primary media rights holders, secondary and even tertiary in some markets. The teams own their rights and they obviously have to go out and exploit their own rights the best way they can to protect their own commercial positions.
"So I think you'll see media rights holders, individual promoters, and teams all going about the social media revolution in their own way [in order] to promote their own rights holdings. I don't see something coming from one source, because I think it will be impossible to work like that, because everyone has different rights which they own."
As he says, it is a recipe for disaster if not correctly managed; but a massive opportunity if it is. But first Formula 1 needs to fully recognise the enormous new media opportunities sitting, literally, on its own doorstep.