Sorry about this, but I've read so much baloney on internet forums in the past week about Lewis Hamilton at Spa that it's worth looking at what actually happened and asking a few questions.
Worryingly there are Hamilton apologists, some of them quite experienced, presumably tripping over their white sticks, unable to see what he did wrong in the incidents with Pastor Maldonado and Kamui Kobayashi.
First off, the wheel-rubbing with Maldonado at the chicane as they completed their Q2 laps. No problem there; Maldonado's lap had been compromised anyway, he was slower into the chicane than he would otherwise have been, and Hamilton did what any racing driver would have done. If the Williams lost any time, it was negligible. The moment had no bearing whatsoever on either of them.
Hamilton's Q2 time was shaded only by Fernando Alonso, whose Ferrari was six hundredths quicker. The tiny delay in encountering the Williams on the bit of track he wanted was never in any danger of hampering the McLaren's progress through to Q3. Although other cars got another lap in and Hamilton didn't, he later said he knew it was his last lap. He made it into Q3 by almost two full seconds.

Pastor Maldonado is grilled by the media © sutton-images.com
Maldonado was not compromised either. The Q3 cut-off point was Sergio Perez's 2m04.625s, and Maldonado's best Q2 lap (not the lap in question, incidentally) was 2m08.106s.
What followed, with the chequered flag already out for the end of Q2 remember, was a bout of playground petulance with racing cars.
If you look at the footage, which I did many times (it has now been removed from YouTube, no doubt for reasons of copyright), Hamilton clearly jinks right towards Maldonado out of La Source hairpin. Why?
I asked him afterwards, and this is what he said: "I think at the time it had begun to rain a little bit more towards the end of that session and I hit some water and got wheelspin, but I think I was just continuing my line and went a little bit right, then saw that he had moved out, so I moved back.
"And then he was in a blind spot for me so I continued driving straight and thought he was coming past. Then somehow he ended up right alongside me and I was quite lucky that his rear wheel didn't get my front wheel or I didn't get any more damage."
A prosecuting barrister could have a bit of fun with that.
"I put it to you, Mr Hamilton, that the circuit was in fact drying out at that time, witness the quicker laps that everyone did at the end of Q2 and the fact that, for the first time, the cars venturing out in Q3 a few minutes later, including your good self, were on slick tyres.
"Secondly, Mr Hamilton, were we not at Spa-Francorchamps, a place where weather conditions are notoriously unreliable? Was there not every chance that you may have needed the intermediates with which you finished Q2 for the race? And, therefore, why were you spinning up your tyres and hence wearing them unnecessarily when the chequered flag was out? I put it to you, Mr Hamilton, that you were, in fact, indulging in a bout of 'handbags' with Mr Maldonado."
Racing drivers have jinked at one another to express their displeasure since time immemorial. It's not big, it's not clever, but it happens. They all know what they're doing and it seldom results in contact. It's the racing equivalent of the V-sign. Eff-off!
Maldonado would have every right to feel a bit nonplussed. There'd been a bit of contact with Hamilton, which he couldn't really complain about - no big deal, just circumstance. But now he was being weaved at and felt a bit hacked off. So he came alongside and jinked back. He was saying: "No, you eff off!"
Watch the footage and you realise that, at the same time as Maldonado makes his jink to the left, Hamilton makes another clearly perceptible move to the right and there is contact. It's all a bit cack-handed by the pair of them but, when Nigel Mansell and the stewards sat down to look at it, there was only footage from Hamilton's car and not from Maldonado's.
Back in your school days, if you made a nuisance of yourself you got punished, and it tended to be a more severe sentence if you were the instigator.
It may be that the stewards decided that Maldonado's jink was more aggressive and played a bigger role in the contact, but they were both charged with the same offence: 'causing a collision'.
Considering that Hamilton appeared to start the silliness, there were plenty who thought him extremely fortunate to escape with a reprimand, while Maldonado lost five places on the grid.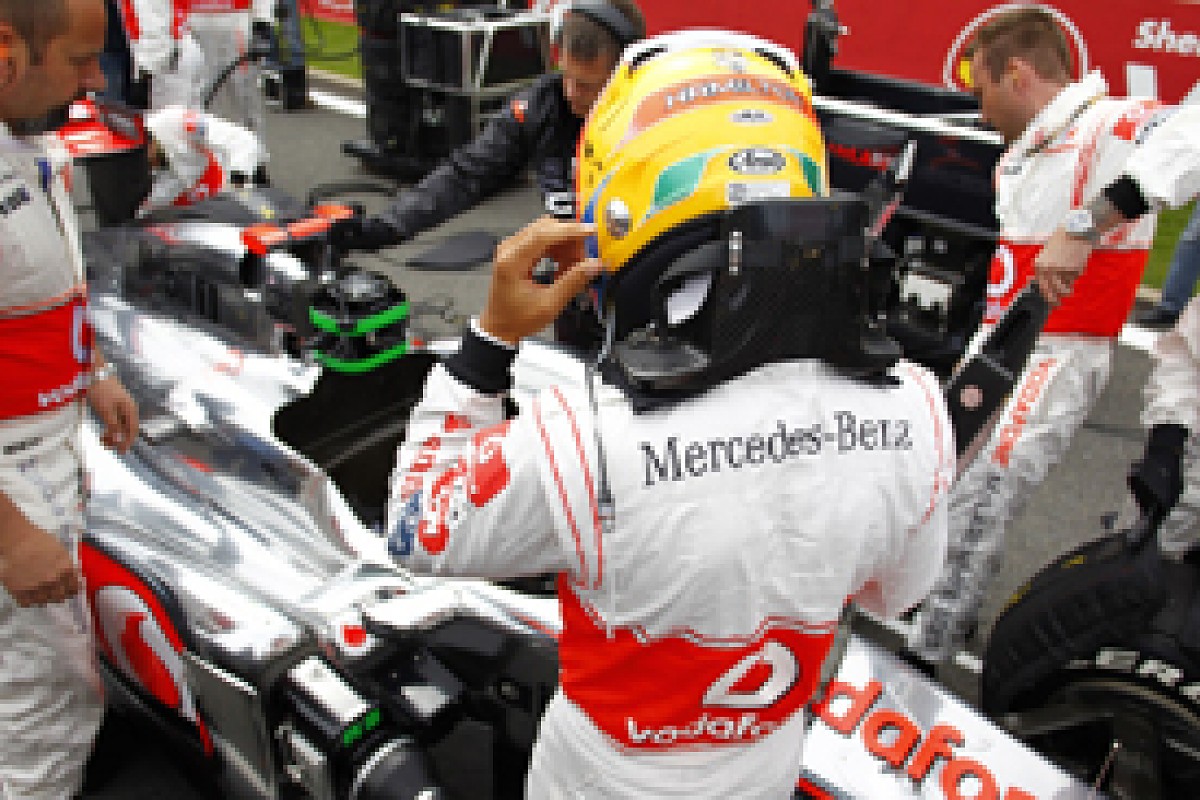 Hamilton's incident with Kobayashi begins © sutton-images.com
Dispensing with all of that, if you were running McLaren you may be starting to wonder where Hamilton's head is.
Look at the calendar and think about circuits at which you could expect that, a) your car is going to be strong, or b) your 2008 world champion's ability may play a bigger-than-usual part in the performance equation. Think Monte Carlo, Montreal, Spa, Suzuka certainly, and maybe a few more.
Recall what has happened. In Monaco your qualifying strategy messed him up, but he proceeded to drive into half the field on Sunday afternoon and came out with critical and petulant post-race remarks about his rivals, who had every reason to be cheesed off. OK, he's a competitor and he was frustrated and you'd much rather he had a go than tooled around in midfield all afternoon, so let it drop.
Canada: there was some doubt about the rear wing, and maybe you've compromised him again. He takes out Webber on the first lap and is hugely fortunate not to get a drive-through. Then he drives into your other car and puts himself out. You're hugely fortunate that he hasn't eliminated your low-maintenance driver as well. Jenson Button, thankfully, saves the day with a superb drive. High-maintenance Hamilton has also popped down to your main rivals to see about a drive.
Belgium: he won well here last year, and you're hoping it may happen again. You've compromised Jenson when the mental maths go awry in Q2, this hard on the heels of Silverstone and Nurburgring where, through no fault of his own, he's posted a double DNF. And yet he's as nice as ninepence about it in front of the media. Even sounds like he means it as well. Thanks, son. Once again he gets you out of jail with a superb, finely-judged drive on Sunday afternoon.
Frankly, you wonder what the hell the high-maintenance one is doing. He's told the media that he doesn't see any reason why you should start 2012 any closer to Red Bull, which is obviously great for troop morale. Thanks for that. Does he still think there's a spare seat there? Next day, Webber lets the world know what he's known throughout the summer break - he's signed again alongside Sebastian Vettel.
Has that perhaps triggered more frustration in Hamilton? Whatever, you certainly don't understand why he's getting himself involved in needless spats with midfield guys.
And hell, he's brought the damn thing back to the pits with bits hanging off all over the place, and the lads have only just got him out for Q3. But look - he's gone and done his customary brilliant job and plonked the thing on the front row. So we'll forgive him again, for the moment.
Sunday. What's he doing now? That move inside Felipe Massa was a close squeak, but it's what makes him what he is. Not for a split second was he ever going to back out of it. But what on earth was he doing with Kamui Kobayashi? Hamilton is as instinctive a racer as you will ever see, but part of that talent is knowledge of your opponent, and in Kobayashi's case this is a guy who never gives up.
Then Hamilton starts tweeting: it's all his fault and the team deserves better from him. Well spotted, son. Kobayashi, bless him, has said he's happy for it to be seen as a racing incident.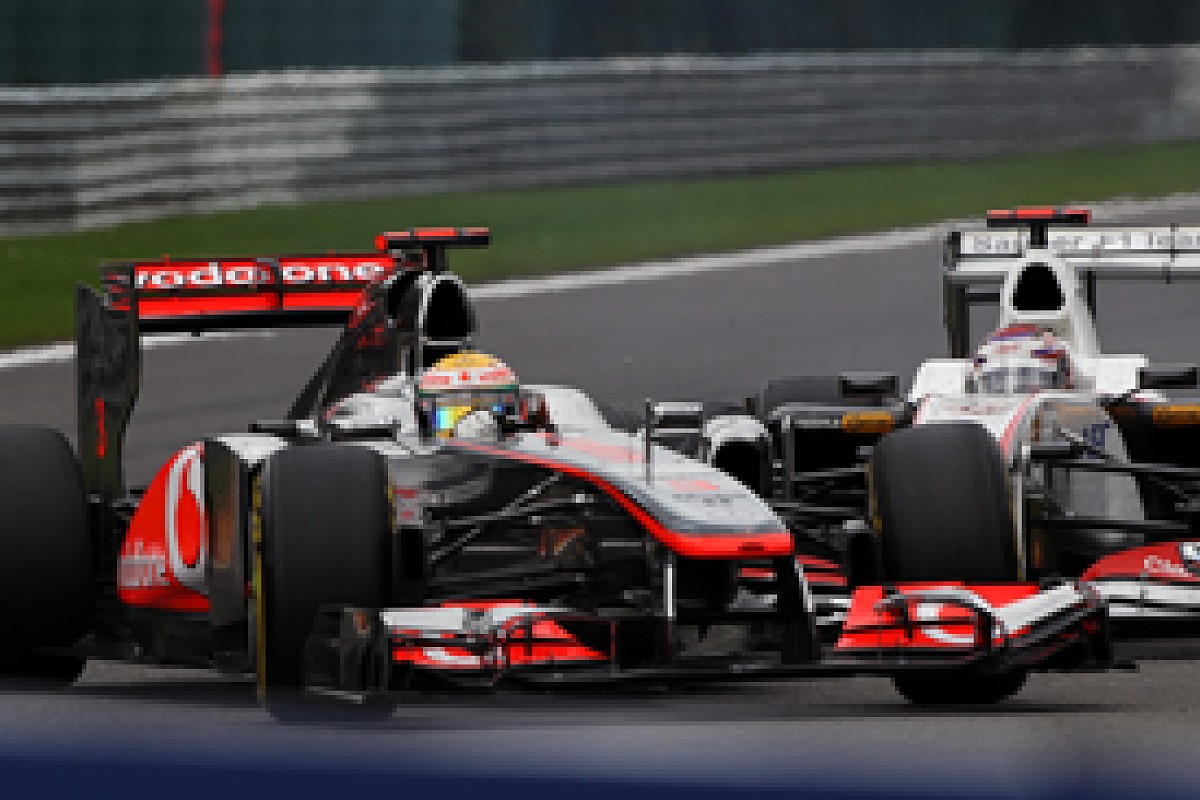 Button leads at Monza in 2010 while Hamilton is about to collide with Massa © LAT
Next up is Monza, a track where McLaren should go well. Last year, low-maintenance Button and high-maintenance Hamilton had differing opinions on which rear wing they should run. Button wanted some downforce, so he could look after his tyres and make a nuisance of himself in the race - he nearly won it. He would have done had it not been for Fernando Alonso and a nifty bit of Ferrari pit work.
Hamilton, by contrast, elected to be ballistic in a straight line, tried to pass everyone on the first lap and ended up driving into Massa. Come to think of it, he's got it wrong a few times these past 12 months...
It's funny really. He seems almost to have regressed. Four years ago it was hard to believe what you were seeing. He was an F1 rookie, but was so incredibly natural a racer and making so few mistakes. God-given talent, it had to be.
But now look: Button is at peace with himself and Hamilton is a maelstrom of frustration. Look at it again in McLaren's eyes: if only Button were a couple of tenths quicker over one lap, or if only we could transplant his calmness, focus and maturity into Hamilton, what a weapon we'd have then! It would be just like, er, that German bloke in the Red Bull...
Vettel and Hamilton both think they're the best. What do you think would happen if they swapped cars? Would Hamilton suddenly become serene and Vettel frustrated? Probably.