Virgin Racing had some tough decisions to make this year in the wake of a disappointing start to the campaign, where its car had not delivered the step forward in form that everyone within the outfit had hoped for.

Its struggles culminated in the decision to make a pretty major overhaul of its design structure - with technical chief Nick Wirth leaving the operation and the team putting in place a partnership with McLaren.

Although the moves have come too late to make much change to its on-track form this year, the ball has started rolling to get things in place for 2012 - with technical consultant Pat Symonds taking on increased responsibilities to make sure the right steps are taken.

AUTOSPORT caught up with Virgin Racing's team principal John Booth to find out what has happened since its technical plans were revealed in June, how plans are progressing for a factory switch and just what impact the McLaren tie-up is having.

Q. You announced earlier this year a technical reshuffle and a new partnership with McLaren. How have things progressed since then?
John Booth: Things have been pretty hectic. As you can imagine, first of all we had to make a decision about where we were going to base ourselves. We took the decision for it to be Banbury for the forthcoming years. It was not up to spec as a Formula 1 facility, so we had to get the architects in and get ready to accept the race team, and update our new facility.

But it was the obvious thing to do as we could keep our design team running without any interruption. The design team have got a nice new office down there; all the CAD stations are there, so it has been good to keep them running totally uninterrupted at a critical time. So we have designed the rest of the factory around them.

Q. When was the decision taken to do things like that?
JB: About six to eight weeks ago.

Q. And that means you will be relocating everything from Sheffield down to Banbury now then?
JB: Yes. The commercial team office is now finished, and they are moving this week. Then the race team will move in on the return from the Brazilian Grand Prix, so that makes it nice and clean - going straight to the new place.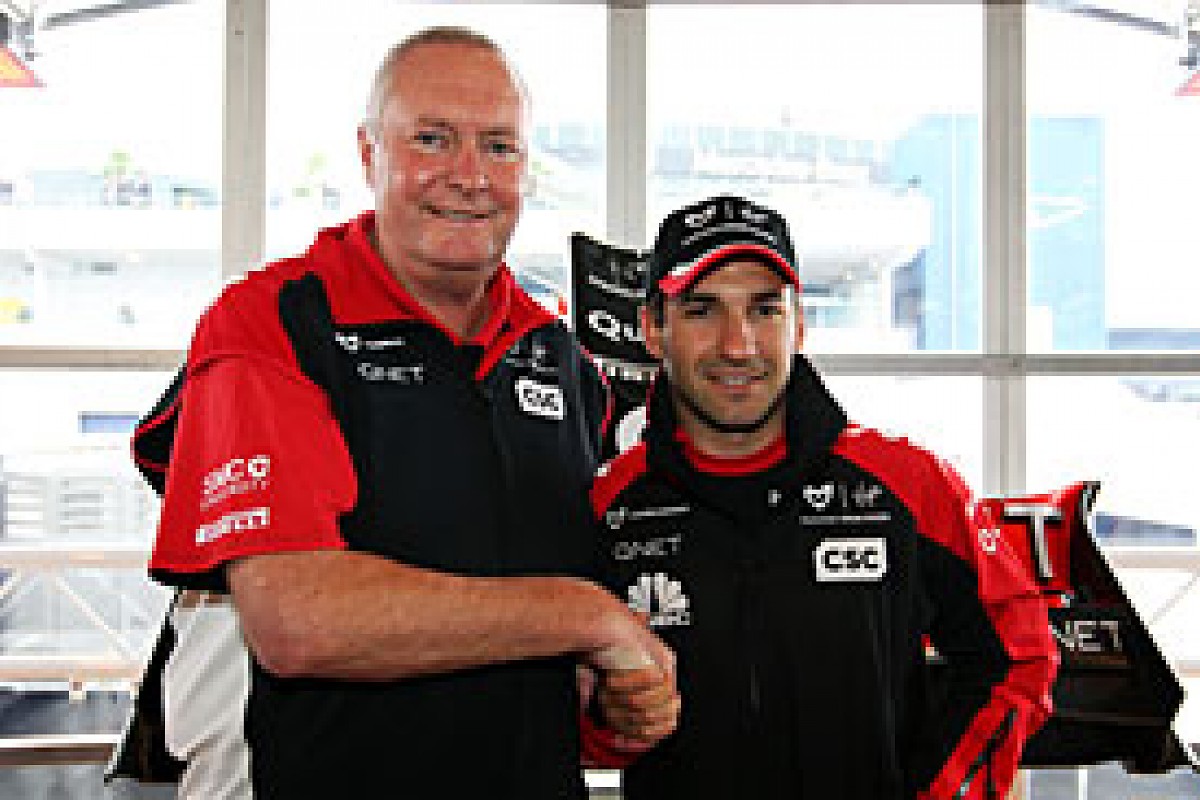 Virgin has retained the services of Timo Glock © sutton-images.com
Q. Do you think it has been a disadvantage having a design team and race operation working out of different factories?
JB: I am yet to be convinced it was much of a hindrance. But it didn't work being two companies with two different commercial interests. We thought it could work and it couldn't. It is not anybody's fault, it just wasn't workable.

Q. In terms of recruitment to expand your workforce, where are you at now with that?
JB: We filled a lot of the vacancies internally from Wirth Research, and we got a lot of design staff out of it. Then there is almost a constant stream of new faces. I get down there two or three times a week and every time I am in the design office I see somebody new. I think Pat [Symonds] is getting pretty close to completing his team.

Q. Do you have the confidence and experience now to feel that things are finally heading in the right direction?
JB: Personally I feel much more comfortable in Formula 1 now. I think for a lot of reasons, the first six months of last year - right up to Singapore I think it was - I didn't really feel that we belonged, and that includes me.

There was a whole raft of reasons behind that. If you cannot keep a car going around a circuit for more than two laps then you look like a fool, and you can't feel comfortable, can you? By Singapore we were operating pretty well as a team, so that was the first time I felt comfortable and felt I belonged there.

Q. In terms of Pat Symonds' work with the team, is he going to work for you full-time, or he is going to remain as a consultant?
JB: A full-time consultant!

Q. He was only a few days a week when he started, is that going to change?
JB: Yes, he is pretty much full-time now. I think he manages about nine days a week right now!

Q. When he is able to work for you fully, is that going to happen?
JB: That is the plan, but I think it is another year before then. But he would not have time to come to a circuit at the moment anyway.

Q. Do you feel you missed in the first 18 months someone with experience like Pat's?
JB: Yes. I think about it because I am interested, but I don't think about it in respect of how is it going, how is the planning going, what are we up to? I know it is being taken care of by one of the best guys in the business, so I don't have to think about it.

Q. What steps have you made with McLaren since the announcement? How is that relationship developing?
JB: Well, full credit to McLaren. They pressed the button from their side even before the paperwork was signed. I think the wind tunnel situation was sorted, and we have already been using the race strategy software for four races now on the pit wall, which works great as you can imagine. They spent eight years developing it and we get to play with it! The first time we used it, we realised how much we were fishing around in the dark...

The relationship extends all the way to even advice on purchasing materials; it is a real broad spectrum of assistance.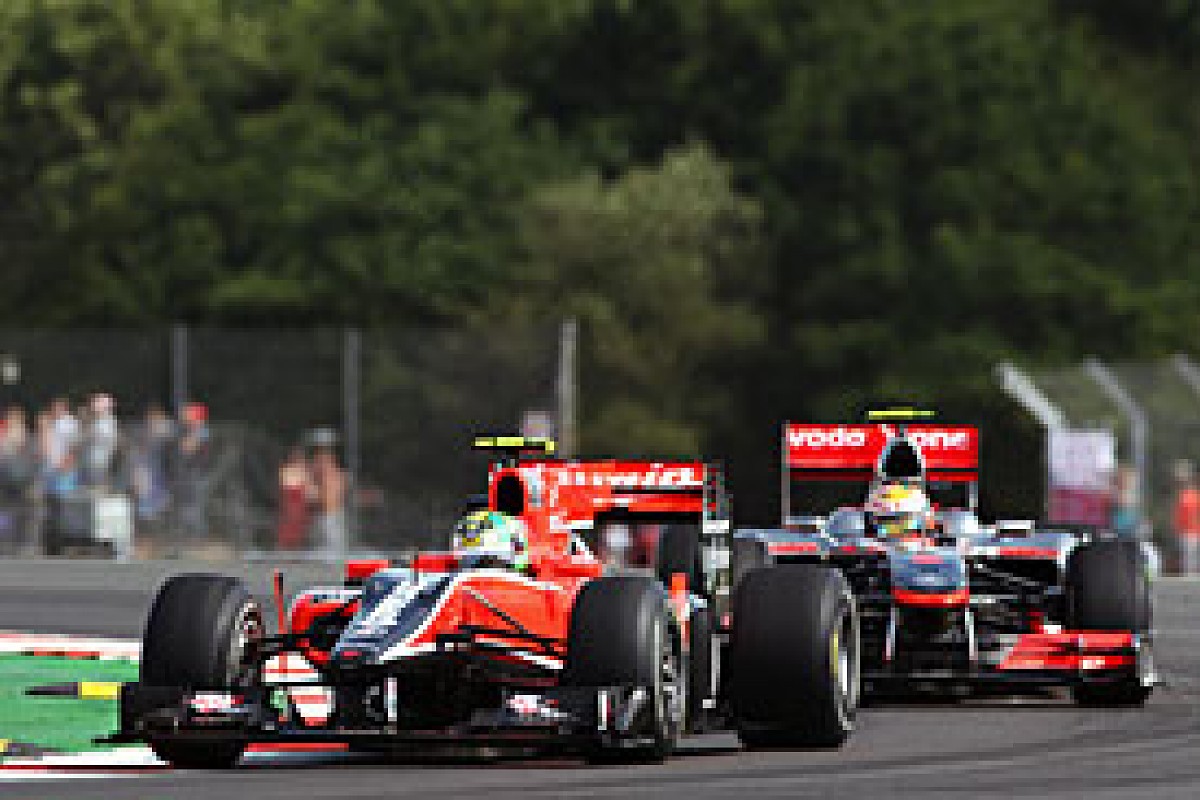 Virgin is already reaping the benefits of its McLaren technical tie-up © sutton-images.com
Q. Where are you now in terms of devoting resources between this year's car and next year's one?
JB: We had an update in the pipeline for Silverstone, and we sidelined it because we did not think it was worth the effort at the time. But as Pat got to grips with the CFD evaluation of it, and looked into it a bit deeper, he thought it was well worth doing, so he pressed the button on that. We will have it, all being well, for Monza.

Q. So it's not just a low-drag configuration then?
JB: No. It is engine cover, sidepods, exhaust, and rear floor. Obviously there will be a Monza wing as well, but this bodywork package will be on for the rest of the year. It will pull the whole back of the car in much tighter. That has not really interrupted our 2012 progress because much of the design work was done; it was just a question of tidying it up and accommodating it.

Q. Do you have a gut feeling on how next year's car is going to be? Surely Pat will know what a good car is and what a bad car is...
JB: I am finding out now that Pat is a very cautious fellow. The other one we were working with promised the earth, whereas Pat is the total opposite and very realistic. And to be fair, he has not had that much input into the design of the monocoque because that was almost finished before he took over. The timescale prevented us from changing that much. And particularly now with the crash test requirements before testing.

Suspension-wise we changed a bit, but we are quite happy with the way the car works on a mechanical basis. It works pretty well. There will be quite a big change around the back of the car, but I think we will start off from quite a better place than we are now. I think the leaps we make during the season will be significant though, and that is what we are looking for.

Q. Do you feel the team is better prepared to knuckle down and sort things out, having had some pretty difficult times over the past two seasons?
JB: Yes. The team has been fantastic in keeping motivated. We have pushed and pushed and pushed to improve the things we can improve. That is things like pitstops, the way we look, the way we operate. If anybody walks in our garage now, they will not see any difference from our garage to the top end of the pitlane, in the way that people work and look - although obviously we don't go as fast as them yet! So really we will continue to concentrate on things that we can control.

Q. Do you take some encouragement from the fact that you are not so far away from Team Lotus, as it had big ambitions of moving forward to the midfield this year?
JB: We are in touch, just. We are not kidding ourselves. Lotus took a step and we did not take a step. But what it has demonstrated is how hard it is to make that step. Mike Gascoyne has got a good team around him, employed some people from other teams, and it has just shown how hard it is to make that leap.

Q. Does it feel like it is coming together though, that your troubles are behind you now?
JB: The troubles are never behind you in F1. But we are starting to thoroughly enjoy it now. To have somebody like Pat Symonds running your design department, and being technical partners with McLaren, you could not have much more positive steps than that?