For the first time in 26 years, the world championship has been retained. Alain Prost smiled before the start at Adelaide last Sunday, admitted that his chances were slender, said he would give his best shot. That he did.
For most of the afternoon it looked like a sentimental victory for Rosberg in his last grand prix, a world championship for Mansell. But tyre failures, still unaccountable, took Keke into retirement, Nigel nearly into a massive accident.
Goodyear suggested a precautionary stop for Piquet, and that made the title Prost's beyond dispute. Earlier a puncture had sent him into the pits: his tyres were fresh. The rest were aiming to go through without a stop. A puncture may have kept the title in Alain's pocket. It was a day we shall never forget.
Qualifying
"Whatever happens tomorrow," Rosanne Mansell said on Saturday afternoon, "I'll just be so glad when it's all over".
It struck many a chord. This has been a regular 16-race world championship, but the scheduling through the last six or seven months has taken its toll. The mechanics, in particular, will relish the opportunity of a break from the airport queues and all-nighters. "The people who set the dates," one said with some feeling, "don't have to use regular airlines - let alone sit in 'steerage' for 26 bleedin' hours".
Adelaide it was, for the final round, the championship decider, and, distance from Europe apart, that was fine with most people. The inaugural Australian Grand Prix, 12 months ago, was a supreme success on all counts, and the place is beginning to take on that lovely end-of-term ambience which used to characterise Watkins Glen.
Easy for us to say, of course. It was merely one more race, the last in a long haul.
Same couple of days of qualifying, one of racing. Same number of words to write, practice shoots to study, straightline speeds to evaluate - except, of course, that under the hammer here was more than the question of another grand prix race. On the result hung the destiny of the 1986 world championship, and for the first time in a decade a Brit figured in the equation. In all logical ways, Nigel Mansell had to be the heavy favourite to take the title. Did not Prost and Piquet have to win to surpass his points total going in? And even if Alain or Nelson managed that, did not Nigel need only third place to clinch it? A cakewalk, surely, for one who had already won five times this season? Yes, but...
Yes, but racing is not like that. Mansell needed no reminding that Piquet had already nicked two world championships at the last race of the season. Or that Prost wanted this one just as much as the first.
"No complications, huh?" Alain said on Friday morning. "In many ways, this is the ideal race for me - I have to win. No need to plan, really. It's the same for Piquet. But for Nigel it's not so straightforward, maybe..."
No, it wasn't, but Mansell had his own ideas about that. "I've got to try and win. I want to win. No retreat, no surrender. There's no way I'm going to think in terms of trying to finish third, or anything like that. It's too dangerous, for one thing, because it means you're going to be running with other cars around you, and maybe getting mixed up in someone else's shunt. No, I'm either going to win this thing properly, or I'm not going to win it at all.
"I want to be entirely positive about this, all the way through. The immediate priority is to be quickest today, and to hold pole position tomorrow."
So that settled any doubts about Nigel's frame of mind. Mexico had been a mess, no question about it, but only three weeks before his Estoril drive had made the others look flat-footed. And Adelaide was a street circuit, on which he has always excelled. While less than his usual chirpy self, his confidence seemed secure.
And in practice he delivered everything promised, heading the times in both sessions that mattered. He would start from the pole, which meant that if he got away properly they would have to pass him. Psychologically important, as well as anything else.
The luck, too, seemed to be going his way through the practice days. A light shunt on Friday morning damaged the Williams-Honda's left rear corner - but he was in his T-car at the time, and anyway the damage was light. In the afternoon his name was at the top of the sheets when a ferocious and sudden downpour wiped away the second half of the session.
The following morning Mansell got out of line, clipped a kerb and spun - but didn't hit anything. And in the crucial last session he was again quickest when Streiff's Tyrrell-Renault blew up, putting down a substantial quantity of Elf. No truly quick laps were possible there-after.
This is not to say that Nigel lucked into pole position. Far from it. The chances of his taking it under any circumstances were always excellent, but the important point was that on each occasion he had set a quick time before the track was slowed by rain and oil. On Friday and Saturday, at least, the Fates were not working against him.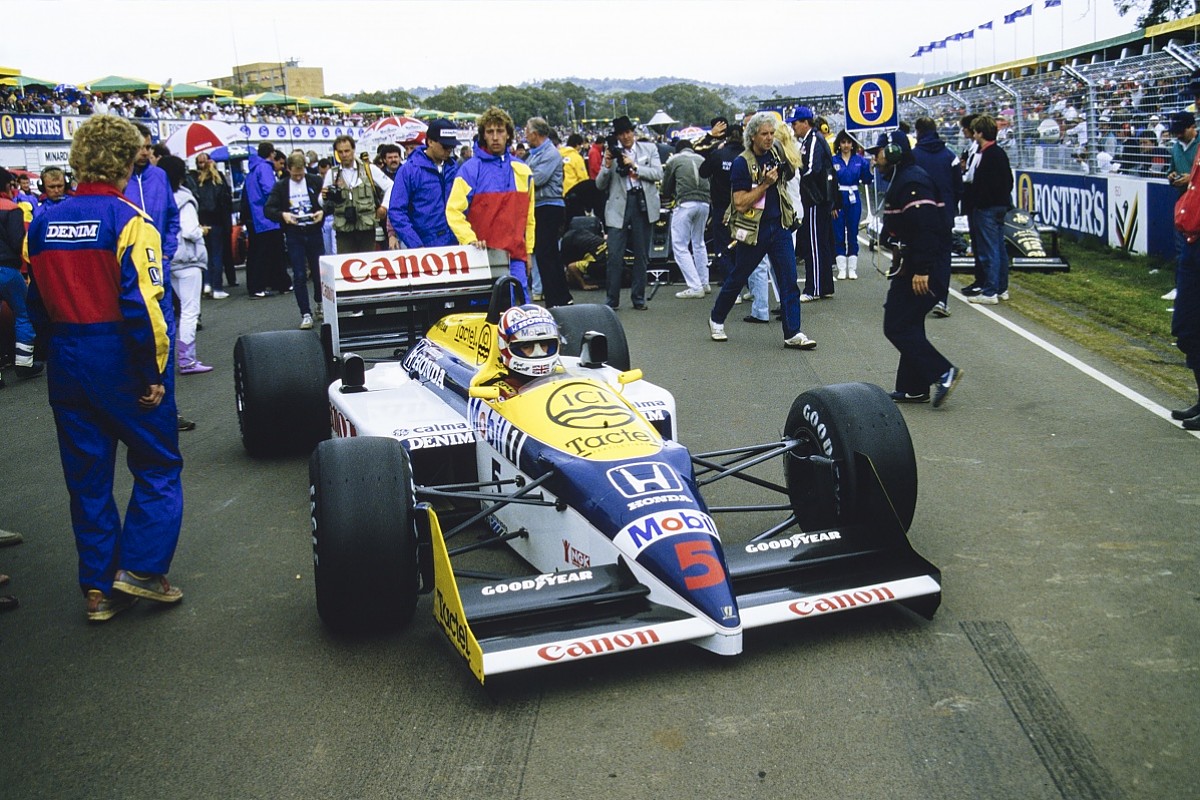 You read it right about the rain. When we flew into Adelaide early on Thursday morning the roads were glistening, the clouds thick. The weather, we were told on landing, had been awful - inexplicable - for days, and the forecast was hardly encouraging - although there was some hope that Sunday would be dry all through. That much was welcome: we didn't need a freak race to decide the world championship.
In fact, the kind elements arrived on Saturday, which was blue, bright and warm.
There had been so little grip in the track on Friday that no one bothered with qualifiers. Senna had intended to try them, but a shunt in his qualifying car had put an end to that. Everyone used soft race tyres. And in the last session, too, most opted for at least one set of race rubber.
It was on the Goodyear Cs that Mansell set his best time, only 12 minutes into the session. At that point Senna was second fastest, but well over a second away. Twenty minutes later Nigel came out again, on the same set, and reeled off three consecutive laps in 1m19.7s, 1m19.1s and 1m19.4s, a very strong pointer to his and the car's competitiveness, for this was a tyre he might well select for the race.
Eventually he went out on qualifiers, but by then the oil was down, his pole position safe. "It was hopeless later on," he said. "The track had changed a lot because of the oil. Streiff had dropped it at the hairpin, but everyone's tyres picked it up, and carried it on round. Still, I'm not complaining."
The Williams-Hondas had the front row to themselves, and the start promised to be memorable. Perhaps, who knew?, the world championship would be decided inside the first few yards of the race.Nor, for that matter, was Piquet. Through Friday and Saturday he had complained of a little too much understeer, but this had been cured to his satisfaction by the start of the final session. Early on his engine was misfiring at very high revs, but this, too, was taken care of so that Nelson was able to get in a quick lap immediately before Streiff anointed the track.
Twelve months ago it was Senna who took the pole, Senna who took the headlines. Adelaide 1985, you will remember, was the race in which Ayrton fought a long battle with Rosberg, using the circuit for only some of the time.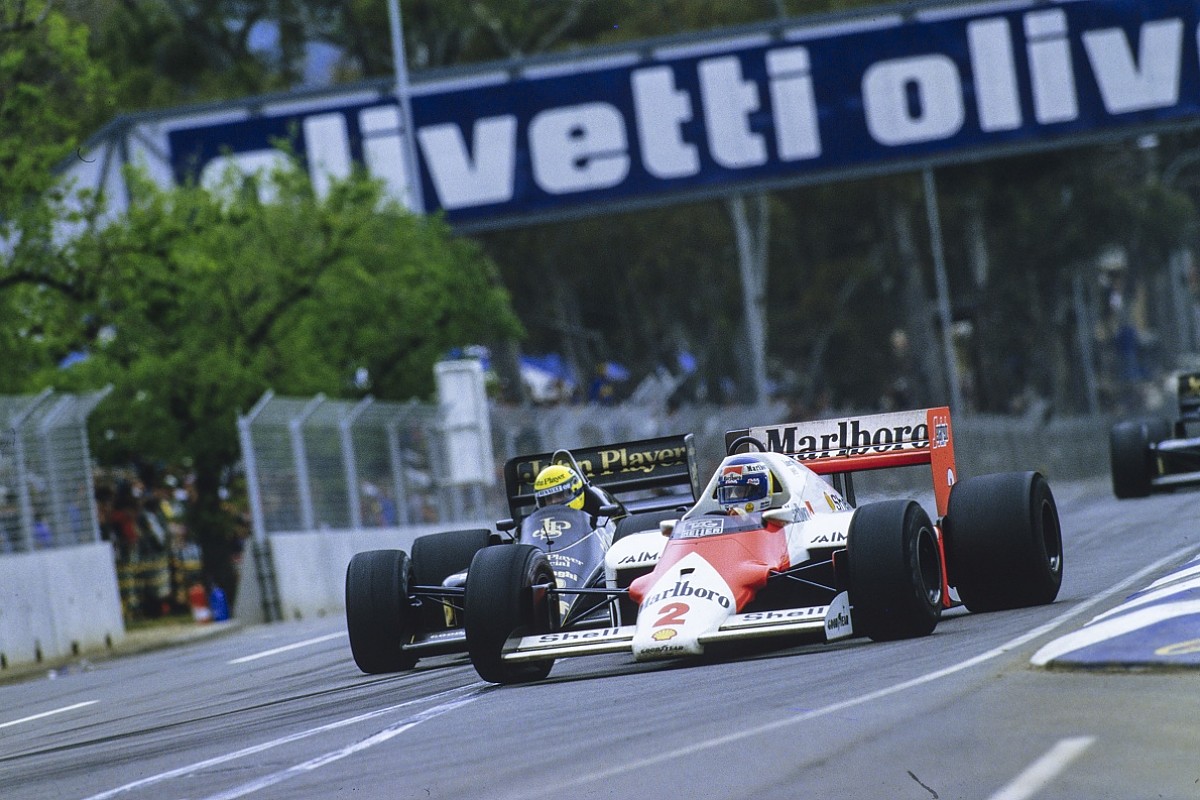 This time he had to settle for third place on the grid, after being 'only' sixth on the opening day. An accident in the qualifying Lotus-Renault early in the Friday afternoon session meant that he had to set a time in his 98T race car - with race engine.
To make the top half-dozen in those circumstances suggested that, in ideal conditions, he might well take his ninth pole of the season in the final session. And if Streiff's oil had not disrupted the second half of it, such might have been the case. Like the others, Senna opted for one set of Cs and one of qualifiers, but set his time on the race tyres before the track lost grip. He was the only non-Williams driver to get under 1m19s.
Johnny Dumfries chose qualifiers for both his runs on Saturday, setting his best time on the first set. "We ran more downforce for the second run, which should have been a lot better," he said, "but by then the oil had gone down, so I couldn't improve." The Scot qualified 14th for this, his last race with Lotus.
Senna's position rather spoiled the world championship symmetry of the grid, for without him the three title aspirants would have qualified 1-2-3. On Saturday morning Alain Prost had got the McLaren just so, setting easily the best time of the session. His chances of pole position, he quietly reckoned, were excellent. After the final session, however, he and team-mate Rosberg were baffled, neither having approached their morning times.
"It was very strange," Alain mused. "We just had no grip this afternoon, nothing like what we had this morning. I know the oil made a difference in the last 20 minutes, but that wasn't the whole question - I was in trouble before that. This is one of those tracks where conditions change very quickly."
Prost might have improved on qualifiers right at the end, but the TAG engine lost fuel pressure, and the engine cut, obliging him to return to the pits on foot. Beaten only by Mansell on the opening day, the Frenchman remained confident of his chances, said the car was very good in race trim.
"Nigel must be strong favourite for the title," Rosberg commented, "but I'll have you a sizeable bet that Alain wins the race..."
Keke was in light frame of mind at this, the last grand prix in his great career. "No, I haven't had second thoughts," he smiled. "I've made my decision, and I'm comfortable with it - even though I know I'm going to miss the sheer pleasure of driving a race car."
Like Prost, Rosberg was bemused by the lack of grip in the final session, he also having been faster in the morning. "In this business nothing changes," he grinned. "This is my last race - and I'm just as confused as I was at my first..." He qualified seventh.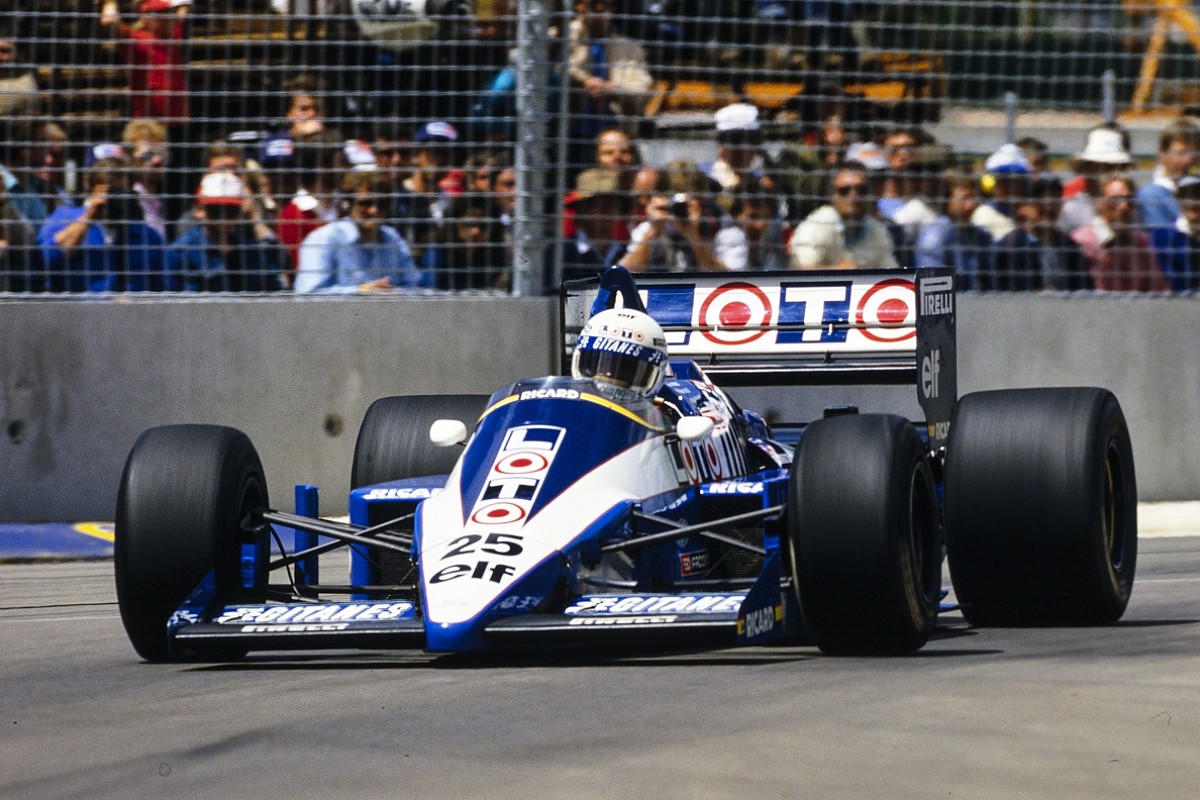 Between the two McLarens on the grid we found the Ligier of Arnoux, the Benetton of Berger. Adelaide, as Gerard Larrousse remarked during practice, was a circuit which might have been designed for the JS27 - remember how Arnoux and Laffite went at Detroit? As well as that, the Pirellis were working well here, and Arnoux is always in his element on a 'scratcher's track'. He was delighted with his car throughout practice, setting fourth best time on Friday, finishing up fifth overall, Pirelli's fastest man.
In light of what happened in Mexico, where Berger's Benetton was able to go the race without a tyre stop, you had to consider Arnoux's chances very seriously, and team-mate Philippe Alliot was not far adrift, eighth quickest. "I think this track is great," he said, "but very different from any other I've experienced. I don't really feel I've got used to it yet, so I'm pleased to be so high up."
If the track suited the Ligiers, it was less kind to the Benettons, with their all-or-nothing BMW horsepower. Both Berger and Teo Fabi complained of a basic understeer problem, which swiftly - as the power kicked in - became one of oversteer.
This was Gerhard's last race with the team, of course, and it was fairly evident through practice that Teo - who stays for 1987 - was being given precedence. Berger had but one run in each of the timed sessions, stopping on Friday with a blown engine, on Saturday with a blown gearbox. On each occasion there was no question of his taking over the spare, it being in Fabi's hands, Teo's own car suffering misfire and brake problems. They lined up sixth and 13th.
The Ferrari's were ninth and 12th, Alboreto ahead of Johansson. "How is my car?" Michele grinned. "Well, mmmm, terrible I think would be the best word." In what way this time? "Oh, every way. Understeer is very bad - the car wont turn in properly. What else? Well, we have no traction out of the corners, just spin the wheels. And over the bumps the car is a joke, jumping everywhere. But the engine is good, I must say. Lot of power, but too much throttle lag." Michele will not be sad to see the back of 1986.
Nor, for that matter, will Stefan, having his last race for Ferrari. Friday began with a contretemps with Streiff: "For half a lap he gave me not quite enough room to pass, but when I finally did get by... we touched," was how he ingenuously explained it. The Tyrrell driver indignantly claimed that Johansson had driven into him.
In the afternoon Stefan was caught out by the sudden rainstorm, spinning off the road and skating endlessly over the grass before hitting a concrete barrier, almost sideways on and with some force. He was quickly out of the car, but was clearly in some pain as he hopped across the road. X-rays revealed nothing broken, but there was some considerable bruising to his left calf. "The rain was so violent and suddenly I couldn't see it," he said, "and there were no flags at all."
The Ferrari's monocoque was destroyed in the accident, and in the morning Alboreto had also written one off after clouting a wall. That left the team with a single car, so overnight the mechanics built up a new one for Michele, Stefan taking over the muletta for the balance of the weekend.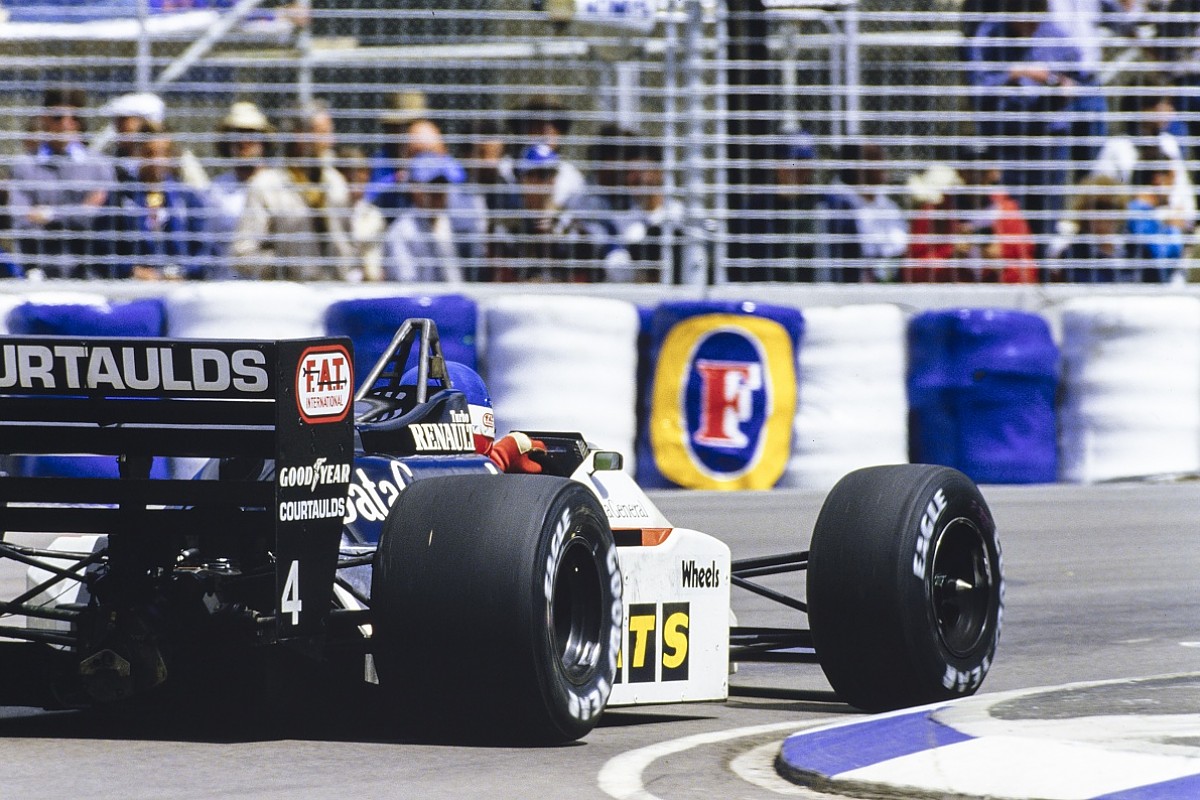 Only a hair slower than Alboreto was Streiff, whose 10th position on the grid was the best achieved by a Tyrrell driver for some considerable time. Philippe, we should recall, was very quick in the Ligier at Adelaide last year, marring a fine race only by clouting steam mate Laffite in the closing stages while trying to separate him from second place.
For the last session it was decided to run both Tyrrells with a minimum of rear wing. The consequence of this was that they were conclusively quickest down the long straight at Dequetteville Terrace (Brundle at nearly 206mph, Streiff at 204mph), but for the rest of the lap it was a matter of hanging on and hoping. Philippe did a very brave job, sticking with race tyres only. Indeed his best time of the session was set on his 14th lap.
The Renault qualifying engine did not care for such high mileage, however, and eventually blew up in a big way - hence the oil which ruined the last 20 mins of the session.
After the engine problems in the morning, Martin's car required a change before the last session. He therefore began it in the spare car (and race engine), getting back on his own only for the last 15 mins - by which time, of course, his team-mate's oil was down... The number 3 Tyrrell qualified 16th.
Five places higher than that, and to everyone's astonishment, was Andrea de Cesaris's Minardi-Moderni, which behaved very well over the bumps of Adelaide and ran reliably over the two days. The pity of it is that the team has yet to build a second M186 for Alessandro Nannini, who labours on with the old M185R, which he qualified 18th, a second slower than his team-mate.
Alan Jones was hopeful of showing well at this, his home grand prix, and there did seem cause for cautious optimism. There were three new, higher-compression, Ford V6s in Adelaide, and all - to the intense disappointment of Patrick Tambay - were for the Australian. As well as that, the T-car was to be Alan's for the weekend.
Not for long, however. On Friday morning Tambay, running on slicks, got off the dry line at the right-hander before the final hairpin, slid off the road and clouted the wall very hard, to the severe detriment of the Lola's right rear corner. The monocoque survived, but Patrick necessarily had to take over the T-car for the rest of the day.
This time it was Alan's turn not to be impressed.
He managed not a single quick lap that first afternoon. In the morning his 'new' engine had lost boost, so the mechanics changed it for the timed session - but not before the monsoon arrived.
The following day was almost as disheartening. Early in the morning session Alan was as high as third in the times, and starting to enjoy himself. A piston failure, however, meant another engine change before the afternoon, and the replacement V6, unbelievably, broke its timing chain while being warmed up. They probably drew lots to decide who should break the bad news to him...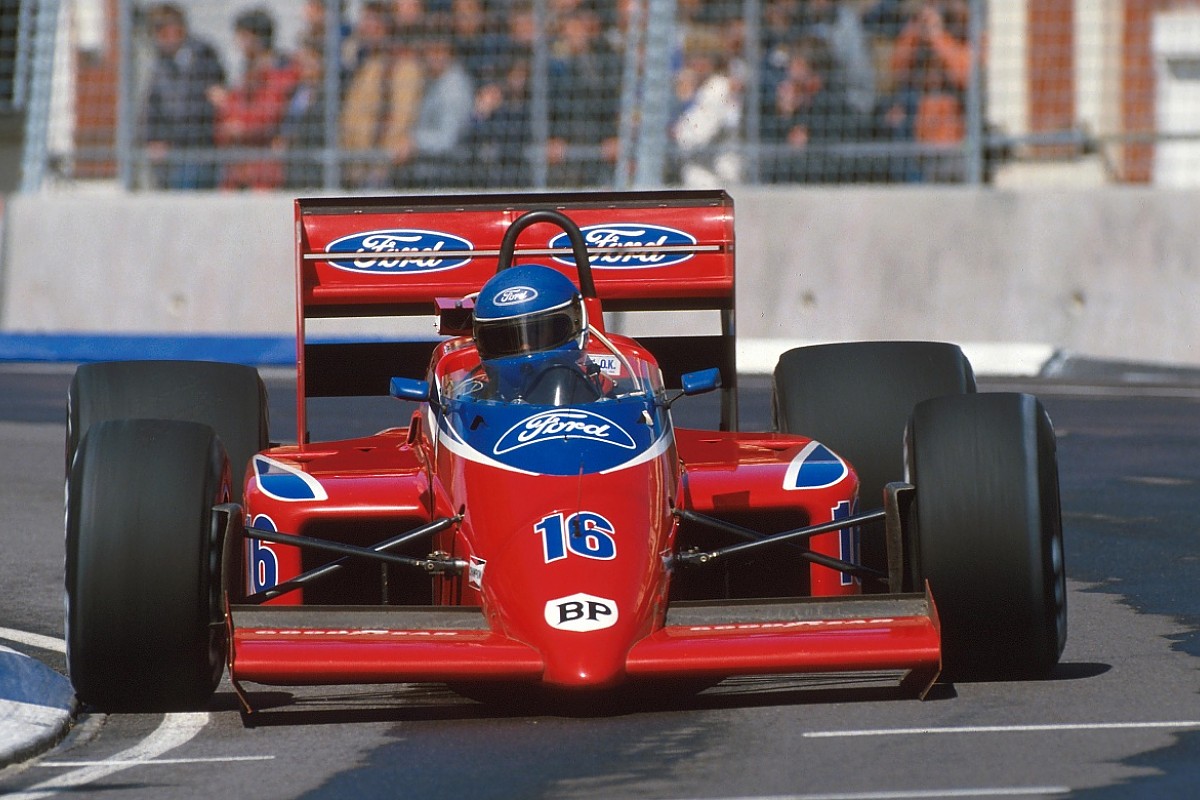 In the end, therefore, Jones had to go for a time in the T-car - whose 'old spec' engine was misfiring! "What a sequence of events," he muttered. "Couldn't bloody believe it..." Alan started 15th, Patrick 17th. In the pit joy was unconfined.
If Team Haas was in disarray, however, it was in better shape than Brabham, for whom Patrese and Warwick qualified 19th and 20th. "I think," Derek said, "this has to be our worst ever. I can spin the wheels in sixth gear - that's how good the traction is on these bumps. And the handling is sort of beyond words."
There were other problems, too. Riccardo had an engine failure on Friday afternoon. Derek one the following morning - which meant using the spare BT55, with race engine, for the last qualifying session.
A fraction slower than the Brabhams was Palmer's Zakspeed, far less at home on the bumpy twists of Adelaide than at Mexico a fortnight ago. "Four-cylinder engines are never ideal on this sort of track," Jonathan commented, "because nice throttle response is all-important. On top of that, we're very slow in a straight line, and the traction's not very good. Also, we haven't got a spare car here, of course..."
The T-car had, of course, been wrecked by Huub Rothengatter during practice in Mexico. The Dutchman broke two engines and two gearboxes in the course of Adelaide practice, qualifying 23rd, between the Arrows of Boutsen and Danner, whose lack of traction was perhaps more extreme than any other cars in the place. Thierry, who leaves now for Benetton, sat out most of the first session with a leaking brake master cylinder.
At the back, need it be said, were the Osella-Alfas of Ghinzani and Berg, Piercarlo blowing up on Friday before he had managed a single flying lap.
So there we were. Everything was in place for the showdown, and theories about the pattern of the race rebounded. Some thought Mansell would lead all the way, others that it would be Piquet. Rosberg stuck with his Prost victory forecast, and Senna, too, had his supporters. "I think Ayrton will win," one driver said. "With the way he and Piquet feel about each other he's got a lot of motivation - even more than usual. After all, if he wins the race, he automatically ensures that Nelson doesn't win the championship..."
See FORIX for the full grid and all the stats from the 1986 Australian Grand Prix
Race
They had assured us of fine weather for race day, and early in the morning they seemed to have been right. But you take nothing for granted with forecasters: the day before we had been told to expect showers - and there was hardly a break in the blue. And now, as Sunday morning moved on towards midday ever darker clouds loomed. Surely we were not to have a freak race - which invariably comes with rain - decide the world championship?
Senna set the fastest time during the warm-up, but afterwards expressed little confidence for the race: "On fuel consumption I don't believe we can run with Williams and McLaren."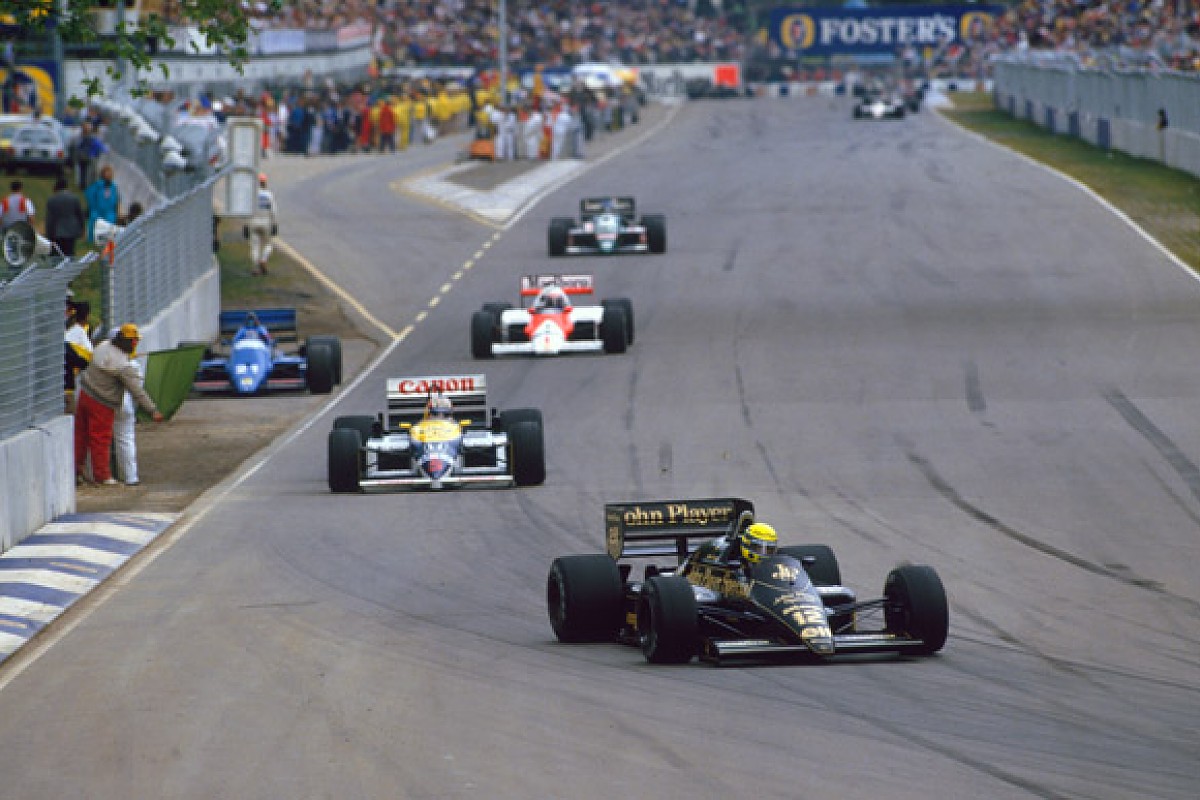 Tyre choice, most people believed, was going to be crucial, and for the first time since Jerez several Goodyear runners talked in terms of going the distance without a stop. During the warm-up Prost tried both Bs and Cs, and thought he would go for the latter. Alain was second fastest in the session, but team-mate Rosberg was down in ninth, having lost a lot of time with a split driveshaft boot.
Mansell and Piquet placed third and fourth, and Cs appeared to be their race choice as well. Of all the frontrunners, Senna was the only maverick, opting for Cs at the front, Bs at the rear. Brake wear, as at all street circuits, was also a factor to be considered. Carbon discs are undoubtedly more efficient, but in the past steel ones have lasted better. Williams had tried both types on Saturday, after which it was decided that both drivers should start on carbons. Benetton, by contrast, went for steel.
For Benetton the warm-up was less than a complete success. Although Berger was fastest, Fabi went off on cold tyres, hitting a wall and destroying his race car's monocoque. Nursing a sore shoulder, Teo went out in the T-car, but was unhappy with its set-up.
As two o'clock drew near everyone looked nervously skywards. The spits of rain were becoming spots, and umbrellas went up everywhere. Just what nobody - with the possible exception of Senna - wanted.
Still, it abated. As the cars formed up after final warm-up laps, the question of slicks or wets took care of itself. The menacing clouds remained, however, and would do so for the rest of the afternoon.
To the start, then, and the beginning of the most dramatic first lap anyone could remember. The only man absent from the grid was Berg, whose Osella had blown a turbo during the warm-up laps. This was changed, and the Canadian eventually came into the proceedings when the leaders had done 10 laps.
At the green Mansell got away well. His side of the road - the left - was very dusty, and this Nigel had astutely dealt with at the start of the formation lap. As the rest moved gently away the number 5 Williams-Honda did a real burner, leaving black lines and a neatly scrubbed surface. When he took up his place on the grid, Mansell drove precisely into his tyre marks. Smart.
So, too, was his start. Senna alone was a threat down to the first corner, and then came Piquet - and Rosberg, who had made one of the great all-time getaways and had his McLaren up to fourth place from a fourth row grid position!
That first lap was truly something else. Senna sat right on Mansell's tail through the first chicane, and at the first right-hander dived for the inside. Nigel wisely made no attempt to keep him back - indeed Piquet also went by, followed by Rosberg.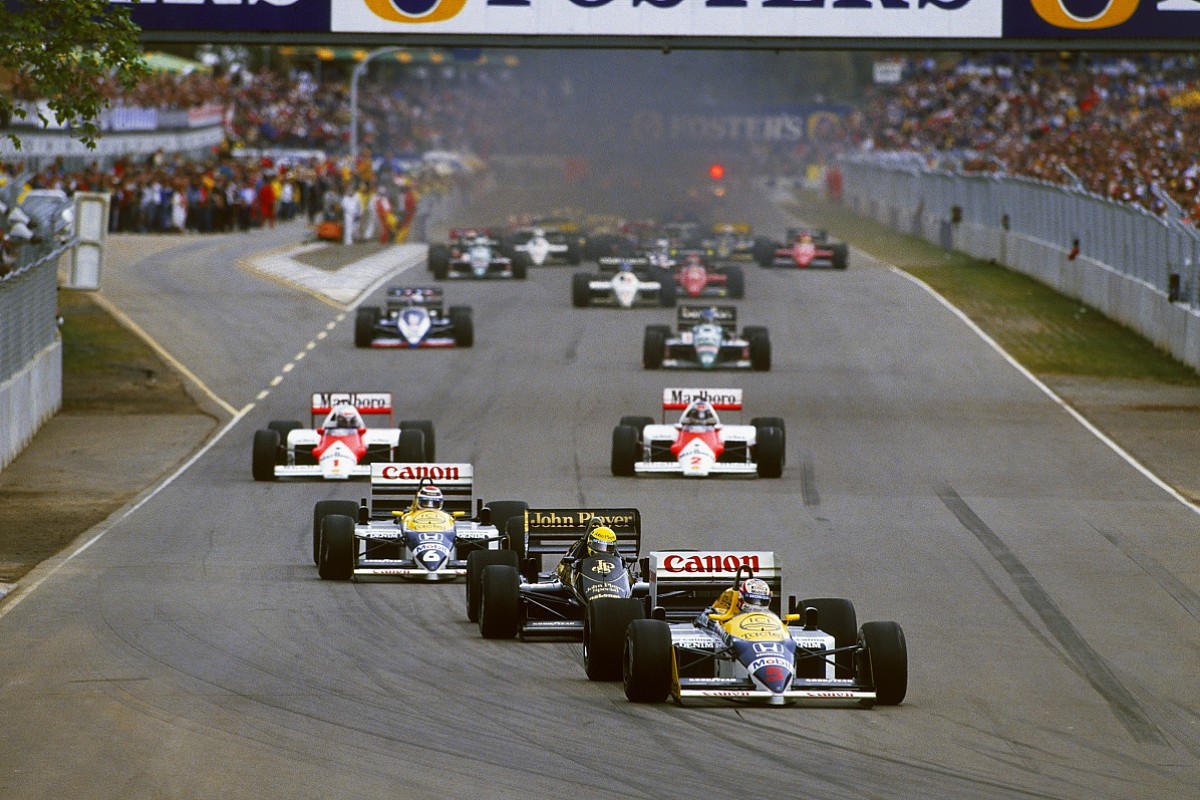 Back on the grid, behind the first few rows, there had been drama. Arnoux had taken off very slowly, obliging Alboreto, behind him, to back off. In an instant the Ferrari was struck from behind, and after a single slow lap Michele came into the pits to retire. Arnoux, clipped by him, also came in but rejoined. We were not through yet. Down the long straight at Dequetteville Terrace Nelson pulled out of Ayrton's slipstream, and we had another moment of the celebrated Brazilian Twostep as the Lotus moved across to keep the Williams back. Piquet was having none of that, however, and went by into the lead a comfortable cigarette paper away from Senna. We had our third lead change in two miles...
Lap one: Piquet, Senna, Rosberg, Mansell, Prost, Berger. Already it seemed that Senna was a possible logjam in proceedings, and Rosberg was obviously very keen to get to grips with Piquet. On lap two he passed the Lotus, and immediately began to make inroads into the Williams's lead. This was vintage Keke. Was he going all out to win his last race? Or was he playing hare for Prost, obliging his rivals to force, perhaps hurt their fuel calculations?
At this point we were unsure, although Rosberg had said he would do everything in his power to help Prost to the title. "We talked about it before the race," Alain said afterwards, "and he said he would help me if he could - if he was leading and I was second, for instance, he would let me through. And obviously it was good for me that he led, because both Williams guys had to push on a bit. That first lap of his was really something fantastic..."
So, too, were the succeeding ones. It was quite evident that Piquet's spectacular charge was not going to get him away. After five laps, indeed, Keke was closing on Nelson, intent on the lead.
At the same time Mansell had passed Senna for fourth, and it was Prost's turn to move up on the Lotus's tail. Nigel's move up we greeted with relief, for his downward slide on the first lap had been a little worrying: had he been playing it careful, or did he have a problem? It was the former: if Piquet et al needed a banzai session to keep alive their championship chances, Mansell did not. It was, he would say later, a very desperate race. And, after all, third place would do the job.
Rosberg was right with Piquet as they hammered by the pits to begin lap seven, and into the first chicane the McLaren slipped by. Nelson later said that he was concerned about fuel in the early stages of the race, and preferred not to race it out. By the end of lap eight Keke led by nearly three seconds, and was moving away into a race of his own.
Ten laps: Rosberg 3.3 - Piquet 6.7 - Mansell 1.2 - Prost. Senna was now out of any sort of contention, and behind him Berger was also falling back. This was a four car race.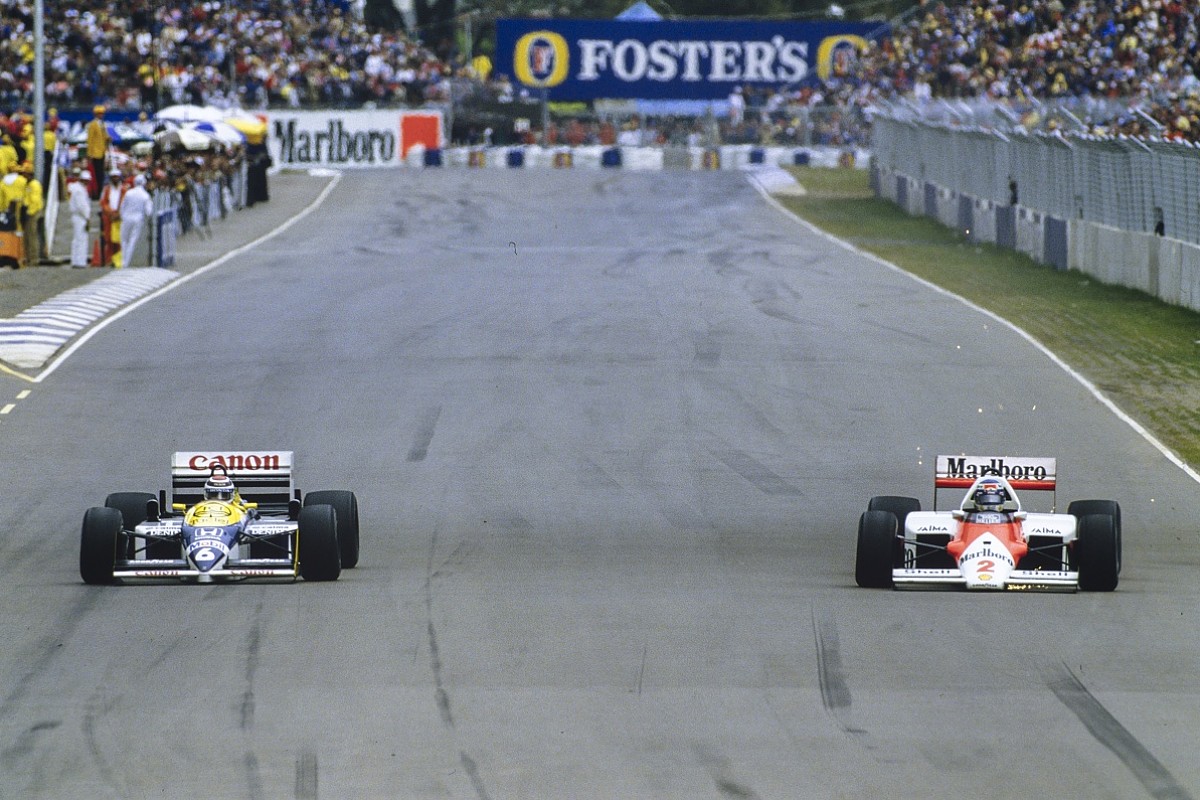 In the circumstance it was easy to forget the rest. Johansson had moved up to seventh, ahead of Streiff (repeating his qualifying form), Jones and Fabi. Gone was Ghinzani (CWP broken after two laps), and on lap 11 Nannini was missing. The Minardi had clipped a kerb at the entry to a fast left-right, got off line and hit the concrete barrier hard and virtually head on. Sandro was shaken, but nothing more. He was a fortunate fellow.
Four laps later it was the turn of Alan Jones, whose engine expired just as he got the Lola-Ford up alongside Berger's Benetton. His race had been brief but impressive.
Team-mate Tambay, by contrast, was in for a miserable afternoon. At the first corner of the race he had collided with Dumfries, then come in with gear selection problems. His engine took him the distance, but probably he wished it had not.
By quarter-distance Rosberg's performance was becoming a serious cause for concern to Piquet fans, for the McLaren was now 14s up the road, and Keke was increasing his lead by the lap. And Prost, third, was less than a second from the Williams. Was this the McLaren Grand Plan, with Alain moving slowly up the order, then taking over from Keke when the moment was right?
For some laps, Prost tailed Piquet, clearly quicker and neater through the tight turns, gaining under braking. Only onto the pit straight was the McLaren frequently hustling the Williams, but under acceleration the white car would draw away once more.
Alain had a problem here, and he admitted as much later. All the logical overtaking spots were off limits to him, for he was unable to stay with Nelson on the straights. What to do, what to do?
Piquet obligingly solved the problem for him, by spinning on lap 23. Nelson lost little time in recovering, carving across Boutsen without so much as a glance, but by then both Prost and Mansell were past him. A costly mistake, as at Estoril.
All the while Rosberg was going away from the lot of them, despite being delayed a little by Patrese's juvenile tactics, as he tried to lap the Italian on lap 24. Riccardo was driving another very fine race, as we have seen often from him this year, so why behave like this? Answers, please, on a postcard. A lot of drivers would be interested to know.
We got ready now for the tyre stops. Already we knew that Pirelli were in for no Mexican repeat, for Fabi had been in as early as lap 14 for fresh rubber. Goodyear had recommended a stop for all their teams, and Prost, for once, intended to take their advice.
Not like this, though. At the end of lap 32 it was Mansell who came through in second place, followed by the recovering Piquet. When Prost appeared he was down off the pace and going towards the pit lane. This, although we were not to know it, was to change the entire complexion of the race - and perhaps the world championship.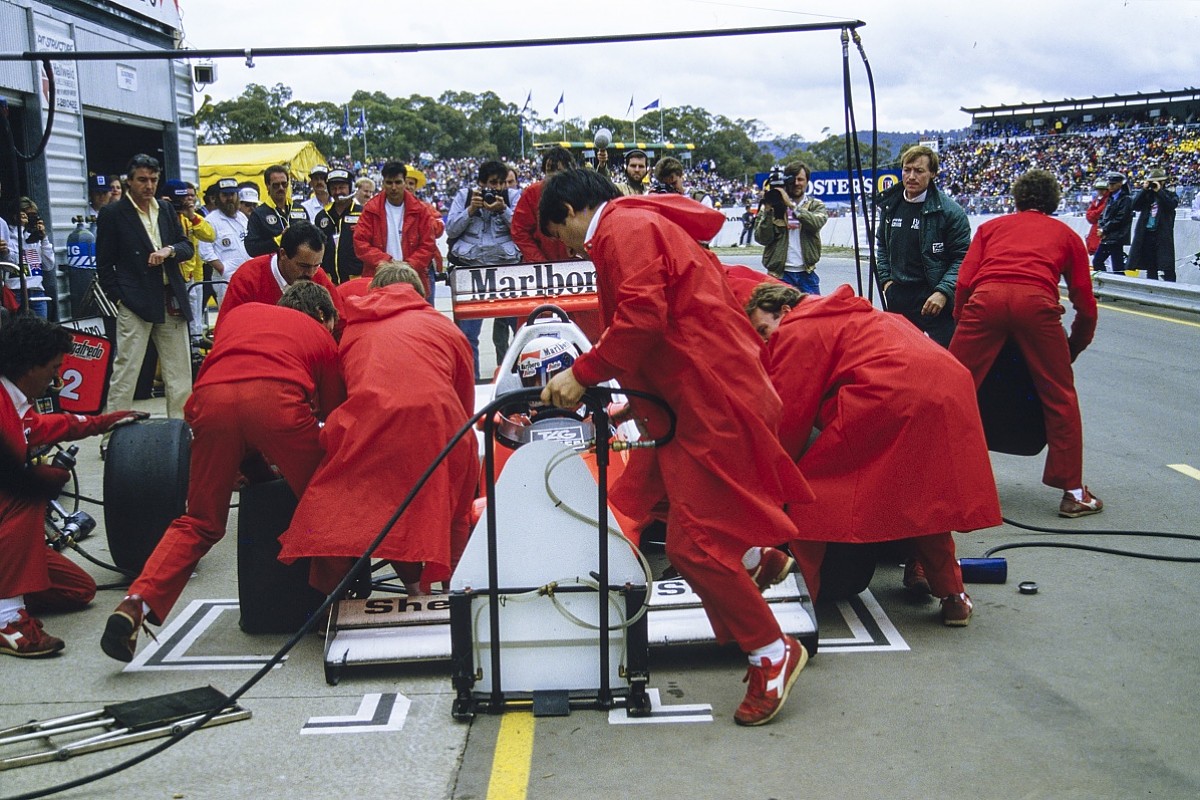 "I got a puncture in my right front tyre," Alain said. "It happened on the long straight, and gave me a small moment when it began to go down. Three laps before I had had a small touch with Berger, when I lapped him at the hairpin, but I don't think that caused the problem. I think it was simply a normal puncture. That meant coming back to the pits very slowly..."
The mechanics went to work on the car, but the stop was necessarily a long one because it was difficult to get a jack under the car in its lowered state. After more than 17s Prost went back out, but his championship chances had taken a dive, and it was difficult to see how they could be revived. However...
...in the pits the Goodyear personnel took a look at the set of Cs discarded by the Frenchman, and they were agreeably surprised by what they saw. There was really very little wear indeed, and they suggested that maybe the Cs would go the distance without problem.
Nigel at this point was looking good indeed. He could do nothing about Keke, but Nelson was still behind him, and it was difficult to see how he could fall below the all-important third place. On lap 39, however, Mansell was badly held up by Danner, which allowed Piquet to close right up. And two laps later Streiff was similarly obstructive.The pitstop did not lose Alain any other places, but he was now 20s adrift of Mansell and Piquet, and 50 behind the astonishing Rosberg. How could Keke let him through without performing the same service for his two championship rivals?
For a lap or two it was like Brands Hatch all over again, the two Williams-Hondas running in formation. And when, on lap 44, Piquet took a lunge at second place into the first chicane, Mansell was smart enough to give him room.
Senna departed the scene at the same moment. It had been a dispiriting afternoon for him, the Lotus-Renault never a true contender. "My engine was poor right from the start," he related. "Then the red light came on, and then oil began to leak onto the rear brakes. Then the engine just blew up..."
At the front everything was bubbling up nicely. Rosberg still looked unassailable, more than half a minute to the good, but Mansell seemed well able to keep in touch with Piquet - and Prost, setting new lap records on his fresh Goodyears. When the traffic allowed he was taking chunks out of the Williams' advantage, and after 50 laps was but 8s behind.
He had his worries, however. For a long time his fuel read-out had been 'the wrong side'...
"Even when I came in for tyres it was reading minus five, and in an ordinary race I would have backed off until it had come back on the right side again - maybe settled for a safe third place or something like that. But on a day like this there was no way to back off, no point. I thought 'OK, maybe I finish, maybe I don't - but if I don't win the race, I don't win the championship,' so there was no point in backing off. A good finish was no good to me. I kept pushing."
On laps 53 and 54 he set new fastest laps, and the gap to the Williams was coming down. A lap later both Piquet and Mansell set their personal fastest laps to date - but still the McLaren was nearer. By lap 57 all three championship contenders were running in formation. Who scripted this thing? Mansell, for the moment, had no complaints. If Rosberg kept running, the world championship was coming to England. And even if he retired, there was no need to beat Piquet and Prost.
A pause to consider the others, all of whom were incidental to the day. Patrese - a fine drive, this - was up to fifth with the Brabham BT55, having overtaken Johansson's Ferrari. The Tyrrells of Streiff and Brundle continued to run like trains, in seventh and eighth spots, followed by Arnoux and Dumfries. Warwick, 11th, was in dire trouble with his front brakes. Eventually he came to have the front brake pads replaced, but it was decided that the job would take too long, and the car was pushed away.
And now began the supreme drama of the day, a spell of four or five minutes which turned the race on its head. First, on lap 63, there was no Rosberg.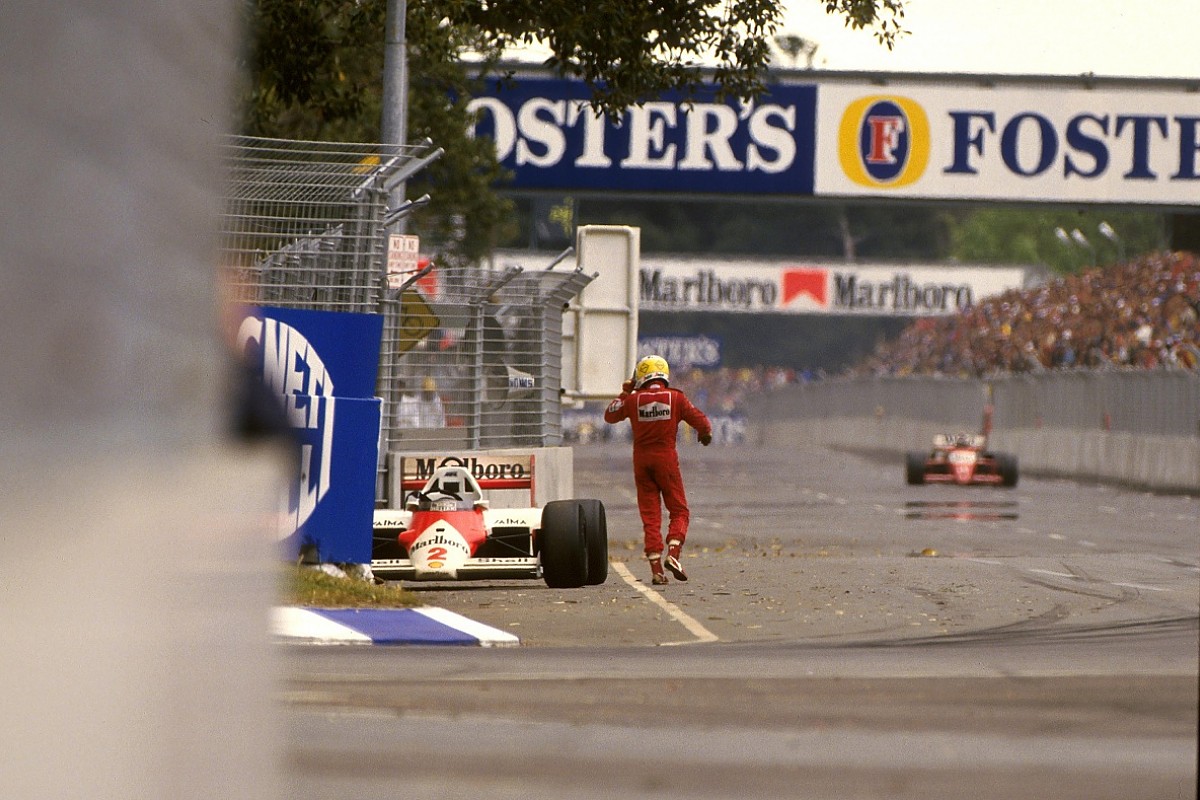 "Everything was going perfectly," he said, "and then suddenly I heard this brrrrr from the engine. That was that, so I coasted in to the side of the track, flicked off all the switches. It was only when I got out that a marshal pointed to my right rear tyre. A tread had stripped off, and was flapping against the bodywork. That was the brrrrr I had heard. The engine was fine".
Poor Keke. He had driven a quite magnificent race, really seized the thing from the start. There would be no victory in this, his final race, nor even a finish. But he had given us a reminder of the talent, the fire and the brimstone, which leaves the sport with his retirement. As with Lauda last year, a final shot at victory had been lost.
That left us with Piquet, three seconds up on the closing Prost, and Mansell another second back, in the crucial third place. But scarcely had we recovered from the Rosberg incident than we saw Britain's world championship erupt.
As Nigel drew alongside Alliot's Ligier on lap 64, his left rear tyre quite simply disintegrated. The Williams was flat in sixth at the time, and there began a harrowing sequence of swerves and twitches as the car's left rear corner broke up. It seemed to take forever, and the way Mansell kept the car under some semblance of control was a piece of sheer animal skill. Remarkable. Eventually the Williams went into the escape road at the end of the straight, lightly tapping the wall. Nigel sat there for a while, taking in the fact that his championship was probably gone. And also the fact that he had come through a 200mph blowout - similar to the one at Ricard last year - without hurt.
"To be honest, I'm glad simply to be in one piece," he said afterwards. "There was no warning of it, no sign that anything was wrong. In fact, I was just cruising along, knowing that I was in the right position to take the title. It just wasn't meant to be, was it?" there was really nothing more to say. A season's work - five grand prix victories - had brought him only this.
According to a Williams press release, issued later, the team, knowing of Rosberg's mishap, had been on the point of bringing Nigel in for tyres. This, however, was denied by a member of the team, so who knows? After Mansell's disaster, though, Goodyear lost no time in suggesting that both Piquet and Johansson be brought in: each had been out on Cs from the beginning of the race.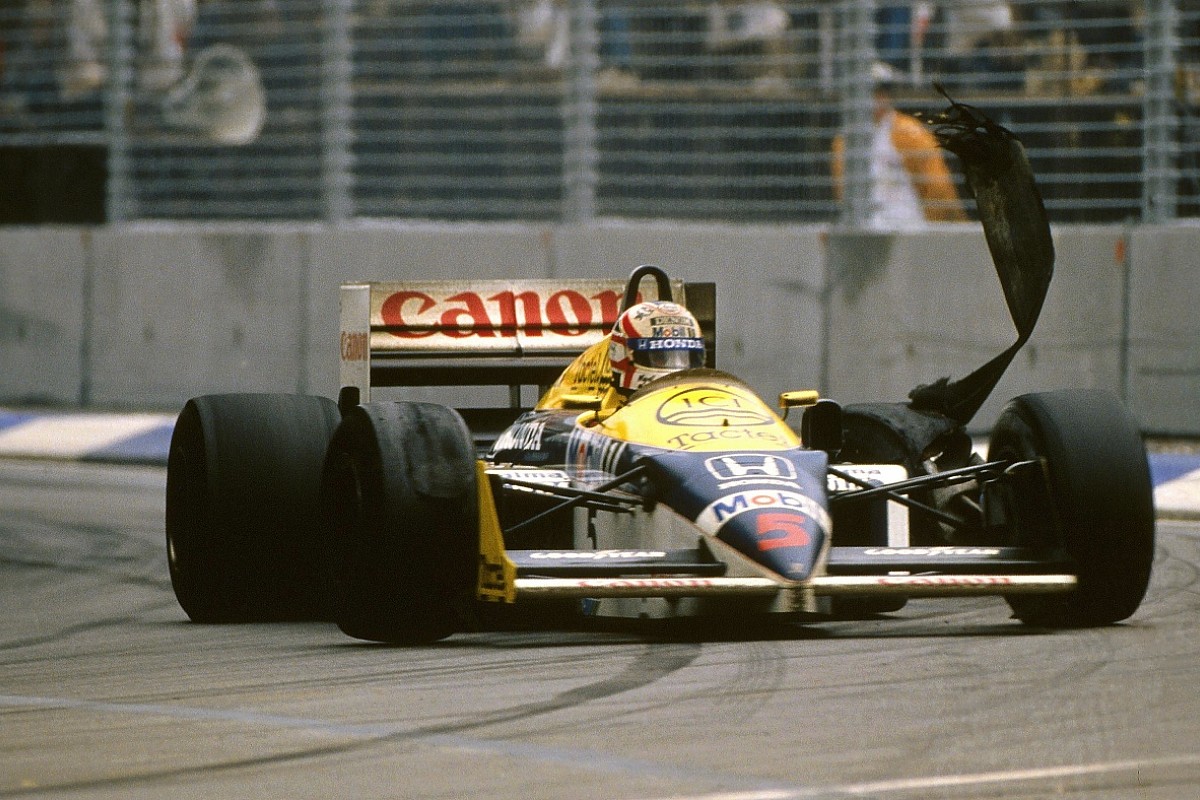 At this point Nelson was a couple of seconds ahead of Prost, but did not hesitate. In he came for new tyres, leaving Alain with no opposition for the rest of the race, but there were no recriminations afterwards.
"Goodyear were right to say what they did, on the information they had. I knew maybe I was losing the championship, but I don't care. I'm alive and happy, and I've got another eight years of racing ahead of me. In that time I'm going to win at least another couple of championships..."
Without a doubt, Goodyear did take the right decision - although when they came to inspect Nelson's first set, they found them to be in excellent condition. Such are the ironies of this business.
Piquet knew the situation when he came back out, and he made little impression on Prost until, in the last four laps, the Frenchman - his fuel read-out still giving him palpitations - rolled it off considerably. Over the last couple of laps, indeed, his lead came down from 15s to four.
But they were enough. Alain duly took the flag, the race and the title. As he stepped from the car he waved both arms in salute to the crowd, scarcely able to take in that number 1 would be his once more in 1987. He had not made a mistake all afternoon. Indeed he had barely touched a kerb.
"This championship means more to me than last year's," he said, "because I truly did not believe we could beat the Williams-Hondas this year. And also this year I can't remember making a serious mistake.
"Please," he went on, "let me say something about Nigel. I have lost two world championships at the last race, and I know how he feels. I like Nigel very much, and I truly believe he deserved the title this year. All I can say is that he can win the title next year, and I hope he does." A pause, "But I must also say that I will be fighting as hard as ever in 1987." The man has class, in and out of the car.
The final drama of the day came on the final lap. Johansson, flying along after what he considered an unnecessary pit stop, caught up with both Tyrrells, both of which were running out of fuel. Streiff unluckily ground to a halt, losing third place in the process, but Brundle made it over the line - only after Stefan had gone by for another third place, and fifth in the world championship.
It was a fantastic race. It didn't give us our British world champion, but, as he said, he was at least in one piece. It could have been much worse. And he, like Prost, has done grand prix racing proud this year.
See FORIX for the full results and all the stats from the 1986 Australian Grand Prix