By 4pm last Sunday afternoon Nelson Piquet had left the circuit. It was his 34th birthday, and he had nothing to celebrate. Nigel Mansell, too was long gone, and so was Ayrton Senna. Keke Rosberg was not in the best of moods. On Alain Prost's face was a broad grin. This had been a good one to win.
Elsewhere some, like Ferrari and Lola and Arrows, smiled for the first time in a while, for they had got something from the afternoon. At Benetton there was something close to despair, for their cars had dominated qualifying and - while all was well with them - the race. Berger put on a brilliant display at home, led, but finished seventh.
Prost's car was not the fastest in the race, nor did it behave perfectly. But the champion took nine points, his rivals zero.
Qualifying
So to Austria, for round 12 - and the seventh race in eleven weekends, the third back-to-back pair since mid-June. No wonder so many of the mechanics were looking more than a little red-eyed than usual.
The ambience of the Osterreichring makes up for a lot, though. The Styrian mountain skyline and a blue, hazy, day amplifying the grandour of this, grand prix racing's most majestic stage. No silly first gear chicanes here. If plans for such a circuit were put to FISA now, they would probably be rejected. It is fast sweepers virtually all the way.
Of these, none is more impressive than the downhill Boschkurve. At its approach Olivetti set up one of their speed traps, and on Saturday afternoon Derek Warwick's Brabham-BMW BT55 proceeded through it at 214.266mph. Over the start/finish line, following the ultra swift Rindtkurve Teo Fabi's Benetton - also with Bee-Em horsepower - was fastest, at 194.160mph.
The monkish Italian, who never seems to smile, came close to expressing pleasure last Saturday afternoon. Just as it seemed that team-mate Gerhard Berger had taken pole, Teo stifled the delirium in the stands, undercutting Gerhard by a couple of tenths. The lap - 1m23.549s - represented an average of 159.091mph, only a little shy of Rosberg's unforgettable pole lap at Silverstone last summer. Benetton, by no means sure even to compete next season, had the front row to themselves. The timing - in every sense - could hardly have been finer.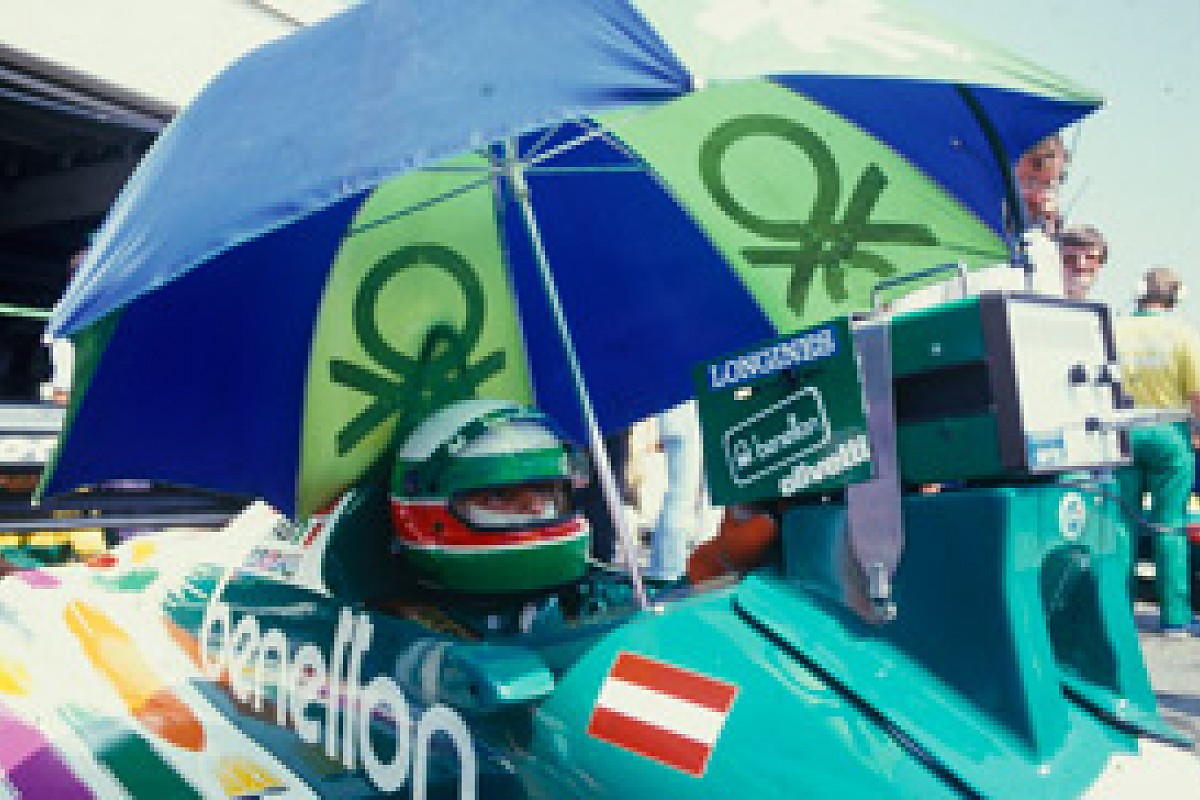 Fabi took a shock pole position in his Benetton... © LAT
All kinds of things conspired against the Benettons, yet in the closing minutes it seemed that all the problems were falling away, Fabi and Berger simply to do the times. This place could have been made for BMW, whose four-cylinder engines have always been raw top end power rather than supple finesse. Rory Byrne's genius has been to produce a chassis civilised enough to cope with the 'light switch' power delivery. Fabi, rather in the wings this season, is at his best on really fast circuits, and Berger... well, Berger is superb anywhere these days, and obviously nowhere more so than here. No more Lauda now. Last weekend all the pressure was squarely on Gerhard.
On Friday he had been fifth fastest, with Teo seventh, but their session, like that of all the Pirelli runners, was curtailed by a major accident to Warwick's Brabham, from which Derek happily emerged without hurt. Eye witnesses reported that a rear tyre had simply exploded. At the time Warwick was running the latest narrow Pirelli rears, and competitions chief Mario Mezzanotte immediately withdrew them from use.
"Undoubtedly the tyre was quicker than the standard wider one," Peter Collins said, "but Pirelli obviously made the only decision possible. For Saturday we had to make do."
For Saturday, too, Benetton obviously took off a lot of wing, to capitalise on their strongest card at this ultra-fast circuit. On the first day Berger and Fabi had been only 21st and 23rd fastest in the trap before the Boschkurve, at around the 190mph mark, but in the last session Teo was up to 212mph, Gerhard to 209mph.
It was not until the closing minutes, however, that the green and white cars came seriously into the picture. No one at that stage had beaten Rosberg's Friday time, although Berger had stuck in a couple within half a second or so. But at 1.48pm the Austrian unleashed a really quick one, putting himself at the top of the list, and there was a gale of applause from the crowd. Within two minutes, however, they were stunned by the news that Fabi had gone a couple of tenths quicker.
It was a fantastic lap by the little man. Earlier in the session he had transferred to the T-car because of a misfire in his own. The balance of the spare, he said, was not so good, but the engine was sensational. It was in this car that he set his time - despite the fact that the onboard radio came loose during the lap and fell down into the pedal area! Just what you need at Zeltweg...
"I was held up by one of the Minardis at the last corner," said Teo. "Otherwise I would have been in the 22s, no problem."
Three minutes of the session remained as Berger went out for one last hot at the pole. He produced another terrific sub-24 lap, but the misfire which had hampered him throughout the session was still there. Second was a bit disappointing, but in the circumstances, not too much so. The front row was all Benetton, and it was a delight to see the 'Gang of Five' pushed aside for once.
Would there be any team orders? "Just one," said Collins. "Don't run into each other..."
Fabi, of course, has been on the pole before. At the Nurburgring, 12 months ago, he put the Toleman-Hart there, and made a terrible mess of the start, arriving at the first corner in eighth place. "He remembers that," smiled Peter, "and he says it won't happen again. He's got it sussed."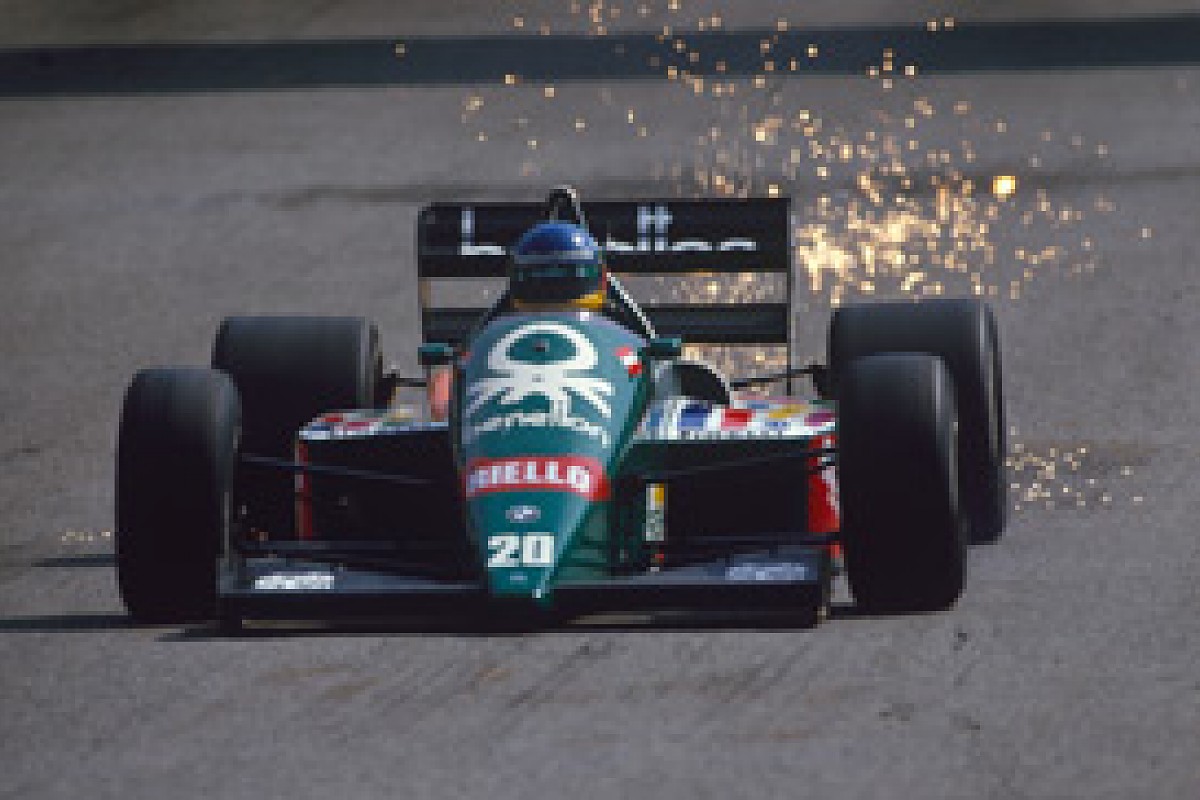 ...and was joined by his team-mate (and home hero) Berger © LAT
Keke, as we said, had been fast man on Friday, despite having to use the spare McLaren for most of the morning, his own car suffering from a split intercooler. Consequently he did not get out until the first timed session was three quarters done. No matter. He did a single flying lap, dramatic in the Rosberg tradition, and it was four-tenths quicker than anyone else could manage.
McLaren, in fact, were looking very good indeed at the end of the first day. Prost had been comfortably fastest in the morning, and was beaten only by his team-mate in the afternoon. But the world champion was not thrilled with his car's handling, in particular its behaviour through bumpy corners.
"Honestly, I'm surprised to be second," he said. "Usually we have no problem in getting a really good set-up for this circuit, but this year it doesn't feel nice - not like the last two years. We need to do a lot of work tomorrow."
Most of Saturday morning he seemed to spend in the pits, waiting for the springs to be changed yet again, but after the last session reckoned some progress had been made with the balance of the car - "But this time the problem was the engine, which was very down on power. I took the spare, but went out at just the wrong time, right after a lot of oil had been put down." Fifth was his grid position, but Alain has won from further back on the grid than that.
Rosberg, of course, gave it everything in defence of his pole position against the Benettons, but his second run (the quicker of the two) was only marginally inside his Friday time, and that meant settling for third. "Basically, I still think everything is looking quite good," he commented. "The race is a different game, you know."
Next to Rosberg, fourth, was Patrese, and that was a surprise, although perhaps we should have expected the Brabham BT55 to work well here. There are, after all, no slow corners at the Osterreichring to show up the 'laydown' BMW's laggardly initial acceleration. At really high speeds, we know, the thing is like a missile, and large sections of the circuit are flat out. Through the speed trap before the Boschkurve, on Saturday afternoon, Warwick (214.2mph) and Patrese (212.9mph) topped the table.
"The track suits us, certainly," said Gordon Murray, "but there's more to it that that. There's a load of new stuff from BMW here, things that we tested at Imola recently, and haven't used at a race before. There are changes to the turbos, compressors, ignition, engine management system... and they've definitely made quite a difference."
The balance of the cars, too, was good in Austria. "It's like magic," Warwick said. "It feels fabulous here." Despite blowing the engine on his race car on Friday morning, Derek was faster than his team-mate for most of the session, and could hardly wait for the afternoon. Then came the accident.
At a point just beyond the end of the pits (at which the quicker cars are nudging 200 in qualifying), the BT55's left rear tyre blew. Immediately the car flicked sideways. Warwick was able to catch the slide, but then the car was airborne.
"There'd just been a small vibration before the tyre burst," he related. "After the slide, it got into the air, and all I could think was, 'Christ, I hope it doesn't roll - or worse than that, go over the barrier'. Fortunately, it landed on all fours, then hit the barriers a few times, and took all the suspension off. I think the monocoque's OK, but I was lucky, wasn't I? I mean, when you get out of anything going wrong at that speed, it's luck, right?"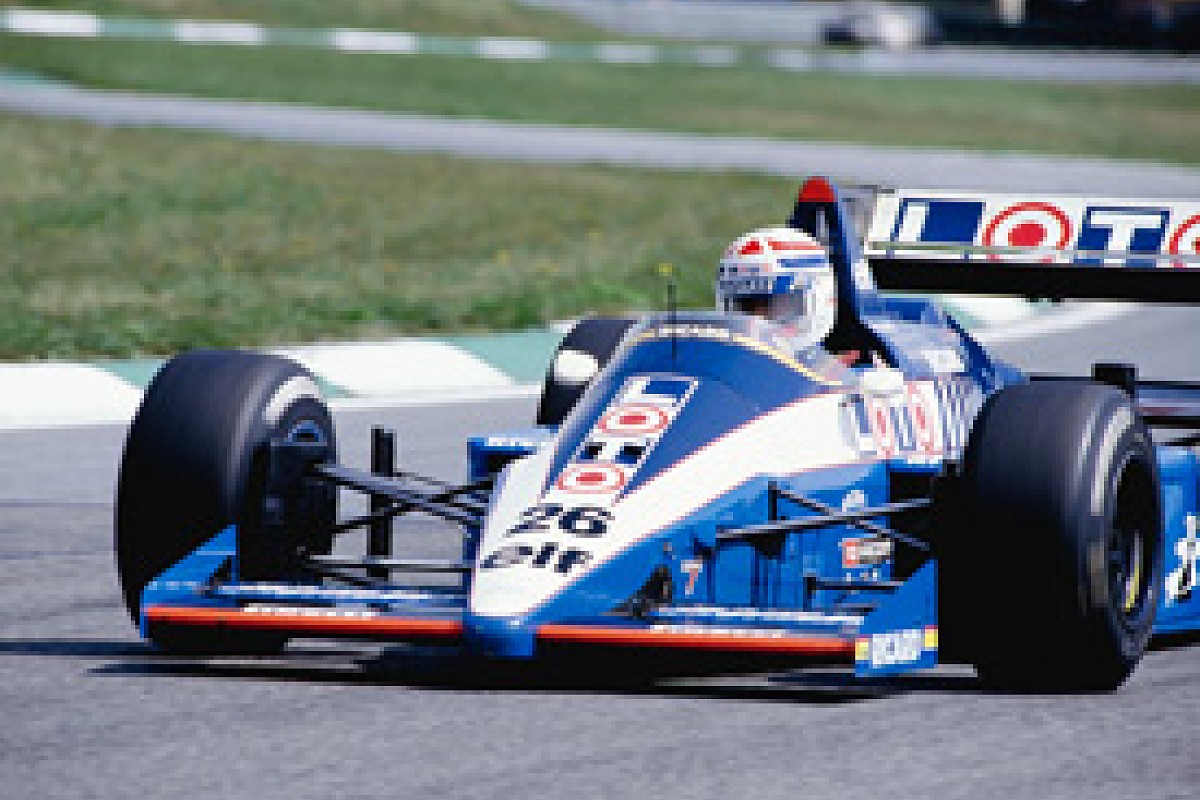 Alliot upstaged his Ligier team-mate Arnoux in qualifying © LAT
Derek had been in the spare car, with race engine, at the time, keenly anticipating getting out in his own Brabham, with qualifying motor. But the accident brought a halt for all the Pirelli teams: the narrow rears were not to be used, and everyone had chosen them, and had them mounted up.
The following day Warwick improved by more than a second, poor engine pick-up costing him time. He started a disappointed 10th, six places behind Patrese.
For much of the final session, it was Riccardo, rather than the Benetton twins who looked like hustling Rosberg from his Friday time pole time. The Italian was within a tenth of a second of Keke, but on his second run blew up spectacularly, hurriedly pulling off, the back of the car ablaze. A lot of damage was done before the fire was extinguished, and the Brabham was a sad sight afterwards. Still, it was the best grid position by the team this season, and Patrese was definitely a contender.
Williams, amazingly, we found down in sixth and seventh places, Mansell ahead of Piquet. The 'differential business' at the Hungaroring has, predictably, done nothing to improve the already strained relationship between the drivers, but Nigel is wisely resisting the temptation to fight fire with fire. "When I came here, I understood that I was to work for a team," he said, "and that hasn't changed, whatever Piquet might say or do. I'm not going to spend all my time being secretive. That's not what a team is for." A dignified response, and a mature one.
The qualifying days were not easy ones for Nigel, but he was allowed a few laps in the spare car on Friday morning after his own had blown up. The engine was changed before the first timed session, and he found the replacement poor in response and down on power. The speed traps reflected that. The balance was not bad, he said, but what he needed was laps.
He didn't get many more on Saturday morning, a broken driveshaft stranding him out on the circuit. "I got on the radio and told them what was wrong. And I got a nice sun tan this morning, watching all the others..." You stayed out there then? Didn't make your way back to the pits? "What for?" came the reply. The T-car was assigned elsewhere. Mansell had been quickest in the session at that point.
"I was still so short of laps that we decided to begin the last qualifying session with race rubber and full tanks. I went too quickly, actually, and blistered the tyres, but did a 29.9, which seemed reasonable. And I found a balance problem in the car, which we can cure now, rather than discover it in the warm-up tomorrow. Then we pumped the fuel, slapped on my one set of qualifiers, adjusted the ride height - and just went for it. That was just when Patrese blew up and dumped all his oil. I had to back off for that, and it was still a 24.6. Considering how little running I've had, I'm not too unhappy."
Piquet was three-tenths slower, using the spare FW11 to set his qualifying time. On Saturday his main problem was an upset stomach, legacy, he believed, of some wild mushrooms he consumed on Friday night.
The Hungary winner then was on row four, and sharing it with him was his fellow countryman, the man who pushed him all the way, Senna.
By some way the Austrian Grand Prix was Lotus's worst race in 1985. Although Ayrton finished second, he was never in true contention. And this year, too, he was thoroughly unhappy during practice.
At the start of the first qualifying session the Renault V6 in Senna's car refused to run properly (a leak in the pneumatique system which operates the valves), and he had no wish to use his race car (which had a race-spec engine). After Dumfries had completed his first qualifying run, therefore, the Scotsman's car was commandeered. It took Ayrton nine laps to beat Johnny's time, and even then he was down in ninth place. His unfortunate team-mate was denied the opportunity of a second qualifying run.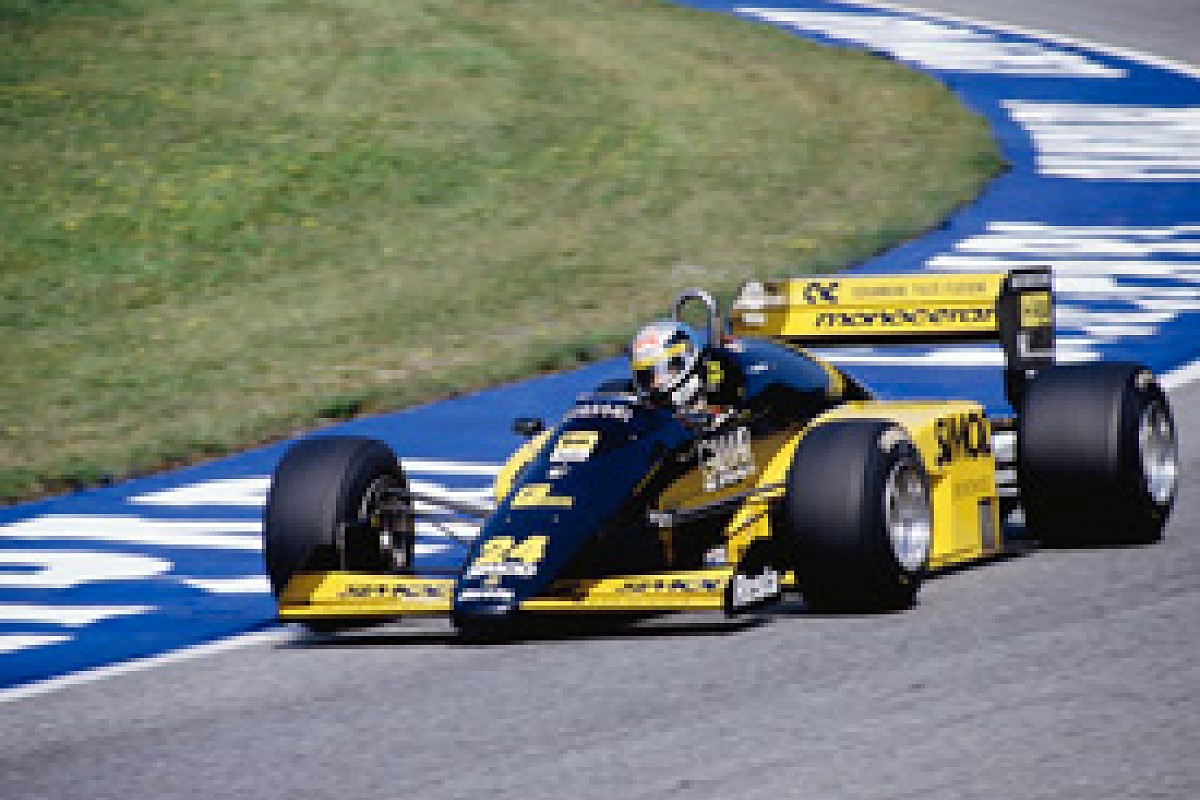 Nannini continued his impressive rookie year - a second clear of de Cesaris © LAT
In his own car again, Senna moved up a single place on Saturday, but was thoroughly dissatisfied with the 98T's balance and grip. But Dumfries had what he described as "the worst qualifying session I've been through this year." On his first run he clipped the barrier at the exit of the Rindtkurve, which meant coming in for a check. "And on my second set," he said, "I had a huge moment, went off onto the grass and had to stop to have all the grass and stuff taken out. After that fine drive in Hungary, he was highly disappointed with 15th place.
Ferrari fortunes were mixed, which is to say that Johansson had all the bad luck on offer. Michele Alboreto had two reasonably straightforward days: We've got the car handling quite well here, for once. Usually we have bad understeer in Austria, but not this year. In the race we'll go well."
Stefan, though, had a dreadful time, beginning with a bad accident on Friday morning. Accelerating out of the Hella-Licht chicane, the Ferrari snapped out of control, got on the grass and went up the bank on the right. There it hit an advertisement hoarding, and a pole punched straight through the base of the Ferrari's monocoque, slamming hard into the seat. It was to cause Johansson a great deal of agony for the rest of the weekend.
"I went over a bump," he explained. "The back wheels came off the ground momentarily while I had the power hard on, and that was why it went. I actually finished up on the bank - in fact, the car started rolling back after I'd got out."
And the damage to him? "It's my bum that hurts, because that's where the pole hit the seat. I've damaged a nerve, I think. When I tried to drive the T-car afterwards, it was just agony. I was seeing stars every time I went over a bump - and there are a lot of bumps here."
After a visit to Willy Dungl, Stefan drove in the afternoon session, but the engine was cutting out so often that he had to set his qualifying time on full tanks, which was hardly ideal. And Saturday morning brought another shunt.
"Coming into the Rindtkurve the brake pedal suddenly went very 'long'. I tried to pump, the rears locked and the back snapped around. I hit the barrier, damaged the right rear suspension and the gearbox."
In the afternoon Johansson qualified 14th, but he was looking to the race with some dread. "The pain is just indescribable today - much worse than yesterday. I have to raise myself off the seat as I come up to bad bumps. There's so much padding under me I'm nearly out of the cockpit! I might have a painkilling injection before the race"
Row six was all Ligier, and Alliot rather surprised everyone - Arnoux particularly, I suspect - by out-qualifying the team leader. During the first afternoon Philippe had to contend with a sticking throttle, but otherwise had no complaints. Rene was far less happy. In the final session fuel feed problems with the race car put him in the spare JS27 for his second run - and he blew up, dousing the circuit in oil. On top of that, he said, there had been traffic problems on his best run, the balance of the car was very poor, etc. etc... he was not at all a gruntled man in Austria.
Right behind Arnoux on the grid was his best friend (!) Tambay, who did a heroic job in the underpowered Lola-Ford. "I think I can say I've wrung absolutely everything out of it today," Patrick said after the last session. "The balance is really nice. In fact, the car's quite easy to drive here - all the corners are flat for us!"
"Looking at the people around me on the grid," he concluded thoughtfully, "I think the big trick here is going to be getting through the first lap..."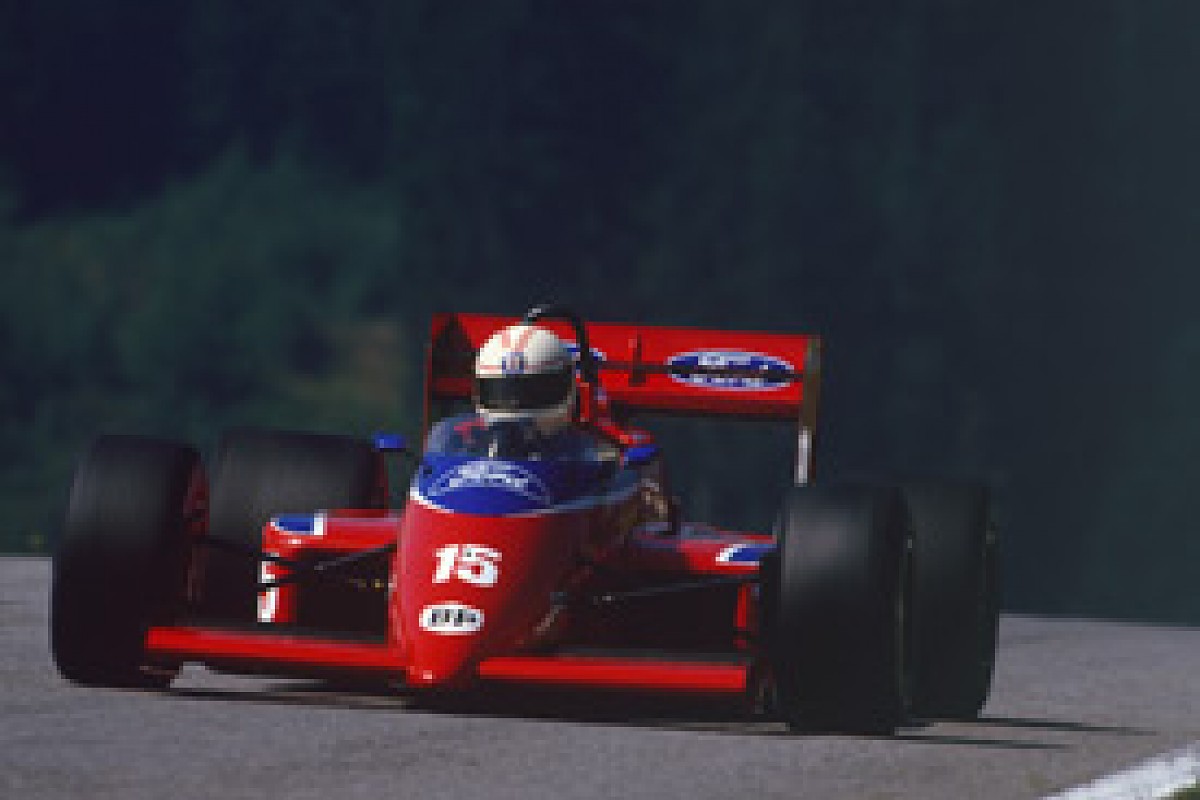 Jones' replacement V6 was weaker than the unit he started off with © LAT
Tambay's car had suffered over heating during the morning, and needed an engine change before the final session. And exactly the same was true of Alan Jones, who set 16th fastest time, a second slower. The Australian found the replacement V6 less strong, and was a fraction slower than on Friday. He, too, was happy with the chassis: "Our main problem seems to be getting up the hills..."
Yet again Brundle had high hopes for final qualifying - and yet again he was to be disappointed, remaining in 17th place, his position on the first day. The abiding problem with both Tyrrell-Renaults was lack of boost and intermittent cutting out.
"It's a real shame," Martin said, "because we've got the car nicely sorted here, and we can't capitalise on it." Philippe Streiff had a worse time of it even then Brundle, losing time with a fuel pump failure (followed by a fuel leak when the engine was put back) during the first morning, and getting very few laps thereafter as the engineers tried to solve his engine problems. "It's cutting out completely three times a lap," he said. "They've changed nearly everything on the engine. I think we just have an intercooler leak somewhere."
Thierry Boutsen was back in the Arrows A9 in Austria, despite feeling that, for the moment, the old A8 is a better proposition. New in his pit was Gordon Coppuck, brought in to help sort out the new machine, and Thierry reckoned that some progress was made. Certainly, he said, the back end of the car was working appreciably better.
After running with race boost on Friday, he felt confident of a substantial improvement on the second day - but after only a handful of laps in the morning the A9 blew up, and that put him in the spare A8 for the rest of the day. This was to be bad news for Christian Danner, who could have done with it in the afternoon, his own car misfiring and down on power.
Nannini did his usual fine and unflustered job, a second faster than Minardi team-mate de Cesaris. In Austria Andrea began qualifying in the new M186, saw that Sandro was quicker in the old car and demanded a swap. Whereupon Nannini took the latest car for Saturday - and extended the gap!
"Our biggest problem here," said Jonathan Palmer of his Zakspeed, "is lack of downforce. I've got far too much understeer. They've made a variety of changes to the engine, which are aimed at improving reliability rather than power. And so far they seem to be working. In the last session we used a different turbo, supposed to give more power, and we lengthened the gear ratios accordingly. In fact, we got no more power - just more throttle lag..." Palmer qualified 21st, three places up on team-mate Rothengatter, and at the back, inevitably, were the Osellas of Ghinzani and Berg.
Qualifying all done, finally thoughts turned to the race. Some local forecasters spoke of possible storms for Sunday, and none of the drivers wanted to even think about that. The Osterreichring is not for the timorous on a summer afternoon, let alone in a downpour.
Others said no, it would be fine the following day. Beyond dispute was that tyre choice would be crucial, and it seemed most unlikely that anyone would gamble. The track course here is unusually abrasive: hard tyres - if one were thinking in terms of only a single stop - would be the thing to have. In fact, mused several Goodyear runners, hard Pirellis would be the thing to have...
See FORIX for the full grid and all the stats from the 1986 Austrian Grand Prix
Race
Sunday turned out well, the temperature building into the high eighties. But there were odd clouds about, and the weather in Styria is capricious and liable to sudden change. Well, they looked at the sky occasionally, and hoped.
Immediately apparent was that, despite Berger's efforts in qualifying, this was by a long way the smallest Zeltweg crowd since 1976, when Niki Lauda was struggling for life in a Mannheim hospital, and Ferrari withdrew. The access roads were clear: tents dotted, rather than packed; head counts in the grandstands were the work of a moment.
The causes were manifold. Berger there might be, but Lauda was there only to wield a microphone, and it takes time to become a national hero. In past years Hungarians and Czechs came here for a glimpse of the free world and its pleasures, but now they have their own race a week before, so they stayed home. Ferrari are not true contenders, so the Italian attendance was skimpy. And last, there were the prices: merely to get in on Sunday set you back nearly £25, and a grandstand seat was close to £70. Sitting in there, your Austrian Grand Prix was going to cost you nearly a quid a minute. It was on TV, thousands obviously concluded, so why bother?
After the morning warm-up, there were probably quite a few drivers feeling the same way. Prost had made drastic changes to the set-up of his McLaren since the day before, and after the warm-up decided on a few more for the race. Seventh is not where you expect to find the world champion on race morning.
He was happier, though, than Senna, who used a variety of tyres during the half-hour, trying to come up with a combination to reduce the Lotus's grip problem. It was not a success, and he was only 12th fastest.
Heading the times was Mansell, relaxed and confident and conclusively quicker than Piquet. It was no surprise to find Berger, Rosberg and Fabi right up there again, but Patrese reminded everyone of the Brabham BT55's pace here by setting second fastest time. Team-mate Warwick, though, had the gearbox break in his car - and when that happened, the engine over-revved. Charlie Whiting and the boys set to the task of changing yet another BMW four-cylinder. It was to prove a complete waste of their labour.
Lunch and the air display done, they came out at 2 o'clock for the pre-race warm-up laps, then formed up on the grid. And for the Brabham mechanics there was more work to be done. A dog ring had broken in Patrese's gearbox, and he had neither second nor third. Everything, of course, was pretty hot back there, and it eventually became clear that the car could not start.
This was in any case the T-car, for Riccardo's own BT55 had been effectively destroyed by the previous day's fire. It was decided, therefore, that the Italian should take over Warwick's car, and this piece of news Derek took with an equanimity that impressed his team.
On the grid it was clear that virtually everyone had gone conservative with tyres. Both Williams drivers chose A-compound Goodyears all round, the rest opting for Bs. The Benettons had Pirelli's hardest '5' compound, while Alliot alone gambled with soft rubber on the right side of his Ligier. There was talk of Fabi and Berger being able to go the distance without a stop...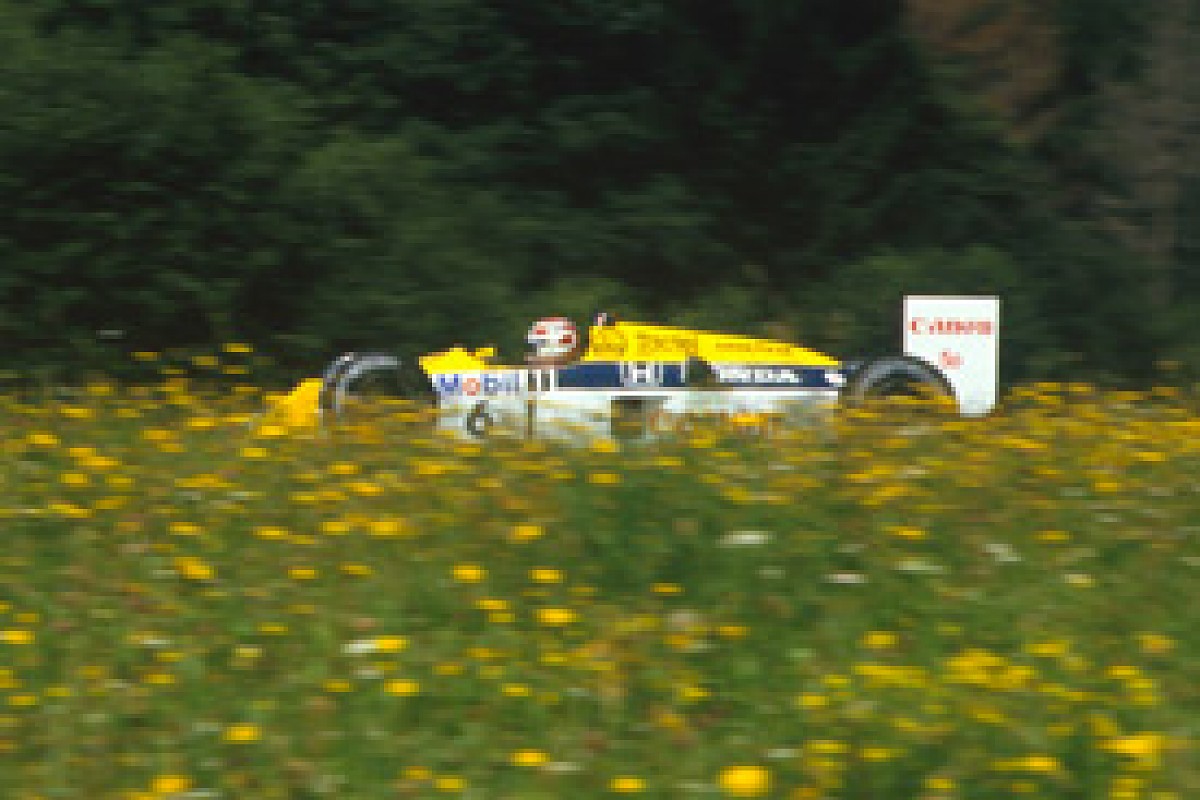 Piquet's afternoon was ended by engine failure... © LAT
While Warwick went off to change clothes, the rest prepared themselves for the green light. When it came, Berger got away more clearly than Fabi, and delighted the crowd by leading away up the hill. Similarly, Prost started better than Rosberg, and was in third place at the Hella-Licht chicane. Patrese was very slow away.
Zeltweg's narrow pit straight has often been the scene of startline accidents, but this year we got as far as the first corner before the first incidente, Dumfries snapping off his left front wing after an injudicious attempt to pass Alboreto. By the time he reached the pits at the end of lap one, the right fin was gone, too. He rejoined at the tail of the field.
At the front of it Berger and Fabi were looking very confident, quickly pulling out a lead over the rest. Prost followed in third place, and then came Mansell, Piquet, Rosberg, Senna, Arnoux, Alliot and Alboreto. Patrese's Brabham had completed lap one in 11th spot, but on the second his engine blew up massively, and he trailed back to the pits. Having seen the speedy demise of his car, Warwick will perhaps have felt a little better about not starting. The weekend marked a new low in Brabham fortunes.
By lap five Berger was beginning to go away from Fabi, but we were not to know the reason for this until later. His BMW engine had been 'buzzed', but for the moment neither Benetton looked under any threat. Prost and Mansell continued to run together, pulling well clear of Piquet, who was fending off an increasingly frustrated Rosberg, Senna, in sixth place was being caught by Arnoux, and at the end of lap seven the Lotus was into the pits, its left front tyre blistered.
This time around Ayrton took new tyres only before rejoining, but a couple of laps later he was back for more serious attention. During the pre-race warm-up period his engine had misfired, and the problem had remained, and after a few more desultory laps, another couple of stops, the number 12 Lotus was pushed away.
At about the same time Dumfries, too, came in to report a misfire. The mechanics set about a plug change on the Renault V6, but one was seized halfway out, and that was it for Lotus and the Austrian Grand Prix.
Gone, too, by now were Palmer's Zakspeed, which pulled off smokily at the Hella-Licht chicane, and both Tyrrells. Brundle had been running in 12th place, pushed strongly by Nannini's fine-driven Minardi, but had to park by the trackside when a turbo expired. Even by regular Formula 1 standards, this was turning into a race of extraordinary attrition.
After a dozen laps Berger's lead, once out to more than four seconds, had been cut by Fabi to under two, with third man Prost now more than 10 seconds adrift.
"Nothing to do against them," Alain would confirm later. "especially as we knew they would probably not need a tyre stop. I could only hope they would take care of themselves. If they did, I felt pretty confident.
"I changed the car a lot after the warm-up," Prost continued, "and I wasn't sure how my front tyre wear would be, so for the first half of the race I didn't push too hard. And I was encouraged that, even like that, I could keep ahead of Mansell."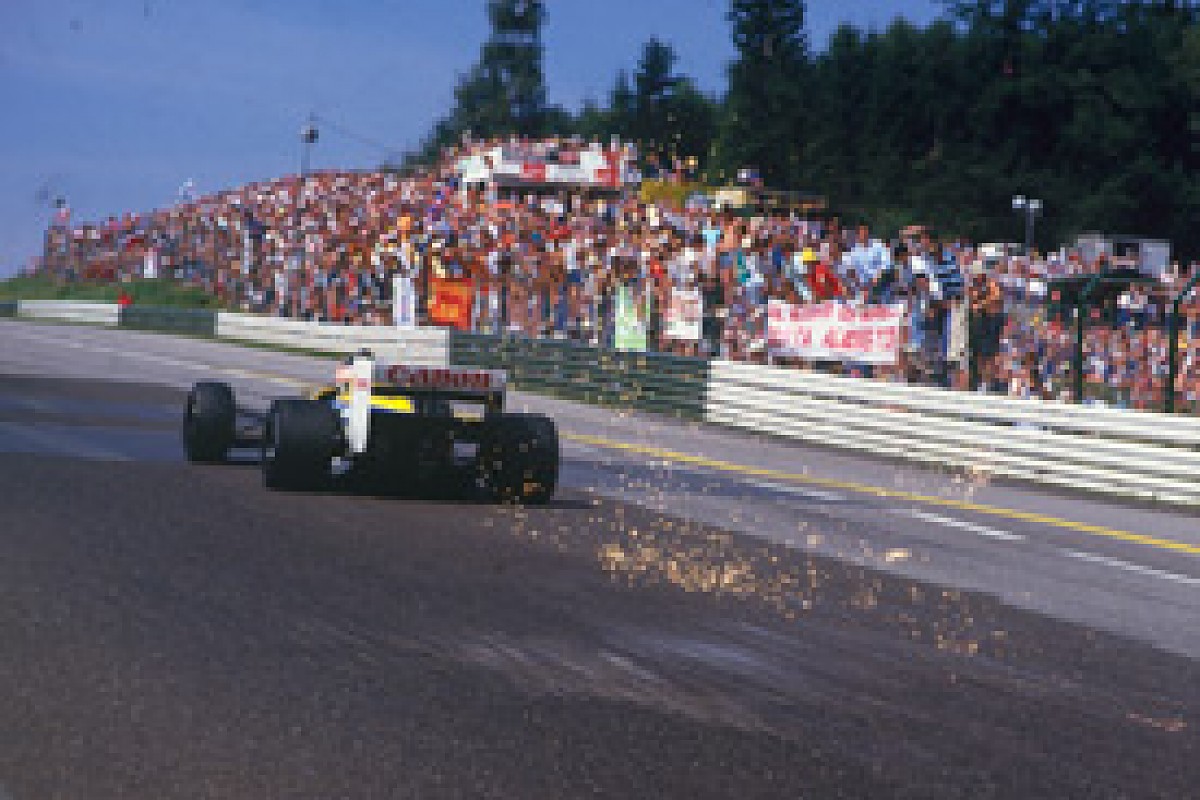 ...and a halfshaft breakage accounted for Mansell only three laps later © LAT
The lap charts continued to shorten. Both Minardis disappeared from the scene within a minute of each other, de Cesaris's with a snapped driveshaft, Nannini, having writ his talent large once again, departed more spectacularly. Through the Texaco Schikane the left rear suspension broke, the car breaking into a series of spins and ending up on the long grass. It was good that the failure had occurred there rather than at the previous Boschkurve - and good, too, that there was no guardrail to hit on the outside of the corner. Sandro walked back to the pits after his best grand prix to date. I hate to think how he might go in a competitive car.
Next to go was Alliot, with engine failure. He had run softer tyres than his team-mate, and had run in tandem with Arnoux from the beginning of the race.
Here we were, then, at the 15-lap mark, and 11 cars were already gone, Senna's Lotus the only world championship contender among them. Prost, Mansell and Piquet were still running, although Nelson was no serious threat this day. Rosberg had finally found a way by him, and the Brazilian was down to sixth.
By lap 17 Fabi was really crowding Berger, and at the flat out left-hander before the Boschkurve jinked left and into the lead. But the crowd had barely time to utter a groan before their hero was back in front! Down through the corner the number 19 Benetton was slowing, Teo's arm in the air.
Fabi had been running with a set-up different from Berger's, and it appears that the Italian's car had been bottoming out so hard that early in the race it had jumped out of third gear, sending the revs skyward, to the engine's irreplaceable sorrow. From that point on poor Teo had known that his race was doomed. Now he had good reason for his glum expression, and Prost and Mansell began cautiously to hope.
Now the tyre stops began. Lap 18 saw Piquet in, replacing his As with Bs, and next time around Alboreto stopped, the Ferrari mechanics turning him around in a superb 7.4 seconds, far the best tyre change of the day. Prost's turn came on lap 21, but this was not a good stop, requiring 13.3 seconds of the world champion's afternoon.
Johansson and Rosberg got their new Bs on lap 22 and 23. And all this while Berger and the Pirelli-shod Benetton stayed out there, as did new second place man Mansell, whose Goodyear As were lasting rather better than had Piquet's.
On lap 25 the leader pointed his car towards pitlane - so he would need a tyre stop, after all. But we were wrong. Gerhard's Pirellis were in good shape, although of course the Benetton mechanics changed them as a matter of course, then removing the rear bodywork. "Misfire," Berger had radioed, and eventually this was traced to a flat battery. They changed it, and he went back out, now 13th and three laps behind. Spectators began to head for the car parks.
The Austrian had done a perfect job, and this would have been a dream of a first grand prix victory. Now, with such thoughts gone, he put on a Moss-like demonstration, running absolutely flat out in his anger. His best lap would be more than a second faster than anyone else managed.
Berger's problem left Mansell with half a minute over Prost, and briefly everything was looking splendid for Nigel's championship aspirations. The situation was not to last.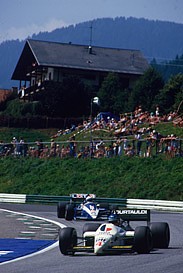 Most Renault-engined cars did not survive © LAT
First of all, the Williams lost time as it came up to lap Johansson's Ferrari. Stefan had made his tyre stop and was involved in a struggle to pass Tambay's Lola when the left front wing came off on the straight.
"The tube must have snapped," he said, "and the wing hit the front of my helmet, then flew on and bent the rear wing sideplate! Terrific, huh? I had huge oversteer after that." He had also, of course, to make another stop for a new nosecone. But for that Stefan might well have beaten Alboreto for second place, for he was certainly quicker than his team-mate, lap for lap.
The front wing incident delayed Mansell a little, and his tyre stop, on lap 28, was not a good one by Williams standards, taking 11.2 seconds. Prost, at the time, was running with the hammer down, and when Nigel resumed he was 11 seconds behind the McLaren. At the same moment Piquet, whose engine had been overheating, came in to retire from fourth place.
Thirty laps: Prost, Mansell, Rosberg, Alboreto, Jones, Danner, Tambay, Johansson. Still circulating, in ninth place, was Rothengatter's Zakspeed, followed by Arnoux, who had briefly been up to third with the Ligier before pitting to have a misfire rectified. After the spark box had been changed, Rene ran hard and fast through to the end, albeit several laps behind.
Prost was really charging at this point, pulling out a second a lap on Mansell. The set-up changes had worked, he said, and on its second set of tyres the McLaren's balance was perfect. His fuel read-out was well to the right side, and he felt able to turn up the boost a little.
Then, at the end of lap 33, there was no Mansell. Eventually he walked up, helmet in hand, on his way back to the pits. "Bloody driveshaft broke - the second in two days," he said. "Senna and Piquet were out, and everything was looking really good..." Six points, on a day like this would have been gold to him. The only plus point of the race had been that he had comfortably outpaced Piquet...
So now we had a McLaren 1-2, quite like the old days. And Prost, with nearly half a minute's advantage over Rosberg, had only to reel off the last 20 laps. Nobody does it better. We had to look down the field for our entertainment, and we found it in the battle for sixth between Tambay and Johansson.
Patrick had been into the pits as early as lap seven for new tyres, having blistered the fronts, so his Goodyears were now well past their best. And his tactics, in keeping Stefan behind him, were brutal in the extreme. Time after time the Ferrari driver would dive for a gap, only to find it blocked at the last second. It was hardly subtle.
As Prost came up to lap the pair of them, Johansson took the opportunity to slip by, and after the race he handed out a few well-chosen words to Tambay. As the IndyCar drivers say, 'What goes around, comes around...'
Having dealt with one Lola-Ford, Stefan then moved on to the next. The luckless Jones had suffered clutch slip for more than half the race, and his afternoon had been a boring one. But at least the problem meant that he was unable to hurt them. He, of all the Goodyear runners, would go the full distance without a stop. "That's been a nice Group C race," Alan smiled at the end, in the points for the first time since he returned.
Five laps left. In the heat of the afternoon it was difficult to stay awake. Only 11 cars remained in the race, and everything appeared settled. But on lap 48 Prost's metronome progress was suddenly disturbed. As he came past me, into the Hella-Licht chicane, the dominant sound was of tyres on asphalt, followed by a graunch from the gearbox. The engine was dead!
Halfway through the chicane Alain found a low gear, banged the clutch out and was on his way once more. Had this been a freak thing? Could he be running low on fuel? Surely not, with four laps to go. Or was it the recurrence of a problem which has dogged the TAG V6, on and off, for more than a year?
It was at Paul Ricard in 1985 that Prost was first hampered by his engine's cutting out in the late stages of a race, and it has happened to him several times since.
As we were to learn, Rosberg's car was in similar trouble. Indeed it was more acute on Keke's McLaren, and had been for some laps. And as Prost struggled on, the news came through that Keke had pulled off! Furious at being robbed of a good finish, Rosberg stalked away. "Must be somewhere in the electronics," he said. "Every time I braked, the engine would cut."
All round the circuit the Italians went crazy. One McLaren was out, and the other was in distress. Maybe it was going to be a Ferrari1-2! They listened intently to Prost's progress.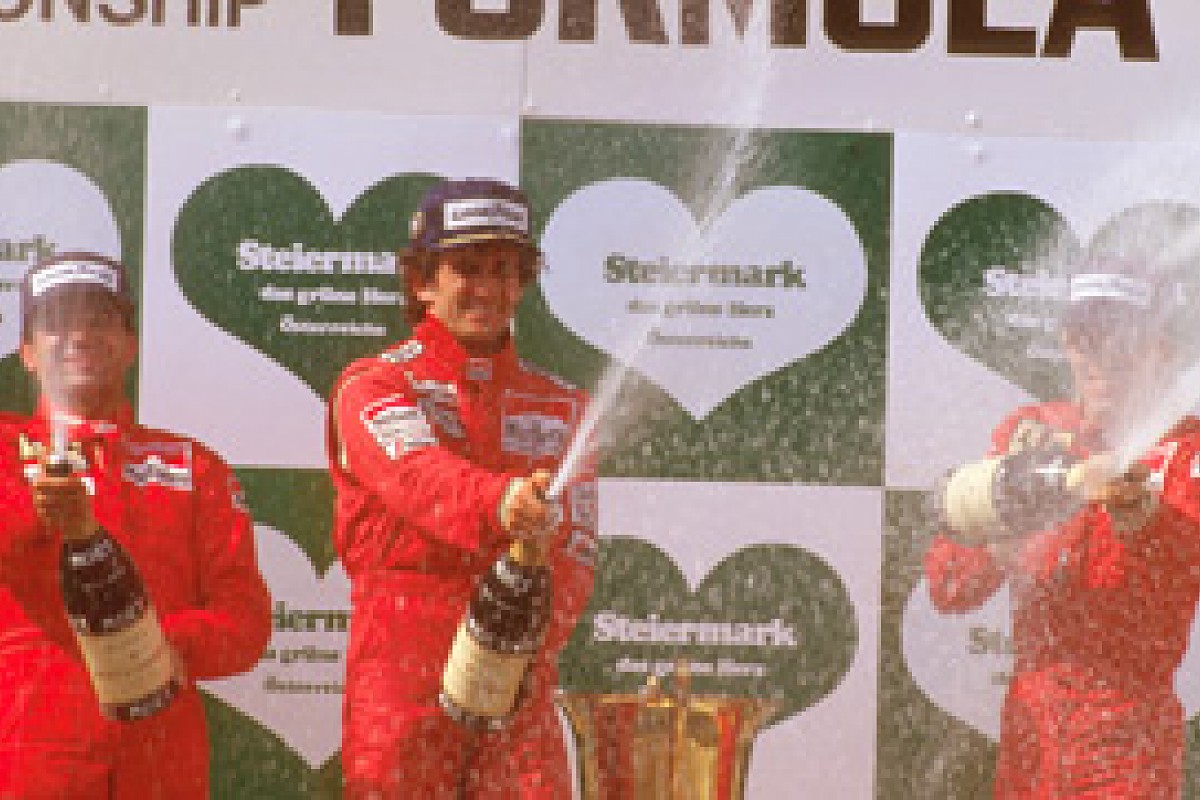 Prost's win was a canny one - he deserved the champagne © LAT
The Hella-Licht chicane, slowest point on the circuit, was crucial. On lap 49 Alain made it through without losing the engine, but on lap 50 it happened again! They yelled with delight as the car went silent, mumbled disconsolately as it fired up again.
"Eventually," Prost said, "it was going to die for good, I knew that. It was happening everytime I braked, so I had to use the gearbox much more for slowing. In the last three or four laps it was starting to misfire - sometimes it even cut out in the straight, just like in Hungary last week. I really thought I would not get to the finish..."
But he did. And and he got to it first, for the 24th time in his career, a statistic which eclipses any of his fellows. Who can remember a grand prix in which Alain Prost was not a serious factor?
It was good to see the Ferrari's finish well for once, although neither Alboreto nor Johansson kidded themselves that this was a Renaissance. "Yes," Michele said, "of course I'm happy with a good place for once - but Alain was a lap and a half ahead..."
Perhaps the drive of the race was by Stefan. In intense pain throughout, he never faltered in his efforts, not even when the errant front wing meant an additional pitstop. Ferrari would be crazy to replace him.
Although no member of the Ford hierarchy was present to witness their success, the Haas Lola ran reliably, if not very quickly, to score their first world championship points, and the Arrows mechanics greeted Danner like a long-lost hero at the end. It was Christian's - and the team's - first score of the season, and no more than each deserved.
This Austrian Grand Prix was scarcely a thriller. There were few people present, and actual racing for them to watch. When Berger lost the lead, they lost interest. Those who stayed will have relished his comeback drive. And they may well have seen the race which will keep the world championship trophy on Prost's sideboard. None of his rivals scored on Sunday. Alain likes days like that.
See FORIX for the results and stats from the 1986 Austrian Grand Prix