Nelson Piquet - Ayrton Senna - Nigel Mansell is how they finished, for the second time in as many weeks, and now Mansell's world championship lead is starting to come under siege, particularly from the man in the other Williams. "In the constructors' championship," one cynic asked after the race, "do the two Williams-Hondas count as one team?" Well, yes - in that respect, anyway. After the race though it was clear that some Williams-Hondas are more equal than others. And Mansell was seething.
The Hungarian Grand Prix was a massive success in nearly every respect. The track is a little too slow, the marshals obviously low on experience, but the organisation was miraculous and the event's future settled. A colossal crowd watched Piquet and Senna battle it through for two full hours.
Qualifying
For most of us the prospect of Hungary was intriguing. Apart from the sense of anticipation one always feels for a new grand prix venue, it meant for many a first step behind the Iron Curtain.
What did we know before we left? Well, that we needed visas for one thing. That Budapest was by reputation one of the most spectacular cities in the world for another. That the track, in a glorious sylvan setting, had been built in a remarkably short time. That the average Magyar earns £75 a month. That admission on race day was £13, and that race day was a sell-out - the crowd anticipated at anything from 130,000 up. Clearly Hungary had a huge appetite for the world's ultimate expression of capitalism in sport. It couldn't wait for the transporters to arrive.
Everything we had heard was right, with regard to the city, circuit, the enthusiasm, everything. At the Hilton the waiter delivering breakfast to my room (at 7.30) appeared to be wearing evening dress. That was the first real surprise. The second was the realisation that Budapest's most popular car appears to be the Zundapp, that here a Skoda is something to aspire to...
Up at the track you realise that few of the fans carry cameras, and you have to understand that many must have saved for a long time for this weekend. The scale of their interest you cannot doubt. Even on the Friday they turned up in their thousands, and those few who made it into the paddock stand and stare endlessly at the Prosts and Sennas and Rosbergs. "Please, sir, Mister Keke, could you sign...?" a fan asked with a politeness unknown at Monza or Spa. It was all rather touching and a world away from the unsmiling guards at the Austro-Hungarian border.
The Hungaroring is undoubtedly similar to Jerez - save that here, as I say, there was no lack of local interest. As a piece of overnight engineering it is a marvel, but as a race track not a place to tingle the spine. Computer average lap speed forecasts were lamentably pessimistic for the new Spanish circuit; here the opposite was true. The anticipated speed had been 119mph, but by the end of qualifying only Senna and Piquet topped 100 - and then only by a fraction.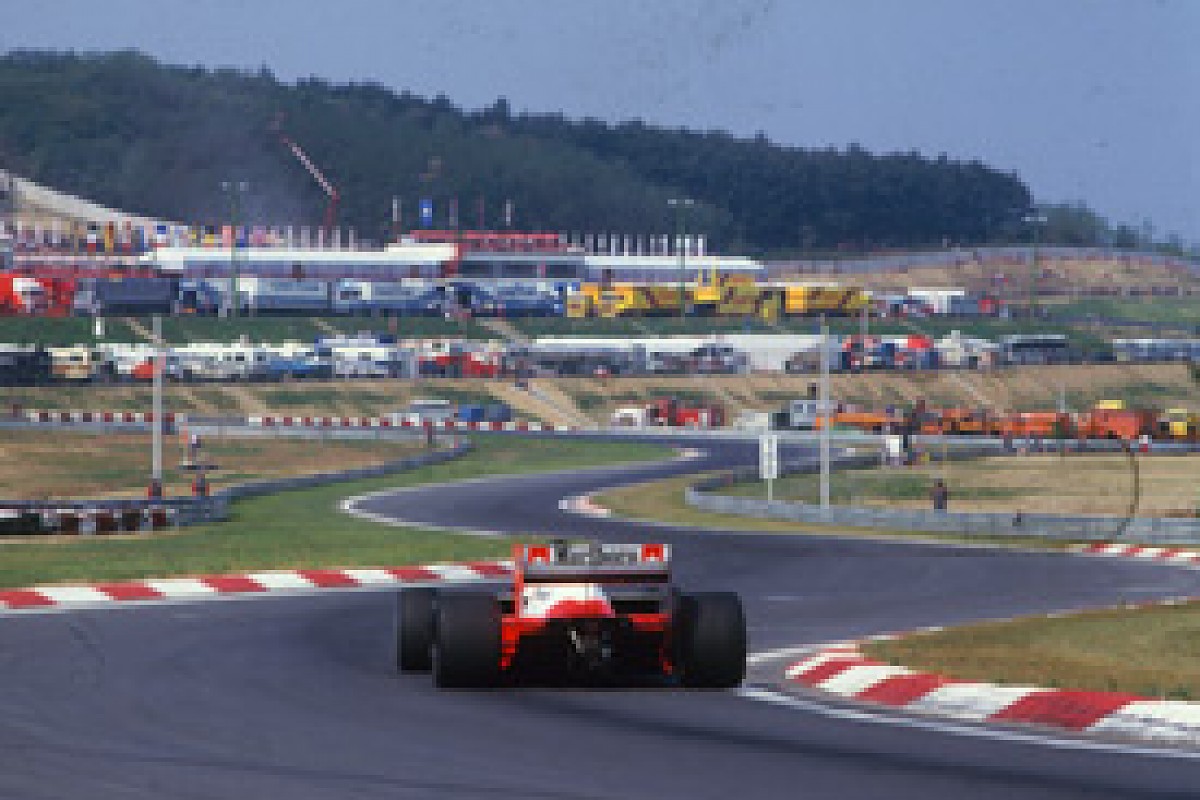 Rosberg was no fan of the twisty new Hungaroring circuit © LAT
Keke Rosberg thought the track middling, and his opinion mirrored the general one. All the drivers had the highest praise for the work that had been done, the effort, time and money expended, and spoke highly of the organisation. But the circuit... well, it was a little slow. "It's not bad," Martin Brundle commented, "but it really needs a quick section, doesn't it?"
And that was true enough. The stretch beyond the second corner was originally envisaged so, but unfortunately a natural spring there entailed an extra twisty section. Overtaking opportunities appeared confined to the first corner. "Here," Mansell reckoned, "it's nearly as important to be on pole as it is at Monaco."
"A street circuit without any houses," concluded Brundle.
On the layout of the circuit there was some variety of opinion, but on its surface the drivers spoke as one. 'No grip' you expect to hear several hundred times a weekend, but on the freshly laid Hungaroring you needed only to watch at a corner for a couple of minutes. "You can't blame circuit owners these days," Rosberg said. "After the fiasco at Spa of course they're going to be conservative. They can't risk having the track break up, so they play safe with the materials - I'd do the same."
And it made for wonderful spectating, almost like a sprint car race on dirt. Through the first turn, a long downhill right-hander, throttle control and opposite lock were in evidence such as I haven't seen for years. Drivers such as Stefan Johansson put you in mind of Pancho Carter and Sheldon Kinser on the Syracuse mile...
It was, in other words, diametrically opposed to Hockenheim, where you trim out the wing to be quick on the straights. Here was a 'maximum downforce' circuit if ever there was one, yet huge wings did little enough to keep the cars on a steady line. If Jean-Marie Balestre wants to cut speeds, he should maybe enquire where Hungarians get their asphalt.
As at Jerez, Thursday was given over to free practice, allowing the drivers to learn an unfamiliar course. Senna's Lotus came out of it fastest, with Mansell's Williams up next. And through the next two days the pair always looked likely to dispute the pole. Until the final session, Nigel was the consistent pacesetter, but Saturday afternoon went awry for him and Senna was fastest for the sixth time this year.
"This place is unbelievable," he said. "I think I've spun here more times than in the rest of my career! There is no grip at all - and if you get off line it's finished. And because there's so little grip whatever you do to the car makes no difference."
On Friday everyone used the race tyres - Bs or Cs - throughout. They tried qualifiers and found them useless, two or three seconds slower in some cases. The best plan was to simply pound around, look for a reasonably clear lap and go for it. By Saturday though a certain amount of rubber had gone down and the track was beginning to settle. Qualifiers were at last a little quicker - but there remained the problem of traffic. For the final session most people went for a set of race and a set of qualifiers. Senna alone chose qualifiers for each run.
"You have to take your hat off to Lotus," remarked Patrick Head when it was all over. "Qualifiers definitely were quicker, and they gambled on getting their clear lap - which they got."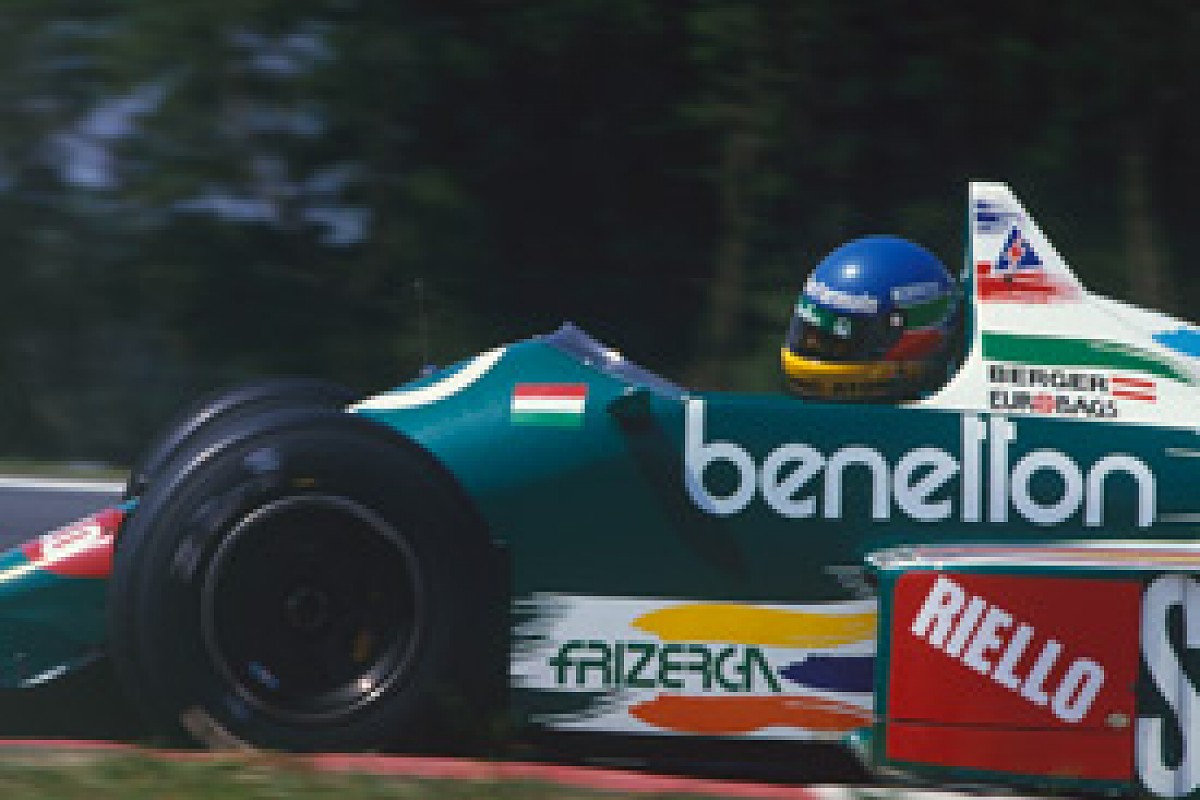 For only the third time all year Berger didn't start inside the top 10 © LAT
Ayrton set his pole time on the first run, and it was good he did because two further attempts (the last on a mixed set) ended with spins! "The organisation here has been fantastic," he said later, "but one thing that worries me is the marshalling. I don't blame them because I know it's only inexperience, but when you spin they take a long time getting to you. In the race they will have to be quicker."
One Lotus-Renault was on the pole, then, and the other was also well placed. Johnny Dumfries did a really excellent job to qualify his car eighth after a first day made difficult by gear selection problems. On Saturday afternoon Dumfries began with race tyres, then set his best grid position to date, and he looked very confident achieving it.
Although it was Mansell's Williams-Honda which dominated most of practice, Piquet's sister car was the one which joined Senna on the front row. Piquet's car never looked as stable through the first left-hander (or maybe it was being driven in a less orderly fashion), and until the last session the Brazilian was never on a par with his team-mate.
Using qualifiers though he lapped in 1m29.785s in the closing minutes of the session. "Yes, a lot of wing," he grinned, "but the engine in my qualifying was not so good - maybe I over-revved it."
Certainly he was in better spirits after practice than Mansell, who was highly disappointed to drop from first to fourth. "Today I'd like to forget," he said, and you couldn't blame him. Comfortably quickest on Friday, he had a shunt on Saturday morning after an altercation with Riccardo Patrese.
"I was coming out of the first right-hander, and Patrese was in the middle of the road, going slowly. I was going quickly and came out of the corner on the normal line, powering out to overtake him on the left - I suppose I was doing 60-70mph more than he was. I was committed to the left, and he suddenly wiggled in the same direction. There was no time to swerve or brake, and I hit the back of his car. Then I went off, got on the dirt, and hit the guardrail - more or less square, fortunately... I really don't think he saw me - in fact, I don't understand how they can see anything in those cars, with a huge rear wing."
Damage to the FW11 was remarkably light, but even so Mansell lost more than half an hour. Still, his name was again at the top of the lists and he felt confident about the last session, bruised knee notwithstanding. Like Piquet, he chose one set of race tyres, one of qualifiers.
On the Bs he looked terrific, recording no fewer than four laps at just over 1m30s, the quickest of which was to stand as his best lap. On qualifiers, towards the end of the session, he was baulked.
"I got caught up behind [Derek] Warwick and [Philippe] Streiff. I don't know what happened, but at the hairpin Streiff passed Derek, then slowed up alongside him! Don't know what he was playing at. They were side by side, and there was no way through, and that was that. Very disappointing, but on the other hand I did so many 30-evens on race tyres I know I'm going to be competitive tomorrow. The real pain is that overtaking is so difficult here..."
The McLarens were third and fifth, Alain Prost ahead of Rosberg. "The car was terrible today," Prost said on Saturday afternoon. "Here we're looking for maximum downforce and it's not very easy with our car. For today we've lowered it as much as possible, changed many things - springs, roll bars and so on. And it's much better. Also, there is more grip from the track today, which helped us particularly because we are definitely still short of downforce. Now I'm happy with the car."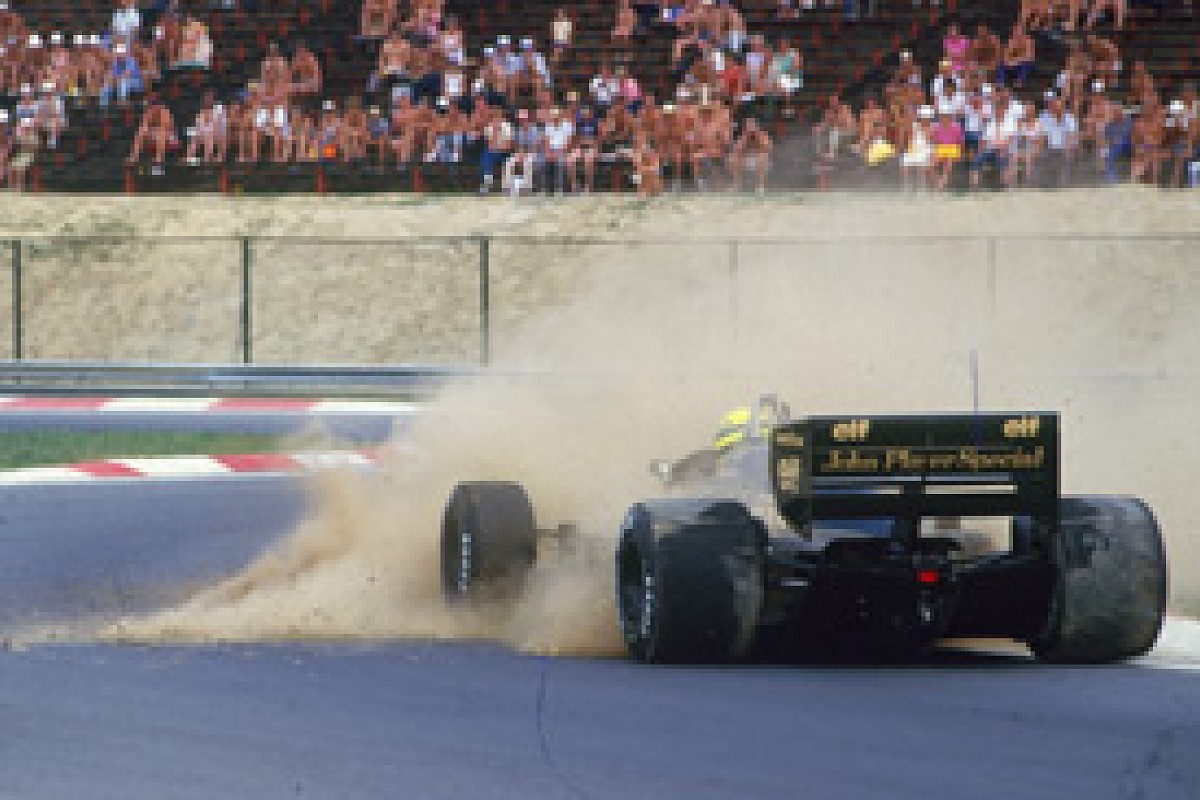 Senna had pole, despite a quick spin © LAT
Had his quick lap been absolutely clear? "Yes, but I'm a bit disappointed in one thing: we made a mistake with the front tyre pressures. This morning it seemed that a very low pressure was better. Somewhere there was a mistake this afternoon - I had too much pressure on the first run, and a lot of understeer. Tomorrow is a different game - hard on brakes, and on drivers, in this heat..."
Rosberg had a bad time on Friday, having to use the spare McLaren for the timed session, his own car needing an engine change. "The set-up on that car had me beaten," he reported. "It just had no front end at all - I couldn't do anything with it. We can't get enough downforce, which means that we can't get front tyre temperatures. It's a bit like a cat chasing its own tail." But the following day Rosberg, like Prost, was encouraged by the progress made with the set-up. And if Prost was right about 'a race of stamina', the Finn had to be high on anyone's list. Remember Dallas?
Just as the Ferrari drivers have been searching all season for a track without corners, so the Lola-Ford men have yearned for a circuit without straights. And here they found one. It suited the cars well indeed.
What the Ford V6 lacks is top end power. It is, according to Patrick Tambay and Alan Jones, a lovely engine to use, with nicely progressive throttle response, but the belt in the back never arrives. At the Hungaroring that was exactly the recipe required. "We're low on power," Tambay admitted, "but here that works for us because we have less wheelspin out of the slow turns." The lovely red cars looked more driveable than any of their rivals, and it was no surprise to find both in the top 10.
Tambay took sixth, setting his quickest lap despite the best efforts of Rene Arnoux and his Ligier. "He held me up," said Tambay, "and I've no doubts it was deliberate. Still, it was a 31.7s, not too bad. Now I'm on my slowing down lap, and I decide to keep right out of his way - he's a crazy man, right? I give him plenty of room, and he gets alongside, slows and starts waving his arms. I reply - and he drives straight at me! Then he does it again. Just unbelievable."
Have you discussed the matter? I ventured. "No point with him. There is a bone in his head. The only thing he would understand is a punch in the mouth..." The 1983 Ferrari team-mates were getting along no better than they did then. Tambay is not given to criticising his fellows, and this anger was very real indeed. Arnoux, in his turn, shrugged the matter off, saying that Tambay had blocked him. Those who saw the incident had a different opinion.
Still, Tambay was in the top half-dozen, the best qualifying position yet achieved by the Haas team, despite also being troubled by brake pad knockoff. The previous day Jones had occupied the sixth place, but fell to 10th eventually, slowed by too much oversteer and, for the second successive day, being right behind a Minardi as it blew up.
The Ferrari men never even gave qualifiers a thought. "For us," Michele Alboreto said, "they're two seconds a lap slower than Bs..." Johansson, though, was quite encouraged. "At a place like this, where there's no grip for anyone, we're in a better position than usual. We had quite a good test at Imola last week, where we tried this huge rear wing. Here it works quite well - in fact, I'd say we've got more downforce than usual. The biggest problem we have is the all-or-nothing throttle response from the Garrett turbos. It's really noticeable at a track which is all slow corners."
For all that, Stefan put together a really fine lap to qualify seventh on Saturday afternoon. "We just bolted on a lot of front wing and drove it sideways. It was okay for one lap, but there's no way for a whole race."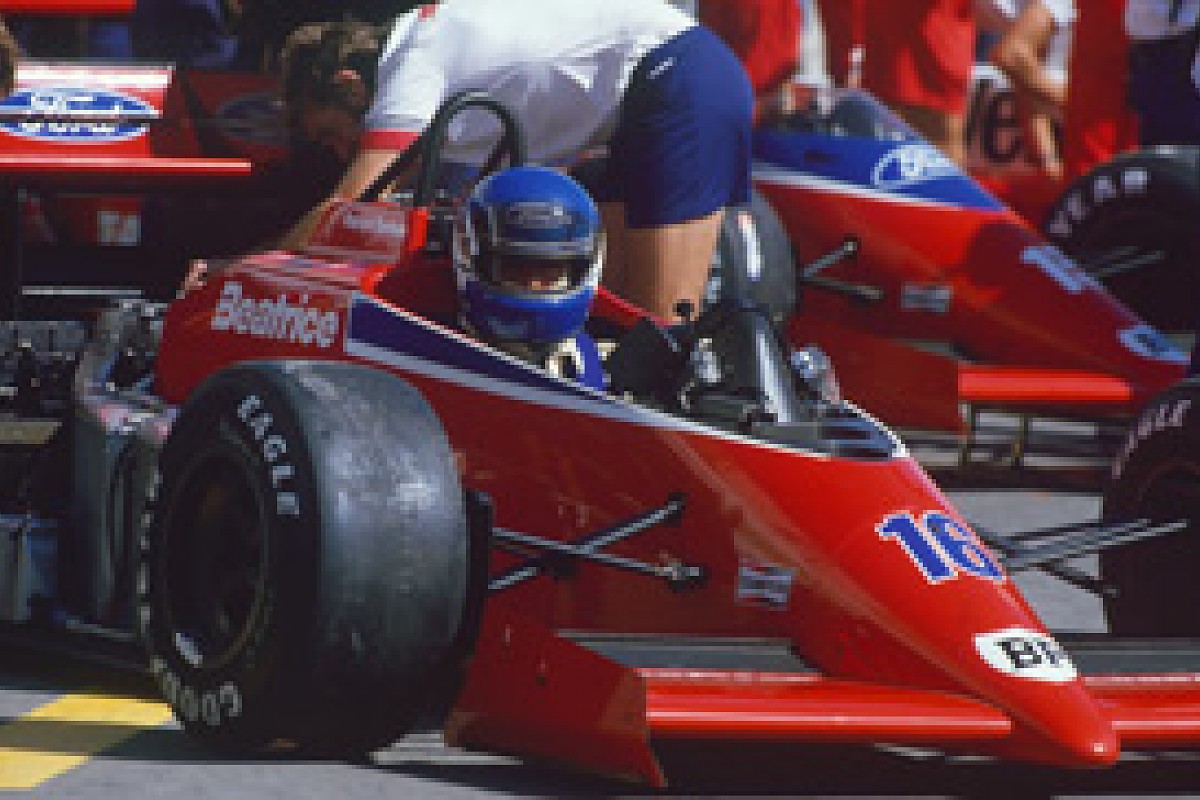 The Haas-Lolas were much higher up than normal - strong chassis, you see © LAT
Alboreto though was not at all pleased by the final session. On his second run he had to park out on the circuit, after his car had shed its front wheel... "Here," he said, "it's difficult enough to stay on the road with four wheels. No, I don't think its fun here." He was down in 15th, more than a second from Johansson.
Rene Arnoux left no one in any doubts about his opinion of the circuit: it wasn't his tasse de thé at all, and on Friday afternoon he was a second slower than team-mate Philippe Alliot. "I can't explain it," he frowned afterwards. "Just no grip at all, but I shouldn't be so slow."
Still, as Mansell said, this was above all "a scratcher's circuit", and what Rene lacks in finesse he makes up for in determination. In the final session he improved by close to five seconds, vaulting up to ninth. Having changed "everything" on the Ligier, he said it was very much better. Alliot was also substantially quicker than before, and qualified a worthy 12th.
The Benetton-BMWs of Gerhard Berger and Teo Fabi were 11th and 13th, both drivers somewhat disappointed. "You could sum up our day," team manager Peter Collins said on Friday, "in two words: Huub Rothengatter. He hits Teo while he was on his quick lap - and blew up on the pit straight just before Gerhard went out for his last run. There was oil everywhere..."
Berger confessed that the circuit was not at all to his taste, and the characteristics of the BMW engine scarcely lent themselves to it. "Half the time I'm off boost," he complained. "So many slow corners, and understeer everywhere."
For all that, he was fourth fastest on the first day. But on Saturday, when others improved by seconds, the Austrian was very little quicker than before and lost seven places. Afterwards he laid the blame largely at his own door: "I didn't drive that well today, and that's why I was slow," was his frank summing up. "Two spins..." Fabi, though, was significantly quicker than before.
Brabham had every kind of problem, as is very much the norm this season. Patrese was feeling lousy when he arrived in Hungary suffering from a septic wisdom tooth. He faced a weekend of pain-killing injections, then an operation in Budapest on Monday.
In an attempt to conquer the oil scavenge problems which have blighted the 'laydown' BMW engine this season, a new and supplementary de-aeration pump was fitted to Patrese's car and despite several spins he qualified his BT55 in 14th place, five ahead of team-mate Warwick.
On Friday afternoon Warwick had an unnerving experience. As he approached the end of the lap, the 'qualifying' water tank (which sprays onto the intercooler when running with the boost up) flew off, swirling over the cockpit and off into the run-off area. It got his attention, he said. "There just doesn't seem to be any grip here, whatever we do," he said. "I've tried six different tyre compounds, and nothing seems to help."
Martin Brundle was quite content with his Tyrrell on Friday, 15th fastest and confident that he could improve. Saturday morning found him up in seventh - which made the afternoon the more disappointing. Throughout the final hour he was hobbled by a terrible misfire.
"We started off by throwing an alternator belt, which damaged some of the wiring," he said, "and we just could not get the engine to run cleanly. After playing around with the front springs this morning we'd made a huge jump forward, and I'm really disappointed."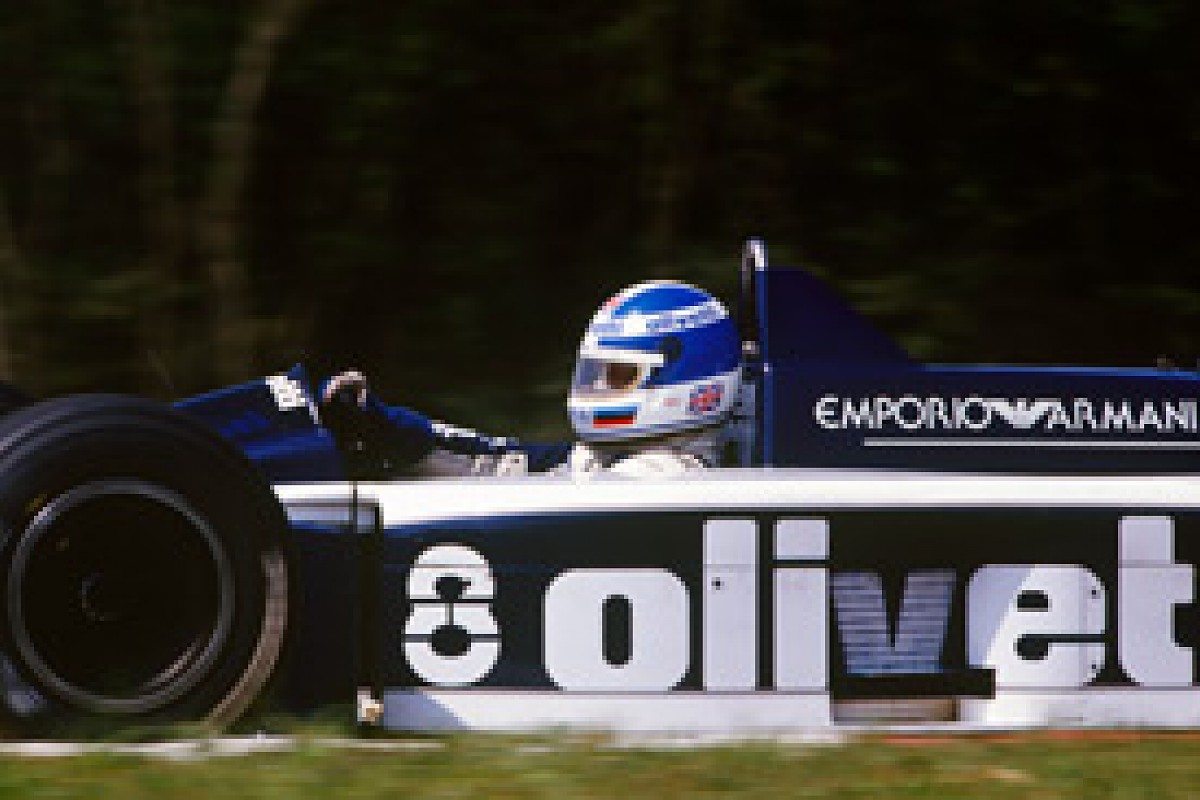 Warwick had a water tank fly off on Friday © LAT
Two places behind Brundle was team-mate Streiff, who had a trouble-free final session save that he was unintentionally baulked by Fabi in the course of his best lap. He, too, felt that going to stiffer springs had considerably improved the Tyrrell.
Next to the Frenchman on row nine was the ever-impressive Alessandro Nannini, once more decidedly quicker than fellow Minardi man Andrea de Cesaris - despite the fact that de Cesaris had a new car, the M186, at this race. The new monocoque is quite a lot lighter than the previous car but retains the M185's rear suspension for the moment. De Cesaris found it disappointing, he said, in terms of balance and grip, and could qualify only 20th.
Another man displeased with a new car was Thierry Boutsen. The Arrows A9, which had made its debut at Hockenheim, was troubled there by its gearbox (innovative in having the gear pack in front of the diff), and in Hungary the car had a conventional rear end.
The A9 had perhaps less grip than any other car in the race, veering uncertainly from acute understeer to dramatic final oversteer. After sticking with it through Friday, Thierry opted to go back to the old A8, and for the balance of the meeting the latest car was driven by Christian Danner.
On Saturday morning Boutsen blew up, and began the last session in the spare A8 - which lost boost pressure. Back into the original car (engine changed), he stopped out on the circuit when the BMW died. Danner in the meantime had blown up the A9, having to finish the session in the 'low boost' A8! It could hardly have been more traumatic for Jackie Oliver's team, and the cars would start on row 11.
Piercarlo Ghinzani did his usual sterling job in the ratty Osella-Alfa, proceeding smokily to 23rd spot, but the luckless Allen Berg was right at the back once more, his transmission breaking within a couple of hundred yards of the pits as he came out to begin the last session.
Sandwiched between the Osellas were the two Zakspeeds of Jonathan Palmer and Huub Rothengatter. The characteristics of the four-cylinder engine were ill matched to the circuit, Palmer suggested. "Half the lap, it seems, I'm not on boost at all! The throttle response is so dreadful that there's no power until you're well out of the corner - and by that stage you're at the next one, this track being the way it is. We're in very bad shape here, I'm afraid."
So that was that. Qualifying was all done, and now attention turned to the serious part of the weekend. Quite clearly what had been slated to be a 77-lap race was going to be stopped at the two-hour mark, and the drivers faced a gruelling day in the heat. How many tyre stops would there be? Most teams expected their drivers to stop only once, especially desirable here in light of the extremely tight and slow chicane at the beginning of pit lane. In the meantime 80,000 spectators made their way home. Who knew how many there would be on Sunday?
See FORIX for the full grid and all the stats from the 1986 Hungarian Grand Prix
Race
Sunday was hotter, more humid, even than the practice days. And the crowd, as expected, was of staggering size. As the temperature rose to over 100 degrees Fahrenheit during the morning they continued to pour in, packing the hillsides. The sad irony was that many grandstand seats remained empty, the price simply beyond the reach of most Hungarians.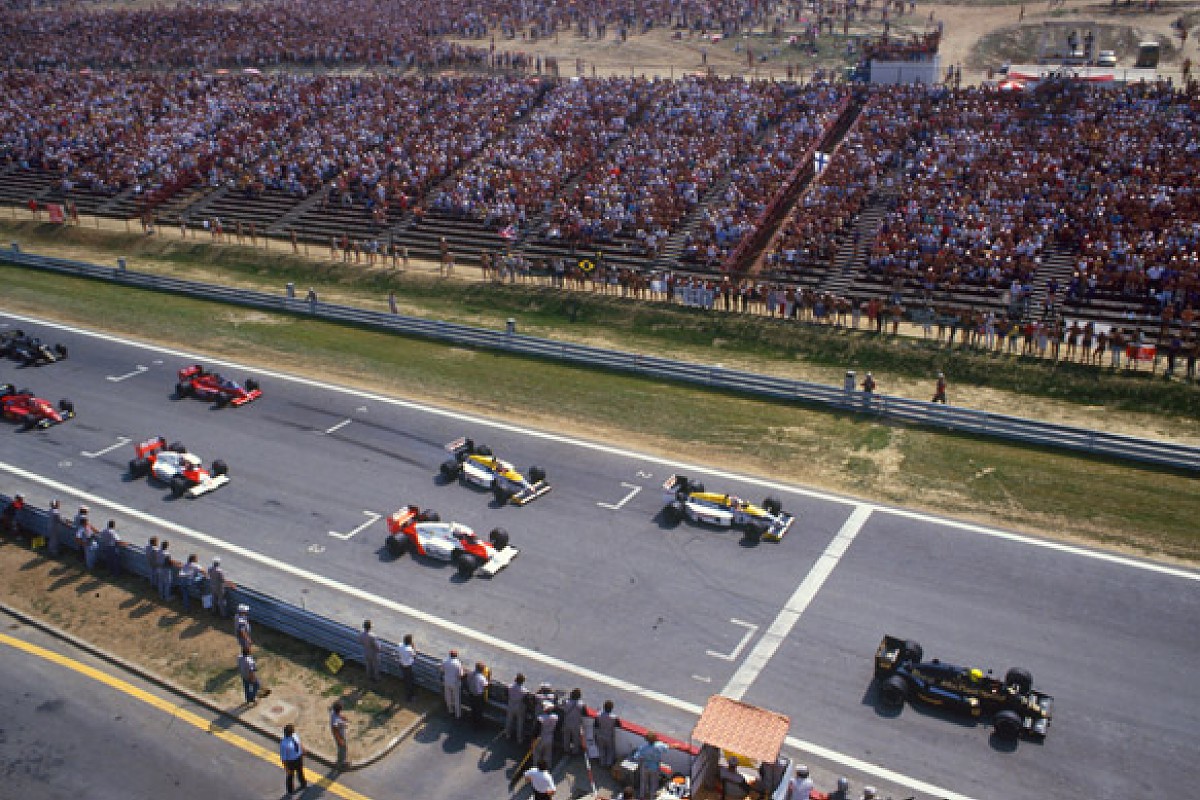 This was the highest attendance - estimates varied between 140,000 and 200,000 - at any sports event in the country's history, and a massive coup for Hungary in terms of Eastern bloc prestige. The race was televised live in Czechoslovakia, Bulgaria, Poland, Yugoslavia - even the USSR.
Prost and Rosberg set the fastest times during the warm-up, some of their rivals suggesting that perhaps McLaren had not been running on absolutely full tanks. Prost set his time with Goodyear Bs on the back, Cs on the front. He liked the balance, and felt he would choose that combination for the race. Most 'Goodyear teams' went for Bs all round, although significantly both Lola drivers decided to take a gamble on Cs at both ends.
Mansell and Piquet were next up, Piquet trying both his cars during the half-hour. And Jones and Tambay kept Ford hopes high by maintaining their practice form, setting fifth and seventh times.
For Arnoux the session was a waste of time, the latest Renault EF15C 'economy' engine (with different heads) in his Ligier misfiring badly. It was decided to fit an older EF15B for the race, and Senna, also unhappy with the engine in his Lotus, followed the same route.
Later there was trouble too for Prost, whose engine died on during the pre-race warm-up laps. Prost had to leave the car where it was and take the spare for the race.
On then to the start of the first Grand Prix in Hungary for 50 years. And at the green Mansell made a fantastic getaway, slotting the Williams between Prost and Piquet, outdragging both of them on the run down to the first turn. Senna, though, had made no mistake and was clearly in front from the beginning. As they went away to begin their two-hour battle, the Lotus led from Mansell and Piquet. Both Lola drivers had also got away superbly, with Tambay fourth and Jones sixth, Prost's McLaren between them. That was the order at the end of lap one.
Lap one though was it for Berg, who trailed smokily into the pits, perhaps pondering anew the wisdom of paying for the privilege of driving an Osella. Rothengatter lasted little longer, spinning over a kerb on the second lap to the distress of the Zakspeed's oil cooler. At the same time Arnoux dashed in for tyres - after only two laps! That dropped the Ligier from eighth to 24th.
It was soon apparent that Mansell's opening charge would be taking him no higher than second. Senna was starting to go away, and the Briton was coming under attack from his for-want-of-a-better-word partner in the Williams team. As the leaders began lap three, Piquet went by into second place at the first right-hander, and there was nothing Mansell could do about it.
Really impressive in these early stages (and, indeed, for the rest of the afternoon) was Dumfries, who was in seventh place at the end of the opening lap and would never been lower than that throughout the race.
Piquet gives chase, but Senna's out of sight © LAT
For a time Piquet made little impression on Senna, the gap remaining at around a second and a half. But the two were dropping Mansell at such a rate that something clearly had to be amiss with the second Williams-Honda. Had Mansell not, all in all, been the quickest man during the practice days - particularly on race tyres? This was looking like Hockenheim all over again, where handling problems prevented his running with the leaders.
Out of the first right-hander Piquet's car was stable and secure, whereas Mansell's would take a little skip sideways as soon as the power went on. Was it a pick-up problem with the Honda V6?
No, sir. During the practice days Nelson had made the most of his two FW11s. With your own private T-car you can try all manner of tweaks, having always a car to use while the other is worked on. Among other things, Piquet had tried a different diff, which he found considerably improved the balance and 'driveability' of the car on the slick surface. And it seems that he omitted to mention it to the other half of the Williams team.
"There was a problem with my car, which I can't talk about," Mansell would mutter tersely after the race. More and more it seems that Williams are operating a couple of single-car teams this season. Both drivers are in contention for the world championship, yes, but pooling information is supposed to be a two-way street. Mansell, newly committed again to Williams for the next two years, was fit to be tied afterwards. He is not by nature a devious man.
Back to the race. On lap seven Patrese spun at the penultimate corner on the lap, went over the high kerb and clouted the barrier, and now we saw evidence of the marshals' inexperience. The Brabham was actually jammed on the kerb, and moving it was a problem.
As the leaders came through on lap seven a Volvo rescue car was parked at trackside, two wheels on the circuit. A lap later though Senna and Piquet emerged from the corner to find the Brabham, broadside on, in the middle of the road. And a lap later there was a horrible moment for Senna. By now the BT55 - driverless - was being towed away by the Volvo, and for an instant it veered left onto the track and almost into the Lotus.
There was every justification for praising most aspects of this new race in Hungary, but without doubt the marshals, new to this level of racing, were sub-standard. The problem of crashed or stranded cars must be addressed before next year's grand prix.
During the first few laps Alan Jones had been as impressive as anyone out there. For the first time since returning to Formula 1, he had a car genuinely competitive, and after his usual aggressive start had looked a real contender. Sadly though he was into the pits after 10 laps for attention to a leaking brake calliper, this a fault which really should not have occurred. Two laps were lost before he could rejoin, but he came out with the same spirit, running a long while in company with Mansell. He would retire after 46 laps with broken transmission, having left everyone in no doubts that his ability remains.
Johansson was another man into the pits at this time, although he was stationary for only nine seconds. "I started the race on Bs all round," he said, "and after five laps or so the rears were gone. When I came in, they gave me more Bs and I skated on those for a bit." Stefan was in again 10 laps later, and this time they gave him rear Bs and front Cs, the combination chosen by Prost a the start of the race. "The car was much better like that, and I wish they'd given me those at the first stop. I'm sure we'd have been third if they had..."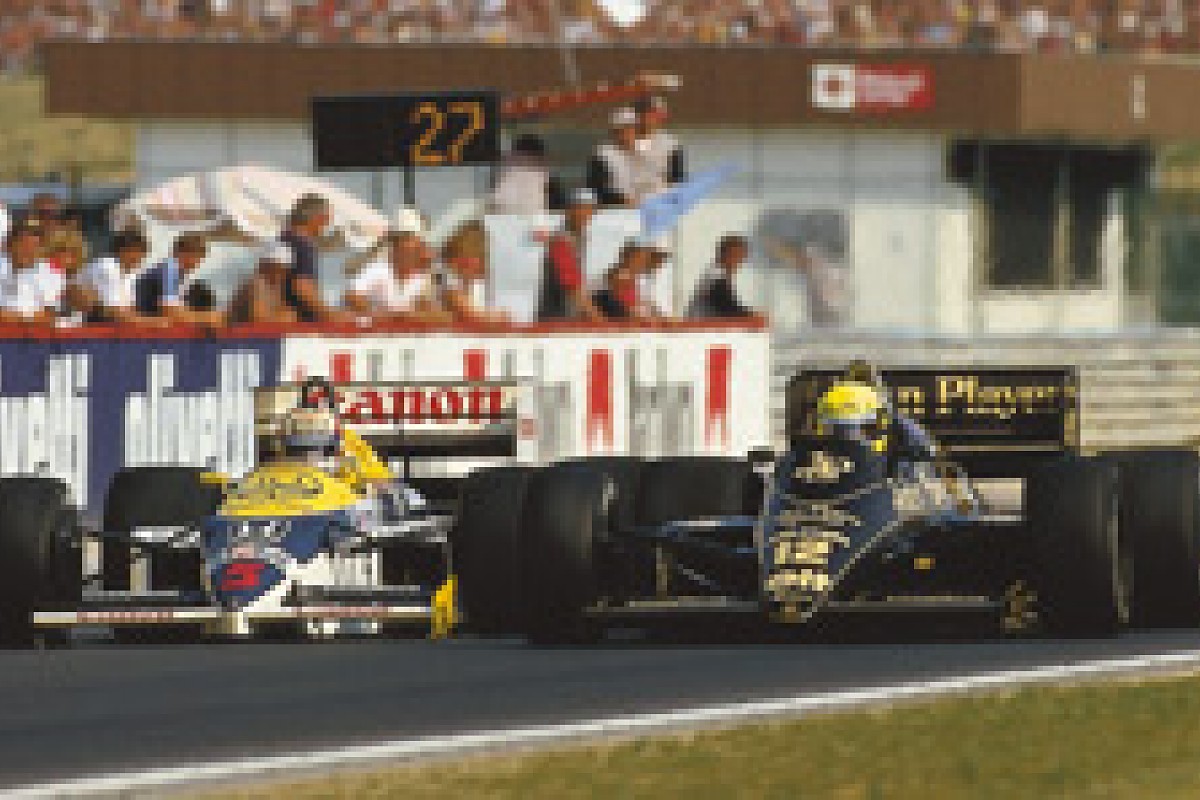 Mansell passed Senna, but didn't look after his tyres as well as the Brazilian © LAT
By now though there were changes at the front. Piquet had caught right up to Senna, and went by him easily on the pit straight. "That was really the problem for me through the whole race," Ayrton said. "I think the Lotus was as quick as the Williams in the corners, maybe even a little better in some places, but Piquet was much faster in the straights."
Once into the lead Piquet quickly went clear, pulling out five seconds in as many laps, and at this point his real opposition looked like coming eventually from the world champion, who had passed Mansell for third and then closed up on Senna with an ease which looked ominous for the rest.
After 13 laps Prost was right up with the Lotus, but thereafter was never so close again. And at the end of the 16th he was into the pits. It was surely too early for a routine tyre stop, and so it proved. The McLaren boys had four new Goodyears on the car with their usual zest, but Prost was going nowhere. There was a problem with the electronics, and eight laps would be lost before the black box was changed and Prost could get out again. Eventually he would retire after a tangle with... Arnoux.
"Very disappointing," he commented, "because I felt we were in very good shape. In particular, I was sure my B/C tyre combination was the best choice." It was his first race out of the points since the season opener in Rio.
Prost's stop had made the McLaren pit briefly a fraught place to be. As the mechanics had gone to work removing the rear bodywork, K. Rosberg Esq. had arrived for tyres, his left rear Goodyear being very short of air. Unable to cope with Rosberg at that moment they waved him straight on, and in obeying their instructions he must have set some sort of pit lane record.
Next time round he came in again, resuming with fresh tyres, but once more the left rear lost air. The rear suspension may have been a little out of line (after bouncing over a kerb), and eventually the problem caused the retirement of the second McLaren.
At the 25-lap mark Piquet led Senna by a little under three seconds and the rest were nowhere. Mansell still ran a twitchy third, followed by Berger, Dumfries and Warwick, who was driving another fine race in the cranky Brabham-BMW.
Not for much longer, though. On lap 29 Alboreto, who was coming back through the field after his tyre stop, ran into the back of the BT55, punting Warwick into instant retirement. The front of the Ferrari was also damaged, and Alboreto made it back to the pits and stepped out.
Both Benettons were among the retirements again. A fuel leak into the cockpit meant that Berger had been in some considerable discomfort from the start, but even so the Austrian ran in a fine fourth place before stopping with a broken gearbox. And Fabi, whose opening laps were the most sprightly we have seen from him for some time, lost his clutch 10 laps into the race, finally pulling off when the transmission let go.
Apart from the battle between the two Brazilians it was not in truth a very exhilarating race. By half-distance we had lost exactly half the field, and there was precious little racing going on.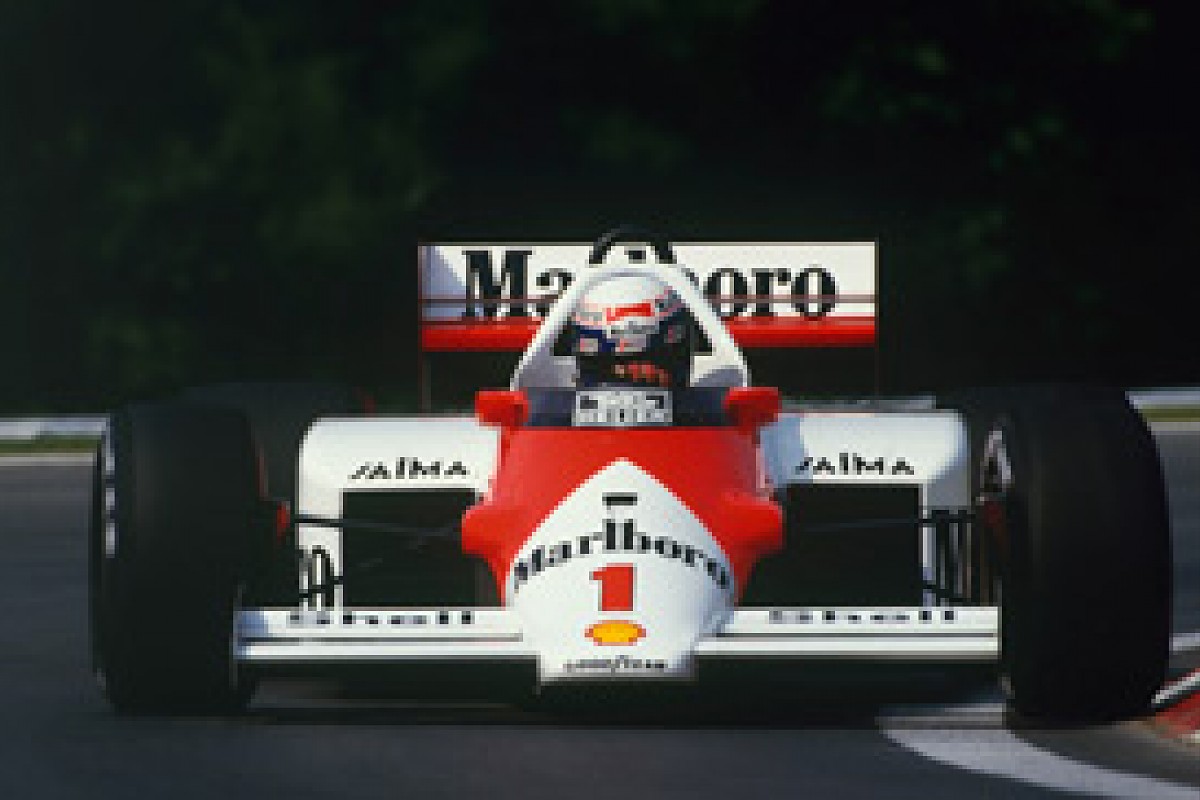 Prost lost eight laps to an electrical problem and then clashed with Arnoux © LAT
Piquet looked indeed secure in front, and Senna's best hope seemed to lie in the impending tyre stops. Mansell had been in for new Goodyears on lap 28, and would stop once again (45) for more, hoping to right his grip problems. "Each time it was better for about five laps," he said, "but then back came the problem."
Now Williams readied themselves for the all-important Piquet stop, which Nelson made after 35 laps. At a fraction under 8s, it was well up to the team's high standards.
While Piquet was in, however, Senna began a series of laps sensationally quick in light of his well-worn tyres. The tortuous route into the pits makes any stop a lengthy one, and when Piquet resumed he was 24 seconds adrift of the Lotus. Over the next half-dozen laps moreover that gap grew considerably, which was quite unexpected in the circumstances. By the end of lap 41 Senna was more than 31 seconds up, and next time round he came in.
In absolute terms the Lotus tyre stop was not particularly swift (11.1s), but there was a whoop of delight from the Senna fans in the crowd as the Brazilian emerged from the pits before Piquet appeared. Eight seconds separated them at the end of the lap, and the next time round Senna had it out to 9.8. Had he had something in hand during the first half of the race?
Until lap 50 Lotus were looking good, their driver maintaining a lead of around nine seconds, but then Piquet suddenly came on strong. Mansell, lapped by Senna during his second tyre stop, went past him again, but Senna's only concern was the other Williams. The gap came down like this: 8.9, 5.8, 3.5, 1.1, 0.7 - and as they began lap 55 Piquet was out of the Lotus' slipstream and jinking to its right at the approach to the first turn.
Senna edged him over a little, obliging him to take a tight line into the corner. And Piquet, having led but momentarily, locked his brakes and slid wide, allowing the Lotus by on the inside once more! This was fine stuff, the first real racing of the afternoon, and the crowd responded with enthusiasm.
Two laps later Piquet tried again, on the outside this time. The Williams' left hand wheels were virtually on the grass as the cars approached the first corner side by side, but Piquet dived across in front of the Lotus, arriving at the corner in a lurid opposite lock slide, which he held beautifully. Evidently upset with his fellow countryman, he then braked in front of him and shook his fist.
And there the race was settled, for Senna never truly looked like getting on terms again. With 10 laps to go, though, he did put in one last memorable effort, coming back from four seconds down to sit behind the Williams once more.
"Nothing to do," he reported. "I could close up, but there is only one place to pass here - at the end of the pit straight. He was faster than me in the straight, so overtaking there was almost impossible."
Still, he kept the pressure up, and the pair of them were rushing round at a speed which would have qualified them in the top six! Lap 73, in Senna's mind, put the matter beyond issue. He set his fastest lap of the race (1:31.261), yet still lost a little ground to Nelson. After that, he throttled back considerably, and at the finish was more than 17 seconds behind.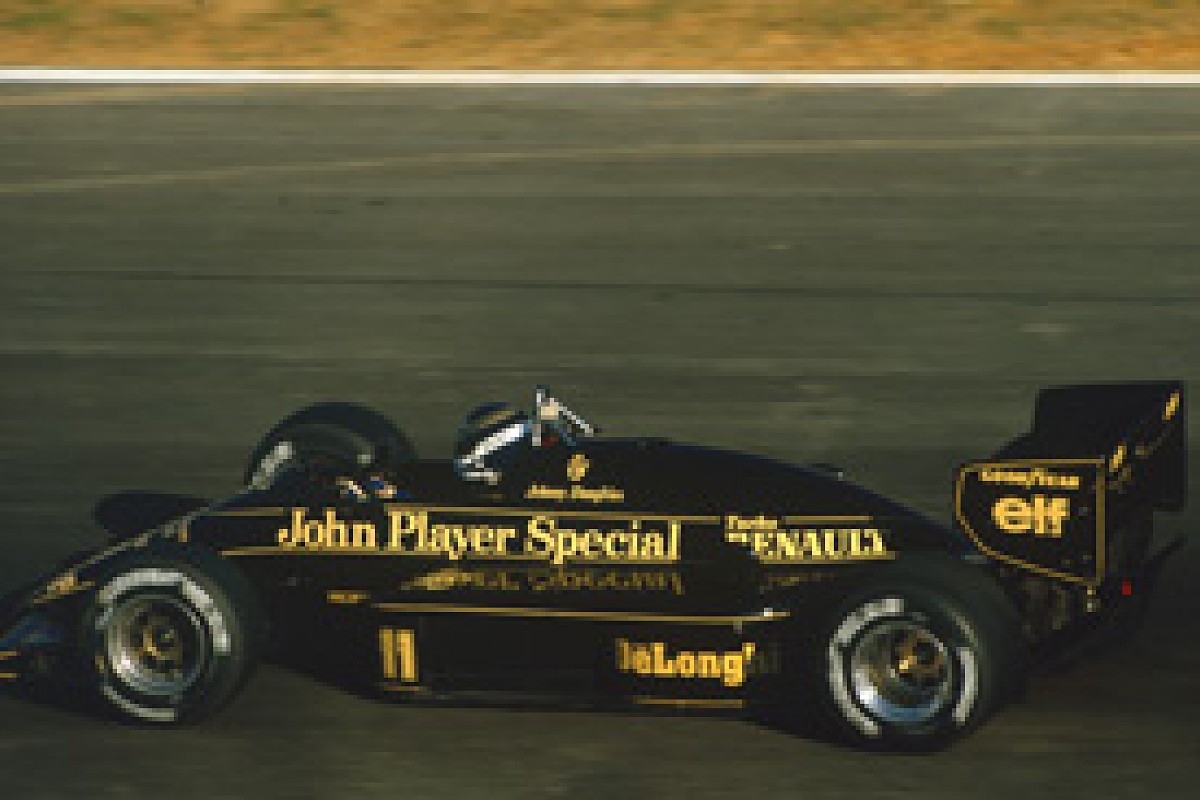 Dumfries took his best F1 result with a fine fifth place © LAT
As expected, the race was called at the two-hour mark, albeit it only one lap short of the originally scheduled distance. It was another conclusive win for Piquet, after a fine drive in the best car. And it was delightful that his victory should have been witnessed by Frank Williams, present at a race abroad for the first time since his accident. The highlight of the afternoon, though, was Senna's fighting spirit, which wilted only during the last five minutes, when it became obvious to him that the Williams was beyond reach.
Mansell, tight-lipped and livid, duly finished a distant third, retaining his lead in the world championship but plainly not at all happy at the way things are shaping up in the team. And fourth place certainly did not flatter Johansson, who drove one of his finest races in a Ferrari which seemed to be running on greased ice.
Everyone who finished this race indeed worked for his money, for this was a day when intense concentration was more than usually needed. They ran for two hours in great heat and on a treacherous surface. Dumfries, in only the 11th grand prix of his career, could hardly have impressed more, making no mistake worth the name on his way to a very self-assured fifth place. And Brundle, running without fourth gear for much of the race, drove with phenomenal energy, barp-barping the throttle through the first turn every bit as vigorously on the last lap as on the first. A championship point was no more than the Tyrrell driver was due.
The Ford V6 came closer than ever to collecting its first point, but Tambay lost a lot of time with a spin before the pits on lap 33, finishing up in the middle of the road with a stalled engine. His position was highly precarious, but the marshals push-started him out of the way. Having already stopped once for tyres he now needed to come in again, and at the finish was half a minute adrift of Brundle.
This was a race memorable for the struggle between Piquet and Senna - and for the fact it had happened at all. By and large, it was not great entertainment, just as the first race in Montreal was a pedestrian affair. The Canadian track was too tight, too twisty, and the organisers acted on advice, speeding it up considerably for succeeding years. The Hungaroring would benefit considerably from similar surgery. In most ways, this first Hungarian Grand Prix of the modern era could scarcely have been a greater success. Although I doubt that Nigel Mansell feels that just now.
See FORIX for the results and stats from the 1986 Hungarian Grand Prix