"Where have those eggs got to?" he wanted to know. "I ordered everything for eight o'clock."
"This is Nigel Mansell's room. Err, could we have an update on breakfast, please? It's getting a little late."
In Detroit's Westin Hotel ordering and eating breakfast are not necessarily in the same time zone. Calling room service invariably means a taped message saying they're very busy right now, but someone will be with you as soon as possible. One theory is that they're very busy taking calls from people wondering what the hell's happened to their breakfast. The answerphone finishes by proudly confirming that room service is available 24 hours a day. It's just you wonder which day they're talking about.
However, the one good thing about the skyscraper Westin is its proximity to the track. From your room to the pits is five minutes for an expert map reader, and therefore breakfast was the ideal time to talk to the man who may be Britain's first world champion in a decade.
The change in Mansell over the last year or so is remarkable. At Detroit they showed a clip of the startline accident in 1984, for which he was blamed. There he was, before the restart, Jackie Stewart speaking calming words to him, and the haunted and bewildered face bore no relation to the relaxed and confident fellow we see these present days.
FISA fined him on that occasion - and it was the last on which they took action against a grand prix driver. He smiles with a certain irony at the fact that others' misdemeanours, many of which seemed open-and-shut cases, have gone unpunished.
"I was angry at the time," he says. "Of course I was - it cost me a lot of money. But, whatever the circumstances, I believe FISA did the right thing in that they tried to find out why the accident happened. And it probably did me good in the long run because although I felt I was in the right, being fined and told off does you no harm. It annoys me, though, that Senna has had many such incidents and no one has said a word to him."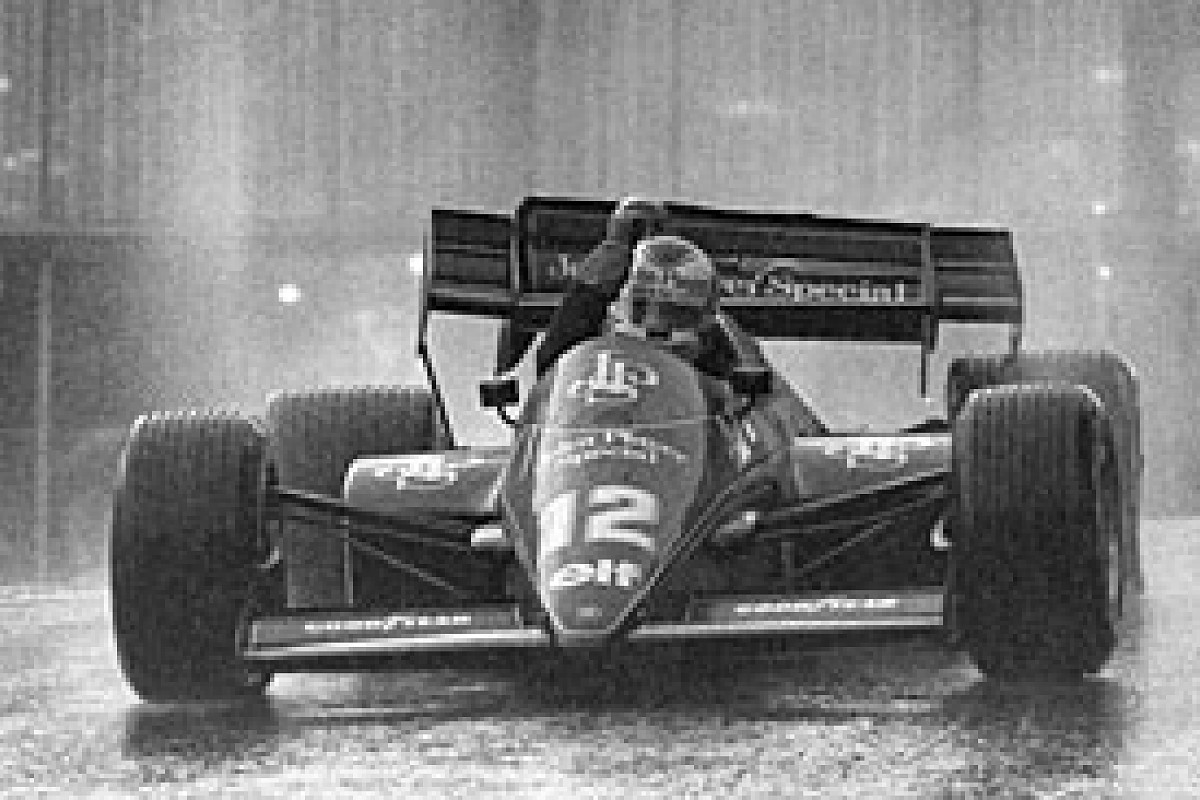 Nigel Mansell led in the rain at Monaco in 1984, then crashed © LAT
The incident came in the middle of Mansell's final, traumatic season with Lotus, a year in which everything seemed to go wrong, on the track and in the motorhome. He led in the rain at Monaco, but crashed, took the pole at Dallas, led for much of the way but finished by clouting a wall and pushing his car over the line. By Brands Hatch, in July, he knew that Ayrton Senna would be replacing him the following year. The Williams drive was a lifeline which he seized.
"God, that was a terrible year," he remembers. "At Monaco I made a mistake, but I know why I made it. I got myself into the position to make that mistake - no one else was even close to me. And it certainly won't happen again."
"On the other hand, at Estoril, my last race of Lotus, I was in great shape - and it was their fault I didn't finish. You know, when your brake pads fall out, it's not too clever. And a few months ago the mechanic involved - he's left Lotus now - admitted to me that he had a stand up row before the race, saying that the brakes he was told to put on my car wouldn't last. And they said 'You'll never do what you're bloody told."
The atmosphere at Williams he found entirely different and much more to his liking. What had been his immediate impressions after more than four years with Lotus? "Oh, the percentage of bullshit," he answers unhesitatingly. "It was so much less. They were interested in calling a spade a spade, getting on with the job. If someone made a mistake, they didn't waste time with screaming and recriminations. They wanted to know why so they could learn from it, improve things, makes sure it didn't happen again. And that included the drivers."
"You had to be honest, come in and say 'Look, I goofed'. That was fine - they wanted to be sure it wasn't a problem with the car that had caused the shunt. If it was, they wanted to know, so they could improve it. That was the biggest single difference I noticed - it was getting back to where I'd been at Lotus when Colin [Chapman] was alive."
Mansell speaks of Chapman with great fondness and some reverence. They worked together for two full seasons and had an excellent relationship. The Lotus team, he says, changed fundamentally after the death of its founder.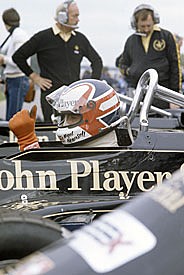 Mansell spoke of Colin Chapman with reverence © LAT
"For me, it was pretty bloody dramatic. What you never have, you never miss, but when you have it and it's taken away, you do miss it. I wasn't seasoned - in F1 terms - at that time, and it wasn't until after Colin was gone that I began to appreciate what a wonderful relationship I had with him. And that really did hit me - especially as it soon became obvious he couldn't be replaced in any way, shape or form. To do that would have needed three people. Without getting too personal, let's say that in a general way things were run totally differently. And for me, personally, it was a disaster. You don't employ a guy to rubbish him. You employ him to do a job and you encourage him to do it was well as he can."
Mansell rolls his eyes at the memory of the 93T, the first Lotus of the turbo era. "That was the year after Colin left us, and the car was horrendous - a bus! It's got to be about the worst F1 car ever built, and I think even the team acknowledges that. When Gerard [Ducarouge] arrived in mid-1983, things got on the up again, but by then relationships were strained. On the plus side though, there were races when I showed a turn of speed that perhaps hadn't been seen from me for a while. So at least I could remind people I was quick."
That much has never been in doubt. Down the years Mansell has had his critics, but from the start none ever questioned his basic speed in a grand prix car. Many still clearly recall his extraordinary verve and courage in the Lotus 87 during qualifying at Monaco in 1981. Only Nelson Piquet and Gilles Villeneuve were quicker.
At Williams Mansell has found an environment in which that talent can thrive, one conducive to getting the best out of him. The support from everyone in the team, he says, is fantastic. "They tell you what they want, and you do it. You don't have to think about it, wonder what's behind it. And it's been like that from the day I went there."
One problem last year, however, lay with his team-mate. When Keke Rosberg learned that Mansell would be replacing Jacques Laffite he reacted vigorously - to the point of trying to leave Williams. After the race at Dallas (led by Mansell, won by Rosberg), the Finn was very public in his condemnation of the Englishman's attempts to keep him back. He anticipated the 1985 season with little pleasure, and Mansell admits that the first few months were difficult.
"The funny thing is that you'd think now that we'd been bosom friends for years. We have the greatest respect for each other - I think now we actually like each other. That's how really good relationships are formed - and relationships like that survive.
They're not love affairs, after all, but the very opposite. And I'll tell you this. Keke did me a big favour last year. When someone has such strong opinions about you, you start to soul search a little bit and think 'God, there's not much he says is good, is there?'"
He breaks into laughter as he goes: "You start to think, 'Is any of this true?' When someone says so many bad things about you, you start to think about them. And I'll say that 90 per cent was untrue. I think he was influenced by what other people had said about me, and of course he's close to [Chapman's successor as F1 Lotus boss] Peter Warr and always has been - and he won't do me any bloody favours! But I think when Keke got to know me, when we were working together, he found I was not the same as he'd been led to believe. And things got better and better. It was really only the first three or four months that were bad. After six months it was getting reasonable, and the last three were terrific.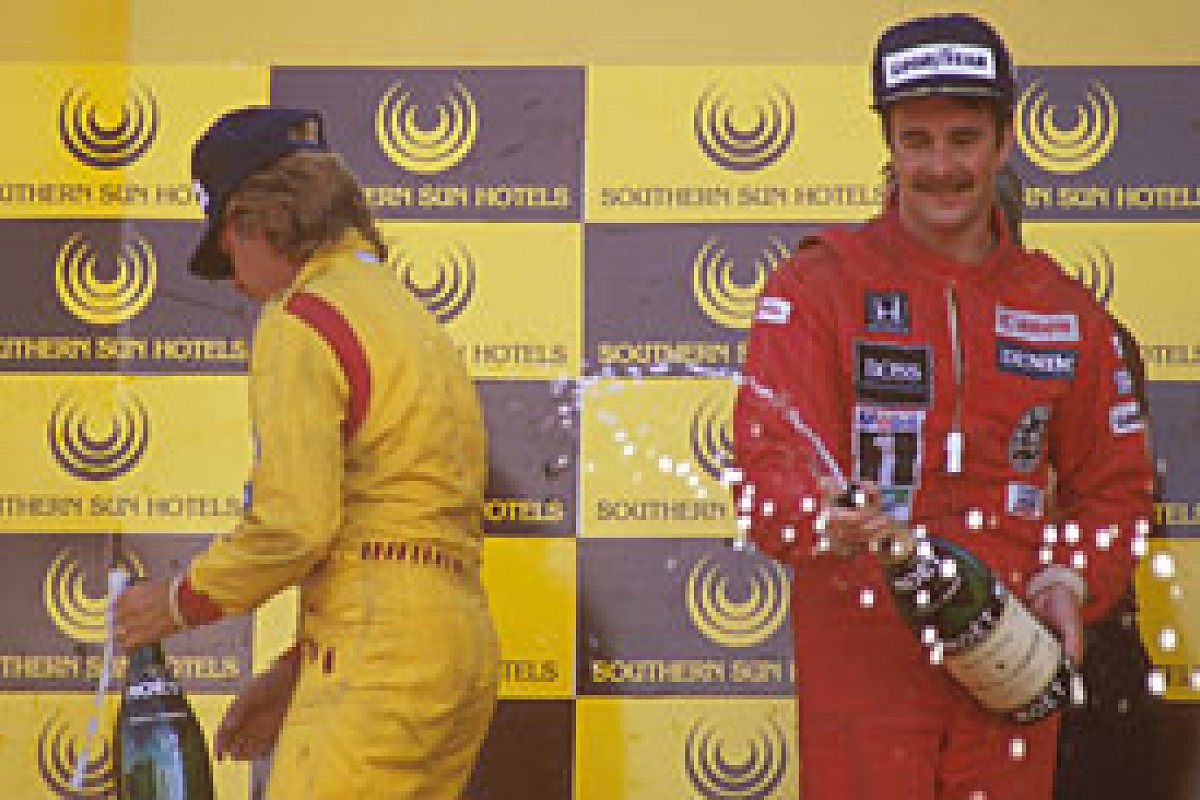 Mansell's relationship with Rosberg improved over time © LAT
"Keke is completely honest. If he thinks you're a rat, he'll call you a rat. The great thing about him is that you know where you are - there's no bullshit at all about him. That's not true of certain other people, but the nice thing now is that I'm above all that, so I don't care. Perhaps a year or two ago I did, to some extent."
In the recent past Rosberg was generally held to be the out-and-out quickest of the lot, yet seven times last year Mansell outqualified him as they finished the season with two wins apiece. And in 1986 Mansell has so much more than matched his new team-mate Piquet. You rather get the impression that the Brazilian is a mite surprised by that. The two get on all right, but are not close.
"I talk to my engineer and he talks to his. That's about it. Make no mistake, Nelson is bloody quick, and he's no fool. But basically, I've found that we talk when he wants to talk."
At the post-race press conference in Canada, Piquet's expression could be best described as 'smiling bravely'. "Since then, he's probably said two words to me," Mansell comments. "Zilch, really. And I don't understand that. If he'd won, and I'd have been third, I wouldn't have hesitated to congratulate him afterwards - and be happy with my own four points. Still..."
Although Piquet is ostensibly the team's number one - and indisputably so in financial terms - Mansell likes the fact that Williams tends not to operate in such a cut-and-dried fashion. "What they do say, for instance, is that the spare car won't be made available to you unless it's absolutely necessary.
"In Spain it was my turn to have the spare, but Nelson stamped on that after that race, so for the rest of the season, I'll never have a T-car. I can live with that - all I'm interested in is having one competitive car that's working. If I do need the spare though, Patrick Head has made it very clear to me that it will be converted immediately to my set-up.
"It's a bit restricting because you can make a lot more progress if you've got two cars to work with. Nelson's got that facility now, so he can't complain in any way about the treatment he's getting from Williams."
As I write this, following the United States Grand Prix, the team leads the constructors' championship, a remarkable testimony to its strength in depth. Since March, before the season began, it has been without the presence and inspiration of the man who started it all. Frank Williams' accident stunned the racing world and devastated the team which bears his name.
"Winter testing went well, and everything was looking fantastic," Mansell says. "And when Frank was hurt it was like a thunderbolt. The effect on the team could have been like Lotus after Colin. That it wasn't was due to the integrity of the team. The people within Williams had different departments, let's say, with Patrick as chief designer and overall factotum, Sheridan Thynne looking after business management and sponsorship, Peter Windsor in charge of public relations, David Stubbs as team manager, Frank Dernie in charge of aerodynamics and R&D, Alan Challis as chief mechanic and so on. We've got tremendous resources in terms of people, which perhaps we weren't using to fullest advantage before.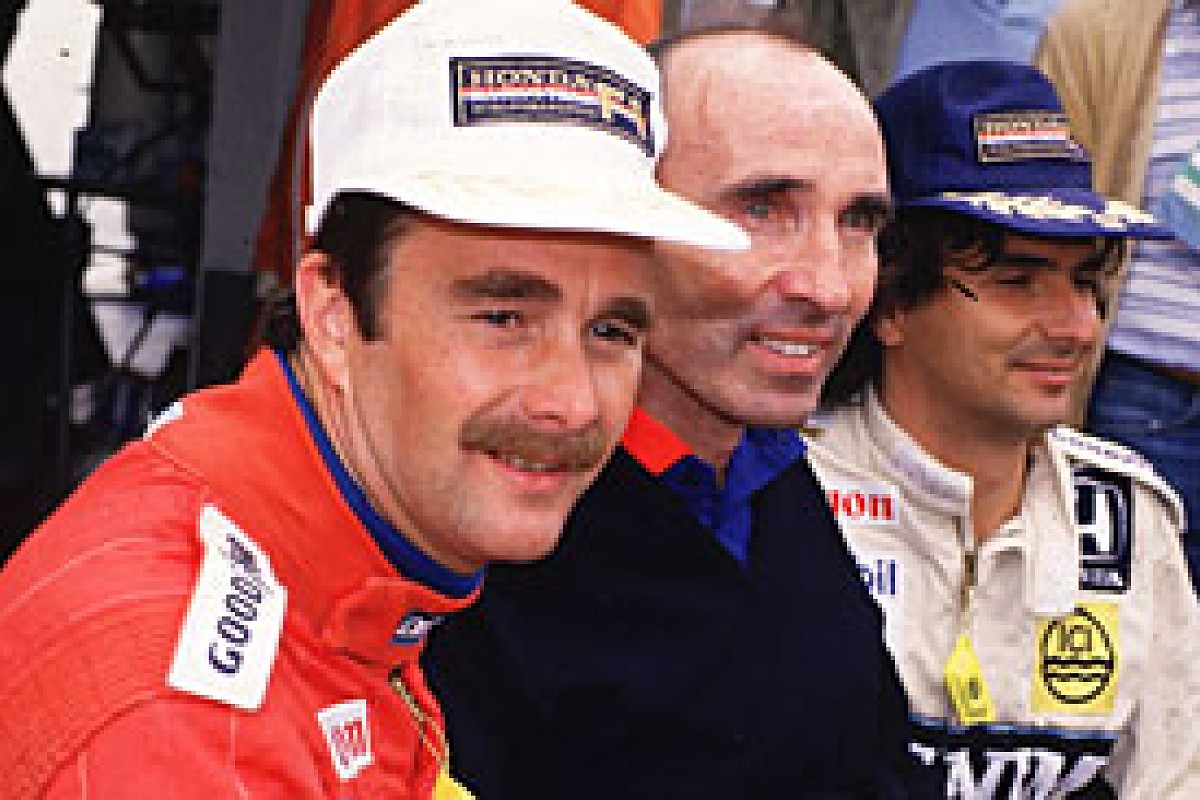 Mansell and the team rallied around Frank Williams after his accident © LAT
"Everybody pulled together after the accident, and you can see how well we've survived and reorganised. Frank's going into work occasionally now and the team will get better and better again."
The mid-1986 Mansell comes across as an immensely confident individual, a man truly enjoying his racing. "The change in him is extraordinary, isn't it?" Jackie Stewart said at Detroit. "Look at him - he's come here expecting to win. Success has been a long time coming for him, but it's transformed him like it does everyone. The trick now is not to become over-confident."
Benetton's Peter Collins, who worked with Nigel at Lotus, is a long-time Mansell believer. "I think he's exposed one or two myths since he's been with Williams, don't you? I'm not surprised at all at what's happening to him now - all he ever needed was the right team and the right encouragement. He is much more confident now because he's finally been able to show the rest of the world what he always knew himself."
The drive in Canada was perfect. He had won at Spa, but admits that a degree of luck came into that. Montreal though, was his from the beginning of practice. On Friday morning in the wet, he was 2s clear of the rest - and that with a time set in the worst of the weather. On Saturday afternoon he clinched pole position, Senna next to him.
"In race trim Lotus were in trouble, I knew that. That's why I was so determined to get away at the start - I knew Senna would hold everyone up, which he did. I pulled out a 5s lead, but unfortunately I was getting slightly behind on fuel, so I had to turn the boost down.
"The hardest thing was letting them reel me in - Alain [Prost] and Keke, that is. We knew how quick they were, that they were our opposition, that they were good on fuel. But I wasn't going to start weaving and chopping with them. Keke had passed Alain, and coming out of the hairpin he'd obviously turned his boost up again because he just left me!
"At that point I got on the radio and swore my head off to Patrick in the pits! And Patrick just went, 'Yessss.' He didn't say shut up or piss off or anything, just 'Yessss. Position one Nigel, position one with the boost'. Then I thought, well Alain's behind me, and he's not catching me as quickly, so I decided to push as hard as possible, keeping the boost low, try not to lose too much on the lap. Keke got to about 4s, but after that he didn't really go away from me. Then they radioed me to use position two on the boost control, and I said, 'Oh, thank you.' And in two laps I was up with him again. After that, it was straightforward."
The vexed question of the fuel restriction has reared its head. Did it not make a joke of grand prix racing? Mansell has mixed views.
"In some ways yes, but it makes you a better manager of a car. Quite honestly, a racing driver now is like a businessman in a car. He has to trade off - it's like buying and selling. Okay, I agree it's not balls out racing - if it had been balls out racing in Montreal, I don't believe anyone would have seen me. But I had to manage the car to allow the fuel to come right, to be overtaken, to re-overtake and then finish and win the race. And I did that with the assistance of the team. But the rule is the same for everyone. I know to the last half-litre how much fuel I've used per lap.
"I agree, it's bad for a driver to have to keep checking the fuel meter, but then there are also tyre stops, and so on. It's far more than merely driving now. And some weekends we'll get it right, and some we won't."
We began this season with the gang of five (the Williams drivers, the McLaren and pair and Senna), but latterly there have been signs that a little pairing is going on, with Prost, Senna and Mansell emerging as the men most likely to. Each, at the time of writing, has won twice in 1986.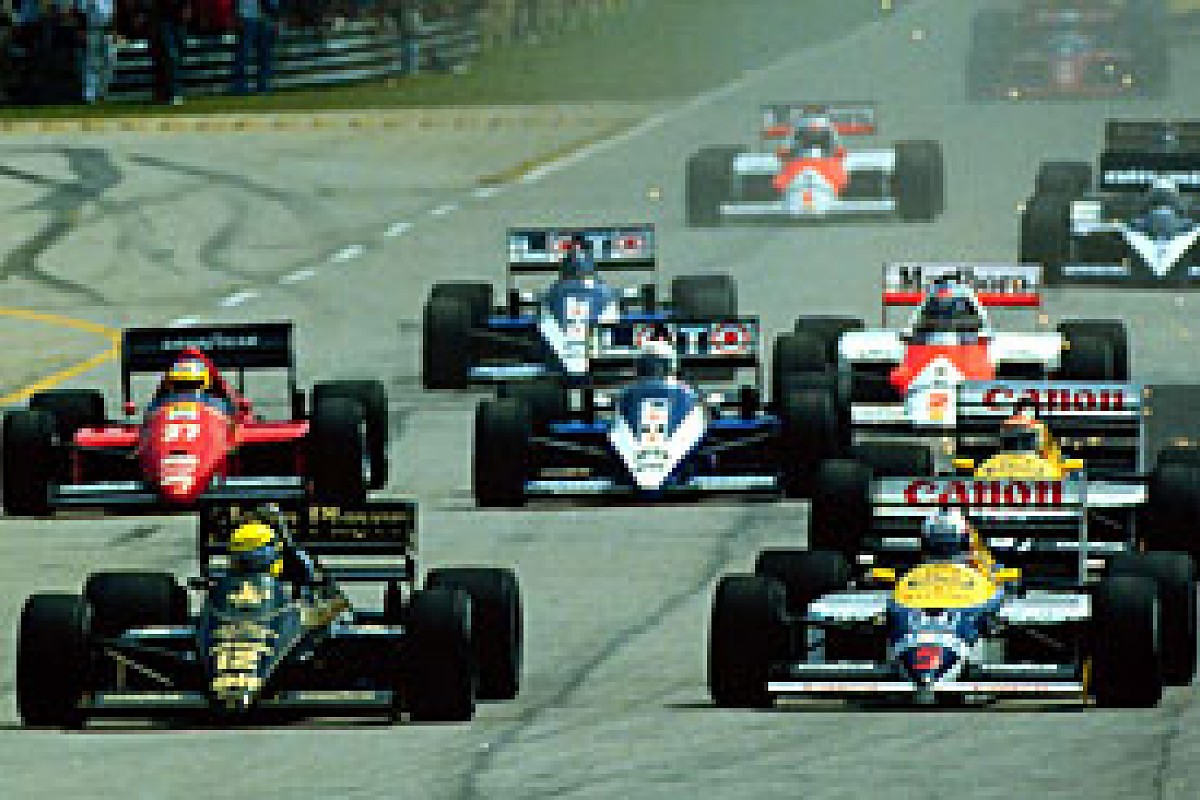 Mansell and Senna would collide moments after this shot was taken in Rio © LAT
Mansell has the highest admiration for the world champion. "What Alain's achieved in his short career is incredible. Okay, he's been with top teams and had competitive cars, but the guy is bloody good, believe me. I'm fortunate enough to have an excellent relationship with him and always have had - even years ago when I'd done nothing. I have tremendous respect for him, which is probably where I differ from Senna."
The inference is that Senna has no respect for any of his fellow drivers, and it is a fact that, among his colleagues, the Brazilian's fan club is somewhat exclusive. Mansell's 1985 season finished with him being bundled off the road by him at Adelaide, and the new one began with what Americans call a 'metal to metal' on the opening lap at Rio.
I spoke to Mansell about it at Jerez, the following race. He was quite calm, but there was no mistaking the fury under the surface: "I accept blame in that I was in charge of my car, and I let the team down because I should have remembered that the person in the other car thinks he's God.
"I had a talk with him in the second test in Rio: I said we were both going to be quick this year, and it would be better if we were professional - if one of us won a corner it was better for the other to let him go and vice versa. We talked, and he said yes, fine, we start again.
"In the race at Rio I thought, rightly or wrongly, that I had done enough down the straight. I was alongside, on the inside, going into a very fast left-hander. I started to brake, still alongside, but he came across and hit me. I couldn't believe he would do that, so I braked to avoid a shunt. Then he came across and hit me again, very hard, with his left rear wheel against my right front wheel. That made the front of my car jump sideways and because of that I had my accident - trying to avoid a very big accident because of what he'd done. And that was my mistake.
"Next time he does that, I won't move. If he wants a very big accident... If he puts me in that position... All I will say is that I'm a driver, I'm a professional, I'm paid by my team to do my job, and if he wants to carry on being crazy, that's up to him. At the moment I'm trying to avoid everything. I don't want to get near him. I don't really want to race with him. With Alain or with Keke, everybody I've known in F1, there's never been a problem when you race properly together. But Senna has demonstrated to me that anyone who tried to overtake him he has complete disregard for, and he'll knock them off the road if he has to.
"The other day I hard someone comparing him with Villeneuve, whom I knew very well, and it's an insult to Gilles' name to say that Senna is anything like the man he was. Gilles was a brilliant driver, but also a totally fair one."
Fairly unequivocal stuff, which I forebore to use at the time. Now, six races later, the dislike remains, but the animosity is diluted. Have the two of them had another chat?
"No, we haven't talked it out. I think - I hope - that the guy has said to himself 'I'd better call it with Mansell'. After the Rio thing I got a lot of criticism, which doesn't really matter now. It's history. But I think he's realised at last that if he pushes me off - or Alain, Keke, or any of us, he won't get away with it like he did before.
"We had a few close moments in Spain and elsewhere, since, but nothing to get really upset about. I don't think he's quite as confident as he was at Lotus either. Maybe the love affair's not quite there any more."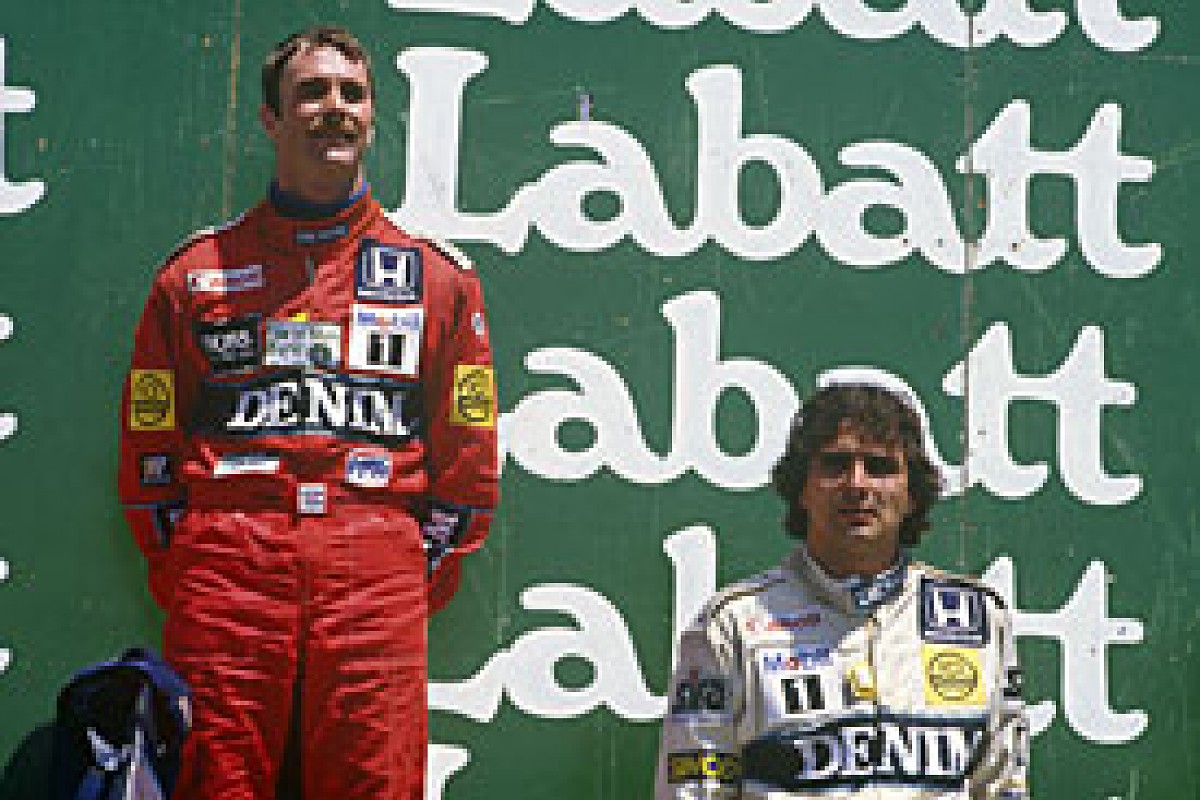 Mansell and Piquet were not fond of one another either © LAT
As a man's stock grows in Formula 1, so does his authority in the sport, his willingness and ability to speak his mind. You may have noticed a recently acquired 'television voice', in which Mansell speaks slowly and only in the present tense, so as to be clearly understood by foreign journalists too: "Since I started winning, all the Italians want to know me!"
Like all drivers, he worries a little about the future of F1. Given a free hand, how would he change the rules?
"The ideal would be for all of us to have within 10 horsepower of each other. No fuel restrictions, so you can go flat out all the time - but with less power. I'd like to think in terms of a maximum of 750-800bhp. That I think would be fabulous. Six hundred, FISA's figure is a bit low - and anyway by the time we started it would be 650, and after a bit of development, 700. And I think an air restrictor looks like the fairest way of doing it, because the pop-off valves would effectively kill the four cylinder engines.
"I'm in favour of whatever is best for F1, it's as simple as that. All I'm interested in is driving competitively, and having equal equipment with my team-mate."
Mansell had to run in 72 grands prix before winning one, yet the last 10 have brought four victories and two second places. It is clear he now feels he can beat anyone. The toil has been worth it. There is no need any more for excuses, from himself or anyone else. "I think," he says, "I'm getting a bit more respect now."
Indeed, yes - and even from the Westin. There was finally a knock at the door, and waiters shuffled apologetically in with the breakfast.
"Very sorry, sir. This is with the compliments of the hotel."
The following morning, this writer had no such luck.