The Hungarian Grand Prix might have been the 11th of this 19-race season, but with Formula 1's summer break looming, it actually felt like the halfway point of the campaign.
Discussion in the paddock inevitably focused on what people were going to be up to during the break - with drivers set to be all over the place.
Mark Webber is doing a Tour de France stage with Alain Prost while Jenson Button says he can't wait to go swimming with dolphins in Hawaii.

Hungary was the last stop for F1 before the summer break © sutton-images.com
There was a spate of anniversaries at the Hungaroring, with the Hungarian GP marking the 100th event since Bahrain 2006 when Nico Rosberg, Toro Rosso and the 2.4-litre V8 engines all raced for the first time.
With the great city of Budapest not far from the track, there was plenty of fun to be had over the weekend too - although Team Lotus played host to the regular 'F1 Football Evening' where paddock representatives made their predictions for the year ahead, and The Sun's Ian Gordon walked away with the prize for being most spot-on 12 months ago.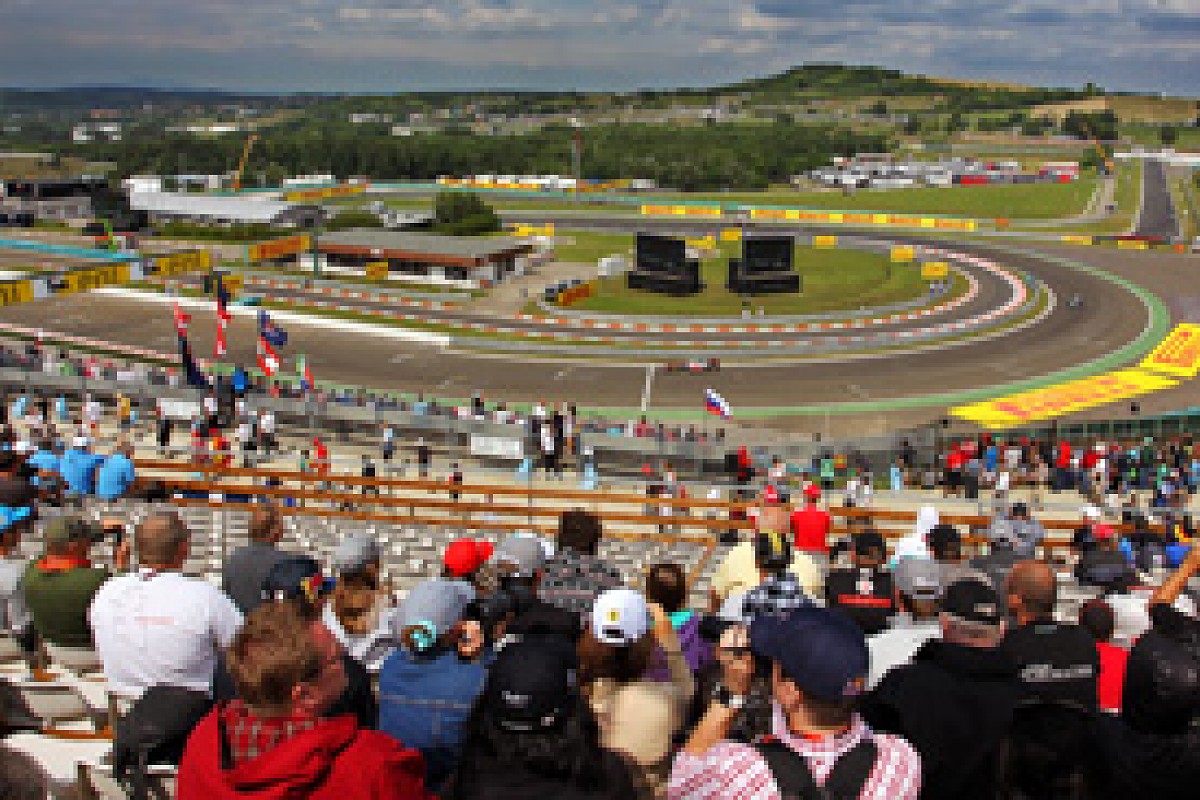 After the freezing-cold conditions of the Nurburgring, the F1 paddock had hoped to be able to break out the shorts and T-shirts at the Hungaroring for what has traditionally been one of the hottest races of the year.
However, it was not to be this year as the crazy European summer somehow conspired to leave Hungary covered in clouds - and rain showers marred most of the grand prix weekend.
McLaren's Paddy Lowe reckoned that team personnel now needed to totally rethink their wardrobes - and perhaps start packing winter clothing for most events.
"It's turned into a bit of a winter series this F1 season," said Lowe on Sunday night. "When you pack to go to Spa you always say, 'Don't forget the long socks and the extra T-shirt'.
"But the list of races that have been like Spa has become quite long - and some of them are incredibly cold!"
And if you thought that racing drivers loved battling it out in whatever conditions were thrown at them - think again.
Sebastian Vettel might have shown in the past that he is a bit of a master of wet-weather racing (remember his maiden victory at Monza in 2008), but he confessed over the Hungaroring weekend to have actually been a bit slow recently in a downpour.
"Two weeks ago it was raining like crazy while I was driving to Germany," he said. "There was a lot of rain and a lot of water. I got overtaken by many people, so I thought, 'Maybe I'm going too slow'.
"So I picked up my speed, but then I started aquaplaning a lot so I slowed down. I thought I would just accept they are faster today!"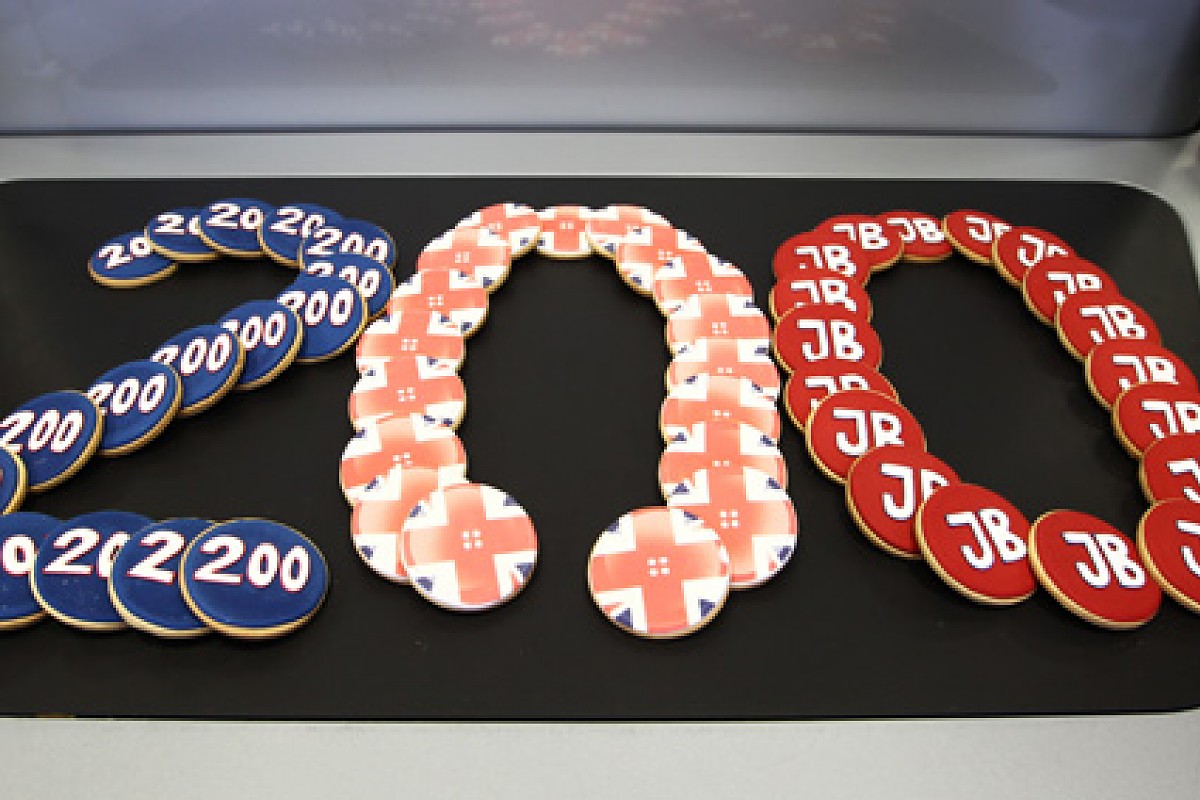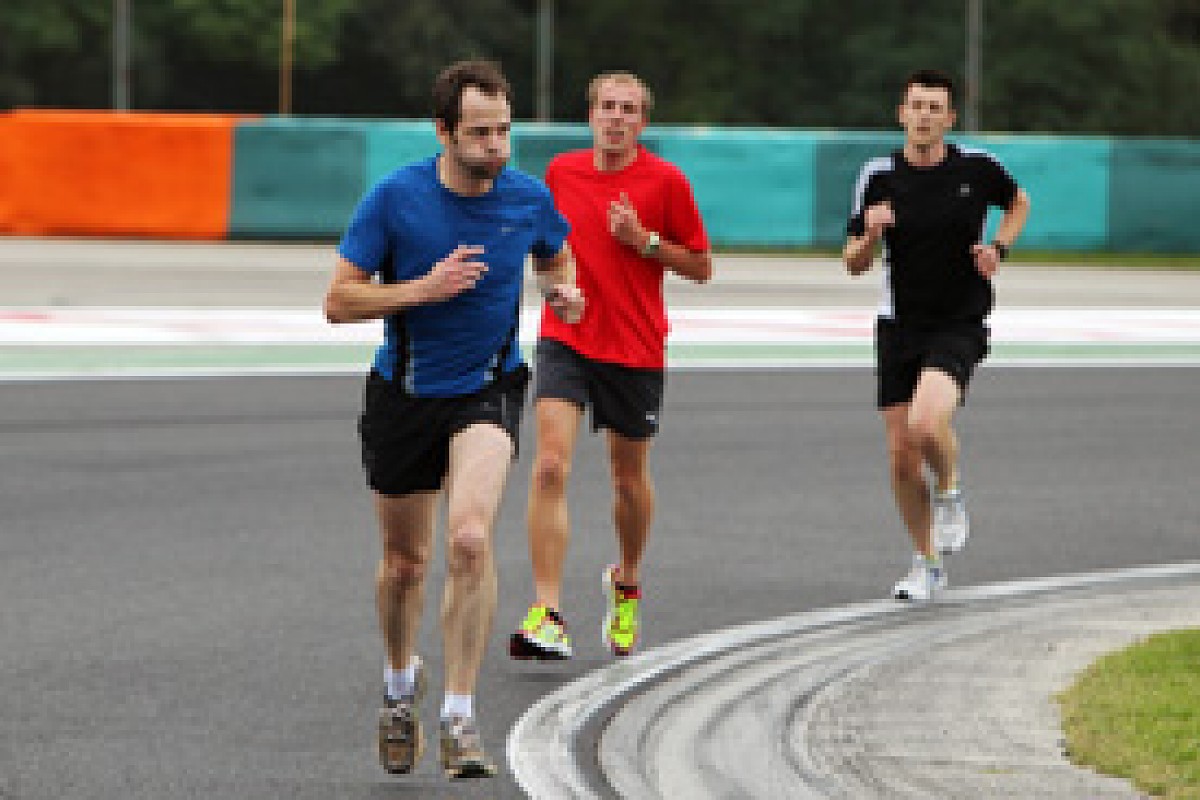 F1 drivers and team personnel might be tremendous rivals when it comes to battling it out for position on track, but there are times when that rivalry is put aside and the paddock comes together as friends.
One of those occasions came on Saturday night at the track, when Jenson Button had a 'small' party in the McLaren motorhome to celebrate his 200th grand prix start.
And it said much for the popularity of Button that there was standing room only inside, as team principals, drivers, journalists, team members and other paddock regulars joined in to mark the occasion.
There were speeches from his bosses past and present, including Frank Williams, Ross Brawn and Martin Whitmarsh, but it was the man himself who stole the show with a hilarious tribute to all those who have helped him on his way.
Button remarked that at the first mention of his 200 landmark he thought it was referring to the number of PR days he had done for McLaren this year!
He thanked Williams for having faith in him and starting him on his way in F1 - as well as having half his money on the back of the BAR/Williams contract shenanigans a few years ago.
He also thanked his father - for also achieving a notable landmark of 32,223 glasses of wine in F1 - and Lewis Hamilton for 'making his life hell' on the race track.
After rapturous applause - and the distribution of special Button cookies (above) - not many people were unhappy to see the 2009 world champion celebrate his special day with a brilliant victory.
The power of F1 coming together might have been evident on a social level at Button's celebrations, but it also manifested itself in doing some real good on the Saturday night too.
Regular readers of this column will know that F1 partner sponsor UBS launched an initiative earlier this year to help raise money for childrens' charity the Make-A-Wish Foundation.
In association with website www.runthattrack.info, UBS agreed to donate $50 to charity every time someone completed a lap of the F1 tracks.
Pilbeam and 99 others raised US$30,000 on their track run © sutton-images.com
With the push having received good support, UBS upped its offering to $100 at some events - but for Hungary it agreed to do something really special.
On Saturday night it arranged a group run for everyone in the paddock who could spare some time to do their bit for charity - and in return it would give $300 for every person who completed a lap.
With F1's cars all locked up safely under parc ferme conditions, on the start/finish line, 100 people lined up at 6:45pm for the charge around the circuit.
There was tremendous team spirit. And while regular runners - including Mark Webber's race engineer Ciaron Pilbeam and Renault's Alan Permane - took time out from their weekend work, some people - including SpeedTV pitlane reporter Will Buxton - completed their very first track run.
Whether people ran it at speed in less than 16 minutes, or simply walked around to do it in 40 minutes, was not important.
What really mattered was the charity donation, and there were some big smiles when UBS confirmed that $30,000 was raised - making the sore legs that some people had the next day well worth while.
And with more group runs set to take place later this year, it was a tremendous achievement knowing that as well as getting fit and having fun, some genuine good was being done for charity.
Let's see if we can get some drivers out next time too!