So the news is out - Formula 1 will be on Sky Sports from 2012. Despite months of speculation, the best-kept secret at Sky Sports broke on Friday July 29. F1 is one of the prized, last big-subscription 'drivers' left for the London-based organisation, and it wanted it.
Sky Sports presenter Keith Huewen
There is no rocket science here, the cost of 21st century sports broadcasting is so high that free-to-air broadcasters are under siege as they wrestle with shrinking budgets, burgeoning rights fees and the cost of new technologies to bring our favourite programmes into our lives.
And so a coalition of a more interesting kind is born in Britain. Who will end up being the stronger party remains to be seen, but for now fans can relish the battle of two big broadcasters to bring us the best F1 coverage ever seen. It's enough to stand the hairs up on every fan's neck!
There will, of course, be the usual outcries from people automatically opposed to absolutely anything to do with subscription TV. Change is difficult; not everyone likes it, and paying more for that change makes it all the harder. But value cannot be measured by how cheap something is, only how the price compares to the product. Sport was once cheap TV, but in the early 1990s Rupert Murdoch's empire invested heavily and showed just how well a sport could be covered, how it should be covered, and just how much a sport could earn from television in the process. For most of us the extra cost was acceptable as sports coverage massively improved in both content and quality since the Murdoch intervention. And not just on pay TV; broadcasters had to match the competition, so all sports broadcasting improved.
There are exceptions; wherever they can get away with it, whenever they can buck that ratio of cost to quality.
Take MotoGP, currently live in the UK only on the BBC. The world's premier motorcycle racing series has a very large and [usually] loyal audience but recently, since the grid line-up shrank and racing became less spectacular, more of us have focused on the 'show'. And fans have noticed that what we get is no longer up to scratch. Fantastic racing once diluted any dissatisfaction with programme quality, but not any more. Specialist forum and social media sites have featured increasingly adverse comments; the old Beeb has been slow to respond. In fact, it hasn't.
Compare this with its F1 coverage and the difference is stark.
MotoGP is comparatively cheap compared to F1 and the audience is usually less demanding. For these reasons alone the BBC will want to keep the bikes. But fans apparently expect more from Britain's biggest broadcaster. Are they being short-changed or should viewers just be grateful for free-to-air coverage and accept the quality that the station can afford? Every broadcaster has an eye on costs, but at what cost to the sports fan?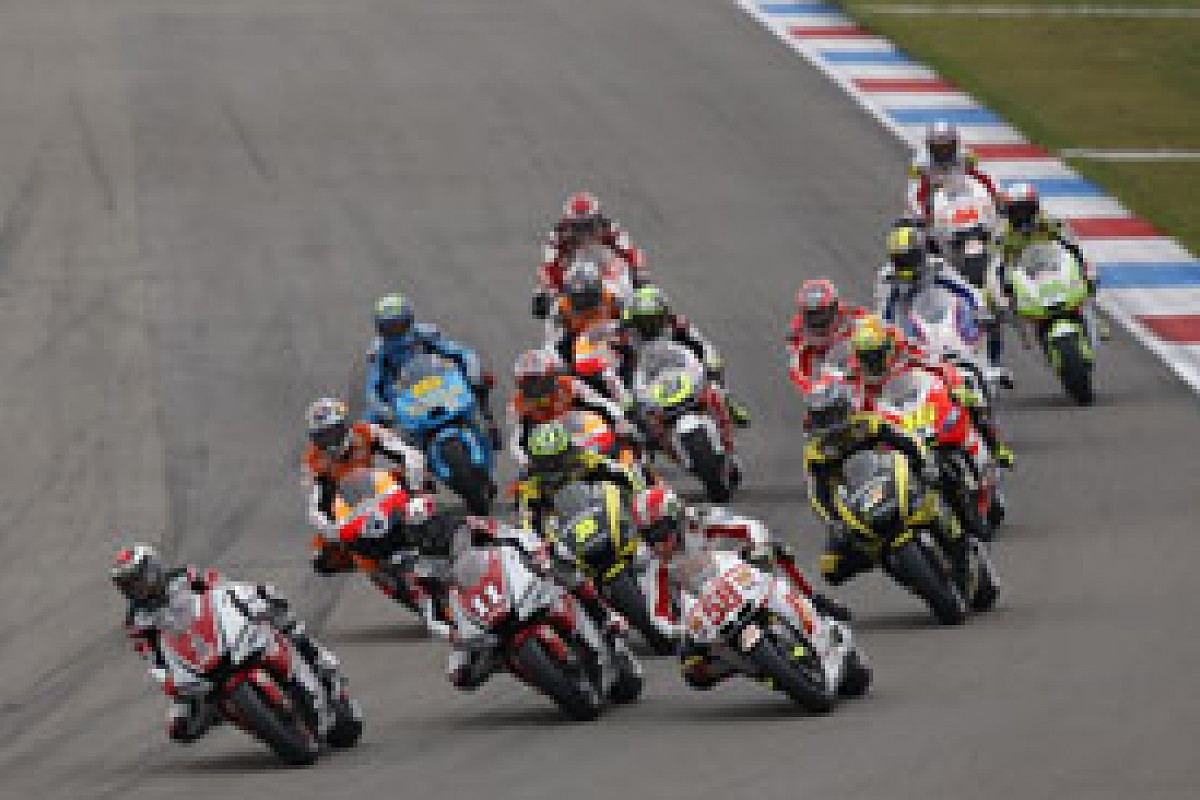 Small MotoGP grids have turned attention towards 'the show' © sutton-images.com
Good television is the product of teamwork. Great television is the product of a team of dynamic people with genuine passion and understanding of a sport. The best environment for such people - a dedicated sports department - is increasingly rare in terrestrial TV. Now, the modern practice is to outsource production to save money - find a firm prepared to produce it for the least cost. But when the cost restricts quality or content, the result is a product that doesn't match the public's expectation. And nowadays a motorsport fan has high expectations.
The F1 deal with Sky Sports signals a recognition that, despite having a business model built around free-to-air TV, even Mr Ecclestone and his partners recognise that the biggest tournaments in the world will - eventually - have to look to subscription broadcasters for support. Big single events may survive on terrestrial TV after government intervention or policy, but because we expect our sport to be covered comprehensively, absolutely live, and with the best possible quality production, only subscription channels will be able to sustain such high demands.
The huge sums of cash saved by our grand old licence fee-funded institution, along with the other bastions of terrestrial TV, could be better spent and appreciated in other programming.
The future of sports broadcasting may concern some fans, but it is logical in every way that this evolution in sports coverage will prevail; the impossible alternative is to go back to what we had pre-1990. I suspect you'd soon join me in scrambling for a credit card and the telephone, begging for a HD subscription, no, sod it, 3D! Now, hand me those daft glasses...
Keith Huewen on Twitter: @KeithHuewen