The FIA stole a march on the teams by revealing the 'definitive' regulations for the 2014 Formula 1 season last week. It's a daunting amount of paperwork, but we've waded through it to explain the most-significant developments that will on the car in two and a half years' time.
Replay your mid-1980s V6 turbo F1 videos, get your eight-speed gearboxes ready, and look up the difference between kilojoules and megajoules in your old physics text books, as AUTOSPORT presents F1 2014-style.
Mark Hughes column - Our grand prix editor Mark Hughes, meanwhile, looks into the perplexing situation whereby tyres can be tested without anyone actually going testing... He's always liked a good conundrum, and Pirelli's work behind-the-scenes satisfies that curiosity. But there's one thing that irks him: such work means that one of F1's basic tenets - open competition - need not have been taken away on the tyre front.
German Grand Prix - Hughes might have been bothered about that, but he forgot about it during the hour and three quarters or so of the German GP, where a magnificent Lewis Hamilton fought off Fernando Alonso and Mark Webber for the victory. Mark explains the circumstances behind this superb performance, not least of which was a change of a crucial component before qualifying.
Chandhok interview - At the other end of the field, Karun Chandhok started an F1 race for the first time this season with Lotus. He talks to Edd Straw of the joy of getting back in the saddle on a Sunday.
Ford's tin-top future - Looking ahead, Ford's Focus is constantly under development in the British Touring Car Championship, and now Arena Motorsport is preparing for a programme in the World Championship. Kevin Turner gets the lowdown on the latest Blue Oval matters.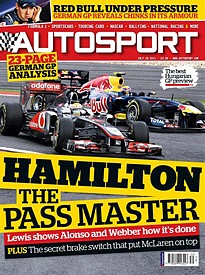 GP2 Nurburgring - Luca Filippi made his GP2 debut on the same day as Lewis Hamilton - and he's still there. In fact, on Wednesday morning before the Nurburgring, he was out of a drive. But then Scuderia Coloni rescued the Italian, and he repaid the squad with a victory as he notched up his 100th start in the series. Glenn Freeman was there to report it.
GP3 Nurburgring - Glenn was also on hand to cover a victorious GP3 performance by Virgin F1's Manor 'junior team' courtesy of Indonesian Rio Haryanto. Incredibly, a win for Valtteri Bottas in the second race made it 10 winners from 10 races in the series this season!
F2 Brands Hatch - On the outskirts of the M25, Formula 2 had its 'home' race at Brands Hatch and it provided a breakthrough win for Jack Clarke thanks to a sensational start. We sent office Australian Mark Glendenning to cover it.
IndyCar Edmonton - On the other side of the Atlantic Ocean, the IndyCar brigade picked up where they'd left off from Toronto with some chaotic racing in the early stages at Edmonton. But then they all had a quiet word with themselves, settled down and raced to the flag, with Will Power bouncing back to win.
From the archive - We pay homage to two WRC legends, the 1000 Lakes Rally (Rally Finland) and Colin McRae with a look back to the great Scot's first appearance on the event in 1992.
Race of my life - The rally theme continues as 1983 world champion Hannu Mikkola recalls his greatest victory on that year's 1000 Lakes.
To read this week's AUTOSPORT magazine, click here.