The British Grand Prix was supposed to be all about Red Bull, but then along came Fernando Alonso, an improved Ferrari, a couple of bungled Red Bull pitstops and a generally botched race by McLaren - and suddenly we had the perfect 60th anniversary of Froilan Gonzalez's landmark 1951 win for the Scuderia.
Mark Hughes takes you through the nuances of a compelling race at Silverstone that provided twists and turns throughout and gave Alonso emotions that were probably quite similar to those Gonzalez experienced on a very different Silverstone circuit all those years ago.
Mark Hughes column - Some were turned off by the banning/unbanning/part-banning of off-throttle blown diffusers at Silverstone. But grand prix editor Mark Hughes, who has always been partial to an amusing farce, writes that it painted an intriguing picture of how this year's cars have been working.
Daniel Ricciardo interview - Just a month ago smiley Australian Daniel Ricciardo was putting everything into trying to win the Formula Renault 3.5 title, while being Toro Rosso's Friday practice driver at grands prix. Now he's made his F1 debut with Hispania, and chatted to our own Edd Straw. It seems that life can hardly get any better.
The new Silverstone - I remember when it were all fields and straw bales... Silverstone has changed a lot in 60 years, but the new pit-and-paddock and startline areas take the biscuit. Adam Cooper assesses their effect on the F1 community, and finds the circuit still striving to improve.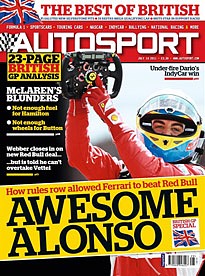 AUTOSPORT goes for a ride - Our rallies editor David Evans was initially a bit miffed when Skoda UK didn't give its coveted IRC drive to a Briton for this season. Well, the good folk at Skoda UK put that right by letting Evans loose in its Fabia S2000 on the rally stage at the Goodwood Festival of Speed. Find out what he thought.
GP2 Silverstone - Ferrari protege Jules Bianchi has had so much written about him that you'd think he already had six GP2 Series titles under his belt. In fact, the ART man hadn't even won a race in the series, until at last he broke his duck at Silverstone after a thrilling battle with Christian Vietoris. Glenn Freeman tells how it happened.
GP3 Silverstone - GP3 is proving ridiculously wide open this season, and Nico Muller and McLaren AUTOSPORT BRDC Award winner Lewis Williamson made it eight winners from eight races at the Silverstone British GP support. What's more, Williamson was just one of seven Brits who scored points. Charles Bradley reports.
IndyCar Toronto - Will Power slams Dario Franchitti and Alex Tagliani; Scott Dixon slates Graham Rahal; Rahal lambasts Ryan Hunter-Reay... There were some unhappy campers in Canada, except Franchitti, who won.
From the archive - AUTOSPORT looks back to the first Indycar race on the streets of Toronto in 1986, and an amazing recovery win from Bobby Rahal
Race of my life - Nineties Swedish rally star Thomas Radstrom remembers the best finish of his World Rally Championship career on a one-off appearance for Mitsubishi at his home event.
To read this week's edition of AUTOSPORT, subscribe to the digital edition.