Formula 1 people are pretty used to dealing with new places - with the likes of Bahrain, the UAE, South Korea and Turkey having been added to the calendar over the past few seasons.

Prince Harry met Damon Hill and Jackie Stewart at Silverstone © LAT
Yet, this year's British Grand Prix delivered a slightly unsettling feel for many, as the pits moved from the old location of between Woodcote and Copse to the glories of the new 'Wing' complex.
It was not just that everyone in F1 had the shock of turning right inside the circuit to get down to the old Club corner for the paddock, or that some of us got transported down there on local buses, but that after years of complaints it was stunning to have a state-of-the-art facility on the home turf for many teams.
Yes there were teething issues - electricity problems for the teams and the fact that some in the current temporary grandstands across the pits could not see the top teams when they stopped for example - but these are things that will be addressed over time. It is the start of a fantastic new era for Silverstone: it is not the finished product.
And ultimately - despite what the best of the British weather tried to throw at everyone - there was a tremendous buzz about the place as celebrities poured in for the weekend.
The star of the show for photographers was Prince Harry, but at various points of the weekend you would see F1 figures stopping for a chat with cricketer Freddie Flintoff, TV presenters Vernon Kay and Carol Vorderman, actors Hugh Grant and Patrick Stewart and director Ron Howard, who is set to direct the forthcoming film about the 1976 title battle between Niki Lauda and James Hunt.
And there was a special visitor making his first visit to a grand prix. Lightning McQueen was seen parked up outside the Virgin Racing motorhome as part of a promotional tie-up between the team and Disney prior to the release of 'Cars 2' later this month.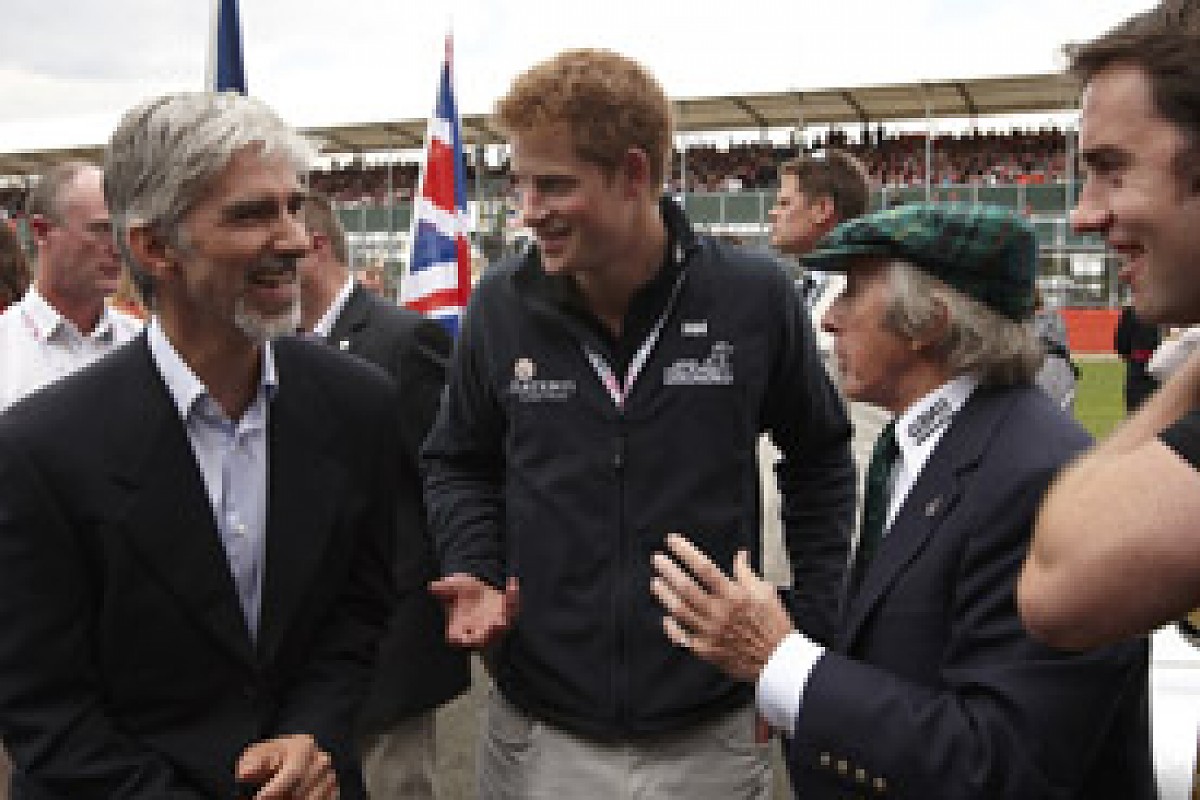 The British GP is like no other race in terms of delivering variety in terms of where people stay.
With major cities a distance away, there is no obvious location for teams and personnel to gather together for accommodation - and plans for luxury hotels at the circuit remain some way down the road.
Some people are lucky enough to live within commuting distance of Silverstone, so they can spend every night in their own beds. For others, there are small Bed & Breakfasts dotted around all over the place.
But over the past few years it is becoming ever more popular to actually abandon bricks and mortar totally and stay 'on site.'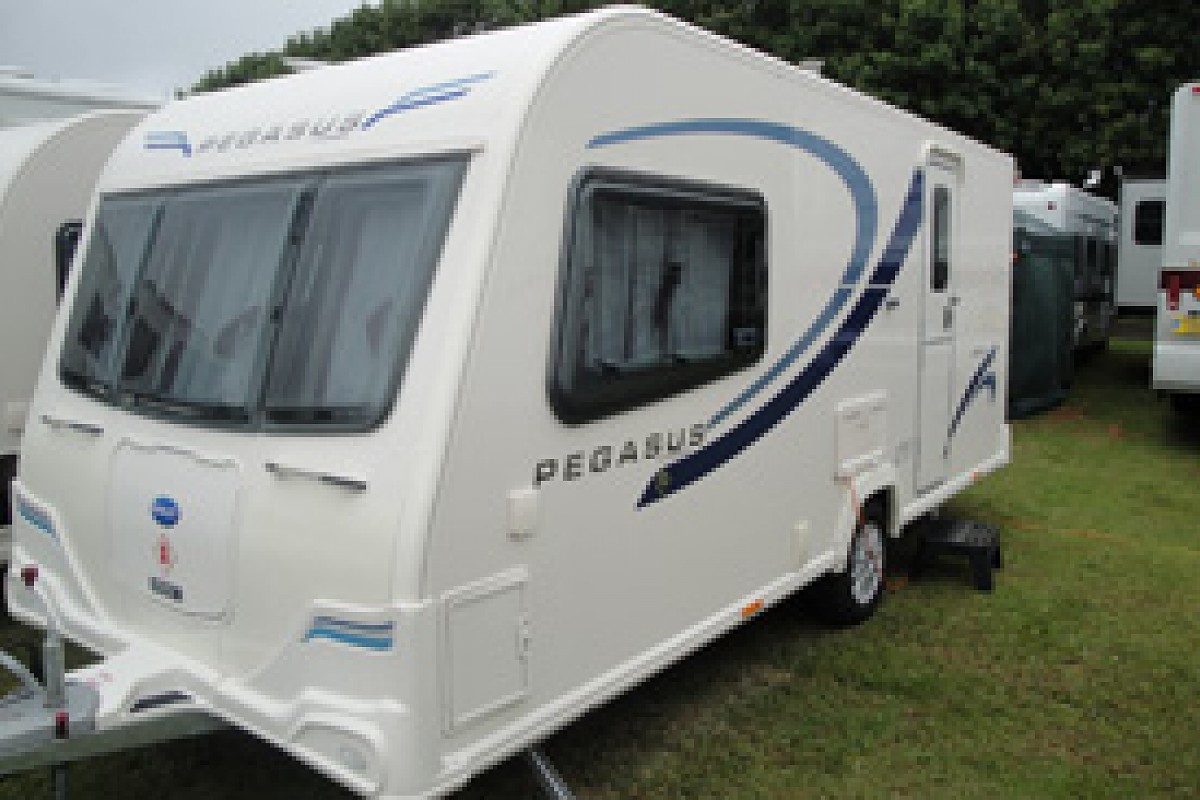 Nothing but, ahem, luxury for our man Noble © autosport.com
Virgin Racing's campsite at Stowe has proved to be a massive hit with fans. This year its evenings with music, driver appearances and a showing of Senna proved to be massively popular.
But for current or former racing drivers who are part of the British Racing Drivers' Club, or those lucky enough to be their pals, the 'only' place to stay for the British GP is the club's own campsite inside the circuit. That was where I was lucky enough to be this time thanks to a kind offer from Team Lotus.
While the likes of Nico Rosberg and Jenson Button enjoyed the luxuries of a quiet plot in the corner of the enclosure, the rest of us in our less expensive caravans (our set-up included a pair of two-berth Bailey caravans) were reminded of the social fun and togetherness that are as much an element of the British GP as the track action itself.
There were barbeques every evening; people enjoyed watching the sun rise over the circuit from the comfort of their portable hot tubs; and those men and women who battle it out wheel to wheel at racing tracks all over the world every weekend of the year let their hair down, shared a glass of champagne and talked until the early hours.
Marvellous.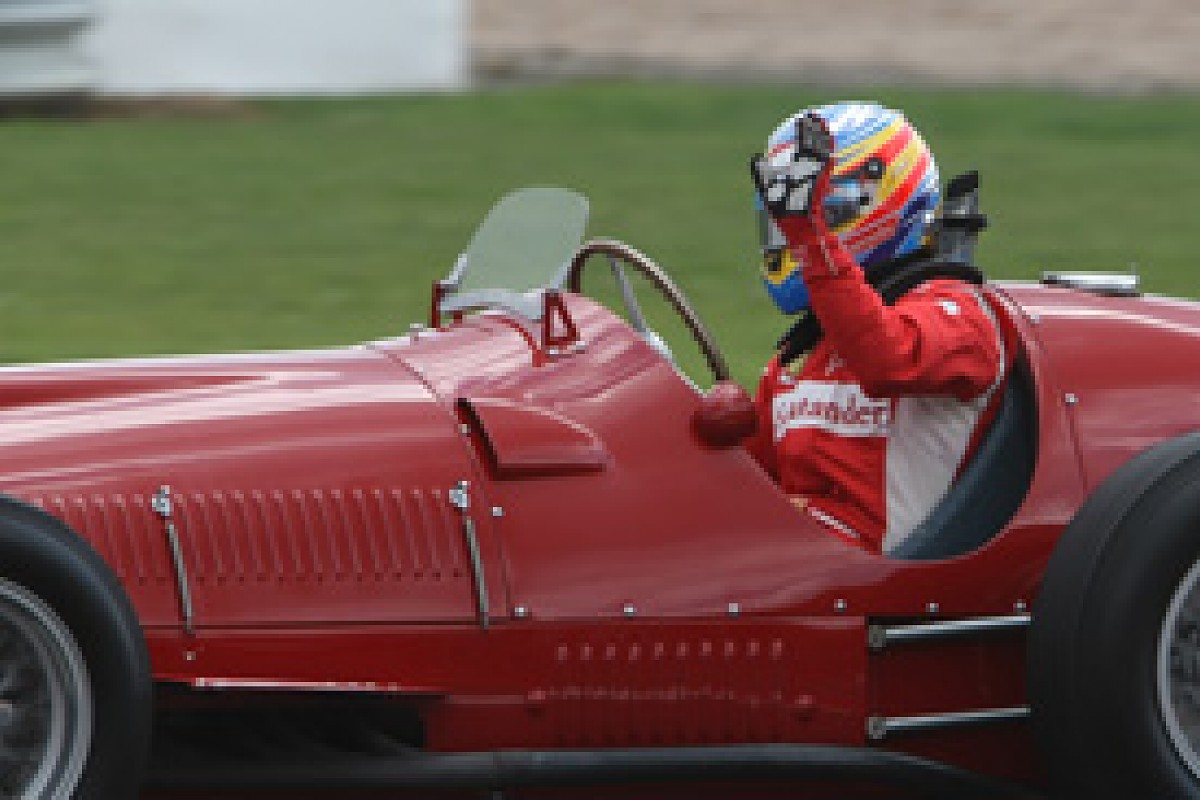 Many F1 drivers could not care less about the history of the sport and would not bat an eye if they walked past a racing car or driver from the bygone days of F1.
Fernando Alonso showed he was not part of that group at Silverstone though, when he revelled in the opportunity to try out a 1951 Ferrari 375 on Sunday morning ahead of the drivers' parade.
This week marks the 60th anniversary of Ferrari's maiden victory in the F1 World Championship - when Jose Froilan Gonzalez triumphed at Silverstone in the British Grand Prix.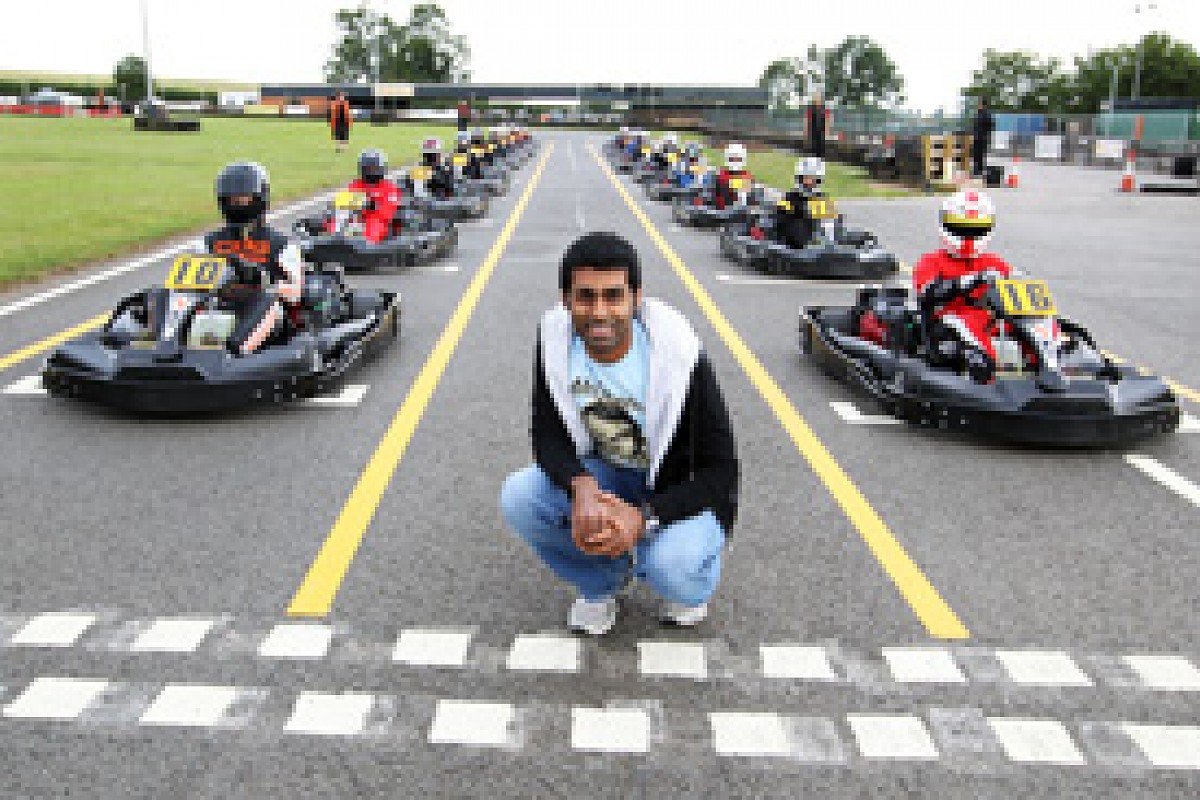 Alonso had fun in the classic 375 © LAT
As part of the celebrations for that event, Alonso was given the chance to try out that original car - which was certainly an eye opener for him thanks to the accelerator pedal being in the middle.
Alonso tried the car out briefly in the paddock at Silverstone on Saturday night, where he got used to the pedals - and the glorious noise produced by the engine pulled most of the paddock personnel out of their garages.
On race morning Alonso got to take it out on track - and there was just as much interest from F1 figures as there was from the fans. Alonso enjoyed it too.
"I think I still love motor sport, I still love cars," he explained. "I also had the privilege to be with John Surtees last week in Maranello with his car as well, sitting in that car. I think it was obviously a different sport, much more dangerous. The level of power and grip is totally different now.
"When I drove those cars, there is a huge amount of power for the grip that you have. We are talking about 450-500bhp on a tyre that is this [indicates small amount] wide. I think every car, or every steering wheel that you have in your hands - it doesn't matter if it's from 60 years or 30 years ago, it doesn't matter if it's more dangerous or less dangerous - you don't feel that. You just want to drive and to be flat-out and enjoy driving. I perfectly understand the adrenaline, the emotion of that time and I'm sure that it's very similar to what we feel now. We are lucky now that safety has improved a lot."
Perhaps Alonso enjoyed himself too much though - for after talking about his experience when he got back to the pits he missed his cue to join the F1 Drivers' Parade truck.
He had to make a quick run up the start/finish straight to try and catch up, before he was rescued by one of the FIA safety vehicles that delivered him to the rest of his much-amused competitors.
F1 drivers and team people may need to be pretty selfish at times when it comes to achieving success on track, but the sport is also often very generous when it comes to playing its part for the less fortunate.
The British GP weekend saw numerous charity causes continue their good efforts - with activities varied from beard growing, to kart races, running races and charity auctions.
Karun fronted his Karting Karnival © sutton-images.com
If you watch F1 from the United States you will have noticed that its paddock and pitlane reporter Will Buxton has grown a rather eccentric moustache as part of a fund raising effort inspired by members of Formula One Management's tech crews for cameraman Chris "Milton" Ivin, who was diagnosed with testicular cancer earlier this year. More details of the efforts can be found here, www.justgiving.com/willthef1journo, with Buxton raising more than £3000 so far.
During the build up to the weekend, Karun Chandhok put on a charity kart race (nicknamed Karun's Karting Karnival) to raise money for his family backed The Vishnu Devananda Charitable Trust in India, while on Saturday night Virgin Racing's Marc Hynes organised a running race to help raise cash for Cystic Fybrosis.
Those who donated to join in that race on Saturday night doubled their money raising by logging their efforts into the ongoing www.runthattrack.info initiative, which now donates US$100 for each track run. The current total raised for the Make-A-Wish Foundation now stands at more than US$30,000.
But the charity efforts do not stop there. Later this week, a charity auction led by Williams technical director Sam Michael and Mark Webber to help raise money for injured speedway rider Leigh Adams will go live. It will include signed car parts, factory tours and experiences - and AUTOSPORT will provide more details when it is up and running.
A big pat on the back for everyone who took part, donated, helped - or grew that facial hair!