Williams created a bit of a stir this week when it announced a renewal of its engine partnership with Renault.
But despite the success their tie-up enjoyed in the past - including 63 race wins and nine world championship titles - no one at Williams is under any illusions that the new deal will guarantee similar triumphs in the future.
AUTOSPORT caught up with long-serving Williams director of engineering Patrick Head - who lived through the previous Renault era - for his thoughts on the deal and why it marks an important step for the team.
Q. Williams has been through some good times and some bad times, not so many good times recently and there is obviously a symbolic nature to this deal. Does it stir any emotions with you?
Patrick Head: Not really. I think I am probably known as a completely unemotional bastard. I don't think either Frank or I have a habit of looking backwards. I have to say we weren't the architects of the way the day was done with all those Renault cars and the old Renault drivers behind but then perhaps that's a weakness on Frank and my part in that we almost resist looking back whereas in truth we did have a very powerful successful period with Renault before.
And you can never recreate the past but the intention is to dig ourselves out of our current repeated performance over the last few years with usually rather poor starts to the year and then a level of recovery, which I hope will be repeated this year. But I hope next year we are able to start strongly which was the intention this year but we didn't manage to do it.
Q. Is Mike Coughlan and his team working on the 2012 project now, is it a chance to maybe get a leap ahead?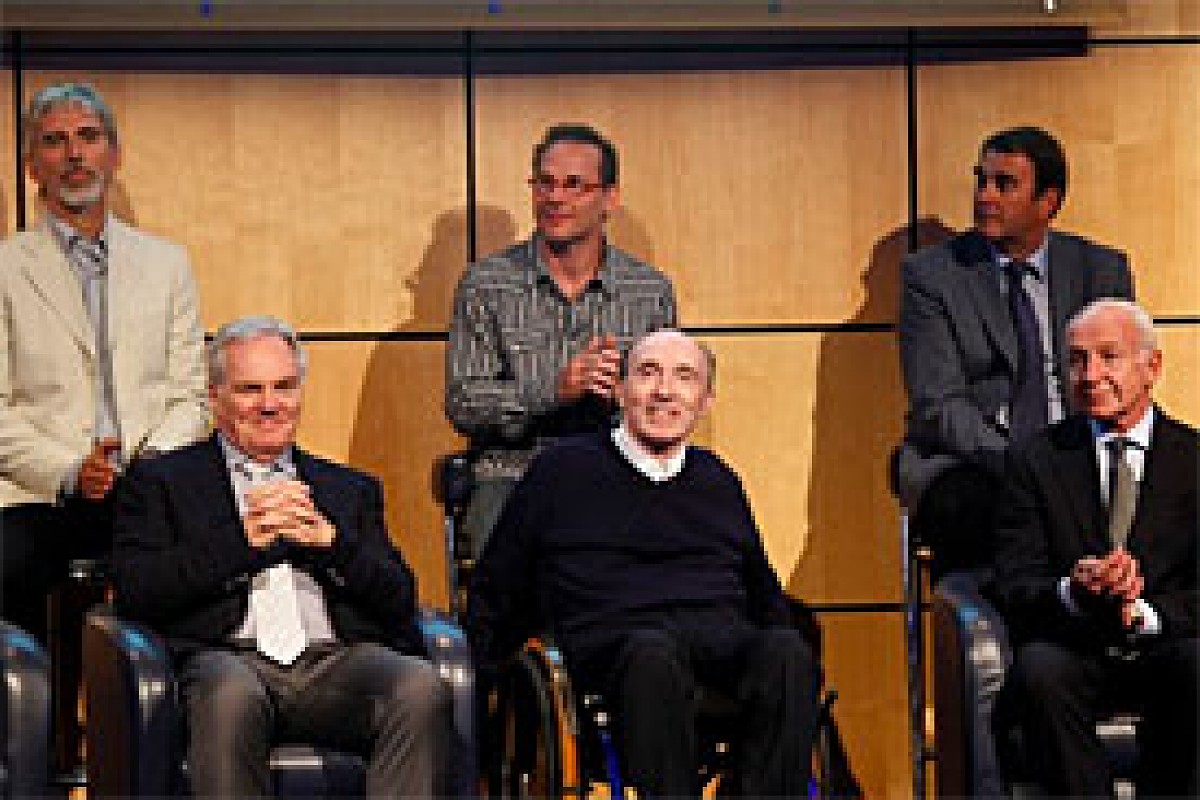 Williams chiefs during the Renault announcement © LAT
PH: I think every Formula 1 team is working on 2012 already. Undoubtedly. And obviously a lot of the Williams engineers who worked on the current car are working on next year's car. Mike Coughlan is obviously involved in the guidance of that project with the help of Ed Wood, the chief designer. And Sam [Michael] is still working with the engineers and Ed, on development of the 2011 car. It's obviously not an easy... although it was Sam that handed in his resignation and us that accepted it, but it's not an easy situation to be dealing with within a company.
Normally when people go, they leave and new people come in. But Sam had quite a long notice period and he was pretty determined to stay around and show the car wasn't as bad as it may have been painted or that the results showed. He is a guy that we got in with very well and have done for 10 years and we have absolute confidence that he will be doing a good job on what he is doing, but it is never quite the easiest of situations when you have got changes like this and managing it within the company is challenging for the senior managers.
Q. Would you call this deal a statement of intent?
PH: It's certainly a statement of intent from Williams, and I think maybe for the people outside... We have been saying for too many years we are going to get it right next and I think people have said 'Oh pull the other one, it's got bells on!' Ultimately if we just carried on in the same way then probably be a repeat of the problems that we've had this year so there is certainly a statement of intent that we want to break out of the current position. Only the future will tell whether as a team and a company it's successful.
Q. Much was made of the heritage between the two companies. Can we read anything into that about the future of Renault's engine development and how it will work with Williams?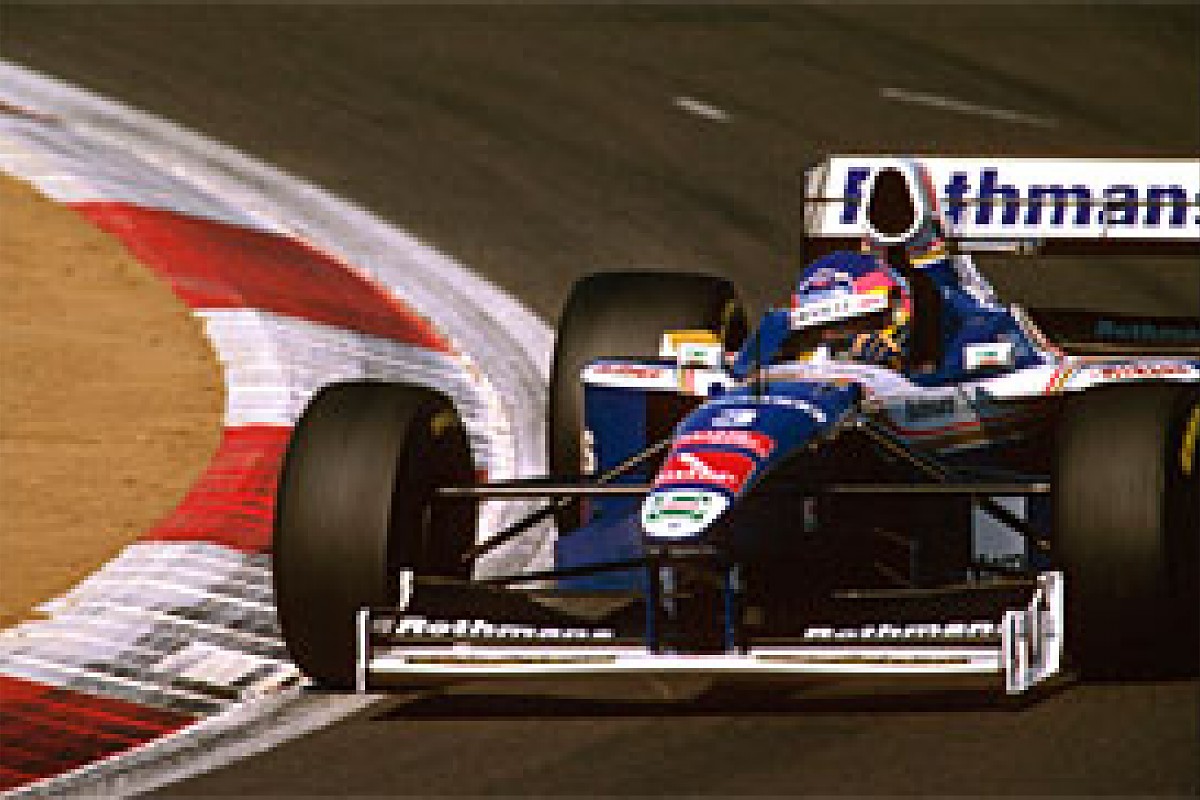 Jacques Villeneuve in the '97 Williams-Renault © LAT
PH: I think Renault having been through the business model of having their own team, managing their own team, have concluded that they want to go back to the model they had in '96, '97, when they had two teams that they worked very closely with. I'm not saying it will be limited to two teams because they are talking about supplying four teams. Now with the number of engines we are using each year, you can supply more than two teams quite successfully, it isn't a problem.
Renault have got very good technical capability and I hope there are some areas we can together in the future on the car that we go just beyond the engine.
Q. Is this the final piece of the jigsaw?
PH: There is no final piece of the jigsaw. It's a step on the way but as I say the talking is one thing and the doing is another. It has been very hard, but one's got to accept that ultimately this business doesn't take prisoners. But it's pretty tough for Sam also, who has worked bloody hard, but it just hasn't worked, so...
Q. The connection between Renault and Williams has been written about before, I'm tempted to ask could you become a works team in the future? Could Renault buy into Williams?
PH: I have to say I'm not aware that fits into Renault's F1 business model, but you never say never in this business. Renault did have their own team and, yes, okay Renault did have their own team and the financial crisis which impacted the motor industry in 2008 I'm sure made them review their position. So whether they will visit that model again in the future will be something which will be up to them to decide.
Q. Does this help to cement Williams's medium term future?
PH: Ultimately in terms of engine supply yes, but in terms of competitiveness on the track, and the budget to run the team, the two are fairly separate. I think you are more right in saying that it is a very, very important building block.
Q. What do you think this deal means for Williams as a whole?
Can Renault help Williams return to the top? © sutton-images.com
PH: It's an important statement of intent. I think undoubtedly I'm sure there will be benefits of being with a manufacturer company but ultimately the challenge is the same for us, we need to produce a much faster car and get better results on the track. I think it is an important building block to a better, stronger future.
Q. I was interested about what you were saying with regard to opting for a manufacturer that can develop engines moving into the V6 turbo era. Have you had a glimpse into Renault's thinking in that regard?
PH: Well, you have got to remember if you look back two weeks and it was an in-line four cylinder and as far as I know Renault were running such an engine, not necessarily in full Formula 1 spec, but they were running such an engine on the dyno. Hence their keenness for the in-line four to happen.
But that didn't happen and they couldn't get agreement. They could have, and they did say that if it wasn't carried forward they may review their presence in F1, but they obviously looked it and said well it's still of interest so let's go for it. You don't do this business half-heartedly and I'm sure they won't be.