"I remember a test day in Jerez in January 2000 where we blew up three or four engines in the first few hours. All of them were on the first lap, at the same corner of the circuit. We did it until we understood that we had to preheat the oil..."
Mario Theissen can look back now and laugh about the early headaches of BMW's return to Formula 1 at the beginning of the last decade. But at the time, his was a job that delivered as much stress as it did success.
From seeing the fruit of his labours result in a 'debut' podium with Williams in Australia in 2000, through to wins with Williams and BMW Sauber, and up until that day in the summer of 2009 when chiefs in Munich pulled the plug on the whole F1 project, Theissen was at the centre of a remarkable era in modern F1.
So it was with a tinge of sadness that at an office at BMW's headquarters in Munich last night, that amazing chapter came to an end when Theissen's desk was tidied up for the last time, its contents packed into cardboard boxes and its owner signed off at the front desk; walking towards a new life of retirement.
This morning BMW's now former director of motorsport, begins a new phase in his life - but the toils of his efforts over the last 12 years are still at the forefront of those who still work in F1. And it said much for the impact that Theissen made in motorsport that at his farewell party in Munich this week a host of leading names made the effort to fly in.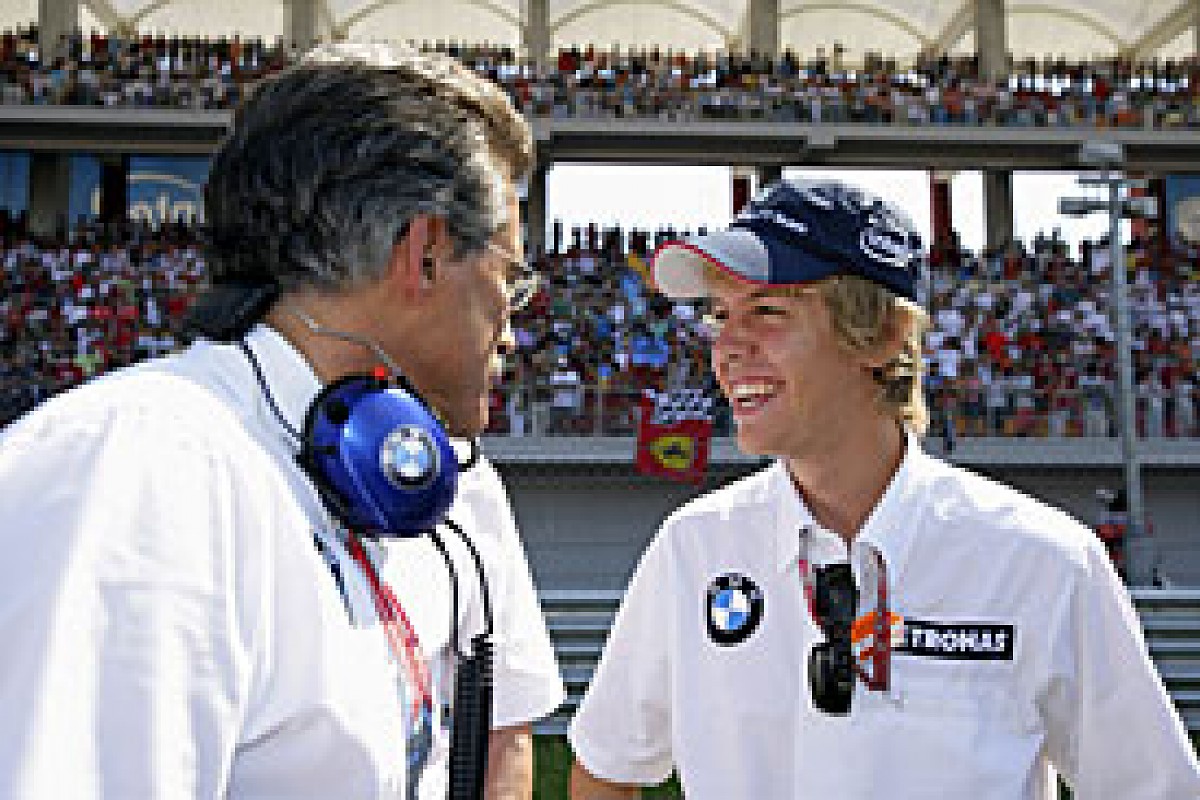 Theissen was influential in shaping Vettel's career © LAT
World champion Sebastian Vettel joked about 'still practicing to grow a moustache' like Theissen's; Ferrari team principal Stefano Domenicali was seen chatting late into the night; Mercedes-Benz motorsport boss Norbert Haug made a rare visit to the rival German car maker; Nick Heidfeld came to see his former boss; and Alessandro Zanardi gave a tearful tribute to the man who made him a winner again.
Theissen is a man who was BMW born-and-bred; and found out from his very first day on the job that corporate life is all about the fight for survival; the quest to improve; and the need to justify your existence.
"It was 34 years ago," Theissen told AUTOSPORT, reflecting on his last day at BMW about his very first one there. "I started as a calculation engineer in the engine department. At that time, it consisted of two people, and all the others in engine design and development were not really sure that we needed an engine calculation team. So that was quite an adventurous time!
"I enjoyed it. The company was rapidly growing at that time and it became evident quite quickly that we needed something like this, so I got the support. I did it, if I remember right, for three or four years before moving on to the next assignments. I stayed about 15 years in engine R&D and that was a good time."
Theissen made good progress up the BMW ladder, and thought he had reached the peak of his career when he helped set up offices for an innovation centre in California.
"I was happy with being with the road car R&D, and I didn't actively try to move over to the racing department. After 15 years on R&D I was assigned as head of the innovation centres - at that time, it was BMW Technic here in Munich as a think tank.
"In my time I was able to found the second office in California. That was a period of five years and, at that time, I thought in terms of job satisfaction it could only go downwards! That was really thrilling already.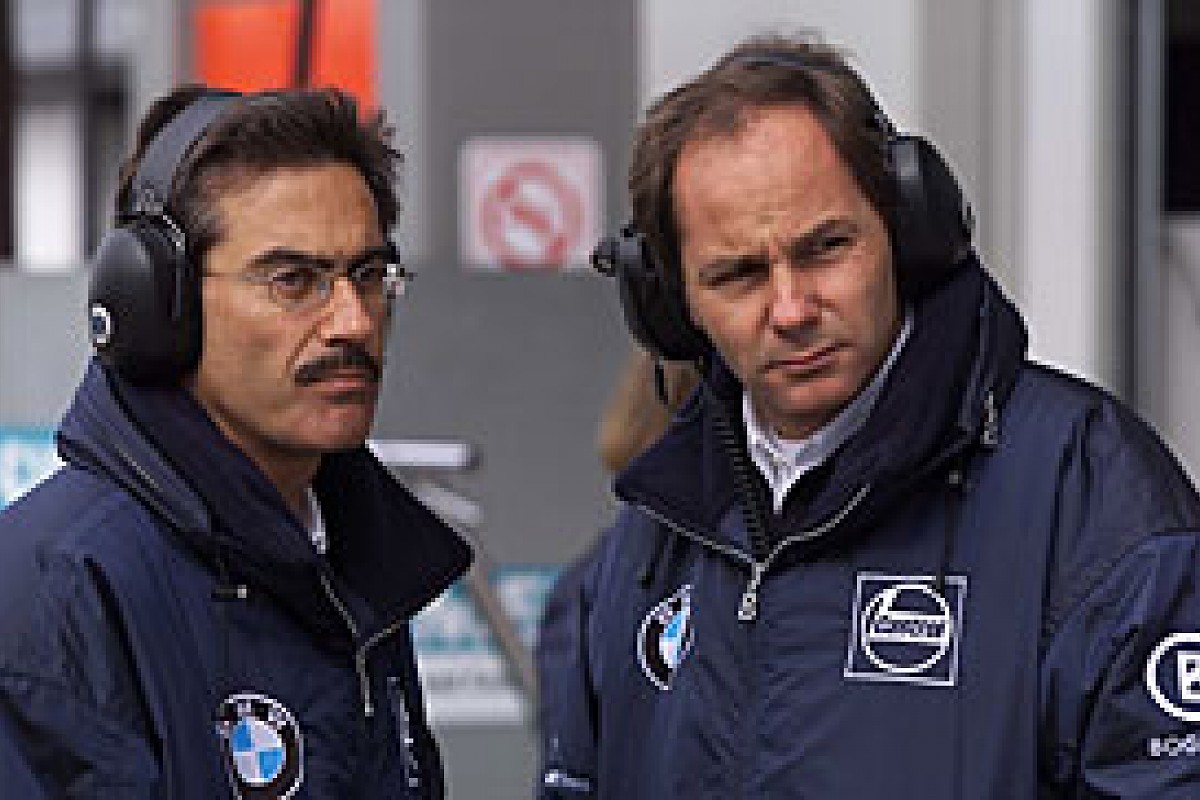 May not look like it here, but Theissen says working with Berger was the most fun he had © LAT
"It was a very good environment to work in - it was about the future of cars, concept cars, new technologies, working with great companies, start-up companies in Silicon Valley mainly, and it was really good. But then I was asked to move over to motorsport."
Yet for a man who had been in love with motor racing all his life, it was amazing to hear that he initially had said 'no' to the offer of working in F1.
"I have always been very fond of racing. I have been very interested as a true fan, but I didn't really steer my career towards this direction. The brief was to work alongside Gerhard Berger and get the Formula 1 project on track. But initially I refused because very rarely does it work with two bosses in the same department.
"There was a second attempt by our CEO and I could not reject it for a second time, so I had a meeting with Gerhard. And it showed immediately that it would be great. That the chemistry was fine, we understood each other and, more importantly, we understood that we had complimentary skills.
"What he knew about racing I knew about the company and about technology. So it was the perfect fit and, as I have said before, I think the four years with Gerhard were the biggest fun in my professional career."
So does Theissen think that BMW's plans could have happened were it not for both of them working together? "No. I didn't have the network in racing, and Gerhard didn't have the network inside BMW. It was not an option."
The tie-up with Williams would deliver impressive results straightaway with that podium finish for Ralf Schumacher at Melbourne in 2000 - which was the most successful start for an engine manufacturer since that famous Cosworth debut in 1967.
Yet, despite the fanfare at the time, Theissen confesses that he had been anything but confident about what would be achieved in that first year.
"I was very concerned in 1999," he recalls. "It was the most critical decision of my career to join motorsport and take over, because it was on the edge to get the F1 engine running for the first race.
"Then straight away we had the podium, but that was more luck than anything. We were not even able to complete one race distance before the race - not on the dyno and not on the track.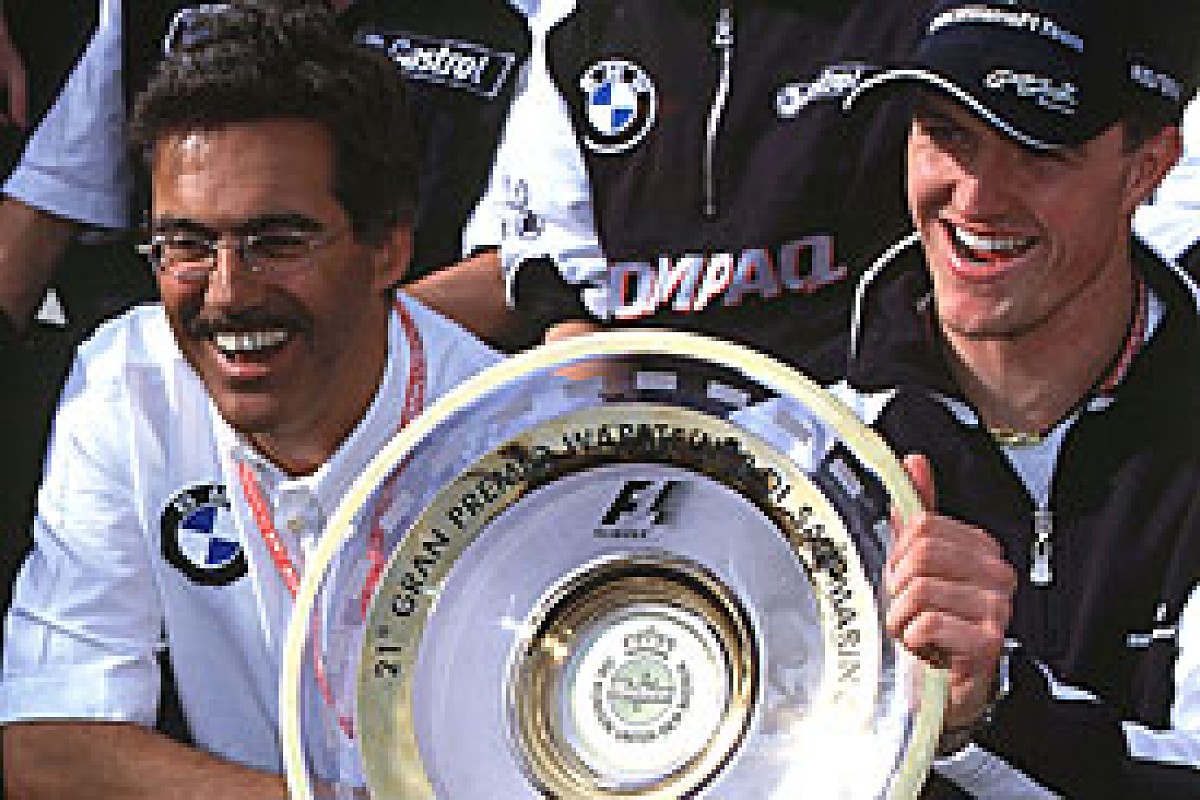 First 'Theissen' GP win came at Imola in 2001 © LAT
"I remember a test day in Jerez in January where we blew up three or four engines in the first few hours. All of them were on the first lap, at the same corner of the circuit. We did it until we understood that we had to preheat the oil..."
The Williams/BMW partnership grew in stature though. By the following year it was clear BMW had the best engine in F1 - and at Imola Schumacher took its first pole position and first victory. By 2002 the team was a regular for pole position; finishing 1-2 in races and it reached the landmark achievement of getting 19,000rpm out of its power-units.
"In 2003, we were fighting for the title. We had a slow start, like in the year before, but then we won Monaco and by the summer break we were leading the championship. So we were really there. In the final part of the season, several mistakes happened and we ended up not winning. It was close, but it happens."
That would be as close as Williams would get to the title though. And, as the march to the front stalled, it was clear all was not well with the team and BMW.
There was regular talk of friction between Grove and Munich - which were famously exacerbated by the fact that Theissen and Patrick Head did not see eye to eye on several professional matters. Looking back now, Theissen raises a smile when asked about how his relationship with Head was.
"Patrick is a great guy. I really enjoy being with him, to talk to him, to have fun with him. But it was not easy to work with him because we have totally different working styles. And... yeah. That created a bit of tension here and there. But both of us can laugh about it today."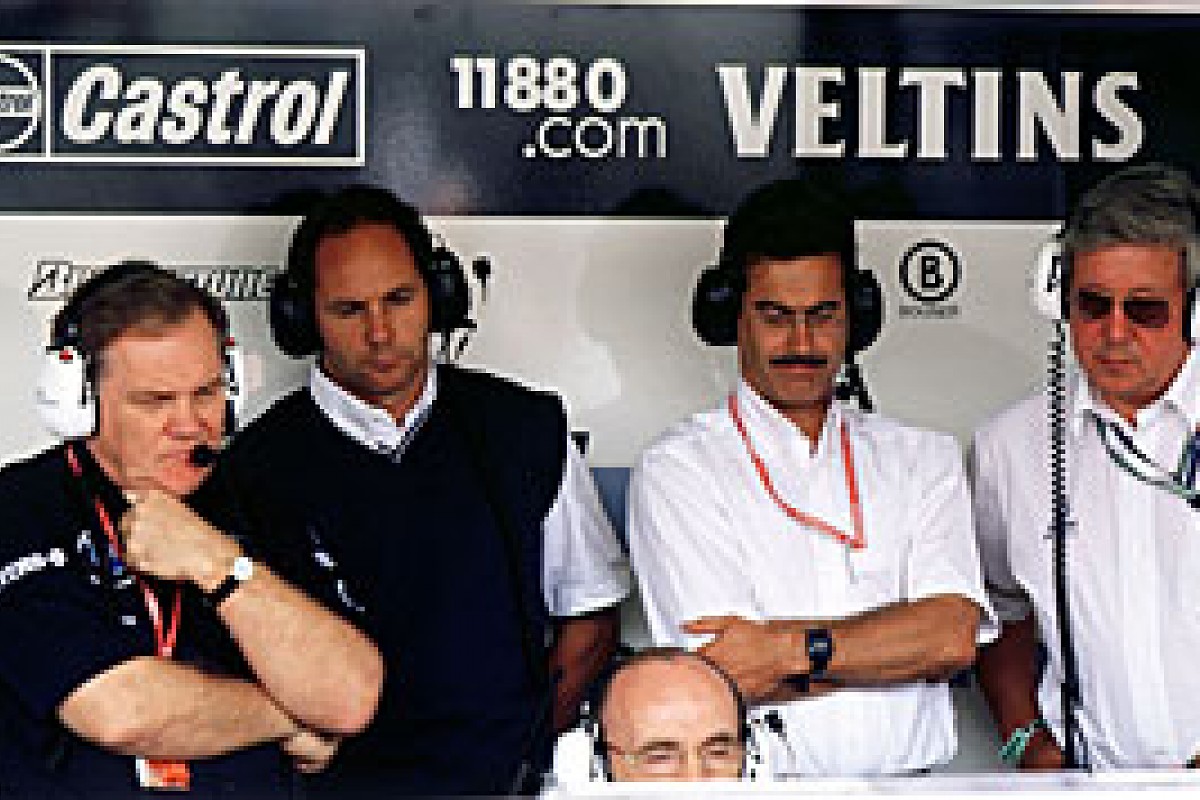 As the relationship aged, cracks between Williams and BMW emerged © LAT
There was talk at the time of BMW wanting more influence at decisions at Williams. Talk too of perhaps an equity stake that Frank Williams was fully resistant to. In the end, though, Theissen hints about cultural difference being to blame for the failure of their partnership.
"The corporate culture of Williams and BMW Motorsport were very different, and it would have taken a major effort to gel these two different cultures into one new team culture. For that reason, we never considered that would be the way forward."
For 2006 a new chapter was embarked, with BMW taking over the Sauber team. It was a totally fresh approach for the company; and one that equally was not fraught without its own institutional difficulties.
"Clearly there were some frictions as well," says Theissen. "We had to restructure both sides, Munich and Hinwil, in order to create an overall optimum, or what we thought would be an overall optimum.
"And I remember quite well that it was quite a tough test to move the transmission activities to Munich. That was my decision because in my view the powertrain was something that should be in one hand - so engine and gearbox together. And, apparently, that was a test on the Hinwil side.
"On the other hand, it was clear that the team was led through Hinwil and not through Munich, so that was something that not everyone liked over here [in Munich]. It worked out quite well and by 2008 we really had a strong and homogenous team, and that was quite quick."
Indeed that year, the team had come off finishing second in the constructors' championship the previous campaign. In Canada, Robert Kubica's victory had catapulted him to the head of the title standings, and this looked like a proper title challenge.
The form fell away though - prompting widespread conspiracy theories. One story doing the rounds was that Theissen had not pushed enough for the title because he knew that as soon as BMW won the championship it would quit the sport.
That was, so the rumourmongers suggested, why Robert Kubica got so annoyed in trying to encourage the team to win the crown and finding there was not the hunger there to seize the moment - as instead it wanted to prepare itself better for 2009.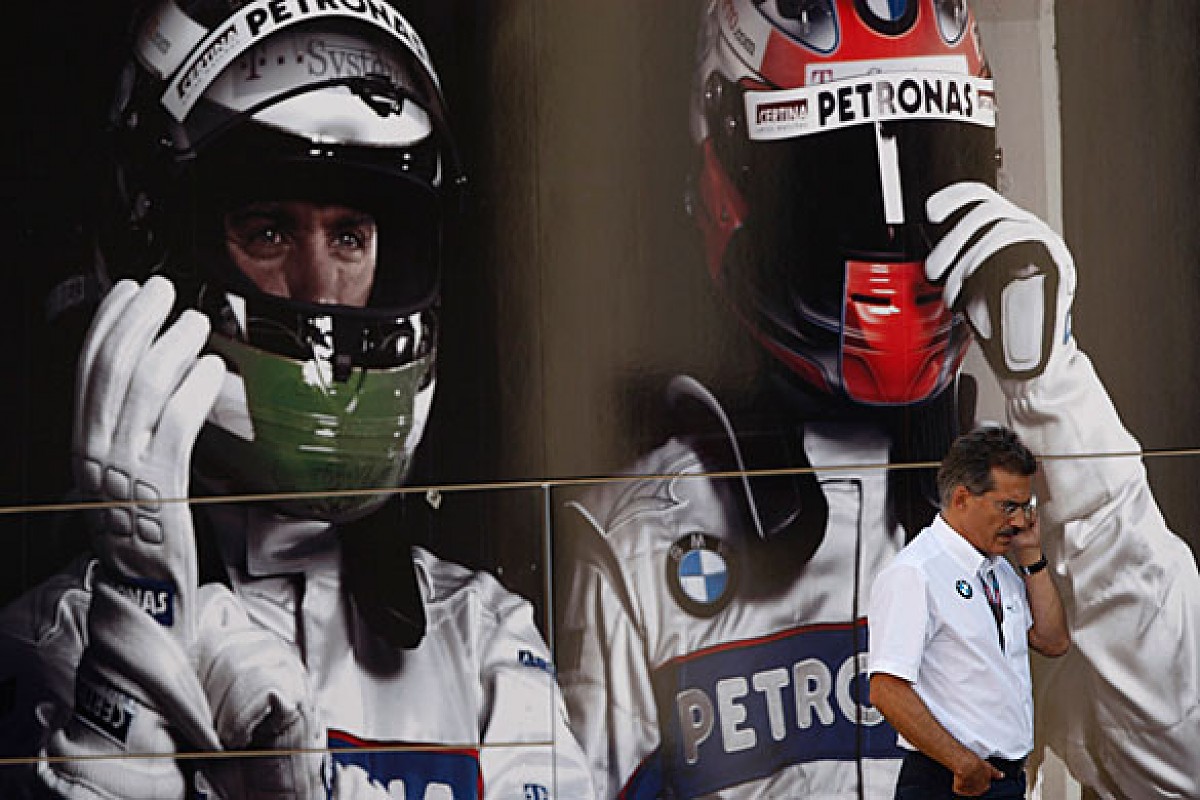 Theissen scoffs at the talk. Although he concedes now with hindsight that BMW may well have plugged the plug at the end of 2008 if it had been title winners, he definitely did not know that at the time. And be rubbishes any conspiracy talk of not wanting to win the crown when the team had the chance.
"My perception was totally different," he says when asked about the conspiracy theories. "It was not just Robert who was pushing. We were pushing as well. We were as keen on the title as Robert was, and we did not shift out resources to the 2009 car.
"We really pursued that. We did as many developments on the aero side as the year before, and aero was the problem. But we did not make the progress as expected - then we saw with the 2009 car, we saw with the aero side we were really not there. So it was a lack of progress, but not a lack of dedication."
Having missed out in 2008, complications caused by KERS and the lack of aero progress, meant results were not as easy to find in 2009. By mid-season, and amid panic from car makers worldwide about the worldwide economic crisis impacting on car sales, BMW's chiefs in Munich pulled the plug.
Theissen's F1 dream was over and, although continued efforts in WTCC and sportscars, plus preparations for a return to DTM, kept Theissen busy - it was never going to be the same, was it?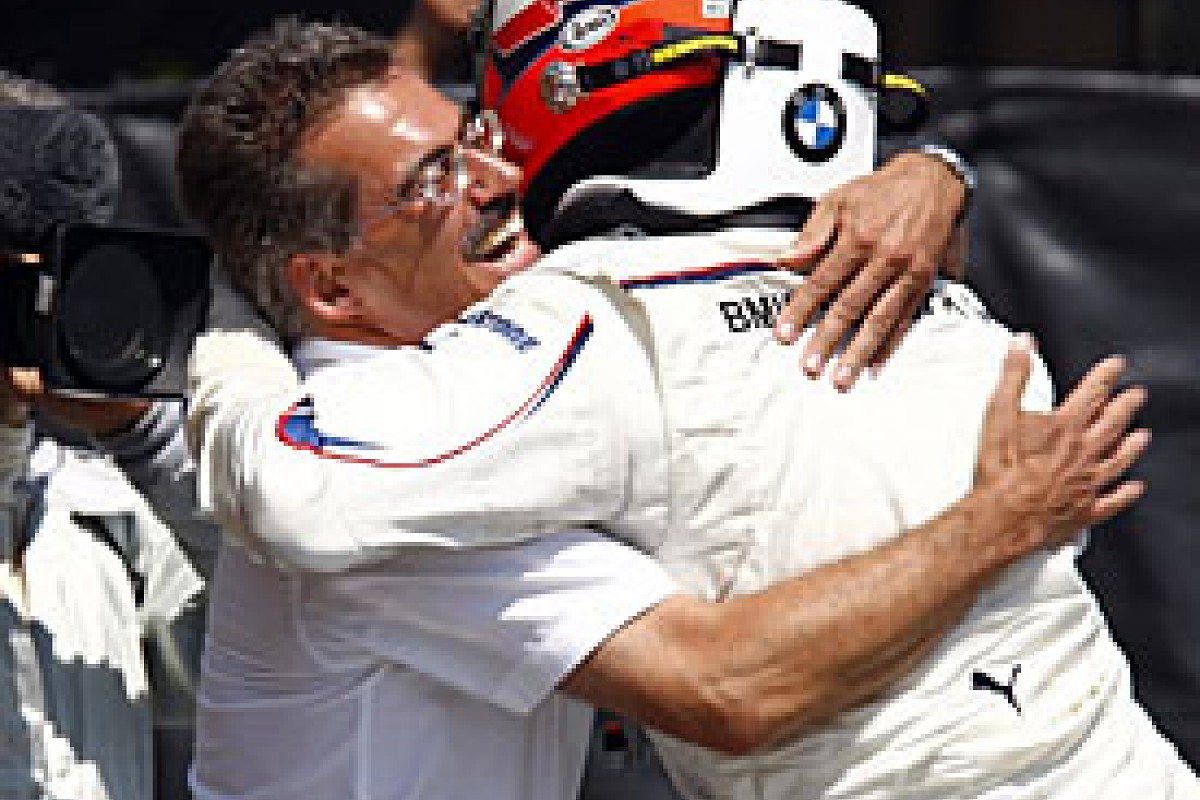 Winning as a constructor in Canada '08 was a highlight © LAT
Early retirement has now come, and Theissen admits he is looking forward to spending time going with the flow - and not being dictated by the fluctuations of a company that has been so central to his life for so long.
"I have no plans," he smiles. "I want to walk out of the door without any obligations. Just to see what is the experience, and then we will see..."
Theissen concedes that BMW's victory at the 1999 Le Mans 24 Hours remains very special for him as a stand out moment of his career: but he says it is the experience of the whole of his 12 years as motorsport director that will stay with him for the rest of his life.
"The best of my career was the 12 years in racing. You get everything you have in the automotive industry on the engineering side, but you get it in a much more intense way.
"It is very rewarding to work within a group of people who are 100% dedicated to the project. It is very rewarding to do something and get the feedback every other week, if it is was right or if it was wrong. If you make progress or not. You are always in a very competitive environment and that is just thrilling. Racing has been the best years of my career."
It was indeed a fantastic journey, and one that surely is not over yet. But for now: servus Mario.