There is a culture of responsibility that runs right through the heart of Formula 1.

Bosses and drivers may often spout the line that 'we win as a team and we lose as a team', but everyone accepts that when push comes to shove, a racing unit is often only as strong as its weakest link. Therefore, any individuals' shortcomings in performance need hunting out and action taken.
It's been part of the game ever since racing cars hit the track, and it continues to this day.
Ferrari did not just shrug its shoulders off the back of its poor start to the campaign. It rooted out the wind tunnel calibration problems and faced up to the reality that its design mentality had been too conservative. Its actions led to the departure of then technical director Aldo Costa.

Yet F1's culture of responsibility is true not just for those who work in the team environment - for there is a duty that goes beyond eking out a few extra tenths of performance on-track. Sometimes the sport itself needs to find out those who are responsible for things that have happened.
And that's why F1 needs to have a good long think about itself after the European Grand Prix - to work out exactly why in this season of amazing racing, when all the sports' stakeholders have made such an effort to improve the spectacle, we were left with a pretty boring afternoon.
F1 in 2011 has been fascinating from the perspective of understanding exactly what it is that drives fans to the sport - and what it is we all enjoy. We may have had one man running away with the title, yet the television viewing figures are up - which suggests that it is the racing that has served as a popularity driver.
Yet despite the promising figures, there has been plenty of debate among the 'purists' who suggest that some of the tweaks for 2011 have gone too far. I am in the camp who did not enjoy the Turkish Grand Prix - feeling that there was too much overtaking, the DRS was too effective and that the race was never allowed to get going because people were in the pits so much. Plenty of passing does not necessarily make a great F1 race.
Cars in a line, not overtaking... That'll be Valencia then © LAT
Equally, there were some suggesting after the Valencia race that it was not that bad - that in years gone past we would have raved about the fight between Fernando Alonso and Mark Webber for second place, and that people were only complaining because they have been spoiled this year by a brilliant run of mega races in Spain, Monaco and Canada.
That argument is all well and good, but the difference between what may have been a good race in the past and what is a good race now is that F1 had come up with some great rules to try and make things better.
In the past few years we did not have tyres that were producing great races; we did not have DRS; we did not have KERS for a long time. Back then, the responsibility for boring races was being laid with the rules themselves: the intricacies of aerodynamics that meant cars could not get close enough to launch a pass; tyres that did not degrade so much so strategies were totally predictable; and refuelling that left little for further variety in tactics.
Now though, we know the rules are good. We cannot point a finger at the teams or their technical chiefs and demand they go out there and create something better - because things appear to be pretty good at the moment.
Now that the rules are getting more and more understood by the teams, it appears that at most places we are having exciting events. I can't remember a run of thrillers like Barcelona/Monaco/Montreal - where at each event the fight for victory went down to the wire.
So with Valencia not being like that, who should take the blame?
One factor certainly has to be tyre-related, for Pirelli opted to be more conservative with its approach for Valencia because it was keen that its new medium compound tyre got some running in a race before the British Grand Prix - where it will be put to an extreme test by the track's high speeds.
Speaking to Pirelli director of motorsport Paul Hembery last Sunday, he reckoned that tyres did play a bit of a role in what happened - for had the Italian company brought the super-soft and the soft, he reckons the drivers would have been a bit more on the edge, which could have led to more fluctuations in form.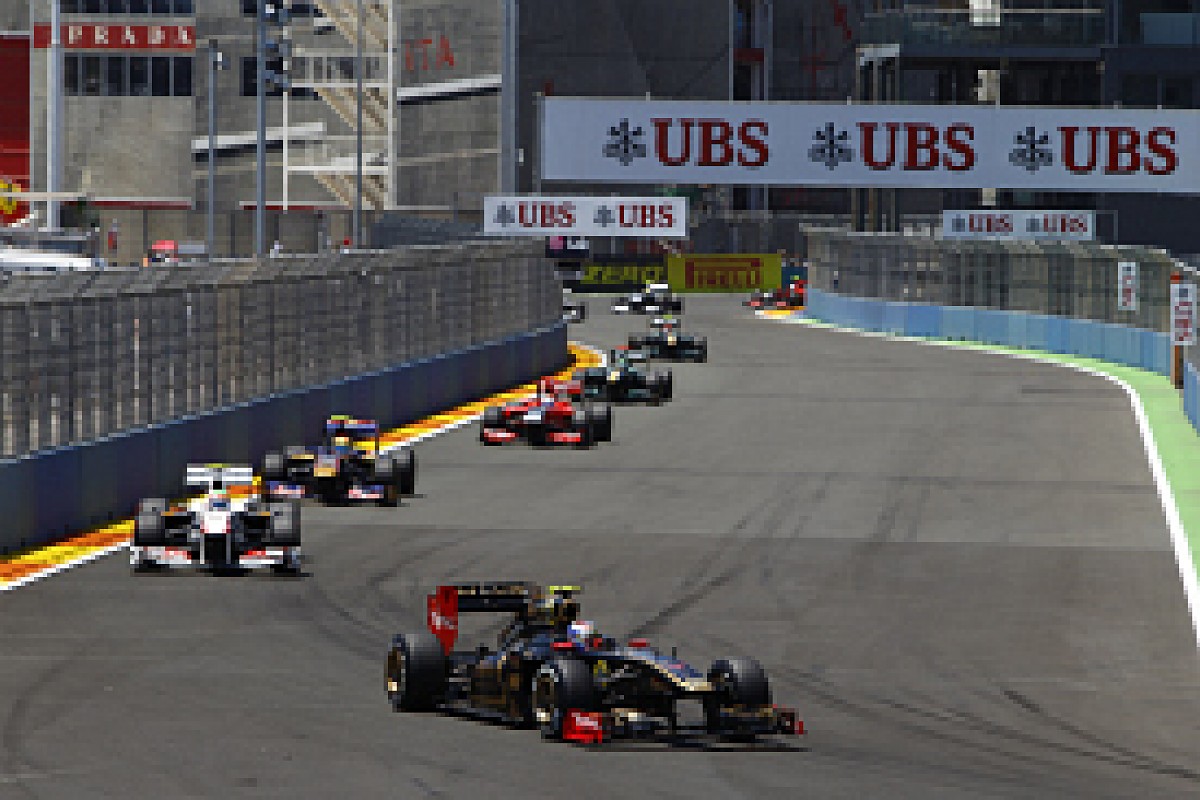 Tyres also played a factor © LAT
Yet he was adamant that the differences would not have been enough to turn Valencia into the kind of thriller that many fans have got used to.
So if it was not the rules, the cars or the tyres that robbed us of the spectacle then it can only be one thing: the track.
Valencia's street circuit has long been cited as a bit of a let-down. Its lack of challenging corners, its uber-wide straights and characterless layout fail to demand the best from drivers and cars - and it tells in the lack of incidents and overtaking moves.
Heading to Valencia, one F1 veteran told me that he had real fears that Valencia could even suck the life out of the 2011 rules; and it was sad to see that he was correct.
F1 has to react to the dull event we witnessed on Sunday. In this day and age, with ever-increasing competition from all forms of entertainment and with the sport having done so much to make the racing exciting, there is no excuse for a lack of excitement now.
The location of the track, with the wide-open spaces around the marina, means that there is every reason to have an action plan in place to make some tweaks - put in some more challenging corners, put in some proper 'straight' straights so drivers can safely get alongside each other; and give the place a facelift.
If the Valencia circuit could live up to the vibrant city it is located in, it really could be a big hit on the calendar. But if it is going to reach those heights, race organisers need to accept that F1's culture of responsibility is looking right at them to learn the lessons from last weekend and do something about it.