The great Juan Manuel Fangio, who died in 1995, would have celebrated his 100th birthday today, on June 24. It is often said that great drivers rewrite the record books. Well, Fangio was the man that wrote them in the first place as far as the Formula 1 World Championship era is concerned. He won five of the first eight titles and triumphed 24 times in just 51 starts, a win rate untouched even by the likes of Michael Schumacher, Ayrton Senna and Alain Prost.
But it wasn't only in World Championship grand prix racing that Fangio excelled. In all, he claimed 78 victories in international races, with some of what are today regarded as 'minor' events, thanks to their non-championship status, easily among his finest hours.
In tribute to one of the greatest drivers ever to have lived, AUTOSPORT has picked out the 10 greatest victories that Fangio claimed during his two decades of competition.
10. Sanremo Grand Prix, 1949
After making a name for himself in South America during the previous decade, Fangio claimed his first F1 race victory on European soil at only his second attempt.
The 1949 Sanremo Grand Prix, held on April 3, attracted a strong entry including Louis Chiron, 'B' Bira, Louis Rosier and Emmanuel de Graffenried. Fangio, racing in Europe with support from the Argentinian government and the country's automobile club, passed fellow Maserati 4CLT driver Bira early in the first heat and won by close to 10 seconds. He was able to take it easy in the second heat and duly closed out his first win with relative ease around the hilly, Ospedaletti track.
What made this triumph all the more remarkable was that Fangio had to patch up his engine overnight during the build-up to the race. Using the skills learned in the epic road races back home, he repaired the big-end bearing and crankshaft despite most believing that his car could not be made ready in the time available.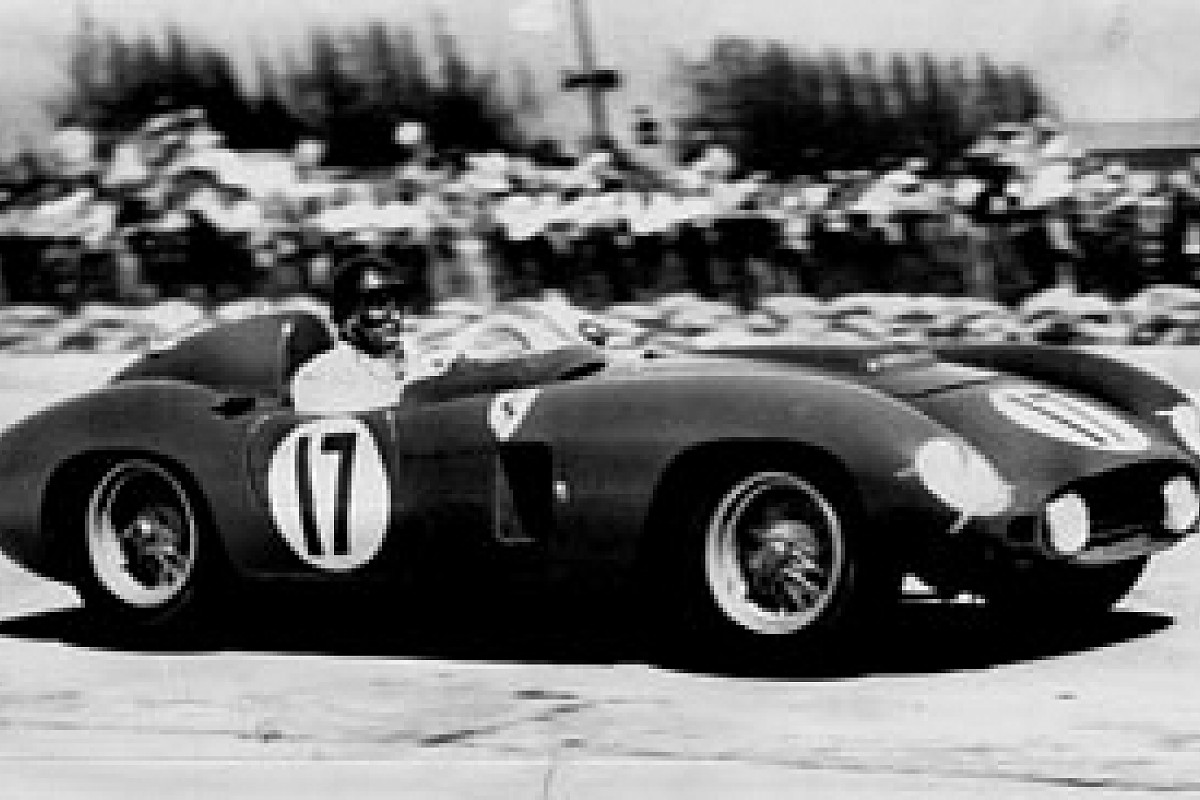 Fangio won Sebring in 1956 © LAT
9. Sebring 12 Hours, 1956
It's often said that of the great 1955 Mercedes line-up's top two drivers, Fangio was the faster in single seaters while Stirling Moss was the quicker in sportscars. While Fangio never won at Le Mans, he did triumph at Sebring twice, even though he tended to see such events as a sideshow to the more serious business of grand prix racing.
His first Sebring victory came in 1956, sharing a Ferrari 860 Monza with Eugenio Castelotti. The pair finished two laps ahead of the sister car of Luigi Musso and Harry Schell, while Fangio's main concern after the race was to check on the health of his compatriot Carlos Menditeguy, who had suffered head injuries when he was flung from his Maserati 300S on the 40th lap of the race.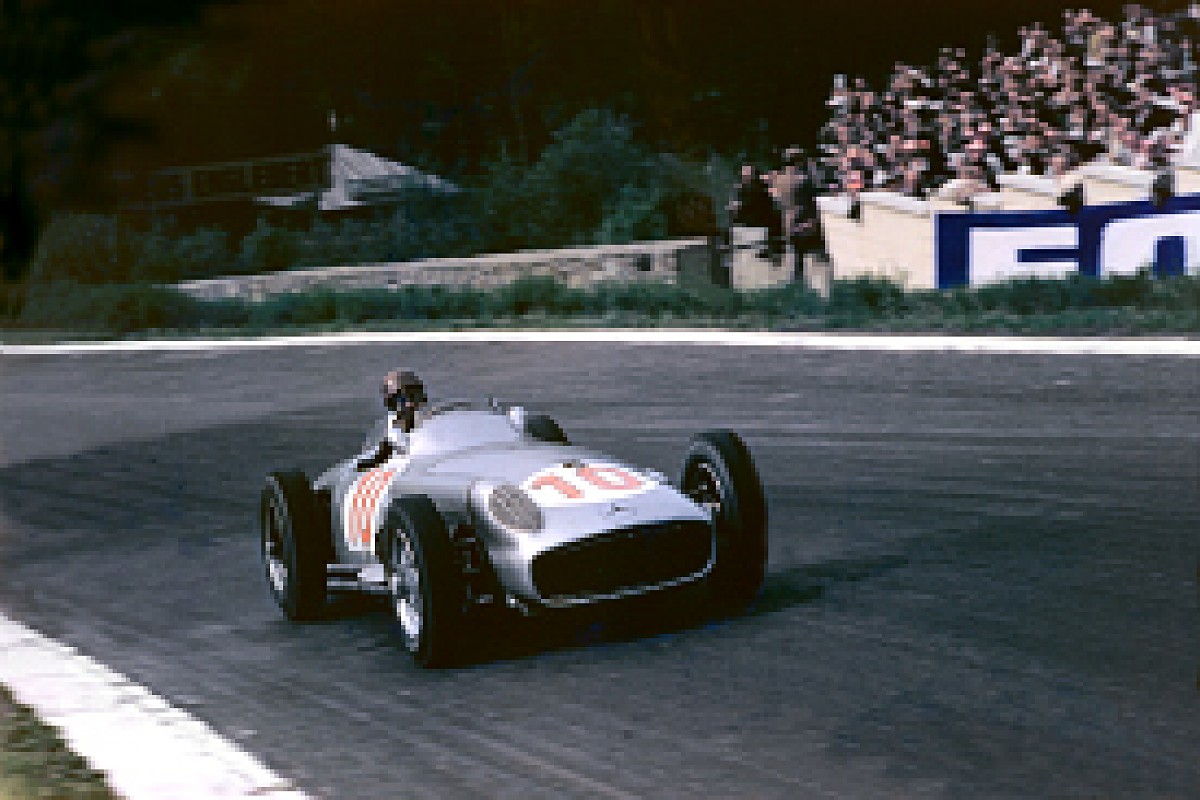 Fangio tackles Eau Rouge in his Merc © LAT
8. Belgian Grand Prix, 1955
In a season of utter dominance by Mercedes, there was little surprise in Fangio leading home Moss with only the Ferraris of Giuseppe Farina and journalist/racer Paul Frere also on the lead lap. But what really impressed was the manner of his victory.
Moss, quoted in Gerald Donaldson's excellent Fangio: The Life Behind the Legend book, describes the masterclass that he was given by following in the maestro's wheeltracks.
"We would come past the grandstands as though tied together by a piece of string," said Moss. "But on the course he would go really fast on a certain section, a good deal faster than I could at that time, just to show me what could be done.
"And then, after we had duly made our team appearance passing the pits, he would do it again on the next lap but over a different part of the course. It was a fantastic experience following him weaving around the hills way above 160mph."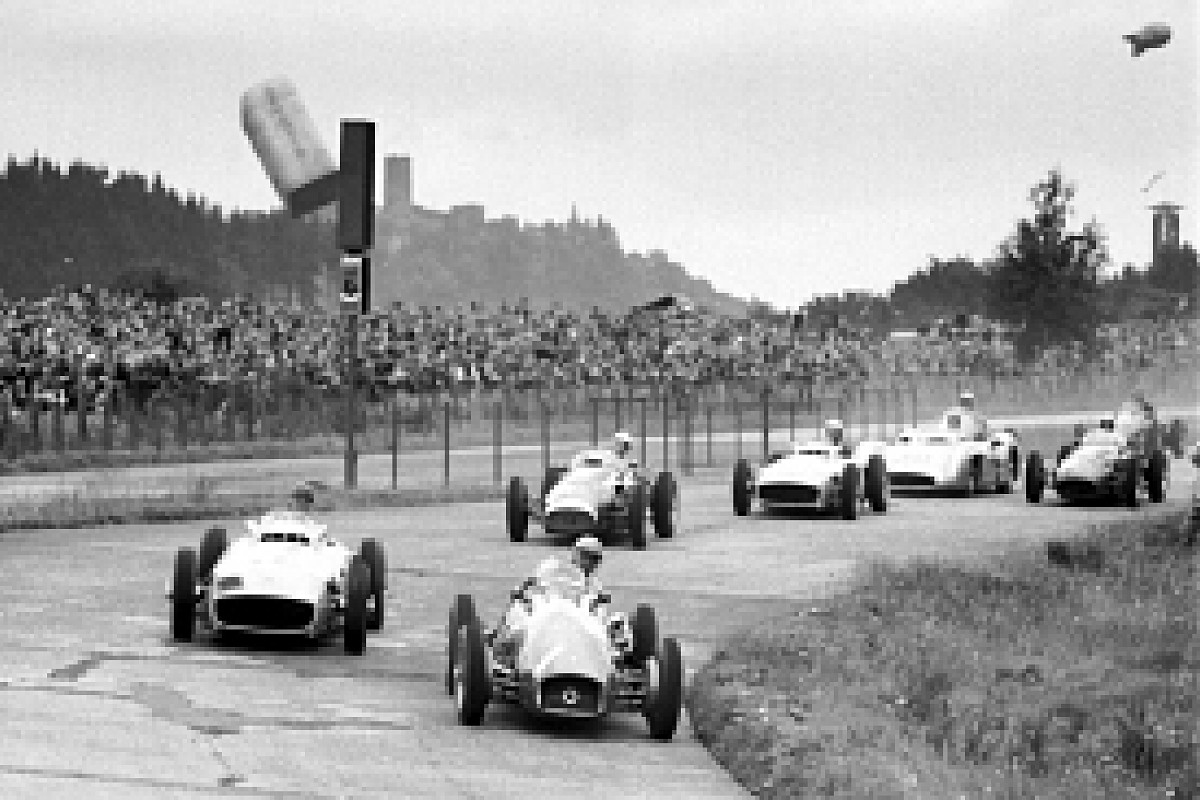 Fangio (left) challenges Gonzalez © LAT
7. German Grand Prix, 1954
Fangio had promised Onofre Marimon's family that he would look after him when he went to Europe. Marimon, driving for Maserati, had started to build a name for himself in Europe when he plunged down an embankment and was flung from his car during practice at the Nurburgring.
His death hit hard. Everyone remembers Jose Froilan Gonzalez having to hand his Ferrari over to Mike Hawthorn during the race because of his emotional state. But less well-remembered is that Fangio's victory, driving a Mercedes W196 that had proved to be very unwieldy during its last outing at Silverstone, came with the shadow of Marimon's death hanging over him. Fangio and Gonzalez had both gone to the scene after the crash to attempt to understand what had happened and it scarred both.
Fangio's victory was a gutsy drive on a day that proved he had the burning will to win that characterises all great drivers.
6. Premio Ciudad Mar del Plata, 1949
February 1949 was a dark month for motor racing in Argentina, with the great Jean-Pierre Wimille, who could and maybe should have become the first world champion a year later, losing his life in practice for a Temporada series race early in the month. Wimille had become a major influence on Fangio but only a few weeks later the Argentinian, the Frenchman's advice still at the forefront of his mind, claimed his first win in grand prix machinery.
The event, held not far from Fangio's Balcarce home town, was also tinged in tragedy, with Adriano Malusardi crashing fatally during practice and a spectator being killed during the race.
Fangio, driving a Maserati, led from the start under pressure from first Alberto Ascari and later Luigi Villoresi, who both retired such was the pace set by the home hero. This gave Fangio a comfortable win ahead of Bira.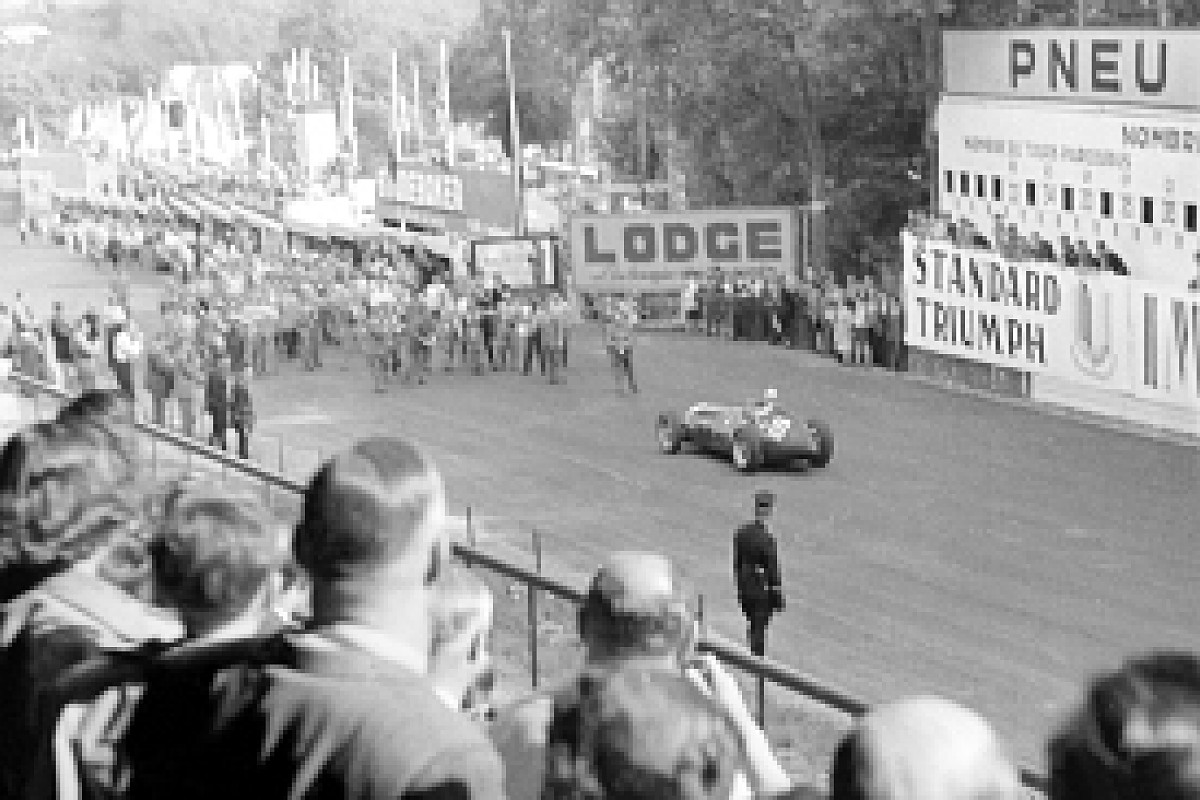 Accepting the cheers of the crowd © LAT
5. Belgian Grand Prix, 1950
Fangio's second World Championship victory confirmed his upstart status at Alfa Romeo, matching lead driver Giuseppe Farina in qualifying and starting just behind him because the Italian had set his time first.
Fangio and Farina scrapped for the lead early on, with Luigi Fagioli hanging onto the battle, but it was the Argentinian who eventually asserted himself as the Alfas climbed back to the head of the field after stopping for fuel.
Farina faded to fourth with an oil pressure problem, which left Fangio to control the race for the last 15 laps, finishing 14s clear of Fagioli.
4. Monza Grand Prix, 1949
Fangio's first major win in Europe actually came in this race for F2 machinery in a customer Ferrari Tipo 166. While the Ferrari was the car to beat, a strong entry of factory drivers including the likes of Ascari and Villoresi meant that Fangio, who was still in the early stages of making a name for himself in Europe, was a real outsider.
Amid a backdrop of financial problems for the Argentinian Automobile Club-backed team, Fangio's car was only allowed to take the start at the eleventh hour. After grabbing the lead early on, he opted to fall into the high-speed train with the works Ferraris, mindful of the need to save fuel.
The race boiled down to a chase of Ascari after Fangio emerged from his pitstop 12s behind the Italian and began to close the gap. Ascari saved him the trouble of having to pass him by pitting again, but in the closing stages Fangio's car started to fall apart. As Ascari and Felice Bonetto closed in, he had to manhandle a machine that was become increasingly difficult to handle because of broken rear wheel spokes and suffering from oil pressure problems under load.
Fangio hung on, winning on his first start in a Ferrari.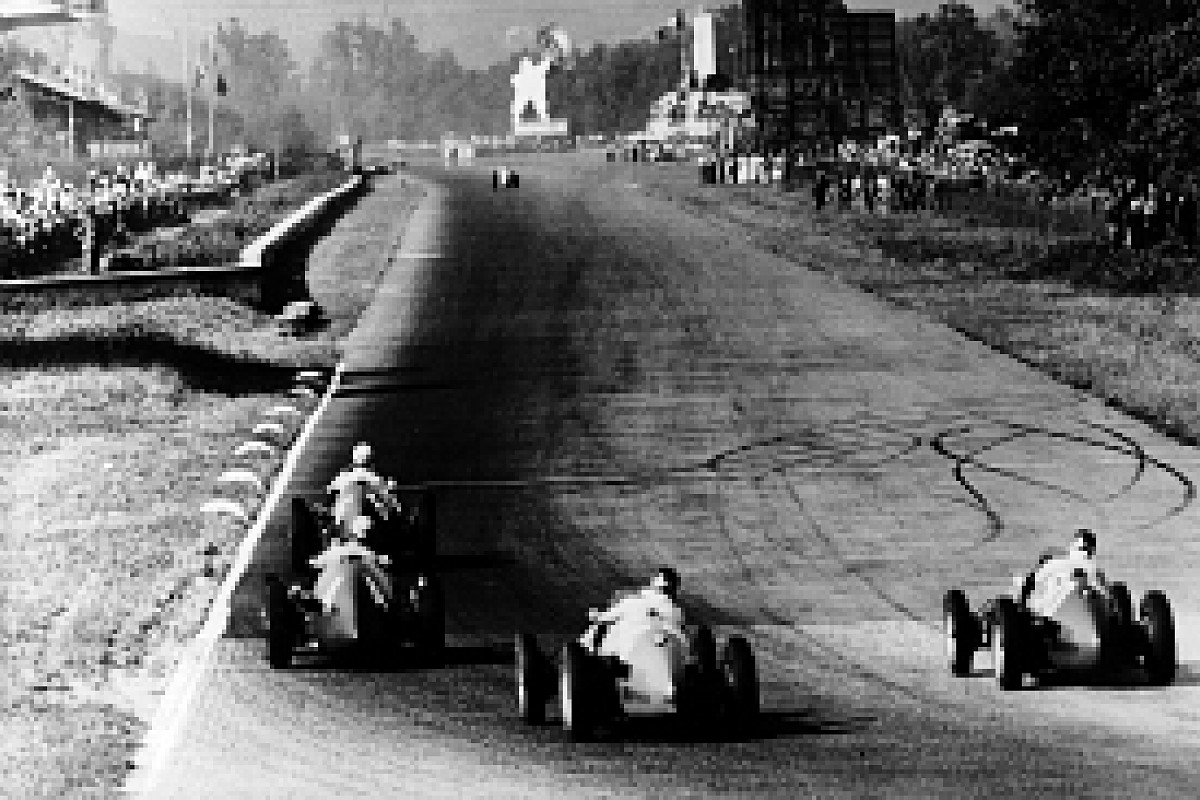 Four-way fight went down to Parabolica on the last lap © LAT
3. Italian Grand Prix, 1953
Such was the dominance of Ferrari during 1952 and 1953, when the World Championship was held for F2-specification machinery, that only once did another marque win a grand prix.
In the hands of Fangio, the Maserati A6GCM had occasionally threatened a win, but it was in the last race of the '52/'53 rules cycle that he finally managed to do so. Such was his car disadvantage that it took a mighty drive at Monza, the track where he had come close to losing his life with a crash at the second Lesmo a year earlier, to do so.
From the start, the battle raged at the start with Fangio in the thick of the scrap with Ascari, Farina and Marimon. It all came down to the last corner of the last lap, as it so often did at Monza. Who better to tell the story than Fangio himself?
"Ascari, who stood between me and the victory I needed so badly, took the final curve very sharply and his Ferrari did a half spin," said Fangio. "He was hit by Marimon. Farina, whom I had only just overtaken and was breathing down my neck, had to swerve to avoid hitting them.
"In that split second of danger I was through, winning literally in the 312th mile of a 312-mile race. There was such confusion when we crossed the line that the man didn't put down the chequered flag, so I did another lap with Farina behind me, but all the time I thought they had make a mistake.
"They say I was almost hysterical that day, and I'm not surprised, although as a rule I'm usually rather calm."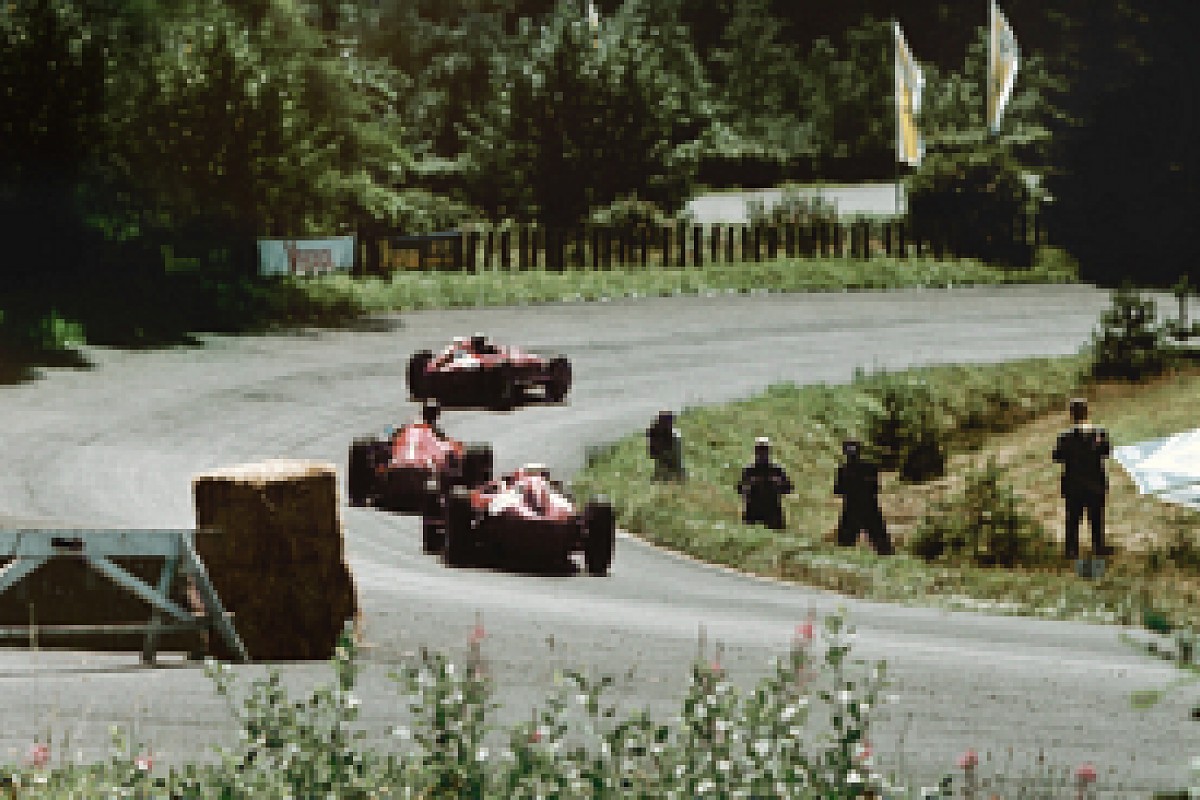 In between the Ferraris with a lap left © LAT
2. German Grand Prix, 1957
Fangio's charge from behind to win the 1957 German Grand Prix is one of the most talked-about in the history of the sport. It was his final World Championship race victory and the last time he won in Europe. You can make a compelling case that it is one of the finest in grand prix history.
The facts of the race are well-documented. Fangio, who had returned to Maserati after a year with Ferrari, started the race from the front and planned a stop for fuel and tyres. After taking the lead on lap three and extending his advantage, a slow mid-race stop left him third behind Ferrari pairing Peter Collins and Hawthorn.
He had to make up over a minute, which he did in an incredible display of driving virtuosity at one of the world's most challenging tracks, taking the lead with a lap to run.
"That day, I had everything turned on and firing on all cylinders," Fangio later recalled. "I was ready to do anything. Whichever way you look at it, it was an extraordinary race. When it was all over, I was convinced that I would never be able to drive like that again. Never."
And he didn't. He started only 10 more races, winning three of them, before abruptly retiring early in the 1958 season.
1. Gran Premio Internacional del Norte, 1940
Long before Fangio came to Europe, he made his name in events in his native Argentina and in the surrounding countries. Epic long-distance road races were thriving during this era and Fangio's first victory, driving a 1939 Chevrolet Coupe on the Gran Premio Internacional del Norte, was by his own reckoning his greatest.
At almost 6000 miles, this was a true test of man, machine and ingenuity. Competing thanks to potato trader patron Francisco Polio, who bought the car and organised a lottery for the citizens of Fangio's home town, Balcarce, to raise a running budget, the triumph made him a hero.
These roads were far from the perfectly-manicured ones that you might hope for today. It was an incredible challenge and one that Fangio took to with gusto. But there were setbacks, the first coming when his mechanic Hector Carlos Trieri crashed in Bolivia while driving the car between stages. At the time Fangio had headed off to the end-of-stage presentation and Trieri had, apparently, forgotten what side of the road they drive on in Bolivia.
They bodged the car back together - and Fangio spent the next stage periodically hurling abuse at Trieri - but there were other travails. After solving some radiator problems, Fangio's flat-out driving style, adopted in the belief that it was better to open up a lead to allow repair time rather than trying to preserve the machinery, led to him hitting a rock. Damage to a wheel, the propshaft and suspension ate up some of that repair time, but he still held the lead.
He stayed there to the end, beating far more fancied and well-supported entries and his victory was hailed by the crowds.
"It was the first time I heard my name being shouted by people," he is quoted as saying in Fangio: The Life Behind the Legend.
But it was far from the last.