It was the day after the Monaco Grand Prix in 1971. With time to kill before leaving for Nice airport, I decided to walk the circuit one last time, halting for occasional refreshment on the way. Walking out of Casino Square and down past the Tip-Top bar to Mirabeau, I noticed a great clamour outside Rampoldi's.
Time has changed the sculpture of Monte Carlo, elegance in skyline giving way to apartment blocks and ritzy, high-rise hotels. The influence of Reno is much to the fore. But some things comfortably stay, and Rampoldi's is one of them, an echo of Somerset Maugham's Cote d'Azur. Faded signwriting, crisp, white linen, polite waiters. Around the walls are yellowing photographs of bygone races through the streets outside the door.
On this day, however, there were no racing cars passing by. Instead, vans were parked there, much to the annoyance of languid workmen who were taking up yesterday's Armco. I ventured into the restaurant, found a small crowd around one of the tables, arc-lights everywhere, people with heavy, shoulder-supported, movie cameras, a spectacular blonde with a clapper board.
In the midst of all this, sitting quietly at one of the tables, the calmest man in the place, was Juan Manuel Fangio. Behind him was a framed photograph of the famous multiple accident at Tabac in 1950 through which he threaded his Alfetta on the way to victory. With the aid of knives, forks and several model cars, he was fighting the battle again, the cameras recording the moment. When there was a break in the filming, I asked him to sign my programme. An interview was obviously out of the question.
Fangio retired from his first World Championship grand prix © LAT
No subsequent opportunity arose until the great man's recent visit to England for the Gunnar Nilsson Memorial meeting at Donington. In London I was able to meet him at the Steering Wheel Club, and an excellent interpreter bridged the gap between my Spanish and Fangio's English. Twenty years ago, of course, English was not the native tongue of motor racing and drivers had no need of it.
The remarkable thing about Fangio's appearance is that it has changed hardly at all since his retirement in 1958. Perhaps he has gained a little weight, but then he was always stocky. His eyes are still mesmeric, face still friendly and good-natured. Despite a serious heart attack some years ago, he looks a very youthful 68. He speaks quickly with a quiet voice, the tempo increasing as he remembers events which gave him particular pleasure.
To put his career in proper perspective, one must bear in mind that Fangio was 37 years old before he came to Europe for the first time. In Argentina he was already a hero, the star of countless long-distance races over the dirt roads of South America.
"They were very hard, those races, very hard," he says. "My first big victory was the Gran Premio del Norte in 1940. Over 6000 miles from Buenos Aires up through the Andes to Lima, Peru, and then back to Buenos Aires. The event took 13 days, with a stage of 300-800 miles each day, all on dirt roads. There were no night stages, so we were able to get a reasonable amount of sleep. But we were not allowed mechanics. If work had to be done on the car, it had to be done by the driver and his co-pilot, and we were allowed only one hour for that at the end of each stage.
"I drove a 1939 Chevrolet in that race. We had to carry all the spare parts in the car - spare pistons, gearbox, even rear axle! Therefore the cars were very heavy at the start of the race, and became lighter as time went on.
"Always I wanted to be a racing driver - almost from nappy times! When I was about 11 years old, I started going to a garage in the afternoon to learn about cars. In the mornings I went to school. I think I was 18 when I raced for the first time, and I remember that the car was a Ford taxi. It was borrowed from a friend. We took the body off and made our own bodywork. After the race, we put the original body back on the car and it was used as a taxi again."
Fangio's grand prix career would have conceivably started very much earlier had it not been for the enforced suspension of European motorsport during the war years. As it was, he did not immediately come to Europe at their end, but continued to race successfully in the South American events he knew so well. Not until 1948 did he first drive a grand prix car, his season financed by the Argentinian Automobile Club. Fangio's extraordinary career, which produced five world championships and 24 grand prix wins, was on its way. The first title came in 1951.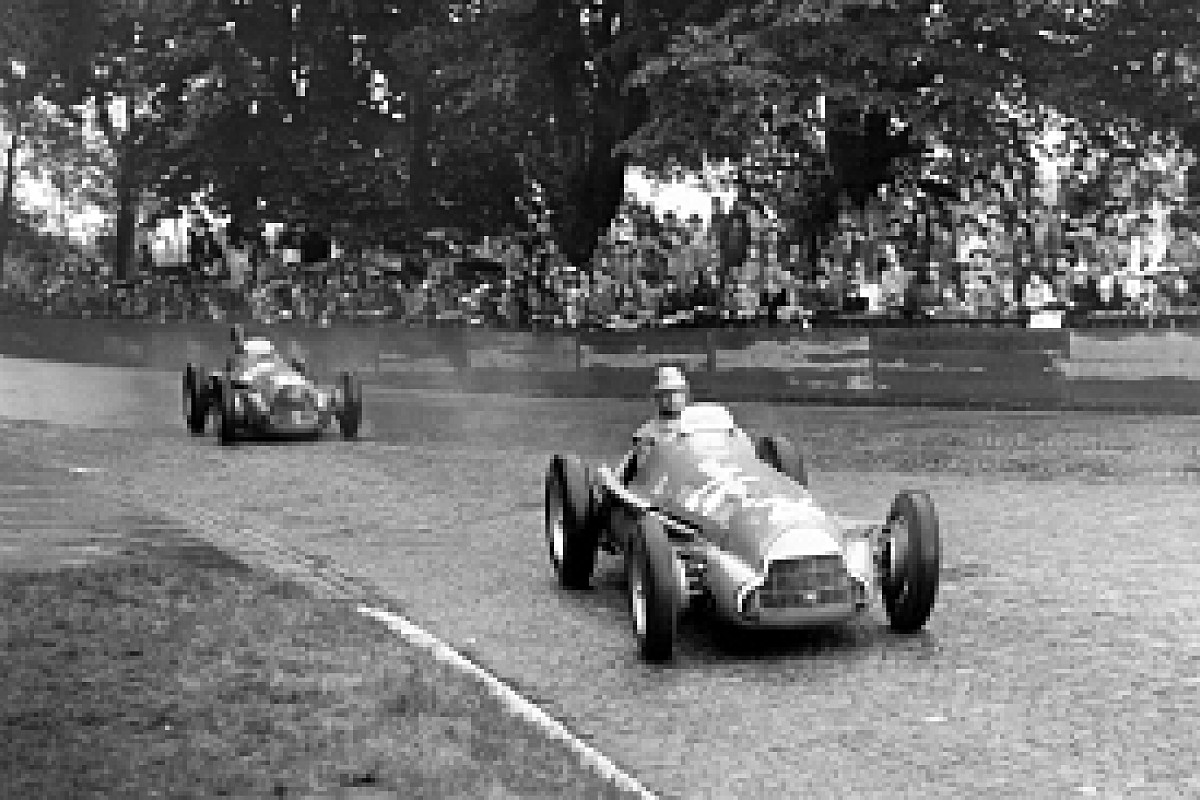 Fangio rates the 'Alfetta' 159, seen here in 1951, as his favoruite racing car © LAT
"I have very good memories of my years with Alfa Romeo, 1950 and 1951. In sentiment terms, the Alfetta 159 was perhaps my favourite car of all, because it gave me the chance to win my first World Championship. There were some wonderful races between Alfa and Ferrari. I had tremendous respect and affection for Alberto Ascari, who led the Ferrari team for so many years. He, and later, Stirling Moss were without doubt the two rivals I most feared. My team-mate in the Alfa team was Giuseppe Farina."
I said I had read somewhere previously that Fangio had described Farina as a madman. He smiled: "Si, si, loco! On the track he was not too bad, but on the road... Aye, aye, aye. I hated to drive with him in traffic on the way to a race. Felice Bonetto [also of the Alfa team during those years] was the same." To illustrate the point, he tapped his head, rolling his eyes at the memory of it all.
After tremendous success in 1951, the two following seasons were less triumphant. The formula had changed and grand prix races now ran for 2-litre Formula 2 cars. Alfa Romeo had withdrawn from racing and Fangio spent most of his time with Maserati, occasionally putting in the odd drive for Gordini. But 1952 and '53 were the years of Alberto Ascari and Ferrari, the pair virtually beyond challenge.
As well as labouring with his Maserati in those years, Fangio also periodically drove the BRM V16 in Formula Libre events. In the middle of 1952, he raced it in the Ulster Trophy at Dundrod. It was the day before the Italian Grand Prix, where he was supposed to race the Maserati.
"I had given my word that I would be at Monza. Prince Bira had promised to fly me from Belfast to Milan in his plane, and that should have given me enough time to sleep. Unfortunately, [fellow GP driver] Bira's plane broke down, so I had to change my plans. I took a scheduled flight to London, hoping to get a connecting flight to Milan. In London I was told that the weather over Italy was so bad that all flights there had been cancelled, so instead I flew to Paris and tried to get a sleeper train to Milan. But it was now midnight and there were no trains.
"In desperation I called up Louis Rosier [another rival] and asked if I could borrow a car from him. He agreed immediately and I set off for Monza, arriving at 2pm on Sunday. The race was due to start at 2:30pm, which gave me just enough time to have a shower. I had missed practice of course, and there was no time for me to do a few laps to remind myself of the Monza corners. I had to start from the back. The race began on time and by 3pm I was in the hospital, lucky to be alive.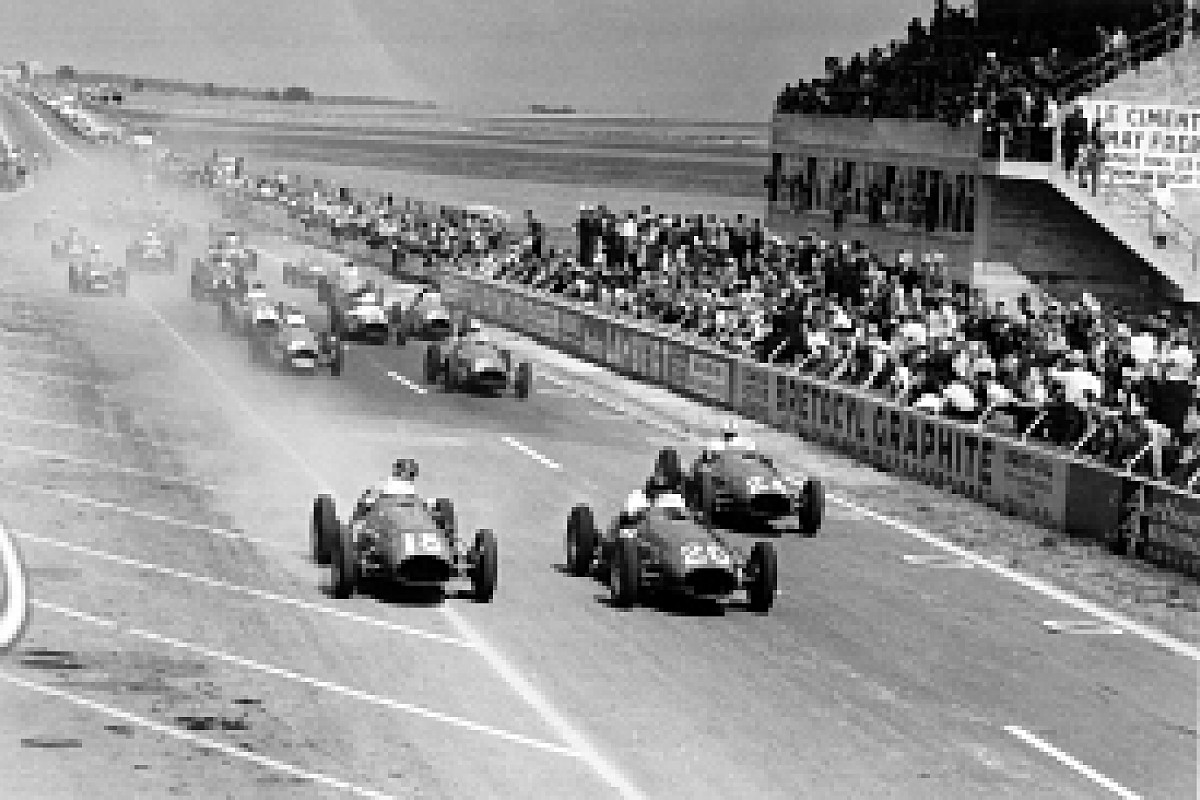 Successes were few and far between in 1953 for Fangio (18) © LAT
"The accident happened on the second lap. I had overtaken several cars and was really forcing. But then the Maserati went into a big slide and, being so tired, my reactions were simply not quick enough. I can remember it all so clearly; the car going off the road, hitting the grass bank, taking off, turning over in the air, seeing the trees rushing up towards me, being thrown out of the cockpit and through the air and landing on a patch of soft grass. I can clearly recall the strong smell of grass just before I passed out."
For some hours Fangio hovered between life and death, his neck broken.
"When I regained consciousness, Farina was there by my bed holding a laurel wreath. I thought he must be dead too. Eventually I began to believe that I was still alive and realised that he had won the race and had brought the laurel wreath to me in tribute."
It was Fangio's worst accident and kept him out of racing for many months. But there was never any thought of retirement, despite the fact that he was already 42 years old.
"My injuries were the most serious I ever suffered in an accident. But morally my worst accident was in one of the long-distance races in Peru. We went off the road and tumbled down a mountainside. In the course of this, the offside door came open and my co-pilot, Daniel Urrutia, was thrown out. When the car came to rest, I was trapped but managed finally to get out. When I found Daniel, he was dying.
"Morally, that was the worst experience. He was my good friend and I thought for a while that I could never race again. But after the Monza accident, I couldn't wait to get well again so that I could race. Completely different. But both accidents were caused by the same thing; fatigue."
During the course of his career, Fangio had very few accidents, his phenomenal driving ability saving him from disaster on countless occasions. He still does not really understand how he steered his Mercedes through the catastrophic accident scene at Le Mans in 1955: "There was green paint from Mike Hawthorns's Jaguar on my car afterwards."
There was also his avoidance of the carnage at Tabac during the 1950 Monaco Grand Prix, the famous incident that prompted the 'reconstruction' film sequence at Rampoldi's. Fangio had led from the start followed by Luigi Villoresi, but behind him there was chaos as Farina spun, collecting Froilan Gonzalez and Luigi Fagioli. In an instant nearly a dozen cars were involved and the roads were completely blocked. On round his next lap rushed the Argentinian, unaware of the commotion behind. As the Alfetta left the chicane at normal pace and sped down to Tabac and apparent calamity, Fangio, without being able to see the accident, suddenly hit his brakes and brought the car to a halt just short of the road block. It seemed like sixth sense.
With his protege Marimon (left) and Farina at Silverstone in 1953 © LAT
"No, it wasn't like that really. I was very lucky. There had been a similar incident in 1936 and I happened to see a photograph of it at the Automobile Club the day before the race. As I came out of the chicane, I was aware that there was something different with the crowd. I was leading, but they were not watching me. They were looking down the road. Instead of seeing their faces, I was seeing the backs of their heads. Something at Tabac was more interesting than the leader. And then I remembered that photograph and braked as hard as I could. It was very close."
At the Italian Grand Prix of 1953, Fangio fought a pitched battle for the entire race with the Ferraris of Ascari and Farina. For much of the race his protege and Maserati team-mate Onofre Marimon was also involved. A long pitstop cost Marimon three laps, but he rejoined the leaders in an effort to help Fangio. At the last corner of the final lap, Ascari and Marimon touched and spun and Farina went off to avoid them. Fangio, as usual, calmly made it through to win the race. His abiding memory, however, is of another incident altogether, and he remembers it with relish.
"My Maserati had a terrible vibration all through practice and it could not be cured. In every team I drove for I always made sure of having the mechanics on my side. Very important. Whatever the win, I would tell them, you will get 10 per cent. The night before Monza I again complained of the vibration. And for the race the car was suddenly cured. I have no idea how they did it, but I know Bonetto's teeth fell out during the race."
When Mercedes-Benz decided to return to grand prix racing, team manager Alfred Neubauer wanted only one man as his team leader. Sons of the Fatherland Karl Kling and Hans Herrmann would drive, but the number one car would be for Fangio. The reappearance of the three-pointed star was brief but devastating. It began at Reims in 1954 where three W196 cars - all with enclosed 'sportswear' bodywork - were entered.
Fangio and Kling cantered away from the field, which variously crashed or blew up in their wake. Herrmann, in his first grand prix, set the fastest lap before retiring. Every other F1 car was suddenly obsolete, for the silver arrows had them on reliability as well as pace.
"Well, with Mercedes there was always peace of mind. I drove 12 grands prix for them with eight wins, one second, one third, one fourth and one retirement. They were amazingly reliable, those cars. To win in 1954 and '55 was easy because the Mercedes was superior to every other car in every way. I had a real problem at Silverstone in 1954 because we had to use the streamlined cars. The other ones were not yet ready. At Silverstone they marked the course out with oil barrels, and visibility from the cockpit was not good. All through the race I kept hitting them and my car was very battered by the end. Later in the year I had an oil leak at Pedralbes and the following year I retired at Monaco. Otherwise there were never any problems."
In terms of sophistication, Mercedes was light years ahead of the opposition. Features such as cockpit-controlled rear shock absorbers were hardly standard practice in the fifties.
For those two years, Fangio and Mercedes were untouchable and when Stirling Moss joined the team in 1955, the two men frequently toured around at the front in much the same manner as Mario Andretti and Ronnie Peterson last season. Only at Aintree did the Englishman finish ahead of his team leader, and Moss says he has never really known whether or not Fangio simply allowed him to win. I repeated the question and Fangio simply smiled.
"I don't think I could have won, even if I'd wanted to. Moss was really pushing that day and his car had a higher final drive than mine. It was quicker."
There was no lack of sincerity in Fangio's voice when he replied. At the same time, one was left with the impression that here was another example of the generous spirit that made him the idol of his fellow drivers as well as the spectators. It seems that he will never admit to allowing Moss to win that day, but the fact remains that he did lead much of the race.
On only one other occasion was he ever 'beaten' by another Mercedes driver in an F1 race; at Avus in the Berlin Grand Prix of 1954 he again finished a close second after leading for a long time. It can have been no coincidence that the winner was Kling; a German on home ground. Mercedes, bear in mind, returned to grand prix racing to revive sagging sales on the automobile markets around the world. Whatever you may believe, PR is not an invention of the seventies.
Their purpose achieved, the Mercedes directors withdrew the company from racing at the end of 1955. Stirling Moss moved on to lead Officine Alfieri Maserati, a decision that Fangio might have followed to his advantage. Instead, he went to Scuderia Ferrari, beginning a season which brought success and a fourth world championship, but very little in the way of pleasure.
Fangio was never a political animal, working best in a relaxed and secure atmosphere. In 1956 the Ferrari camp was anything but, running a four-car team and positively encouraging rivalry between the driver. If Fangio was supposedly the undisputed team leader, he had at his heels three young and determined chargers, Eugenio Castellotti, Luigi Musso and Peter Collins.
Getting the mechanics on his side was always a priority © LAT
"Well, I must say the year with Ferrari was not happy. I never felt comfortable with the team, although I was on very good terms with all the drivers. The team manager I did not like. I had always had a mechanic exclusively on my car in the other teams, but Ferrari had a different system. I did not have my own mechanic. Halfway through the season, I was able to arrange it, and then everything was much better. I won in Britain - for the first and only time - and on the Nurburgring."
In 1956 Ferrari ran the brutish, side-tanked cars handed over to them by Lancia, which had abandoned grand prix racing soon after the death of Ascari in 1955. Throughout the following year the cars were officially billed as Lancia-Ferraris, but Fangio goes to some pains to stress that, in his eyes, they were Lancias merely run by Ferrari. Clearly, he has admiration for Maranello, but little in the way of affection.
"Two races I remember clearly from that year were Monte Carlo and Monza, although at neither was I the winner. In the Monaco race, I recall that the car was very, very difficult."
Fangio thrived on oversteer, another reason for his general discontent with the Lancia-Ferrari, which always showed a pronounced unwillingness to follow its front wheels. When the tail of the car finally did break away, it tended to be rather untidy and vicious. And for Monte Carlo it was far from the ideal machine. At the grand prix in 1956, Fangio did not drive like Fangio. In terms of stamina and sheer pace, the dimensions of his drive were staggering. But it was not like Fangio. At Ste Devote on the first lap he spun, taking off Musso and Harry Schell. Catching up, he damaged the nose of his car against Collins' Ferrari and, having got up to second, he hit the wall at Tabac.
Then came the genius. His Ferrari now reduced almost to wreckage, Fangio stopped and took over Collins' car, rejoining the race 90 seconds behind leader Moss. His pursuit of the Maserati was almost frightening, and it was only the genius of the man that somehow forestalled disaster. He was on the edge of an accident for two and a half hours. At the flag, he was but 6s behind.
"It was maybe the strongest race I ever drove. It was very difficult to overtake you know, even in those days. And I did overtake a few, I can tell you. Many people have said that it was not Fangio in the car that day, but they don't know what was going on in the car. When I crashed my own car, I hit oil and there was nothing I could do to stop the slide. And later... well, for me it was the fastest way around that circuit in that car. May not have been pretty to watch, but it was the quickest way."
Fangio took his only British GP win in 1956 in a Lancia-Ferrari he hated © LAT
If the Lancia-Ferrari was not a car moulded for Fangio, he still seemed able to make it work for him. In 1956, he started from the pole in every grand prix apart from the British - where he qualified second. The World Championship was decided only at the last race of the season at Monza where Fangio, Moss and Collins were all candidates for the title. It was very dramatic.
"My chance seemed to have gone. After only a few laps my car was retired with broken steering. Moss was leading and my position looked hopeless. When Musso came in to refuel, the Ferrari team manager asked him to let me have his car, but he refused. Later, Collins came in for new tyres. He had still the chance to be world champion, but he jumped out of his car and offered it to me. I was moved almost to tears by the gesture. In the end, I was second to Moss, and six points gave me the World Championship.
"Peter was one of the finest and greatest gentlemen I ever met in my racing career. I went to stay with him and his parents in England once. He died at the Nurburgring soon after I retired. I was desolate when I heard the news."
For 1957 Fangio rejoined Maserati with Moss moving on to Vanwall. It was a year of triumph for both men, with Moss giving Britain real grand prix success at last and the Argentinian, at 46, still showing himself to be simply the best. Between them, the two men won all the grandes epreuves that season. Fangio, back in a car which might have been created for his driving style, was at his greatest, winning the first three races of the season at Buenos Aires, Monaco and Rouen.
Thereafter, the power advantage of the Vanwall was usually too much for the Maserati, but the German Grand Prix produced what is generally regarded as Fangio's greatest drive. The facts of the day are too well-documented to bear detailed repetition here. Suffice it to say that after a long pitstop Fangio gained over 60s on the leading Ferraris of Hawthorn and Collins, breaking the Nurburgring lap record 10 times on the way. The year before, he had left it at 9m41.6s. In practice he went round in 9m25.6s - easily the quickest time. But in the race he made even that absurd with a time of 9m17.4s, taking the lead on the penultimate lap.
"Even now I can feel fear when I think of that race. I knew what I had done, the chances I had taken. The Nurburgring was always my favourite circuit without any doubt. I loved it, all of it, and that day I think I conquered it. On another day it might have conquered me, who knows? But I believe that day that I took myself and my car to the limit and perhaps a little bit more. I had never driven like that before, and I knew I never would again. Aye, that Maserati... Not very powerful, but beautifully balanced and a lovely car to drive. I felt I could do anything with it."
Arguably his finest win came at the 1957 German Grand Prix for Maserati © LAT
At the end of 1957 everything changed. Maserati, after a series of crippling financial blows - including the wiping out of three very expensive, and uninsured, 450S sports cars at the Venezuelan Grand Prix - announced its retirement from racing. Later, a skeleton programme came into being, this a matter of developing a lightweight version of the 250F. If all went well, Fangio would agree to drive the car in four or five races. But he would accept no contract for the season of 1958.
"I was becoming very tired after 10 years of F1, and probably would have finally retired at the end of 1957. But Maserati begged me to drive, even if only occasionally, and I agreed."
Development of the new car did not progress well, but eventually it was ready for Fangio to drive in the French Grand Prix at Reims.
"The clutch broke after only a few laps. I remember the pedal was full of holes in the interests of lightness. I came into the pits, and handed them the pedal! But Guerino Bertocchi, the chief mechanic, pleaded with me to carry on so I went out again. It was very hard to drive like that, but I think I finished fourth. I remember feeling sorry for the crowds because I suppose some of them had come to see me race, and here I was, apparently driving like a beginner.
"But lots of other things were going through my mind, which should not happen during a race. I was thinking back over my career. I had intended to come to Europe for one year only, in which I never expected to win any races. And now I had raced F1 for 10 years and won five championships. Suddenly I thought to myself that I would be stupid to carry on doing it. I was already 46 years old and had accomplished a lot. All those things were going through my mind that afternoon, as I drove at Reims. When the race was over, I got out of the car and said to my mechanic 'It is finished.' It was a hard decision to take."
Another grand prix career came to end that same day, for Musso lost his life in an accident on the second lap. Had that influenced Fangio's resolution to quit?
"No, no, not at all. I saw the accident but I did not know that Musso had died. By the time I found out at the end of the race, I had already made up my mind to stop. You must remember that during my time as a grand prix driver thirty drivers died. Always I was very sad, but I could not let it influence me. When another driver dies, you always believe that he made a mistake, nothing more or less. Therefore it was necessary to concentrate on not making mistakes. If you start to think you are going to die in the next race, it is better not to race at all.
Fangio drove on occasion later in life © LAT
"I was never tempted to return to racing afterwards. I was very tired and very content to stop and I did not miss it. I loved my 10 years in F1, but there had been great sacrifices - necessary if you are to remain on top, but sacrifices nevertheless. Racing is beautiful when you are full of enthusiasm, but when it becomes work you should quit. By the end of 1957 it was becoming work for me."
At the beginning of 1958, Fangio was again in the headlines of the world, and this time it had nothing to do with motor racing. In Cuba for the sportscar grand prix, he was kidnapped.
"Well, it was one more experience, you know. At the time it was not very pleasant because I was taken away by some men with machine guns. The Movement of July 26. That was their name. it was a Castro political organisation. They treated me very well in fact, and spent all their time trying to justify their reasons for kidnapping me. They apologised all the time. We eventually became quite friendly, and they made it clear they did not want to hurt me, but merely to stop me racing so that their actions would get into the newspapers. In fact, they told me they had been looking for me the year before and they never managed to find me! When they released me, their leader told me he was very sorry for having inconvenienced me. Probably in today's world such a thing would be very different. As it was, I was very sad to hear some time later that their leader had been shot by Batista's regime."
In reviewing his career, were there any regrets, anything left undone?
"Si, si, si, many things. But mainly I wish I had won the Mille Miglia. It was a race I liked very much although I thought it very dangerous for the public. Twice I was second, and in 1953 I should have won with my Alfa Romeo. I was leading by three minutes when I hit a kerb. Estupidio! After that the left wheel was not connected to the steering, and it made driving very hard. Muy dificil! I had to drive 170 miles with only the right wheel turning. The left one was going where it wanted to go. It had a mind of its own. Every time I turned to the right, the car wanted to go straight, but it was okay to the left. I finished second..."
Any conversation with Fangio had to end with his thoughts on modern grand prix racing and his feelings on the evolution of the F1 car and the environment in which it competes.
"Well, of course I do not see very much racing now. I always watch the grands prix on TV of course, but I seldom attend races. Everything is much more sensitive, much more perfect. A tiny little thing can make you lose. I sometimes feel sorry that the best drivers cannot have a chance to win because they do not have the best car. I think they must find that very frustrating. All the cars have about the same power of course, and now the aerodynamics are terribly important. I think that perhaps the car has become much more important than the driver, which is sad for the great driver whose car will not let him win. But what can you do? You cannot halt progress. Today it seems to me that the designers are more vital than the drivers.
"As to the drivers themselves, I have been very impressed by [Mario] Andretti, by [Niki] Lauda, and by this young man [Gilles] Villeneuve. [Carlos] Reutemann is a very good professional, but I think perhaps he lacks a little aggression maybe. It is hard for me to make a judgement because I see them race once or twice a year only, and the other races on TV.
Fangio and Moss: Fierce rivals on-track, close friends off it © LAT
"It is sad also, but perhaps inevitable, that many of the great circuits are lost now. In the time I raced my favourite tracks were the Nurburgring, Spa, Berne and Monza. Of these, only Monza survives for grand prix cars - and maybe not for much longer. But the world changes, no?"
Fangio enjoys his life today as much as ever. He is the president of Mercedes-Benz Argentina and also owns two large dealerships in Buenos Aires and Mar del Plata, maintaining a strong link with the company that brought him his greatest successes. He is a true folk hero. Twenty years after retiring, his name is still synonymous with racing across the world, and it is spoken by racing people with what amounts to reverence.
"I know what these people are expecting of me," he sighed as he looked out upon Donington Park shortly before his demonstration in the Mercedes W125. "And I just hope I still have the nerve to do it."
After his breathtaking display he was obviously exhilarated. It was really like the days of old as he came down the pitlane at the end, cutting the engine, nonchalantly lifting his goggles with both hands and braking to a halt. It was, he vowed, positively the last time he would drive a racing car.
Originally published on June 21, 1979.
Subscribe for complete access
To continue reading this feature, subscribe to Autosport Plus today.
Expert opinion. Technical insight. Unbeatable analysis. Subscribe today for
unlimited access
to the world's best motorsport journalism.
Get Autosport Plus for £1
No more monthly limits. Get complete access to all our news and Autosport Plus features.
Subscribe for just £1
Completely ad-free environment.
Access Autosport Plus - the best motorsport analysis, insight and opinion.
No monthly news limit.
Explore Forix, the world's most comprehensive motorsport stats database.