The seventh round of the 2011 Formula 1 World Championship season will be remembered for a very long time. The Canadian GP produced torrential rain, a two-hour delay, controversial collisions, numerous appearances by the safety car, a record number of on-track passes and a charging Jenson Button nailing victory out of nowhere. Oh, and world championship leader Sebastian Vettel tripping over himself on the last lap.
If you struggled to make sense of the madness in Montreal, you'll need to read Mark Hughes's analysis of what happened on- and off-track. Mark explains McLaren star Button survived a drive-through penalty, a puncture and collisions with his team-mate Lewis Hamilton and Ferrari rival Fernando Alonso to record "definitely my best race ever".
As ever, AUTOSPORT's 14-page GP analysis includes a qualifying report, a technical review, driver-by-driver appraisals and comprehensive results.
Mark Hughes column - Our grand prix editor compares the Monaco accidents of Karl Wendlinger, back in 1994, and Sergio Perez a few weeks ago, and explains how the advances in F1 safety made a real difference to the two Sauber drivers' fates.
Le Mans 24 Hours - Frightening and fabulous in equal measure, the 79th Le Mans 24 Hours had it all. Gary Watkins' annual mega-report from La Sarthe examines the terrifying accidents that befell Audi stars Allan McNish (in the first hour of the race) and 2010 winner Mike Rockenfeller (in darkness on the approach to the daunting Indianapolis corner). After holding his breath as the two R18s kept their drivers in tact, Gary witnessed a humdinger between the sole-remaining Audi of Marcel Fassler/Andre Lotterer/Benoit Treluyer, and a quartet of Peugeot 908s. In the end, the #2 German machine edged it by 13 seconds!
Texas IndyCar - For the first time since 1981, America's top open-wheel series put on a two-race event. The double-header at the Texas Motor Speedway resulted in an 18th career win for Dario Franchitti and a maiden oval victory for his Penske nemesis Will Power. Mark Glendenning watched both races and reveals how the race-two grid lottery wasn't to everyone's taste.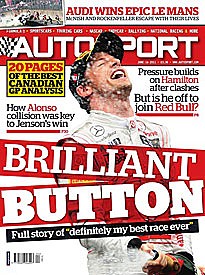 Honda in the BTCC - Our British Touring Car correspondent Kevin Turner explains how - and why - the Team Dynamics Honda Civics of championship leaders Matt Neal and Gordon Shedden are getting the job done in Britain's favourite championship.
WRC adventure training - David Evans examines the attempts by FIA president - and former WRC co-driver - Jean Todt to bring back endurance-style events to the top level of rallying.
From the archive - Recalling the day, back in 2005, when Timo Glock almost won the rain-soaked Montreal CART race for Rocketsports.
Race of my life - German tin-top veteran Klaus Niedzwiedz reminisces about his second-place finish in an Allan Moffat-run Sierra RS500 at Bathurst in 1989.