PRACTICE
Vettel's weekend didn't get off to a great start © LAT
Practice one
It only took just over half an hour for Montreal's barriers to claim their first victim - and it was world champion and runaway points leader Sebastian Vettel who found the wall first, mangling his Red Bull on the 'wall of champions' at the final chicane and prompting the weekend's first stoppage.
That ruled him out of the battle for the top spot, which became a Ferrari and Mercedes contest, ultimately won by Nico Rosberg ahead of Fernando Alonso, Michael Schumacher and Felipe Massa.
Practice two
Vettel's car was repaired in time for second practice, when he took second place behind Alonso. Massa was third, followed by the McLarens and a great run to sixth by Force India's Paul di Resta on his circuit debut. Mercedes focused on high-fuel running and slipped back to 19th and 20th.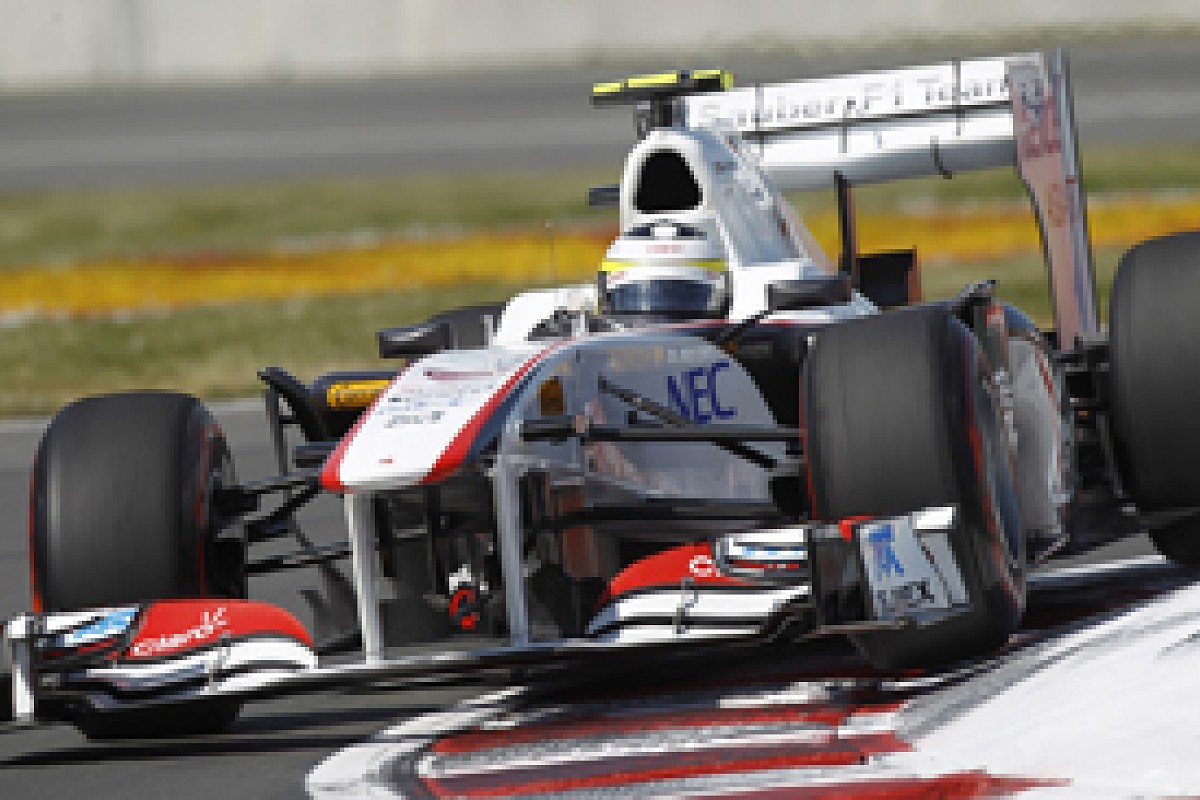 De la Rosa finds his way around a Sauber again © LAT
There were several more incidents this time - Kamui Kobayashi and Jerome D'Ambrosio both crashing at the Turn 3/4 chicane and causing red flags, while Adrian Sutil broke his Force India's suspension against the wall but managed to park tidily enough to let the session continue.
But the big news of the afternoon was a sudden driver change in the Sauber cockpit. Although Sergio Perez had managed 11th in the morning, he was feeling unwell after his Monaco crash and was stood down. With Sauber's rather miffed official reserve Esteban Gutierrez not present, the team hurriedly resorted to borrowing McLaren standby Pedro de la Rosa - sacked by Sauber just nine months ago - who settled back into his old cockpit still wearing McLaren overalls and took 18th.
Practice three
Vettel and Alonso were the main protagonists in final practice too, with the Red Bull emerging in front by three tenths of a second during the late qualifying simulations. Rosberg returned Mercedes to the front group in third.
While one Red Bull was fastest, the other one failed to set a time at all - KERS issues keeping Mark Webber in the garage all morning.
De la Rosa had the only crash of this session when he spun and hit the wall at the Turn 3/4 chicane, bringing out a fairly redundant red flag at pretty much the same time as the chequered fell.
QUALIFYING
1. Sebastian Vettel, Red Bull
Team-mate qualifying battle 6-1
Despite everybody expecting the Montreal circuit to be the venue for Red Bull's weakest performance of the year, Vettel showed he is in a different league when it comes to qualifying, the German securing his sixth pole in seven races. He had a difficult start to the weekend again after crashing in practice, but that didn't prove a big problem on Saturday, as he secured pole by over three tenths.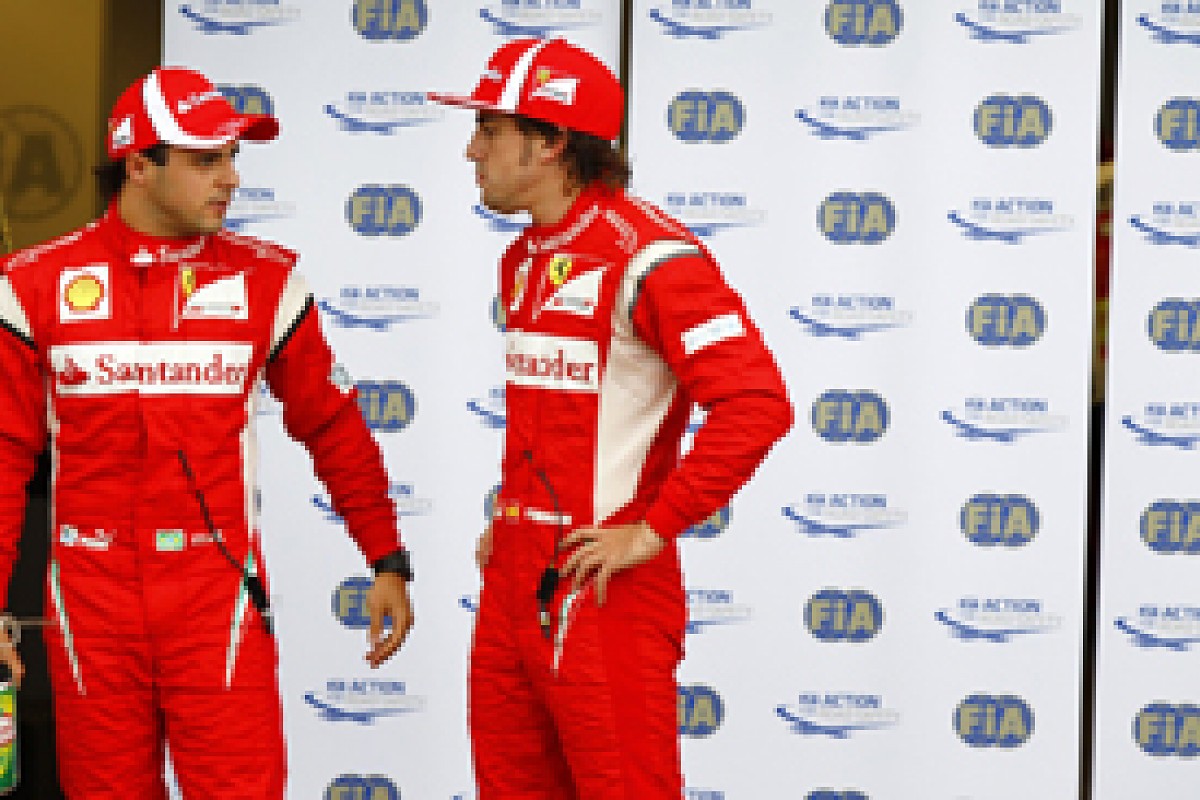 The Ferrari pair were pleased to be back in the top three © LAT
2. Fernando Alonso, Ferrari
Team-mate qualifying battle 7-0
It was clear from the start of the weekend, that this was going to be Ferrari's best chance yet to fight for pole, although in the end Vettel proved to be unreachable for Alonso. Still, with Ferrari's stronger race pace, the Spanish driver had reasons to be very happy about his performance.
3. Felipe Massa, Ferrari
Team-mate qualifying battle 0-7
Massa put on what was arguably his best showing of the season so far, finally looking like he was set to outqualify his team-mate. It was not to be, however, but the Brazilian, like Alonso, could only be very happy with his and Ferrari's form in Montreal.
4. Mark Webber, Red Bull
Team-mate qualifying battle 1-6
Webber was satisfied with his position despite not having a chance to fight for pole. It was another difficult Saturday for the Australian, who was unable to complete a single lap in final practice after suffering KERS problems once again. The problems meant he couldn't use the system in qualifying.
5. Lewis Hamilton, McLaren
Team-mate qualifying battle 5-2
There was little doubt that much more was expected from McLaren at a track where many believed it was favourite ahead of Red Bull. As it was, however, Hamilton was left to admit that his car was simply too slow, the Briton never in contention for pole after finishing over half a second off the top.
6. Nico Rosberg, Mercedes
Team-mate qualifying battle 6-1
Another team which was tipped for a strong showing in Canada, Mercedes was somewhat disappointing after Rosberg finished nearly a second behind Vettel. The German was still positive about his result, however, as he felt his race chances were still looking good.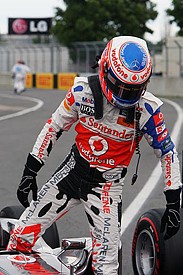 Button expected better than seventh © sutton-images.com
7. Jenson Button, McLaren
Team-mate qualifying battle 2-5
Like team-mate Hamilton, Button was never in a position to fight for a strong result, the Briton admitting he wasn't expecting McLaren to be so slow. His final run was not perfect either, and he admitted he could have beaten Rosberg, but was not too bothered as he was starting from the clean side of the road.
8. Michael Schumacher, Mercedes
Team-mate qualifying battle 1-6
Schumacher was also happy with his day despite Mercedes finishing further from the top than expected. The seven-time champion lost some time during his final run after his car did not have drive for an instant, a problem that may have cost him a couple of places.
9. Nick Heidfeld, Renault
Team-mate qualifying battle 2-5
Heidfeld was one of a few drivers who opted for a compromised set-up for qualifying, hoping the predicted rain would hit the track on Sunday. The decision did not cost him much during the grid-deciding session and it meant he had a good chance of a strong result on Sunday.
10. Vitaly Petrov, Renault
Team-mate qualifying battle 5-2
Petrov completed a good day for Renault, which was delighted to bounce back strongly following the Monaco qualifying debacle. The Russian, however, was not too pleased with his day after struggling to warm up his tyres during the session. Still, he made it into the top 10 quiet comfortably.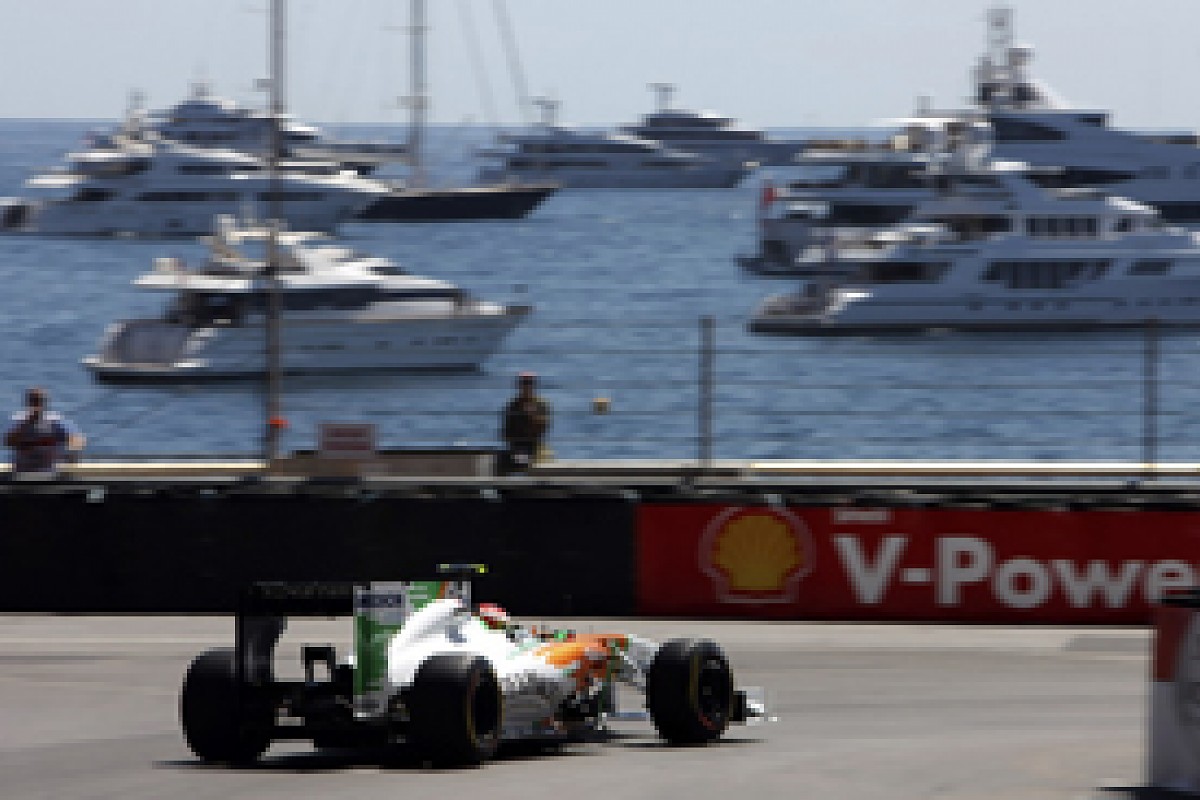 Di Resta was in great form on his first visit to Canada © LAT
11. Paul di Resta, Force India
Team-mate qualifying battle 6-1
The Scot came very close to making it into Q3, but a couple of tenths lost in the final chicane during his final run left him outside of it. He admitted his tyre strategy was probably not the best, but it meant he was able to save a set of super softs for the race.
12. Pastor Maldonado, Williams
Team-mate qualifying battle 4-3
Another solid effort for the rookie, who is now 4-3 ahead of team-mate Barrichello in this year's qualifying sessions. Maldonado admitted he had extracted every single drop of performance from his Williams, although he was still hopeful of a strong showing in the race.
13. Kamui Kobayashi, Sauber
Team-mate qualifying battle 4-3
Not an easy weekend for Sauber in Montreal. Kobayashi, struggling over the kerbs, made his team build a new car based around the spare chassis after crashing during Friday practice. In qualifying he could have been faster, but a problem with his DRS meant he nearly lost his car in the second chicane.
14. Adrian Sutil, Force India
Team-mate qualifying battle 1-6
Sutil admitted he was hoping for more from qualifying, especially after finishing half a second behind team-mate di Resta. The German made a mistake during his final run and lost valuable tenths and all his chances of getting closer to the top 10.
15. Sebastien Buemi, Toro Rosso
Team-mate qualifying battle 6-1
Buemi said he was disappointed to be just half a tenth away from 13th position, but that was to be expected in such a closely-matched midfield. The Swiss driver backed his team's decision to use a final set of super softs at the end of Q2, as he felt he would have finished further back otherwise.
16. Rubens Barrichello, Williams
Team-mate qualifying battle 3-4
Barrichello was actually quite encouraged by the pace of his Williams, even if that wasn't reflected in qualifying because of a problem with a disc brake. The Brazilian's car was pulling to one side as a consequence of the issue, and he was unable to complete a proper run in Q2.
17. Pedro de la Rosa, Sauber
Team-mate qualifying battle 0-1
It was never going to be an easy qualifying for de la Rosa, who found out he was racing this weekend just 10 minutes before the start of second practice. All things considered, he did a respectable job, although his crash at the end of final practice did not make things easier.
18. Jaime Alguersuari, Toro Rosso
Team-mate qualifying battle 1-6
The Spaniard endured a difficult day after struggling with the brakes of his car. Although things improved a bit for qualifying, a mistake during his final run meant of damaged his tyres, thus failing to make the cut into Q2. Alguersuari said the car had potential to be in 15th.
19. Jarno Trulli, Lotus
Team-mate qualifying battle 1-6
Trulli was happy with his day after finally managing to outqualify Kovalainen this season, although the Italian continued to have problems with the power steering, which is not giving him enough feedback to feel comfortable driving. Still, he secured the best position available to him on the day.
20. Heikki Kovalainen, Lotus
Team-mate qualifying battle 6-1
Kovalainen was also pleased with his session after extracting everything out of his car, finishing less than a tenth behind his team-mate. Unlike Trulli, the Finn opted for a set-up that was better prepared for the rain.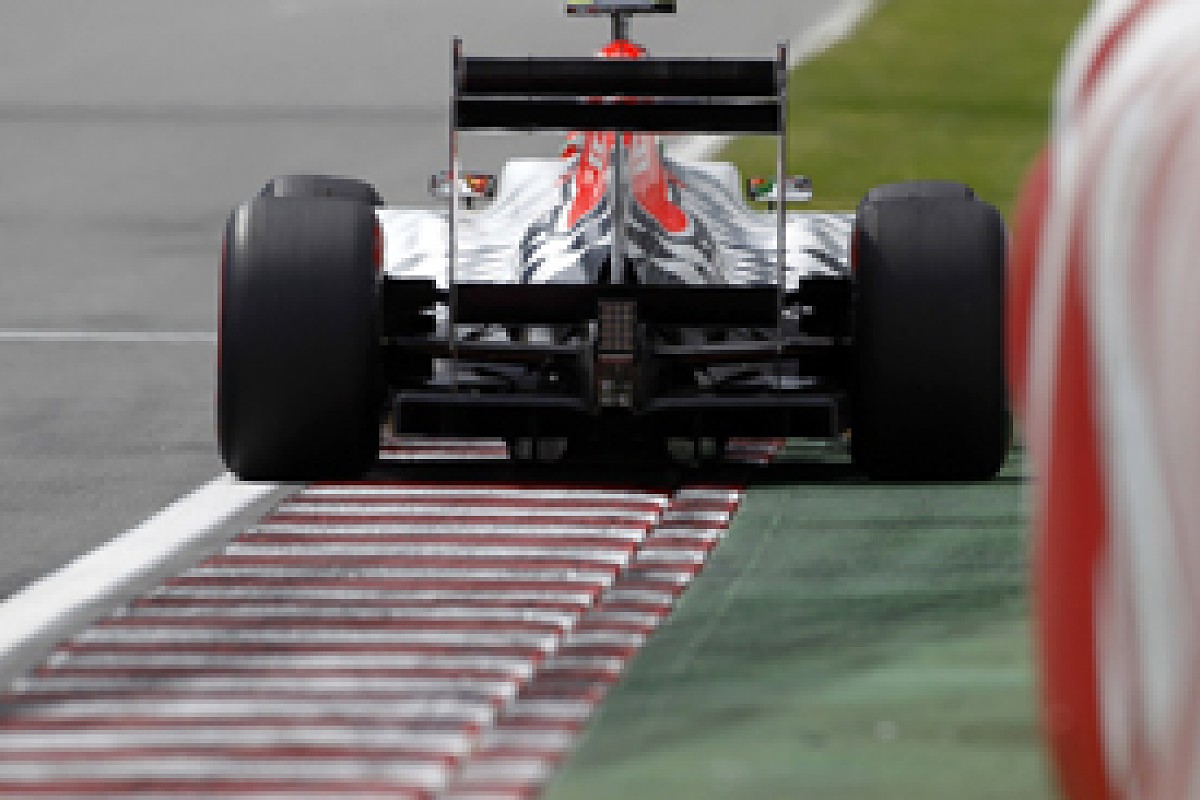 Liuzzi got the most out of the improving Hispania © LAT
21. Tonio Liuzzi, Hispania
Team-mate qualifying battle 7-0
Hispania seemed to take a step forward in Canada thanks to the introduction of new updates, and Liuzzi made the best of the situation to qualify ahead of both Virgins. Understandably, he was pleased with his position, which at the moment is the best he can aim for given the gap to Lotus.
22. Timo Glock, Virgin
Team-mate qualifying battle 5-2
Glock was another driver who opted for a wet-weather set-up, and so it proved to be a difficult day for him on Saturday, having to settle for 22nd position. There was nothing to write home about for the German, who is set to continue to endure tough times all year.
23. Narain Karthikeyan, Hispania
Team-mate qualifying battle 0-7
Although he is yet to outqualify his team-mate Liuzzi, Karthikeyan came very close in Canada, and so he was pleased with that. His final run was not perfect, however, and he admitted he was having problems getting his tyres up to the right temperature.
24. Jerome D'Ambrosio, Virgin
Team-mate qualifying battle 2-5
A very hard weekend for the rookie, who destroyed his car in a crash at Turn 4 during second practice. The accident meant Virgin had to build a new one around the spare chassis, and D'Ambrosio struggled with it on Saturday. He failed to qualify and, despite having only run within the 107 per cent in first practice, he got the green light to race.

QUALIFYING RESULTS
Pos  Driver                Team                 Time         Gap   
 1.  Sebastian Vettel      Red Bull-Renault     1m13.014s
 2.  Fernando Alonso       Ferrari              1m13.199s  + 0.185
 3.  Felipe Massa          Ferrari              1m13.217s  + 0.203
 4.  Mark Webber           Red Bull-Renault     1m13.429s  + 0.415
 5.  Lewis Hamilton        McLaren-Mercedes     1m13.565s  + 0.551
 6.  Nico Rosberg          Mercedes             1m13.814s  + 0.800
 7.  Jenson Button         McLaren-Mercedes     1m13.838s  + 0.824
 8.  Michael Schumacher    Mercedes             1m13.864s  + 0.850
 9.  Nick Heidfeld         Renault              1m14.062s  + 1.048
10.  Vitaly Petrov         Renault              1m14.085s  + 1.071
11.  Paul di Resta         Force India-Mercedes 1m14.752s  + 1.321
12.  Pastor Maldonado      Williams-Cosworth    1m15.043s  + 1.612
13.  Kamui Kobayashi       Sauber-Ferrari       1m15.285s  + 1.854
14.  Adrian Sutil          Force India-Mercedes 1m15.287s  + 1.856
15.  Sebastien Buemi       Toro Rosso-Ferrari   1m15.334s  + 1.903
16.  Rubens Barrichello    Williams-Cosworth    1m15.361s  + 1.930
17.  Pedro de la Rosa      Sauber-Ferrari       1m15.587s  + 2.156
18.  Jaime Alguersuari     Toro Rosso-Ferrari   1m16.294s  + 2.472
19.  Jarno Trulli          Lotus-Renault        1m16.745s  + 2.923
20.  Heikki Kovalainen     Lotus-Renault        1m16.786s  + 2.964
21.  Tonio Liuzzi          HRT-Cosworth         1m18.424s  + 4.602
22.  Timo Glock            Virgin-Cosworth      1m18.537s  + 4.715
23.  Narain Karthikeyan    HRT-Cosworth         1m18.574s  + 4.752
24.  Jerome D'Ambrosio     Virgin-Cosworth      1m19.414s  + 5.592

RACE
Given that Montreal can normally be relied upon to create entertainment even in championships when pretty much nothing else remotely pulse-quickening happens all year, it was always likely to be a little bit special in a season as spectacular as 2011.
And in the event, it didn't even need quirks like a double DRS zone or a repeat of 2010's extreme tyre wear to deliver the best race of the year so far - just a healthy dose of changeable weather and a quite remarkable drive from Jenson Button, who produced not only one of the greatest comeback charges in Formula 1 history, but two of them in quick succession.
With the track reasonably wet after a damp morning, the officials decided that four laps behind the safety car were necessary before things could get underway properly. At the front, poleman Sebastian Vettel didn't make the best of the initial start and had to resist some pressure from Fernando Alonso, but having fended off the Ferrari into Turn 1 he had no trouble charging away, leaving the Spaniard to focus on his team-mate Felipe Massa.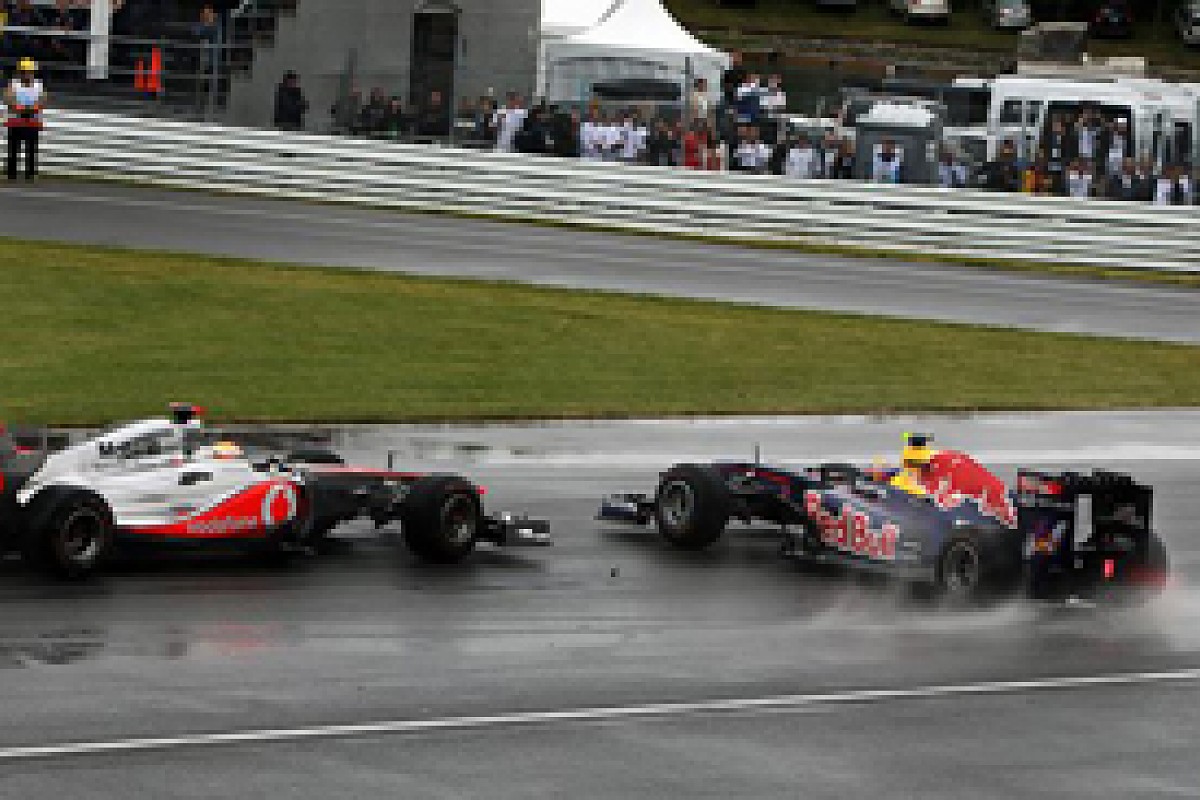 Hamilton tags Webber into a first-corner spin © sutton-images.com
Behind, things were less orderly, and the McLaren drivers were in the thick of it, starting from the very first corner, where Lewis Hamilton tagged Mark Webber into a spin.
"I went down the inside and he braked quite early," said Hamilton. "I was on the kerb and then I pushed over, and we just touched."
Webber responded: "I think Lewis thought the chequered flag was in Turn 3... We made contact, I tried to give him some room. I know it's easy to clip someone but I think it was a bit clumsy that early in the race."
The Red Bull continued in 12th, while the McLaren slipped behind the two Mercedes and Button - who then got very sideways at Turn 6/7 and lost out to Michael Schumacher and Hamilton.
The McLarens would swap places again next time around after Hamilton's attempt to go down the outside of Schumacher into the Turn 10 hairpin saw him end up with two wheels on the grass and then slither over the run-off area. But the Briton only lost one place, to Button again, and was soon attacking his team-mate once more.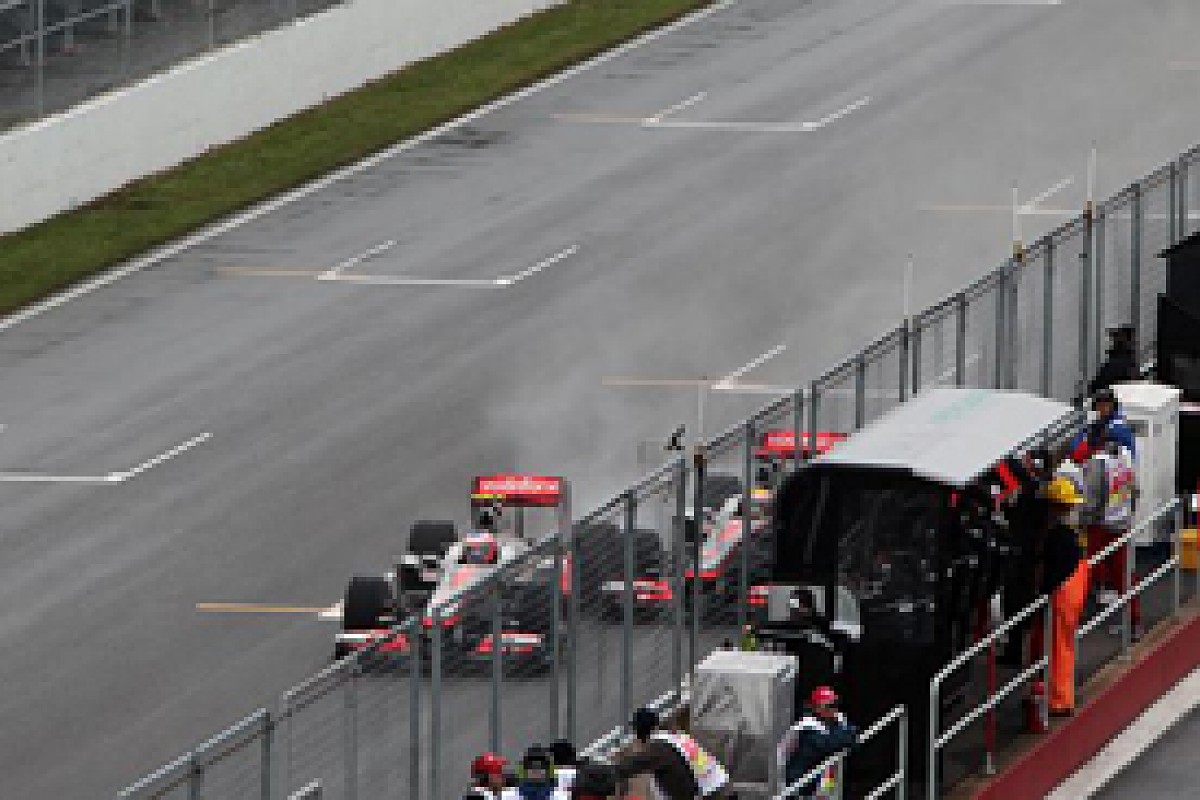 The two McLarens make contact © sutton-images.com
At the end of lap seven, Hamilton got a much better run through the final chicane than Button and went to pass on the inside. But his team-mate was already committed to the racing line and had no idea the sister McLaren was edging alongside so fast. As the gap between Button's car and the pit wall narrowed, Hamilton simply ran out of space and was pincered.
"I felt that I was at least halfway alongside him," Hamilton argued. "I don't know if he could see me or not, but he just kept moving across, and then I was in the wall."
Button said the first he knew of Hamilton's presence was when they made contact.
"I couldn't see anything in my mirrors," he said. "It was one of those things and I have apologised to him."
Hamilton was adamant his car was fine to continue and had suffered no worse than wing damage and a puncture, but at the team's insistence (which proved to be correct when a later examination revealed suspension damage) he parked at Turn 5, prompting the safety car. Button immediately pitted for checks and took on intermediate tyres at the same time, though he would soon be back in for a penalty for having exceeded the permitted speed while catching the safety car, and then again to change back to wets when the rain suddenly returned with a vengeance and another full course caution was called.
With many other drivers, including Alonso, the two Mercedes and much of the midfield, having made the same wets-intermediates-wets pitstop shuffle, Button was still in the top 10 as the field formed up first behind the safety car, then on the grid as the deluge became so great the red flags were required.
The stoppage would ultimately last over two hours before conditions were finally deemed safe enough for the field to set off behind the safety car again.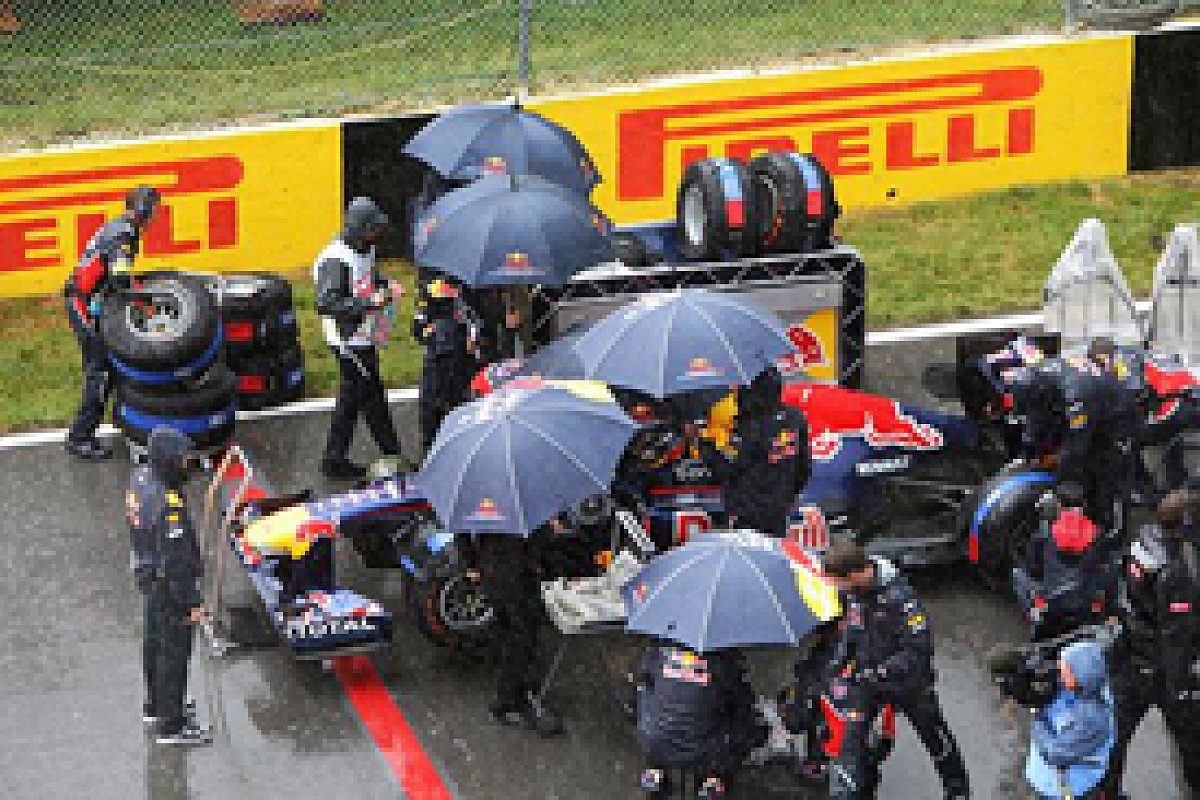 Vettel waits in the rain for the race to resume © sutton-images.com
Vettel was still in the lead, having even managed to stop for a fresh set of wets as the safety car came out and still stay ahead. Massa had used the same tactic but couldn't get out of the pits in time to stop Kamui Kobayashi sweeping into second place - the Sauber having charged up the order in the opening laps then stayed out as many ahead pitted either for intermediates or new wets. The Renaults of Nick Heidfeld and Vitaly Petrov were next up, followed by Paul di Resta's Force India, Webber, Alonso and Pedro de la Rosa.
The safety car stayed out a further 10 laps even after the race officially resumed, before finally coming in on lap 34. By that time the sun was breaking through and Schumacher led a host of drivers into the pits for intermediates at the earliest opportunity, with Button following suit next time around and then the rest of the field copying their example a lap later.
With the Ferraris coming in at the same time, Alonso had to queue behind Massa, which meant he then exited the pits on cold tyres just ahead of Button. The McLaren drew ahead on the way to Turn 3, Alonso tried to hang around the outside, and contact was made, spinning the Ferrari gently into the wall and leaving Button with a puncture.
So the safety car was called for yet again. This latest incident dropped Button firmly to the tail of the field by the time he had limped back to the pits, while at the front Vettel still had Kobayashi as his nearest challenger, the Sauber having successfully kept Massa at bay during the two laps of green flag racing that had been squeezed in. Heidfeld and di Resta were fourth and fifth ahead of Webber, with Schumacher's early switch to intermediates having vaulted him to seventh.
The seven-time champion soon gained a couple more places, first when Webber slid wide at the hairpin, then when di Resta damaged his front wing in a brush with Heidfeld at the final chicane, for which the Force India driver would be penalised.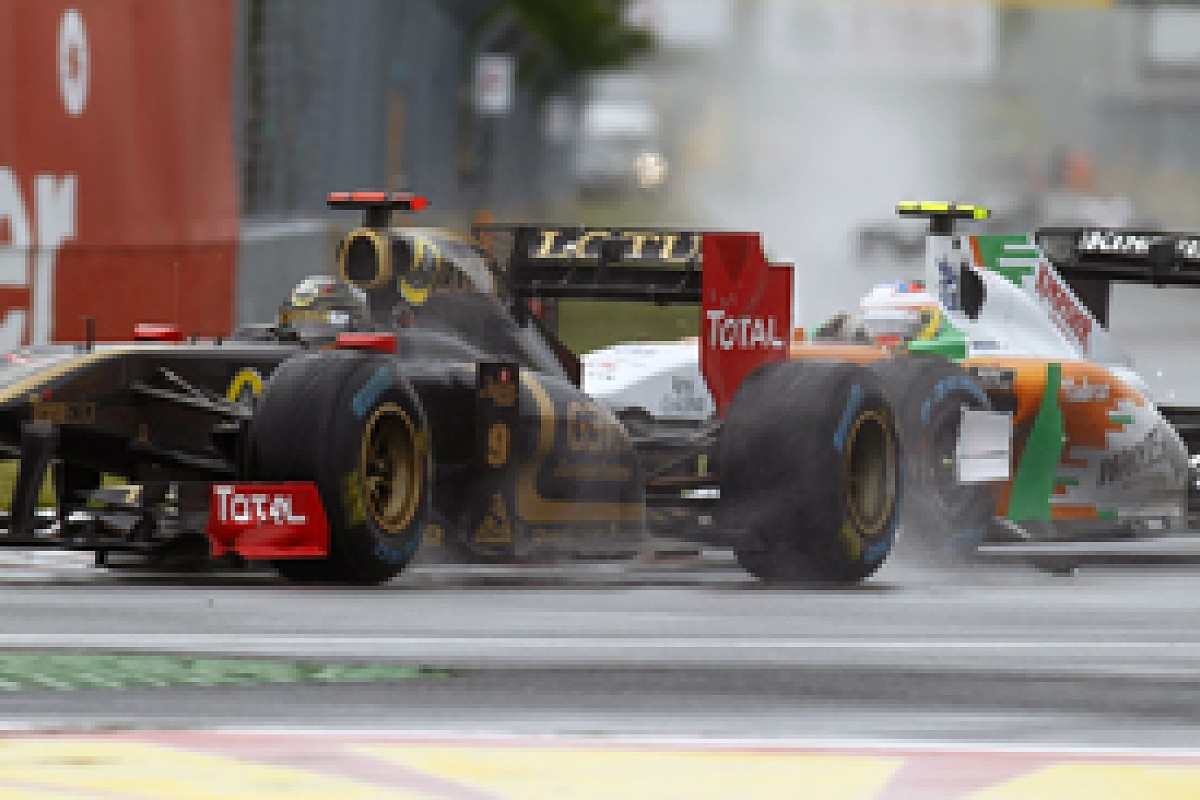 Heidfeld and di Resta make contact © LAT
"The drivethrough I don't think was really acceptable," said di Resta, who would later crash out in the closing stages while trying to fight back into the points. "Nick came across in front of me, I tried to back out of it, and he took my front wing off."
Schumacher was now flying. He breezed past Heidfeld, then set off after Kobayashi and Massa, as the Sauber continued to resist all the Ferrari could throw at it. Their slower pace allowed Schumacher - who was setting new fastest race laps - to catch them by lap 51, when as Kobayashi ran wide then pulled across to defend from Massa, the Mercedes was able to fly past both of them and move from fourth to second with ease.
The track was now dry enough to gamble on slicks, and Webber - who was still stuck behind Heidfeld - and Button, who had already recovered from last to 10th, were among the first to give dry rubber a go.
It paid off spectacularly well, and by the time the rest of the field had hurriedly followed their example, Webber and Button were up to third and fifth, behind Vettel and Schumacher with the McLaren soon passing Kobayashi to make it fourth. Massa was no longer part of this fight, having spun and damaged his wing against the wall when trying to lap Narain Karthikeyan just after taking on slicks.
"Suddenly on the out-lap there was a Hispania, he was very slow in the dry, completely slow, and he was not doing the corners right," said the furious Massa. "I passed him on the right, and then my car was just driving on the 'ice' where it was wet, and I lost the car."
At this stage, with 14 laps to go, Vettel still seemed serene ahead of all this action, leading by 10 seconds from the Schumacher-Webber-Button train that was beginning to form. But there would be one last safety car intervention to shake things up, caused by Heidfeld running into the back of Kobayashi at Turn 2, and then crashing at Turn 3 when his damaged front wing spectacularly folded under his car.
"I was behind Kamui, clearly quicker than him, then at Turn 2 I don't know what happened to him - to me it looked like he hit neutral or something because he nearly stopped and I couldn't avoid him, and that was it," said Heidfeld.
There were 10 laps remaining when the final restart came, and Vettel looked like he would be able to make a break as Webber and Button were too busy with Schumacher. The Red Bull was having issues pulling off a DRS pass with the track still damp off-line - first making it past but cutting the chicane and having to hand the place back (in a neat move that didn't let Button pounce), then sliding very wide through the chicane at the next attempt and letting the McLaren through to third after all.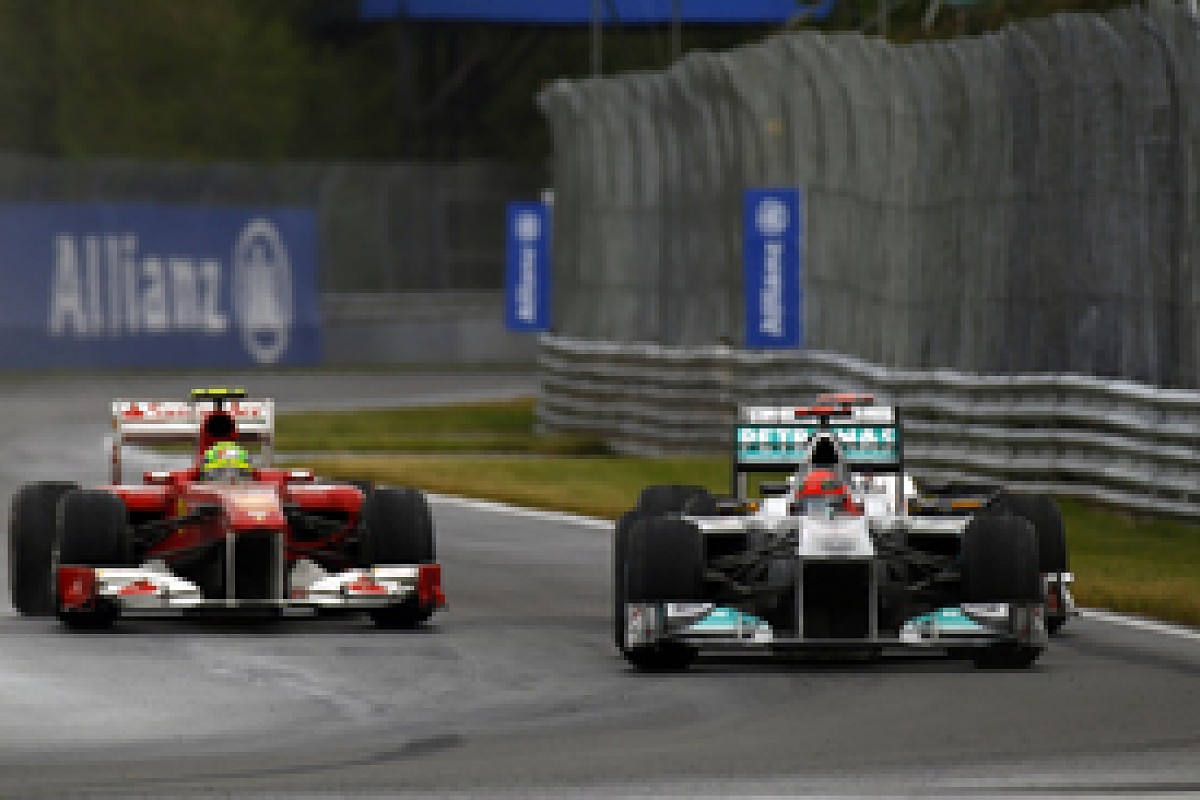 Schumacher got past Massa and Kobayashi in a single move © LAT
Now it was Button's turn to attack Schumacher, and he had more immediate success, executing a straightforward DRS pass on the long straight with six laps to go and then setting off after Vettel, who was only three seconds ahead of them.
The flying McLaren initially tore a second per lap from Vettel's advantage, but then the Red Bull raised its pace and looked like it might manage to do just enough to keep Button at bay.
Heading onto the penultimate lap, Button was close enough to trigger his DRS - but not quite close enough to complete a move. A final corner showdown in the last DRS zone of the race looked to be in prospect - but the fight didn't quite get that far as Vettel succumbed to the huge pressure at Turn 6, locking his rear wheels, sliding into a half-spin and letting Button sweep through to take his first win in over a year and one of the most astounding victories in F1 history.
"I really do not know what to say," said the ecstatic Button. "It has been a very emotional three hours, or however long it has been since the start... I think even if I hadn't won today I would have enjoyed this race immensely."
Finishing second to Button did barely any damage to Vettel's still vast championship lead, but losing a victory that had seemed so secure still hurt the champion.
"We led every single lap except the last one. Or part of the last one..." he lamented.
"I was probably too conservative when I was in the lead after the last safety car and didn't open the gap quite enough. I was trying to hold the gap to the cars behind. Then I saw Jenson coming through. I was pushing and I think it would have been enough to the end but obviously it was not as I did a mistake. It is clearly down to me."
Webber eventually did make it past Schumacher to claim third, and then resisted the Mercedes as it came back at him over the final laps. It had been by far the best performance of Schumacher's comeback, yet having come so close to a podium, to not quite pull it off left the German a touch disappointed.
"Naturally I'm not sure whether I should be excited or be unhappy about what was going on," said Schumacher. "Having been second in the right moment then having the safety car and having the fast guys breathing down your neck right behind you, it was clear that I couldn't defend. I was still hoping to maybe keep one of them behind me."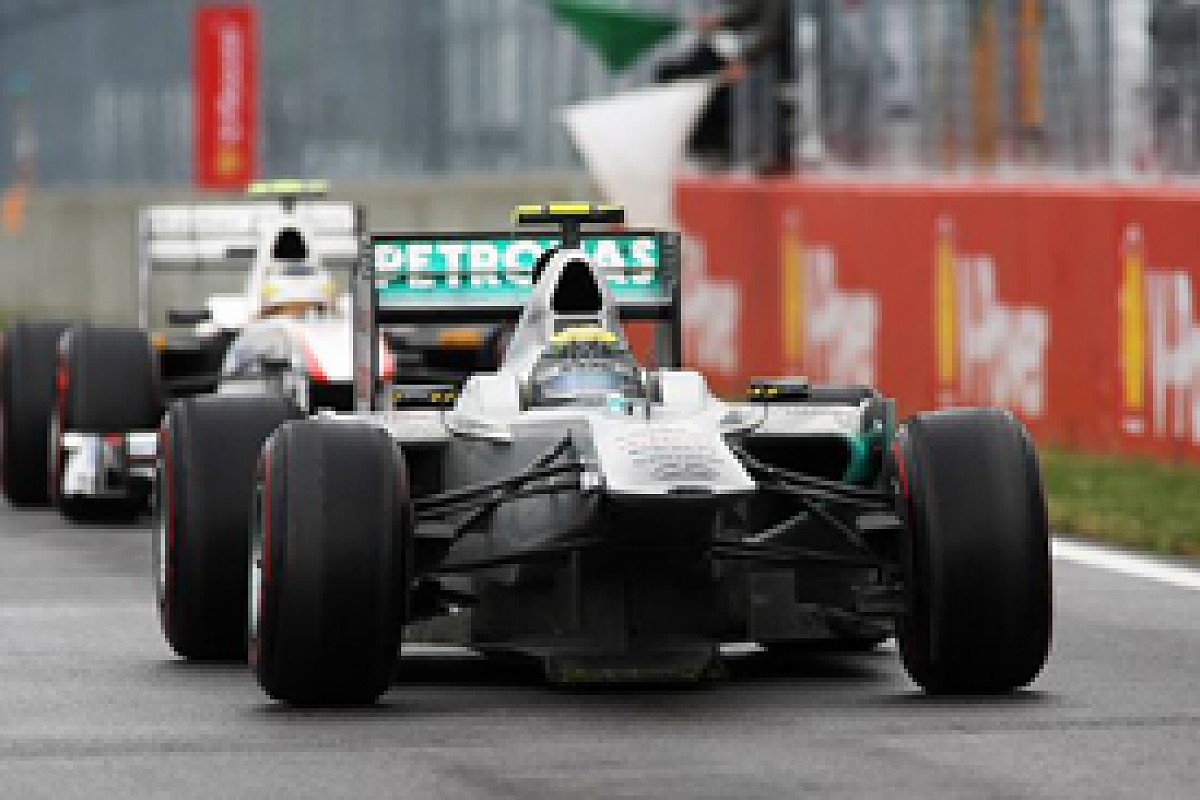 Rosberg's race went downhill © sutton-images.com
Petrov battled past Kobayashi to take fifth, and the Sauber then lost out to the resurgent Massa by just 0.045s in a drag race to the line. The Toro Rossos of Jaime Alguersuari and Sebastien Buemi sandwiched Rubens Barrichello's Williams as the trio completed the points-scorers.
Incidents with Adrian Sutil and Kobayashi left Rosberg outside the points in 11th, ahead of de la Rosa, who damaged his car in a brush with Button at a restart and also got stuck in first gear at one stage.
In the battle of the teams-once-known-as-'new-teams', Hispania scored a shock 'class one-two' on the road as Tonio Liuzzi came home 13th. Karthikeyan was given a post-race penalty for clashing with Timo Glock at the last corner and cutting the chicane, so 14th went to Jerome D'Ambrosio. Lotus had a miserable race, Heikki Kovalainen suffering a broken driveshaft just before the post-red flag restart, and Jarno Trulli needing an extra pitstop to attend to a stray object in the cockpit and finishing only 16th.
RACE RESULTS

The Canadian Grand Prix
Circuit Gilles Villeneuve, Montreal;
Weather: Wet.

Classified:

Pos  Driver                Team                      Time
 1.  Jenson Button         McLaren-Mercedes       4h04:39.537
 2.  Sebastian Vettel      Red Bull-Renault         + 2.709
 3.  Mark Webber           Red Bull-Renault         + 13.828
 4.  Michael Schumacher    Mercedes                 + 14.219
 5.  Vitaly Petrov         Renault                  + 20.395
 6.  Felipe Massa          Ferrari                  + 33.225
 7.  Kamui Kobayashi       Sauber-Ferrari           + 33.270
 8.  Jaime Alguersuari     Toro Rosso-Ferrari       + 35.964
 9.  Rubens Barrichello    Williams-Cosworth        + 45.117
10.  Sebastien Buemi       Toro Rosso-Ferrari       + 47.056
11.  Nico Rosberg          Mercedes                 + 50.454
12.  Pedro de la Rosa      Sauber-Ferrari           + 1m03.607s
13.  Tonio Liuzzi          HRT-Cosworth             + 1 Lap
14.  Jerome D'Ambrosio     Virgin-Cosworth          + 1 Lap
15.  Timo Glock            Virgin-Cosworth          + 1 Lap
16.  Jarno Trulli          Lotus-Renault            + 1 Lap
17.  Narain Karthikeyan    HRT-Cosworth             + 1 Lap
18.  Paul di Resta         Force India-Mercedes     + 3 Laps

Retirements:

    Driver                Team                        Laps
    Pastor Maldonado      Williams-Cosworth           61
    Nick Heidfeld         Renault                     55
    Adrian Sutil          Force India-Mercedes        49
    Fernando Alonso       Ferrari                     36
    Heikki Kovalainen     Lotus-Renault               28
    Lewis Hamilton        McLaren-Mercedes            7

World Championship standings, round 7:              

Drivers:                               Constructors:             
 1.  Sebastian Vettel      161          1.  Red Bull-Renault        255
 2.  Jenson Button         101          2.  McLaren-Mercedes        186
 3.  Mark Webber           94           3.  Ferrari                 101
 4.  Lewis Hamilton        85           4.  Renault                 60
 5.  Fernando Alonso       69           5.  Mercedes                52
 6.  Felipe Massa          32           6.  Sauber-Ferrari          27
 7.  Vitaly Petrov         31           7.  Toro Rosso-Ferrari      12
 8.  Nick Heidfeld         29           8.  Force India-Mercedes    10
 9.  Michael Schumacher    26           9.  Williams-Cosworth       4
10.  Nico Rosberg          26
11.  Kamui Kobayashi       25
12.  Adrian Sutil          8
13.  Sebastien Buemi       8
14.  Jaime Alguersuari     4
15.  Rubens Barrichello    4
16.  Sergio Perez          2
17.  Paul Di Resta         2
	  

Lap-by-lap as it happened on AUTOSPORT Live
TEAM-BY-TEAM
Red Bull
Despite losing running time after hitting the 'wall of champions' on Friday, Vettel was dominant again in qualifying, setting one fastest time after another before taking pole. His early lead was barely challenged by the Ferraris before the red flag and the reigning champion negotiated the impossible conditions flawlessly, but for once Button was his undoing, reeling Vettel in lap by lap towards the end of the race. A half-spin on the final lap cost Vettel the victory.
After a difficult weekend, missing all of Saturday practice while his team battled with a KERS issue, Webber's fourth place from qualifying was wrecked instantly by contact with Hamilton at the first corner after the safety car. A downshift problem was traced to his steering wheel, leading to an unusual pitstop on lap 20. His thrilling late-race tug-of-war with Schumacher saw Webber secure a podium, although he lost out to the charging Button in the process and had to settle for third.
McLaren
The McLaren duo of Button and Hamilton had a nightmare for much of the weekend in Canada - until Button pulled off a remarkable win. Starting only fifth and seventh, their set-ups didn't seem to work in the early running. The McLarens slid away from the Mercedes before suffering the ultimate catastrophe at the end of lap seven, colliding with one another as they crossed the finishing line.
Button pitted the lap after the incident for intermediate tyres, and had climbed to 10th when the race was halted. With another four pitstops in the second half of the race, and having knocked Alonso out shortly after the restart, Button stormed through the field in the last 15 laps and forced the otherwise impeccable Vettel into a mistake on the final lap to seal a sensational victory.
Hamilton's decision to attempt to squeeze underneath his team-mate proved fatal to his weekend, as the impact with Button's car pressed him against the wall, leaving him with too much damage to continue.
Ferrari
Alonso looked fast all weekend, pushing Vettel the closest in qualifying. But having qualified second, Alonso was unable to stick with Vettel in the early running. After being caught out on intermediates before the interval, a collision with Button two laps after the post-stoppage restart sent Alonso sliding out of the race at Turn 3.
Massa's afternoon was even more eventful. Running in his starting position of third at the restart, Massa fought with Kobayashi only to be passed by Schumacher at the same time as clearing the Japanese. An off-line slide while trying to clear a lapped Hispania left Massa with wing damage, but he fought back to finish sixth, passing Kobayashi again as they crossed the line.
Mercedes
Starting eighth on the grid, Schumacher produced arguably his best performance since his comeback last year. The best rain driver of the last fifteen years revelled in the wet conditions, making several bold manoeuvres in the early stages. After the restart, the veteran battled his way up to second place before being forced to give way to Webber and Button late on.
Following an impressive weekend of practice - fastest in the first session - and outqualifying Button in sixth, Rosberg struggled throughout the race and never seemed to have a clear road to exploit. The contacts late on with Sutil and Kobayashi compounded his misery as he finished 11th.
Renault
The Renaults offered little initial pace in the dry running of Friday, settling into their usual slots in the midfield, but the prospect of a wet race changed their fortunes. After a solid race under the ever-changing conditions, Heidfeld stepped past one collision after another to find himself fifth by lap 50. But having been swamped by Button, Heidfeld drove into the back of Kobayashi at Turn 2 and broke his front wing, which then flipped under his car, catapulting him down a slip road and into retirement.
Petrov seemed unsure of himself in the slippery conditions, allowing Webber and Alonso to cut across him into the first chicane early on. The Russian found his feet after the wettest of the weather had cleared, benefiting from the Ferraris' problems and his team-mate's retirement to finish fifth.
Williams
Starting from a lowly 16th after a brake issue in qualifying, Barrichello was the second car to pit for intermediates (after Button) but this move, on lap 16, served little purpose at first as the race was soon halted. After the restart, Barrichello worked his way into the points by again moving early to switch tyres. Maldonado, having outqualified his team-mate again on Saturday, slid slowly in the wrong direction in the race, eventually exited stage left on the outside of Turn 2.
Force India
Di Resta was the closest to getting out of Q2, running Heidfeld all the way to the chequered flag before having to settle for 11th. The Scot's promising early start saw him up to ninth before an excursion off-track at Turns 3 and 4 dropped him back through the field. Having continued his rise after the restart, di Resta clumsily made contact with the rear of Heidfeld's Renault at the final chicane, breaking his front wing and wrecking a fine afternoon. His misery was exacerbated by the resultant drive-through penalty, and he eventually retired with substantial damage on the penultimate lap after a mistake while chasing Barrichello.
Sutil was similarly at fault for a small collision with Rosberg under the safety car on lap 33. A slide at the hairpin on fresh tyres on lap 53 left him with suspension damage and he duly retired.
Sauber
Kobayashi's crash in second practice brought out the first of two red flags in that session, ruining his plans for the afternoon's running and condemning his mechanics to a late night. But in the race, a combination of pitstops and safety-car periods saw Kobayashi, who started 13th, propelled to second by lap 21. He battled ferociously with Massa's Ferrari after the restart, until a slide and contact with Massa ended up costing him two positions. The drying conditions clearly didn't favour the Sauber, and Kobayashi went on to finish seventh, pipped on the line by the recovering Massa.
Perez pulled out of the weekend after practice, still feeling unwell following his Monaco crash, so former driver de la Rosa was recalled from McLaren duties. After also inflicting damage on his car in a shunt at the very end of third practice, de la Rosa - who served as Pirelli's development driver in the winter and thus was vastly more experienced with the wet tyres - was himself up to ninth by lap 21. He was swamped following the restart, however, and came home in 12th. Not bad for his 48 hours in the car.
Toro Rosso
A mixed bag in qualifying led Toro Rosso to a bold strategic move before the race had even begun. Alguersuari, having qualified only 18th, elected to change to a wet set-up and start from the pits, although given the safety car start he didn't suffer any disadvantage from this switch. The tactic paid off as Alguersuari and team-mate Buemi side-stepped the drama around them to secure STR's first double-points finish of the season, coming home eighth and 10th respectively.
Lotus
The Lotus duo again showed they are capable of running the established teams close with their qualifying performance. Trulli, still not at ease with his car's power steering, outqualified Kovaleinen for the first time in 2011, with the pair lining up 19th and 20th. Trulli was the only one to finish, but disappointingly came home behind both Hispanias and both Virgins until Karthikeyan's penalty. Kovaleinen retired shortly after the restart with a clutch failure.
Hispania
Hispania drivers Liuzzi and Karthikeyan enjoyed a fine weekend as the team moved closer than ever to surpassing Virgin. Liuzzi lined up 21st, ahead of both Virgins, with Karthikeyan beating D'Ambrosio to 23rd. The race mirrored this pattern, as the HRT duo finished 13th and 14th, ahead of both the Virgins and the surviving Lotus of Trulli. But Karthikeyan's late-race move on Glock, in which the Indian took to the grass, earned him a 20s penalty from the stewards, bumping him down to 17th.
Virgin
D'Ambrosio's shunt in second practice was so severe that the team was forced to build up the spare chassis around his engine and gearbox, and the Belgian only raced thanks to the grace of the stewards having not made the 107 per cent time in qualifying. Last on track at the interval, D'Ambrosio tried to get an advantage by switching to intermediates under the safety car. Unfortunately this was a contravention of the rules, and earned him a drive-through penalty, though he recovered to 14th. Glock, who was outqualified by Liuzzi in 22nd, was able to finish but came home behind the Hispania in 15th after a final-corner brush with Karthikeyan.
RACE DATA