At the age of 40 and almost nine months since his last grand prix, Pedro de la Rosa proved that he could still cut it by qualifying only three-tenths of a second off team-mate Kamui Kobayashi on his surprise comeback in Montreal.
Given that he sat in the car for the first time just minutes before the start of Friday afternoon free practice, the Spaniard's pace was very impressive and gives him a shot at scoring points in tomorrow's race.
Unsurprisingly, the erudite and amiable McLaren test driver was delighted with his performance in the most trying of circumstances.
Q. In the circumstances, being three-tenths off Kamui Kobayashi must be as much as you could have expected. Are you happy?
Pedro de la Rosa: I am very happy. Every time I jumped in the car, I went three of four tenths quicker. Given everything that I had to learn from zero, with the DRS and KERS, we needed a little bit more time in the car because it was very different to what I am used to. That was the biggest challenge.
Q. How comfortable are you in the car in terms of the pedal positions and seat?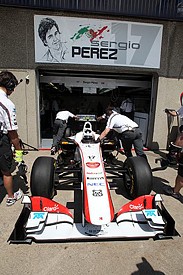 The sign still says Perez, but it's de la Rosa in the cockpit © sutton-images.com
PDLR: Yesterday, there was not the time to change much on the pedals side so they were where they were! Today we had time to play with them and I've got them into a much better position. I'm happy with them now. Let's say that we got them right for qualifying... just. The seat is mine from last year, which they managed to adapt. I am comfortable in the car and I am very pleased with my performance.
Q. The car is different to last year's, but it is from the same 'family' line as the Sauber you raced last year. How familiar does it feel?
PDLR: It feels familiar. I know a little bit about the tyres and the car is something that you just adapt to very fast. The biggest differences was the problems I had with the pedals yesterday and then learning all of the buttons. Adapting myself to that was a slow process. And the fact that I am not in the car every two weeks was the biggest challenge.
When you jump into a car, you need time because this is the world championship, it's not a little village car racing championship! The best drivers are here and are in the car every two weeks. I am not. That's why a few more hours in the car in a testing environment rather than a grand prix environment would have helped. But I am not going to complain because I was not expecting this and I am extremely happy with how it went.
Q. You are still training hard and in good condition, but are you in any way worried about your fitness for a race distance because the only way to be truly race fit is to race?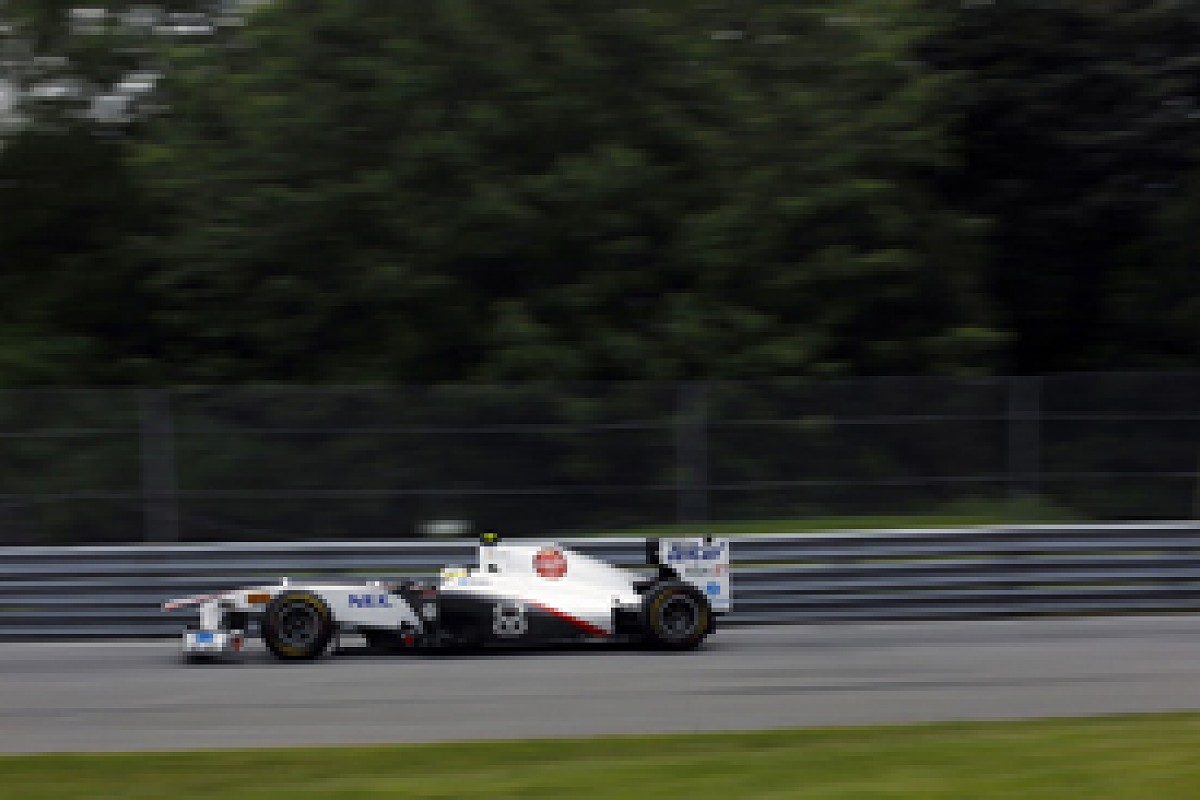 © LAT
PDLR: I don't feel it will be a problem. I have been training very hard because I haven't been driving. I am not at all worried. There are other things that I need to practice, which I will not be able to, which is to do things like track starts, pitstops and driving the car with 140kg [of fuel] because we have not done any high-fuel running. We just did not have time and have been in a rush since I jumped into the car. There are more things to worry about than physical condition. This will not be a problem.
Q. How much time did you spend in the McLaren simulator recently?
PDLR: I've been spending one day a week. The problem is that I have never driven a real 2011 car with DRS and with KERS so this is my first experience of the real thing in the real world. The problem is, when you are used to something, you do everything by instinct. But when you change cars, you have to reset yourself.
It would have been beneficial not to have any past experience because many of my mistakes have been down to the instinct of using the McLaren steering wheel. I am not complaining. All I am saying is that even an extra half hour would have been very beneficial.
Q. How much faster could you have gone with experience of the car?
PDLR: Maybe between three tenths and half-a-second. Looking at the data, it's clear that even on my fast lap in the chicane I made a mistake and lost two tenths. It's just my lack of consistency when you are pushing to the limit and sometimes you go over it.
Q. Are you losing out with your inexperience of the DRS in terms of maybe deactivating it a little too early before braking or opening it too late?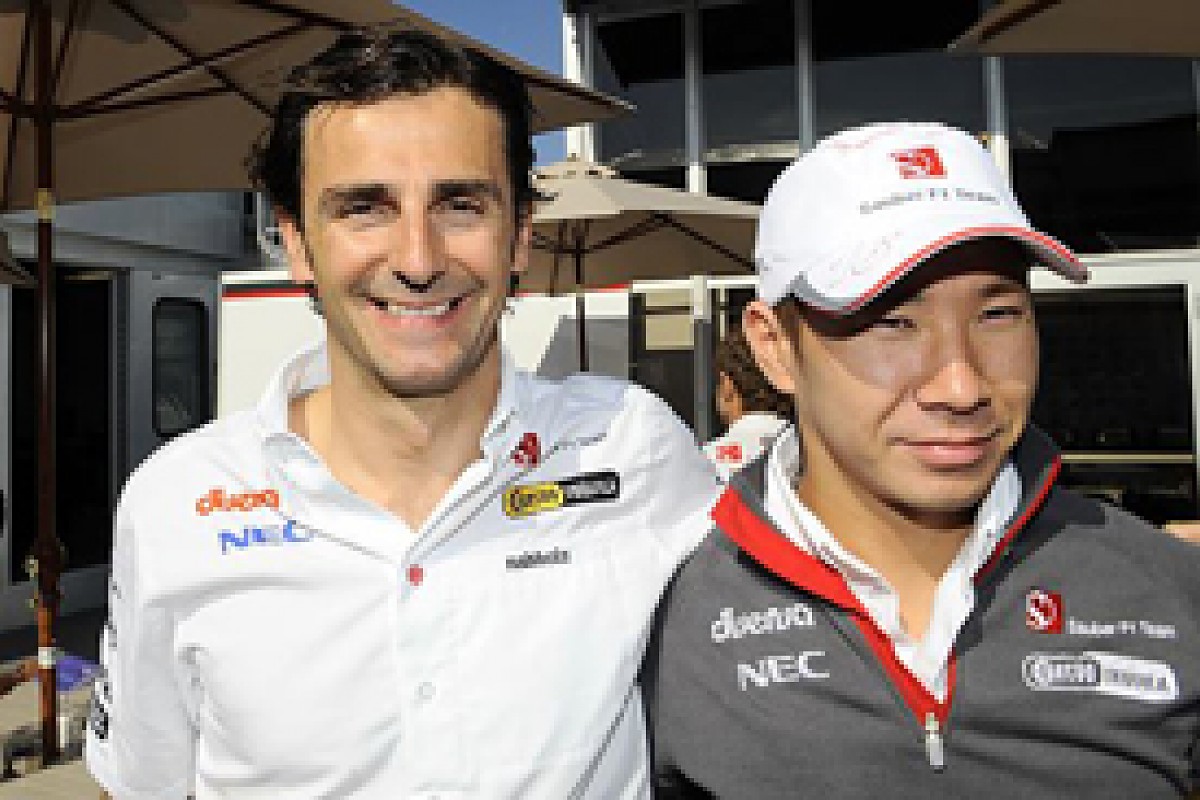 Team-mates again, for one weekend only © sutton-images.com
PDLR: I am closing it very late, so I have no problem with that. But I agree that I am not activating it as well as Kamui and a lot of the lap time is in there. Activating it early enough and pressing the KERS at the right place at the right time is difficult and that's why I am so pleased with my lap time.
Q. Does this race feel like a bonus? You're back in a reserve driver role and not the youngest driver on the grid, shall we say. So is it something you are able to enjoy more than you would have done 10 years ago?
PDLR: Yes. I'm enjoying it more because I have nothing to prove and nothing to be worried about. I have had this chance and I am very relaxed. I know that all I need is laps and eventually I would get to a good level.
Q. What do you expect from the start with lots of other cars around you?
PDLR: It will be challenging, especially with KERS and a lot of cars in front. Even though I haven't made a race start for a long time and never with this car, I will go for position and try to overtake people. We did one practice start and the whole procedure in the garage. But I did one start in P3. Tomorrow, before the race, I will do a few laps to the grid and do a few more. What I am less confident about is the pitstop because we haven't had time to do them. It will be my first ever pitstop [with this car]!
Q. We're not used to seeing you in the wall, but you crashed during practice. Is that just a consequence of trying to short-cut the learning process?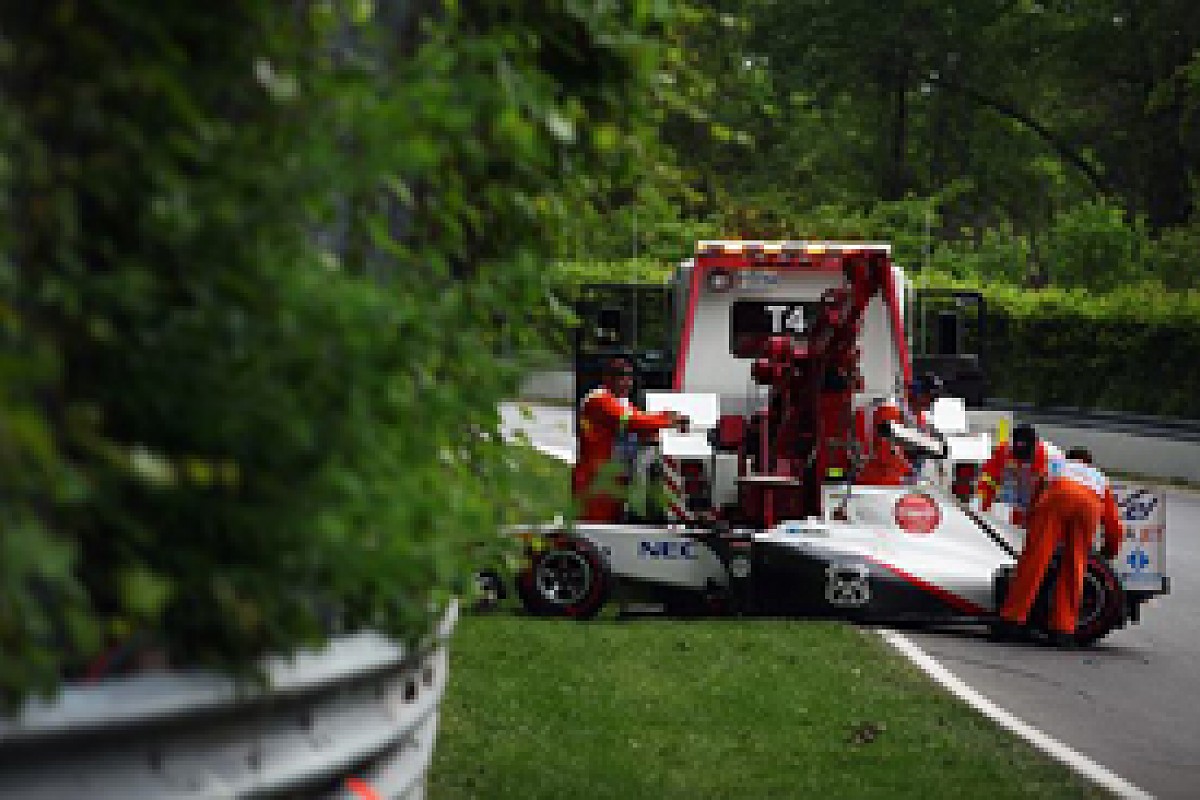 Pushing hard to make the most of every lap, de la Rosa crashed in final practice © sutton-images.com
PDLR: Yes, exactly. I was coming in on that lap, but because I need so much more mileage I was pushing hard. It was before qualifying and I wanted to use the kerbs as much as I would in qualifying. That's something that you usually build to gradually, but I have no time. I thought that the in-lap was a good moment to try. I wasn't expecting to lose the rear that quickly and hit the wall, I was maybe expecting a slide, but that's the consequence of shortcutting the learning process to the maximum.
Q. What can you achieve in the race?
PDLR: We will be going for points. This car has its down sides in qualifying; it's difficult to warm up the tyres, especially when it's cold. But on the other hand it is a very good race car because it takes care of the tyres more. If it rains, I have no idea what it will be like, but this circuit will be so slippery and with the downforce levels that the teams have, it will be a real challenge.