The Formula 1 midfield is a murky place. Up front, gold standard drivers make it relatively straightforward to evaluate just how good a job the big names are doing. But delve into the mid pack and it gets more and more difficult to form an objective judgement.
If you are three tenths off, say, Fernando Alonso, that's a pretty good indication of your outright pace (although understanding the reasons for this are somewhat more complicated). But if you are the same margin off an unproven driver, where does that leave you? You're shooting at a moving target, and no one knows what direction it's moving in.
One of the pleasures of covering the sport for a specialist publication like AUTOSPORT is that you are not compelled to focus on teams or drivers along national lines and can take a close interest in all 24 drivers and 12 teams. In the opening six races of the season, one driver has turned in a series of good drives while under the most extreme of pressures - fighting for his very future in F1. So much so that you might have to revise your opinion of him.
Sebastien Buemi is that man. Scuderia Toro Rosso has been a hotbed of anonymity in recent years, with only the arrival of Jaime Alguersuari at the 2009 Hungarian Grand Prix without so much as a test grabbing anything approaching the kinds of headlines that were witnessed during Sebastian Vettel's stunning second half of the 2008 season.
The 22-year-old Swiss came into this year with Helmut Marko dangling the Sword of Damocles above his head. With Daniel Ricciardo, who has earned rave reviews from his testing appearances with Red Bull Racing and STR, ready to step into the breach, it was Buemi, rather than Alguersuari, who generally tipped to be cut pre-season.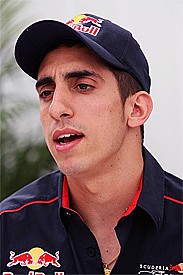 Sebastien Buemi © sutton-images.com
This expectation was based on the fact that Buemi had a poor end to 2010, but so far it has not panned out as expected. Buemi is 5-1 up in qualifying and has seven points, whereas Alguersuari has not finished higher than 11th. Granted, the Spaniard has had a number of mechanical misfortunes and was held back by running STR's new diffuser/floor layout for the first time in Spain, giving him huge tyre degradation problems, but overall there's little argument as to who has done the better job during 2011 so far. Buemi's points finishes in Australia, Turkey and Monaco speak for themselves.
In beating expectations, Buemi has strengthened his chances of continuing his F1 career beyond the 2011 season. And it's not just about circumstances. By his own admission, a lot has changed for him.
"In terms of my own performance, it's a lot better than last year," admits Buemi. "We have more or less taken all of the opportunities we had for points, except for maybe in Turkey where we lost four points because of the tyres at the end.
"I'm pretty happy against my team-mate, but this is not my main priority. My priority is to get the best out of the car and take all of the opportunities that come to me. To get into the points is difficult; you need to do a good job in terms of strategy, laptime in qualifying and in the race."
While the pressure from Red Bull to deliver is intense, particularly with a tight gaggle of cars scrapping for the minor points positions, it's not something Buemi is unused to. Supported by the energy drinks giant since his Formula BMW days, the company has paid his way through F3 Euro Series, GP2 and, since 2009, F1.
While the scheme has been criticised for its scatter gun driver recruitment policy, with drivers coming and going with the seasons, it does ensure that the cream rises. It must do to survive. While Buemi's CV isn't littered with car racing crowns, he was able to win races at every level and in all categories (save for A1GP, where he only appeared in a dozen races).
Based on the evidence we have so far, Buemi is no Vettel, but he has proven himself to be a good, technically adept driver who is at worst a capable F1 midfielder. Whether that's good enough for Red Bull is hard to say, but on current form it's Alguersuari who should be more fearful for his future. How well he is doing hinges on one imponderable factor - just how good the STR06 is.
"Even for Red Bull, it's difficult to set a clear target," says Buemi. "You can't say you have to finish 10th or 12th because you can never be sure exactly what the car can deliver. What they want me to do is get the best out of the car. If that maximum is 12th place, I must be 12th. If it's sixth, I must be sixth. You can't say before the season. The only objective is to get the most out of the car and to be ahead of my team-mate. It's the only fair comparison in F1."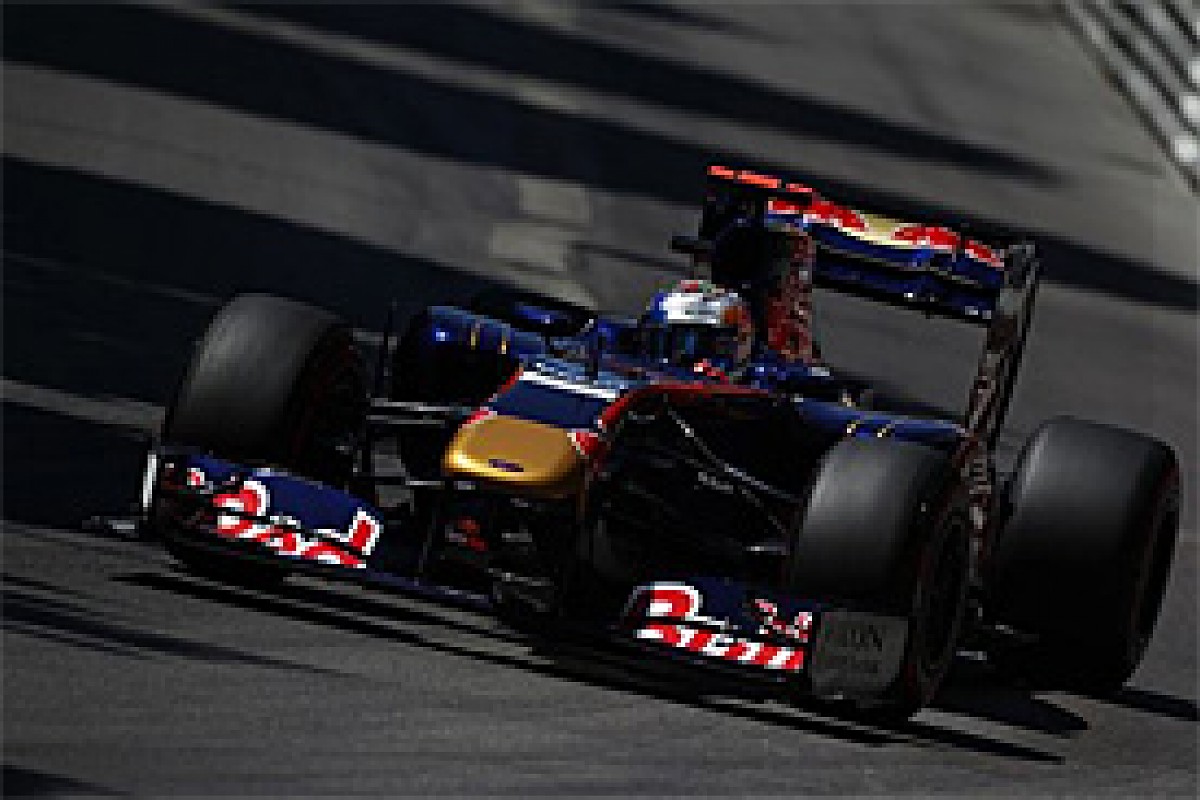 Buemi has enjoyed a strong start to the season © sutton-images.com
Although only six races are in the books, Buemi has already taken strides towards ensuring that he will not be the one to get flicked. STR team principal Franz Tost is on record as saying that Ricciardo, currently racking up the F1 mileage a Friday driver, will be in a race set next year. It's no secret that it could be even earlier, as if the decision has been made to drop one or the other in the middle of the year, it would be logical to give the Aussie an eight-race run post August break.
Buemi is determined not to let himself get carried away with his good start. The job is only a quarter done and he must consolidate his position.
"I don't like to think about what I have already done," he says. "I was reading a book on Pete Sampras recently. He talked about his first big win, which was in the quarter finals of a tournament. I can't remember which one. He was surrounded by the press saying he was fantastic. Then he was badly beaten in the semi-finals and no-one spoke to him.
"It's not about your performance today. It's about tomorrow and the next day. I don't want to think about the past because things can change quickly. It's better to have a good start to the season, but I can't push on any decisions. Thinking about 2012 or even the end of the season is too far. Right now, I'm thinking about Canada and Valencia. You are only as good as your next race."
It's a mindset that has served Buemi well. It is not without reason that he has turned indifferent form at the back end of 2010 into good form this year. He put a lot of effort into being better prepared for the challenges of F1 and believes that the on-track performances reflect that.
"I'm completely different to how I was last year," he says. "There is no comparison. I changed many things around me in order to improve. I have grown a lot mentally. I used to have big emotions, but now I am happy if I do well but if it goes badly I'm more stable. I'm more mature.
"Last year was a very difficult season in different ways, not just that we had bad luck and problems. But I've made a big step and I hope that I can continue in that direction.
"The biggest thing is that I have a new trainer. I train in a completely different way and I really feel the difference. I'm a lot stronger as well because I'm 7kg heavier. I've worked on self-confidence, I've worked with my engineer over the winter to change some things to get more out of the car."
Ricciardo is eager for an opportunity to race © LAT
It's easy to overlook Buemi's relative youth. Amid all of the coverage of Alguersuari's promotion, he came to be regarded as the senior pro at STR. Yet he was only 20 when he made his debut and now, at 22, has the experience under his belt to act like the lead driver of a team.
He noticed the difference during pre-season testing this year, where he was able to help the team to get on top of its car much quicker than in previous season.
"We had a very positive winter," he says. "Getting to know the new car in the past was not easy.
"In the first few years, there was so much to try. I was inexperienced, but I learned from those things and we got the maximum out of the car in terms of setup and in terms of understanding the tyres this season. So we got to the first race and I made Q3. The situation was completely different last year. Last year, I was moving around too much and not focusing and concentrating.
"When you get to F1, it means that you did well in feeder series and that means that you were fighting for victories. Then you get here, and although there are some exceptions, you don't fight for wins. So you need to change your state of mind. If you think you are going to win you are never happy if you are not in the right car.
"Now, if I do a fantastic lap in qualifying, I enjoy it. I don't worry about whether it's just P9 or whatever when I want to be on pole. As you get older, you understand this more and this helps you to go forward. My vision is wider now. I want to fight for points, so even 13th on the grid gave me opportunities whereas in the past I wanted so much to at the front even when I did well to get in Q3.
"When I came into F1 I was just turned 20. It makes a difference when you are 22 as you start to see things a bit differently. I would say having made the mistakes, I knew a bit better how to change things around."
So what is the bottom line? Firstly, Buemi is ahead of Alguersuari in the race to avoid the chop from Red Bull. That's a given. Whether he has a realistic chance of being promoted into Red Bull's first team is another matter, despite Marko's desire to get another one of his juniors into Mark Webber's seat. It's difficult to make a case arguing that Buemi has proved himself to be a better bet than the Australian, although he has proved beyond doubt that he is a good enough drive to be a solid number two at least.
There's no question that he has proved himself to be eminently capable of racking up regular points by barging to the front of the queue ahead of Alguersuari, albeit with pressure growing from Ricciardo.
It's a sign of Buemi's new maturity that he is now not wasting any time thinking about what the future might hold. And he's not just talking the talk. He is visibly more at ease with himself in F1 and through his thoughtful answers to questions proves that he has spent plenty of time thinking about what he needs to do to thrive in F1. The success of that process means that, even if he doesn't prove to be good enough to warrant a Red Bull Racing seat, you can see him still plying his trade as a grand prix racer a few years down the line. Given where he started the season, that's a big victory.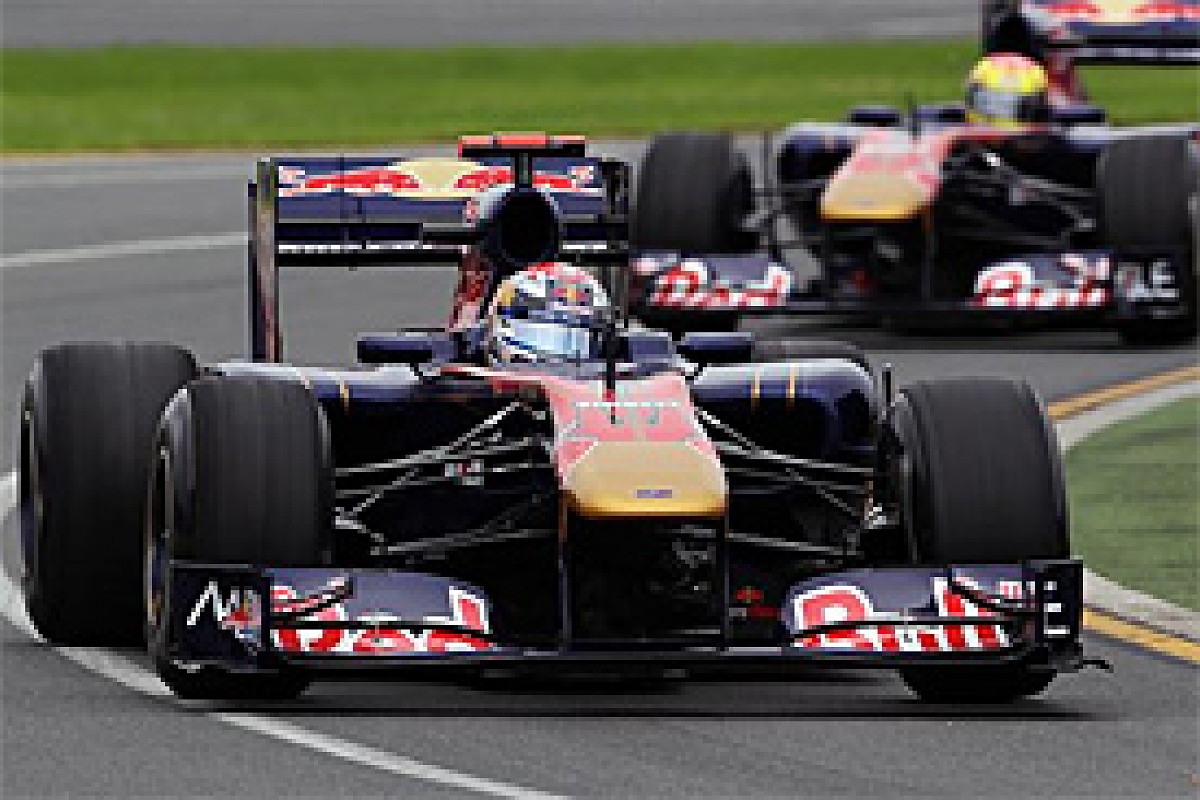 Buemi has scored. Alguersuari hasn't so far © sutton-images.com
"The press write about this a lot," says Buemi. "They want to know if Webber is going to do this or that and then what will happen. It's a lot of its. Thinking about this would definitely not make me any faster!
"If you are a Red Bull junior at Toro Rosso, there is no debate that one day, as soon as possible, you want to go to Red Bull. It's the same for me, for Jaime, for Daniel and for Jean-Eric Vergne [currently racing in Formula Renault 3.5 after testing for STR last year]. All I can do well is perform well and get points. If I do this, Red Bull will think about it.
"That's what I have learned to ignore. I need to concentrate on what I do. To concentrate on what I can change and improve.
"What will be will be."