Ayrton Senna drove for four teams during his Formula 1 career. But picture the Brazilian in your mind's eye and most will visualise a yellow-and-green helmet inside Marlboro-liveried McLarens from 1988-1993.
Senna started 96 races for McLaren and won three world championships before making his ill-fated switch to Williams in search for more competitive machinery in 1994. During those six years, Ron Dennis, then McLaren team principal and now chairman of the group, was his boss and uniquely placed to see the real Senna.
At a screening of the recent Senna, Dennis was reported to be deeply moved, a sign of how deep the bond that existed between the two.
At the Bahrain Grand Prix in 2004, a month short of 10 years after Senna's death in the San Marino Grand Prix, Dennis spoke at length about his relationship with the legendary Brazilian; a relationship that stretched back to long before he was signed to drive for McLaren in 1988.
"The first time I met him, he was in Formula Ford going into F3," said Dennis. "I offered to pay for his F3 championship in return for an option on his services.
"I cannot remember the words, but he was very clear in telling me that he would pay for his own F3 season. He did not want anything but a guarantee of a drive instead of an option. And this was a young guy who had not really proven himself but had the self-belief that he was going to be a tremendous F1 driver.
"That was the first encounter and when we parted I thought 'arrogant young Brazilian'."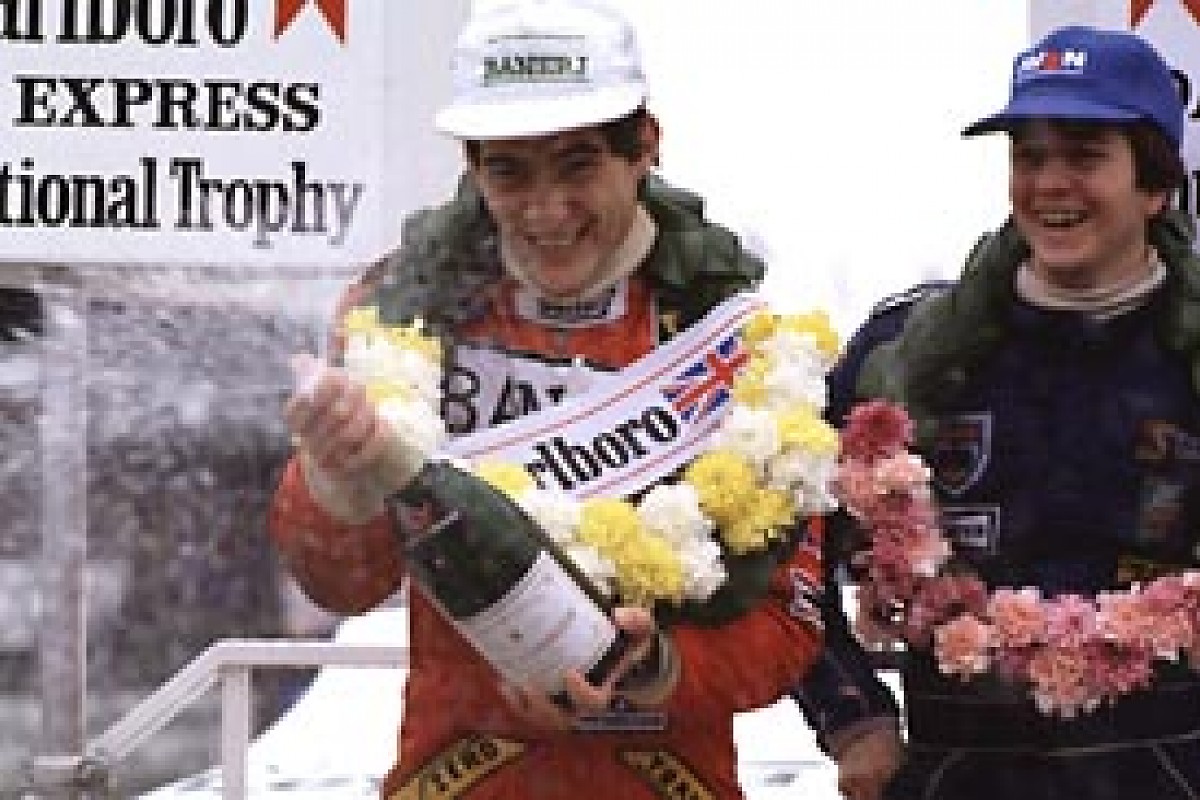 Senna on the Podium with Brundle during the 1983 British F3 Season © LAT
That arrogant young Brazilian went on to dominate the British F3 championship in 1983 for West Surrey Racing, winning 12 out of 20 races in a Toyota-engined Ralt.
The following season, he started to prove himself in F1 with Toleman, taking three podiums for a team that had never before achieved such lofty results. Dennis kept a watching brief, but after that debut year it would be three more years, during which Senna won six grands prix and 16 pole positions for Lotus, before he at last signed him following some unusual contract negotiations.
"He was a fine negotiator and he would spend, as with his driving, a lot of time thinking about it," said Dennis.
"How we structured the contract regarding the non-fiscal matters was quickly established. It was the fiscal issue that was difficult; it's well known that we came to a rock and a hard place over half-a-million dollars. It was a point of principle about who was going to win the vast part of the negotiations!
"His English was not perfect at this stage, so I suggested that we should break the deadlock by tossing a coin. It took a while to explain it and then, of course, it became quite serious. We had to be very clear about the rules so I had to draw a picture of a head and a tail, select a coin, say this is you, this is me and that it cannot land on its side, it has to be flat. We went over the rules several times to make sure that there was no misunderstanding.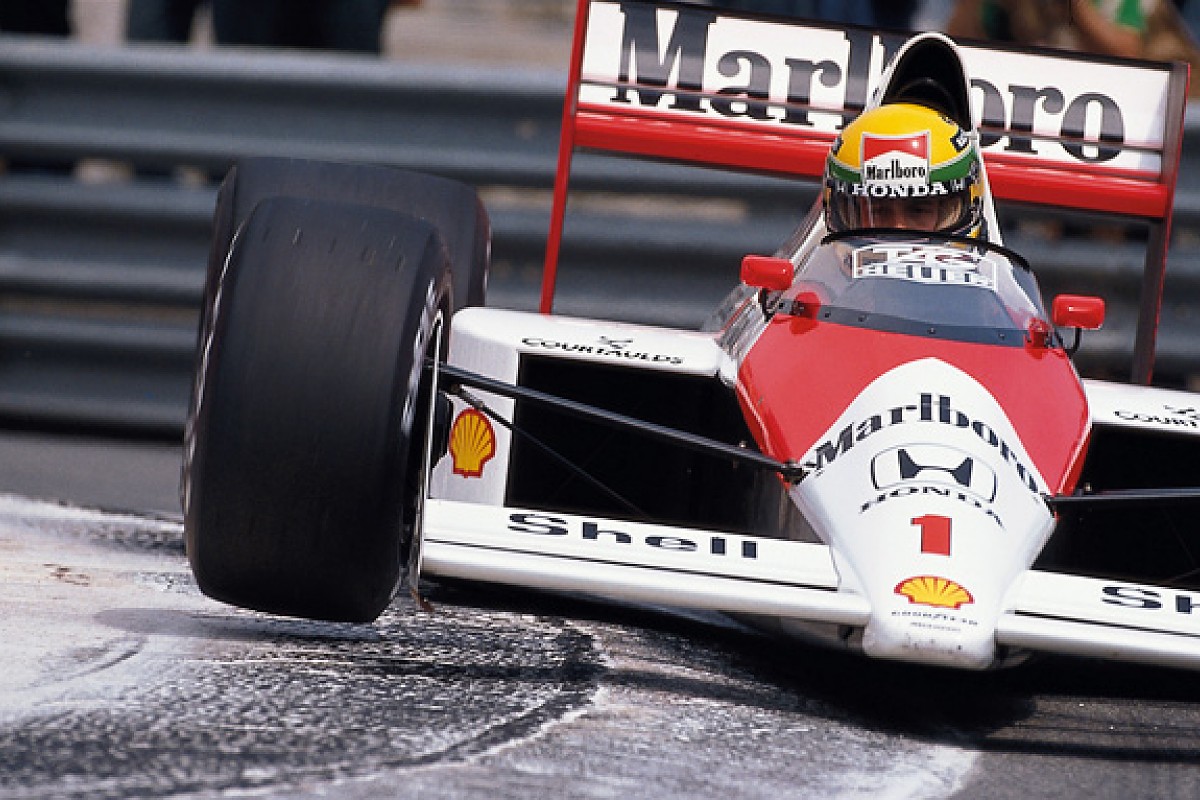 "We had a couple of practice runs then threw the coin. It rolled under the curtain and as we were jumping up I said 'just remember if it's on its side, it doesn't count'. He lifted the corner and it was flat, it had rolled off the side of the curtain onto the floor."
So Senna had his extra half-a-million for each of the three years of that deal, but Dennis got his money's worth. The Brazilian took pole position for his first six races, racking up victories in San Marino, Canada and Detroit. In doing so, he laid the foundations for his first world championship - and turned in one of his most amazing performances with a qualifying lap at Monaco an incredible 1.427s faster than team-mate Alain Prost.
Come the race, Senna made one of his most infamous mistakes, clattering into the barrier at the chicane while leading by well over 50 seconds with 12 laps to go. He slinked away to his apartment, unable to come to terms with his mistake.
"His post-accident emotion was pure anger with himself," said Dennis in 2004. "I have never seen him or heard him more frustrated and angry. He knew that he had effectively lost concentration and made a very fundamental error when he came down onto the seafront and hit the barrier and he could not cope with it at all.
"He walked back to his apartment and it was two or three hours before he surfaced but when he surfaced he had gained composure. He very negative about his performance and very apologetic to the team."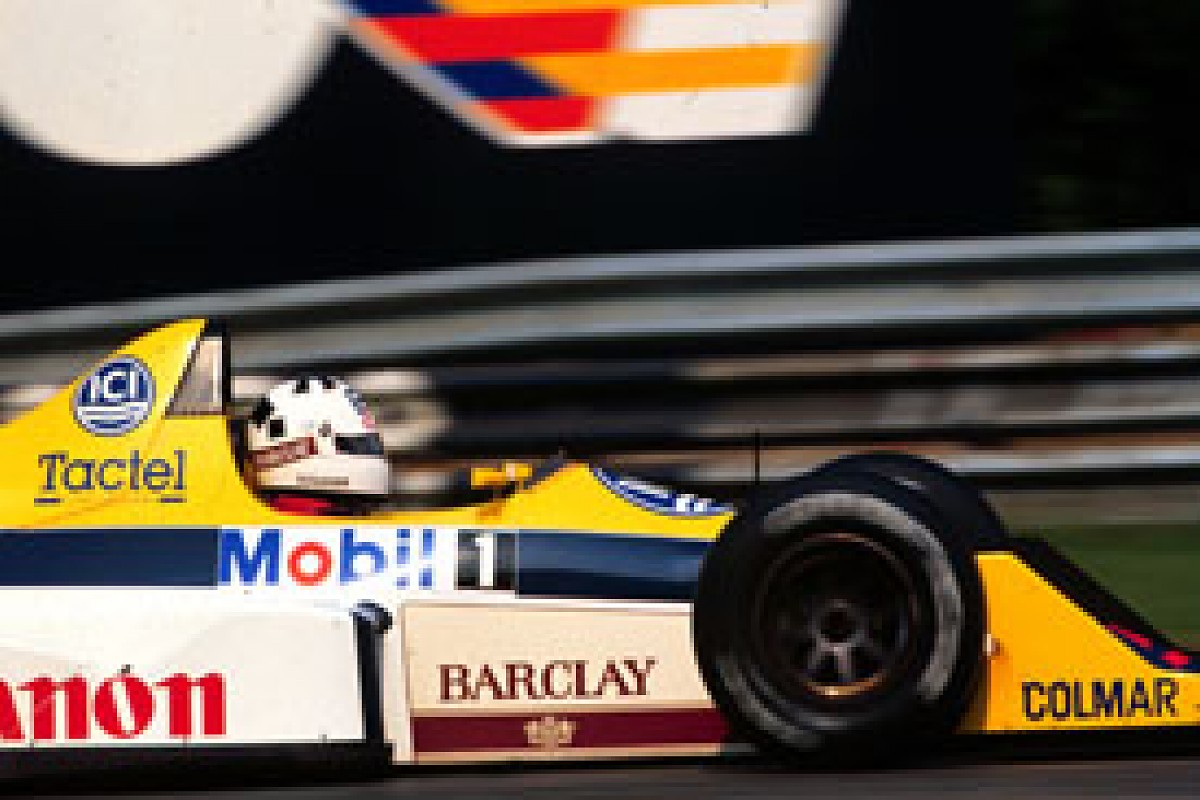 Jean-Louis Schlesser, Monza 1988 © LAT
But Senna had little else to apologise about in 1988. He claimed 13 pole positions and eight wins as McLaren's sleek Honda-engined MP4/4 utterly dominated. From the moment it hit the track at the eleventh hour of pre-season testing at Imola, it was the class of the field. So much so that only a clash with lapped Williams driver Jean-Louis Schlesser, making his sole grand prix appearance, late in the race prevented a McLaren clean sweep.
"I was surprised that he tried to pass me where he did [coming into the right-hand part of the Rettifilio chicane]," said Schlesser of the incident. "I was braking, braking, braking and thinking 'why has he not passed me yet? So I had to turn when I did and 'ping!' He hit me.
It wasn't hard, there was no damage to the car and I could finish 11th without a problem. It made no real difference to me, but I guess it has made me a lot more famous than if he had passed me.
"Ayrton was quite nice with me about it after the race though. We talked. He said 'it's okay, don't worry. It's a racing incident.'"
At the next race, one of the first major flashpoints between Senna and Prost occurred. The Frenchman was incensed by Senna pushing him towards the pit-wall as they disputed the lead. But it would not be until the following season that the tension between the two boiled over.
The moment of truth came at Imola - arguably the most critical incident in the Senna/Prost relationship that the creators of the movie opted to omit. The McLaren drivers had an agreement that they would not pass each other after the first corner.
Prost took the lead and Senna overtook him further around the lap - the point at which the tension between the two became an ice cold war that would define their relationship. Prost felt that Senna had violated the agreement, while the Brazilian attempted to justify what he had done by claiming that it did not apply because this was a restarted race after a lengthy red flag for Gerhard Berger's huge shunt at Tamburello.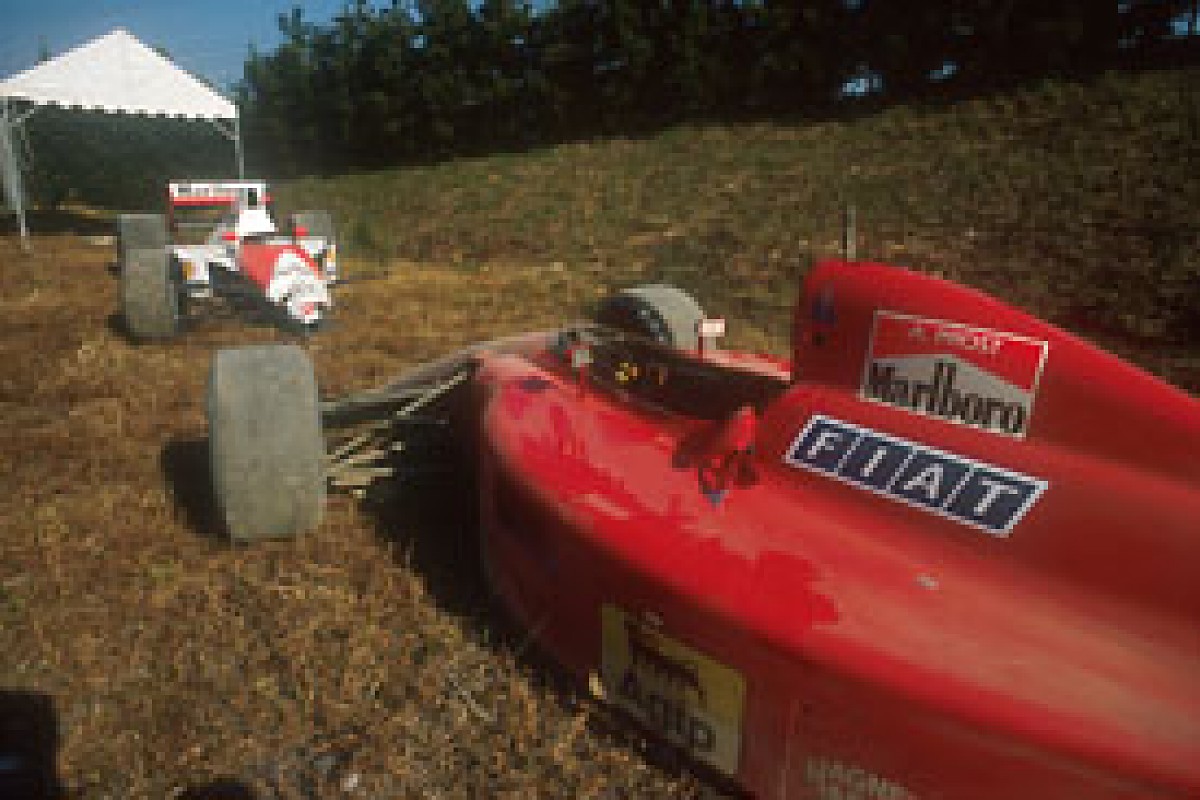 Senna and Prost collide at Suzuka crowning him world champion © LAT
The story of 1989 is very well documented, culminating in the Prost/Senna collision at Suzuka and all of the drama that followed us.
In a way, it was inevitable that a pairing of two of the greatest drivers in motor-racing history would clash. Perhaps Dennis, whose man-management is sometimes criticised, played a role in keeping things cordial for as long as they were. With Senna, in particular, he struck up a very close relationship.
"Ayrton and Alain were the first two drivers where I had an age gap so I could gain the upper hand," said Dennis." Previously I was too close to the drivers' age and wasn't particularly polished at it myself, but he [Senna] was one where there was an age gap. It wasn't father-son but most definitely I could step in and be firm and get the necessary response.
"I look back at that period and I think I guided him through some very difficult parts of his life."
Following the departure of Prost, things at McLaren settled down. With Gerhard Berger cast as the support act (despite outqualifying Senna on his first appearance at Phoenix). In 1990 and 1991, there were two more world championships, including that second day of controversy at Suzuka, where Senna paid Prost back for what had happened the year before by bulldozing him off the track at Turn 1.
But in 1991, it was clear that McLaren's superiority was slipping. The Honda engine was becoming second-best to the Renaults that powered Williams and Senna's third and final title came in a car that did not have the peaks of performance of its main rival. The following year, Williams was utterly dominant and Senna won only three races. Berger recalls that Senna's determination during this period never faltered.
"When we raced together in 1992 for McLaren it became obvious that the team would not have a works engine deal for 1993 after Honda announced its retirement," says Berger. "It was clear that McLaren would have to use Cosworth customer engines.
"I decided to accept the offer to go back to Ferrari, whereas Senna did not seem to me being bothered at all. He was just untouched by future expectations and could fully stay focused on the ongoing job because he was so strong mentally."
But Senna was concerned. Frustrated in his attempts to join Williams for 1993 and having even considered a switch to struggling Ferrari, he drove one last season for Dennis in 1993.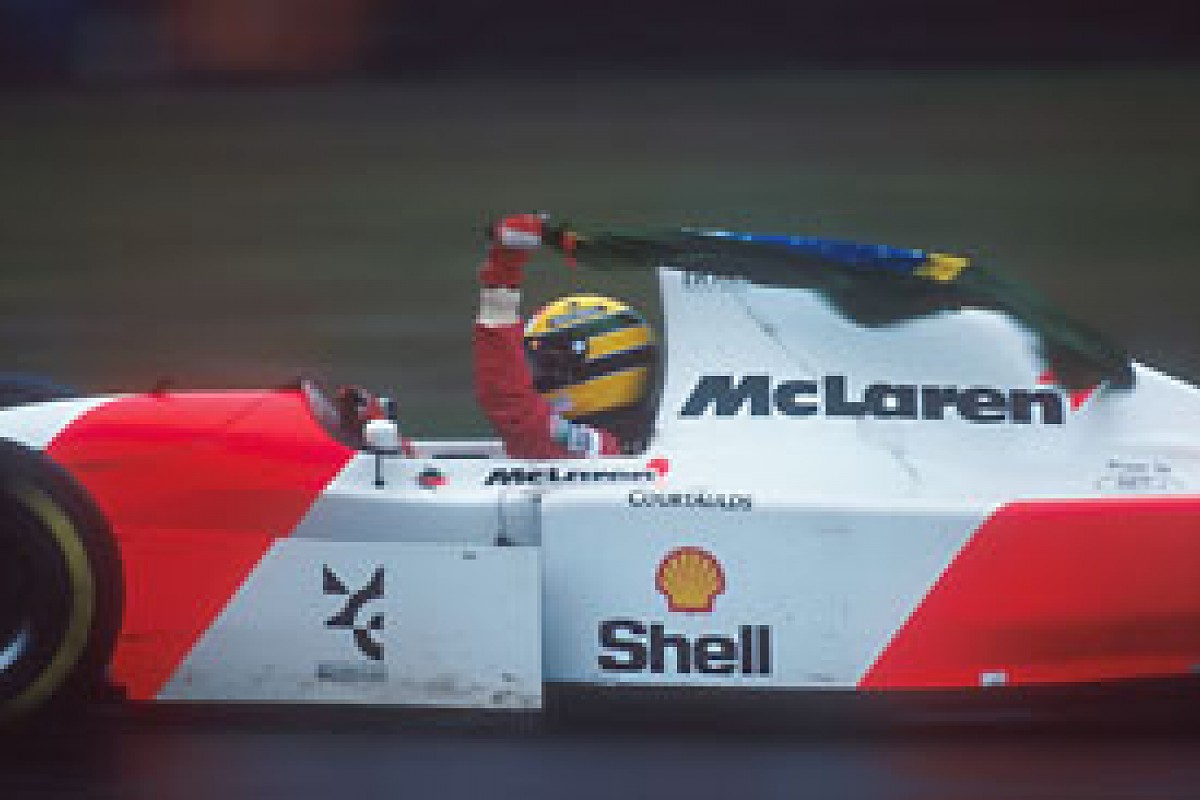 Senna went from fifth to first in half a lap © LAT
In some ways, that year was his most remarkable. He won five times, with each victory memorable for its own reasons. At Interlagos, he won in wet race, a feat he repeated two weeks later with his dominant drive at Donington Park. Both of these wins came with a Ford engine that was one-step behind the factory powerplants in the back of the Benettons.
There was also a sixth win at Monaco and, another improbable victory at Suzuka. Then, in his last race for McLaren and with a move to Williams already agreed, Senna took his 41st win on the streets of Adelaide ahead of Alain Prost. It was to be the final time that either of them stood on a grand prix podium, Prost's through choice and Senna's through fate.
But according to Dennis, Senna was having second thoughts about his move to Williams long after signing on the dotted line.
"The night before and the night after that race, we talked about whether we should try and extract him from his contractual obligations to stay at McLaren," said Dennis. "The car was particularly good and he had regained confidence in McLaren's ability to provide him with a winning car.
"But by the time that post-race evening had finished, I think neither of us was particularly lucid! It had lapsed into emotion. He was an honourable guy and he had made a commitment to Williams. While he definitely reviewed it, I don't think there was any set of circumstances that would lead him to renege on his word.
"The fact that he had done such an exceptional job in the closing stages of the season it was very difficult to get upset."
There is a particularly poignant moment in the Senna movie capturing a conversation between Dennis and Senna in the closing stages of the Brazilian's time at McLaren. It's a fascinating insight into their relationship and proof that there was no animosity despite the way the partnership ended.
A reminder that the Dennis/Senna team boss/driver relationship is every bit as enduring and important as any that came before or after in the sport.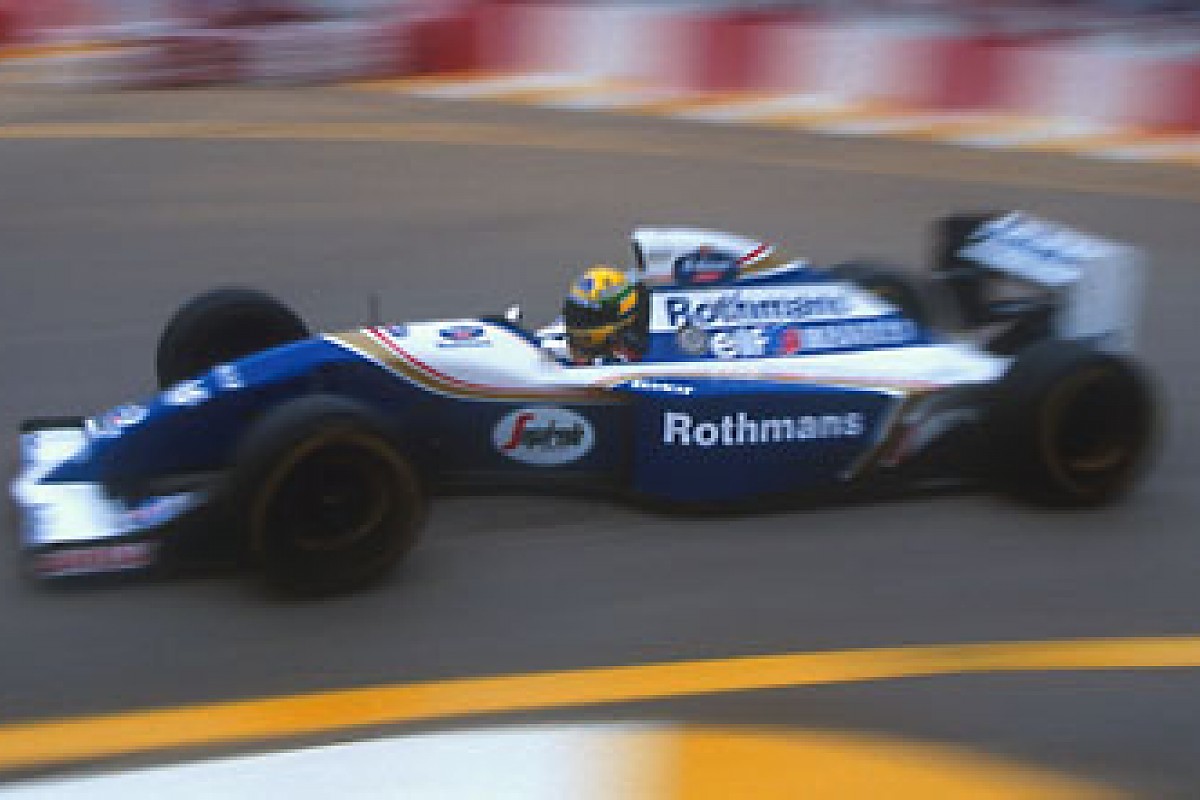 Special thanks to Mark Hughes for some of the material provided in this feature.