In recent days, the argument that Formula 1 needs excitement has been used as a justification for why Lewis Hamilton should not have been penalised for what happened during the Monaco Grand Prix.
Superficially, it's a compelling argument, for punishing someone for an error made while trying to pull off the kind of spectacular move that makes the sport what it is, surely is a charter for the processional races that have, at times, threatened to sap grand prix racing of its popularity? After all, Hamilton has pulled off some passing moves during his F1 career that have had us all on our feet applauding.
But scratch the surface and you find that the argument is very flimsy. Those making it are clearly not advocating a mandate for F1 to become a demolition derby; nobody wants that. But if you want to allow drivers to get away with these kinds of moves, where is that line in the sand that needs to be drawn?
How many times are you allowed to get away with booting Pastor Maldonado into the wall? Is it once? Twice? One hundred times. Sometimes, drivers will head into a corner side-by-side, clash and one or both will end up out of the race. This has always happened and should be treated as a racing accident. The Mark Webber/Hamilton collision in Singapore last year is a good example of this. They were racing, Webber got lucky, Hamilton didn't. That's the end of it.
By contrast, in Australia a few months earlier, Webber came from a mile back and hit Hamilton, earning himself a very justified reprimand that could easily have been a grid penalty. Had he the kind of history of penalties and reprimands that Hamilton had stacked up when he made that mistake, chances are he would have been hit harder. Some might call that victimisation, others would say it's taking past records into account.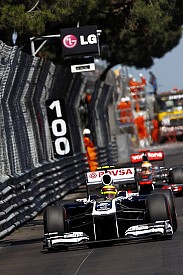 Maldonado was one of Hamilton's Monaco victims © LAT
The Ste Devote clash could have been avoided by Maldonado giving Hamilton a heap of room, no question. But it was racing room that Hamilton was not entitled to when coming from that far back. Had Maldonado stayed wide, he would have continued, so maybe he should have done. But if he had, would he really have been racing? Some have said that Michael Schumacher had given Hamilton that kind of room at the same corner earlier in the race, but that was a slightly different situation. When passing Schumacher, the McLaren man was able to use the momentum to slingshot further alongside him, while Maldonado's positioning on the start-finish straight forced him to check, leading to Hamilton being a little further back in the corner. Fine lines, but an important demarcation. Had Schumacher turned in on Hamilton, it would likely have been considered a racing accident.
What's more, if you show yourself to be someone willing to give unearned ground to people, you will find people hurtling up the inside from miles back every single race. Maldonado? He's flaky, he'll let anyone past, a pursuer will think. As for Schumacher, he can't race wheel-to-wheel, they will say. It's like claiming that the footballer being tackled is at fault for not jumping out of the way of a two-footer that breaks his leg. Equally, the fact that you can commit fouls in football does not prevent clean tackles from being made - just like overtaking in F1.
No code of on-track conduct can tell you exactly when a move is or isn't on, which is exactly why the so-called 'one-move' regulation is so dangerous when people interpret it as meaning you are allowed to shove someone across the track once per straight. But an experienced eye can tell the difference between a genuine 50/50 and one where an attacking driver has overdone it. That's why guys like Allan McNish (who knows exactly how serious the consequences of an on-track clash can be for bystanders) are now part of the FIA stewarding panel. The necessity for every case to be treated on its own specific merits simply doesn't lend itself to absolute consistency, not in the easy answer way that they baying hordes demand.
The point about the safety of bystanders raises another critical consideration. And it's all related to location. Take the clash with Felipe Massa at the hairpin. Marshals line the outside of the corner, where there is precious little space. So too do photographers and cameramen, there to augment our enjoyment of the sport. At that speed, it's eminently possible for a side-on wheel to wheel contact to flip a car. If that happened there - and let's stress that it did not come close to happening in this case - marshals would be in serious danger.
That's why the FIA is so keen to come down heavily on these kinds of moves at Monaco. Such a collision might not lead to disaster if attempted another 100 times, but if it happens on enough occasions eventually someone could get an F1 car falling on their head. After all, if the stewards allow it once, they have to allow it again. That's why Paul di Resta was given a drive-through penalty for his move on Jaime Alguersuari just a few laps earlier - something that those bleating about Hamilton's penalty being unprecedented should have a good think about.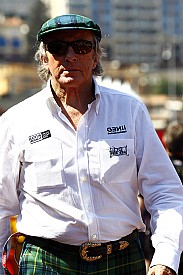 Stewart was critical of Hamilton's driving in Monaco © LAT
You might argue that's inconsistent, but the FIA does have a responsibility to protect trackside workers and at Monaco this is critical. Hamilton categorially wasn't showing a reckless disregard for their safety; it wasn't that he wasn't willing to exchange a marshal's life for a position, but it probably didn't even occur to him. On another track, on another day, the move would probably not have justified a penalty, but in these circumstances it was dangerous. Hamilton is not fundamentally a dangerous driver, but there are times when a little clarity of thinking on and off track would save him a whole lot of trouble.
We live in an era where people say no-one has been killed on an F1 weekend for 17 years. These people forget Paolo Ghislimberti, killed during the 2000 Italian Grand Prix, and Graham Beveridge, who lost his life at Melbourne in 2001. They were both marshals. Today, they are in far more danger than the drivers at places like Monaco. In fact, that maxim probably holds true at every track.
Then why race at all, you might ask. The answer is that when assessing whether a passing move is legitimate, you are dealing with a spectrum, not clearly delineated right and wrong. That's why a move that might be considered on the edge but just about acceptable in, say, Turkey or Abu Dhabi, where you have several miles of runoff, becomes an over the edge move at Monaco or Valencia. Drivers need to realise the difference and Charlie Whiting will have made it very clear in the drivers' briefing.
Jackie Stewart, a great crusader for safety, joined those having a pop at Hamilton this week. It's no surprise, for he comes from an era where wheel-to-wheel contact could lead to catastrophe. That gives you a very different perspective of on-track ethics, and although the safety measures in grand prix racing today do allow the battling to be that bit more ferocious - no bad thing - it doesn't throw them out of the window.
Forget what has gone before. Schumacher, among others, got away with some pretty dangerous moves in the past. Fernando Alonso, who was put onto the grass the then-Ferrari driver on the Hanger Straight during the 2003 British Grand Prix can tell you all about that. But just because someone wasn't punished for a certain move five, 10 or 20 years ago isn't a reasonable argument for why they shouldn't be now. Anyone watching the lower formulas in recent years will have noted a worrying deterioration in driving standards that will only be rectified by the top level setting an example.
Motor racing is dangerous, yes. And so it should be. But dangerous falls short of reckless and that is the issue at stake here. As for victimisation, forget it. Stewarding is, like refereeing in football, a subjective activity and people tend to see patterns that fit their preconceptions. If Hamilton really was being targeted, surely more of the warnings and reprimands would have lead to real penalties. The context of an offence also needs to be taken into account, such as when Hamilton was penalised for weaving in Malaysia 12 months after being warned about exactly the same thing at the same track!
Mika Hakkinen was banned for a race for triggering a first corner accident at Hockenheim in 1994, the same year that Eddie Irvine was given a one-race ban (increased to three on appeal) for drop-kicking Jos Verstappen's Benetton onto Martin Brundle's head. Schumacher was given a grid penalty for shoving Rubens Barrichello into the pitwall at the Hungaroring last year. Sergio Perez was given a drive-through for accidentally bulldozing Adrian Sutil off the track in China earlier this season. There are plenty of examples when drivers who are not Hamilton have been punished over the years, even though there are other cases where they haven't and probably should have been. Sure, there have been some decisions in the past that have led to reasonable questions about the motivations behind them, but over the past couple of years it has been pretty straightforward. Get it wrong and you will be penalised, reprimanded or warned.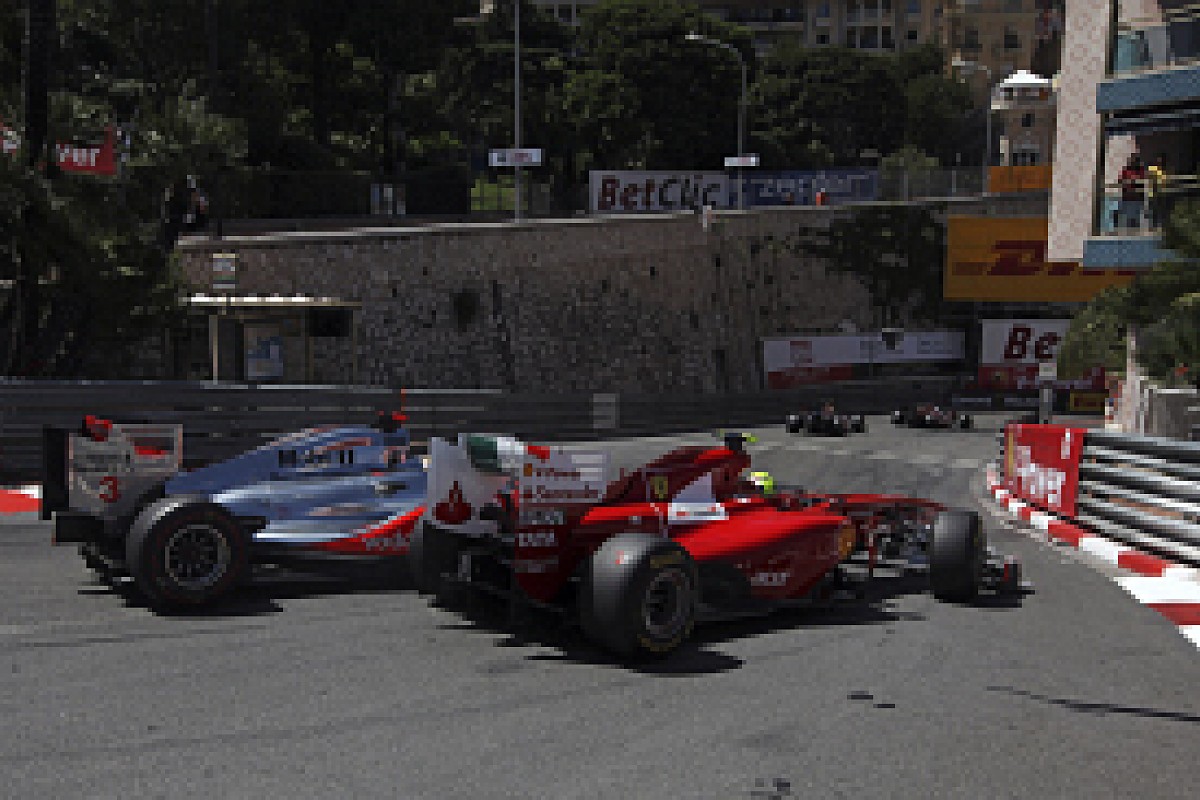 Hamilton was penalised for this move on Massa during the race © LAT
Whoever made those moves at Monaco would have ended up in the dock - and di Resta also did. The difference was, he accepted that the mistake was his. A mistake is a mistake, but sometimes the 'we want to see racing' argument just doesn't hold water. A driver can't always know exactly where he crosses the line from a fair move to a dangerous one, but most of all we at least want to see a recognition that they have overstepped the mark after the fact.
The bottom line is that good on-track ethics actually generates better racing. A driver doing the overtaking should not be able to clatter into the car ahead in a reckless dive any more than the guy who is defending can turn in on someone who has every right to be there. Drivers should be able to attack and defend in the knowledge that there are rules in place to govern what happens. Otherwise, this is no sport.
Let them race hard and let them race fairly. This doesn't only apply to Hamilton, who has proved time and again that he can be scrupulously fair and is far from the only man to have committed on-track offences, but to all 24 drivers on the grid whether they drive Red Bulls and McLarens or Hispanias and Virgins.