To cast yourself onto a wet race track, along which grand prix cars are proceeding, is not truly the action of a thinking man. But if you were a Lotus mechanic at half past four last Sunday afternoon, you were not a thinking man. Your cars had won only once since the days of Mario and Ronnie, and that was out of the blue. Since then, they had often taken pole, often led, but this race - this meeting - had been dominated by a Lotus, first to last.
Ayrton Senna's victory on Sunday will be remembered as a classic. From the start he was in a race of his own, and made no mistake worthy of the name in conditions so appalling as to catch out a man of Alain Prost's quality. The Brazilian gave the impression that he could have gone on like that indefinitely. And he probably could have. It was a mesmeric performance.
He faced no challenge, as such. His team-mate Elio de Angelis ran second for much of the way, falling back to fourth with a deflating tyre after going briefly off the road. Immediately before, the increasingly confident Michele Alboreto had taken the Ferrari past into the runner-up spot, and Patrick Tambay's better-than-expected Renault finished third.
After starting from the pitlane, a legacy of a mistake on the warm-up lap, Nigel Mansell scored the first Williams point of the year with a courageous drive to fifth, and Stefan Bellof delighted Ken Tyrell with an unexpected sixth.
There were but three other classified finishers, Derek Warwick's Renault and Stefan Johansson's Ferrari, both delayed by pitstops, and Piercarlo Ghinzani's Osella. There were no points for McLaren and none for Brabham.
In Sunday's conditions, the phrase 'tyre war' was redundant. You were on Goodyears, or you were not racing. If you were on Pirellis - even if you were Nelson Piquet in a Brabham-BMW - you were pitifully off the pace and wasting your time. In the circumstances Ghinzani, ninth, deserves some kind of award for valour. Not since the wet race at Zandvoort in 1971, when it was Goodyear's turn to be humbled by Firestone, have we seen a grand prix so completely split into two classes. Or maybe there were three - Pirelli, Goodyear and Senna.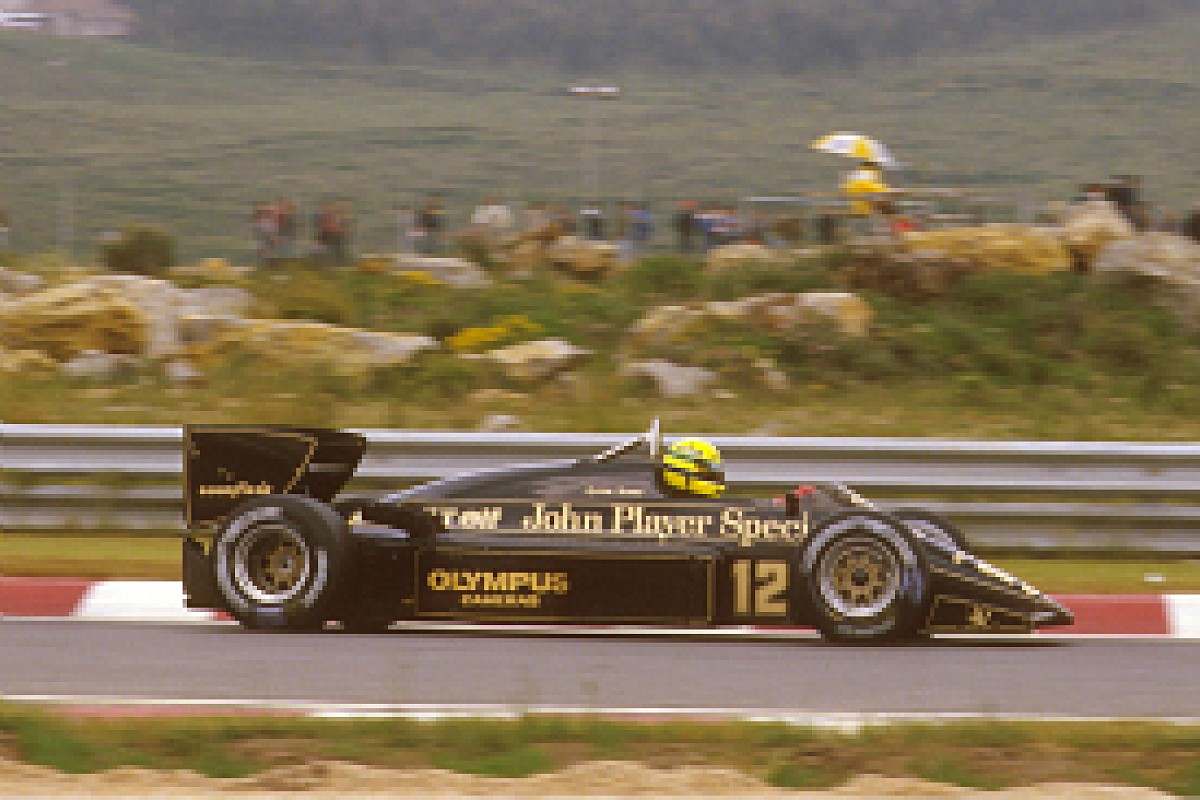 Ayrton Senna 1985 Portuguese Grand Prix Lotus © LAT
Qualifying
The talk - inevitably - was of Ferrari. On Friday morning all conversation seemed caught up with he firing of Arnoux and the hiring of Johansson. A lot of people went to shake Stefan's hand to wish him well, for he is a popular fellow at last presented with a car worthy of him. Better than that, he was presented with tyres on which to drive it.
"It should give heart to all the young guys with their sights on Formula 1," commented Keke Rosberg, another who had to wait too long. "Because here is someone who has got a top drive on merit. Nothing to do with money - nothing to do with anything but talent. So it can still be done."
At the same time there was general agreement that Arnoux's dismissal could have been handled somewhat better. There were suddenly expressions of sympathy for 'poor old Rene,' some of them from mouths never previously heard to utter a word in Arnoux's favour. Opportunities to slag off the ruthless Commendatore are rarely passed up.
There were others too, friends of Arnoux's in some cases, who expressed a certain relief. The Frenchman has been through a confused time, off-form for the last six months, perhaps stale from too much testing, who knows? Unable to match Alboreto, he might have put too much call on sheer bravery. At least he had not hurt himself.
A week in politics, they say, is a long time. How about this business? While Arnoux decided to go to ground and take a couple of months off to consider his future, Johansson took yet another incredulous look at the prancing horse patch on his overalls. "I have to keep doing it," he grinned. "It still hasn't really sunk in." A week earlier he had been a Toleman driver with no opportunity to race.
What a time, we all said, to be joining Ferrari with the car a front-runner again. Aboreto is firm in the belief that he could - should - have won in Rio, and before practice began many considered the Italian to be the favourite for Estoril.
Wrong. We left Zolder last year believing that the C4 was a genuine challenge to McLaren, and we were wrong that time, too. "The new car was fantastic in Brazil," Alboreto mused. "But here, it feels like a different car. The traction is poor out of the corners, and it's difficult to balance it properly - understeer in, oversteer out. It feels nervous. We are short of downforce."
As in Rio a Lotus was quickest on the opening day, but this time the advantage was maintained through the second. Senna, stunning in the Toleman here last October, was the clear pace-setter in both timed sessions.
His team-mate de Angelis was fastest on Friday morning, but thereafter Senna was in control, the 97T visibly more stable than anything else through the fourth gear right-hander at the end of the pit straight. Through the startline speed trap, Senna's 192.434mph was beaten only by the inevitable Brabham-BMW of Piquet - but Nelson's best lap was 2.5s away. The Lotus, in short, was strong in all departments, its driver more than capable of going with it.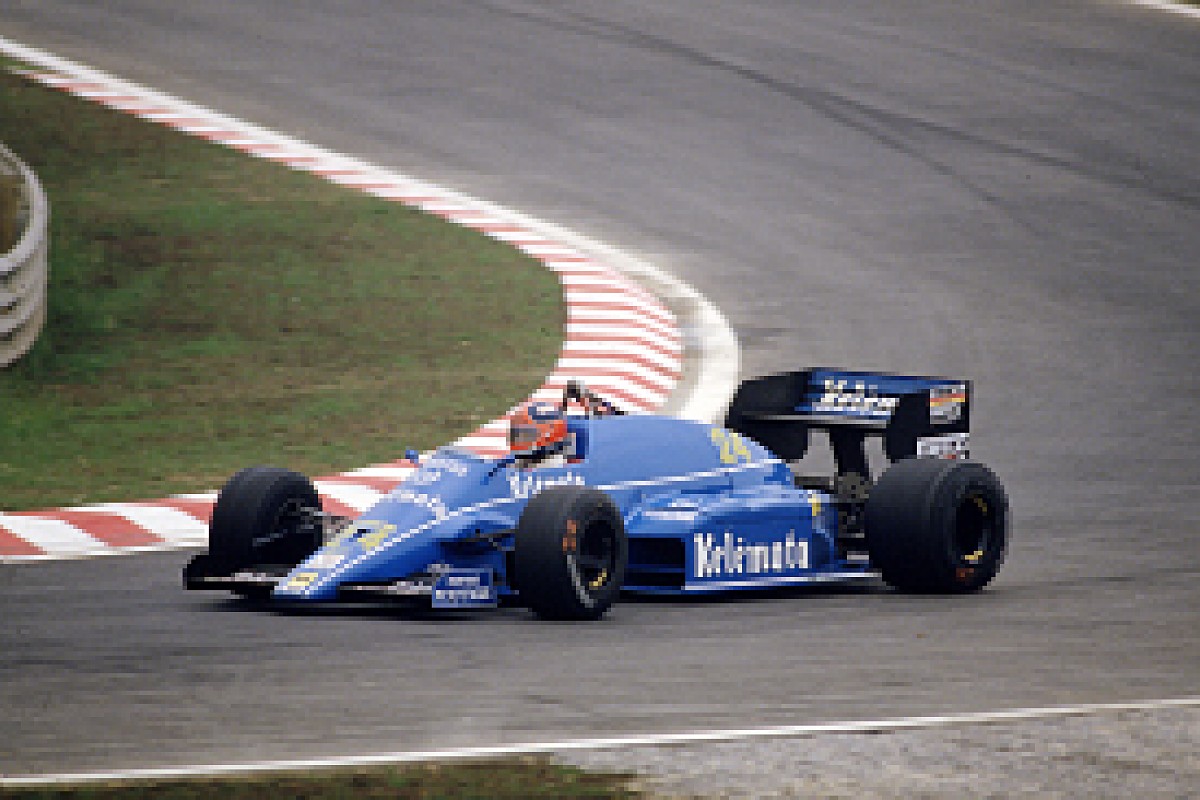 Ghinzani struggled, as usual, with his Osella © LAT
Senna's first pole position, then, on only his second weekend with Lotus. On Friday the elements helped a bit, occasional splashes of rain, then a brief but fierce downpour ensuring that the Brazilian's time was beyond reach, but on Saturday his first flying lap settled the issue. Later in the session he did one more, and that would also have been good for the front row.
Times were generally slower than expected, the Lotus only 0.7s inside Piquet's pole time of 1984. True, those ugly rear winglets have been banned, but against that, the whole of the previously bumpy pit straight has been resurfaced. Senna was not much inside the time he set during post-race Toleman testing last Autumn.
By general consensus, the track was slippery throughout the qualifying. "It's very dirty off the line," Piquet remarked. "And it doesn't seem to have gained much grip this time - not like last year. Then again, maybe it's something to do with my tyres." Nelson's Pirelli qualifiers did not please him.
Warwick felt the same way: "In the race we really should get some rubber down. And it wouldn't surprise me if the last part of the race is run at close to qualifying speed."
To some extent though, the track obviously did improve. By Saturday morning Senna found he could run quicker on race tyres than he had managed on qualifiers 24 hours earlier. And one man very much happier on the second day was the ever-present Prost, who put his McLaren on the front row, 0.4s slower than the poleman.
Friday, by Prost's standards, had been a dead loss. After a misfiring morning his engine died after a couple of slow laps in the timed session. Out he went in the spare McLaren, only fifth, and then came the rain. His second set of tyres went unused. Saturday was much better. In the morning, back in his own car once more, he found that the misfire had all but vanquished, and in the afternoon smoothly trimmed away two seconds and more.
"I feel happy about the race now," he smiled. "I was not running with a lot of boost - not much more than we use in the race, actually - so I was not too good in the straight. But now I have the handling exactly as I like it, and for sure we have a good race set-up." Through the trap Prost was eight miles per hour from Senna, around the lap only 0.4s away. Yes, Sunday did look promising.
Their team-mates, though both in with a strong shout, fared less well, the de Angelis Lotus qualifying fourth and Niki Lauda's McLaren seventh. The presence of Senna has done much to sharpen Elio's resolve, and he was delighted to pip him for best time on Friday morning. But their positions were reversed in the afternoon, when it mattered, and the Italian improved only slightly on Saturday - primarily because a turbo expired as he approached the line on his best lap. His first set of qualifiers, he said, had been wasted in traffic.
"Just watch Niki ease the car in," said Jackie Stewart, watching at the first corner. "You can compare him with anyone else, and he's much smoother. You notice that he turns in earlier, he doesn't throw it into the corner. If you're rough with a car, you're hurting the tyre temperatures. I don't care what anyone says."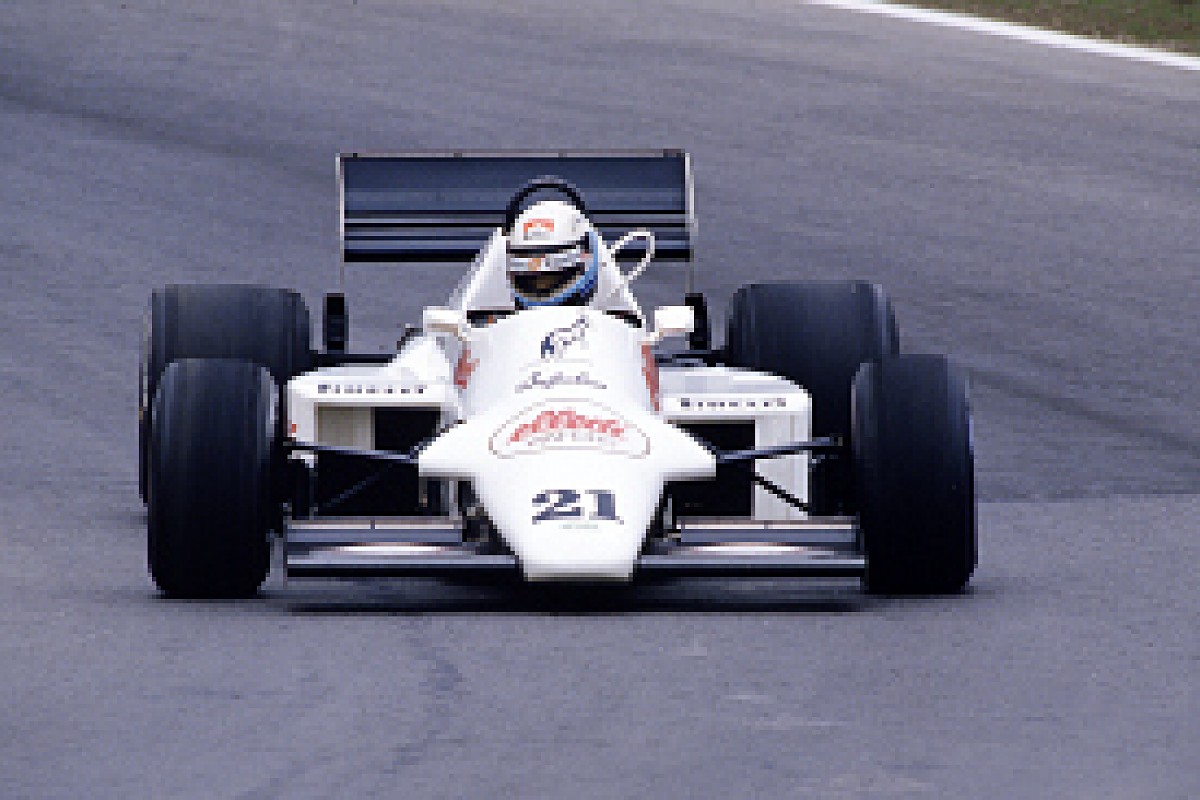 Baldi had no traction from his Spirit © LAT
Lauda was indeed fluid into the turn in a manner only approached by Prost. But Saturday was not good to him. In the morning he stopped out on the circuit with Bosch Motronic problems, as in the race at Rio. And in the afternoon gearbox troubles put him into a spare with handling not up to snuff. In the horsepower race, he suggested, the TAG V6 was not keeping pace.
After the first day, with its dry-wet timed session, the name of Rosberg was at the foot of the list, for the Finn most untypically spun and tapped a guardrail while trying to get past Gerhard Berger's Arrows. His earlier run had been ruined by turbo failure and drizzle was coming down as he went out for his second. "It was my fault," Rosberg related. "I knew the conditions were going to get worse, so I went for the gap inside Berger, got off the line, and that was it."
The following day he vaulted from 26th to third, but at the same time volunteered a degree of mea culpa: "I didn't get the best out of my qualifiers - went for it before they were really up to temperature." For all that, there were no Honda engine failures during the qualifying days, and Rosberg said he had a good feeling about the race. He just wished he had made it to the front row.
His team-mate Nigel Mansell was ninth, 1.5s slower. "My first run was good," he reported on Saturday afternoon. But I only did one quick lap, and I should've done two, like Keke. For the second we lowered the ride height, figuring that should give us more grip. But it worked the other way - I was getting wheelspin in fourth!"
All in all though, Nigel was happy to get through the session with car and self unscathed, for on Friday, Williams-Honda number five had been savaged by the warring Alfa Romeos of Eddie Cheever and Riccardo Patrese. It was starting to rain and Mansell was quietly returning to the pits after a lurid slide. In his mirrors were the two green cars, and he wisely gave them room.
Not enough, apparently. Cheever and Patrese are not exactly crazy about each other, and haven't been since the first lap at Brands last year when Patrese's mistake caused the multiple shunt on the opening lap - which involved Cheever.
"I went to pass Nigel," Cheever fumed. "And Riccardo makes a mistake under braking, slams into me and the next thing is that I'm going over the Williams." How does your team-mate explain it? he was asked. "What team-mate are we talking about?" came the response.
Patrese claimed that Cheever closed the door on him. Mansell didn't really care too much how it started: "All I know is that suddenly I was in the air, then nosediving into the barrier." At first there were fears for the monocoque - no spare FW10 yet, remember - but all was well for Saturday morning. "We are getting a little short of spares for the front of the cars," Patrick Head admitted.
"I'm just glad that no-one can blame me for this," Mansell concluded. "Eddie came and apologised to Frank and to me. He said it wasn't his fault, and he knew it wasn't mine, I appreciated that."
Ferrari, as we have said, had their troubles. Amid the euphoria of Johansson's arrival, there was no getting away from the fact that the 156s were, to put it mildly, lively whenever the road turned. During Fiorano testing Alboreto had tried Lotus-style sidepod-mounted winglets, but they weren't seen at Estoril. "I couldn't feel any difference in the grip," Alboreto reported. "And we lost a bit of straightline speed." As it was, the Ferraris were very disappointing through the trap, beaten by TAG, Honda and Renault - and 11mph away from Piquet's BMW.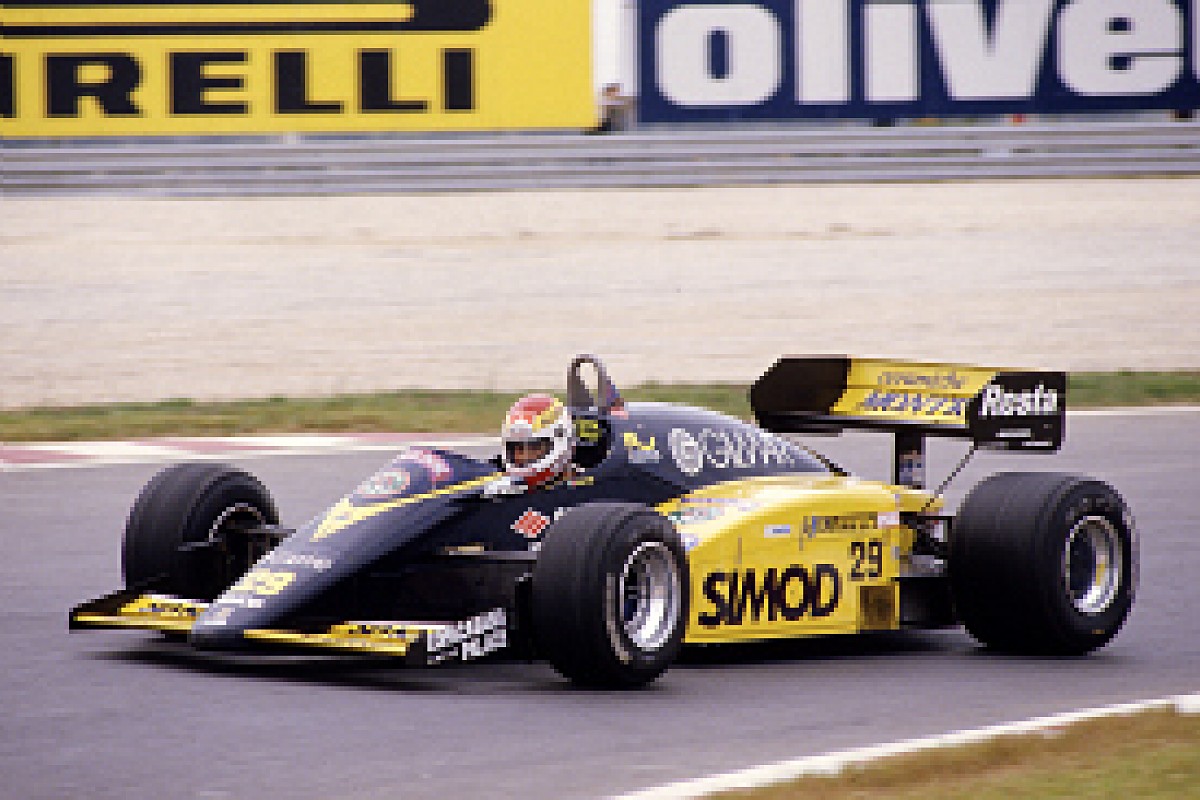 Martini qualified his Minardi near the back © LAT
Johansson was nonetheless highly impressed with the Italian V6. "There's a lot of power, believe me. The torque is amazing, and the response. And the whole thing's so smooth." Most of all, like all drivers new to Ferrari, Stefan raved about the gearbox: "It's faultless. I've never come across anything like it."
His two days of baptism were not easy. For most of the Friday morning he sat in the garage while the mechanics changed springs and bars. This was his first experience of a 156, and he began qualifying with little practice in it. To make matters worse, a rotor arm failure halted Johansson out on the circuit during his first flying lap. Back to the pits, out in the spare - which was set up for Alboreto, and which he hadn't sat in before.
The following morning he had a spin when the transmission broke, leaving him without drive in the middle of a corner. That meant the T-car again for the final session, and he did well to qualify 11th, 1s slower than his team mate. "At the moment it feels very nervous, but I'm sure we'll make progress in the Imola test next week," he said.
Warwick put the Renault RE60 into sixth place on the grid, a marked improvement on the car's form in Rio, but still he was less than thrilled. "It's getting a bit like 1982 all over again," he agreed when speaking about downforce. "Basically, it counts for much more than anything else - and that's what we're short of. The car just doesn't seem to have much grip. I'm quite surprised to be as high as sixth, because on my quickest lap I didn't feel as though I was driving very well - not making mistakes exactly, but not flowing. And the car is bloody nervous and twitchy, jumping all over the place."
It was Warwick's turn to run the older EF4 engine this weekend, Tambay having the questionable pleasure of the EF15. Both drivers reckon the new V6 in fundamentally better, but also currently less reliable. Patrick used the spare car for final qualifying, leaving the EF15 in his race chassis for Sunday. He qualified 12th.
Renault had revised suspension geometry for Estoril, rather curiously choosing to run the new front end on Tambay's car, the rear on Warwick's.
If you think back to the Lotus/Pirelli saga of 1983 you will recall that the 94Ts of the day invariably qualified superbly, then fell away in the race. After a long winter of testing with Brabham, Pirelli now seems to have a fine race tyre - but the qualifiers are hopeless.
Consider this: through the trap Piquet's BT54 was time at better than 194mph, Bellof's Goodyear-shod Tyrell-Cosworth at 155. Yet Nelson's best lap was less than 4s faster than Stefan's. The Brazilian was 2s away from his (Michelin) pole time of last October.
After his Rio shunt, a legacy of the diff locking solid, Nelson needed a new monocoque for Portugal, and he qualified 10th. Pirelli problems apart, he reckoned he should have been a little higher than that. "I did my first run right at the start of the session," he said on Saturday. "The track was clear, but we weren't on full boost. On my second set I did have full boost - and traffic." When he thought of the race though, Piquet perked up.
Francois Hesnault looks far less confident in a Brabham than he did in last year's Ligier. Like Piquet, he was hampered by a misfire in the first timed session, but on Saturday morning he missed his braking point at the first corner, locked up and slid off into the gravel. Damage was confined to a punctured tyre and wing side plate, but Hesnault never looked at ease in the car. There were other spins, too. He qualified only 19th, 2s from Piquet.
And the Alfas. We seem to have spoken already of them at some length in connection with the Mansell incident. In truth, it seems a curious way to go racing, for progress will surely be speedier if a team's two drivers are actually speaking to each other. Before Friday afternoon's little festival, Cheever was quite a happy man, saying: "We're in much better shape than in Rio."
"The car actually feels quite good here, but we've a problem with the new front suspension, which John Gentry did before he left. In fast corners the steering goes very stiff. On the plus side we have no temperature problems any more - but a new one has replaced it! The outlets for the radiators are now so high that the rear wing is in shadow. We're very low on downforce - we had much more when we tested here in January. And, of course, we're 40 kilos overweight."
Those trifles apart, Cheever thought things were looking up. After a final practice, though, he was despondent. The race car's engine had blown, and in the spare he was only fractionally quicker than before: "I know I would have been in the 22s."
Cheever had been 10th in the first session, but now fell to 14th, Patrese dropping from sixth to 13th. During Saturday morning the two Alfa men topped the lists for a while, but on qualifying boost were off the straightline pace. Both felt the set-up was good for the race, but Gianpaolo Pavanello must have shivered a little when he realised his cars were on the same row.
Manfred Winkelhock's RAM-Hart blew up early in the first timed session, but came back well in the second, qualifying 15th with his team-mate Philippe Alliot five places further back, electrical troubles keeping him from most of the last session. Some idea of Pirelli's Q-tyre confusion may be gained from the fact that RAM found the Italian race tyres quicker on Friday.
One man truly down after practice was Thierry Bousten, ninth on the first day, when the Arrows-BMW was actually fastest of all through the trap, at over 191mph. The A8s had new wider-track rear suspension for this race, and the Belgian enthused about it. On Saturday afternoon he was expecting to go really well with a fresh engine for the last session. Alas, it blew up before he could improve, and that dropped him to 16th just one place ahead of Berger's sister car.
Immediately behind Jack Oliver's sheaf was Jacques Laffite's Ligier-Renault, kept from a good time on Saturday by a broken clutch. The citizen of Stoke Poges had been only marginally slower than team mate Andrea de Cesaris in the first session, and was highly disappointed. De Cesaris, by contrast, progressed to eighth, fighting the JS25 all the way. His time, incidentally, made him Pirelli's fastest qualifier, 0.3s quicker than Piquet. Good also on straightline speed, the Ligiers - now sponsored by Candy - attracted favourable comments from drivers watching their behaviour out on the circuit. Is this car the sleeper of 1985?
The Tyrrell-Cosworths of Bellof and Martin Brundle duly qualified within 0.1s or so of each other, the latter reporting that his car felt nervous over the bumps but was otherwise fine. Behind him in 23rd was the new Zakspeed of Jonathan Palmer.
Since the car was last seen in testing, it has acquired the livery of West, an American cigarette company which will sponsor the team throughout 1985. And for Portugal the car's wheelbase had been lengthened by means of a spacer between engine and gearbox.
After a first morning spent attending to fundamentals like gear ratios and springs (much too stiff to begin with), Palmer was 19th in the opening session and sure there was a lot more to come. Unfortunately we were never to know, for the master switch short-circuited within a few seconds of the car leaving the pits for its opening run. Palmer could only park and curse. It must be said, however, that the team made a very favourable impression at this, it's first F1 race.
Mauro Baldi's venerable Spirit-Hart was next up, the Italian complaining of poor traction, and the back row comprised Pierluigi Martini's Cosworth-powered Minardi (which may have Carlo Chiti's new turbo V6 at Imola in two weeks), and Ghinzani's Osella-Alfa, which actually set 21st time on Saturday, but was disqualified from the session when its rear wing was found to be a few millimetres too high.
In the paddock was John Watson, and down the road somewhere was the Toleman transporter. Their sad absence from the track meant that, as in Rio, nobody missed the cut.
Race
April in Portugal. There was a tune of that name in my childhood 1950s, a light and airy melody, I seem to recall, suggestive of summer's approach. It would not have been appropriate for the Estoril paddock on Sunday morning.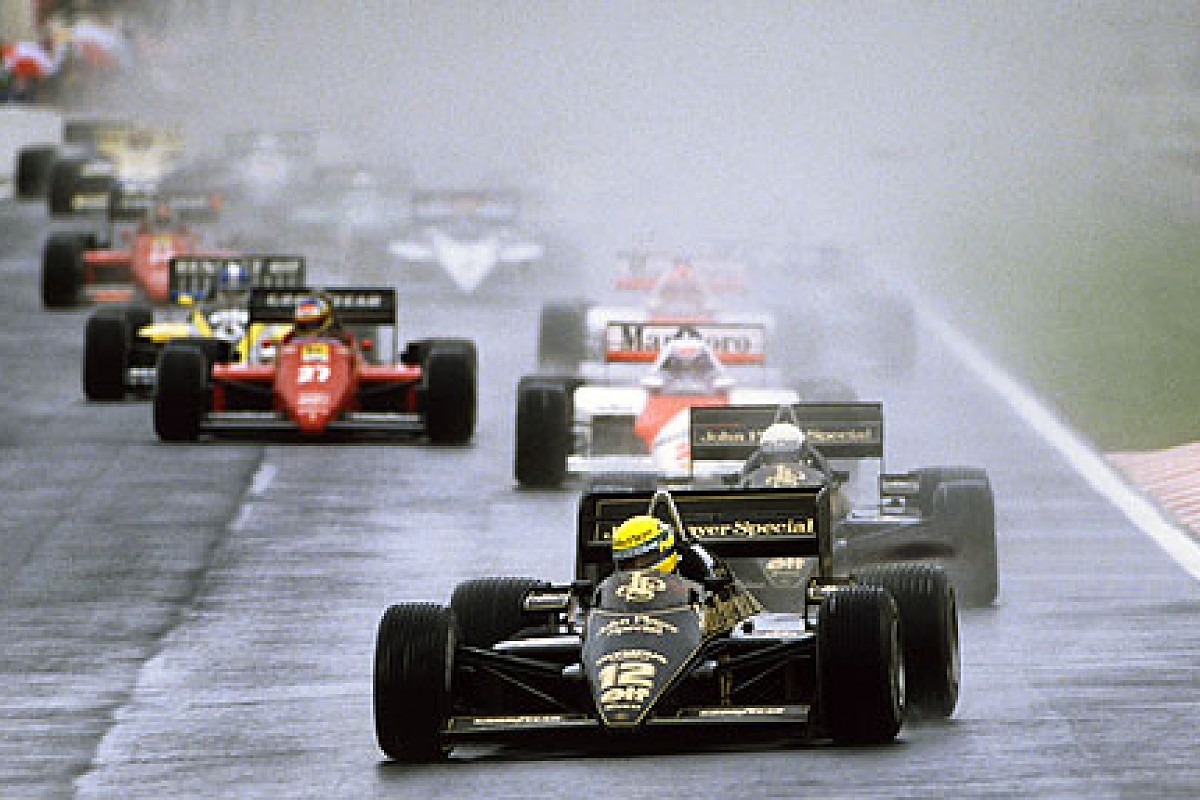 Through practice we had learned to live with murky skies and odd drops of rain, but soon after noon on race day grey was going black. The Red Arrows could only give us only their secondary programme, and everyone dug out wet weather gear, mildewing since Monaco - another temple of Mediterranean sunshine.
In the grandstand the spectator pondered. Had he spent his week's wages sensibly? And if so, why had nobody joined him?
In the paddock drivers and engineers glanced and grimaced repeatedly at the sky. Crazy when you thought about it, wasn't it? All this testing round the calendar - yet nobody ever tested in the wet. How would Goodyear and Pirelli compare? After two days of dry practice settings for the race would probably be guesswork.
The Renault mechanics had work of a more immediate kind on their hands. Following the warm-up they set upon the spare RE60, transplanting its rear end to Tambay's car (rear suspension failure) and its rear underbody to Warwick's, the Briton having spun into a high kerb.
The warm-up, run before the rain arrived, had - surprise - featured Prost's McLaren fastest followed by the Lotus of de Angelis. Third and fourth, though, were the Ferraris of Johansson and Alboreto. As both had said, the cars were indeed excellent on full tanks. Noteworthy, too, after the disappointment of Saturday, was the ninth position of Palmer's Zakspeed.
"Who's using what?" asked a Goodyear man in response to the question. "We don't know yet - there's a lot of psyching going on, as usual." But all that was swept away by the rain. It became a clear-cut matter of companies rather than compounds. Everyone was going to be on wets.
Would the start be delayed? No way. Time and TV slots wait for no man. But the drivers were given a few minutes for acclimatisation, during which there were sundry incidents. Mansell had an off, and arrived back at the start-finish area in need of a new nose, now too late to take his place on the grid. He like Martini, would start from the pitlane, as would Cheever, whose car was pushed off the grid, the American sprinting to the Alfa pit to board the 184 T-car.
The spectator looked down at the black Lotus before him. This was Senna's first pole position, and in these conditions a good start - and a clear road - was more than usually important. Only the leader would be seeing much in the early laps.
Ayrton did the job, smoothly away without too much wheelspin, but into the first corner there was black and gold rather than the expected red and white, in his mirrors. De Angelis had beaten Prost away, and that was going to be important.
On the grid Rosberg - third - had stalled, allowing de Angelis - fourth - some room with which to work. Although Alboreto, directly behind the stranded Williams, lost little time in going round it, de Angelis momentarily had a clear path down in the middle and made the most of it.
In the spray Palmer clipped the back of Rosberg's car, which punctured his right-front tyre. When he came in, the mechanics also discovered a damaged wishbone. Sadly, the Zakspeed's grand prix debut was short.
Mansell, Cheever and Martini duly departed from the pits to begin their race, and Mansell really got his head down. Beginning a splendid drive, which would see him eventually in the points. Keke, too, finally got on his way, only to spin on his first lap.
A disastrous start for Williams then, but a perfect one for Lotus. At the end of lap one Senna and de Angelis came through 1-2, followed by Prost, Alboreto Warwick, Lauda, de Cesaris, Tambay, Piquet and Johansson.
Senna was treading warily, at the same time doing it faster than everyone else. Making the most of his clear view, he was already lapping at a speed beyond his team-mate. After two laps there was a 3s gap between the Lotuses, and Prost's McLaren was a similar distance behind de Angelis.
If one Brazilian looked on course already for victory, the other faced the most dispiriting afternoon of his racing life. For the first three laps Piquet somehow resisted Johansson's Ferrari, but a queue was forming up behind the Brabham. De Cesaris's Ligier was also falling away. The Pirelli wets, it was clear, were embarrassingly bad. And as conditions worsened, so also did they.
"I would bet," mused one Brabham man afterwards, "that the telex between Chessington and Italy will be glowing red-hot on Monday morning."
Hesnault was at least spared the task of trying to keep his BT54 on the road for two hours, pulling off on lap three with a dead engine. Nelson, quickly passed now by Johansson, Patrese and Bousten, must have envied him.
Johansson's efforts had been wasted, however. On lap five Patrese took a late lunge at the Ferrari and hit the back of it. The move was never vaguely on, and both spun, Johansson rejoining in 17th place, his assailant retiring on the spot. A minute or so earlier Alliot's RAM had also spun off for good.
Further back in the field Bellof had predictably been making excellent progress, reviving memories of his brilliant display at Monaco last year. From a grid position of 21st, he had come past 14th at the end of the opening lap, and had Winkelhock's RAM against the ropes. Getting by though, was a different matter, for the German could always pull out several lengths down the pit straight. On lap five they touched and spun, both managing to continue, but Stefan's right front wing was gone. He opted to stay out with what he had, and proceeded to charge for the rest of the afternoon.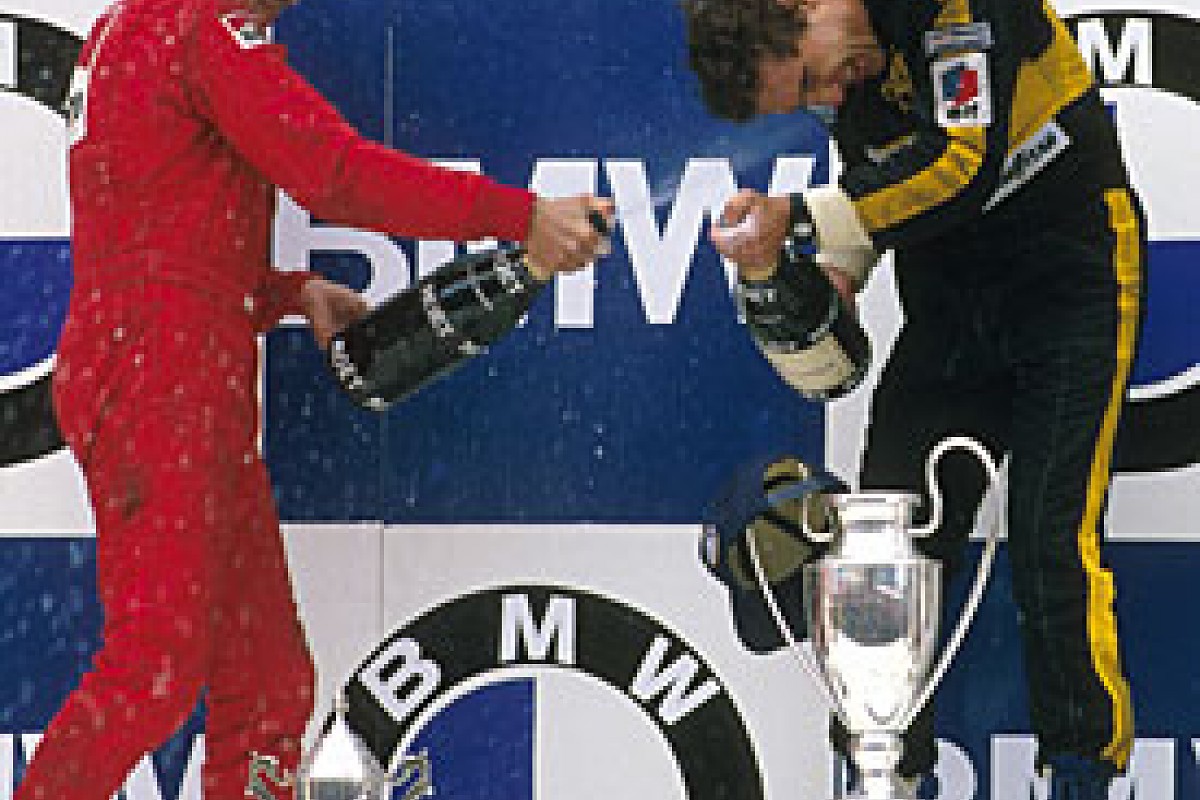 Senna celebrates win number one of 41 © LAT
Far and away the most imperturbable man on the circuit appeared to be the leader, who revived memories of Pedro Rodriguez as he made his smooth way round. Once or twice the Lotus jinked under braking for the first corner, but never once did it look like escaping Senna's control. Just occasionally comes a race when one driver makes the rest look ordinary, and this was one such.
After 10 laps Senna had nearly 12s over his team-mate, who was coming under repeated pressure from Prost, the McLaren in turn being caught by Alboreto's Ferrari. Without Senna, I thought, we'd have quite a race here.
Fifteen laps on the Pirellis were quite enough for Laffite, who brought in the Ligier, reporting that it was: a) dangerous, and b) pointless to continue. By now the rain was coming down very hard, and the speed differential between Goodyear and Pirelli runners was almost beyond belief. At what looked like walking pace de Cesaris was having to fight his JS25, and in the end Gerard Larrousse wisely called him in for the day. "We tried two other sets first," de Cesaris muttered. "But they didn't make any difference."
Piquet, for his part, never did retire. But the Brabham was frequently in the pits. "It was like a test session, really," said Gordon Murray later. "No point in getting upset - it was far too bad for that! He came in to chat and change his overalls, things like that." Eventually Piquet said he'd like them to know he was driving as hard as he could, but reckoned he was a serious danger to other drivers. At that they called it a day. His best lap in the race was 0.1s quicker than Ghinzani's Osella - and 7.5s from Senna's best.
In the confusion of spins and spray it was all too easy to overlook Mansell's progress. Remarkably - considering his delayed start - he had the Williams-Honda up in ninth place after 10 laps.
He had gained one place at the expense of Johansson, whose Ferrari debut was proving fraught. After being punted off by Patrese, the Swede came back superbly to 10th, at that point lapping as quickly as team mate Alboreto, but on lap 12 he was a victim once more.
"Winkelhock spun right in front of me, and I couldn't miss him," he said. "The nose was damaged, but I thought I'd stay out for a bit, Eventually I had to have it replaced, and then it was just a matter of keeping going till the end." He rejoined in 16th place.
Then Rosberg crashed. Coming through the long right-hander onto the main straight, the car snapped out of control, hit the guardrail and bounced back in the middle of the road, where it came to rest. With the rain really beating down now, there were some anxious moments as drivers swerved around the beached Williams. Rosberg was quickly out and away, but had bashed his hand on something in the cockpit, the wound requiring several stitches.
"He said the engine was all or nothing," reported one of the mechanics afterwards. "The road was really waterlogged at that point, and the power chimed in at the wrong moment."
Warwick too, hit a barrier. On lap 13 he had lost sixth places to his team-mate Tambay, but both the Renaults were closing on Lauda, who was smooth as ever but clearly not enjoying himself. Lauda let them through without much of a fight, but two laps later, Warwick was into the pits.
"I really hit the guardrail hard," he related. "My helmet hit the roll-over bar, and gave me a headache. When I came in, they changed the tyres, and I was really hoping they'd check the car over! But I went back out, and absolutely nothing was damaged. I still can't believe that."
At the front there was no change. As the 30-lap mark approached Senna led by more than 30s and Prost continued to crowd de Angelis for second place, with Alboreto's beautifully- driven Ferrari ever present in their mirrors. "For sure," Prost ruefully said after the race, "I make a big mistake at the start letting Elio beat me away."
As the two of them pounded down the pit straight to begin lap 31, the McLaren suddenly began to weave, veering first left, then right, then breaking into a spin. Prost could do nothing to keep it from hitting the wall. Out he stepped, race run.
"It was raining very 'ard just then, with deep puddles, and in the spray it's impossible to see where they are. Once you start aquaplaning at that speed, you are finished." With Lauda apparently out of contention, McLaren were going to lose a race for the first time since Dallas last July.
Conditions had now gone from bad to appalling - worse by far, according to Senna, than those at Monaco. At this point he was waving vigorously as he passed the pits, indicating that the race should be stopped. All around the circuit were abandoned cars. Martini's Minardi, after countless spins, was finally out, as was Berger's Arrows. The young Austrian had driven a fine and forceful race, getting ahead of his team-mate Boutsen for a while. Baldi's Spirit gave the guardrail a very sizeable thump, and Brundle's Tyrrell, running 10th despite gearbox problems, also spun into retirement.
There were, however, no mistakes from the leader, despite the fact that he was lapping faster than anyone else. An hour into the race he was 40s clear, and interest centred on the battle for second, for Alboreto very definitely had his sights set on de Angelis. On lap 43 the Ferrari had emerged from the spray and flicked inside the Lotus as they approached the first turn.
De Angelis made no real attempt to close the door, and it looked as if he had been caught unawares. Immediately he made a rather futile attempt to get back at Michele, but only two corners later left his breaking too late and slid wide. On the gravel and slippery grass he did a fine job in keeping control of the Lotus, but while off-course punctured a front tyre, which deflated slowly thereafter but did not keep him from reaching the finish.
One of the best drives of the race came from Cheever, always excellent in the wet. From his pitlane start he had taken the old Alfa 184 up to eighth in the course of only nine laps. A plug changed after half an hour had dropped him down the field, but he then clawed himself back to eighth and looked set to improve further on that. Alas, the car eventually stopped with a dead engine. Electrics somewhere, they said.
Lauda's disappointing race also ended in the late stages. The world champion had been passed successively by Tambay, Mansell and Bellof, and on lap 49 crept into the pits with piston failure. Conditions, he said, were ludicrously dangerous, and he felt the race should have been stopped much earlier. No points for McLaren.
Lap 59 featured a new third place man, Tambay, who had driven an excellent race. De Angelis, struggling with his soft front tyre, could offer no resistance - indeed he was lapped by team mate Senna before the end.
"Come in, number 12, your two hours are up." After 67 laps of the originally scheduled 69, the chequered flag went out to Senna - and his moment of triumph could easily have been soured by tragedy. In the manner pioneered by Colin Chapman, some of the Lotus mechanics jumped over the barrier and onto the track to greet their man. Seeing them, Senna slowed and moved to the right immediately after crossing the line. Thundering up beside him was Mansell's Williams, suddenly with nowhere left to go, Nigel lifted off and swerved left, behind the Lotus, then surviving a wild moment on the grass. It was good that Prost's abandoned McLaren was further on down the road.
Before reaching the first turn Ayrton had flung off his belts, and was waving both arms wildly, The Latin at last. This was his 17th grand prix, only his second for Lotus, and he had won it. More than that, he had been in a different class right from the green light. Fastest in both sessions, fastest lap of the race, leader all the way. Full House. Victories like that deserve more than nine points.
"The big danger," he said later, outward exuberance now gone, "was that conditions changed all the time. Sometimes the rain was very heavy, sometimes not. I couldn't see anything at all behind me. It was difficult even to keep the car in a straight line sometimes, and for sure the race should have been stopped. It was much worse than Monaco last year. Once I nearly spun in front of the pits, like Prost, and I was lucky to stay on the road."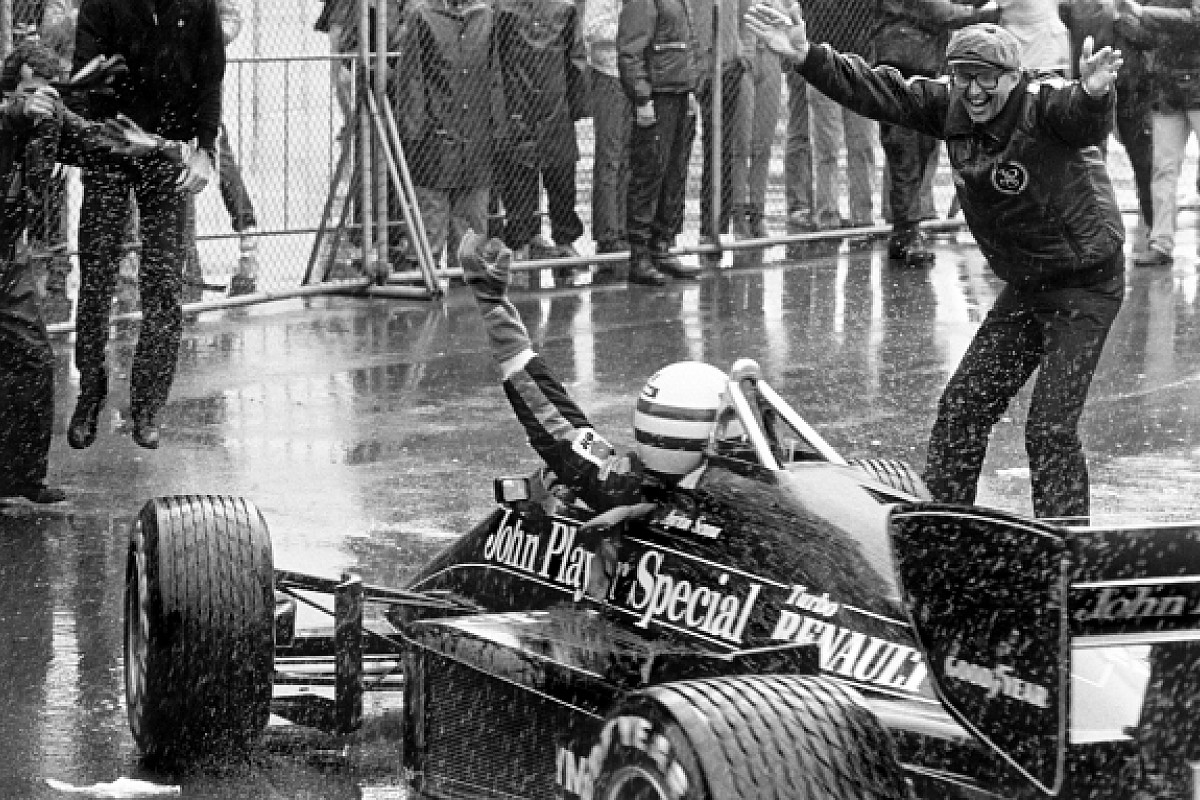 And the car? "Fantastic. I had an engine and gearbox change after the warm-up, and there were no problems at all."
Others were happy, too. Alboreto's superb drive to second gives him the lead of the World Championship, and Tambay was amazed by third - "I had no spins or anything, but I don't know how. I think I saw the Devil about a million times today. I could have been third or 13th.
De Angelis could have hoped for better than fourth, but also drove a fine race. Had not Senna been in the other Lotus, indeed, he might have thought it a very fine race. It will be interesting to see how he responds at Imola and beyond.
A finish in the points will have done wonders for Mansell's morale. After his gaff immediately before the start, he drove an excellent and gutsy race to finish fifth, ahead of the irrepressible Bellof, who scored what must be the last World Championship point for a Cosworth-powered car! Surely.
The spectator looked on and considered his afternoon. Had it been worth all the money? On balance, yes, he decided. He was soaked and chilled through, but a Portuguese-speaking driver had won. And one day he would be able to say that he had been there, that day when Ayrton Senna won his first grand prix.