One way and another engines dominated the paddock breeze in Barcelona. First, there was the pre-event technical directive sent around by FIA technical delegate Charlie Whiting informing everyone that, in his opinion, hot blown diffusers are illegal.
Exhaust blown diffusers aren't new, so what was suddenly the problem? It's worth knowing that when Charlie issues such a directive it is often prompted by a team query. So who had been asking questions? And why? Often, it's someone who can't readily get a handle on something a rival is doing very well, and therefore wants it banned.
It's not exhaust blown diffusers per se that are causing the problem, it is the methods being used to achieve consistent downforce levels by maintaining the flow of exhaust gas through the diffuser when the driver is off-throttle. Such solutions are becoming more extreme, with the suggestion that there is half a second or more per lap performance differentiation between teams.
So what are "cold blown" and "hot blown" diffusers?
"Cold blowing is just cutting spark and fuel and keeping the throttle open," explained Whiting, "and hot blowing, as I understand it, is introducing fuel, lighting the fuel but retarding the ignition."
Such systems are more relevant to qualifying than race because they use more fuel and there is also a risk of breaking the engine. Whose car is much faster in qualifying than it is in the race? Red Bull's. So, logically, Red Bull and Renault are ahead of the game and the likes of Ferrari and Mercedes want it banned. Problem is, that doesn't seem to be true. The team asking the questions was Williams.
Renault, Ferrari and Mercedes all make engines. Williams doesn't. Developing its exhaust systems and engine mapping, says engine partner Cosworth, involves considerable expense and dyno time. Williams was very impressed with what Cosworth served them up in Spa last year, technical director Sam Michael saying at the time that it was a bigger step than the exhaust blown diffuser itself, but since then matters have moved on.
Things are being taken to extremes and if Cosworth and Williams were to follow suit, until at least the end of 2012, it needs paying for. Before they committed to that, Williams wanted a ruling. It seems that they presented their grasp of where things are at the moment to the FIA, and also their fears as to where things may end up.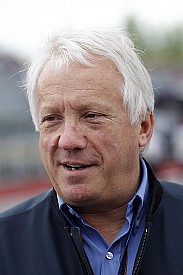 Whiting was about to ban exhaust-blown diffusers © LAT
Said Whiting: "It became apparent to us through examination of data that what we thought was a fairly benign feature was being used, in our opinion, illegally, simply because the exhaust system is there for the purpose of exhausting gases from the engine and when you're off throttle it's not doing that anymore -- and therefore its being used to influence the aerodynamic characteristics of the car.
"We think it arguably infringes article 3:15 (concerning aerodynamic influence). We selected a (throttle opening) figure which we thought was fair in order to allow an engine to idle, but it had some unintended consequences and that's why we thought it wasn't right to rush it through having discussed it with a number of engine manufacturers."
The issue will be discussed on June 16 at the next meeting of the Technical Working Group and an introduction plan decided upon. In the meantime, with the entire grid running the systems in Spain with the exception of Virgin Racing and HRT, the other teams were all wide open to a protest in Spain and will be at Monaco or Montreal.
"That's always a possibility," Whiting confirmed. "I've told the teams that were pleased we postponed the introduction that this could happen. I'd like to think that it probably wouldn't, but it's not beyond the realms of possibility..."
"Can you imagine," someone said in the press room. "Fernando Alonso wins in Spain and then gets thrown out after a protest from Hispania!"
Nobody seriously reckoned there'd be a protest, on the grounds of pure common sense. Maybe I've been around this business a bit too long, because I wasn't convinced. If common sense had been applied we wouldn't have had a six-car race at Indy six years ago. There is money involved. Virgin or HRT could net some healthy prize money and catapult themselves into the all-important (for revenue generation) constructors championship top 10 if everyone else was chucked out. My suspicions were further aroused when Virgin Racing went back to its old exhaust system having tried an updated one in Turkey.
"No," said sporting director Graeme Lowdon, "We just need more time working on the engine maps. And while we're not going to protest, we wanted to protect ourselves in the event that anyone else does."
What about Williams, I thought. They haven't scored a point yet. What if they decided to run 'legally' and then protest?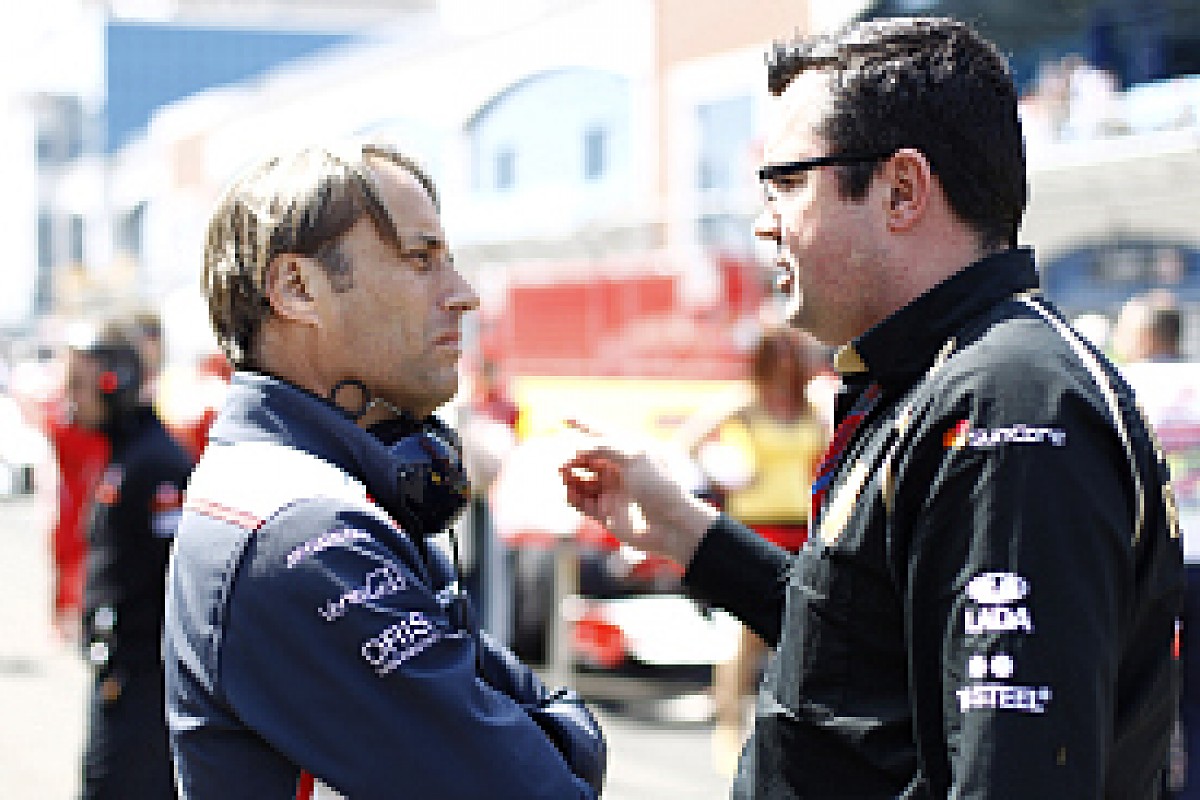 Adam Parr (left) is not planning to protest against exhaust-blown diffuser © LAT
"We're not going to protest," said Adam Parr.
Passing HRT principal Colin Kolles, I asked him when he was going to lodge his protest.
"I'm not going to protest..." he laughed, then added, "Of course I am! I'm just working out where's more valuable to do it - here or Monaco." I thought he was joking but now I'm not sure.
With exhaust pipes the hot topic, as it were, they fitted well with what I was led to believe was going to happen at 4pm on Saturday. That was the timing of a meeting between the engine manufacturers and FIA president Jean Todt. At it, I was told, the engine men, Renault apart, were about to suggest exactly where the Frenchman should stick his 2013 engine regulations. Politely, of course.
In fairness to Todt, he could claim quite legitimately that they were not 'his' engine regs, they were ones that had been drafted by F1's engine manufacturers and rubber-stamped by a World Council that included Bernie.
As I understand, the meeting didn't quite happen like that anyway. The way I heard it, they didn't scream loudly enough and Monsieur Todt let it be known that the 2013 engine regs for a 1.6-litre, turbocharged formula, would go ahead just as they are.
Which is kind of surprising. If you've got Ferrari, Mercedes, Bernie and Cosworth singing from the same hymn sheet, you wouldn't reckon that the FIA is left holding too many aces. On the other hand, there is Renault, which is thought to have been told by the high-ups that if F1 doesn't go the green, small capacity turbo road car relevance route, they're out of there. Currently they supply three teams and are looking for a fourth.
Cosworth, meanwhile, admitted to serious concerns that the 2013 rules, as they are currently written, are way too open to a spending space race. That is a concern shared by the small independent teams, and it's a valid one. Not so long ago they were spending $20m plus on an engine deal but as things stand, they are not. They can't afford to do so again.
Apparently when Cosworth said that they couldn't guarantee to be able to produce the new engines without some changes and some commitment from the independents, Craig Pollock announced, on behalf of the newly-formed PURE engine company, that he could. Which, I'm told, was not taken too seriously.
"PURE b*******, I suspect..." was how one source put it. Which was not very kind but, suffice to say, it looks like Craig has a fair amount of convincing to do.
There was some talk about an extra year's grace for anyone wanting to continue with a V8 but that doesn't seem to make a huge amount of sense in any direction. Equivalence formulae are nothing new in F1 - it was 1.5-litre turbo or 3.0-litre normally aspirated when Renault arrived with its turbo in 1977. But one option is always going to be better than the other.
Ferrari was thought to be adamant that it isn't going the turbo route but I gather that at one point the FIA president actually asked the question, 'Okay, how many of you have actually started on an engine?' They all put their hands up.
Okay, so your opposition is that strong, is it?
There remains the question of whether the new engines are necessary and, while the politics are always entertaining, that's the key issue.
Adam Parr, as boss of an independent Williams team that, while far from broke, does not enjoy manufacturer support at the moment, you might expect to be on-side with the antis.
But he's not. Parr thinks it is absolutely fundamental to F1's future to go the green route. That may or may not have something to do with Williams' investment in hybrid technologies and the business potential thereof, but Parr also makes the point that no commercial sponsors are keen to sign up to an F1 running gas-guzzling V8 engines.
I did wonder whether the FIA's keenness to embrace the hot blown diffuser clampdown had something to do with the fact that at the same time that Jean Todt is peddling F1's potential to embrace efficiency and the environment, and road cars are increasingly fitted with stop/start systems, F1 teams are happily blowing a load of dough trying to find ways of burning fuel even when the driver isn't on the throttle! Which is deliciously ironic. And bound to be pointed out sooner or later...
Further to Parr's point on sponsors, the commercial men I've talked to suggest that yes, companies do somewhat grudgingly acknowledge that the green box is one that needs to be ticked, without being passionately committed to it, privately at least.
The commercial men don't see why a green package applied to the current engines - in the form of a fuel flow formula allied to a more powerful KERS, for example - wouldn't be just as palatable.
I think I'm with Mr E as far as that goes. At the risk of being shot by environmentalists, I don't see that it's F1's job to be pioneering in that field. We're high performance sport and entertainment and, let's not pretend otherwise, patently not green.
I'd say you need to make a start on persuading the USA not to go shopping in V10 pick-ups - at 55mph - if you're serious about being green. And as long as it's still legal to sell multi-cylinder high performance road cars, I don't see that F1, which actually uses the power, need worry. Sorry if that's not the PC view, but there it is.
Yes, I know it's legal to sell cigarettes and yet there is an advertising ban, which is perverse in itself. If governments were really serious about it they'd have banned free NHS treatment for smokers many moons ago, but obviously make too much money in duty to really want to stop it.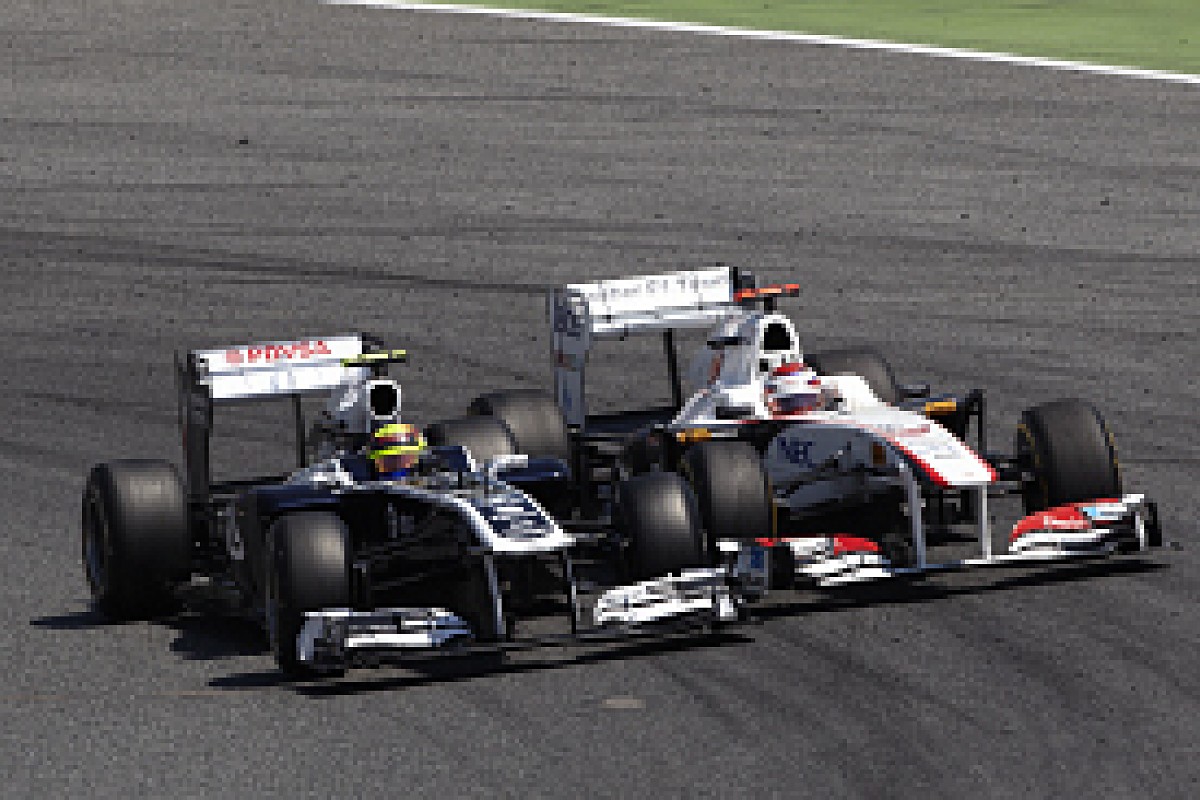 The racing in F1 has been mega this year © LAT
At further risk of assassination, I don't care whether F1 is green. There, I've said it. How dreadfully selfish but I just want it to be good. And, at the moment, we've got engines that aren't massive performance differentiators at a cost that teams can afford. We probably should think carefully before we risk throwing that away.
It would probably be naive to think that everyone building new turbos would do so to precisely the same standard, immediately. They may get to that point eventually, but it might take a year or five. I'm not against competition but we could face a couple of teams disappearing off into the distance and spoiling a show that we are becoming accustomed to being compelling. F1 is very good at the moment, make no mistake.
Ultimately, I guess, it could come down to just how seriously Ferrari wants to play hard ball. I did wonder whether there was an ulterior motive in announcing that they'd signed Fernando Alonso through to 2016.