Although Formula 1 had already kicked off its European season at the Asian-domiciled Istanbul Park circuit, the Spanish Grand Prix marked the start of what felt much more like the traditional return home.
The fans, the weather, the size of the paddock and the ease of which people can get to Barcelona meant the place was pretty packed all
weekend - as F1 teams got down to business in trying to lift their performances.
Danish goalkeeping legend Peter Schmeichel was one of the biggest names from the sporting world who was having his first look at a grand prix close up - and he could not believe just how slick an operation F1 was.

MotoGP superstar Jorge Lorenzo checks out the F1 paddock © LAT
Down at Mercedes GP, the team fell in love with its guest - Jorge Lorenzo, who dropped in on race day for another look at F1 through his links with team title sponsor Petronas. His fellow MotoGP rider Toni Elias was down at HRT.
And talk of hot blown diffusers, protests, 2013 engine rules and rear-wing slot gap separators did little to detract from what was definitely the best Spanish Grand Prix we have seen at Barcelona - even if the local Alonso fans may have wished for a slightly better result for their hero.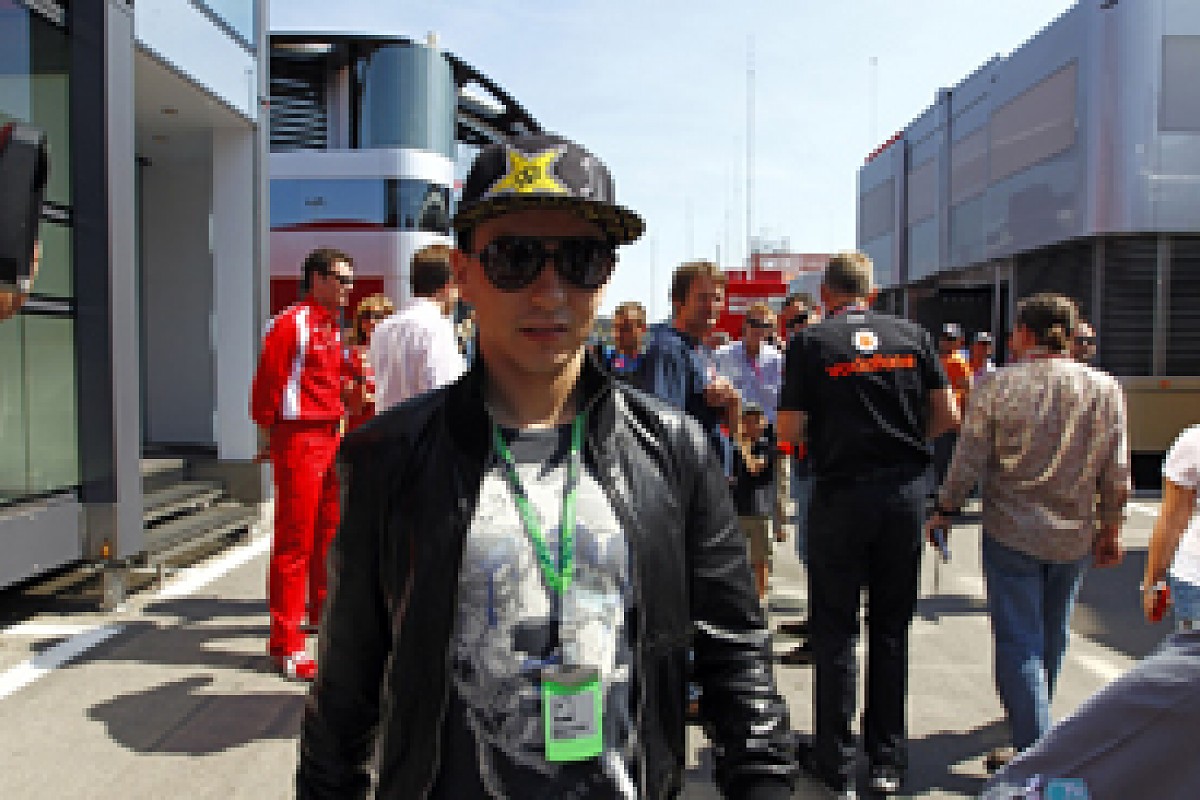 The cancellation of the Bahrain Grand Prix, and its possible return this year, is still a hot topic of conversation in the paddock - but its impact produced some unintended consequences at a special anniversary celebration in Spain last weekend.
With the season supposed to have been starting at the Sakhir Circuit in March, it meant that this weekend's Spanish Grand Prix was going to be track commentator Bob Constanduros's 500th F1 race.
Well, that was the plan when his family starting preparations for a bit of a surprise for him at the Circuit de Catalunya. Passes were sorted out with the help of Bernie Ecclestone, planes and hotels all booked for a secret visit, and a party all arranged down at Virgin Racing.
However, the cancellation of Bahrain meant that there was one less race before Spain - so Barcelona would be Constanduros's 499th grand prix - and it was too hard to try and rearrange plans for Monaco next week.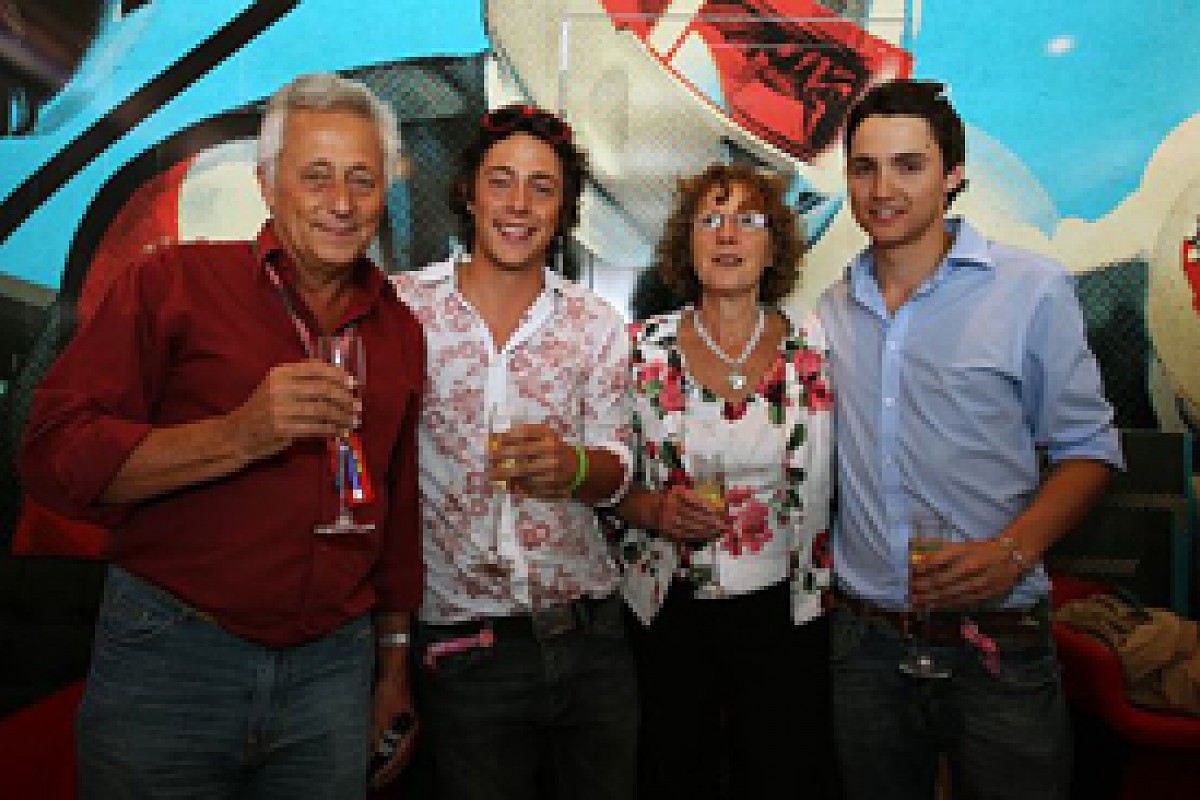 Bob Constanduros celebrates his milestone with his family © sutton-images.com
So on Thursday afternoon, unaware of all the plotting and Bahrain implication, Constanduros was greeted at the Virgin Racing motorhome for some celebratory drinks with his wife and sons - plus the great and the good from F1 who have got to know Bob (and his 'Champaaaaaaaaaaaagne' call on the podium) for decades now.
And even long-time work colleague and friend Ian Phillips, who is now COO at Virgin Racing, did not want to miss the fun while he worked back at the factory - so he joined the party via Skype.
The Constanduros mob did not even let the fact that all their luggage got stolen from their hire car outside the circuit put too much of a dampener on the weekend - as Bob himself was all smiles.
"It was a wonderful surprise that my family turned up," he said. "You can't do this job without the support and understanding of your family; they become as used to you being away all the time and travelling as you do, so they're an integral part of the whole thing. It was an utter and complete surprise!
"Jane used to work in F1 so she enlisted the help of her old friend Ann Bradshaw - who is son Ben's godmother - plus Lynden Swainston and Virgin Racing's Tracy Novak. They arranged it all. They were fantastic, and Bernie kindly gave them all passes.
"Of course, it was all arranged ages ago, long before the Bahrain Grand Prix was cancelled, so this is actually my 499th - but I have to confess that includes the 1975 Monaco Grand Prix when, strictly speaking, I was reporting the F3 race for AUTOSPORT, but I'm sure I did some F1 stuff as well!"
So it was actually his 498th GP. Time for some more drinks in Canada for the 500th, then Bob?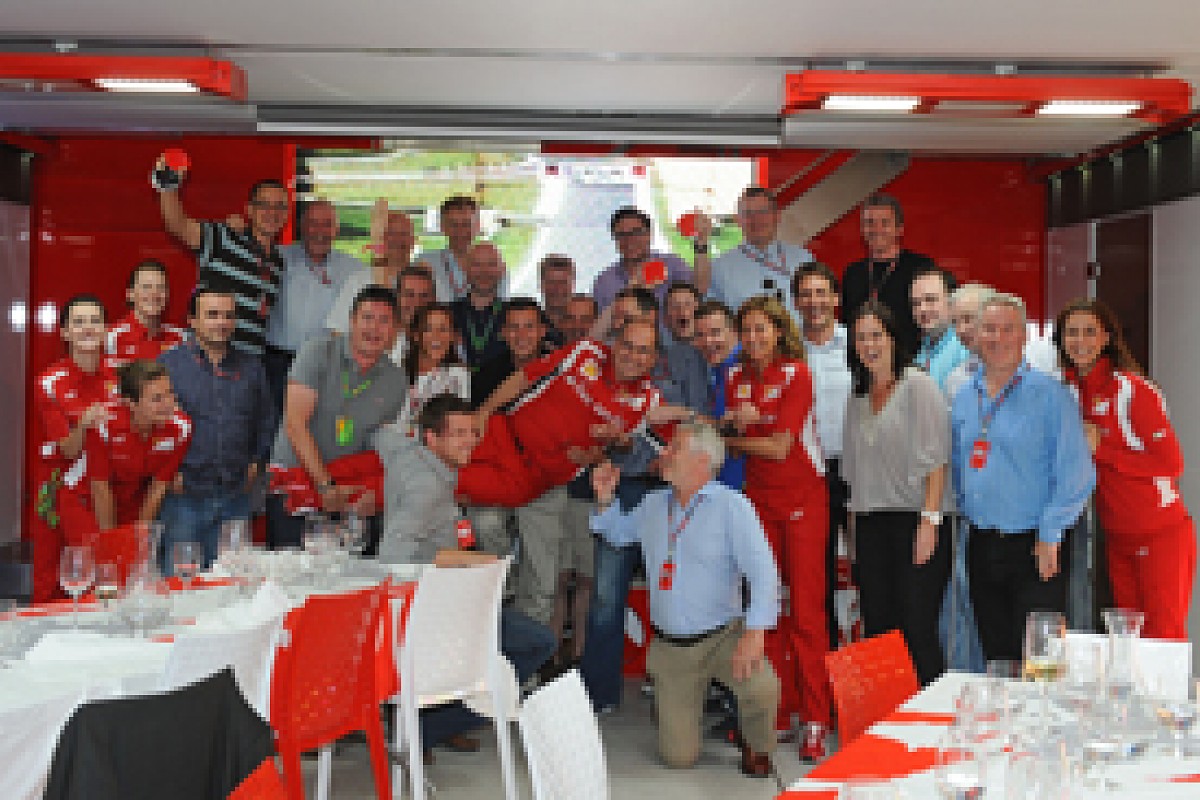 The F1 paddock can be a pretty intense place to work at times - with people focused on their jobs and getting very little opportunity to just sit down and chew the fat in a relaxed atmosphere.
It is also such a competitive environment that sometimes there can be clashes of interest as different people go about doing their jobs - with the media and teams sometimes coming to blows as they dispute the rights and wrongs of stories.
And so on Friday night, there were a few worried journalists heading down to Ferrari for a media dinner - having just filed stories that the team may have been running an illegal rear wing at the Spanish Grand Prix.
However, well aware of how the media operates and that it was not the journalists' fault there was an argument over a 30mm flap on the wing, Ferrari did not let a small tech dispute get in the way of a fun-filled evening - which produced one of the most amusing ever photos from the press dinner.
The British media show their affection for Ferrari's Luca Colajanni
Can anyone remember the last time that Ferrari press chief Luca Colajanni was carried in the air by celebrating English media?
By this stage, the drivers had gone. However, earlier Fernando Alonso had raised a few eyebrows with the British press when he said he was rooting for Manchester United in next week's Champion's League final. It was not because he was suddenly in love with the English - but more to do with the fact that he is a Madrid fan, so he does not want Barcelona to triumph!
Alonso also revealed that the Spanish Grand Prix was 100 per cent his home race now, as he had moved recently from being a tax exile in Switzerland back to near his home town of Oviedo.
Yes, he conceded, it was going to cost him more money in tax - but now, having just committed himself to Ferrari until the end of 2016, he was in no danger of being made poor by signing cheques off to the authorities. Just a little less rich!
Sebastian Vettel's continued race-winning form may be leaving the sport in danger of the title fight being all but over this season, but even his success cannot match people with perfect success in the ultra-competitive world on F1.
Vettel has currently scored 94.4 per cent of the points available to him in the five races held so far. That's not a bad strike rate. However, there are some walking around the paddock with the perfect 100 per cent.
The first is Sutton Photographic's Matthew Kingston-Lee, whose place as the fastest runner in F1 has been sealed once again with him having lodged the quickest time at every track so far this year. Such is his dominance that only two people out of the 60 who ran the Barcelona circuit for www.runthattrack.info got within 107 per cent of his effort - so there would have been a lot of people going home on Sunday if the FIA had imposed F1 regulations!
The other 100 per cent man is Team Lotus press man Thomas Webb, who is winning the Press Release World Championship - which has been created by ex-Williams PR Liam Clogger on his www.compelo.co website to award press officers who get their information out the fastest.
Webb is said to be plotting ways to ensure that he keeps his perfect record going - but closest challenger Scuderia Toro Rosso's Eric Silbermann only found out about the title chase on Sunday night in Spain, so has vowed to bring a massive upgrade from Faenza to the next event in Monaco.
Game on!
Monaco, Singapore, Delhi and Abu Dhabi... find out more about Amber Lounge