It's 25 years ago today, May 15, that Elio de Angelis died after a testing accident at Paul Ricard in the 'laydown' Brabham-BMW BT55.
The rear wing failed, the car somersaulted a barrier and came to rest upside down with Elio trapped. A fire started, the marshals were inadequately equipped and the Roman was trapped in the car for almost 10 minutes. A helicopter to take Elio to hospital in Marseille took another half an hour to arrive and, although his physical injuries were limited to a broken collarbone and mild burns to his back, he died from smoke inhalation at just 28.
I can still recall the shock of it. De Angelis was having a tough time. Having attracted Colin Chapman's attention with his spirited handing of a Shadow in his debut season in 1979, Elio spent five seasons at Lotus vying for supremacy with Nigel Mansell. He beat Keke Rosberg by the narrowest of margins to win at Osterreichring in 1982 but then, in '85, Ayrton Senna arrived. When it was evident that the Brazilian was taking over, Elio signed for Brabham at a time when the team was just starting its decline.
In Monaco that year, I remember taking photographs out on the circuit with Mark Gallagher, now Cosworth's boss of F1 business. De Angelis was having a dreadful time. After a disastrous showing at Imola, the Brabham engineers had been searching for better traction while the BMW men sought more bottom end power from the laydown four-cylinder turbo. The sidepod hardware had been moved back to change the weight distribution and BMW had discovered that many of its problems were rooted in the exhaust configuration, which was changed.
The car was better and in the other one Riccardo Patrese qualified a respectable sixth. Elio though, was left to scrape onto the very last grid slot, 20th and fully 3s slower. He had a misfire which, allied to the brutal power delivery of those engines, made his BT55 a scary thing to behold amid the confines of Monte Carlo. I still have vivid memories of his head snapping back and forth as he braked for Mirabeau and then gave it a squirt of misfire-afflicted throttle to gun it down to Loews Hairpin. In the race he ran near the back until the engine gave up in the last of his 108 GPs, which had netted him three poles as well as two wins.
Mark and I left on the Monday headed for the Pau Formula 3000 race the following weekend but took a detour around St Tropez as I was hoping to interview Didier Pironi who, rumour had it, was thinking about a comeback at Le Mans after countless operations on the legs he badly smashed at Hockenheim almost four years earlier, ending his F1 career. Didier's Lamborghini Leader Offshore powerboat set-up was based in St Tropez. We went in unannounced and were told that Didier was in Paris but his helicopter was due back 'any time.' I eventually got my man, but not for the best part of three days...
If you've got to be holed up somewhere, the south of France is about as good as it gets. We walked around the harbour and this being pre-internet, wandered over to a news kiosk to pick up a copy of L'Equipe to find out what had been going on at the Ricard test...
"I was there that day, unfortunately," Martin Brundle said when I spoke to him about Elio in Turkey.
Brundle, into the third season of his F1 career that year, had been involved in a coming-together with Patrick Tambay at Monaco, which had led to a spectacular exit for the Frenchman which could have had nastier consequences. It was a time when, although safety was improving dramatically with carbon tubs, it was still an infinitely more hazardous business than today. The over-riding paddock feeling surrounding Elio's accident was one of needless loss and practically everyone at Brabham was deeply affected by it, Gordon Murray even pondering whether he wanted to continue.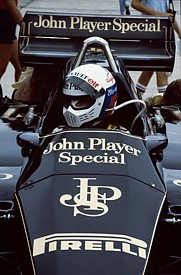 © LAT
"Elio was quite a special guy," Brundle says. "He was very good in the car and he looked even better out of it. He was young, had class, was a true gentleman and was just everything you thought a racing driver should be. And he was always surrounded by an endless stream of absolutely stunning women."
De Angelis had the look of a young Marlon Brando and was the eldest child of a wealthy family involved in the construction industry. Father Giulio had raced powerboats, drove Ferraris and took his children to watch racing.
Money was not a problem but that does not mean that Elio did not have copious talent. More in doubt, however, was his application. If it didn't come easily, some said, he didn't really want to know. He hated testing, for instance, which is ironic given the circumstances of his death. After the trials and tribulations of that Monaco weekend though, he'd wanted to get things sorted out.
Derek Warwick, another British F1 driver to share that era, recalled: "He was just a lovely, lovely guy. The first time I came across him was at Kyalami, where we had the drivers' strike. We all went by coach to this hotel and there was quite a bit of nervousness among some of the guys, under pressure from team bosses. He just sat down at the piano and played this fabulous classical music and everyone relaxed. It was stunning. I'd never seen anything like it."
Brabham ran just Patrese's car in the following race at Spa and then it was Warwick who Bernie Ecclestone signed to run alongside Riccardo from Canada.
"That was a strange feeling," says Warwick, who'd been out of a drive after Renault had withdrawn at the end of 1985. "Obviously I was keen to get back into F1 but I just could not pick up the phone to Bernie. I had such respect for Elio. It just didn't feel right.
"In the end, when they did speak to me, it became clear that they were respectful of that and when I went to the factory to meet the guys they said they were pleased it was going to be me. It's a hard business but there'd been people phoning within the hour after Elio died, which was just insulting. He was a such a lovely guy." And then he uses that same word as Brundle, "a gentleman."