Sebastian Vettel dominated the Turkish Grand Prix to take his third win from the four races this season for Red Bull, but this was far from a dull race.
Mark Hughes brings you context behind the host of action that featured virtually every driver (save Vettel) swapping places numerous times around the Istanbul Park circuit.
There was plenty to savour as well as cringe at - and Mark doesn't mince his words over Michael Schumacher's after-the-horse-had-bolted move on Vitaly Petrov.
Mark Hughes column: Our grand prix editor unravels the strands tying together the proposed News Corp takeover of F1 and finds that things aren't necessarily as they seem at first glance.
WRC Italy: If you're running first on the road along a host of dusty tracks in Sardinia, then you shouldn't really be setting fastest times. No-one told Sebastien Loeb, as he won Rally d'Italia from the front for Citroen. David Evans was on the island to marvel at the master.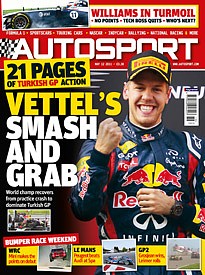 ILMC Spa: The heavy hitters were out in force for the Spa 1000Km (which was actually 1127km), with some of them scoring points in the Intercontinental Le Mans Cup and some in the Le Mans Series. Gary Watkins was there to see Peugeot beat Audi, and this time he didn't injure himself in a karting accident.
World GT1 Algarve: Peter Dumbreck almost suffocated and Nissan team-mate Richard Westbrook didn't realise he'd left his passport in the team's truck until it was several hundred miles away en route to the Sachsenring. More importantly, they lost the race, but at least the sister car of Lucas Luhr and Michael Krumm triumphed, as Charles Bradley relates.
GP2 Istanbul: GP2's new Dallara spec chassis had its first main-series races last weekend. Romain Grosjean won the first race before a controversial tangle with fellow Frenchman Jules Bianchi in the second. Glenn Freeman saw some excellent racing, but reckons it was mainly down to the Pirelli tyres.
GP3 Istanbul: Glenn also watched a guy called Nigel win at a GP meeting, for the first time since 1994. This time it was Melker in GP3, and he's from Holland rather than Birmingham.
From the archive: We delve into history and revisit Henri Pescarolo's only Spa 1000km victory from way back in 1975
Race of my life: Former British F3 champion Kelvin Burt went from courtroom to Porsche podium in 24 hours. Find out how.