People like superlatives - biggest, fastest, winningest, etc. Which is why some in the media were busying themselves recently working out whether this has been the worst ever start to a season in Williams history.
What the point was, a couple of races in, was lost on me. Okay, they're not having a party down at Grove but it's worth pointing out that Rubens Barrichello's FW33 was only bounced out of the top 10 by 0.02s in the dying seconds of Q2 at Istanbul Park last Saturday.
But, clearly, all is not well. Whether the recent public listing on the Frankfurt stock exchange increased the urgency to be seen to be doing something is a moot point, but last week's announcements did raise an eyebrow. A sort of, what can we do to shore up the share price? I know, let's reveal the impending departure of our highly regarded Sam Michael and the recruitment of that fellow in the middle of F1's spying case. That should do it.
Then we had Adam Parr revealing that co-founder Patrick Head will retire this year. Patrick himself said that he'd be happy to announce that in his own good time, thank-you very much. You did start to wonder about left hand and right hand.
I should point out that Michael, technical director at Williams since 2004, has not been dispensed with, rather he tendered his resignation. Okay, some will say it's just a case of jumping before you're pushed, given that Williams, second only to Ferrari in terms of constructors' championships won, has not been first past the post at a grand prix since Interlagos '04.
But it's not that simple. Sam's tenure of the technical directorship has coincided with a period in Williams history when they lost major manufacturer backing in the shape of BMW and had to operate under much tighter purse strings.
In Turkey, I asked Sam whether his resignation was given with a heavy heart or whether he'd become frustrated.
"I thought that if the board wanted to review the technical group, it was wholly correct that I should be part of that review because I employed the engineers at Williams that were part it,' he said. "And I was not prepared to exclude myself. If there are going to be changes, it was quite straightforward for me to take responsibility for the car — that's my job. You do the emotional bit, deal with it and crack on."
Perhaps at 40, for some a time to take stock of their personal situation, Sam realised that Williams was not working out in the manner he'd hoped and that it was time to move on. One or two may have thought that the technical director role, at just 33, was a big ask, but Michael is one of the most committed men you'll find in an F1 paddock and thoroughly immersed in the sport.
His university thesis en route to an engineering degree was on data acquisition systems for racing cars and while still studying he was employed part-time by the well-known Greg 'Pee Wee' Siddle in Australia. That led to contact with Peter Collins and Sam joined Lotus in '93 aged just 22. When the team went bust the following year he was recruited by Gary Anderson at Jordan. He built up an R&D department, then joined the test team and race-engineered Ralf Schumacher and Heinz-Harald Frentzen before joining Williams in 2001, where he again hooked up with Ralf.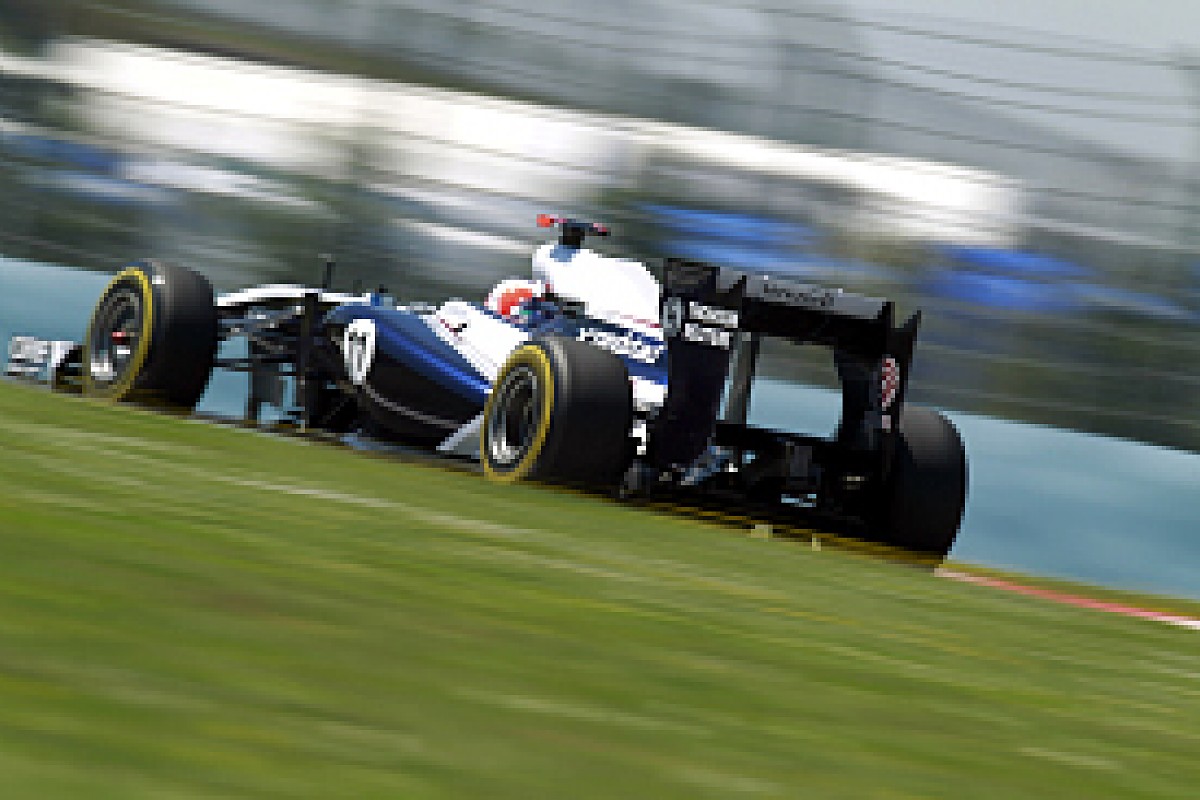 Barrichello had had a tough 2011 season © LAT
Rubens Barrichello, who first worked with Sam at Jordan, said in Turkey: "I'm sorry to see his announcement. I think Williams needs changes but there are too many people doing too many jobs right now. Sam is definitely overloaded. It's like he's doing five or six jobs. It's too much for a single human being and he ends up doing half of his capability on his own job because he's overseeing a lot of things. Sam's real capability is creating the car and working on the engineering side.
"In my opinion we need to define a little better what is what and who does what. Right now the wind tunnel is bringing great things on paper and we have evolutions and new things but they do not always translate on the track. I have been saying that a lot because all the teams I've been with that have done well, only put things on the car that they really think are going to work, otherwise there's confusion."
Ask the man himself if he thinks he's overloaded and, predictably perhaps, he doesn't answer directly.
"All F1 teams are structured differently. It's clear you can't run one like 20 years ago and, in another 20 years time you won't be able to run one like it is now. I guess it's a subjective view to say that. Ultimately you've got the job you've got and the people around you, and you make the most of them."
Rubens also makes the point that you can have a car with the smallest gearbox, trick driveshafts and the neatest rear end in existence, but it means little if the car isn't working. His point about lack of correlation appears to finger the aero department and it's not the first time in the past few seasons that such an opinion has been expressed. The simultaneous resignation of Jon Tomlinson, head of aero, may seem to back that up but, in Turkey, Michael filled in some detail.
"I think the tunnel to track results are actually pretty good," he explained. "What Rubens is talking about is the diffuser that we took to Shanghai. We had degradation in performance but it degraded because it burnt the floor. The last correlation issues we had were probably 12 months ago when we brought some front wing parts to Shanghai. Since then the correlation between track and CFD and tunnel has been pretty strong. It's one of those things that keeps changing with new tyres and all the things which affect wakes and principal flow structures. But even evidenced by this weekend - our new front wing worked, the new rear brake ducts worked and the rear wing worked and was on the limit, just as the tunnel said it would be. I think Rubens was just disappointed about the floor not working at the last race."
Williams has had its fair share of reliability gremlins at the start of '11 and Pastor Maldonado is, of course, a rookie.
"The only new part that we raced on both cars was the brake duct," Sam explained after Istanbul qualifying. "We only had two front wings and Pastor damaged his on Friday. With Rubens we reverted to the standard rear wing after we had some signs of stall and separation from the new one. It's quite a big step, it gives about 3.7mph and is worth about three tenths in qualifying but if it separates then you're in trouble. It's a similar situation to what happened to Mercedes at the first couple of races. I think we can fix it for Barcelona."
The team also had repeated KERS issues and Michael was confident that with all the new parts on the car Williams would easily have been into the top 10. The team should also have a new exhaust blown diffuser for Barcelona and a new front wing for Monaco, both said to be substantial steps.
Mark Webber, a fellow Aussie who joined Williams hoping for success and glory days and was disappointed, has seen it from the inside and says: "It's a team that sets the bar very high and they have admitted they've been disappointed in the last few years. As we all know, in any team it's impossible to put it on one guy's shoulders.
Sam shouldered a lot of the responsibility. He was incredibly passionate, had big desires towards the job and I think in certain areas might have been able to have more substance around him to support him. That would have helped him get more out of himself - he's a talented guy for sure."
Finding anyone with a bad word to say about Sam Michael is very difficult. He'll probably think this is funny, but I know of one person, not from the media side, who found him a little intimidating. In the sense of, 'bloody hell, you've got to have your buttons sewn on when you talk to that guy. He's on top of everything straight away and he can smell bullshit at 100 paces."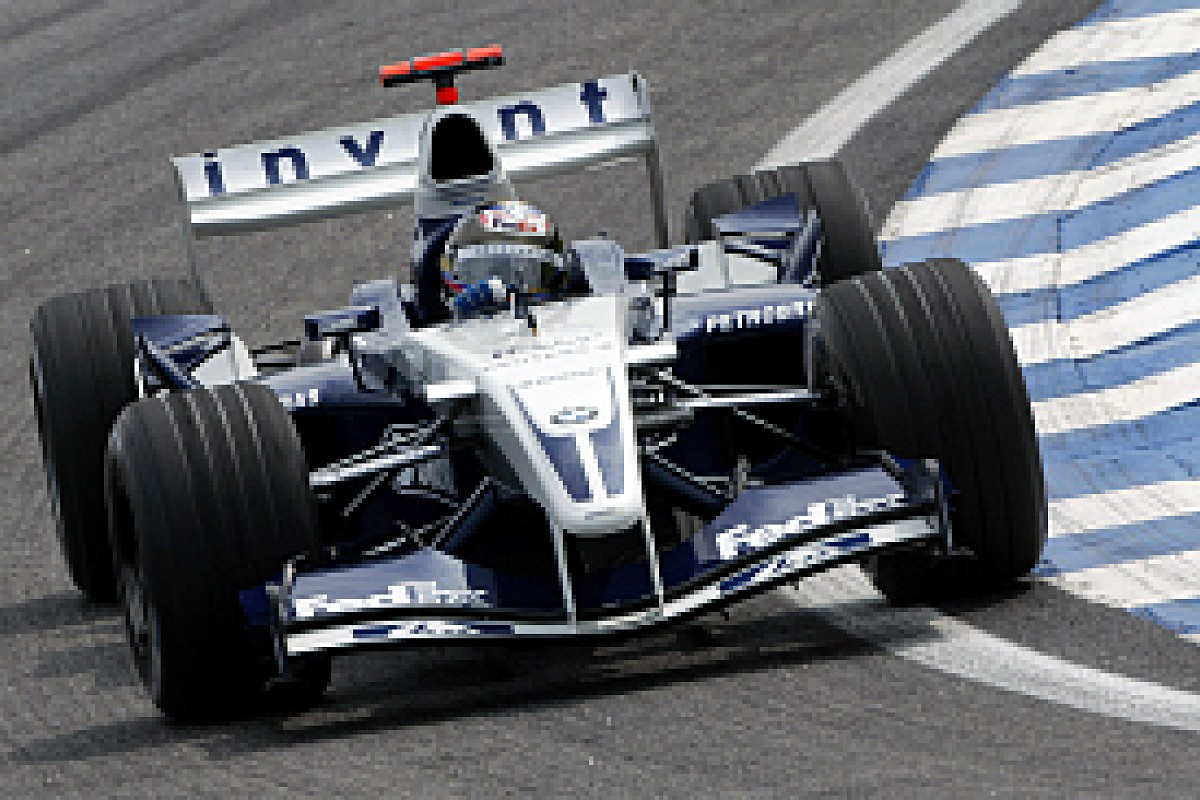 Williams' last win came courtesy of Juan Pablo Montoya in Brazil in 2004 © LAT
Manchester United almost parted company with Alex Ferguson in 1995 after a long-term bad run largely down to what the man had to work with. It's hard for a journalist to comment meaningfully on the technical capability of F1 teams because we simply don't have the expertise to judge. And while I'm not necessarily predicting future knighthoods and multiple championships for Sam, like Sir Alex, gut instinct tells you that Williams is bound to feel his loss.
What of Mike Coughlan? Michael is having no part in the Williams restructuring and had nothing to do with Mike's recruitment. He helped Parr identify some people, get contacts, then stepped back because of a sort of conflict of interest.
Coughlan, 52, has a degree in mechanical engineering from Brunel University and first designed racing cars for Howden Ganley at Tiga. He joined Team Lotus in the mid eighties before working alongside John Barnard for a decade, at Benetton, Ferrari and Arrows. That in itself tells you quite a lot; Barnard does not suffer fools. When Barnard fell out with Tom Walkinshaw, Coughlan took on the role of Arrows technical director until the team folded in 2002, when he joined McLaren.
There will be those appalled that a man guilty of a crime as heinous as stealing Ferrari technical information is welcomed back into the F1 fold with open arms. News of Coughlan's reappearance came shortly after we learned that Pat Symonds is consulting heavily for Virgin Racing.
I find it very difficult to regard either man as a rogue or criminal. I can't claim to know Coughlan well, but I do remember an engaging fellow giving an entertaining technical briefing at the launch of the Arrows what must be nine years ago now. He was clearly a man who, while not used to the limelight, clearly deeply enjoying what he was doing.
I remember thinking when the spy scandal happened and the details of the embarrassing manner in which Coughlan was discovered came to light, that he was not the kind of individual who would remain unaffected by it and I'm told he describes is as 'life-changing.'
Talk to some of those who worked with Coughlan at McLaren and you hear of a deeply solid engineer (but not an aerodynamicist) who is likeable, gregarious, hard-working and inclusive. If indeed anybody did find Sam intimidating, they are unlikely to find the same with Mike. Given the depth of McLaren's organisation, however, it was believed unlikely that he could rapidly rise beyond the level of a head of drawing office type role, for example, and certainly not to that of technical director, to which he possibly aspired.
The way it is portrayed, he was susceptible when Nigel Stepney, an ex-colleague from the Barnard days, contacted him with information that could be pitched to the likes of Honda or Toyota, who were both anxious for results and struggling . Honda, Nick Fry admitted, was approached, and the best evidence is that Toyota was too. Mike is, by all accounts, ambitious.
I'm not surprised that Frank Williams has taken Coughlan on. Engineers with such a deep grounding and experience are thin on the ground. While you can't commend cheating, F1 and motor racing in general has always been one of those environments in which the worst aspect of cheating is getting caught.
If a loveable rogue like Eddie Jordan can become a voice of the British Broadcasting Corporation, taking Coughlan back into the F1 paddock is no big deal. After all, if you can't find out a few secrets by stealth, the heavy hitters come along with their cheque books and pinch them anyway. Coughlan wasn't the first man to take secrets from an F1 team and he won't be the last. I kind of wish him all the best for Williams' sake.
As for Sam, he'll be in the F1 paddock in 2012. He's not saying where and I have no inside information, but if I had to bet I'd say he'd be wearing red or silver.