Overtaking and pitstop records
The Turkish Grand Prix set a new high for the number of pitstops in in a race and tied the record for the most number of overtaking moves ever seen.
There were 82 pitstops at Istanbul Park, breaking the previous record of 75 - which occured during the 2007 European Grand Prix. The next two highest totals came from wet races, with 67 stops having taken place at last year's Chinese Grand Prix and 64 at Donington Park in 1993 - the first year of pitstop data was officially published.
Kamui Kobayashi (right) was just one man doing a lot of overtaking in Turkey © LAT
The Turkish GP also produced 79 passing manoeuvres, equalling the record set in the 1983 Long Beach Grand Prix, when John Watson and Niki Lauda took a memorable McLaren one-two after starting way back in 22nd and 23rd.
Four races down, the 2011 season has already featured 205 overtaking moves; last year featured 452 in the entire season, while there were only 215 during the whole of 2009.
Royal flush
Red Bull recorded another one-two finish, a front-row lockout and the fastest lap of the race (thanks to Mark Webber). It is the 70th time in 843 world championship races that such a feat has been achieved and the second time that Red Bull has managed it; last year's Japanese Grand Prix being the first.
Going deeper into the numbers, its clear that only Jaime Alguersuari prevented Sebastian Vettel from setting the second fastest race lap, while Jenson Button's laps in the lead during the opening pitstop sequence prevented Vettel from heading the entire race.
Without these two factors coming into play, Red Bull would have posted a 'perfect race result' for the first time and for only the 34th occasion in F1 history. The last time the feat was achieved was at the 2008 French Grand Prix when Ferrari scored a double win from a front-row lockout, spent the whole race in the lead and set the two fastest race laps.
Qualifying notes
• Sebastian Vettel made his ninth consecutive front row start and and took his fifth straight pole position. The last driver to record a longer unbroken streak of front row starts was Damon Hill, who made 17 in a row between Australia 1995 and Japan '96.
• Mark Webber made it an all-Red Bull front row for the first time since last year's Korean Grand Prix. He also became the first non-world champion to start from the front row this year.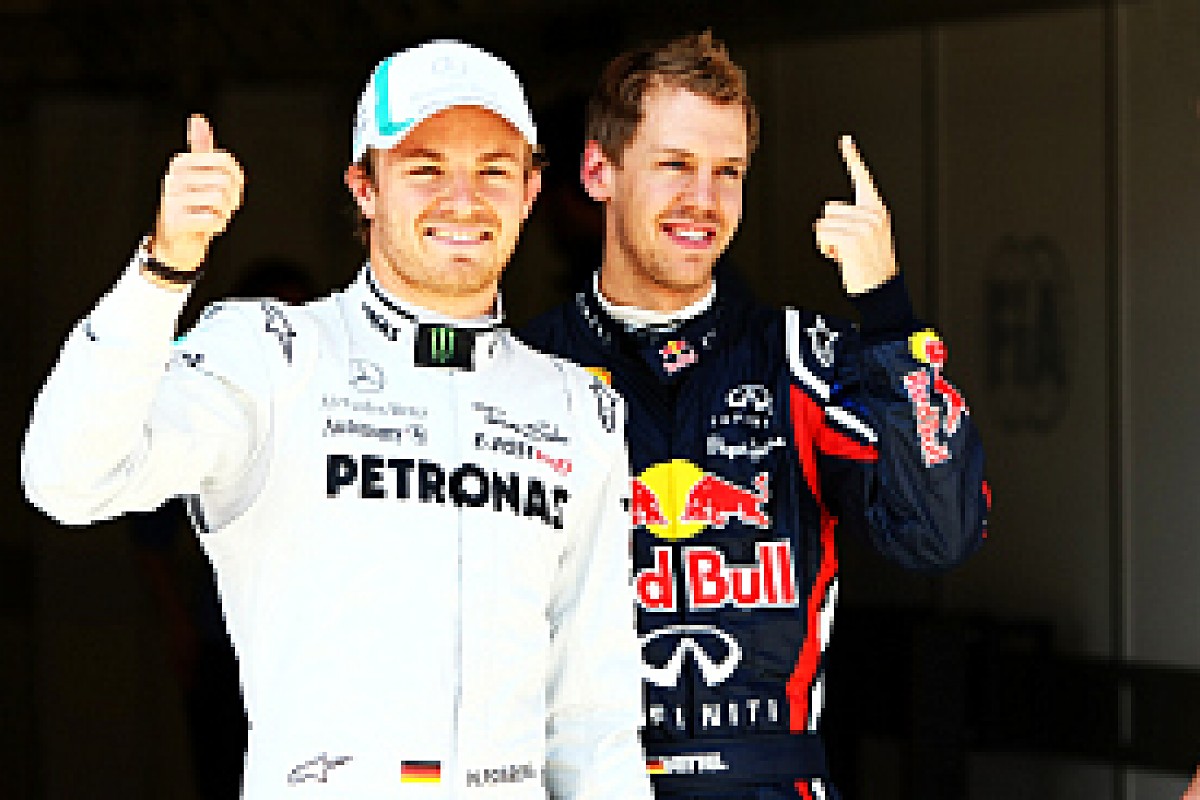 Nico Rosberg took his top grid spot of 2011 © LAT
• Nico Rosberg recorded his best grid spot since last year's Malaysian Grand Prix - when he was second in a wet session - by starting third in Turkey.
• Lewis Hamilton was passed by Vettel in Turkey in F1's all-time pole position rankings (19 to 18 in the German's favour), but nevertheless recorded his 20th straight top 10 appearance on the grid.
• Fernando Alonso's fifth place was no surprise; he has qualified in the same position for every grand prix this year. Turkey was the 10th race in succession at which he started ahead of his Ferrari team-mate Felipe Massa.
• Michael Schumacher (8th) recorded his first top 10 grid spot of the year, while Jenson Button (6th) and Massa (10th) recorded their worst of 2011. Further back, 11th represented a best effort for Rubens Barrichello and Williams so far this season.
• Adrian Sutil (12th) beat his Force India team-mate Paul di Resta (13th) for the first time while Pastor Maldonado managed a career-best 14th spot. By contrast, Toro Rosso, after enjoying its best qualifying of the year in China (seventh and ninth), it suffered its worst in Turkey, Sebastien Buemi and Jaime Alguersuari 16th and 17th.
Race notes
• By scoring his 13th world championship grand prix win, Vettel is now 19th in the all-time victories list, sharing the position with Alberto Ascari and David Coulthard. His dominance is further pointed out by the fact that he has led 80 per cent of all the laps this year - 617 miles. By contrast, Rosberg and Button have led just 47 miles each.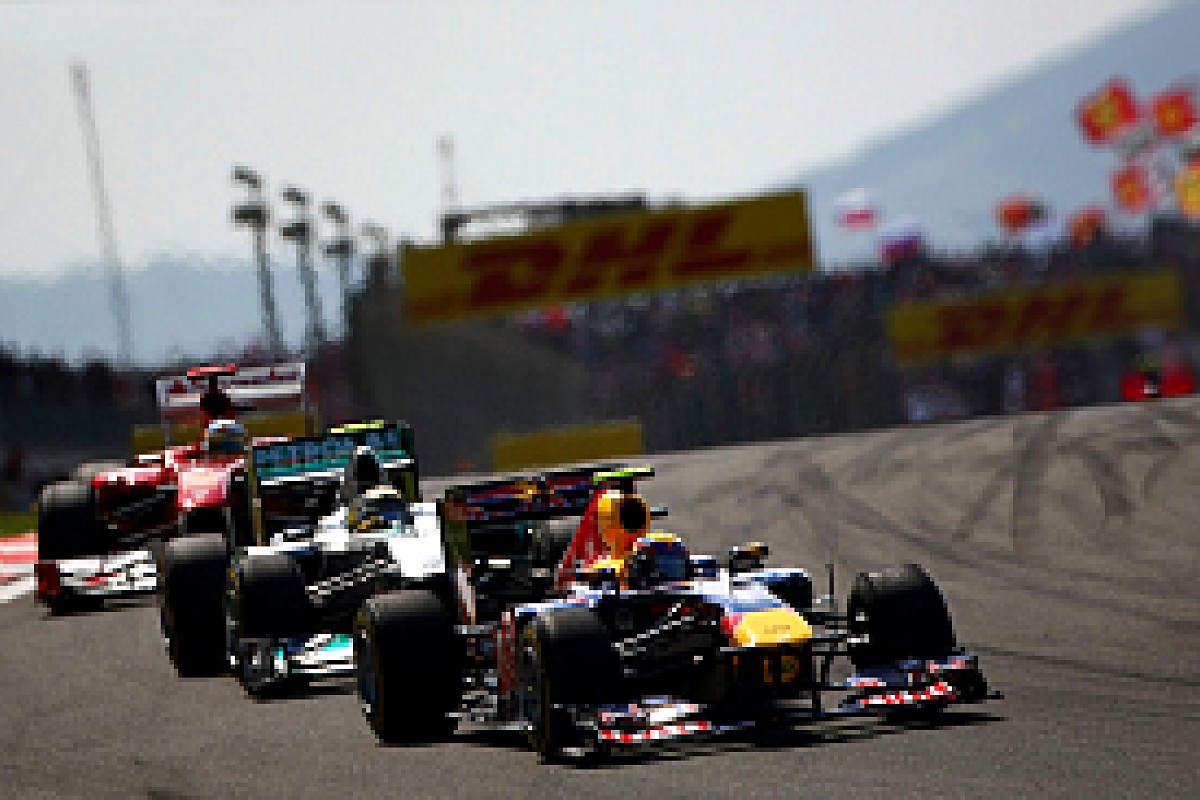 Webber set fastest lap... again © LAT
• While Vettel has been racking up the wins this year, Webber has been doing likewise with fastest laps. Turkey represented his third in a row, closing in on Kimi Raikkonen's 2008 record of six in succession between the Spanish and British grands prix.
• Fifty per cent of Red Bull's wins have been one-two finishes, like the one it recorded in Turkey.
• Alonso, who took his tenth straight points-scoring finish, was also back on the podium in Turkey after a four-race drought. His team-mate Massa, by contrast, missed the points for the first time since Brazil last year.
• For a third successive race, Rosberg finished lower than he qualified. In Malaysia he qualified ninth but finished 12th, while in China he dropped from fourth on the grid to fifth in the race, and in Turkey last weekend he sank from third in qualifying to fifth the following day. By contrast, Nick Heidfeld has finished higher than his starting spot at every race this year.
• With no points from the opening four races, 2011 represents the worst start to an F1 season for Williams. Its previous worst was its maiden season in 1975, when the team scored only six points from the first 11 races. In 2006, the team endured a 10-race stint from Spain to Italy without a point.