The key to any successful business is always to be one step ahead of the opposition. Team Lotus's chief Tony Fernandes does not quite stick to that mantra though - because he always seems to be at least six paces ahead of the rest of the world.
Fernandes is a man not afraid to seek out opportunity in any circumstance. That is why he launched AirAsia at the very time that airlines appeared to be on their knees - just days after the 9/11 terrorist attacks.
Having now turned AirAsia into a multi million-pound business that has transformed travel for those who live in that part of the world, he is hoping that business history will repeat itself as he seeks similar golden opportunities that will come from the Team Lotus takeover of Caterham Cars.
From day one of his involvement in F1, Fernandes was adamant that any team he got involved with had to have other revenue streams - and primarily that meant manufacturing its own road cars.
That is why he went down the Lotus route in the first place - hoping that the tie-up with Group Lotus would lead to bigger and better things that could, ultimately, have left him in charge of a successful road car business that benefited from the cross-brand promotion opportunities of the F1 operation.
Those ambitions fell flat when the newly installed Group Lotus CEO Dany Bahar had a totally different gameplan for his company - and one that especially did not involve any co-operation with Fernandes on terms that either could accept. It was this failure of the Lotus road car route that left Fernandes hunting out other options for his road car vision - and a conversation with Mike Gascoyne's personal assistant Shelley prompted Fernandes in the direction of Caterham.
The deal duly came together in the space of three months - despite an amusing moment when Fernandes had mixed up the timing of his first meeting about the takeover, and greeted Caterham MD Ansar Ali at the front door of his house in London in his pyjamas...
So keen was Fernandes to make sure no-one beat him to the deal that all talk of it happening was kept out of the public spotlight.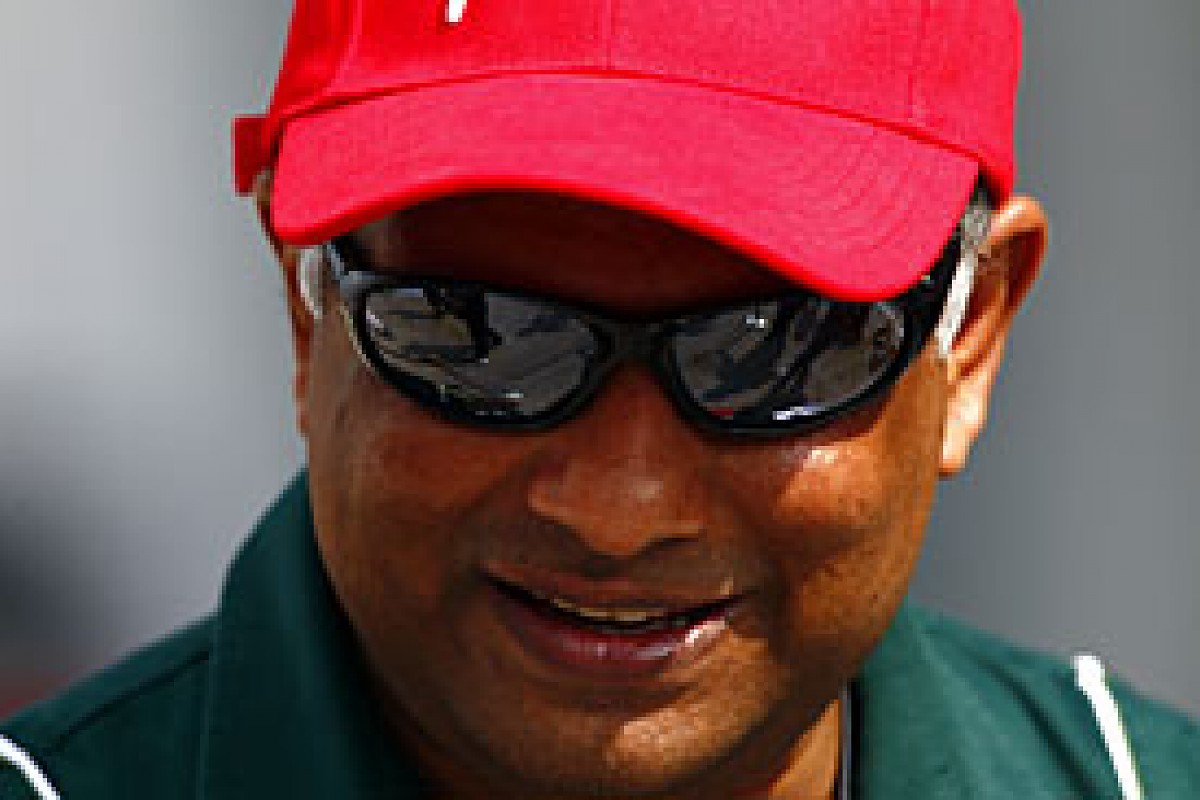 Tony Fernandes, Team Lotus and now Caterham owner © LAT
And it is only now, with things all settled, that it is easy to see why he didn't want talk of it out there - because others would have jumped at the chance to do what Fernandes has done.
At a very basic economic level, a deal to take over Caterham made perfect business sense. After a record-breaking year in 2010, selling around 500 cars, Caterham is profit-making - so it is not as if Fernandes has much fear of needing to dig very deep into his pockets to keep the business afloat. Beyond the simple bottom line, Caterham offers untold opportunity for the future too. The company is keen to expand - which needs investment and therefore a big-money investor - and Fernandes knows that such a path can be eased through cross-promotion with the many brands/companies he owns - including AirAsia, Team Lotus and the Tune Group.
That inevitably means more cars pushed into the Asian market - but also comes at a time when the market for sportscars worldwide is changing. With Group Lotus going more upmarket, in a bid to take on Ferrari and Porsche, there is a big window opening up for a mid-range affordable sportscar for all.
Speaking about the market segment he is aiming for, Fernandes said: "We want to make sure we look after the masses. Many cars in F1 are out of the reach of most punters, so we will be able to bring F1 into the Caterham package, and hopefully the people watching will be able to share that."
Just as many of those flying around Asia on a regular basis are now doing something that was out of their reach a few years ago, so too they could be living their dreams and parking their own sportscars in their garage in the not too distant future.
And there is a fun-factor to the Caterham brand too. Ali thinks that Caterham's success owes much to its simple roots - that of a pure sportscar being produced to bring fun to those who drive it.
"I think it hits the right chords," Ali tells AUTOSPORT. "Its simplicity is its beauty. I think today, in the modern age of technology, that is often lost in translation. There is the grin factor, and you don't have to be an F1 driver to enjoy that.
"You get in the car and it is just that rawness. It is a car that looks like it shouldn't do what it is capable of doing, but it does it easily and it does it without effort. That is its genius and that is something we are very much going to stay true to."
Caterham also fits well with Fernandes because of its corporate history. It has a ready-made racing heritage (so no expensive motorsport programme to kick-start), which Fernandes plans to push on even more, but it also has historic links with Lotus - with of course the Lotus Seven at the core of its model range.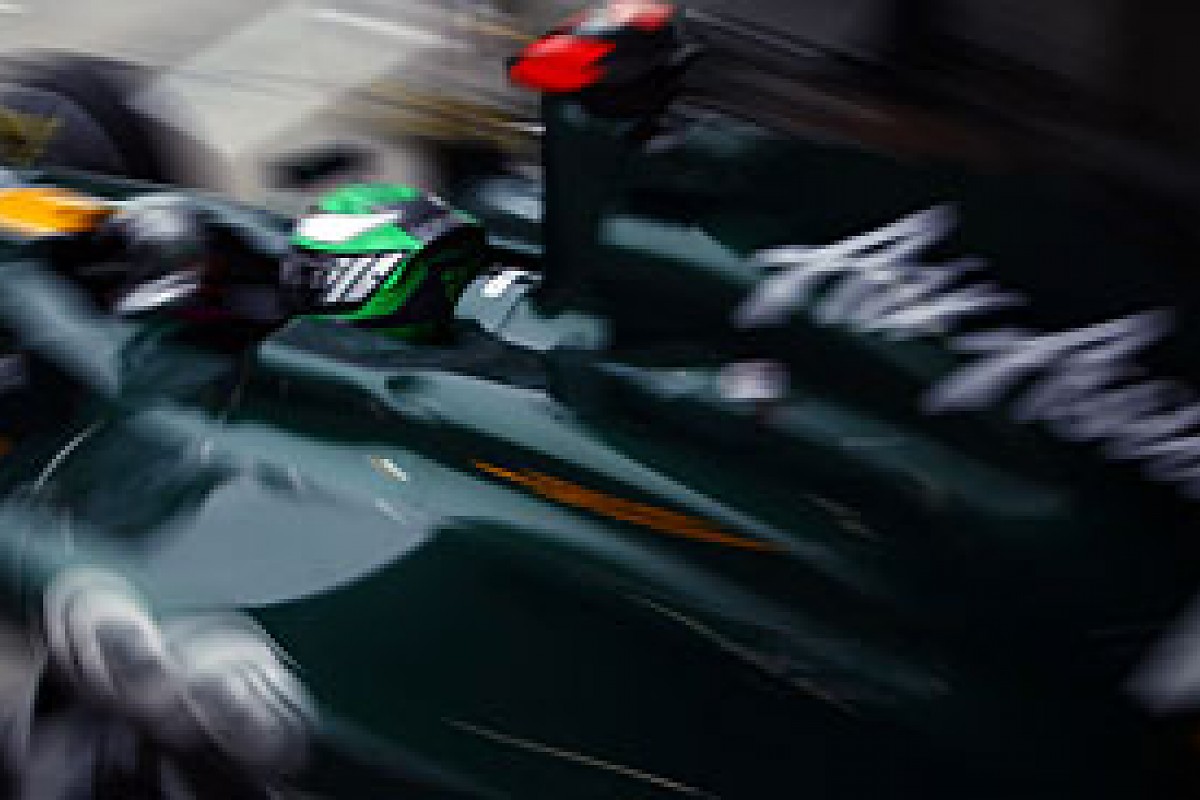 At a time when Fernandes is locked in a fight with Group Lotus over the use of the name in F1, the tie-up with a company already emotionally linked with Lotus is a very savvy move indeed. For if the High Court rules that Fernandes can keep and use the Team Lotus name, then that's all well and good - and Caterham can become part of the Team Lotus brand platform.
If the High Court goes against Fernandes, then he also has an iconic brand name to fall back on - and its traditional green and yellow colours means there will be no need for a total rethink and rebranding of his team and cars.
There is certainly no rush for Fernandes to give up the Team Lotus name and switch the moniker to Caterham, however. And there is actually little benefit from doing so either, even though his GP2 operation is set to adopt the Caterham name. Fernandes and Caterham are not dreaming of using F1 to sell millions of road cars around the world - which is why manufacturers like Renault, Toyota, Mercedes-Benz and BMW all got involved in F1 in the first place.
Instead, it is about building a solid foundation for Caterham - one that gives it a good profit margin without diluting the brand. And that level can be achieved without the need for a 'Caterham F1 Team' as such. Ali concurs.
"I'd quite like the Caterham name on an F1 car," he smiles. "But does it need it? It doesn't need it, because we have been doing very well based on the limited resources that we have had.
"Being involved in F1 opens up some very exciting opportunities - and you have to bear in mind that our customers are just as passionate about the road car as they are about the racing car. They are ingrained in this motor sport world and I think they see it is a huge positive."
He adds: "Caterham is certainly not about selling millions of cars. There is no doubt with the Seven; there are opportunities abroad in new markets. Yes, it does not have doors and doesn't have air conditioning, so there is a natural limit to customers being prepared to drive it in 95% humidity and 45 degrees centigrade, but that said - I think motorsport offers us a very unique opportunity.
"The motorsport programme we run, with various championships under the Caterham umbrella, is something that we can deliver to new markets, particularly in the Far East.
"And if we can capture young drivers, even around the karting level or in our Junior Academy, then we can build something with them.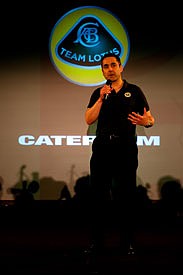 Caterham MD Ansar Ali © LAT
"Now, I can genuinely say, the vision we can give them is that the top drivers could end up in GP2 or F1 all under the Caterham umbrella. No other car manufacturer can say that..."
Fernandes has pulled a smart move with Caterham. There may still be the outcome of the High Court case to come, but Fernandes isn't sitting around waiting for the judge to decide before he plots his next move. Instead, he is already those six steps down the road doing his next thing. In Caterham, he has the car company he has always dreamed of. He has the perfect brand that fits in with his empire. And, once again, he has done something that brings with it a lot of emotional support.
"One should always dream, and I am a purveyor of dreams," he said at the launch of the tie-up at Duxford. "Hopefully one day I will even be able to do a donut... This is the perfect marriage. I hope you can all see that..."
There are not many people who can disagree with that right now.