Jenson Button isn't the most spectacular driver in F1, and nor is he the one who overtakes most often, but he's become every bit part of the fibre at McLaren as team-mate to Lewis Hamilton.
In an exclusive interview with Button, Edd Straw studies the (surprisingly) seamless transition from Honda/Brawn to the McLaren team that the pundits thought was built around Hamilton, and finds that the 2009 world champion is as happy with life as he could be.
And there's also an assertion from team principal Martin Whitmarsh that, yes, Button is very reminiscent of Alain Prost, the man who won three world championships with McLaren in the 1980s.

Sergio Perez - Sauber's new signing has been a pleasant surprise of the early-season F1 races. The Mexican rookie offers his thoughts to Edd Straw.
MPH - AUTOSPORT grand prix editor Mark Hughes wonders whether the diverging strategies in F1 at the moment, caused by the wildly unpredictable Pirelli tyres, could be causing some drivers to wonder if they have the support of their teams...
Le Mans test report - Peugeot and Audi were well clear of the rest at the Le Mans Test Day. Gary Watkins made his millionth visit to the Sarthe region to report on it (despite being in agonising back pain due to an extracurricular karting incident).
Mini comeback - Mini is back in the top echelon of rallying - and so is 2009 Intercontinental Rally Challenge champion Kris Meeke. David Evans talks to the Irishman ahead of the Countryman's World Rally debut in Sardinia.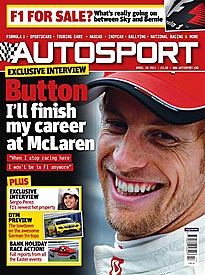 Indy 500 centenary series - The fourth part of our Indianapolis 500 centenary series deals with the years covering the CART/IRL war, from the ragbag collection of starters in 1996 to reunification. Robin Miller writes on a subject close to his heart.
International F3 Trophy preview - There's a Formula 3 Euro Series round at Hockenheim this weekend. Big deal? Not especially, except that this time it doubles up as the opening round of the FIA's International F3 Trophy. Ben Anderson considers whether it will be the F2/GP3-buster that the F3 purists crave.
DTM preview - Much more exciting to the majority of Germans crowding the Hockenheim grandstands will be the opening round of the DTM. Jamie O'Leary previews the series, with interviews with Mercedes' Jamie Green and Audi's Mike Rockenfeller.
British F3 Oulton Park report - The British F3 timetable at Oulton Park meant our Ben Anderson was up against a hellish deadline on Easter Monday - but his carrier pigeon arrived just in time with his tale of Lucas Foresti's and Fortec Motorsport's transformation to Carlin beaters.
WTCC Zolder report - Hardly any further away from the AUTOSPORT office than Oulton, Zolder hosted the World Touring Car brigade, and Mark Glendenning saw Gabriele Tarquini take a surprise win in his SEAT - the last for the turbo-diesel machine?
Click here to subscribe to the digital edition of AUTOSPORT magazine