While the fight at the front of the Formula 1 grid is just an intense as ever, there has been no rest for those battling it out at the other end of the field either.
For F1's newest kids on the block - Team Lotus, HRT and Virgin Racing - the 2011 season has all been about delivering the step forward in form to mix it up properly with the established outfits.
While Team Lotus and HRT have not really caused a surprise, with their early speed in-line with what many expected, Virgin Racing has, however, fallen short.
The MVR-02 has not produced the performance that the team had hoped for - and there is now some deep soul searching going on to work out what has gone wrong, and how it can improve matters.
AUTOSPORT spoke exclusively to Virgin Racing's senior men - team principal John Booth and president Graeme Lowdon - for their assessment on the team situation, why the new car is not delivering, and what the answer to their problems is.
Q. When did you get the first inkling that the step forward in pace from the new MVR-02 had not materialised?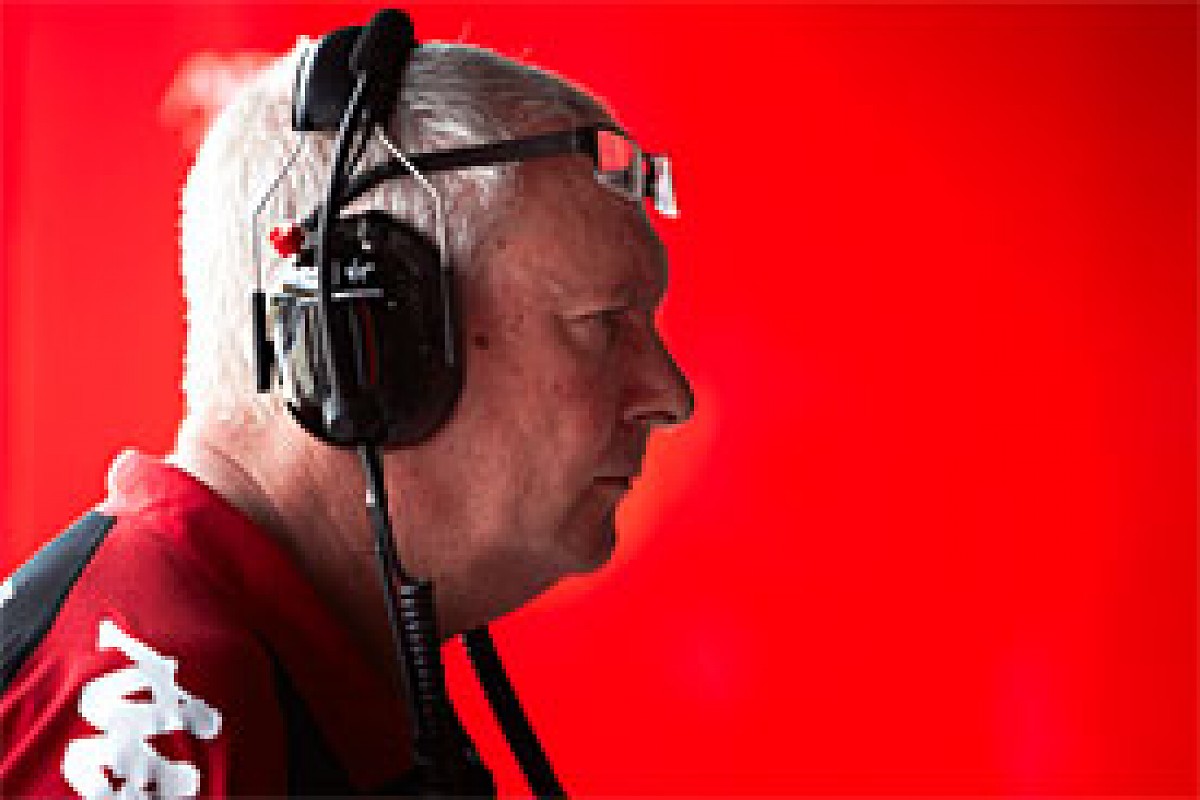 John Booth © LAT
John Booth: In pre-season testing. We had some corrections to make for the last test in Barcelona and it was not until the last day that we made those - otherwise the position we are in would have been even worse.
Q. There is obviously a fairly essential need to push things forwards from where you are. How much is that going to involve processes/structure, and how much is it down to simple technical updates?
JB: I think it is fair to say that we didn't make any step forward. Graeme keeps a log of performance over a weekend and he overlays them to 2010, and it is almost identical right now. The whole pattern of the weekend - the gap in P1, the gap in P2. Even our struggle to qualify in Australia was identical to last year. So we have stagnated, we haven't moved on - and that is the most disappointing thing.
But hopefully we have recognised some of the problems, and the upgrade in Turkey will put a lot of that right. But that will only put us where we should have started in Australia.
Q. Is the upgrade coming for Turkey quite significant then?
JB: Yes.
Q. Can you say what is new?
JB: Yes - exhausts, floors, front wing, brake drums, diffuser. It is quite significant.
Q. Is it enough for it to almost become a B-spec version of your car then?
JB: Um...pretty close actually. It's pretty close.
Q. You say you have identified the problems at the team. Are they purely technical or are there some other issues? Is this simply a matter relating to how your technical supplier [Nick Wirth] is working?
JB: I am happy with the way he is working. But we are obviously not happy with the results over the winter. They are two separate things - and we are obviously very disappointed with the work over the winter. But Nick [Wirth] was no less disappointed than we were.
Q. But the difference is you are paying?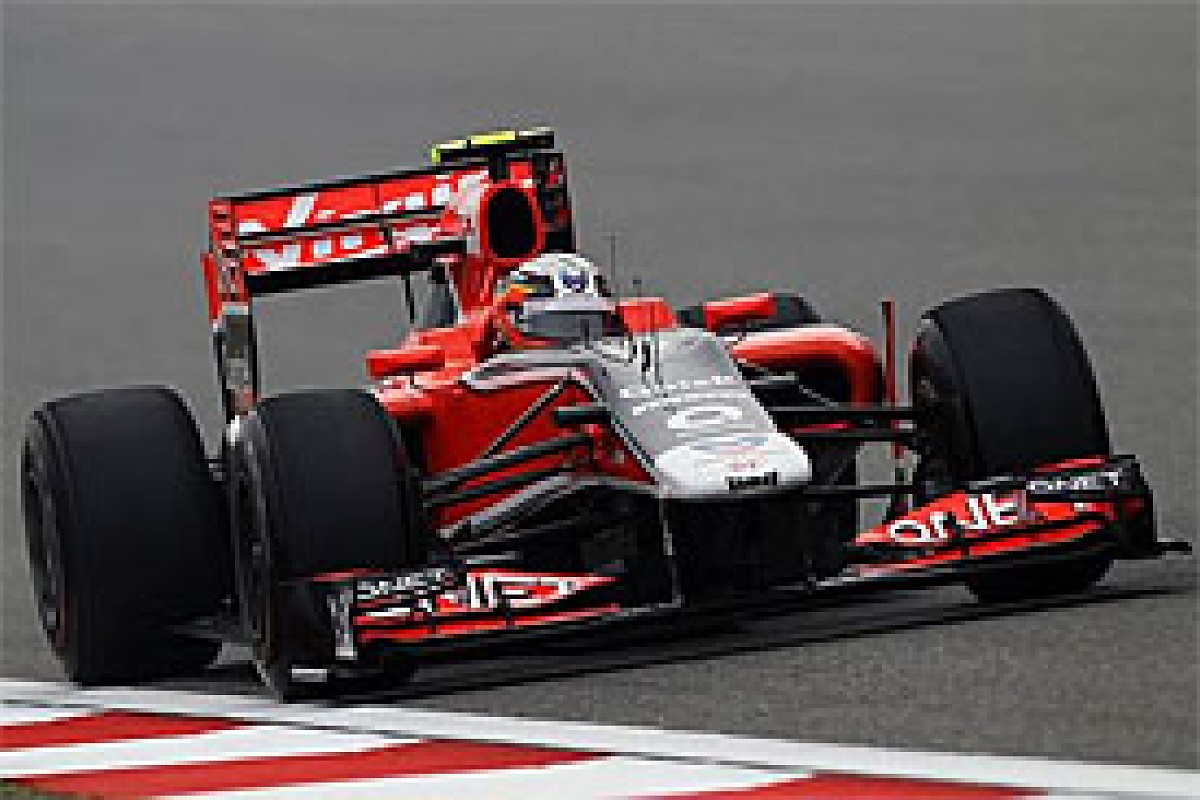 Virgin has endured a poor start to the seaosn © LAT
JB: True.
Graeme Lowdon: But Nick is a shareholder too. So, from that point of view, we are all in the same boat. But he has got a professional responsibility to get the car there. We all want the car to be quicker than it is, and we all expected it to be quicker to be honest. Nobody designed it to be slow.
JB: We've worked very closely on the design of this car from October last year. There was a lot of input, not on aerodynamic performance, but from the team on the mechanical aspect of the car, and practicality of it. And on that front it has been a massive step forward.
Q. A lot has been made about your CFD-only approach. Are you totally comfortable with that?
JB: I have absolutely no problem with CFD at all. It is a tool, the same as a wind-tunnel is a tool, the same as a drawing board is a tool, the same as CAD is a tool. It is only a tool to be used, and the advances over the years in all of those areas has been significant.
Q. Timo Glock said over the China weekend that there was perhaps a need to get more experienced people on board. Would you agree with that assessment?
GL: I don't think there is any shortage of F1 experience in the team - there are years and years and years of experience in the team. I am not sure that is necessarily what Timo was angling at - as a driver you always wants to have a quicker car, that is for sure. We are certainly not on any crusade of trying to build-up an F1 team where no-one has ever worked in F1 or anything else like that.
JB: Pat [Symonds] has got a fair bit of experience in F1...
Q. Is there a move to give Pat more responsibility then, increase what he does for the team?
JB: I think it is fair to say that Pat, who has only been working for us for two months, is undertaking an overview of the team. He works with the engineers daily, but his main job at the moment is to take an overview of where we are. I am sure within a month or two he will give us some conclusions and pointers.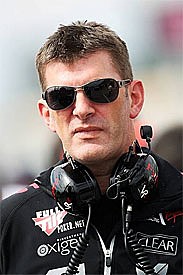 Graeme Lowdon © sutton-images.com
GL: He is a consultant for us. He cannot have an operational role until the start of 2013, so we are using him as a consultant, and we consult with him.
Q. So does his involvement give you optimism that he knows what you need to do for the future?
JB: There are two areas - one that he does give us great optimism for the future. He has been there before, done it several times and knows it inside out. The other thing is that when you have a conversation or a meeting, then Pat works with the engineers and he gives a rubber stamp to the way the engineers have been setting the meetings up, the way they have been working, the way they deal with the drivers.
It gives you a great deal of confidence that you know they have been doing it right for the last eight months or so - as that is always a question in your mind. When someone like Pat gives you a rubber stamp, it gives you a real boost of confidence.
Q. You say you have no problem with CFD, that the team has experience, that Symonds is giving you a lot of input - yet the car is no quicker than it was a year ago. Can you explain that? What is the issue?
JB: I think the issue is that we got it wrong in the design processes over the winter. That is it.
Q. So downforce?
JB: Yes, we are lacking downforce. There is no question about that. It is a matter of just rolling our sleeves up and getting it sorted.
GL: Bizarrely we actually qualified with a faster time this year compared to last year on the lead car, while some teams have gone backwards with the changes to the rules and the tyres.
So, if you just looked at our relative performance where we are usually as quick or quicker as we were last year, then you would say relatively that is a reasonable amount of work just to do that, because some teams haven't achieved that. However, our expectations were that, because we were starting from a slower base, that the step would be a lot more. But all it takes is a few design steps in a certain direction, then you are in the place.
It happens up and down the pit lane. For us, this is our second car, so when you don't get the performance you expected, it is seen as quite a big thing. Whereas in reality for an established team it would be seen as a glitch that is measured by how quickly you can get on top of it and put it right. With budget that we run at, it is not that easy to fix something like that in the flyaways, so Turkey is our first opportunity to do it.
Q. So do you feel everything is in place for the situation to improve, or are team changes needed?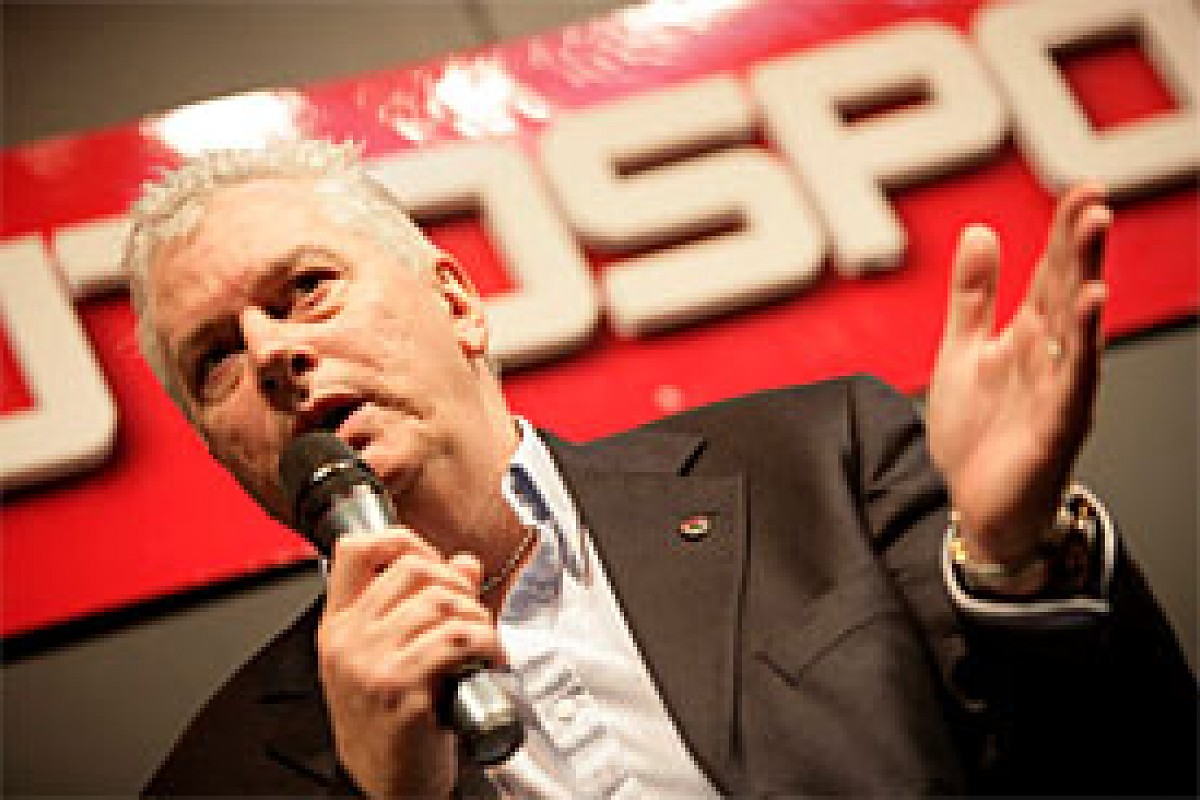 Symonds is not ruling out a return to F1 © LAT
JB: I think that is impossible to say at the moment.
GL: We are constantly evolving the structure of the team. The bit that we try and not move out of though is the overall budget. That is the bit we are trying to be clever with.
So, we would hope that there is significant progress in Turkey, but we are constantly looking at improve in all areas - like pit stops, the performance of our PR people! There are so many areas of the team that we have had to build and put together, and it doesn't necessarily fall into the time slot of: there is your first season , and then everything stops so you crank the handle harder. It doesn't work like that. But, we are happy with the progress that has been made in an awful lot of areas in the team and it is masked at the minute by a car that isn't where we wanted it to be.
Q. A year ago you were going to operate to within the limit of the proposed budget cap. Is that your plan again this year?
GL: Yes, not far off.
Q. And for how many years do you see that continuing, as costs are obviously increasing?
JB: I think it is matter of operating to what is available. We think we can go out and raise a certain of money in the world. There is no way we can go out there and raise £300 million. That is not going to happen. So we have to make a plan that we think it achievable.
GL: To summarise it, I would say that the car is currently under-performing to its budget. The budget we have got is about £40 million plus drivers, plus a bit of PR - so around £45-£50 million. And we always said, if you spend a million pounds a week you should be able to run a Formula 1 team that can be in the middle of the pack depending on your engineering ability to get there.
I am convinced that we can still do that within that budget. But it is unfortunate that the current car is not performing to its bit, but it is not that not enough money has been spent on it. It is down to certain decisions that have been made, with the best intentions and the best thinking behind them. It just hasn't provided the optimum performance.
We are still convinced that within that budget you can produce a car that can be at that level. We've said before - I am sure you can dig yourself out of a technical problem by blasting £1 million at it, but a) that is not an option for us and b) it is not sensible. It does not fit with why we wanted to do this in the first place. So perhaps the frustration we have within the team, is that the car has underperformed to budget, it is not that there isn't enough money to do it.
Q. You have always been quite open that the CFD-only route is only a consequence of your overall budget plans, rather than a philosophical decision because you don't believe in wind-tunnel testing. Is there now a temptation to do some wind-tunnel testing to get some answers about your car?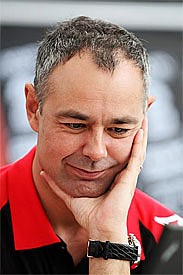 Nick Wirth © sutton-images.com
GL: From my point of view, I don't care if it is wind tunnel, dowsing with coat-hangers or whatever the technology is - as long as it fits a commercial profile and works.
JB: I don't think wind-tunnel testing is quite the inefficient, cash-guzzling beast it was four years ago. I think with the wind-on restrictions, the people within F1 operating wind-tunnels have become much cuter and I think they are 20 times more efficient than they were four or five years ago.
Q. And there are a lot of facilities out there that are not used all the time...
JB: Yes.
GL: Market forces are an interesting opportunity...
Q. So are you going to push Nick Wirth down that route? Is it your decision or his decision to make?
GL: At the end of the day, if someone is responsible then they have to make the decisions. The brief we give to Nick, largely, is that we need a certain performance, there is a certain budget and the car has to deliver. As John said, there was a huge amount of input went in from the guys working on the car this year, and it is so much easier to work on than last season's.
JB: Remember the days when the guys didn't go to bed for three-days!
GL: Going back to the wind-tunnel question, I know Lotus has said it is going to build a new wind-tunnel. I will guess that is the sort of thing that we would find difficult to justify, especially in the current climate when there is so much capacity available. But also, if you look at some of the problems we have had with this car, they are problems you could equally get if you had a tunnel.
Q. But with a tunnel you could at least correlate between CFD and it.. Has this car been near a wind-tunnel?
JB: No.
Q. And last year's?
JB: It went to a university in Stuttgart - one that Mercedes has used for its DTM cars.
Q. So how much pressure are you putting on Nick Wirth to get the car sorted? Are you breathing down his neck?
GL: The good thing about any high-profile technical person is that they put themselves under pressure. They have their signature on the drawing books, so I think Nick applies his own pressure. F1 is a very public platform for designers to operate in.
JB: He has put his name out there...
GL: So that gives a degree of comfort. When something goes wrong with the car, then what we can do as a team in the meantime is set ourselves a target of running a professional race, with as good a strategy as we could.
In Malaysia, for example, we got ahead of Jarno Trulli on straight strategy. Our car was clearly not quicker, but we got there on strategy - so that is what we can do to say that when the car is right, we don't want to be in a position where we then let it down. But short of that, we have to wait for the next upgrade, which is Turkey, and then try and make sure we implement that upgrade well and don't drop the ball strategy wise.
Q. So knowing the upgrade that is coming, the car you have, Pat's involvement and the pressure on Nick - where would you be happy to end this season?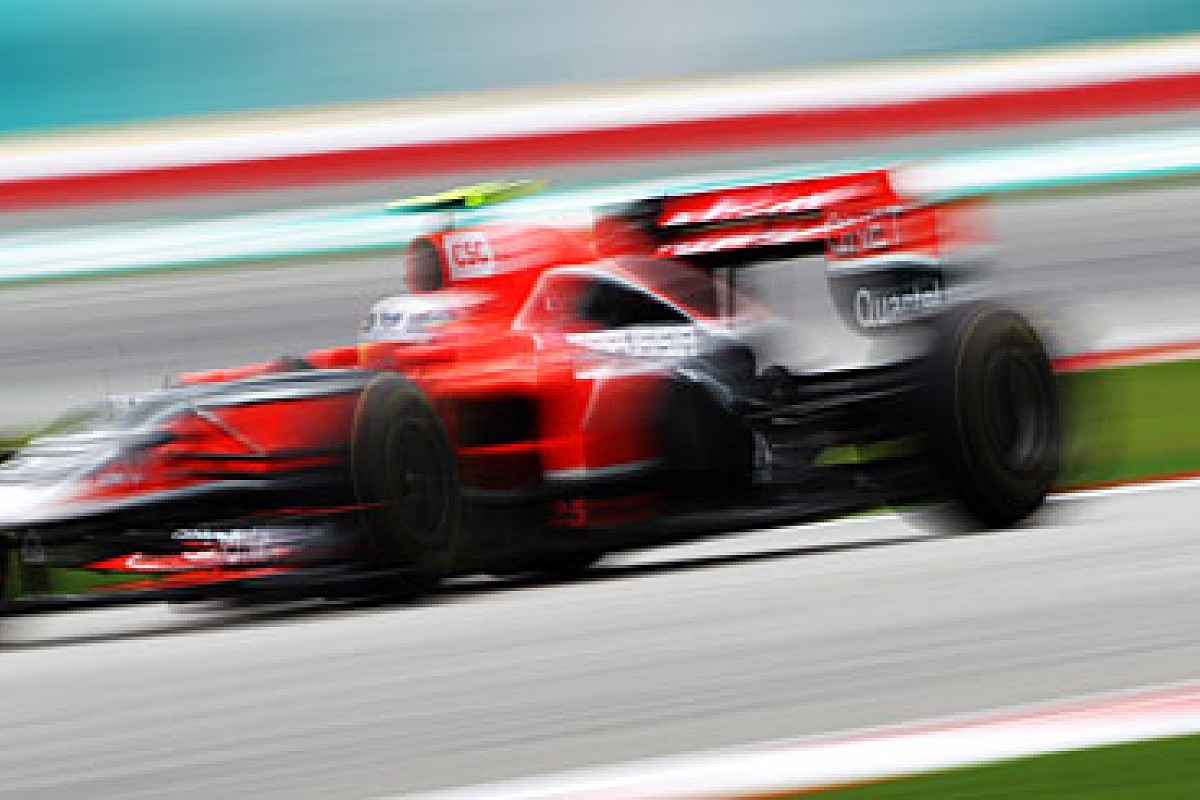 JB: Our ambition has to remain the same as the bold statements we have made. Our ambition is to get into Q2 on a regular basis, and that is our target. Anything less - and I am not saying we do it every time but regularly - will be a massive disappointment for us.
Q. Is the situation you are in now harder than it was 12 months ago?
JB: No. Nothing in the world could have been harder than it was 12 months ago - not even childbirth could have been harder!
GL: The mental pain element is the same, as if not harder, than it is at the minute because I cannot help but think that we are missing a chance. You put yourself and your team under pressure because you want to perform, and the frustration is there like it was last year, but the actual job in hand, the physical task, is chalk and cheese different. You would not believe the problems we had last year that just do not exist now.
JB: It took me a long time last year to believe last year that we deserved to be here. It was probably only at Singapore that I thought we were operating at a decent level. Our car is not particularly quick at the moment, to say the least, but I think we look right, we have performed right, and the garage is smart. We are adding something to the show, and I feel quite comfortable about being here now.