Winning a World Championship isn't always about winning all the races, as satisfying as that would be. It's about getting the best result you can on those days when things don't quite go to plan. Sebastian Vettel owed as much to his seventh place at Silverstone as any of his victories when the points were added up in Abu Dhabi last year.
Vettel may have got pole in China, but he made a bad start and lost two places, experienced a radio failure, pitted on the wrong lap, had the use of KERS for only part of the race, and was put on a strategy that turned out to be sub-optimal. And yet still he finished second.
In the circumstances that was a perfectly acceptable result for both Vettel and RBR, and given that he'd started 18th, third place for Mark Webber was a huge boost. Vettel's strategy might not have proved to be the perfect choice on the day, but no one could criticise the way the team helped Webber onto the podium.
"Second place and third after a great recovery from Mark is still a fantastic result for the team," said Christian Horner after the flag. "And one that we can leave China very pleased with.
"It's very, very busy, trying to read a race like that. I think we've done a pretty good job on the first three [of the season]. We've had two excellent recovery drives from Mark in the last two weekends, with really good strategy, and with Seb's strategy today, it so nearly worked, and unfortunately he just didn't have quite enough tyres at the end."
While the fact that RBR was beaten has given McLaren (and others) something to aim for, the bottom line is that clearly the team has a significant performance advantage. While that might not have been apparent in Vettel's case on Sunday, it is most definitely still there.
Nevertheless, we now know that the RB7 can be beaten, and given the relative ease of Vettel's win in Australia, that didn't seem very likely just a few weeks ago.
Vettel: So near and yet so far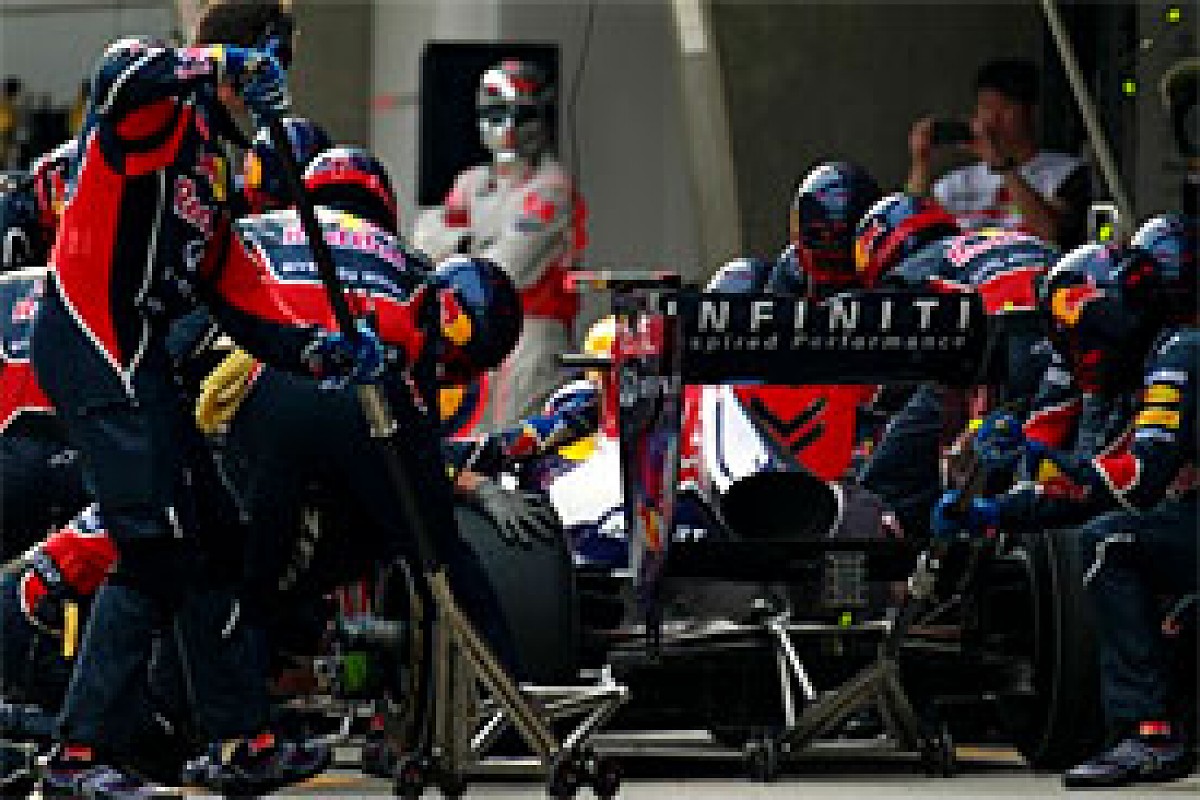 The strategy didn't quite work for Vettel © LAT
Vettel didn't make his life easy on Sunday by making a bad initial getaway - no fault of KERS - which allowed both Button and Hamilton to sweep past. In the first couple of races he built up a first stint lead and then paced himself and reacted to the strategy of his pursuers, but this time, it would have to be different.
In addition to the start, the team struggled with radio communications, and in this day and age, that is never a good thing. Given that Vettel was fiddling with his helmet drink system on the grid - despite an interruption from the BBC! - it's interesting to note what the team thought might have caused it. Was it a Vettel own goal?
"We think that maybe some water from the drinks system got onto the microphone," said Horner. "Because it seemed to dry out and then perform better in the second half of the race. It could be something like that.
"Sebastian could hear us at all times. We worked out a way to communicate with him during the race."
So how did that work?
"Hand signals! The old fashioned pit board. And obviously there are buttons that he could use to confirm that he'd heard us."
That's a back-up system that every team has for such circumstances - the driver uses it to in effect send a 'beep' in response to questions. Although Horner says Vettel could always hear the team, Newey implies that wasn't quite the case.
"It did hurt us," says Newey. "The first stop, we actually pitted one lap later than we intended to, through Sebastian not hearing us on the radio. So that did give us some problems. He could certainly hear us some of the time, but given that he missed the first stop, not all of the time!"
Just as Button somehow missed the first call to come in, so did Vettel, both men pitting on lap 14 instead of the scheduled 13. And when they did Vettel was surprised to see the McLaren attempt to stop in his pit.
"Sebastian lost a little bit of time when Jensen tried to check out our pit crew," smiled Horner. "He's obviously so eager to drive for Red Bull he wanted to stop there! In reality it cost very little time, although it took all the mechanics a little bit by surprise to see Jensen arriving in the box..."
In fact the incident allowed Vettel to jump not only Button but also Hamilton, the latter getting stuck out for an extra lap and losing time as his tyres lost performance.
Vettel was thus back in front of the McLarens, albeit behind Rosberg, and it was during that second stint that the team made the decision to go for a two-stop. When the McLarens came in, Seb stayed out.
Oddly Christian Horner said later that the team wanted to do something different from the McLarens when Vettel was behind them, although that clearly wasn't the case in the second stint.
"We dropped behind both Jenson and Lewis at the start, and the options were either follow what they do, or do something different, and we thought by doing something different we could take it to them."
Newey admits that it wasn't quite so clear cut: "With Sebastian you needed a crystal ball at lap 23 or whenever it was, that's all you can say really. We debated it for sure.
"Really we had three cars, with the two McLarens and Rosberg to cover, and it was very difficult to cover all three of them. We felt the best way to do it was two-stop it. You need a crystal ball to know. At lap 23 it could have been a blinding decision, or it could have been not quite the right decision. As it was it wasn't quite right, but it wasn't far off working."
Vettel couldn't stop Hamilton © LAT
Indeed it wasn't. It's easy with 20/20 hindsight to say it was a bad decision, but RBR clearly felt at the time that Vettel could make those crucial 25 final laps on the hard tyre and still go fast enough to stay ahead of anyone who had made an extra pit stop and might have fresher tyres.
In Australia the RB7 appeared to be harder on its tyres than most, but in Shanghai, Horner insisted that the opposite was true: "As we saw we're pretty light on the tyres, so having the option of a two-stop perhaps wasn't available to some of the others. We've improved a lot with our performance on the tyre, and generally we're one of the softest on it."
In fact one of the problems was that the track didn't develop the way it was expected to, and it was that more difficult to make the prime last in the final stint than in previous races.
Even without his late struggle for grip, Vettel might have held on. After all, Button ran a similar schedule to his team mate but ended up fourth, and it took every ounce of Hamilton's commitment to make the three-stop work. He had to get past a lot of cars to reach Vettel.
"If Felipe had kept him behind a little longer, and likewise with Rosberg, Lewis wouldn't have made that progress," said Horner. "But you make your decisions during the race, and the two-stop was the best chance of beating the McLarens at that point.
"It was always going to be marginal on the two-stop, but just about achievable, and it very, very nearly worked. We were within four laps of winning the Grand Prix, having been third at the start.
"Once you commit to it, you've got to go for it, and there's no crystal ball to say it's going to work, as it didn't for McLaren last week. It very nearly did for Seb today, and it's still massively valuable points. To be slightly disappointed with second shows how far the team has come..."
Webber: So far and yet so near
Any disappointment about Vettel losing the lead to Hamilton was inevitably cancelled out by the excitement over Webber's charge to third place.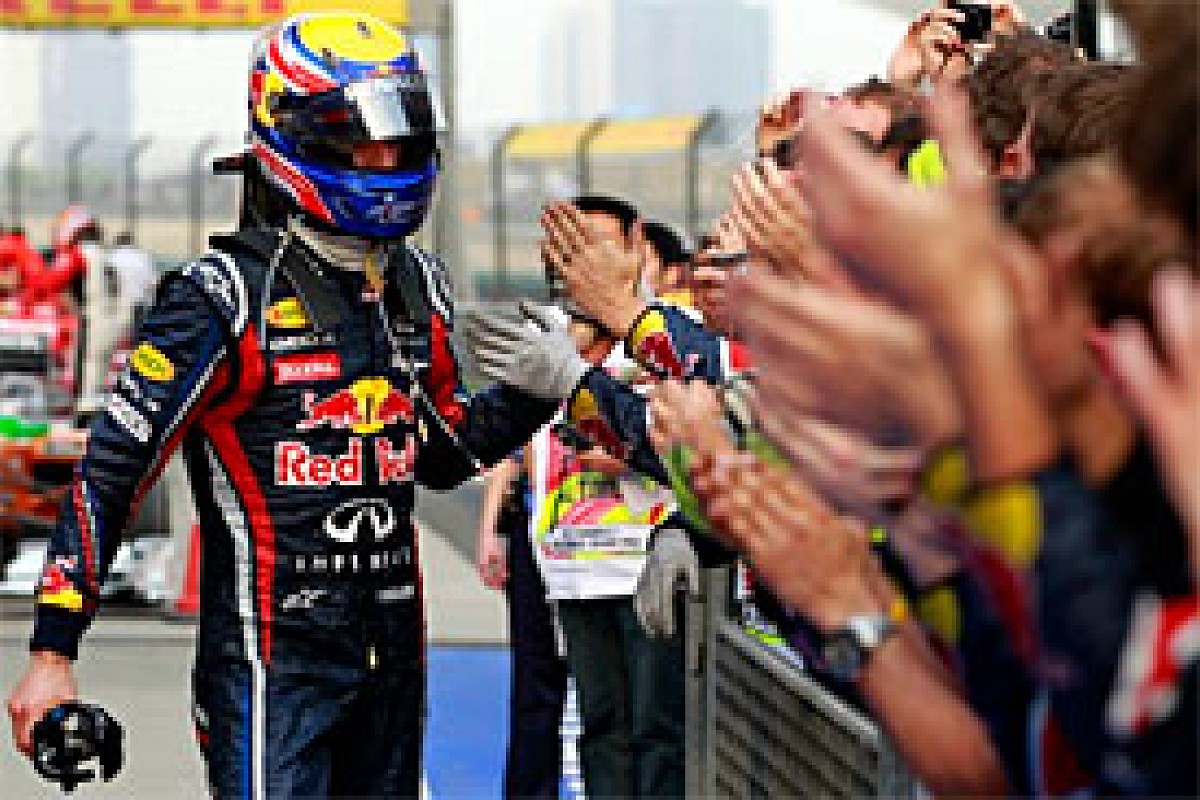 Webber had a great race to third © LAT
Webber got himself into th at position thanks to a string of problems on Saturday. A KERS failure meant he did no running in FP3 and thus went into qualifying on the back foot - and the lack of KERS in Q1 meant a clear lap time handicap. And yet despite that the team gambled on getting him into Q2 without using a set of soft tyres. That of course worked for Vettel and the two McLarens.
But while the lack of both KERS and mileage in the morning didn't help, the real problem was the team didn't get Webber out in time do two laps on the hards. The plan was to use one for warming-up the tyres, and without that luxury, he couldn't do the time.
It was obvious straight away that he would have some compensation in the form of three new sets of options for Sunday - something that will only ever happen to a top runner who has a Q1 disaster of some kind - and that gave him a lot of flexibility.
One possibility was to start on softs and use them to duck and dive through the traffic in the opening stint, another was to start on hards, hang on as best as possible against slower cars on the quicker tyre, and try and climb up the order with a long stint as others stopped.
In the end he did something different again, running a short stint on hards and pitting on lap 10 having made, as it turned out, virtually no forward progress. He then had to run 46 laps on those three lovely new sets of options.
With a lot of time in clean air, and the ability to quickly pass almost anyone he came up against, Webber put in a storming race. Even the team could not have predicted that he would reach as high as third or come within a couple of laps of catching his own team-mate.
"Mark did a fantastic job," said Newey. "We had to do something different from where he was on the grid. We started him on primes, to get those out of the way, and three-stopped it from there. It was the one upside of not having made it out of Q1, he had lots of new options."
"With Mark we ran quite a creative strategy, a three-stop starting on the prime, and he drove a fantastic race," said Horner. "He needed to make it work. He knew before the race that it was going to rely on him making that work, and passing a lot of cars today, and he did exactly that. It was fantastic for him to finish just seven seconds behind the race winner.
"It will be a big confidence booster for him. He had a lot of bad luck this weekend, but he came back fantastically well. He drove an aggressive race with a good strategy, and good pit work again today, and got the job done."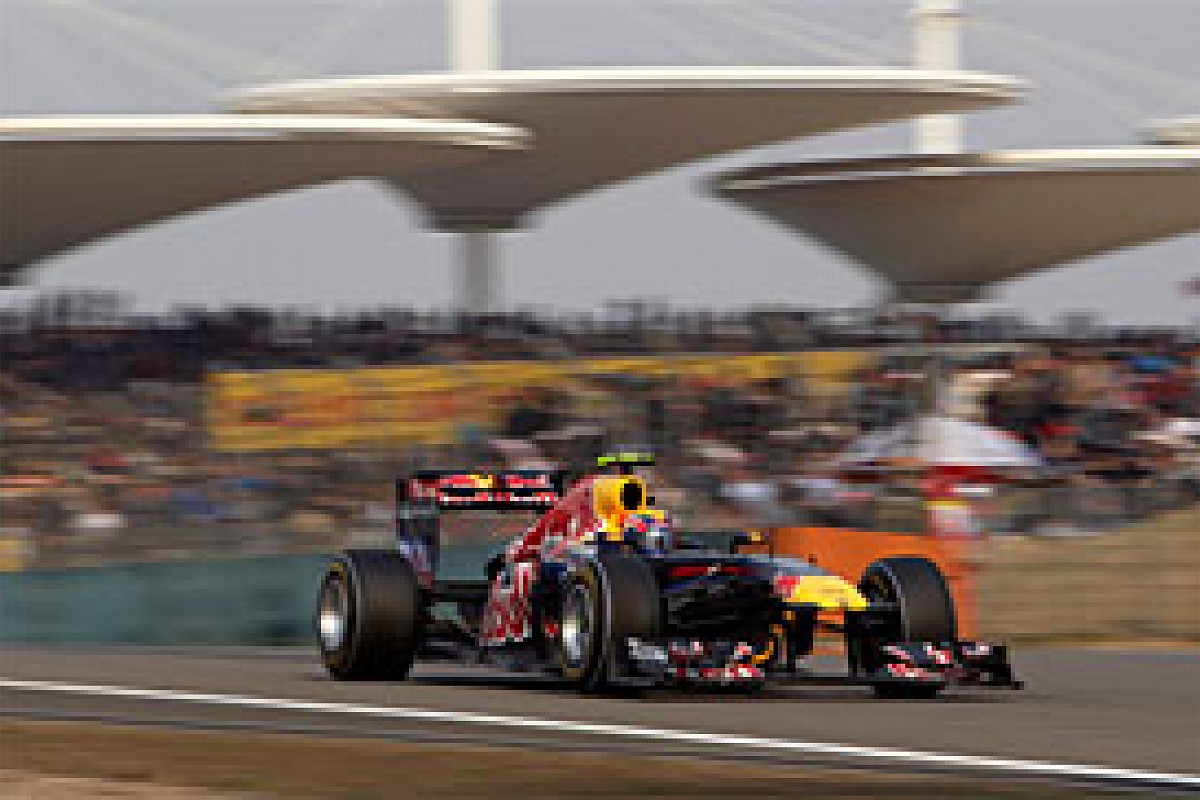 A few more laps and Webber could have won © LAT
It was a strategy that got everyone else thinking. Of course he couldn't have made it to third without having the quickest car, but it certainly showed that there are different ways of getting to the flag.
"Does it mean that you need to qualify on the hard and save all your options?," joked Horner. "You can always learn, and as I say there is no crystal ball in the race, you go with what you feel is going to be the quickest and the best route for you."
Amid all the satisfaction derived from coming away with two podiums, there was no escaping the fact that once again KERS proved a major handicap. Both drivers had it but could not use it throughout the race, in essence saving it for when it was really needed in a fight.
"We had to keep managing the KERS, which particularly with the radio problem, was not easy," explained Newey. "Mark was the same, but we didn't have the communication problem."
"It worked on both cars and then around half distance we stopped using it every lap," said Horner. "And then we stopped using it, and used it intermittently. It's improving, there's a lot more mileage on it, and we've got three weeks to make the next step with it.
"It's getting better with every race. KERS is a complex technology, and obviously ours is under the spotlight at the moment, I'm sure there are a few other teams with a few other issues as well, but we're learning with every race and it's improving with every single event."
It's pretty obvious that once the team has made its system bulletproof, the RB7 will be that much harder to beat. But that particular task could prove to be easier said than done...