After the slightly chilly Australian Grand Prix, Formula 1 embraced the sunshine/heat - and occasional huge downpour - that so typifies the race weekend in Malaysia.
Rather than being a back-to-back as in recent years, there had been a two-week gap between Melbourne and Sepang this time around.
That meant much of the F1 community had stayed out in the region - catching some sunshine and recharging the batteries after a pretty frantic build-up to the season.
Sepang itself has become one of the favourites of the calendar, with the paddock one of the more social of the season - especially in the evenings when the temperatures drop. On Friday night, there were no end of F1's top brass eating their dinners al fresco.
And after more than ten years of F1, Sepang has become home to more than just racing teams.
In the Williams garage on Friday, a huge spider was spotted - with team members too scared to get too near to it - while outside the media centre the sound of birdsong could be heard.
Some starlings had built a nest high in the piping, and were bringing up their chicks in one of the noisiest places in Malaysia.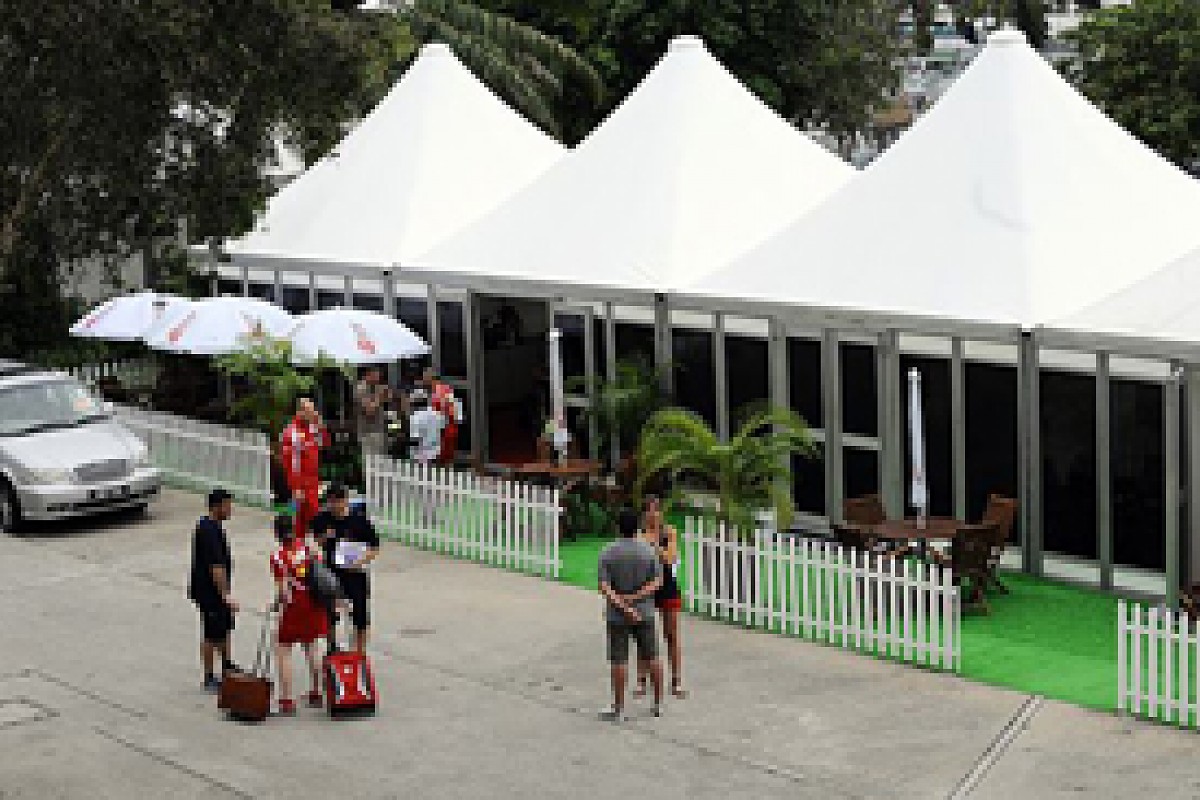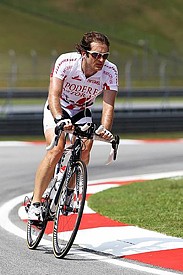 They say only mad dogs and Englishmen go out in the midday sun, but in Malaysia Jarno Trulli joined that gang when he was spotted doing some high-speed lappage of the Sepang circuit during the build-up to the event.
Trulli had swapped his normal four wheels for two, as he embarked on a two-hour ride on a racing cycle as a nice steady warm-up to get used to the conditions.
But if you think the two-hour ride was impressive, it was nothing compared to what he had undertaken in the week after the Australian Grand Prix.
"I came here just after the Australian race, and I went cycling with a pro team. They took me up to the mountains - we did Fraser Hills one day and the Cameron Highlands the next. Both days were hard - 40km of climbing. I did manage pretty well though!"
Trulli did better than pretty well, though - he managed to race ahead and leave many of the professional riders behind.
Yet despite his obvious speed, fitness and love of cycling, Trulli thinks he could never have been good enough to become professional at it.
"No, I wasn't fast enough. When you get to the top of any profession it is a different story, honestly. I am getting better, and have spent time in the winter going cycling with professional riders in Italy - and they are very good! Believe me!"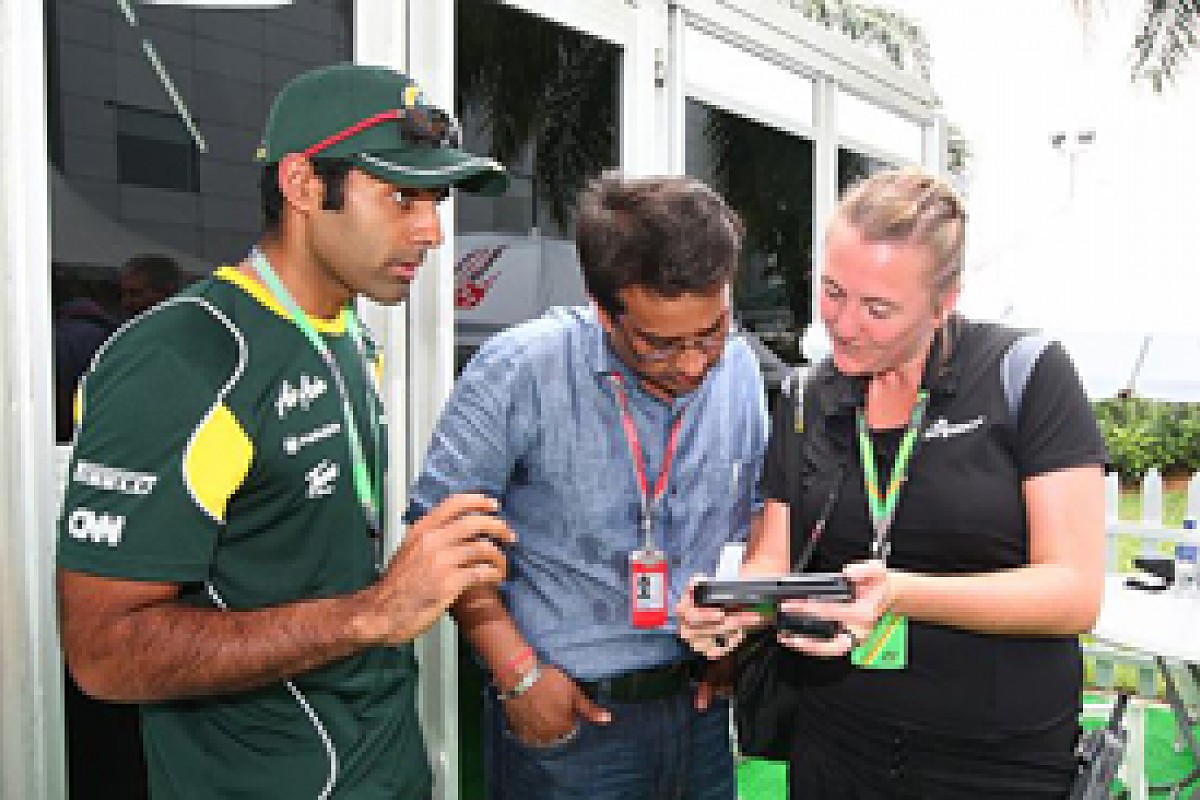 Trulli was not the only man getting some laps of the track under his belt - as the Formula 1 running community was finally able to get into its stride in Malaysia.
With news of the UBS charity initiative spreading, as the F1 partner is donating $50 to the Make-A-Wish Foundation for each lap run in 2011, more than 40 people managed to do their bit.
So far the charity running has raised more than $3000 and plans are underway for a group run at next weekend's Chinese Grand Prix - taking place 15 minutes after parc ferme is in operation on Saturday night.
Full details of that run, and for anyone wishing to do their bit for charity, can be found at www.runthattrack.info.
It used to be the case that attending a Formula 1 race meant running the risk of missing some of the track action if you could not get near a big television screen.
That all changed a few years ago when Kangaroo TV did a tie-up with Formula 1 to provide their handheld televisions for fans at races around the world.
It has a new look for 2011, with the company being relaunched as 'Fanvision' and having totally revamped the handsets.
The beautiful new 'Fanvision G3' has quickly become one of the must-have items in the paddock, with a much bigger widescreen display, and better interface and controls making it a big hit with the media and teams.
There are also a host of new features - including a track map to show the positioning of cars, and nine video channels - which can include up to eight onboard streams.
Fanvision sets can now be purchased outright for use at every F1 race, or can be hired for individual race weekends. More details can be found at: http://f1.fanvision.com/
With Red Bull Racing competing under the racing licence from the country of its parent energy drink company, it has become commonplace over the past few seasons to get used to the Austrian national anthem.
However, Sunday at Malaysia marked something quite new - with the 'Bundeshymne' getting played twice over the course of the day.
For shortly before the Malaysian Grand Prix kicked off, a young Austrian called Lucas Auer triumphed in the new JK Racing Asia Series race.
The Austrian national anthem offered a little clue as to why Auer's success was interesting - because the 16-year-old is the nephew of Gerhard Berger.
He is the son of Berger's sister Claudia, who runs a transport company in Kufstein in the Tyrol - not far from Berger's own family business.
"I am an apprentice in the administration," said Auer, who took the advice of his famous racing uncle and moved up to cars this year. "I've raced in karts for eight years and won two junior championships in Germany and one KF3 title.
"My mum is my only sponsor. And my uncle is giving any advice I need. He told me a lot of things in my karting years and I always learn from him. Now he decides where I will race and for which team."
But don't think that success and a famous family mean that Auer is ready to take things easy.
"After getting back home on Tuesday night, I will have to be in the office on Wednesday," he smiled.
Additional reporting by Gerhard Kuntschik
Monaco, Singapore, Delhi and Abu Dhabi... find out more about Amber Lounge