After the finish of the Malaysia GP the paddock was buzzing. The identity of the winner might not have been much of a surprise, but everyone had just witnessed one of the most extraordinary dry and safety car free races that we have seen in many a year.
Melbourne was never going to be a true litmus test for Formula 1, 2011-style, but at Sepang we got the full load. Multiple tyre stops, passing precipitated by use of the DRS, and KERS also playing a role, not just in the action on the track, but due to the fact that it didn't always work.
It was a truly fascinating race, but you needed a slide rule and a degree in astrophysics to follow it in detail. Even seasoned team bosses had a look of 'what just happened?' when you talked to them post-race. They may have been just about on top of what happened to their cars over the course of the race, but they didn't necessarily have the usual detailed grasp of how everything panned out in front and behind them.

"It's certainly complicated on the pit wall!" said Christian Horner. "It would be like an air traffic controller's nightmare if you were tuned onto the strategy channel. You're trying to look at where you're going to emerge, you're looking at what the degradation is, what tyre you should be using, with two cars.
"So the work rate is colossal. It does add an exciting dimension to the race. It added another element to the race today that is much more strategic, and you can see it worked out for some, and not for others..."
It's changed things too for journalists. Not so long ago we could say driver A pitted on lap 27 and driver B followed him in a lap later, jumped him in the stops, and that was pretty much the big story - maybe only story - of the race.
With the top six finishers alone making 20 stops - and thus driving 25 stints between them - any kind of detailed 'and then on lap 13 so and so came in' type reporting is pretty much redundant, because we can't do in it without filling a book, and readers probably wouldn't even want to try and digest it!
It's an especially tough one for newspaper journalists who have to get the story of the race into a small space, and please a general readership while so doing. On Sunday night Fleet Street's finest were thankful that a reignited Hamilton/Alonso argy-bargy had fallen into their laps, and taken the focus off mundane discussion of tyres...
And there was so much to get a grip on, if you'll pardon the pun. Consider that three leading drivers made four stops, dividing the race into five segments. Mark Webber was the only one who did that intentionally, and he ran mini stints of 10-12-10-11-13 laps, always ensuring that he was on reasonably fresh rubber, while also using those stops to find clean air.
More Sauber tyre magic earned Kobayashi seventh place © LAT
And yet further down the order four drivers stopped just twice, and thus managed to make it on three stints.
Once again, Sauber set heads scratching as both drivers ran amazing 17-lap opening stints, and in Kamui Kobayashi's case, on used options from qualifying. That ultimately allowed the Japanese driver to get well into the points with just two stops.
And then there was Adrian Sutil, who pitted after a shunt on lap three and stopped only twice more. He completed a marathon 24 laps from his last stop to the flag on options, while both Toro Rossos managed 23 on primes. Those are numbers that other teams would not have contemplated before the race.
No doubt more than one team has since looked at its strategy and wondered if had done a stop too many, and had maybe reacted too quickly to what others were doing. Clearly there is much to learn. And even Red Bull Racing admits that's the case...
Red Bull: Getting everything right
Sebastian Vettel made it look easy, but of course it was anything but. He did part of the job by taking pole, and laid another foundation stone for his win by getting to the first corner safely in the lead. It might be stating the obvious, but it's already very clear that the best way to guarantee yourself a win in this new era is get in front, run at your own pace, control your tyres as best you can, and when necessary react to the stops of those immediately behind.
Getting pole is the first step, but it was by no means straightforward. In Australia RBR was so confident in its one-lap pace that it was even able to abandon KERS. McLaren was closer in Sepang, but still RBR felt able to make compromises to the set-up for qualifying that would pay off on Sunday, when tyre usage is all important. It was a risk, and it paid off for Vettel, although Mark Webber found himself stranded behind Hamilton.
"We adopted a slightly different approach to this weekend after Melbourne," said Horner. "We put a lot of focus into the race, and I think it paid off today. Possibly it may have cost us a little bit of time yesterday, but I think the approach to the race was absolutely right."
"We felt that ultimately race pace was going to be important," confirmed Adrian Newey. "So we needed to put some effort into it."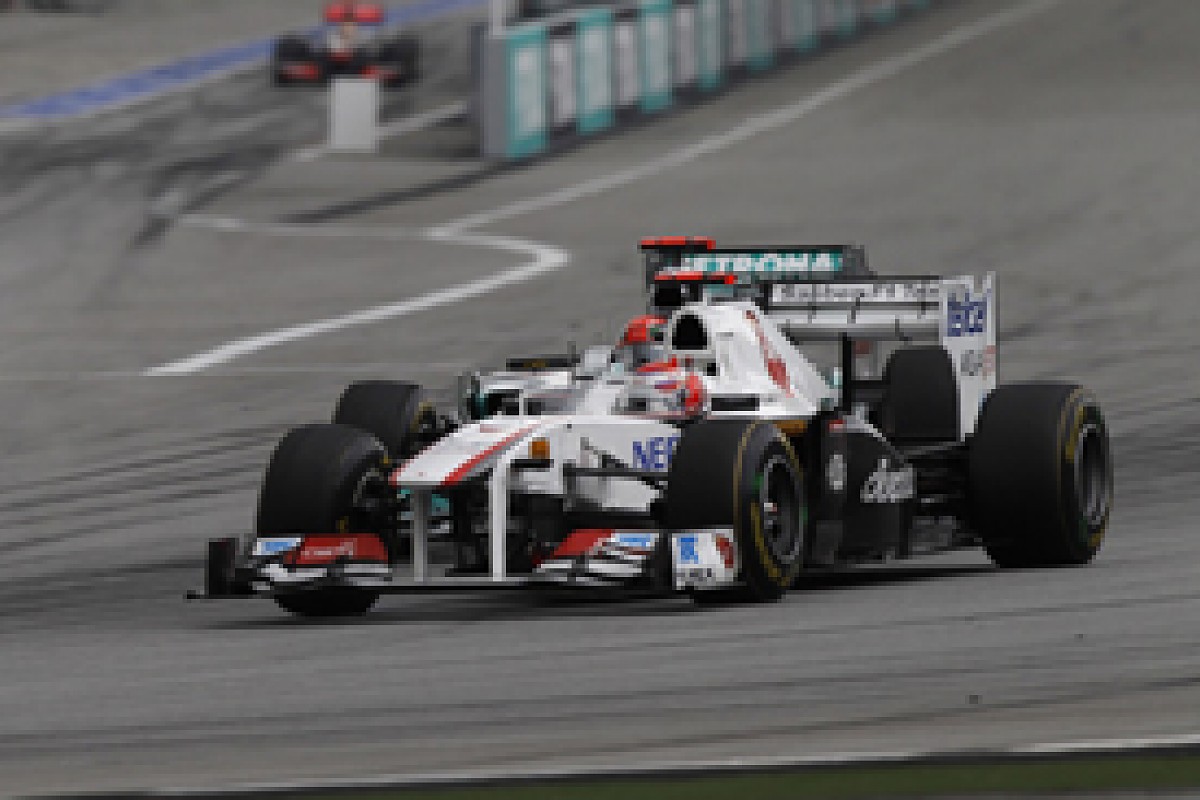 Heidfeld held Hamilton at bay early on © LAT
This time Vettel had a huge bonus at the start in the form of Nick Heidfeld, who got in front of Lewis Hamilton and rode shotgun. We'll never know what might have happened if Hamilton had able to stick behind Vettel in those opening laps - we might have seen a very different race. But while he had some unexpected help, Vettel did the rest himself.
"He had a great start, led into the first corner and then his pace was excellent," said Horner. "He was able to build a lead, which gave us options. We then responded to the cars behind us, and we then had the option of going a three or a four stop. In the end we didn't need to do a four stop, and he brought the car home with a very, very mature and level headed drive.
"I think you have to be flexible. We didn't know whether it was going to be a three, four or five stop in that race to be honest with you, but I think you have to go into that race and have the flexibility to change."
Even Newey's finely honed brain wasn't able to predict how things might pan out.
"Certainly McLaren pushed us hard through qualifying, and through the race," he admitted. "Tyre degradation was a big concern for everybody. Melbourne is relatively light on tyres, so it was much less of an issue than perhaps some people expected going in.
"But here is heavy on tyres, and combined with the heat, it's not going to be obvious what would be the best strategy, how many stops to take, how hard do the drivers push, so and so forth. Then obviously, the threat of weather. So we didn't know what to expect fully going into the race, is the honest answer.
"The tyres are a huge learning curve for all of us. Nobody has a full understanding at the moment. I wouldn't say there was a particular set to set difference, but having said that quite small changes in balance can create quite large differences in degradation."
The pursuit was led at various times by Heidfeld, Hamilton, Alonso and Button, but Vettel always had things under control. The only thing that gave some cause for concern was KERS. A little over halfway through the race, he was told not to use it, although the exact scenario is not entirely clear.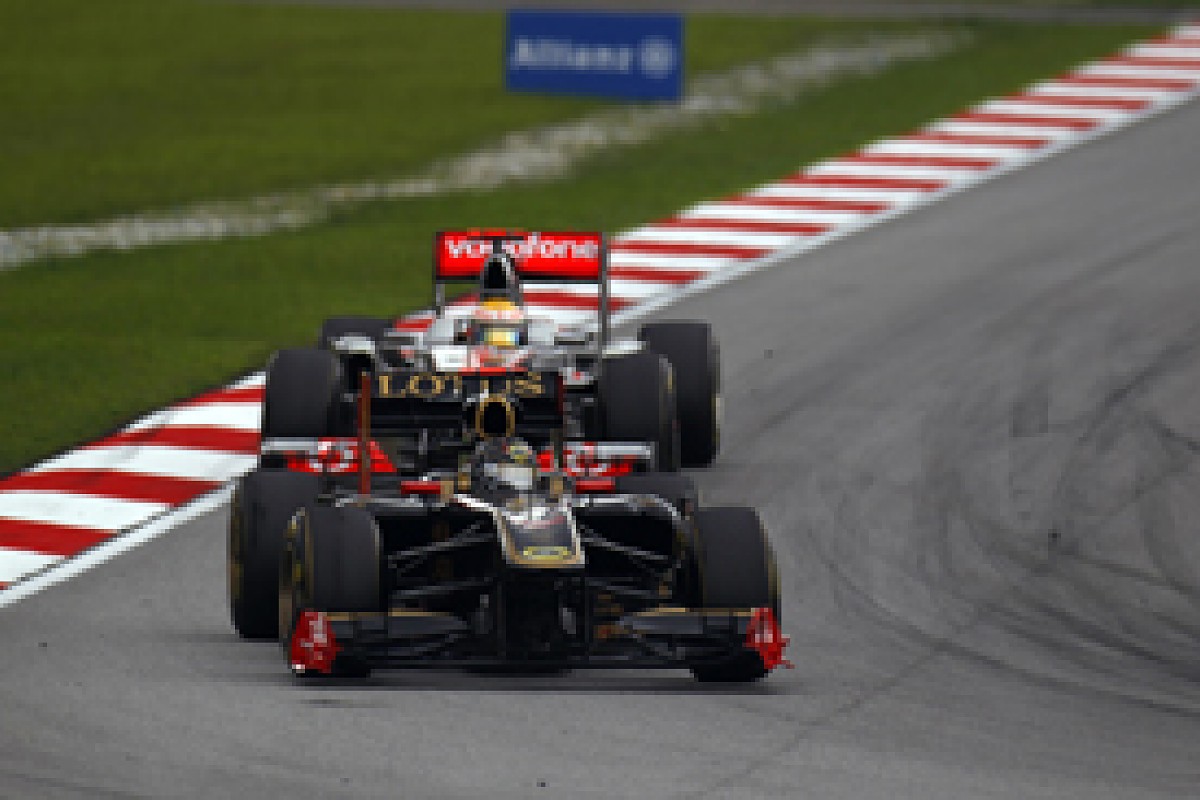 Vettel controlled the race to the finish © LAT
We heard him asking on the team radio whether he could use it or not, and after the race he said that it was a "little bit on-off." His bosses said it was off full stop, and insisted that it was precautionary, rather than a reaction to any worrying temperature numbers or what have you.
"We elected to turn it off," said Newey. "More than anything just not to cause any reliability problems. If we'd been pushed then we could have managed [to use] it - we might have taken a different decision - but by that stage of the race we had a bit of a gap, so we took the safe route.
"KERS is a small amount of performance, so I guess had we been able to use it in the second half of the race then yes we should have been a little bit quicker, but by that stage the race had unfolded to some extent."
Horner backed that up: "With a system that is still quite immature with some of our rivals, we just didn't want to take too many risks in arguably one of the harshest environments for it, so we just became a little bit conservative in our usage."
KERS continues to be RBR's Achilles Heel, and the fact that Webber's system packed up right at the start was a major worry. Vettel may have been able to keep up a good race pace without it for the half the race, but had he been without it at the start this time, it's highly unlikely that he would have made it to Turn 1 in front.
"The reality is that it's a system in its infancy," said Newey. "We're not a manufacturer team so we're having to develop KERS ourselves, which hasn't been our area of expertise in the past, and on a limited resource, limited budget and limited experience, so we're on a rapid learning curve. How long it will take us to get to the top of that curve remains to be seen."
McLaren: So near and yet so far
Malaysia was undoubtedly a good weekend for McLaren, and especially of course Jenson Button. The silver cars were quick all weekend, and close enough to Red Bull to really pile on the pressure in qualifying.
In the race Button did a perfect job, and while he was fourth and behind his team-mate early on, what mattered was that he'd edged his way into second by the end, and was close enough to Vettel to keep the German on his toes. Intriguingly he was happiest on the hard tyres in the closing laps.
Over the winter there was a lot of talk about Button's smooth style potentially saving his tyres, and just as much talk suggesting that drivers could do little to overcome the simple physics related to degradation of the Pirellis. The former view now appears to have some validity.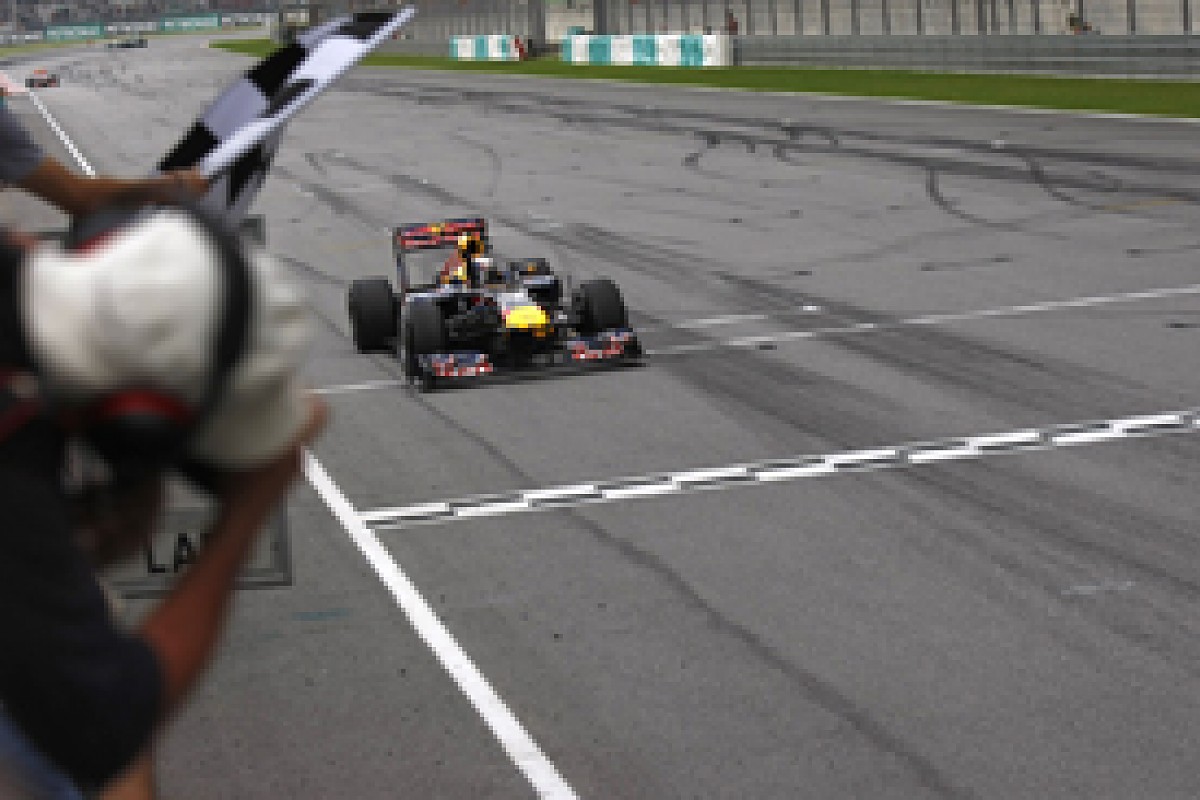 Jenson Button drove a very wise race © LAT
"Jenson did a great, patient job," said Martin Whitmarsh. "He thought the car was at its best at the end. We could see how long the stint was, so we were urging him to take it easy. Ten laps to go he was urging us - he wanted to push, he was saying let's see what Red Bull's got.
"We were saying no don't do that, look after the tyres! He felt he was right in the sweet spot. At some point he was catching or maintaining the gap to Sebastian. I think by then Sebastian was controlling that to a little degree as well, and we felt why take the risk and let the tyres go off. We had another driver who was having a torrid time with the tyres at that time..."
As noted earlier we didn't get to see what might have happened had Hamilton been able to stick with Vettel at the start - but even if he had got ahead at some stage, Hamilton would still have got into the tyre problems that he faced in his fourth stint.
Initially at least, things went to plan, give or take a Renault or two.
"The launch was fine, it was a reasonable start," said Whitmarsh. "The Renaults attacked down the outside, and I think it was a good clean attack. Lewis was a bit bottled up on the inside. Thereafter he was behind Nick, who had good end-of-straight speed, better than ours. And therefore it was difficult to deal with it, and therefore he lost time.
"When we stopped I guess he was 7-8s behind Sebastian. At the end of that run it was probably only 4s, and he'd passed Nick, so that was a reasonable position to be in. For the next stop he didn't quite get away cleanly on the paddles, so he came out behind Petrov. That cost him a little bit, but he got past. For the next stint he was on a new prime, and it was fine, he was more or less matching Vettel [on options].
"Then for what we hoped would be his last stop we had a used prime. He stopped a bit short so the gunman had to re-adjust, so he lost a second or two there, that put him behind Jenson, and he was also having to defend from Webber at that point. And he just couldn't get those tyres going..."
And that brings us to one of the most fascinating stories of the whole weekend - and one that shows that qualifying will potentially have a much greater impact on races this year than just through determining grid positions.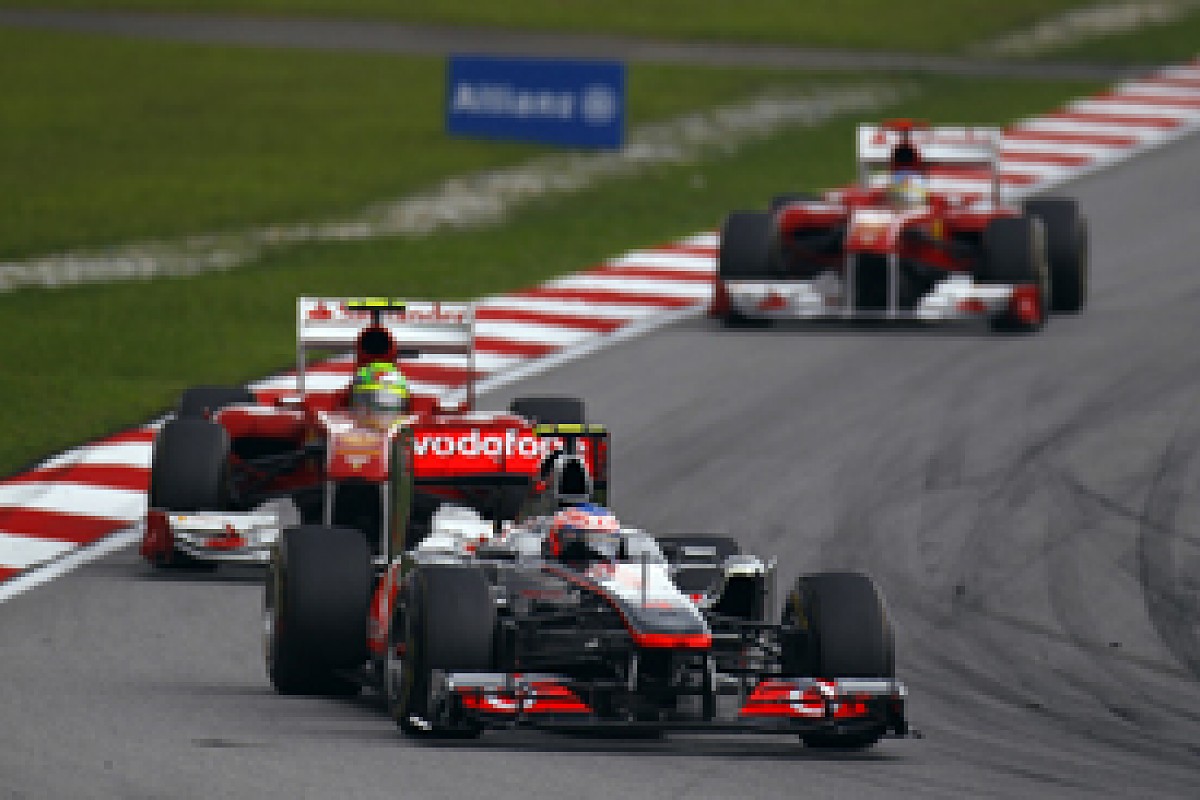 Fernando Alonso races with Lewis Hamilton at Sepang © LAT
A rather obvious corollary to today's multiple stop racing is that you need more tyres for the race. A three-stopper requires four sets, and for most drivers who made Q3 that meant taking the start on the options they set their times on, followed by two stints on options they used earlier in qualifying, and then a run to the finish on new primes.
Hamilton wasn't able to do that for the simple reason that due to a brake locking moment one of his option sets couldn't be used. That meant his third stint had to be on the new primes, and they actually worked quite well. The problem was the fourth stint - and for that he had to use primes that had already been run in qualifying.
The team had no reason to suspect that they would be troublesome - used options worked fine for everybody - but that particular set proved disastrous for Lewis, who couldn't get up to speed. And it was while using them that he got into that spectacular fight with Alonso, who was himself handicapped by an inoperative DRS.
In the end Hamilton got so fed up with that set that he insisted on coming in with just four laps to go. It actually cost him a spot to Alonso, so the team wasn't entirely happy.
"He was immediately in defensive mode, and it was a question of getting the tyres overheated, or struggling with them," said Whitmarsh. "We obviously wanted to go to the end on those tyres, but in the end the driver's got to make the call. He felt he had to stop.
"He was twice behind Renaults, which was unhelpful, a couple of little stops which weren't quite right, but having to run a used prime was probably the real race influencing factor."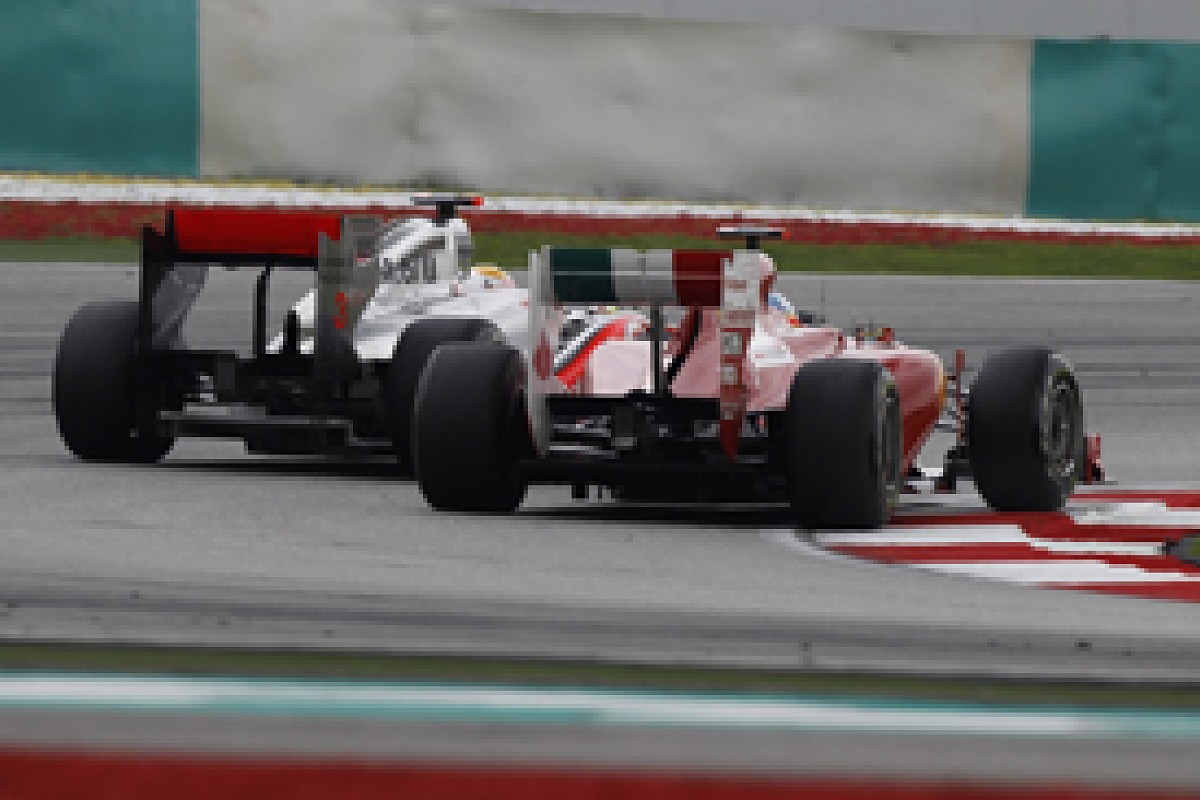 Pitstops proved Hamilton's undoing © LAT
When Hamilton came in for the rubber equivalent of a 'splash and dash' the team literally had only one set available for him, also primes that had done some mileage on Saturday. They were good enough to cover those last four laps, but it was hardly ideal.
The point is that if you stop four times - and that's not going to be unusual this year - you need five sets of tyres. And under the rules, you only have six sets, three of each type, for qualifying and the race (and teams can also eat into their prime allocation in FP3, even though they have tyres specifically for that session).
Typically Q3 qualifiers will have a set of new primes left to play with on race day, as let's say the fourth set. But by the time you get to that fifth set, you're going to be scratching around to find something usable. In Hamilton's case that was exacerbated by the fact that he'd lost access to a set of options completely after they were damaged in qualifying, so in effect he ended up finishing the race with the sixth best and least attractive set...
In other words more than ever before teams are going to have to keep an even closer track on usage over the course of Saturday, even with the usually superfluous primes, and hope that no sets are ruined by a lock-up or spin.
The flipside of that is that those who don't progress all the way through qualifying have the benefit of extra unused sets - for example having failed to get out of Q3 Pastor Maldonado had two new options and two new primes for the race. Ironic then that he managed only eight laps in the race!
We already saw an intriguing twist in qualifying, when only McLaren and Red Bull managed to make it into Q2 without using softs. The time difference between the two tyres was so big that Ferrari and so on could not risk relying on a banker lap on primes - and indeed Webber nearly blew it, only just scraping through in 15th.
When they got to Q3, RBR and McLaren had two sets of softs left, and could make two runs, while everyone else had to sit and wait before making a single run. So in effect the fastest cars had a much better chance of getting right when it mattered in Q3. A case of the rich getting richer...