PRACTICE
Practice one
Petrov's suspension breakage spoiled his Friday © sutton-images.com
Friday testing times, we know, mean nothing, but still it seemed Mark Webber came out of the pits with a point to prove in Sepang. Almost from the moment he was on track he was fastest, and it was difficult to see how the Australian could not have been satisfied with the way his programme was developing - which was a demonstrably different scenario to that of two weeks previous.
His Red Bull team-mate Sebastian Vettel was only 17th fastest, tinkering here and there with KERS, and generally clearly not focusing on outright pace. Such is the confidence of Red Bull these days though, that in itself his 1m41.627s lap, was a not a concern but rather indicated its strong race pace.
Elsewhere there was chaos. Both Renault drivers had scary on-track moments after a faulty material batch caused their front suspension uprights to fail. First Nick Heidfeld had his front right wheel lock permanently, then Vitaly Petrov was pitched into the gravel at Turn 9 after his front left corner collapsed. Virgin's Jerome D'Ambrosio also suffered a front-left suspension failure under braking for the final corner.
It was too early to read many signs into performance, but Ferrari tellingly, was only sixth (Felipe Massa) and ninth (Fernando Alonso) fastest as the two drivers spent much of the session going in and out of the pits on aero evaluation runs - the results of which were clearly not satisfactory.
Practice two
Second practice gave us a clearer picture of what might be to come. Webber again was fastest, but this time, when running on the option tyres, the Red Bull driver was matched on pace by McLaren's Jenson Button. Lewis Hamilton was just 0.134s behind this duo, signalling that once again that the Woking squad looked likely to provide Red Bull with its sternest opposition.
Everyone else, led by Michael Schumacher's Mercedes, was a second behind the Red Bulls and McLarens - a situation that seemed to be providing a pattern from which to base predictions.
The real question marks were over degradation rates however. By the time the teams switched their drivers back on to full fuel modes to begin evaluating the Pirellis on a track more likely to test the Italian rubber than Melbourne had been, there was a significant layer of discarded tyre chunks offline.
Interestingly McLaren appeared to match Red Bull's pace during this phase, though all four cars ran some 7.5s away from what was achievable on low fuel. Webber though, fired in a high 1m43s lap at the end of his simulation run - which proved quite a bit faster than those of his rivals.
Practice three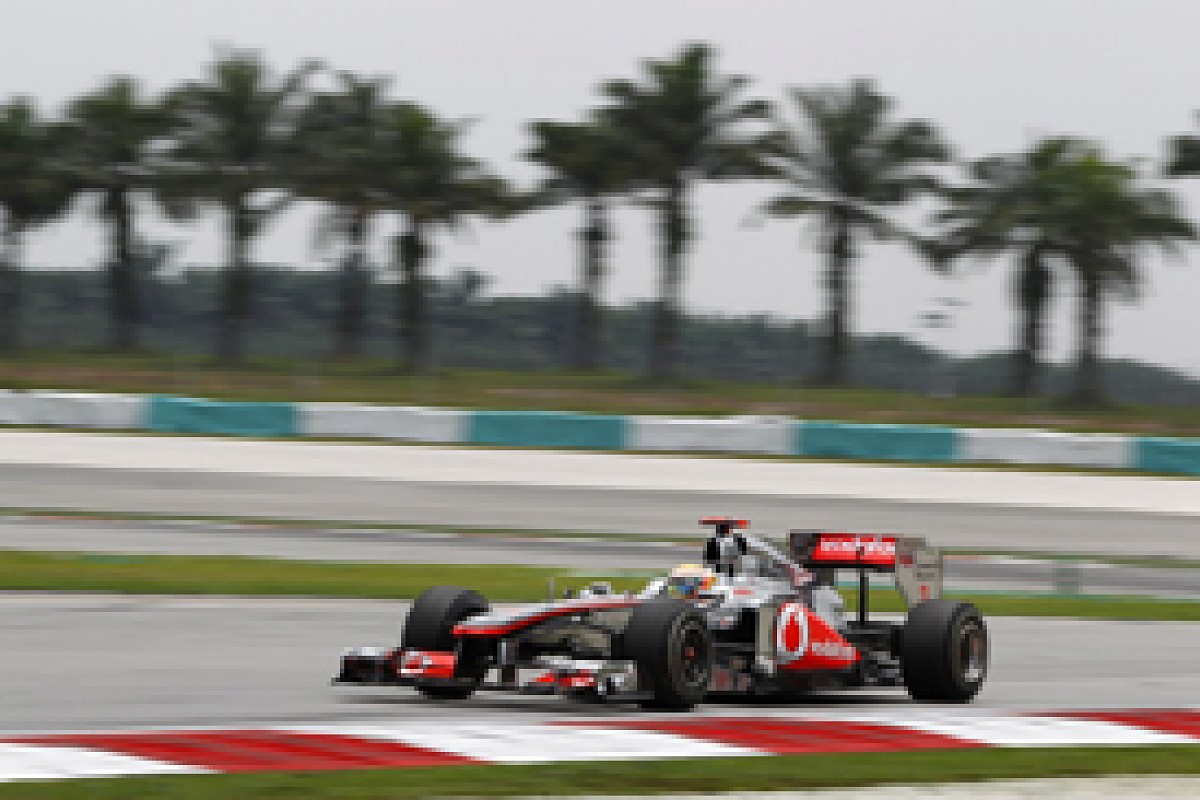 Hamilton led the way in Saturday's first session © LAT
There was plenty more long running on Saturday lunchtime, when the later than usual final practice session took place.
Vettel had been quickest during that part, but didn't get a clear lap amid heavy traffic when everyone tried the soft tyres in qualifying mode at the end. That left the champion only fifth.
Webber couldn't make it a clean sweep of practice sessions, being pipped by Hamilton, who was a few tenths faster.
Button completed the top three, with Renault showing that Friday's calamities hadn't been too costly after all as Heidfeld and Petrov took fourth and seventh. Alonso was top Ferrari in sixth.
QUALIFYING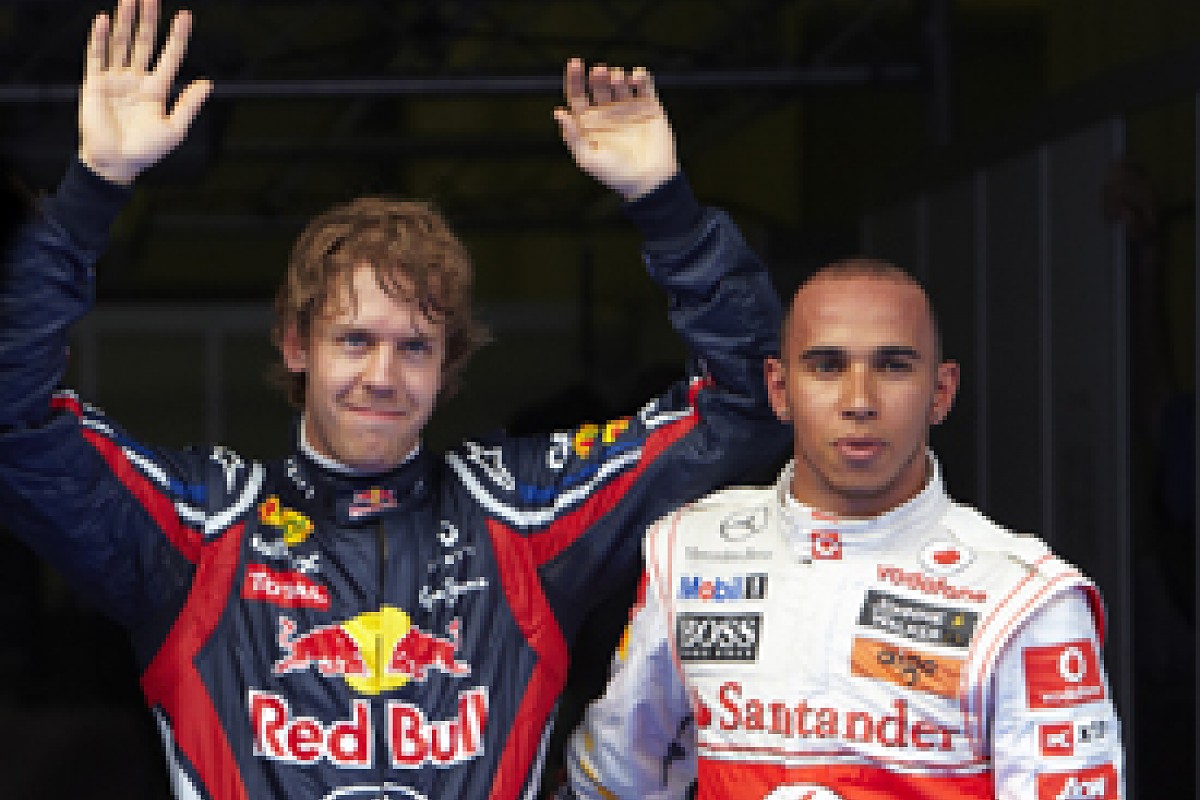 Hamilton did his utmost, but Vettel took another pole © LAT
1. Sebastian Vettel, Red Bull
Team-mate qualifying battle 2-0
After a dominant pole in Australia, Vettel had to dig deep to fend off Hamilton this time out, the German just a tenth of a second ahead. The world champion admitted he had to be thankful to his team for getting its KERS ready in time, as he reckoned he would have missed out on a top-three spot without it.
2. Lewis Hamilton, McLaren
Team-mate qualifying battle 2-0
Hamilton was very close to achieving something of a shock result, and only a superb lap from Vettel in the dying seconds stopped the Briton from securing pole. Hamilton said his lap had been nearly perfect and was a delighted man after the performance.
3. Mark Webber, Red Bull
Team-mate qualifying battle 0-2
Although it was a much better showing than in Australia, Webber's pace was still not good enough to match Vettel. Still, having made up half a second since the first race was not a bad effort and the Australian was happy, especially as the grid position was likely to not matter much on Sunday.
4. Jenson Button, McLaren
Team-mate qualifying battle 0-2
Button conceded he was pleasantly surprised with the smaller-than-expected gap to Red Bull, the McLaren driver even setting the fastest lap in Q2. In the final session, however, the Briton said his set-up had not worked as well, and he had to settle for fourth.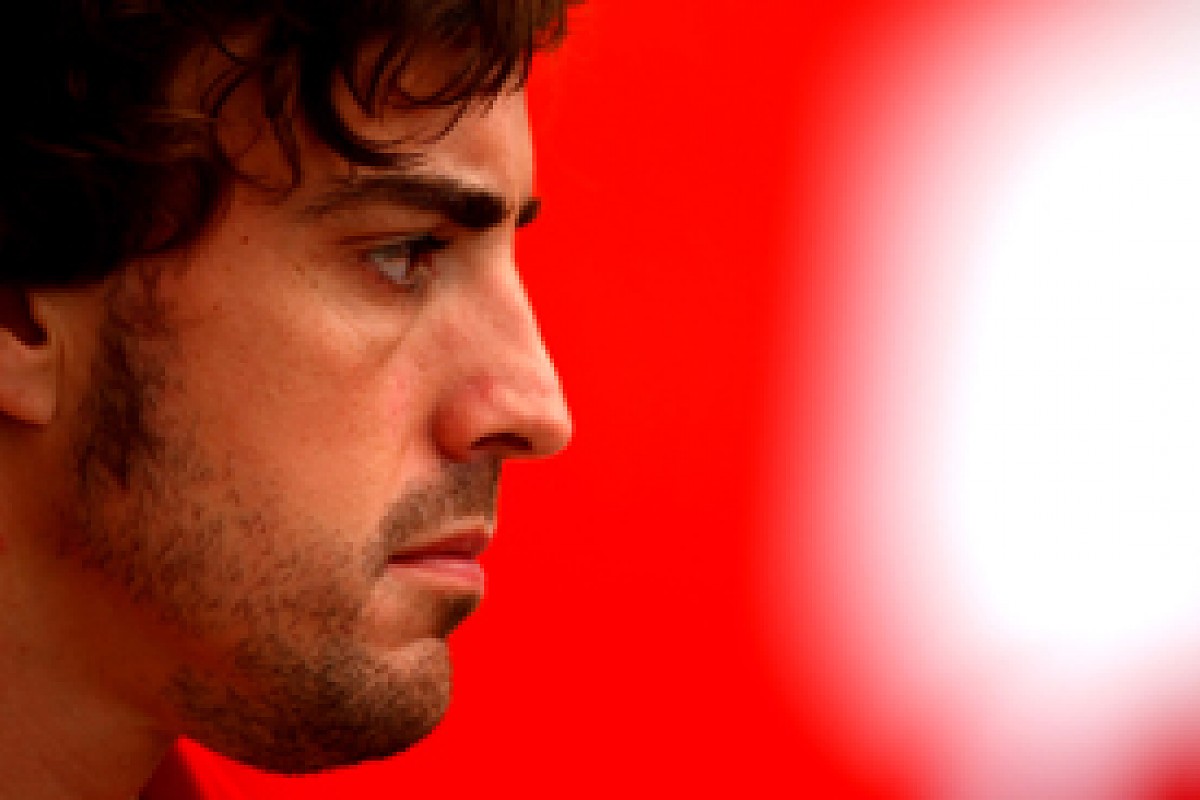 Alonso was expecting a tough weekend © LAT
5. Fernando Alonso, Ferrari
Team-mate qualifying battle 2-0
Another driver who was not expecting to qualify so far up, Alonso had no choice but to admit Ferrari is simply not fast enough at the moment. He was still pleased to be starting from the third row and felt his podium chances were very good given the difficult race expected.
6. Nick Heidfeld, Renault
Team-mate qualifying battle 1-1
After a difficult start to the weekend in practice, when both cars were affected by problems with the uprights, Heidfeld bounced back strongly on Saturday, also putting to rest the disappointment of Australia. The Renault driver said that sixth was the maximum he could have hoped for.
7. Felipe Massa, Ferrari
Team-mate qualifying battle 0-2
Massa didn't have much to say about his qualifying performance, other than admitting that matching the pace of the top four cars was very difficult. The Brazilian was still some four tenths of a second off Alonso's pace, something that just completed a disappointing day for him.
8. Vitaly Petrov, Renault
Team-mate qualifying battle 1-1
Considering the amount of track time he lost during Friday, qualifying solidly in the top 10 was another strong showing from the Russian. Some set-up changes before the grid-deciding session made the car better for Petrov and he made good use of it again.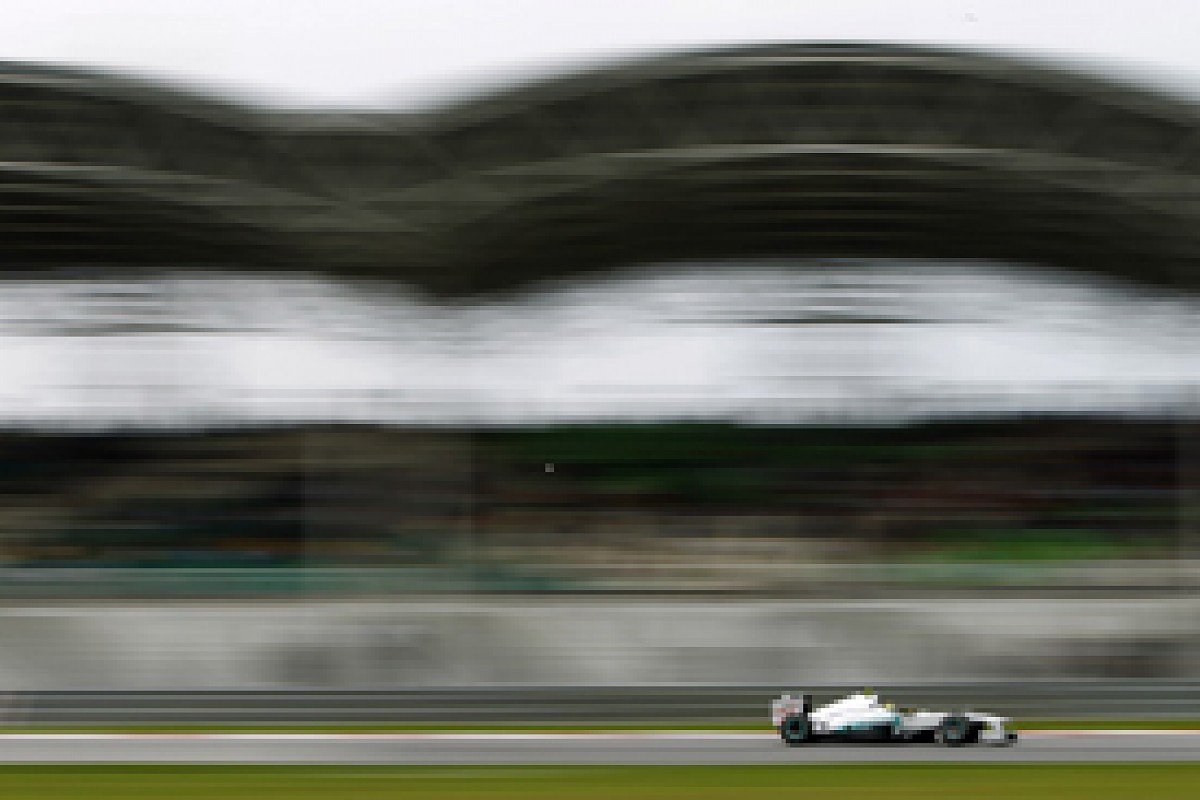 Mercedes' DRS misbehaved © LAT
9. Nico Rosberg, Mercedes
Team-mate qualifying battle 2-0
Rosberg was left frustrated again after not managing to show the potential Mercedes believes its car to have. As it was, the German had to deal with an issue with the moveable rear wing, which was not working properly during qualifying, and he was also not completely pleased with his car's handling during the final session.
10. Kamui Kobayashi, Sauber
Team-mate qualifying battle 2-0
Kobayashi and his team felt vindicated after making it into the top 10 following the drama of the Australian Grand Prix. The Japanese, however, admitted he was hoping for a better position, having saved a fresh set of soft tyres for Q3. In the end he was forced to admit there was nothing else to extract from the car.
11. Michael Schumacher, Mercedes
Team-mate qualifying battle 0-2
Like in Australia, Schumacher and Mercedes talked up their chances and, like in Australia, their performance did not live up to it. The German was also hit by problem with his DRS, which meant he was unable to extract the full potential of his car, eliminated in Q2 for the second time running.
12. Sebastien Buemi, Toro Rosso
Team-mate qualifying battle 2-0
Following the scare in Q1, during which the Swiss driver lost part of his bodywork, Buemi performed strongly again, missing the Q3 cut by some three tenths. The Toro Rosso driver conceded he was pleased with his progress during the session and had his eyes set on another points finish.
13. Jaime Alguersuari, Toro Rosso
Team-mate qualifying battle 0-2
Alguersuari was also happy with his day having extracted what he felt was the maximum from his car's set-up. The Spaniard was less than two tenths off Buemi's time, setting up another promising race for the Faenza-based squad.
14. Paul di Resta, Force India
Team-mate qualifying battle 2-0
Having outqualified team-mate Adrian Sutil for the second time in two races - and in his rookie season - di Resta was delighted with his showing so far. The Scot admitted he was genuinely excited about his and his team's progress, and another points finish was on the cards.
15. Rubens Barrichello, Williams
Team-mate qualifying battle 1-1
With Williams claiming ahead of the race that the car had the pace to be in the top 10, qualifying was a big disappointment for the team. Barrichello was left to admit the FW33 was simply not fast enough, even though he was pleased with his own performance.
16. Sergio Perez, Sauber
Team-mate qualifying battle 0-2
With team-mate Kobayashi having made the top 10, Perez admitted he was disappointed not to be able to extract the best from his Sauber. The Mexican complained about traffic in his first run and then said he had no front grip in sector 3 of his final flyer.
17. Adrian Sutil, Force India
Team-mate qualifying battle 0-2
The German was satisfied with his pace in Q1, but then found himself at a loss to explain his lack of speed in the second session. Traffic and a problem with a miss-shift didn't help Sutil's cause, the Force India driver finishing three places behind his rookie team-mate.
18. Pastor Maldonado, Williams
Team-mate qualifying battle 1-1
The Venezuelan was sort of shocked to go out in Q1, having said on Friday that Williams had the pace to be in the top 10. Maldonado said the car felt good, but there was just no pace in it. On the positive side, he was left with plenty of new tyres for the race.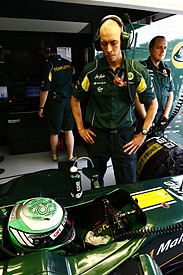 Kovalainen demonstrated Lotus's progress © LAT
19. Heikki Kovalainen, Lotus
Team-mate qualifying battle 2-0
The Lotus camp was delighted with its performance in Malaysia, with Kovalainen just 1.9 seconds off the fastest time in Q1 and less than five tenths behind Maldonado. At the end of qualifying the team was still four seconds off the pace, but the gap to the midfield was very encouraging.
20. Jarno Trulli, Lotus
Team-mate qualifying battle 0-2
Like Kovalainen, Trulli was very happy with Lotus's showing on Saturday. The Italian felt he had extracted nearly the maximum from his car after finally having a trouble-free day.
21. Timo Glock, Virgin
Team-mate qualifying battle 2-0
Luckily for Glock, his fears about not being able to qualify were proved wrong in Sepang. Unfortunately for him, his Virgin team was left in the middle of nowhere and, more worryingly, closer to the Hispanias behind than to the Lotus duo in front. He outqualified his team-mate and that was pretty much all he could have hoped for.
22. Jerome D'Ambrosio, Virgin
Team-mate qualifying battle 0-2
With a car that's not fast enough to fight with most of his rivals, D'Ambrosio had to be content with being relatively close to Glock in qualifying. It was not a bad effort from the Belgian in his second grand prix outing but, like Glock, he had nothing to write home about.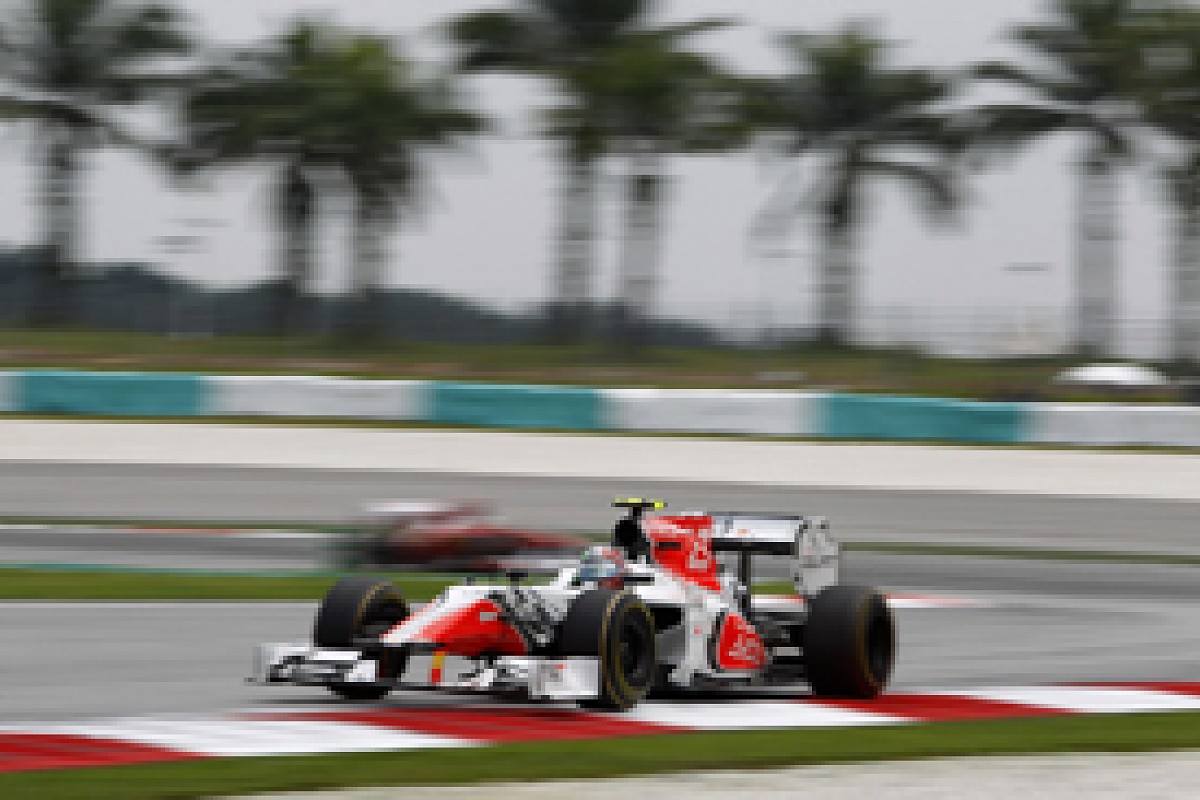 Liuzzi made it past the 107 per cent rule with plenty of time to spare © LAT
23. Tonio Liuzzi, Hispania
Team-mate qualifying battle 2-0
Liuzzi was understandably delighted with his and the team's performance in Sepang. On his final lap, the Italian erased all doubts about not having enough pace to make the grid on merit. In doing so, he also showed the team is not too far from the Virgins despite the lack of running.
24. Narain Karthikeyan, Hispania
Team-mate qualifying battle 0-2
Like team-mate Liuzzi, Karthikeyan had reasons to be happy, leaving the disappointment of Australia behind to qualify for the race. However, there was no denial that the Indian's lap was not on the same level as Liuzzi's after finishing a second behind the Italian.
QUALIFYING RESULTS
Pos  Driver                Team                 Time         Gap   
 1.  Sebastian Vettel      Red Bull-Renault     1m34.870s
 2.  Lewis Hamilton        McLaren-Mercedes     1m34.974s   + 0.104
 3.  Mark Webber           Red Bull-Renault     1m35.179s   + 0.309
 4.  Jenson Button         McLaren-Mercedes     1m35.200s   + 0.330
 5.  Fernando Alonso       Ferrari              1m35.802s   + 0.932
 6.  Nick Heidfeld         Renault              1m36.124s   + 1.254
 7.  Felipe Massa          Ferrari              1m36.251s   + 1.381
 8.  Vitaly Petrov         Renault              1m36.324s   + 1.454
 9.  Nico Rosberg          Mercedes             1m36.809s   + 1.939
10.  Kamui Kobayashi       Sauber-Ferrari       1m36.820s   + 1.950
Q3 cut-off time: 1m36.811s                                   Gap **
11.  Michael Schumacher    Mercedes             1m37.035s   + 1.466
12.  Sebastien Buemi       Toro Rosso-Ferrari   1m37.160s   + 1.591
13.  Jaime Alguersuari     Toro Rosso-Ferrari   1m37.347s   + 1.778
14.  Paul di Resta         Force India-Mercedes 1m37.370s   + 1.801
15.  Rubens Barrichello    Williams-Cosworth    1m37.496s   + 1.927
16.  Sergio Perez          Sauber-Ferrari       1m37.528s   + 1.959
17.  Adrian Sutil          Force India-Mercedes 1m37.593s   + 2.024
Q3 cut-off time: 1m38.163s                                    Gap *
18.  Pastor Maldonado      Williams-Cosworth    1m38.276s   + 1.532
19.  Heikki Kovalainen     Lotus-Renault        1m38.645s   + 1.901
20.  Jarno Trulli          Lotus-Renault        1m38.791s   + 2.047
21.  Timo Glock            Virgin-Cosworth      1m40.648s   + 3.904
22.  Jerome D'Ambrosio     Virgin-Cosworth      1m41.001s   + 4.257
23.  Tonio Liuzzi          HRT-Cosworth         1m41.549s   + 4.805
24.  Narain Karthikeyan    HRT-Cosworth         1m42.574s   + 5.830

107% time: 1m43.516s
* Gap to quickest in Q1
** Gap to quickest in Q2
THE RACE
The stats make this one look pretty much more straightforward for Sebastian Vettel than it really was. He started from pole, he won the race, he led 54 out of 56 laps.
And for a few moments early on, it did look like this could be a fairly relaxing afternoon for the world champion.
He slipped into the first corner still in the lead, then had the bonus of looking in his mirrors to see that the potentially dangerous McLarens were caught up behind Nick Heidfeld's Renault, and the sister Red Bull of Mark Webber was visible only through a telescope.
Vettel was able to use KERS at a race start for the first time at Sepang, and was immediately convinced of the benefits: "It was very crucial at the start. Without KERS again we would have been in a completely different position and the race would have unfolded in a different way."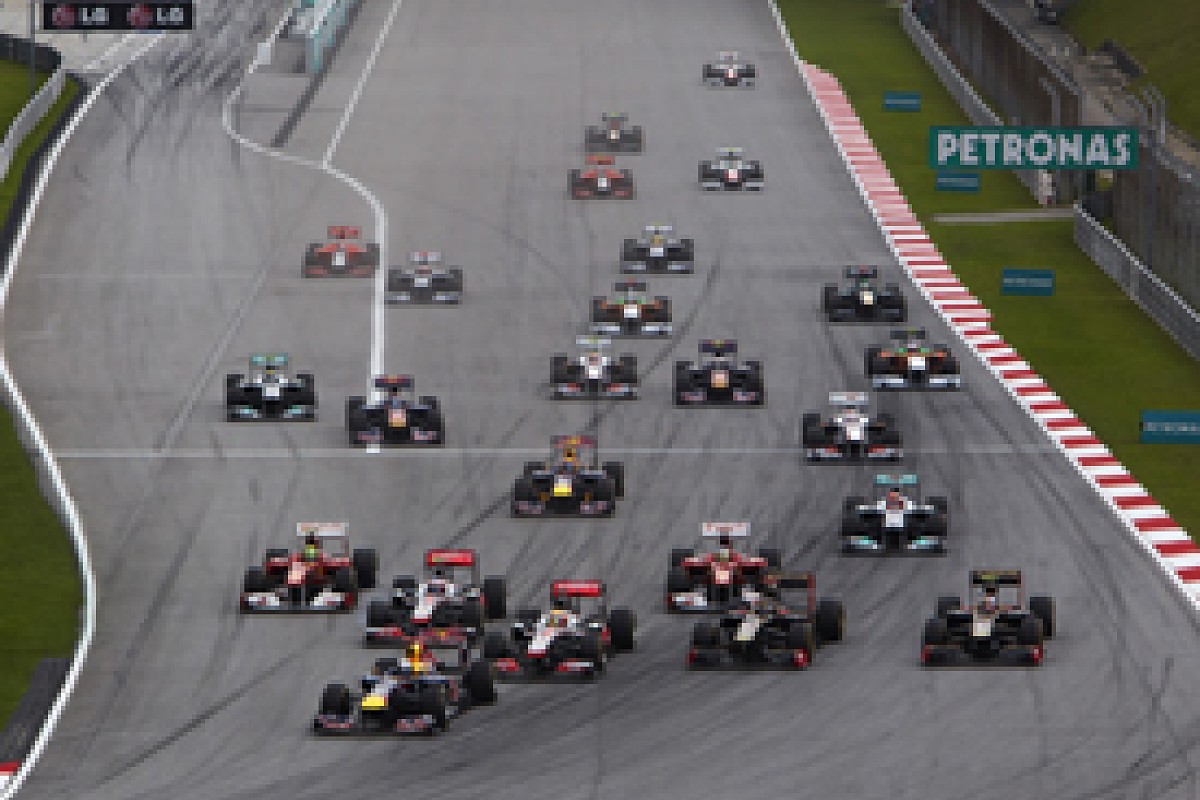 Vettel stayed ahead of some spectacular racing in his wake © LAT
Webber was demonstrating that point for Vettel - his system having given up the ghost before the start. The Australian may as well as started in reverse, as cars poured past him on both sides heading to the first corner, leaving him ninth and destined for a first stint spent mostly passing and being re-passed by a typically combative Kamui Kobayashi.
"Even out of the box it wasn't a good start, but then obviously I was getting killed on the long straight without KERS and also after Turn 2," said Webber.
There hadn't been anything wrong with the McLarens' starts, it was more that the two Renaults made exceptional getaways, and then wisely took to the outside and outbraked pretty much everyone into Turn 1.
Heidfeld was up with Vettel for a while, before slotting into second, while Vitaly Petrov was fifth behind Lewis Hamilton and Jenson Button once the field had sorted itself out, and had Felipe Massa and Fernando Alonso behind him, the latter having continually ended up in the wrong place through the first few corners.
Petrov didn't manage to stay with the frontrunners for long this time - passed by Massa at Turn 1 on lap five (in a textbook 'how to use a DRS' move), he slid wide a few corners later and let Alonso through too. Both Ferraris then quickly gained on fourth-placed Button, who was not quite able to keep up with Heidfeld and Hamilton, who in turn ran 7-8s behind Vettel's comfortable lead.
Most were trying to hang on to their first set of tyres (softs in all cases) as long as possible in case rain arrived, but in the event nothing more than spots of moisture appeared, and in any case, everyone was keen for new rubber after a dozen laps or so, whatever the forecast said.
Hamilton was first among the leaders to pit on lap 12, a lap before Vettel, and some swift out-laps - even including a sublime three-abreast moment into the final corner with the yet-to-stop Michael Schumacher and Sebastien Buemi - saw him up to second once the sequence was complete, and only 6s behind Vettel.
With Button's stop also great, but Heidfeld's fairly average and Massa's not good at all (due to a stubborn left front), the Renault fell to fifth behind Button and Alonso, while Massa disappeared into the midfield traffic for a while.
Alonso was now flying, and was delighted to find that in race-trim he was able to take the fight to McLaren and Ferrari. He despatched Button into the first corner on lap 17 and set off after Hamilton, who was in turn catching Vettel, the Red Bull's lead coming down to little over 3s in this stint, and the Ferrari getting within 4s of Hamilton too.
Button could not keep up at this stage and was only just ahead of Heidfeld, as both were being caught by the recovering Webber and Massa. Webber stuck to four stops despite his problems, and though the idea of yet more time at pitlane speed didn't seem an ideal solution to get him through the traffic, it worked well - giving him some clear air to make good use of after his first stop on lap 10. Still KERS-less though, he couldn't do much to stop Massa steaming past him for sixth on lap 22, and he made pitstop number two straight afterwards.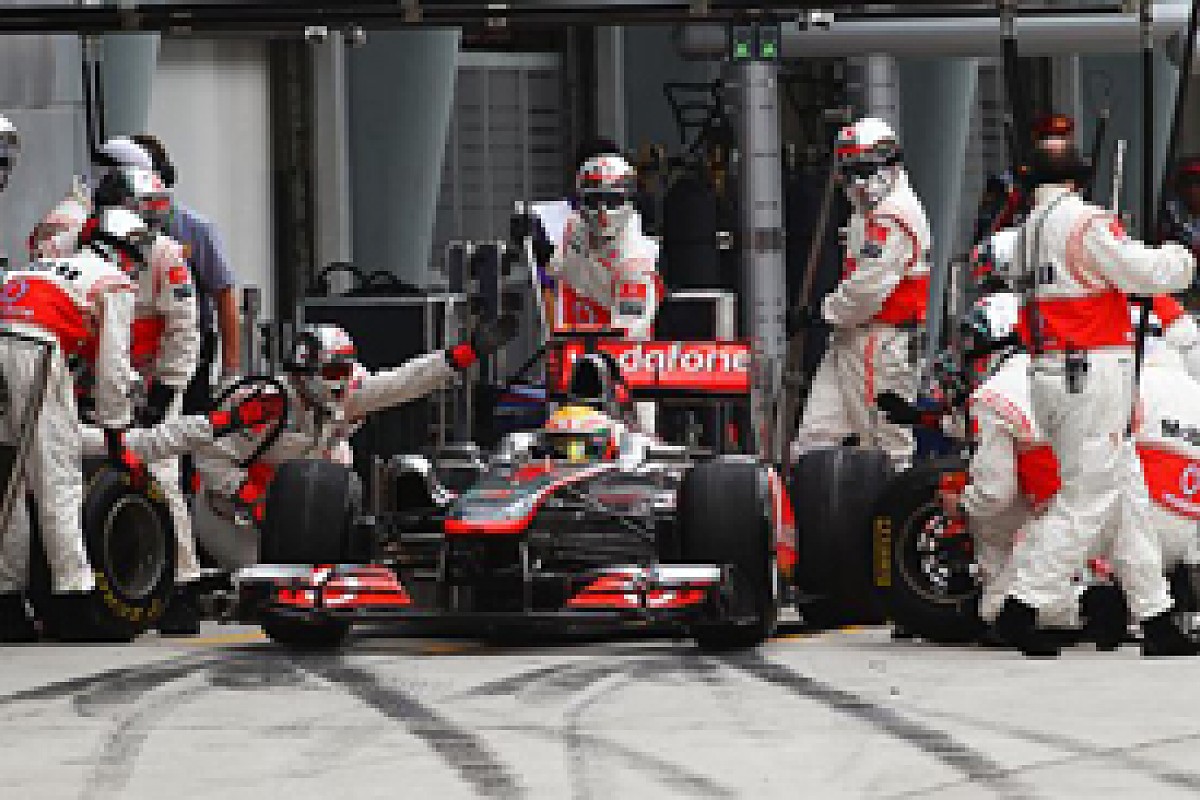 Hamilton would be unhappy with his tyre strategy © sutton-images.com
Though Hamilton and Alonso were the men on the move in stint two, spectators were about to see just how much form could fluctuate within a single grand prix in the Pirelli era, as momentum swung towards Vettel and Button in the second half of the race.
Button made his second stop earlier than most, and three fast laps on fresh tyres plus a slower tyre change by Ferrari meant he was back ahead of Alonso once they were up to speed, and well clear of Heidfeld, whose priority became resisting Massa. Webber's post-stop pace put him up to fifth ahead of that duo for a while, though his additional pit visit meant this was a false situation and he would be back to seventh after his third tyre change on lap 32.
Around that time, McLaren was intrigued to hear Vettel's engineer telling him on the radio that his KERS could not be used anymore. McLaren smelt blood and informed its drivers they had a great chance of passing the leader if they carried on catching him. But unfortunately for the silver cars - and to Vettel's genuine confusion - they started falling away rather than catching up. Vettel was adamant that switching KERS off hadn't magically made his car quicker, but suspected that the Red Bull was handling its tyres better at this stage, as he stretched away to lead Hamilton by 8s and Button by 10s going into the last stops.
To Hamilton's disappointment, he was the first to make that final pit visit, switching to hards on lap 37. This would be a triple blow: the stop was a slow one thanks to an awkward wheel, he couldn't get any pace out of the new tyres, and he knew he'd be very hard-pressed to make them last the remaining 19 laps.
Button was more relaxed - he had gone to hards a stint earlier than everyone else and found his McLaren came alive on them. He comfortably cleared Hamilton at the final stops and started creeping up on Vettel, leaving his team-mate to soon come under pressure from the out-of-sequence Webber and Alonso.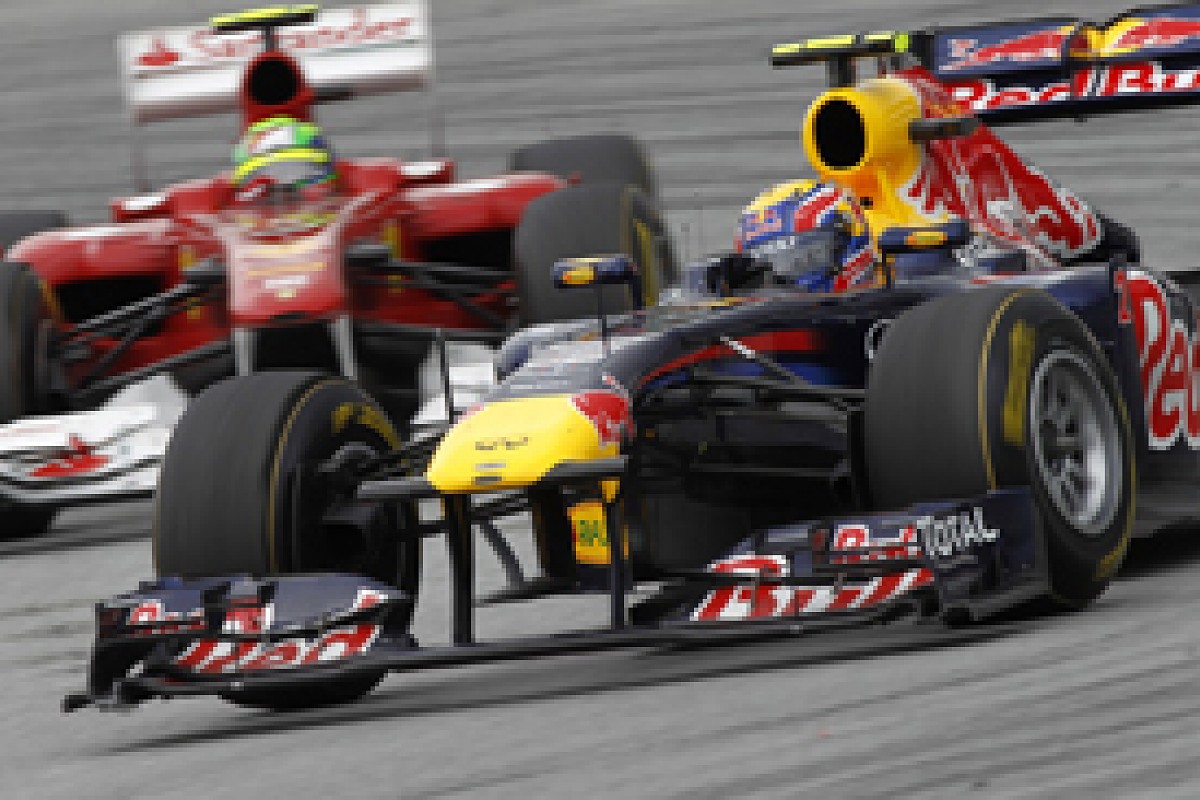 Webber had to keep charging back up the order © LAT
The Webber threat vanished when he pitted yet again on lap 43, and Alonso's challenge was stymied by his DRS failure. Hamilton's woes were still such that the Ferrari was already over the back of the McLaren, though, trying various passing options until it ended in tears with contact on lap 46 - the Ferrari ripping a chunk from its front wing as it clipped the McLaren when trying to line up a pass into Turn 4.
Hamilton's car escaped damage but didn't get any quicker. It was not long before Heidfeld was overtaking him in fairly easy fashion, and then the flying Webber - fresh from overtaking Massa - charged onto his tail as well and grabbed fourth as the McLaren ran wide on lap 53, before Hamilton gave up and pitted for more tyres at the end of that lap.
That was almost the final act in this intriguing race. Up front, Vettel had enough in hand to keep Button 3.2s behind him and cruise home to clinch his fourth consecutive race win and continue a perfect start to 2011. Webber put plenty of pressure on Heidfeld, but again the lack of KERS was costly and he could not deny Renault a second podium in as many races.
Massa just held off the recovering Alonso to take fifth, though the final results would show a rather bigger gap between them - the Spaniard being given a 20s post-race time penalty for running into Hamilton.
Vettel was suitably grateful for his crew's efforts © LAT
That didn't cost Alonso any positions, but Hamilton was less fortunate. He was penalised for over-aggressive defensive driving during the Alonso dice, and that dropped him from seventh to eighth in the final results, behind Kobayashi, who got through the race on two stops. No chance for tyre magic from his team-mate Sergio Perez this time, though, the Mexican having to retire early after debris struck his car and caused its fire extinguisher to go off, to the disappointment of the Sauber's electrics...
Seventh (perhaps even sixth given the Alonso penalty) probably would have gone to Petrov, who had stayed not far behind the lead group all race. But the Russian had a bizarre incident with four laps to go, running wide at high speed at Turn 8, hitting a dip in the run-off and launching his Renault into a massive jump. By the time it landed, the steering wheel was hanging loosely in Petrov's lap, and he was going no further.
The final points went to Schumacher and Paul di Resta, who swapped places with a few laps to go as the German made the best of having made his last stop five laps later than the Scot. But dicing with rookies for ninth was not what Mercedes expected from this season - and Nico Rosberg did worse still, making a bad start then never showing any pace on the way to 12th.
He was behind Adrian Sutil in the second Force India, which was delayed early on when the German clipped Rubens Barrichello's Williams and damaged his front wing. Barrichello came off much worse, having to cover an entire lap with a puncture. He already-ruined race ended with a hydraulic problem some time later, while his team-mate Pastor Maldonado dropped out early with a misfire.
Neither Toro Rosso scored. Sebastien Buemi was very unhappy to get a 10s stop/go for pitlane speeding and was only 13th thereafter, while Jaime Alguersuari couldn't make his tyres last on a two-stop strategy and only just beat Heikki Kovalainen's Lotus to 14th.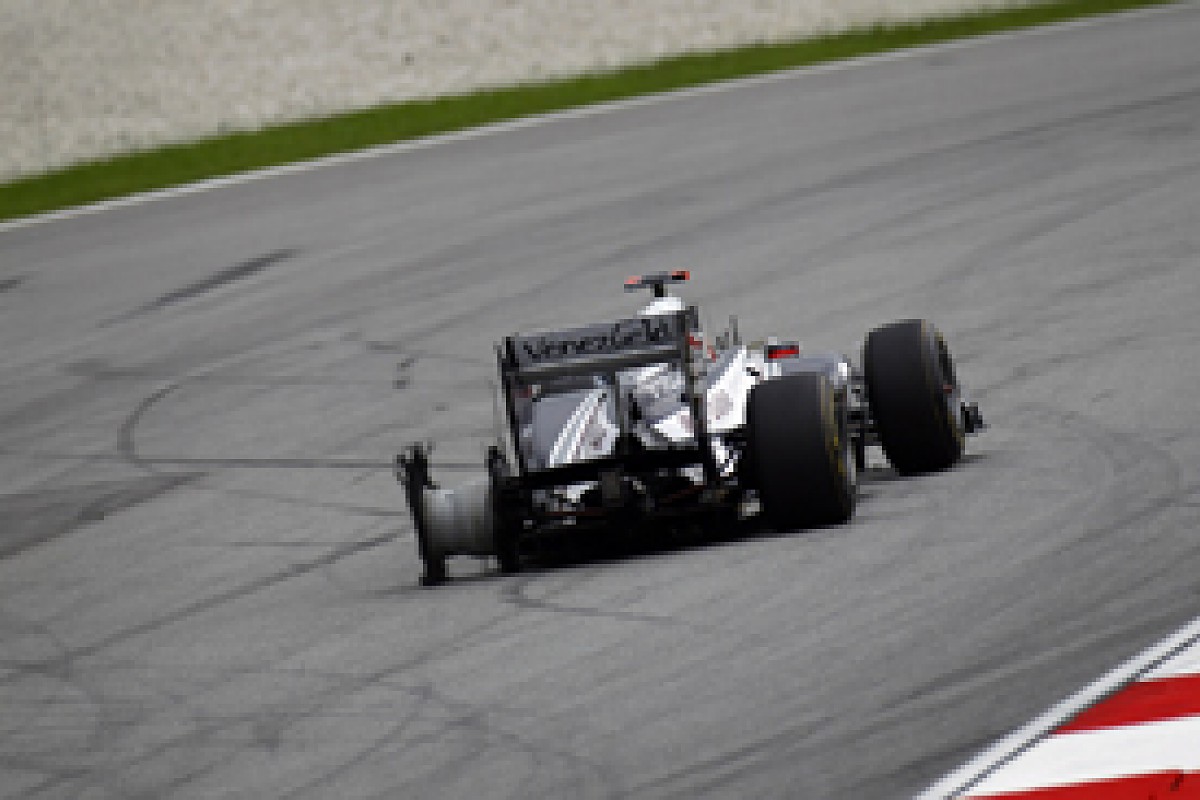 It was a terrible day for Williams © LAT
This was a hugely encouraging result for Lotus. Though Jarno Trulli made yet another early exit with a throttle problem, Kovalainen was a thorn in Toro Rosso's side and had a few shots at Force Indias and Mercedes at times too.
Tony Fernandes' cars were also miles clear of the Virgins. Timo Glock finished a lonely 16th, Jerome D'Ambrosio stopped when a heavy kerb clouting caused his car to cut out.
Hispania's pace was not too bad considering the team's massive mileage disadvantage and general state, though neither car reached the flag. Narain Karthikeyan parked with rising water temperatures and Tonio Liuzzi got within eight laps of the flag before a rear wing issue forced him out.
RACE RESULTS

The Malaysian Grand Prix
Sepang, Kuala Lumpur, Malaysia;
56 laps; 310.408km;
Weather: Dry.

Classified:

Pos  Driver        Team                       Time
 1.  Vettel        Red Bull-Renault           1h37:39.832
 2.  Button        McLaren-Mercedes           +     3.261
 3.  Heidfeld      Renault                    +    25.075
 4.  Webber        Red Bull-Renault           +    26.384
 5.  Massa         Ferrari                    +    36.958
 6.  Alonso        Ferrari                    +    57.248 *
 7.  Kobayashi     Sauber-Ferrari             +  1:07.239
 8.  Hamilton      McLaren-Mercedes           +  1:09.957 *
 9.  Schumacher    Mercedes                   +  1:24.896
10.  Di Resta      Force India-Mercedes       +  1:31.563
11.  Sutil         Force India-Mercedes       +  1:41.379
12.  Rosberg       Mercedes                   +     1 lap
13.  Buemi         Toro Rosso-Ferrari         +     1 lap
14.  Alguersuari   Toro Rosso-Ferrari         +     1 lap
15.  Kovalainen    Lotus-Renault              +     1 lap
16.  Glock         Virgin-Cosworth            +    2 laps
17.  Petrov        Renault                    +    4 laps

* 20s time penalty

Fastest lap: Webber, 1:40.571

Not classified/retirements:

Driver        Team                         On lap
Liuzzi        HRT-Cosworth                 47
D'Ambrosio    Virgin-Cosworth              43
Trulli        Lotus-Renault                32
Perez         Sauber-Ferrari               24
Barrichello   Williams-Cosworth            23
Karthikeyan   HRT-Cosworth                 15
Maldonado     Williams-Cosworth            9


World Championship standings, round 2:                

Drivers:                           Constructors:             
 1. Sebastian Vettel       50      1. Red Bull/Renault          72
 2. Jenson Button          26      2. McLaren/Mercedes          48
 3. Lewis Hamilton         22      3. Ferrari                   36
 4. Mark Webber            22      4. Renault                   30
 5. Fernando Alonso        20      5. Toro Rosso/Ferrari        4
 6. Felipe Massa           16      6. Sauber/Ferrari            4
 7. Nick Heidfeld          15      7. Force India/Mercedes      4
 8. Vitaly Petrov          15      8. Mercedes                  2
 9. Kamui Kobayashi         6
10. Sebastien Buemi         4
11. Adrian Sutil            2
12. Michael Schumacher      2
13. Paul di Resta           2

All timing unofficial


Lap-by-lap as it happened on AUTOSPORT Live
TEAM BY TEAM
Red Bull
Webber blitzed everyone in Friday practice, but it was Vettel who charged to pole with a great Q3 lap, while his team-mate only managed third - albeit closer to the pace than he had been in Australia.
Vettel led for most of the race, keeping everyone under control despite often being without KERS. Webber never had the boost system, and that meant he tumbled to 10th on the first lap. But great pace on a four-stop strategy saw him tiger back to fourth, right on Heidfeld's tail, by the end.
McLaren
It was clear by Friday afternoon that McLaren had a shot at Red Bull this weekend, and it took a mega lap from Vettel to deny Hamilton pole position. Button was also very close to the pace in fourth.
Both lost out to Heidfeld on the first lap and spent the opening stint behind the Renault before getting ahead in the pits. Hamilton then closed on leader Vettel, before struggling on his third and particularly fourth sets of tyres.
A slow third stop dropped him behind Button, who then charged off to clinch a strong second, while Hamilton had to try and resist Alonso (who eventually broke his front wing in a botched pass), before being overtaken by Heidfeld and Webber. He made a fourth stop after that, and was later penalised for blocking Alonso, leaving him classified eighth.
Ferrari
The Italian team had to admit in practice and qualifying that Red Bull and McLaren were out of reach, and in the circumstances fifth and seventh on the grid for Alonso and Massa was almost a relief.
Alonso lost ground at the first corner, but a great second stint saw him get up to third and close on the leaders. He was jumped by Button at the second stops and then drifted away, before breaking his front wing trying to pass the struggling Hamilton. That left Alonso sixth, which he kept despite being given a penalty for the clash with the McLaren.
Massa lost ground with a slow first pitstop but regained ground steadily to take fifth in the end.
Mercedes
Quick times in practice suggested a much better weekend than Melbourne was on the cards, but disappointment followed. DRS glitches were the main handicap in qualifying, where Rosberg and Schumacher were only ninth and 11th.
The race was even worse. Rosberg made a slow start and was slow all afternoon, struggling to 12th. Schumacher moved forward and spent the race in some spirited battles in the lower part of the top 10, but ninth was his limit.
Renault
A faulty batch of material caused some dramatic upright failures for both Renaults in first practice and then a long wait in the pits while the incidents were investigated.
But that loss of mileage didn't hurt the team much, as Heidfeld and Petrov qualified sixth and eighth, and then surged to second and fifth with amazing starts.
A slow first stop dropped Heidfeld to fifth, but Alonso's damage and a pass on Hamilton saw him up to third, which he held to the end despite pressure from Webber.
Petrov lost out to the Ferraris within a few laps, but was on course for seventh until he smashed his steering when he ran wide and was launched over a dip in the run-off.
Williams
A very poor weekend for Williams. The team was optimistic that its race pace would be better than its depressing qualifying pace, which saw Barrichello and Maldonado only 15th and 18th on the grid.
A touch from Sutil early on gave Barrichello a puncture and left him firmly last until his hydraulics failed. Maldonado didn't last long before a misfire struck.
Force India
Again Force India didn't have stunning raw pace, but it raced well - particularly in di Resta's hands. The Scot again outqualified Sutil too, as they lined up 14th and 17th.
Sutil's early incident with Barrichello broke his front wing, so to come back to 11th afterwards was a decent result.
Di Resta had a series of tough battles with Mercedes, eventually moving clear of Rosberg and taking 10th place, only losing out to Schumacher in the final laps.
Sauber
Kobayashi was very quick in qualifying again and took 10th, with Perez slightly muted in 16th.
It was a similar story in the race, where Perez didn't last long before debris from Buemi's car struck the Sauber and caused it to cut out as its fire extinguisher went off.
Meanwhile Kobayashi had some spectacular dices with Webber and later Schumacher in particular on the way to what became seventh when Hamilton was penalised.
Toro Rosso
No top 10 threat from STR this time, but Buemi and Alguersuari looked to be on the brink of points when they qualified 12th and 13th.
They had an entertaining early battle, running on the cusp of the points, but their form tailed off. A pitlane speeding penalty left Buemi 13th, and Alguersuari struggled to keep his tyres in shape on a two-stop plan and came home 14th, only just ahead of Kovalainen.
Lotus
Lotus continued to struggle to get its cars to run trouble-free, but when reliable, they were encouragingly quick, even though they again occupied their habitual 19th and 20th on the grid.
Trulli had a short race, stopped by a throttle problem, but Kovalainen was right on Alguersuari's tail at the end, almost beating the Toro Rosso to 14th.
Hispania
Despite a few more troubles, Hispania got some much-needed practice mileage and then made the 107 per cent cut with ease - Liuzzi 2s inside the mark, and Karthikeyan 1s clear.
Inevitably they were no match for the rest of the field in the race, though neither was their pace completely out of touch with everyone else. In fact there was plenty of encouragement before Karthikeyan stopped with rising water temperatures and Liuzzi developed a rear wing problem.
Virgin
Possibly the team with most to worry about after Malaysia. Lotus pulled well and truly clear as it stepped up its chase of the midfielders, and Hispania wasn't a million miles off Virgin's pace when it got some running.
Glock outqualified D'Ambrosio and managed to hold off Trulli for a while, but a distant and lonely 16th was all he could manage in the race. D'Ambrosio kept him in sight for a while, before eventually retiring when his car cut out having hit a kerb too hard.
RACE DATA