RED BULL UNDER PRESSURE
Even though things are going well on the KERS front, which was reckoned to be Red Bull's only Achilles' Heel heading to Malaysia, 'Scuderia Milton Keynes' is under massive pressure from McLaren. It took a mighty lap from Sebastian Vettel to deny Lewis Hamilton pole position by one tenth of a second, setting up what could be a thrilling four-horse race at the front.
But it could be a very different proposition in the race as it's likely that Red Bull has prioritised ensuring that its tyre degradation is good enough for Sunday afternoon. The question is whether McLaren will continue the pattern of Australia and be more competitive relative to Red Bull on Sunday than in qualifying?
In Q3, Hamilton was 4km/h faster than Vettel at the start/finish line speed trap, so if he can get close enough to Vettel , perhaps he has the speed to pull off a pass- especially with the DRS in play along start/finish.
TYRE DEGRADATION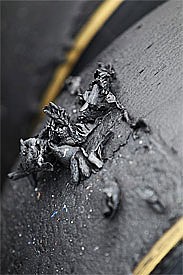 Tyre degradation will be crucial © sutton-images.com
In Australia, we saw a wide range of strategies with a lot of two-stoppers, a clutch of three-stoppers and the famous one-stopping Sergio Perez for Sauber.
Talk heading to Malaysia was of a potential four-stop strategy but most teams now reckon a three-stop race is more likely, with the caveat that it might be possible for some to fall into the two-stop window - particularly those outside the top 10 who opt to start on hards.
All of the top 10 will start on soft rubber and with the difference in range between that and the hard rubber not as big as you might expect - some reckon you might only be talking about four or five laps - it could come down to what tyres you have left rather than what tyres you start on.
Keep an eye out for Pastor Maldonado in the Williams as well, who thanks to his failure to make Q1 has two sets of fresh options and two sets of fresh primes allied with a car far stronger on race pace than it is on a low-fuel flier.
FERRARI'S DAMAGE LIMITATION
If it's a dry race and you sauntered up to Fernando Alonso on the grid and offered him a fifth-place finish, he'd probably shake your hand and pocket the 10 points. While hardly what you would expect of a guy like Alonso, he knows very well that Ferrari is at the front of division two and probably in a different race to the Red Bulls and the McLarens.
He was a second off Vettel in Q3, which is a pretty fair reflection of the performance deficit Ferrari is running at, so will be more concerned about keeping the Renaults at bay than hassling the top four.
The fact that Alonso, of all people, would be willing to accept fifth-best behind a quartet of title rivals tells you everything you have to know about Ferrari's current plight. But if it's wet, all bets are off.
RAIN FEAR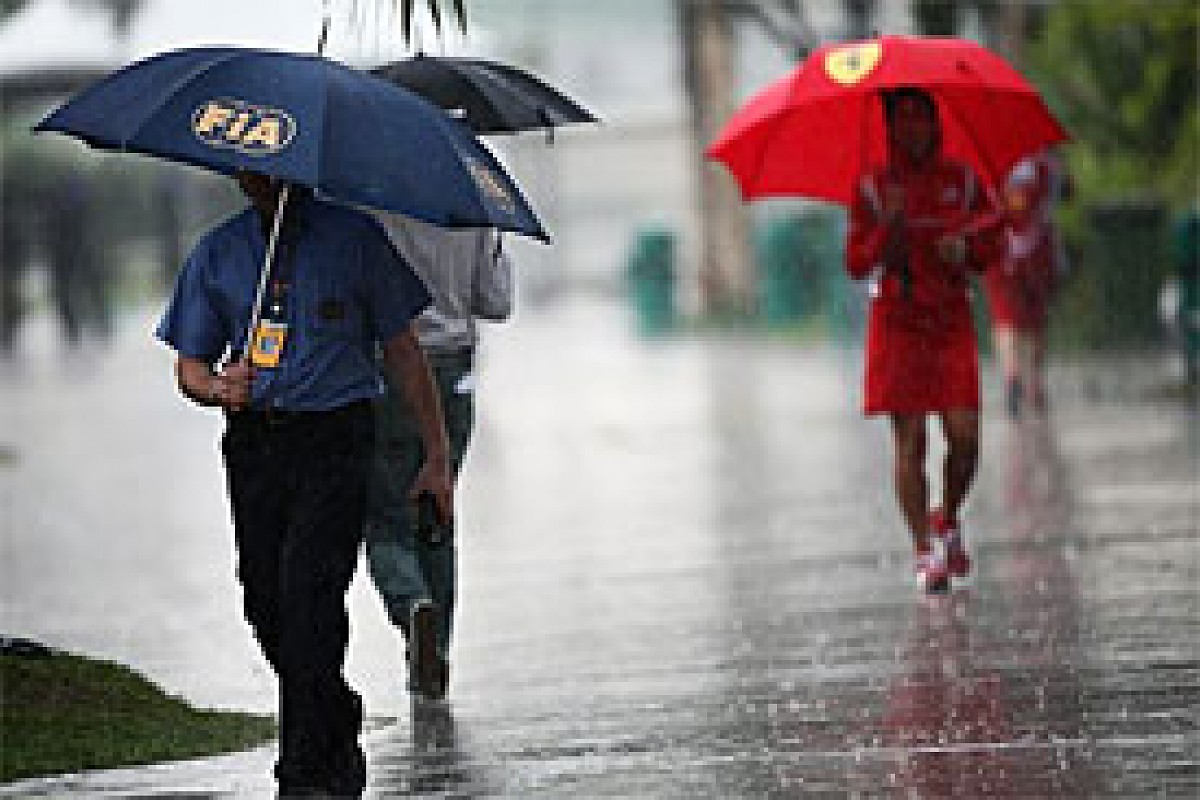 The chances of rain are very high © sutton-images.com
Most teams put the chances of rain during tomorrow's race at around 60 per cent, which will transform the race and shift the focus from tyre degradation to the Pirelli wets.
Remarkably, the daily late-afternoon rain held off today, although the ever-more humid atmosphere promises a deluge to come.
When it rains in Malaysia, it rains big time and a repeat of the 2009 shortened grand prix isn't completely out of the question despite a start time one hour earlier. But regardless of the conditions, there is the wild card that teams don't have exhaustive experience of Pirelli's wet and intermediate rubber.
Yes, they have run it, but black arts such as judging the perfect changeover time will be more down to each driver's judgment than number-crunching on the pit-wall.
REVIVED LOTUS'S FINEST HOUR
At last, Lotus gave a little more reason to be confident that it can deliver on promises to run in the midfield after Heikki Kovalainen qualified within a second of the pack on merit.
This was comfortably the strongest performance for the team and with a bit of luck the Finn and team-mate Jarno Trulli might be able to hold their own within touching distance of the likes of Williams and Force India.
With the potential for a rain-hit race, Sunday could be an important day for Lotus, which is chasing a £16 million windfall if it can secure a second top 10 Constructors' Championship finish to qualify for a share of the teams' historic money.
Keep an eye on Kovalainen's progress in particular as points here might be enough to ensure that top 10 finish.