Despite still having the feel of a new race, Malaysia's Sepang venue will hold its 13th Formula 1 World Championship event on Sunday.
In that time, it has seen its fair share of classic moments, great battles and memorable incidents. Here are 10 of the best.
10. Button wins in the darkness - 2009
Button and his crew waited for the race to recommence. © LAT
Starting the race at 1700 was always going to be a huge risk, particularly given the propensity for a late-afternoon monsoon. The 2009 Malaysian Grand Prix started in bright conditions, but just before the 20-lap mark, the rain came. Around 10 laps later, it became torrential, leading to a plethora of spins and excursions.
After the safety car had been deployed, the red flags flew with 31 laps in the book, and with darkness setting in before there was a chance to restart, Brawn driver Jenson Button became only the fifth person to win a half-points grand prix courtesy of some well-time pit-stops and brilliant driving on slicks in the wet.
Click here for more information and results from the race
9. Sato shunts Fisichella - 2002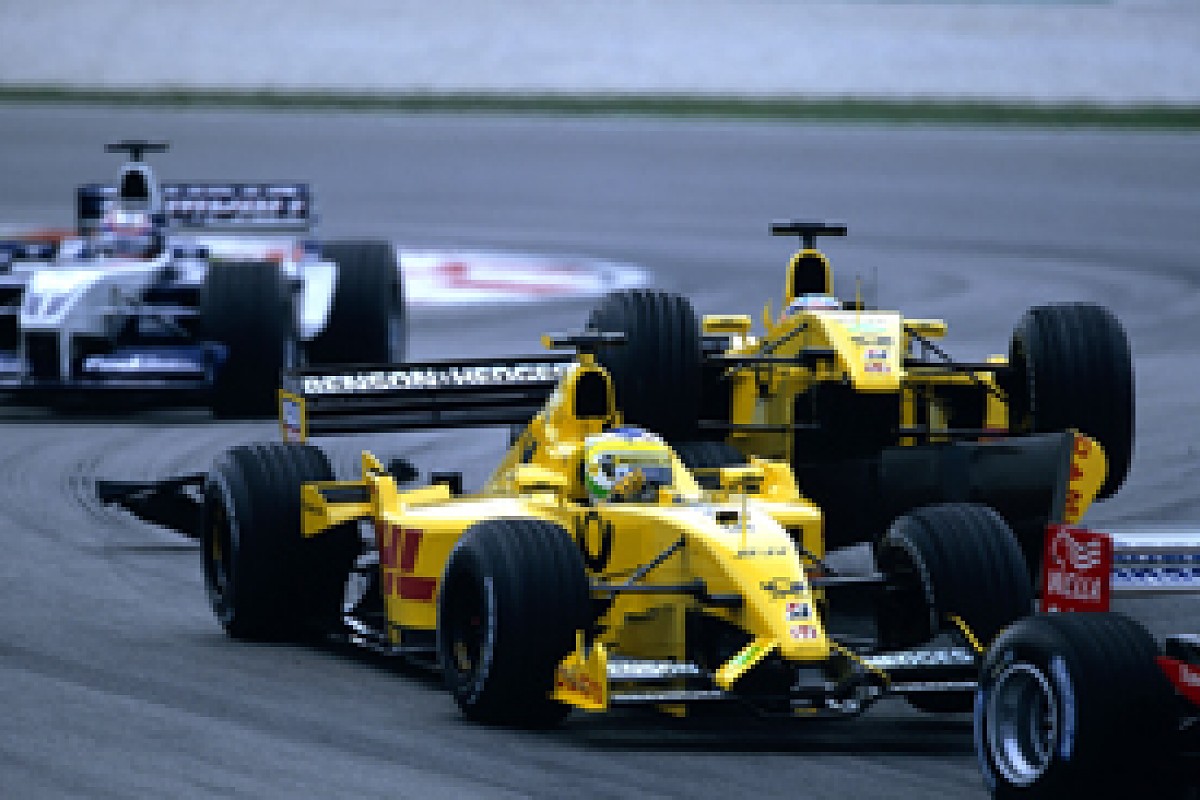 Sato runs into the back of Fisichella. © LAT
The golden rule of motor racing is don't drive into your team-mate. But that's exactly what Takuma Sato did in what was only his second grand prix start, riding up the back of Giancarlo Fisichella's Jordan as the pair battled with Mika Salo on lap two. Both were running in the top 10 at the time. The Italian was furious, although was soon calmed by his team-mate's contrition.
"I am really sorry about what happened with Giancarlo," said Sato. "I apologise very much as it shouldn't have happened." Fisichella, who went on to finished 13th and three laps down after repairs, accepted the apology.
"Taku clearly feels pretty bad about it," said Fisi. "He came to apologise immediately after the race. There is no point dwelling on it - I think he has learned his lesson." Sato went on to take ninth after repairs, the first finish of his F1 career.
Click here for more information and results from the race
8. Button's podium near-miss - 2002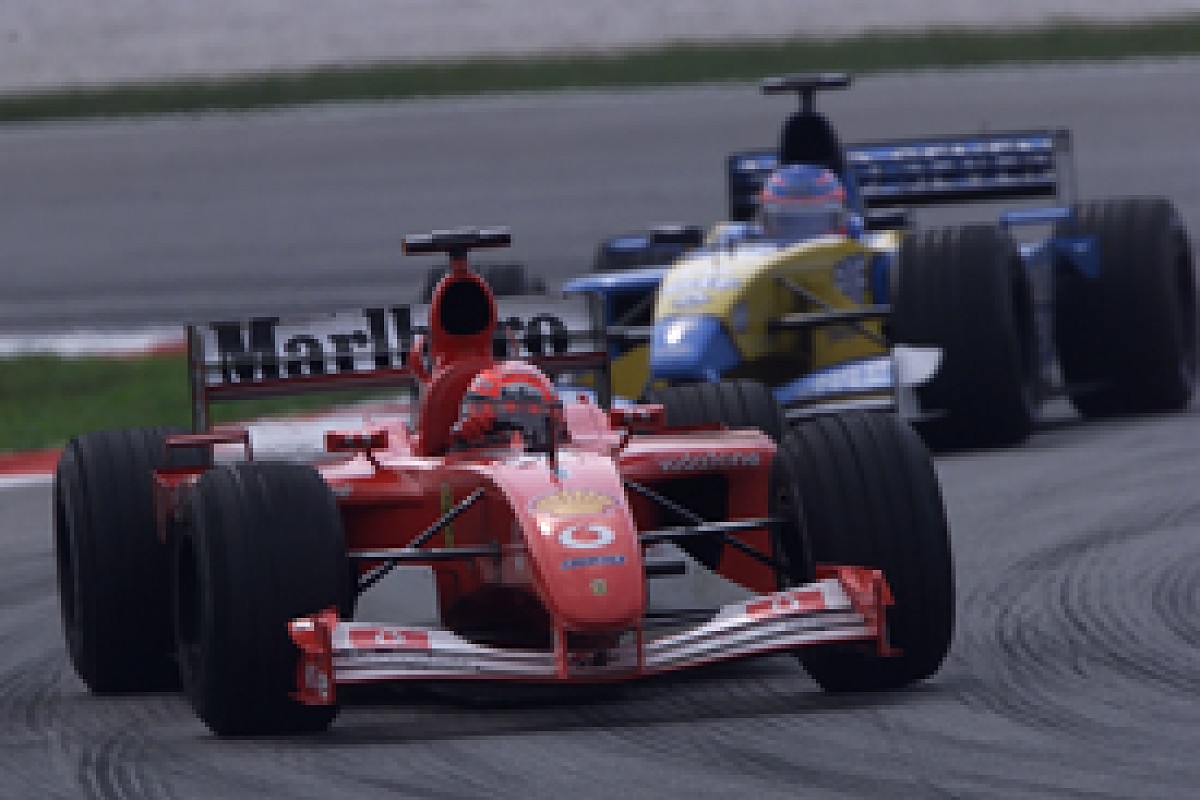 Schumacher took third place from Button. © LAT
Having exploded onto the F1 scene with Williams in 2000, things didn't go so well for Jenson Button when he moved to Benetton in 2001. A fifth place in Germany was his sole points finish and as he headed into his 36th race in Malaysia 2002, he had yet to finish a grand prix in a podium position.
After qualifying eighth, he climbed to third by the closing stages - engaging in a feisty battle with Juan Pablo Montoya along the way - and despite being closed in on by Michael Schumacher's Ferrari, the Briton seemingly had his first podium in the bag.
Then, his right-rear suspension broke. Button knew Schumacher was catching him, but negotiated the final corner and headed for the line knowing that he had just managed to hold the position. Then he realised that there was one more lap to go. He limped home fourth.
"This race has been a disappointment," he said. "If I had been running fourth for the whole race then it would have been a great result, but after running third it is a little bad."
Astonishingly, despite scoring regular points, it would not be until the 2004 Malaysian Grand Prix when, driving for BAR, Button would finally stand on an F1 podium.
Click here for more information and results from the race
7. Schumacher's comeback pole position - 1999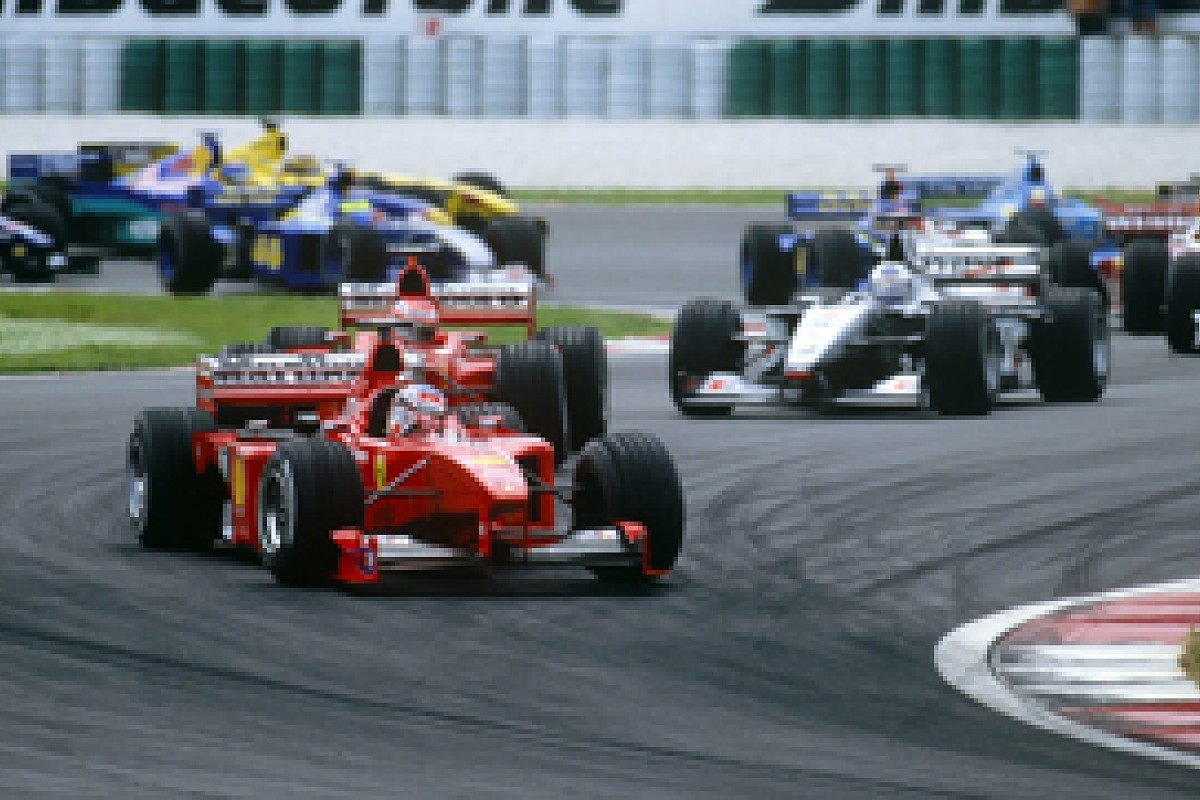 Schumacher led the start of the 1999 race. © LAT
On October 16, 1999, just over three months after breaking his leg in a crash at the British Grand Prix, Michael Schumacher made his comeback to support Ferrari team-mate Eddie Irvine's championship bid. With Mika Salo struggling to score consistent points, there were question marks over whether Schuey had returned too soon.
Qualifying answered the question, as he claimed pole position by a massive 0.947s from Irvine.
Having led the first few laps, and made his point about who the real number one driver was, Schumacher waved Irvine past and later had to let him through for a second time after getting back ahead through the pit-stops. The one-two finish kept the championship alive to the Suzuka finale - although not without controversy as he was accused of holding up Mika Hakkinen to help Irvine's title bid. "There is nothing wrong with what I did," said Schumacher. "It is part of motor racing. Eddie has worked for me for three and a half years and now it was my turn to work for him."
After the race both cars were disqualified for running illegal barge boards, giving Mika Hakkinen victory and the championship. The exclusion was later overturned, controversially, although Schumacher's second place at Suzuka was not enough to give Irvine the crown.
Click here for more information and results from the race
6. Herbert goes out with a bang - 2000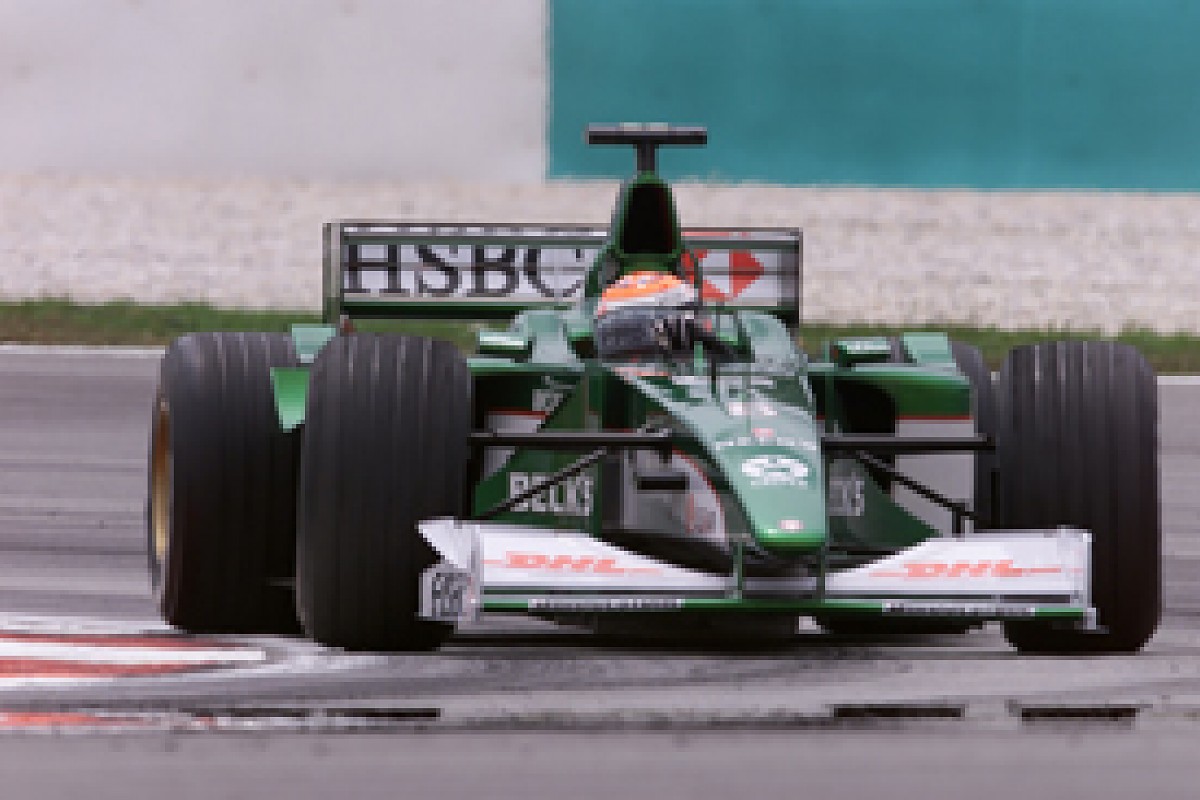 This would be Herbert's Final Grand Prix. © LAT
When Johnny Herbert began his F1 career in 1989, he had to be helped into his Benetton while still struggling with the after-effects of a career-threatening F3000 crash. He went on to finish a sensational fourth on his debut in Rio.
His 160th and final grand prix ended in a similar way, although not for good reasons. Driving for Jaguar, he suffered a right-rear suspension failure while on what would have been his eighth-from-last F1 lap. He shed his right-rear wheel and flew across the gravel trap, slamming into the tyre wall. He was only running 10th, but it was undignified way to end a long F1 career, as two marshals had to carry him away from the wreck of the Jaguar.
Herbert did not miss the symmetry, saying "I guess it was inevitable that because I began my career being carried to the car, I would end it being carried out of it." After being taken to the medical centre, it was discovered that he had suffered only heavy bruising.
Click here for more information and results from the race
5. Davidson's big chance -2005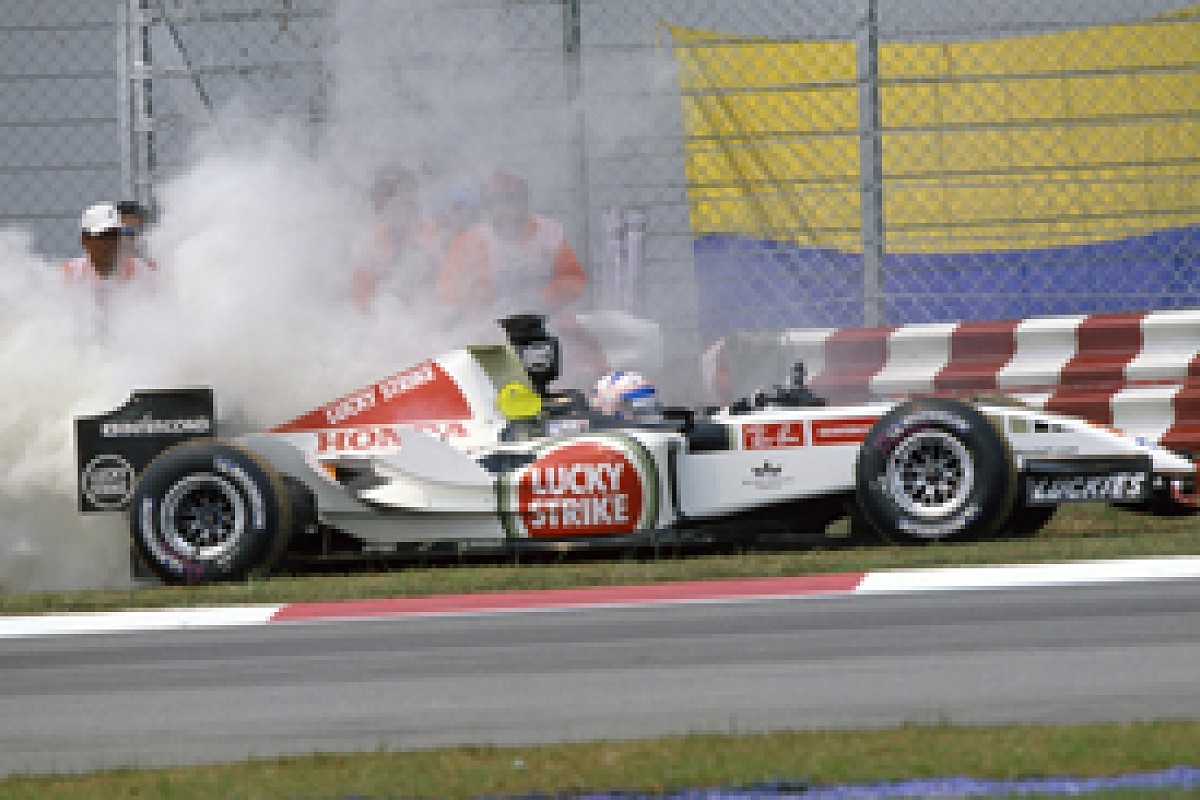 Davidson retired due to engine failure in 2005 © LAT
Put yourself in Anthony Davidson's shoes. You've done huge amounts of testing mileage, you're now in your fourth season as BAR test driver and your F1 racing career stretches only two DNFs for tailenders Minardi in 2002. Then you hear that regular BAR driver Takuma Sato has a fever and you're in at the deep end for your third grand prix start.
Qualifying was always going to be a big challenge, and the 2001 British F3 runner-up did a solid job to line-up 15th, six places behind vastly experienced team-mate Jenson Button.
"I'm mega-keen to get back into a race," said Davidson. "I feel as a racer that one of my strongest points is actually racing and hopefully we'll be right in the middle of the pack going into turn one. I'm really, really looking forward to that."
Unfortunately, race day didn't go quite as hoped. On the third lap, both BARs suffered engine failures and Davidson's one and only race appearance for the team ended in retirement. After waiting so long, that was it for his opportunities in a team that he served so well as a test driver. In a way, it stands as a microcosm of Davidson's whole F1 career. So near and yet, through little fault of his own, so far.
Click here for more information and results from the race
4. Verstappen's wet charge - 2001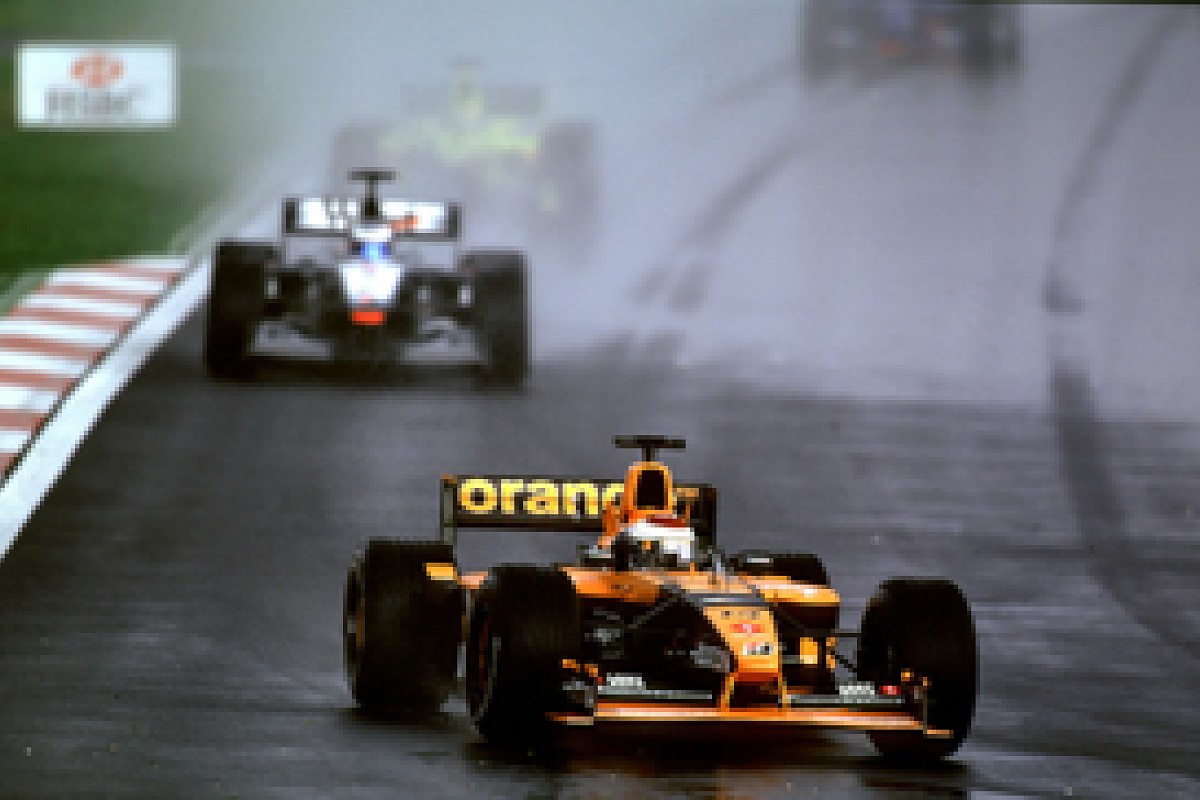 Verstappen finished seventh place. © LAT
While the best results of Jos Verstappen's 106-race F1 career came during his first season with Benetton, arguably his most spectacular moment came during the early stages of the 2001 Malaysian Grand Prix.
From 18th on the grid, he climbed to sixth during a chaotic first lap and as the rain set in, he was on a charge. Verstappen moved up to fifth on lap three after race leader Michael Schumacher had an off-track excursion and, on lap five, ran second behind McLaren's David Coulthard when the safety car was on track.
The Dutchman was forced to wave Sauber driver Heinz-Harald Frentzen past when it was realised that he overtook the German under yellow flags, but at the restart he promptly re-took the position again. In total, Verstappen spent five laps holding second place and a further seven in third, although as conditions improved he didn't have the machinery to finish any better than seventh. Nonetheless, it was an eyecatching drive from a man who was once touted as the next big thing.
"It was a great feeling to be so high up in the race," said Verstappen. "We got the maximum out of the car and the maximum out of me, especially at the start. The only shame is that we just missed out on the points."
Click here for more information and results from the race
3 Alonso makes his mark - 2003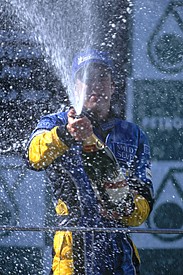 Although Alonso finished in third place. He became F1's youngest pole-sitter © LAT
After spending a year at Minardi in 2001 and then a season as a test driver with Renault, Fernando Alonso was promoted to a race seat in place of Jenson Button in 2003. Some questioned the decision, but when the 21-year-old put his Renault on pole position for what was only his 19th grand prix, team principal Flavio Briatore's decision started to make plenty of sense to the watching world.
There was a little sniping, with David Coulthard commenting that "it doesn't mean as much as a pole used to," referring to the recently-introduced rule forcing drivers to qualify on a race fuel load. But no matter that, fuel-adjusted, Michael Schumacher had been fastest for Ferrari, Alonso's lap of 1m37.044s was the moment that he truly made his mark on F1. But he wasn't getting caught up in the moment, describing the lap as "normal", although he did admit that it was a "very strange feeling."
Inevitably, in the race, he didn't quite have the speed to win, leading before slipping to third place in the final reckoning. It was his first podium and, at the age of the 21 years and 237 days made him F1's then-youngest pole position starter.
Click here for more information and results from the race
2. Raikkonen's first win - 2003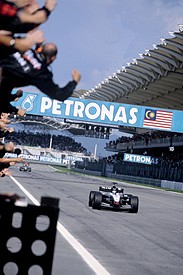 Raikkonen taking his first win at McLaren. © LAT
Some questioned the wisdom of McLaren's decision to take young Finn Kimi Raikkonen over former test driver and Sauber team-mate Nick Heidfeld, but after a trying first year in a difficult car, the future world champion justified its faith with his first victory in Malaysia.
While Fernando Alonso took the plaudits in qualifying, Raikkonen was the man of the race. He climbed to second early on after Jarno Trulli and Michael Schumacher clashed at the start and his McLaren team-mate David Coulthard suffered an electrical problem.
Although Alonso led, he had to pit five laps earlier than Raikkonen, losing the lead to the McLaren man. The Finn then reeled off the remaining laps like a veteran, eventually finishing nearly 40 seconds ahead of Ferrari's Rubens Barrichello. "Even if I never win again, I've had this day," said Raikkonen. But there would be plenty more days, as this was just the start of a run of success that would bring him 18 wins and the 2007 world championship.
Click here for more information and results from the race
1. Schumacher vs. Montoya: It's war - 2002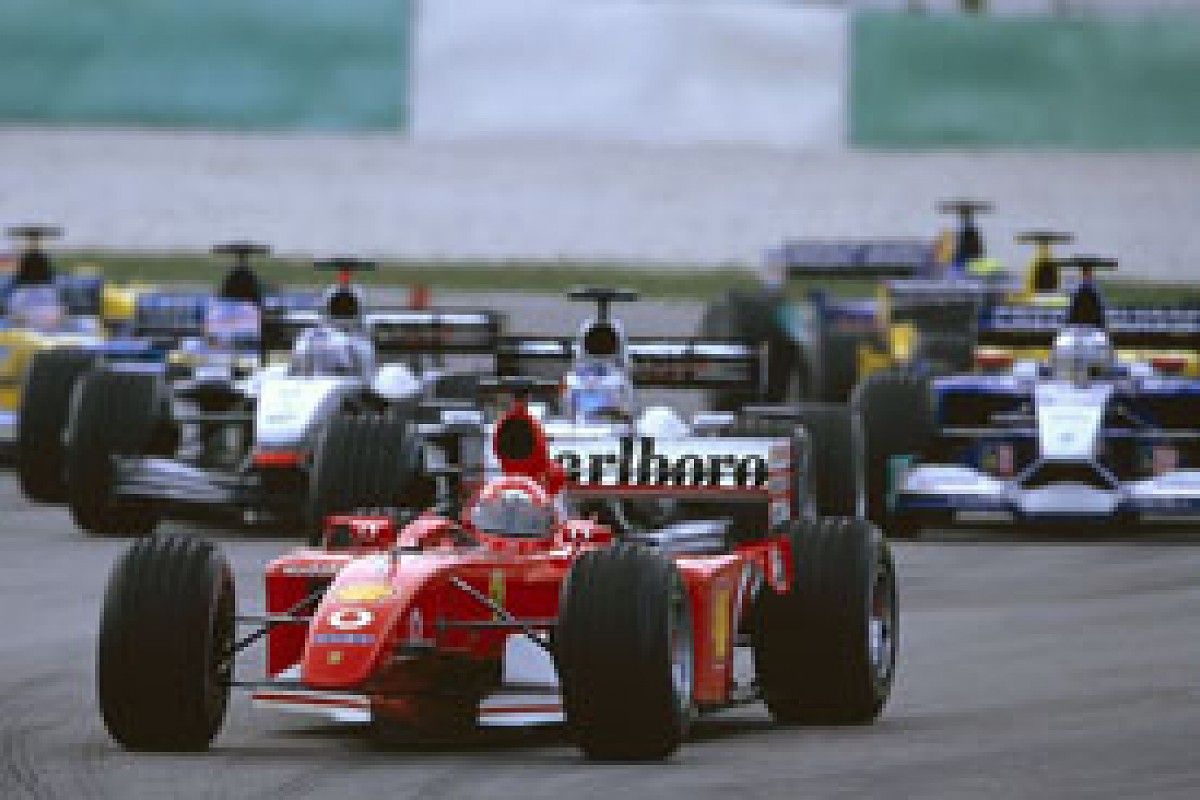 Schumacher had to return to the pits for a new front wing. © LAT
Michael Schumacher and Juan Pablo Montoya lined up on the front row of the grid for the second race of the 2002 season. The Colombian made a better start from second, and had his nose ahead of the Ferrari driver as they turned into the first corner. Schumacher understeered into Montoya, taking off both of their front wings and sending them pitbound. Montoya was hit by a drive-through penalty, but recovered to finish second behind Williams team-mate Ralf Schumacher.
"I don't understand why I was given a penalty," said Montoya. "We were racing - that is what F1 is all about. If people don't want to see this sort of stuff, we should just get the safety car out and run behind that."
As for Schumacher, who took his Ferrari to third, even he was surprised by the penalty - although he was quick to lay the blame at Montoya's door. "If he had opened the door more we wouldn't have touched, simple," said Schumacher. "But I didn't see a drama. He was perhaps judged a bit harshly because we have seen more extreme things where nothing was done. Perhaps we don't have too consistent a system."