Sebastian Vettel earned a reputation for being a spoiled brat during his world championship-winning season last year. But Mark Glendenning finds it to be a lazy tag that is far from the truth.
Mark hears of when, at the age of 18, Vettel became probably the only German teenager to make a road trip to Milton Keynes, how he just doesn't have time to attend all the kids' birthday parties he's invited to, and his excitement at sitting in the Hockenheim grandstand out in the forest in the pouring rain as a little lad.
Here's a guy whose sunny disposition helped the Red Bull team pick itself up after the disappointment of that Korean retirement and take what at one time appeared to be an unlikely title.

Peter Sauber interview - Before BMW came on the scene, Peter Sauber had a reputation for running a tidy midfield team that gave plenty of young drivers a break into F1. Now Edd Straw finds him doing the same.
Mark Hughes - Our master F1 columnist chews the cud over what we might expect from the Malaysian GP - and finds it could be far from a rerun of what we saw in Australia.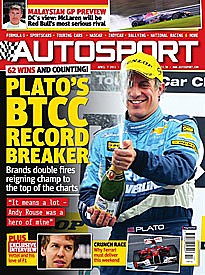 Book extract - Tiff Needell has just written his autobiography. We run an extract from when he joins the Ensign F1 team for the 1980 Belgian and Monaco GPs.
BTCC report - The British Touring Car Championship exploded back into life at Brands Hatch last weekend. Jason Plato won the first two races to set an all-time new wins record, while a host of newcomers joined the fray - including our new BTCC correspondent Kevin Turner.
LMS report - Kevin may be on a new beat, but Gary Watkins covering sportscar races is as reliable as a well-run Pescarolo cruising to victory in the Paul Ricard Le Mans Series race. Shame the organisers weren't as solid...
Lewis Williamson profile - The 2010 McLaren AUTOSPORT BRDC Award winner has a lot of people excited at the grass-roots level. Now he's going GP3. Marcus Simmons assesses his career to date.
Matthew Wilson interview - The British WRC driver was supposed to have a five-year plan when he entered the WRC in 2006, but now his career is on financial thin ice. He talks to David Evans.
Click here to subscribe to the digital edition of AUTOSPORT magazine