Seven rounds made up Formula 1's maiden world championship season back in 1950. In order they were Great Britain, Monaco, United States, Switzerland, Belgium, France and Italy.
The US event, run for Indy roadsters, was an anomaly and had been included for two reasons: to lend credence to the term 'world' and to appease the Land of the Automobile after the nation loyally stood by the Allied Forces through World War II.
However, reason soon prevailed and by 1959 the US had its own grand prix, and when F1 went 'lite' for 1961 (1500cc engines and lightweight cars; some things never change...), the Indianapolis round was dropped.
By 1951 Germany had been re-established into the global community and the country joined the calendar - more specifically the Nürburgring was now part of the world championship. Spain made its debut as Monaco dropped by the wayside until 1955, which was when Switzerland banned motor racing in the wake of the Le Mans disaster.
Jo Siffert in the Brabham BT11 at the Nurburgring in 1965 © LAT
Despite the achievements of Jo Siffert, Clay Regazzoni, Peter Sauber and others, the sport remains a no-no in Cuckooclockland to this day...
Gradually, though, the calendar grew, taking in first South America (Argentina), then Africa (Morocco and later South Africa), before heading for Japan, Australia and Malaysia. This year every inhabited continent bar Africa will host at least one round, with a record-setting 20 grands prix having been on the schedule until Bahrain's political rest put one of them on hold.
Now, though, France is gone and Belgium has sporadically skipped years. Italy's Monza race has remained steadfast on the calendar, only missing once in 1980, while the track was upgraded. But with Ferrari riding the crest of Jody Scheckter's championship wave that season's Italian Grand Prix was held at Imola.
Germany's Grosser Preis has been run on three circuits: the original Nurburgring, Hockenheim in Baden-Württemberg, and the 'Newburgring', situated as the name implies in granddaddy's shadow in the brooding Eifel mountains.
The British Grand Prix, too, has moved about, having been run at Silverstone, Aintree and Brands Hatch. Donington thought it had come oh-so close to hosting the event in 2010...
Over the years, though, certain grands prix acquired 'protected' status, as they became woven into the fabric of the sport's history. These were the British, French, German, Italian and Belgian rounds, while Monaco was simply viewed as a perennial. After all, why would F1 want to dump it, went the logic while overlooking the fact that Monaco may elect to dump F1, as its rally has dumped the WRC.
When Belgium (temporarily) fell away due to a wrangle over tobacco in 2003, it lost its status, while France's Magny-Cours could no longer afford to line the pockets of a British commercial rights holder despite having given the sport the term 'grand prix', hosted the first-ever race (on July 22, 1894) and provided the FIA with its prestigious Paris address.
Others, too, have dropped out - Zandvoort in Holland, Sweden's Anderstorp and the San Marino Grand Prix at Imola. But, just as only 12 of over 120 F1 teams who have taken the start of a grand prix survive to this day, so it is to be expected that venues close, become liquidated or just lose their mojos.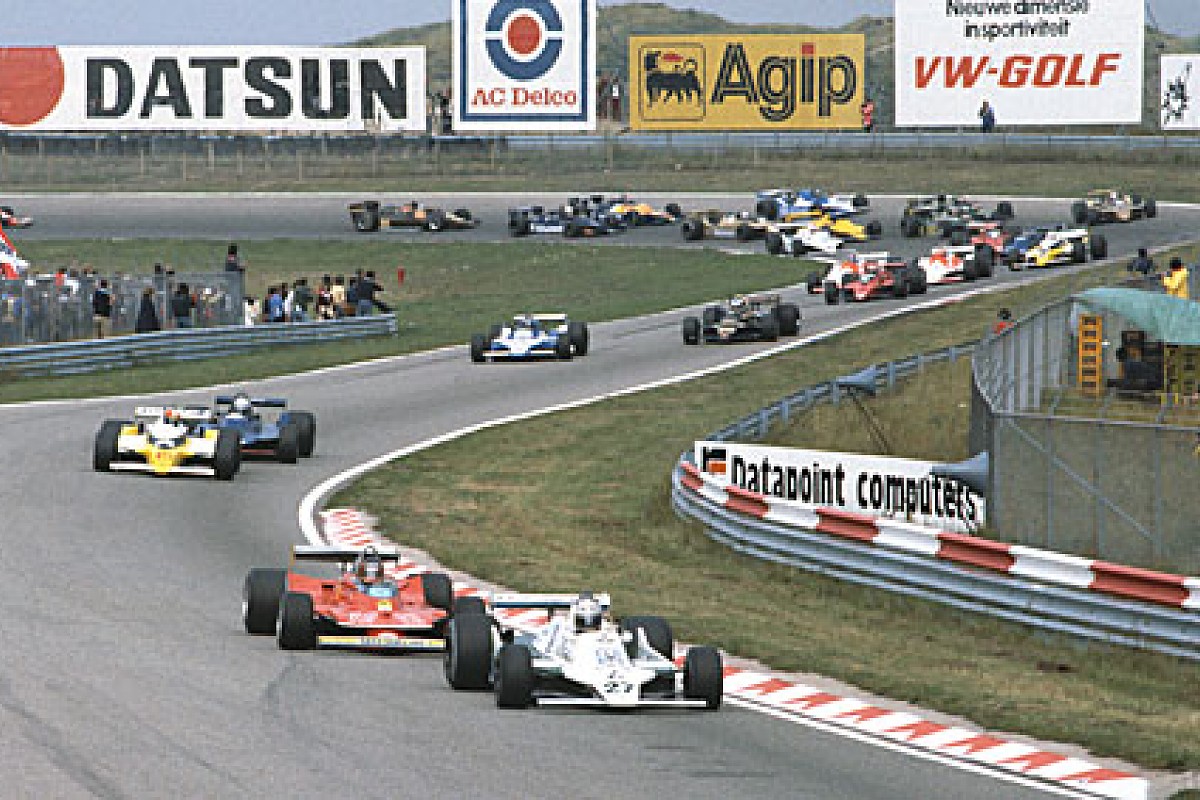 Where is this heading? Quite simply to illustrate that, despite two grands prix - Britain and Italy - having been on the calendar since that inaugural season 61 years ago, no grand prix venue has lasted the distance. Yes, Monza came very close, but still it has no cigar.
And now, as Silverstone celebrates the first fruits of its massive upgrade programme, comes news that at least four former grand prix venues are on the critical list: Hockenheim, Nürburgring, Jerez and Kyalami.
The German circuits have long been in trouble, driven primarily by exceedingly optimistic expansion plans, which saw Hockenheim splash around £30m on shortening its circuit in 2001, all financed via publicly-funded loans. Since then attendances have dropped dramatically, forcing the circuit into a time-share deal with its nemesis in the north and causing a vicious circle which last year saw spectator numbers battle to breach 50% of levels achieved a decade ago.
Thus the circuit last year battled to break even (its 2008 race saw losses of £5m, while no figures have yet been published for 2010), leaving it unable to make a dent in its debentures. However, that detail mattered little to politicians who rolled over the loans while trumpeting the race's positive effects on the Baden-Württemberg economy in the land of Porsche and Mercedes.
Now, though, comes trouble.
In the wake of Japan's nuclear scare, elections held in the state saw a green alliance form a government, with Germany now having its first green prime minister. Sources suggest the chances of the incoming government funding the race (and rolling the debt) - contract or not - are about equal to the square root of zero (even if FIA President Jean Todt's electric championship comes to fruition). So Hockenheim has a few extremely anxious months ahead of it.
The situation in the state of Rhineland Pfalz, home to both Nürburgrings, is no less dire. The circuits' (state-owned) holding company blew over £150m on an experiential park/shopping complex/hotel - via loans funded by dubious means - and auditors Ernest and Young recently estimated operating losses could run to £15m per annum for the next ten years.
So bad is the situation that the state's finance minister last year headed for home carrying a largish sack, and now the greens have made massive inroads into the ruling party's majority and are seeking a coalition.
Could Germany's primary motorsport complex ultimately be sacrificed on the altar of political expediency?
Jerez, too, faces challenges after a group of construction companies were granted a lien over the circuit for unpaid monies (£25m) incurred when the circuit was upgraded in 2005 to comply with F1's (testing) safety standards, and re-asphalting the surface. Shortly thereafter the sport introduced major testing restrictions, and where Jerez once hosted F1 testing almost on a weekly basis, it now does well to have a test per year...
Although the local government has agreed to underwrite the circuit's annual MotoGP round, Jerez, which hosted five Spanish F1 rounds and the European Grand Prix from 1994 to '97 before losing its calendar slot through a misbehaving mayor, looks a goner unless its debts form part of the deal. That aspect remains unclear.
If the fates of the three circuits above seem complex, they fade into insignificance when compared with that of Kyalami, which hosted 20 grands prix between 1967 and 1993 (21 if the infamous 1981 breakaway race is included). The Highveld circuit has long found itself embroiled in legal battles over ownership and lease rights, and matters came to a head earlier this week when the circuit's operating company was placed in liquidation.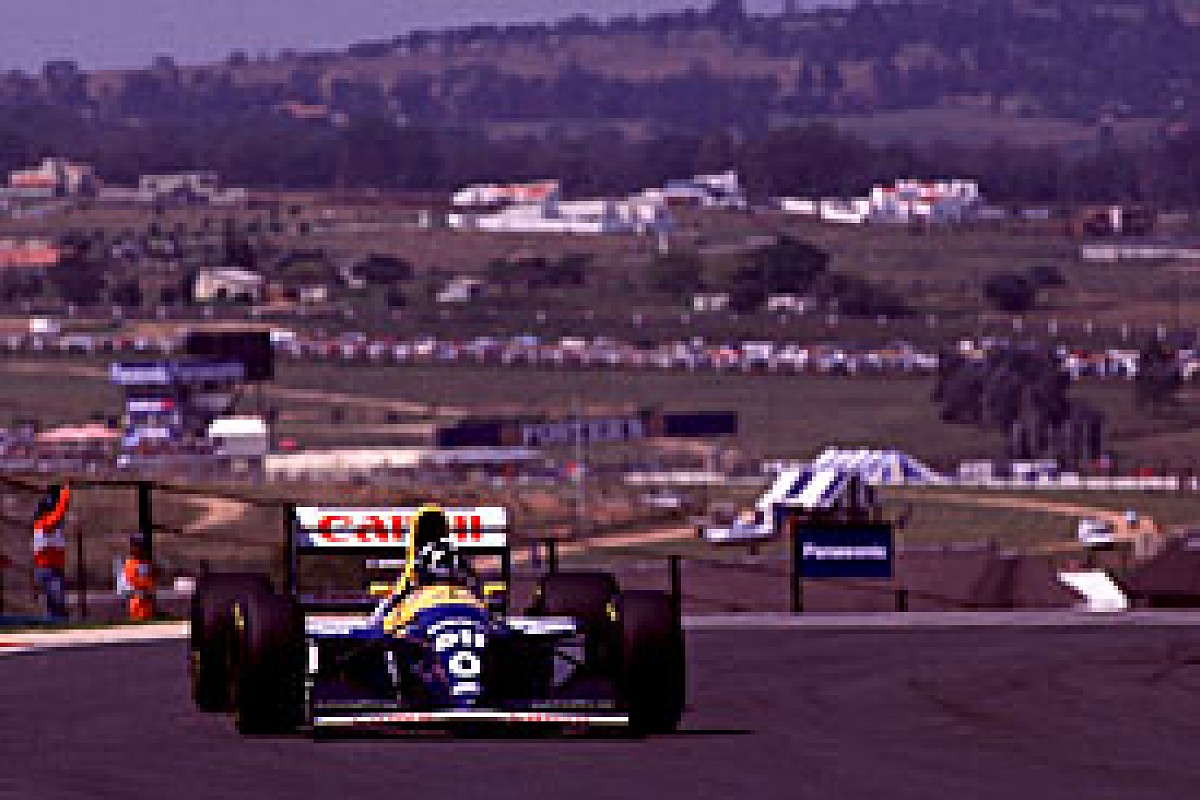 Damon Hill drove a Williams in the last South African Grand Prix in 1993 © LAT
Although attempts are being made by all players to save the circuit, where it once sat in the midst of agricultural holdings, it is now surrounded by high-end residential developments and prime commercial land. Given that a bank owns 60% of the property and is on track to claim the remaining 40%, Kyalami's days as a racing venue seem over.
So, while Silverstone basks in the glory of long-term planning gone right, four historic circuits face uncertain futures. Not good odds for F1's circuits one may say, particularly as many more have gone into decline across the world.
Consider the statistics: 69 circuits (including Indianapolis, for the venue hosted F1 races from 2000-'07) have hosted grands prix; at present 19 circuits are on the calendar.
However, furious activity last year saw Korea join the fray, while India does so this year - and while a recent mail from the circuit to this column spoke of 'still a huge amount of construction activity happening on the circuit', that is, if anything, a good sign.
Then work is said to be continuing apace in Russia (Sochi) and Austin (Texas) in readiness for their grands prix, so on the surface things are looking rosy. Four in and four out is not a bad record.