Malaysia personal scorecard
• Sebastian Vettel retired in his first two Malaysian Grands Prix, before winning last year's race from third on the grid. Vettel has started the past six races from the front row - if he makes it seven on the trot this weekend, it will be the first time since Michael Schumacher managed eight between the 2002 French Grand Prix and the 2003 Australian Grand Prix;
Red Bulll celebrated a 1-2 last year © sutton-images.com
• Mark Webber completed a Red Bull double behind Vettel last year, for his first Sepang podium after five successive retirements at the track. The Australian has qualified in the top 10 here every year since 2004, but has only scored points in his past three visits. Webber outqualified Vettel in 2009 and in 2010 - not a common occurrence, as Vettel has had the better of him 28 times out of 37 as team-mates;
• Jenson Button has not had a great time in qualifying here, apart from his pole in 2009. Other than that, he has not made the top 10 in 2007, '08 or '10. But he's usually quicker than his team-mate at Sepang: the score stands at 10-2 in his favour, and the last time he was beaten by a team-mate was 2001 (Giancarlo Fisichella). Two landmarks for Button in Malaysia: in 2004 he took his maiden podium and in 2009 his maiden fastest lap;
• Lewis Hamilton always scores points in Malaysia. His best result is from his rookie year: second in 2007 behind his team-mate Alonso. In the past two Malaysian GPs he has missed the top 10 in qualifying. Last year he finished sixth from 20th on the grid, his career-worst start position;
• Fernando Alonso had a bad race last year in his first season with Ferrari: he qualified 19th and retired with engine failure. The Malaysian Grand Prix has been a land of milestones for Fernando: his maiden pole and podium in 2003, his 10th podium in 2005 and his 25th in 2006. He started from pole in 2003 and 2005, and won in 2005 and 2007;
• Felipe Massa has an on-off qualifying record here: two poles (2007 and 2008) and six times outside the top 10. He has never been on the Sepang podium: his best result is fifth in 2006 (when he started from the back row after an engine change) and the following year (when he started from pole);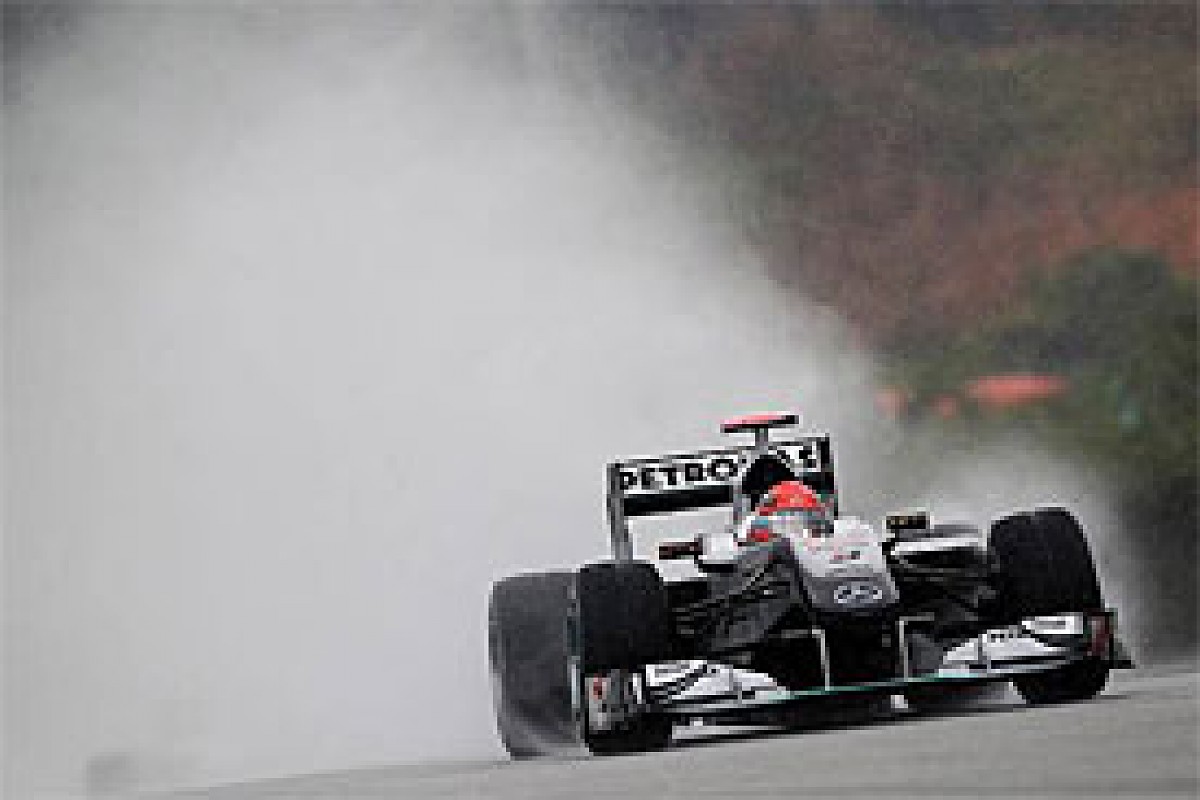 Schumacher holds all the record in Sepang © sutton-images.com
• Michael Schumacher holds all the records in Malaysia: five poles, five podiums and three wins from 1999 to 2004. But he has not finished on the podium or started from the front row here since. In 2010 he missed the points and had his first Sepang retirement, with wheel failure;
• Nico Rosberg finished third last year, his only podium here, and for the first time in his F1 career he started from the front row. In 2009 he led, but rain and a bad pitstop sequence put him down in eighth. His qualifying score against his team-mates here is 5-0;
• Nick Heidfeld scored his last podium to date in Malaysia 2009, when he was second. He was on the podium also in 2005 (third), and in 2008 he posted the maiden fastest lap for himself and BMW Sauber;
• Vitaly Petrov didn't finish here last year due to gearbox failure, but in GP2 Asia he won twice at Sepang: in 2008 in the feature race, and in 2009 in the sprint race in front of Pastor Maldonado;
• Rubens Barrichello has led five Malaysian Grands Prix - more than anyone else - but has never won one. He finished second in 2001 and 2003 and third in 2000. In the past six years he has scored points only in the wet 2009 race. Moreover, he is 11-1 down on his team-mates in qualifying, having beaten only Michael Schumacher in 2005;
• Pastor Maldonado raced here in the 2009 GP2 Asia Series, finishing second behind Vitaly Petrov in the sprint race;
• Adrian Sutil had one of his best races of 2010 here, taking fifth. He was fourth on the grid behind the Red Bulls and Nico Rosberg. Before that his best efforts from three appearances in Malaysia were 19th in qualifying and 17th in the race;
• Kamui Kobayashi last year ran only eight laps before his gearbox seized. In qualifying he scored his best career result - ninth, which he equalled at this year's Australian GP. From two GP2 Asia race weekends here, he took a win in the 2008 sprint race ahead of Romain Grosjean and Petrov;
• Sergio Perez ran here in the 2008-2009 GP2 Asia Series. He qualified 18th, retired in the feature race and finished sixth in the sprint;
• Sebastien Buemi has never qualified or finished in the top 10 in two GP appearances here. He didn't even finish any of the two GP2 Asia races in 2008;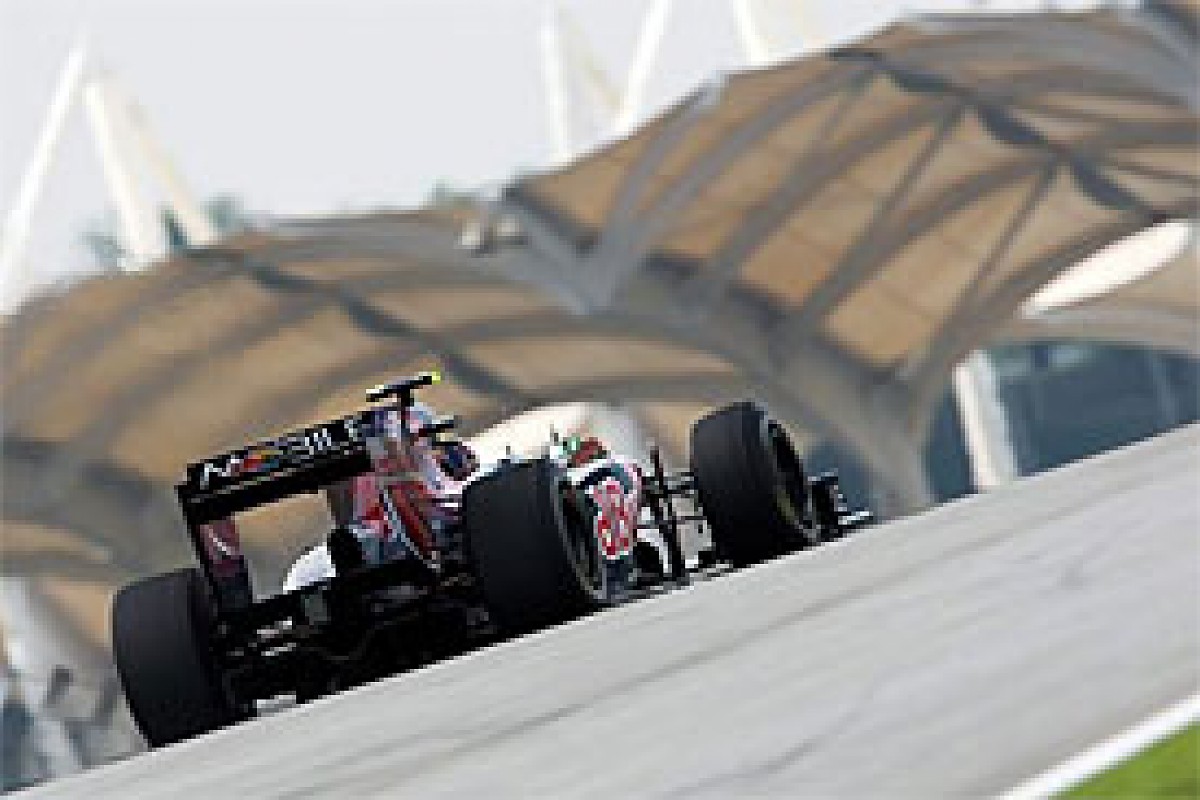 Alguersuari scored his maiden points in Malaysia © sutton-images.com
• Jaime Alguersuari scored his maiden points here last year with a ninth place. It is still his equal best result, along with the 2010 Abu Dhabi Grand Prix;
• Jarno Trulli has qualified in the top 10 nine times in Malaysia, three of which were on the front row. He has taken six points finishes in the 12 races. His worst results came in his first (18th on grid, did not start) and last (18th on grid, 17th in the race) appearances here;
• Heikki Kovalainen took his last Malaysian GP finish in 2008, which was his maiden podium (third). Ironically that was after being docked five places on the grid for impeding other cars in qualifying; on all other occasions he has missed the top 10. He scored his maiden F1 points in the 2007 Malaysian Grand Prix;
• Vitantonio Liuzzi has finished in the top 10 at Sepang. Last year he qualified 10th but retired with a throttle problem;
• Timo Glock was third in qualifying and in the race in 2009, but last year he retired on the third lap after contact with Trulli. In 2008 he had another accident, with Rosberg;
• Jerome d'Ambrosio ran four GP2 Asia races here: he was third in the feature 2008 race, behind Vitaly Petrov and Fairuz Fauzy.
Team performances in Malaysia
• McLaren has won twice here, in 2003 (Kimi Raikkonen) and 2007 (Fernando Alonso); in both cases, mistakes from the Ferrari camp paved the way for those wins. In 2003 Michael Schumacher was penalised for a clash with Trulli, and in 2007 Felipe Massa blocked team-mate Raikkonen. In each case McLaren took a one-two. Last year was McLaren's worst qualifying showing of the past five years, with Button 17th and Hamilton 20th - the last time neither McLaren made the top 10;
• Mercedes scored one of its three podiums of 2010 in Malaysia, with Nico Rosberg;
• Red Bull dominated last year's race with pole, a one-two, fastest lap and the whole race in the lead. Before this, the team had never scored a podium finish at Sepang;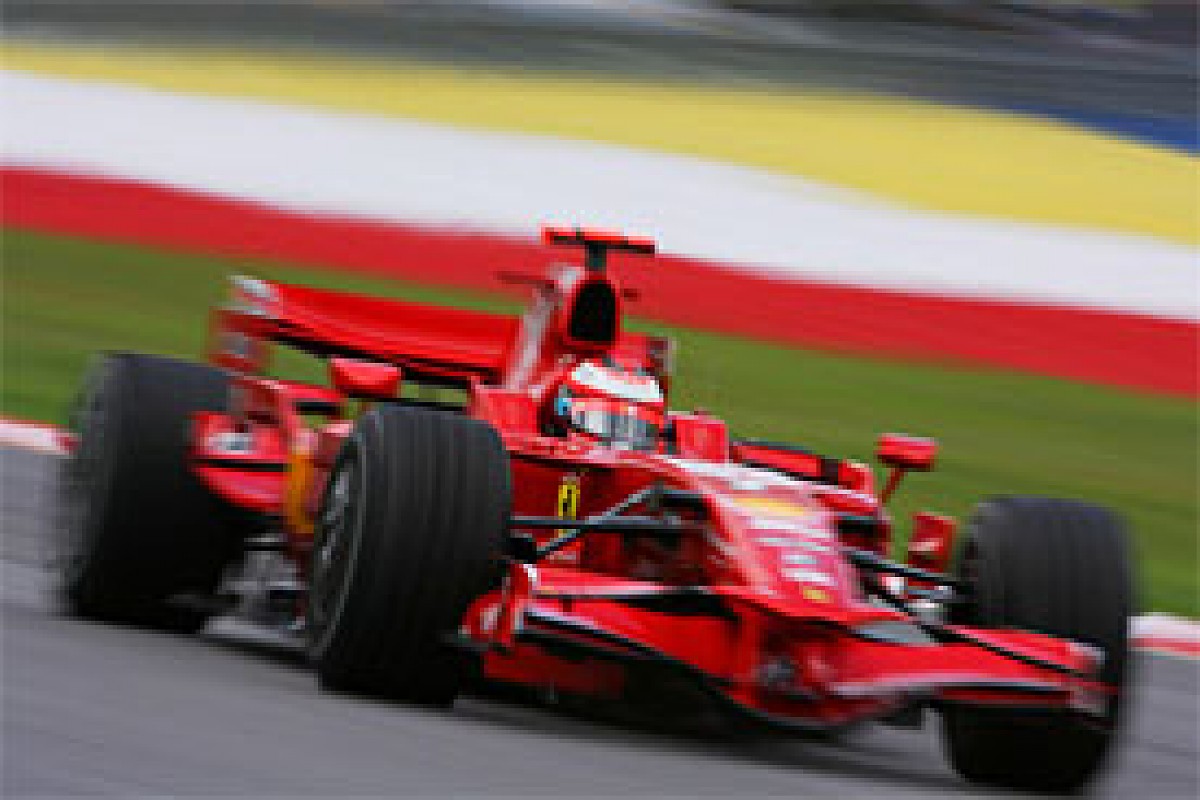 Raikkonen won for Ferrari in 2008 © LAT
• Ferrari is the most successful team in Malaysia with five wins, the most recent being in 2008. Last year represented Ferrari's worst qualifying showing in the past 30 years, with Alonso 18th and Massa 21st. Like McLaren, that was the last time neither car made the top 10;
• Williams scored a one-two here in 2002 with Ralf Schumacher and Juan Pablo Montoya. Its last Sepang podium came in 2005 with Nick Heidfeld;
• Renault scored a win in 2005 (Fernando Alonso) and a one-two in 2006 (Giancarlo Fisichella beat Alonso), but has had no Malaysian podium finishes since then;
• Force India got both cars into the top 10 in qualifying last year, one of only three occasions it has managed this - the others were the 2009 Italian Grand Prix and the 2010 Canadian GP. Sutil finished fifth;
• Toro Rosso has never taken a top-10 grid spot at Sepang. Its best race result is a ninth by Alguersuari last year;
• Lotus made one of its two Q2 cameos of 2010 in Malaysia, with Heikki Kovalainen qualifying 15th. He bettered that with a 13th in Belgium;
• Virgin had a similar story, with Timo Glock making one of the team's two Q2 appearances of the season and qualifying 16th;
• Sauber packed up after eight laps last year, with both cars out with mechanical failures. It was a setback after second places in 2008 and 2009.