There was so much to talk about after the Australian Grand Prix that Vitaly Petrov's third place for Renault went largely unheralded. It was a brilliant performance by the Russian and his team, and while inevitably we all wondered 'what would Robert Kubica have done with that car,' the race showed that Petrov is much stronger than he was a year ago.
Not only is he more experienced, but the dynamic in the camp has changed, and he's seized the opportunity provided by Kubica's enforced absence to make his mark.
The result was also vindication for Renault after it took a punt on its unusual exhaust solution. While other teams have had problems with innovative bits, the R31 has run without major dramas.
The car had shown some pace during testing, but before the weekend few would have expected it to be a genuine podium contender. But Petrov qualified sixth fair and square, and thanks to a great start that saw him elbow Jenson Button and Fernando Alonso out of the way, he put himself in a strong position from the very beginning of the race. With Felipe Massa holding up Button he not only escaped from the threat from behind but also ultimately jumped Mark Webber to get the final podium spot.
"We were a little bit fortunate that Fernando got a terrible start," says engineering boss Alan Permane. "And I think he was a little bit quicker than us, but then we out-strategied them, and managed to keep our noses in front.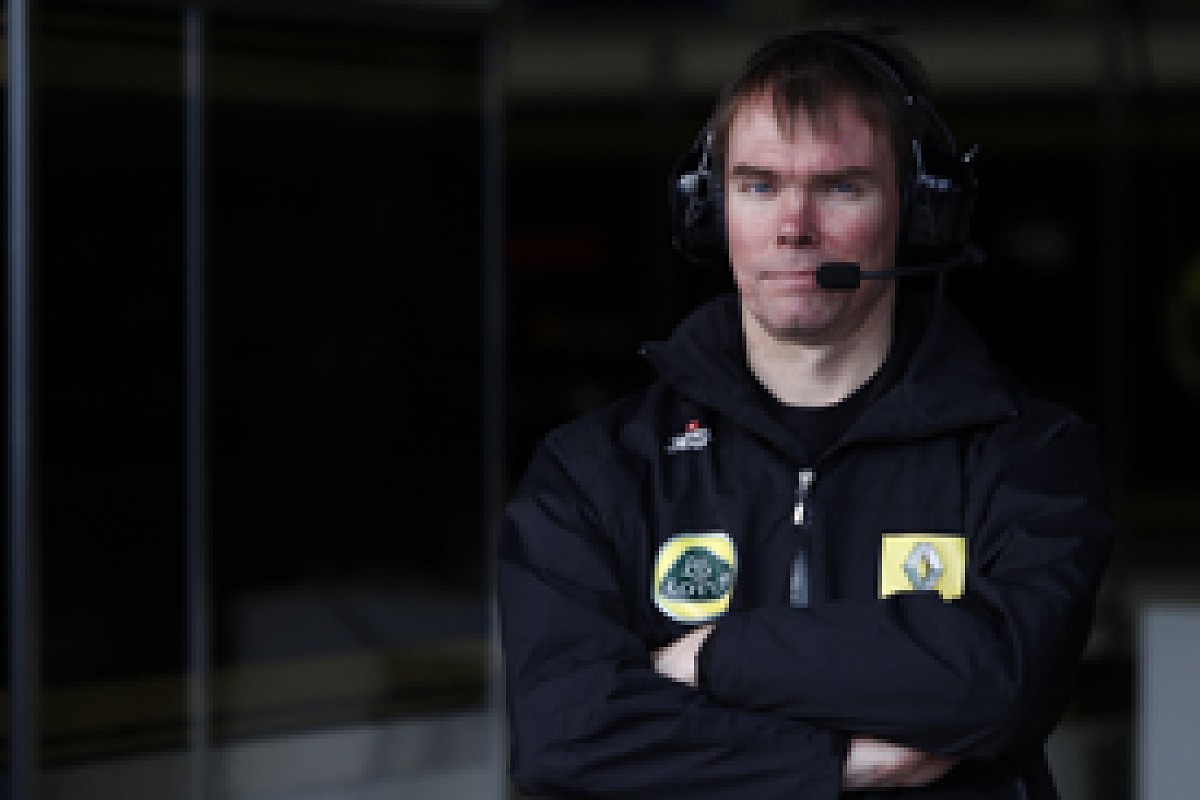 Renault's Alan Permane © LAT
"To beat Webber was good. I had a little glimmer halfway through the race - 'we can do this' - because Mark was eating his tyres, and our car was looking after them, and Vitaly was driving well and looking after them. I thought if everything goes absolutely perfectly, we'll end up on the podium, and it worked out like that."
It was a typically efficient performance on the pit wall by the Renault guys, who not so long ago were winning races and titles. Sticking with two stops helped to ensure that the car finished ahead of Webber and Alonso, both of whom stopped three times. In fact Petrov was short of option tyres for the race, and two stops was the preferred choice.
"We'd gone into the race thinking we were going to do two stops, and one of the reasons for that was that Vitaly had flat-spotted one of his tyres in qualifying," Permane explains. "It was destroyed, basically. It was the set he did his lap on, and that he had to start on. It was three laps old, and the FIA allowed us to change it for a front out of another set that was five laps old. If you use one tyre, you lose that whole set effectively.
"It was a choice between two or three stops, it was very, very close. But generally when it's close like that, you do two, because in the ultimate race you're on your own and three stops is quicker for sure. But with a bit of traffic and possible pitstop errors, you do two. So we planned two, and if things looked grim, we could do an extra stop. But the degradation was excellent, certainly better than Webber's, and better than a lot of people's."
Technical director James Allison, the man who made the ultimate call on the exhaust concept, is equally pleased with the start of the season.
"I'm delighted on behalf of everybody," says Allison. "It's really, really difficult to explain to people just how difficult it is to get a new car ready for the start of the season, and this one has been a particularly difficult birthing process!
"So it's a brilliant, brilliant reward for anyone who's had to work to get there. And it's superb for Vitaly, who's really risen to the occasion and done a superb job for us.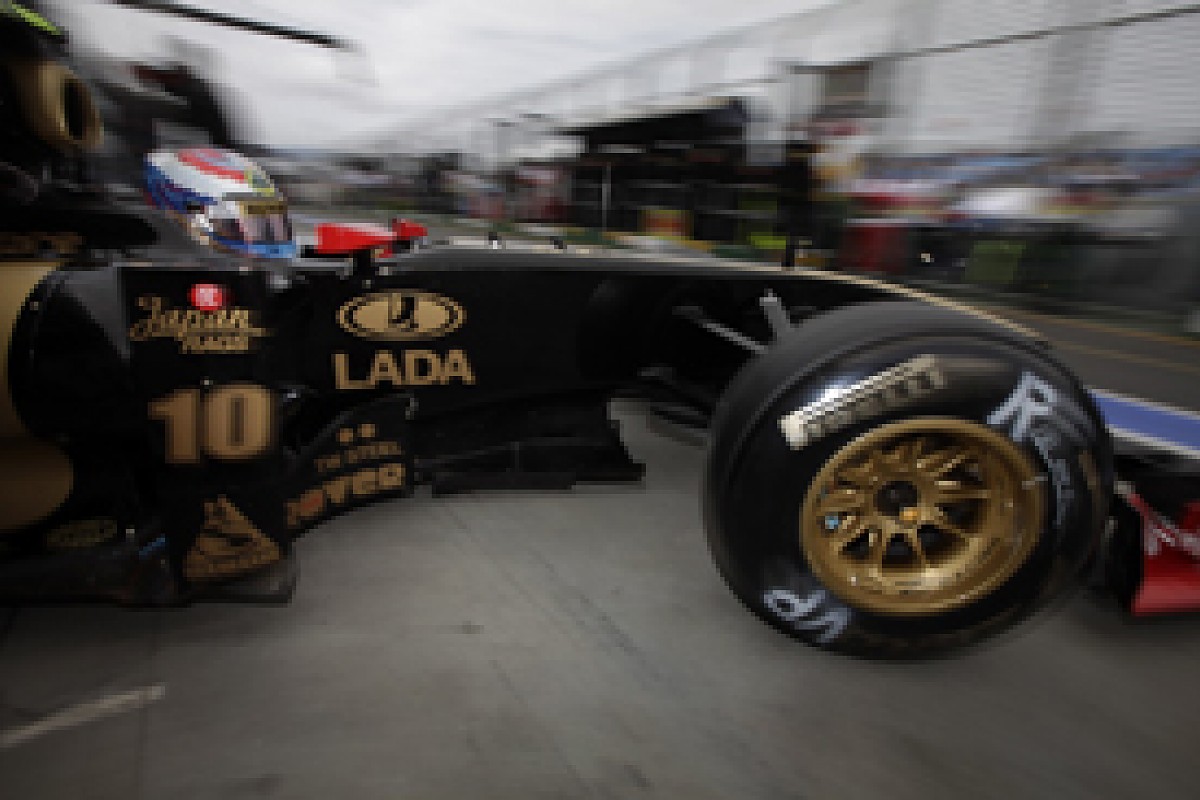 Petrov heads out for practice in Melbourne © LAT
"The timesheets didn't look particularly special on Friday, but we were reasonably confident that the car was okay. It improved on Saturday morning, and Vitaly improved again in qualifying, and he went to the flag in the race with flawless driving. He made a lovely start, got away well, and then he just ran at the car's pace for the whole race, and it worked out for us.
"It was pretty clear as the first stint unfolded that our degradation looked good, and we looked like we were able to make a two-stop work for us. Not everyone had exactly the same degradation - we were on the lower end, so it went well for us. We were expecting it to be more of a scramble than it was."
Clearly the way individual cars work their tyres will play a critical role
"Pirelli show us our tyre wear against the average of everybody else's," says Permane. "And we know ours looks good compared to the average. That doesn't tell you the whole picture, but it gives you an idea where you are.
"Australia just seemed to be a lot easier for the tyres. I think they've got it about right, although they won't get it right for every track, that's for sure. Two stops was about right, the top three did two stops, some people had to do three, somebody did one and it paid out for them. I don't think anyone wants to do four or five stops."
The other positive for Renault is reliability. Although Nick Heidfeld had a glitch in qualifying, both cars ran faultlessly in the race and made it to the flag, and that was despite the German carrying bodywork damage. The complex exhaust system ran perfectly.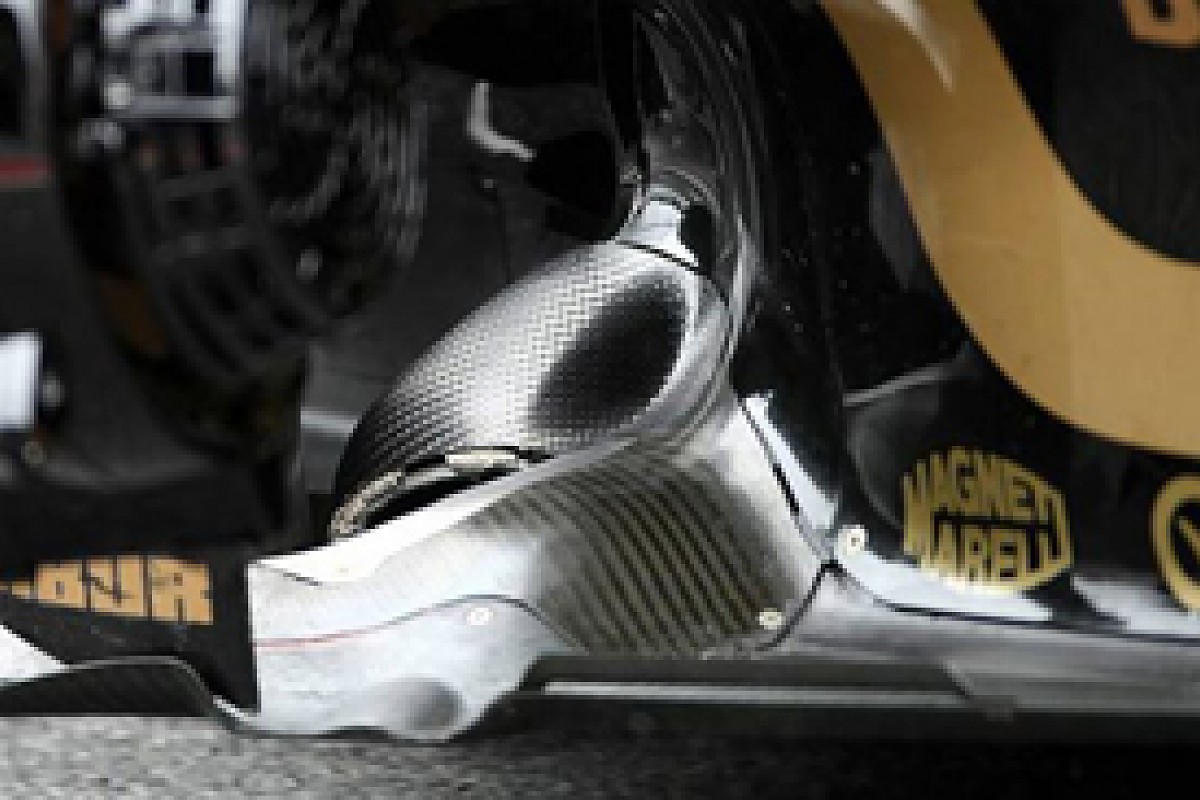 Renault's radical exhaust is paying off © sutton-images.com
"I have to say that was the bit that we were most nervous about on the whole car of course," Permane admits. "And it's the bit that has worked perfectly and done exactly what it should do. I think we've had one cracked tail pipe in testing, and that was when we were pushing the mileage up on it as well. In the winter we had more trouble with water leaks and making the radiators seal."
Significantly, the exhaust is doing its job. That may become even more apparent when we get to circuits with fast sweeping corners, although Melbourne was actually a good test.
"The exhaust was chosen for downforce," says Allison. "Australia is actually a fairly 'downforcey' circuit. It doesn't look like it, but it's got a pretty high grip limited average speed, and it's a pretty aerodynamic circuit. We'll know how well it works after more races."
Meanwhile Renault is not standing still, and we can expect to see some new bits on the car in Malaysia, as Permane explains: "We've got a big step next race. New front wing, new rear wing. Not a new diffuser, but hefty mods to this one. Then nothing much for China, and then a big update for the first European race. The windtunnel is still churning out stuff."
Clearly then the team has a pretty solid technical package. The other side of the equation is in the cockpit, and Petrov exceeded expectations in Australia, or at least those of the outside world. Despite the presence of Heidfeld, he seems to have stepped up to the challenge of leading the team. It was important that he staked his claim early.
"Vitaly is working very, very well," says Permane. "He's much, much calmer, and he certainly understands things. This will do him the world of good, things will suddenly start clicking into place. He's driving well and working well in and out of the cockpit."
Allison meanwhile says that the Russian was unlucky last year. It's easy to overlook the fact that he hadn't driven a Formula 1 car until the launch of the 2010 Renault, and his winter mileage was badly compromised.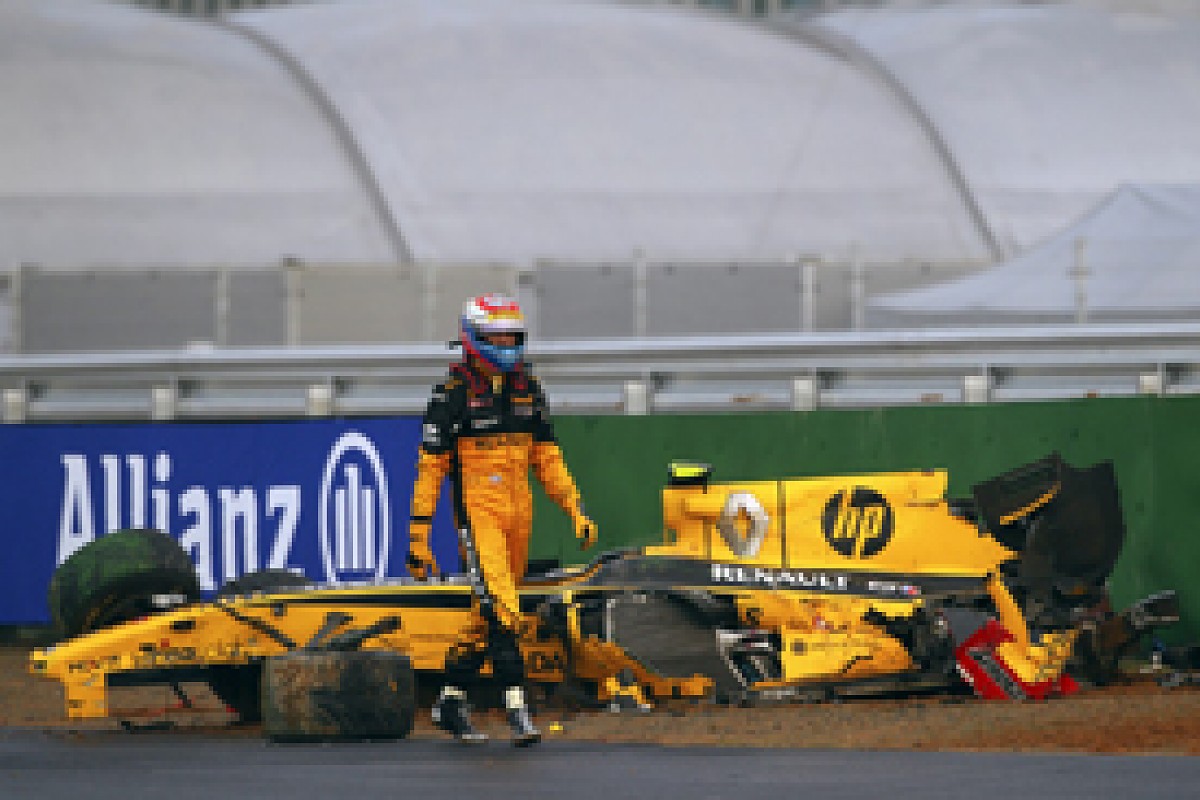 Petrov's rookie season saw plenty of mistakes, but the team believed in him © LAT
"People often forget that not only had he not driven an F1 car before last year," says Allison. "Circumstances then conspired against him in the pre-season to leave him only a pitifully small number of test days. We had some reliability issues, and he was desperately unlucky with the weather.
"He went into that first race [of 2010] with almost no running at all, and he did a whole season where there were a lot of circuits he hadn't been to. It was fairly clear when he'd been to a circuit before - it made a difference to his performance.
"People underestimate what a difficult sport this is, and with no ability to do any training except at the race weekends, it's a tough ask. He kept showing flashes of the sort of performance that would be the envy of several teams, and I think we will see that delivered over and over.
"I think both the confidence of having a season under his belt, combined with the real benefits of having proper time in an F1 car and knowing all the circuits, means that we'll see Vitaly at the good end of what you remember he could do last year. He's more than capable of operating as a very credible F1 driver. Just doing a second season, with all the advantages that will bring, will allow us to see a better Vitaly at most races."
Once again at the start in Melbourne he showed that he's afraid of no one.
"He's extremely unfazed by any of the great names in the sport! If you remember Malaysia last year with Lewis [Hamilton], and then China with Webber and [Michael] Schumacher, then the last race of the year, holding off Alonso for lap after lap after lap. He's got a very steady head on his shoulders. He's calm when the pressure is on, and I'd say that sort of phlegmatic unflappability is his greatest strength."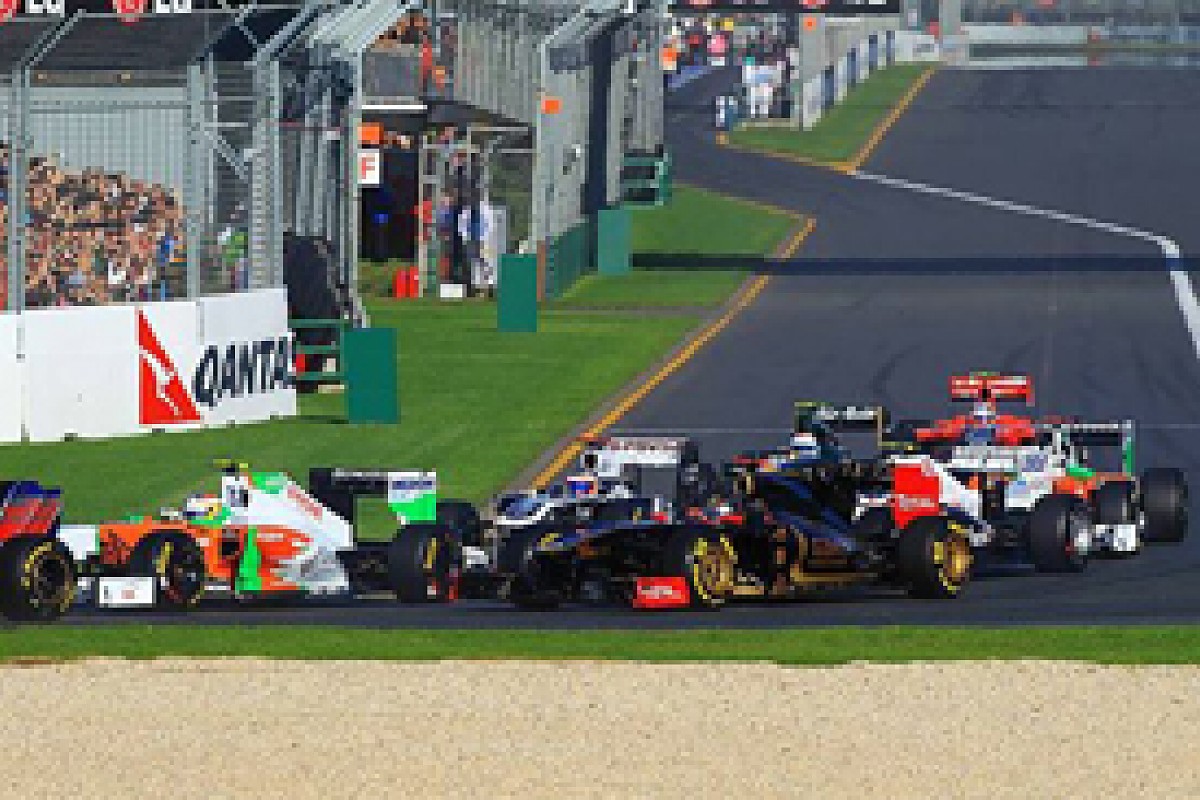 Heidfeld had a horrible Australian GP © sutton-images.com
Petrov totally overshadowed Heidfeld in Australia, but it would be foolish to rule out the German veteran, who could easily bounce back with a trademark wet weather charge in Malaysia or China. In Melbourne his poor qualifying position was out of his hands, and had the car not been damaged on the first lap, he would have made it well inside the top 10.
"He had a disaster in qualifying," says Permane. "In the race the whole right hand side of his car was missing, and he was losing at least a second and a half a lap in pure downforce figures, and also the balance was hugely out as well. His race was over after the first lap."
Although Heidfeld only missed the first test at Valencia, the team is still coming to terms with its late change of driver, having built its winter programme around Kubica.
"It's always disruptive to change your driver in the middle of testing," says Permane. "I'm sure we'd be further down the line with Robert. I'm not saying that Nick isn't capable of that, but he's had to learn and get up to speed. You spend a certain amount of time getting him comfortable.
"It's a shame. I'm sure Robert wishes us well, but it must be very frustrating for him. On the one hand he wants us to do well, but on the other hand he must be thinking about what he could have had. I just wish him all the best."