"Really?" said Jenson Button yesterday, quizzical eyebrow raised, when someone said Martin Whitmarsh had predicted that the new conventional-exhaust/revised-underbody combination fitted for Melbourne would find the McLaren 1s per lap.
"I didn't know he'd said that. I'm impressed with his optimistic spirit and I would love that to be true. Let's see." He sounded unconvinced.
But the signs from the first day of practice of the new season are indeed that the changes have found the troubled McLaren design a whole chunk of lap time as Button and Lewis Hamilton headed the times in FP2. The car's innovative 'octopus' exhaust has been ditched for now and for the first time we have seen a glimpse of the car's potential.

But let's not get carried away; Red Bull was on a rather different programme to McLaren and spent most of the second session doing race-stint runs. Only for a brief 10-minute window were the two RB7s apparently on low fuel runs and during that time Sebastian Vettel got to within 0.16s of Button's best time, both set on the soft option Pirelli, with a lap that looked far from uncompromised.
Watching the cars out on track in FP1 the Red Bulls appeared much the fastest, covered in grip and apparently undisturbed by kerbs and bumps. The previous two seasons have shown us that we rarely see the Red Bull's potential until Q3 on a Saturday when those magic two or three tenths are inevitably summoned. Regardless, McLaren's performance must be a huge relief for the team, indicating that it is at least among the front-running mix.
Despite everything that's changed since last year - slower, fast-degrading tyres, single diffusers, KERS, adjustable wings etc - some things look remarkably similar.
Red Bull, Ferrari and McLaren still look the fastest three cars, though with Mercedes apparently nudging closer. Other patterns familiar from last year include Fernando Alonso making one of the Ferraris look highly competitive, Felipe Massa struggling in the other. The Brazilian spent much of FP1 and FP2 sliding across the grass on the exits, his car apparently a twitchy, oversteering handful. Alonso appeared to be having no such problems.
Both sessions were held in cool, blustery conditions, the track temperature never getting above 22-deg C and running as low as 18. In such circumstances the Pirellis continued to wear quickly - and littered the off-line part of the track with cast-off strips of rubber. In addition Sebastian Vettel suffered a significant blister on a left-front tyre in the first session.
As suggested by winter testing, managing these tyres is going to be difficult, but perhaps not as much so as expected. Whilst pre-weekend many teams were expecting as many as four stops, post-practice most were confidently talking of no more than three.
Runs by both Button and Mark Webber showed that the soft was good for two attempts at a lap time, if you did a cooling-off lap in between. It also appeared to be around 0.7s faster than the hard compound over a qualifying lap. Its drop-off is vastly higher however. McLaren in FP1 and Red Bull and Mercedes in FP2 all showed the degradation of the hard could be well controlled over the 15-lap stint length needed for a three-stop race.
The crucial thing is not likely to be making the tyres last long enough, but pitting before they lose the last of their rubber. "When they go, they go dramatically and without warning," said Button. If this happens after you've passed the pit entry road, you're consigned to a lap with just the thin rubber covering of the carcass, losing you around 5-6s right there.
That's not the only tyre-related tactical conundrum either: such is the high degradation rate, a driver stopping earlier than a rival will comfortably pass him as fresh tyres will be worth 3-4s per lap. However, the earlier you stop, the longer a final stint you are consigning yourself to. Should you run out of rubber in that final stint, you're a sitting duck. "In the closing stages I think there is going to be a huge amount of overtaking," says Button.
"I think it's quite possible that faster cars can be beaten by the sharper team," said Ross Brawn. How the teams use their limited tyre allocation in qualifying will be fascinating to monitor too. At the hard-wearing tracks such as Montreal it may even be that teams will be electing not to make a serious attempt at getting into Q3, thereby saving two sets of tyres that will probably be desperately needed late on the Sunday afternoon.
Other issues highlighted by practice include potential difficulty for some cars in making the 107% qualifying cut-off.
Button's 1m25.8s gave a 107% time of 1m31.8s, with both Virgins in the 1m32s. HRT only completed one car late in FP2 so its potential cannot be assessed. The proviso is that in qualifying it is only 107% of the best FP1 time that has to be achieved and it's unlikely the fast cars will be lapping at anything like their full potential in that session. Assuming the fast cars in Q1 would be using the slower, hard tyre and the likes of the Virgins would be on the softs, then getting in looks to be more achievable. But the performance gap cannot be a comfortable thing for Virgin and HRT to contemplate.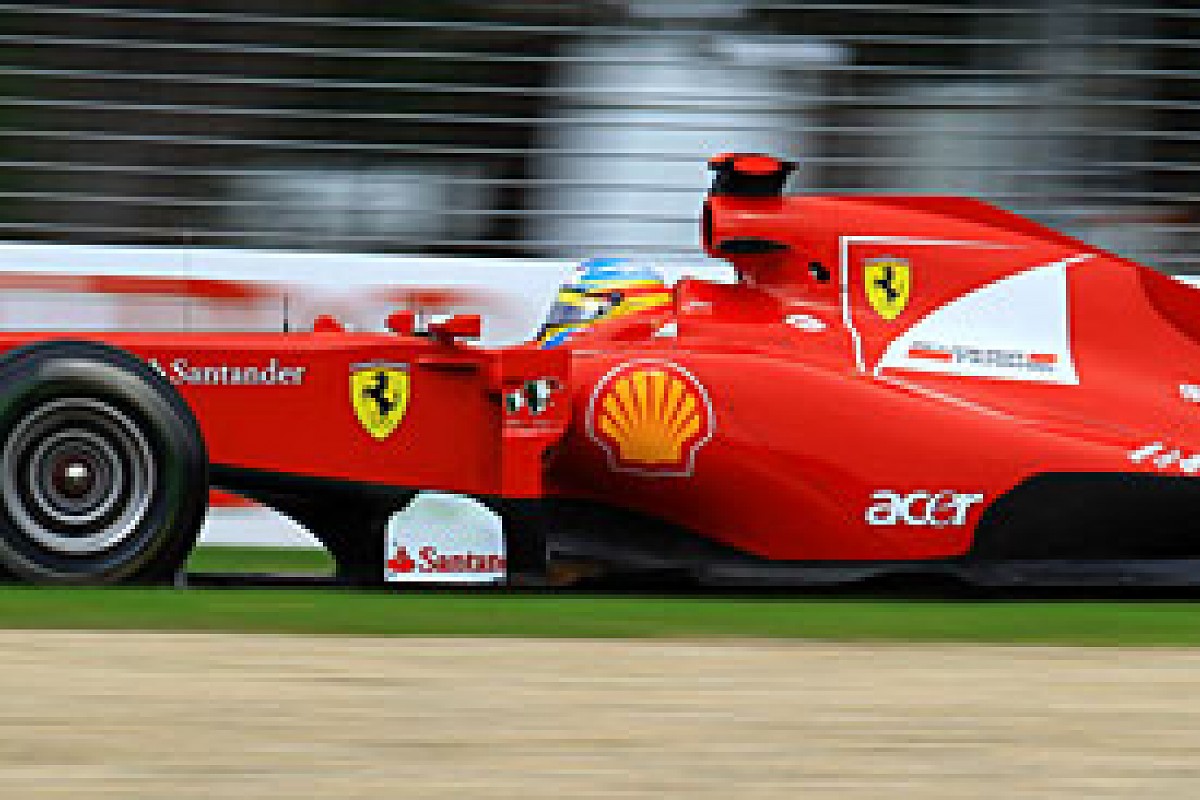 Seventh gear ratio choice is giving the teams a big headache as not only do they have to incorporate the drag reduction of the DRS wing, but the blustery unpredictable winds. Find yourself in the wrong part of the rev band, and you could find yourself at a big disadvantage.
In terms of performance, Red Bull, McLaren, Ferrari and Mercedes appear to be the competitive order, though with small margins between the latter three. The marginal Q3 spots look set to be fought out between Renault, Williams, Sauber and Toro Rosso and it was notable how smoothly and effectively the rookie Sergio Perez slotted in for Sauber.
But in terms of results, things are far from predictable.